This article has links to products and services we recommend, which we may make a commission from.
What is Chilean Pebre?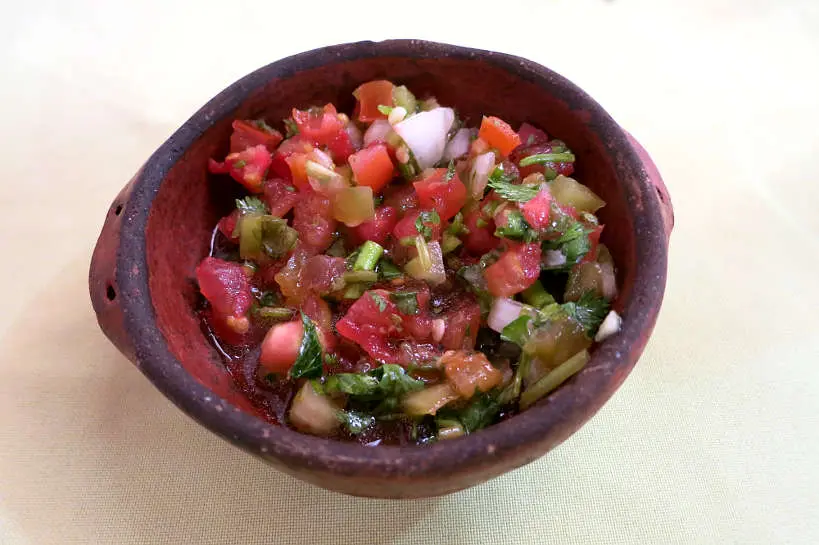 Chilean pebre is a spicy condiment you'll find on virtually all tables in Chile. One of the unique characteristics of pebre is the infinite number of variations that exist.
Each restaurant or Chilean home has their own unique version where ingredients are swapped and proportions vary.
The basic ingredients for pebre are cilantro, chopped onion, olive oil, garlic and chile peppers.
When fresh chopped tomatoes are added, it turns the Pebre into a Chilean Salsa. Known as Chancho en Piedra, it translates to "Pig on a Rock."
For Pebre pronunciation, it is similar to the word "paper", and pronounced (peh-breh).
READ MORE: 15 Popular Chilean Dishes Worth Trying: Favorite Food In Chile
Is Pebre the Same as Mexican Pico De Gallo?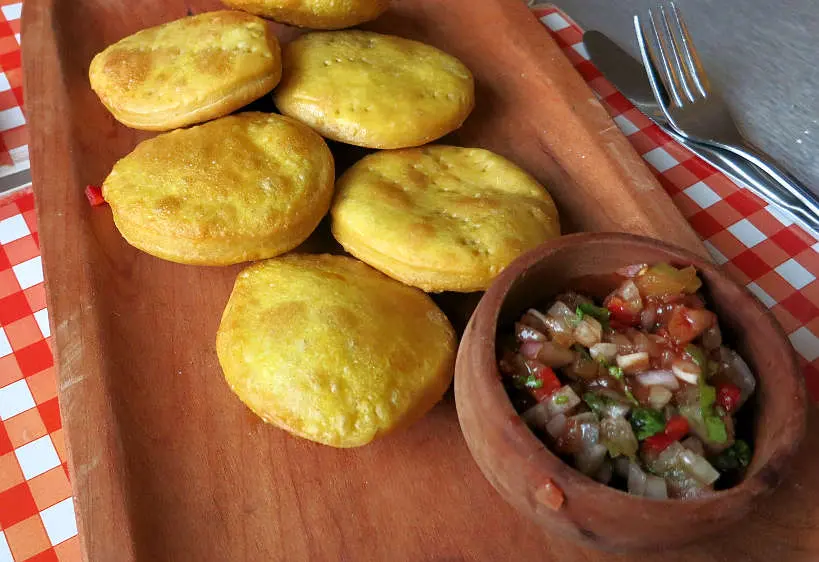 Mexican pico de gallo salsa is very similar to pebre. Pico de gallo accompanies many Mexican dishes like tacos of cochinita pibil, quesadillas. It is made with onion, tomato, and jalapeño and the colors correspond with the Mexican flag.
Pebre in Chile or more precisely Chancho en Piedra has similar ingredients, with the addition of garlic and the use of aji peppers. In Chile, it is mostly served with bread at restaurants or as a condiment for meat.
RELATED: Top 20 Best Foods in Mexico City (And 32 Restaurants To Have Them)
How to Use Chilean Pebre at Home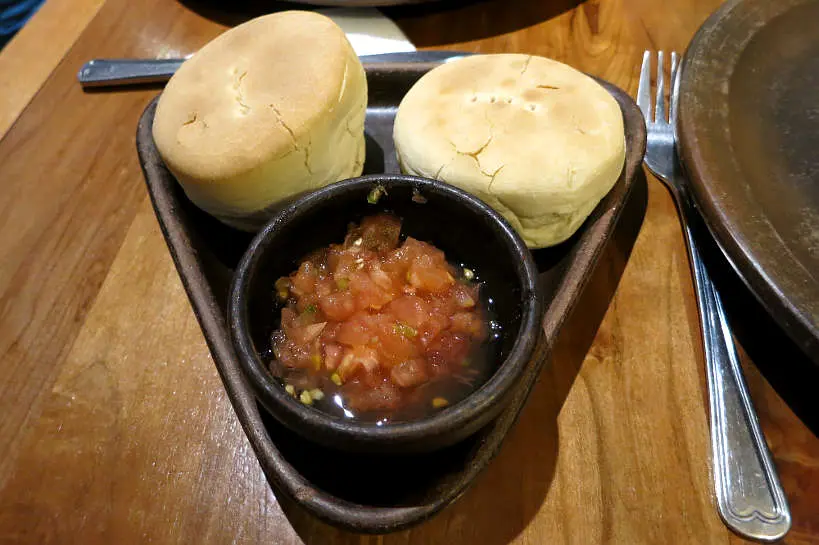 In Chile, Pebre is used on practically everything, and most commonly with bread. We had it most often with traditional warm bread called pan amasado.
Pebre is also used on grilled meat, fish, or chicken or with empanadas. The use of pebre is as common as pico de gallo in Mexico or chimichurri sauce in Argentina.
Try it at home with potatoes, to accompany meat, or serve it on a hunk of fresh-baked bread.
AUTHENTIC FOOD QUEST RECIPE: One delicious meal you can easily make at home, is to pair sea bass with pebre. See our simple recipe for pan seared sea bass with Chilean pebre sauce.
Discovering Pebre in Chile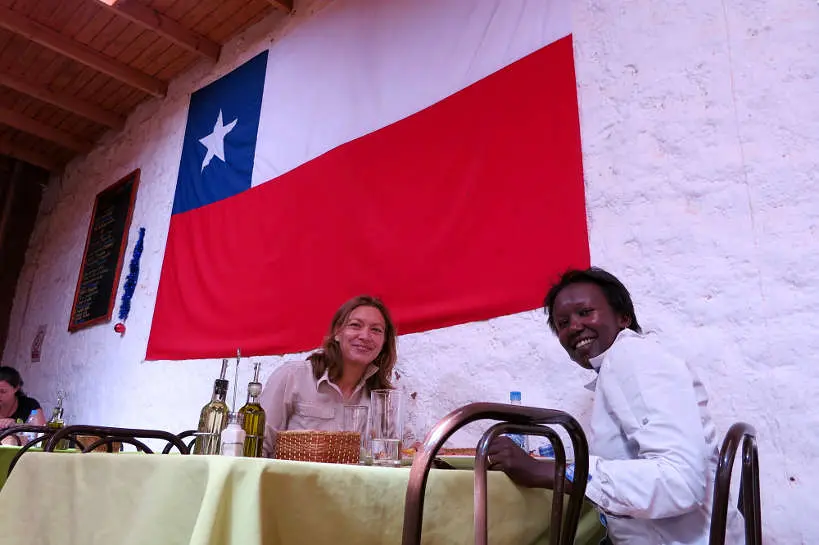 It was love at first bite. Every restaurant we went to in Chile always served pebre. This was brought out as an appetizer accompanied by bread. We always looked forward to this starter, which came at no additional charge.
Part of the fun was tasting all the unique variations at each place. Not to mention, having something fresh and flavorful to munch on while waiting for our main dish.
Pebre History
For a dish that is used throughout Chile, we were surprised to learn that the origins of pebre lie in Spain. Apparently, in the 18th century, engineers and masons from Catalonia, Spain came to Chile to work on the Mapocho River.
At the time, the city of Santiago suffered from periodic flooding from the river which sometimes devastated entire neighborhoods. To put an end, the Catalan engineers and masons started building the tajamares, a brick wall to contain the floods.
Under the supervision of Italian architect Joaquin Toesca, they also built fluvial channels, river walls, and bridges for the river.
The history of pebre is attributed to the simple sauce the Catalan workers would prepare. This sauce, that they called pebre, which means pepper had cilantro, oil, vinegar and salt, and Chilean ají pepper.
Pebre Recipe Variations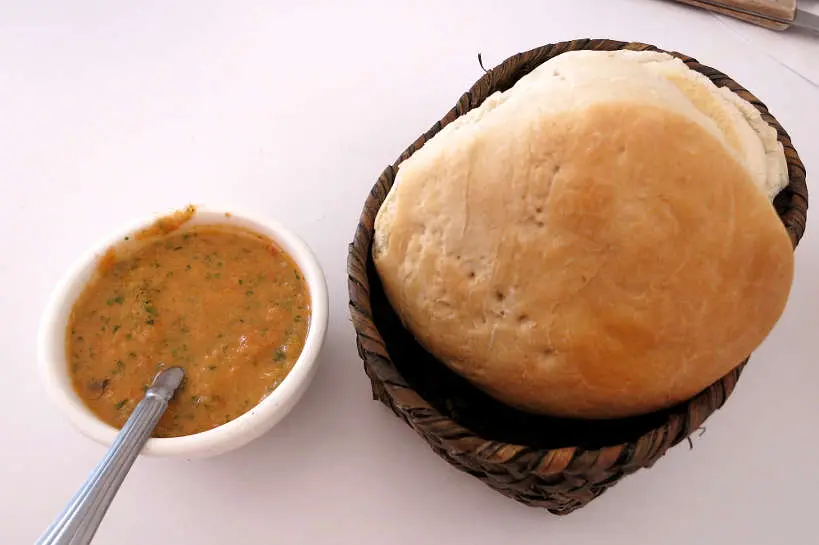 For this recipe, we will add tomatoes and make one of the most popular variations of pebre, known as chancho en piedra or Chilean salsa.
Like in Chile, have fun making this delicious and simple pebre recipe. Your texture can range from chunky to more sauce-like, depending on how finely you chop up the ingredients.
You can also adapt the flavor profile, but adding more or less cilantro or chilis according to your tastes. There is no "right or wrong" way to make pebre.
Just remember, Chilean tradition suggests that pebre can be served with almost anything. Make enough to use with meats, fish or chicken, accompany vegetable dishes or use a dip.
RELATED: Surprising Atacama Food of The Desert: Top 10 Foods And Restaurants to Eat Them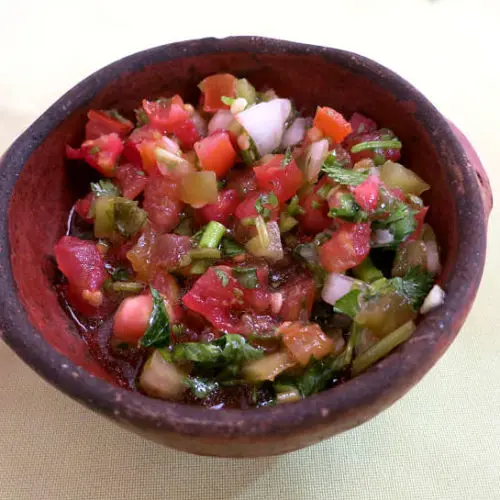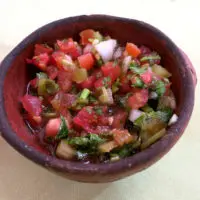 Chilean Pebre Recipe
This quintessential Chilean salsa packs a ton of flavor. Spread Chilean Pebre on bread or use it to accompany grilled meats, chicken, or fish.
Print
Pin
Rate
Ingredients
2

tomatoes

large ripe

1

jalapeño pepper

Can be substituted with aji peppers or poblano pepper

1

medium onion

medium

¼

cup

cilantro leaves

chopped fresh

1

cloves

garlic

minced

2

tablespoon

Chilean olive oil

1

tablespoon

red wine vinegar

salt to taste

pinch of black pepper or more to flavor
Instructions
Peel tomatoes and chop them finely.

To peel tomatoes, cut an "x"  on the top of the tomato (opposite the core). Place in boiling water for 25 – 45 seconds or until the skin starts to loosen up. Remove the  tomatoes using a slotted spoon and plunge them into cold water. Once cool to the touch, remove the skin using a paring knife and chop.

Remove the seeds and chop up the pepper

Chop the onion and cilantro

Place all of the chopped ingredients in a bowl

Add mashed or chopped up garlic 

The chancho en piedra and pebre are typically served in traditional clay bowls 

Serve at room temperature and enjoy.
Notes
Have fun with your pebre recipe. Some versions use tomatoes, others don't. Some use chopped chilis, others use chili paste. Some use onions, others use scallions. If you don't like something, change it up and make your own version of pebre!
Nutrition
Serving:
1
|
Calories:
87
kcal
|
Carbohydrates:
6
g
|
Protein:
1
g
|
Fat:
7
g
|
Saturated Fat:
1
g
|
Polyunsaturated Fat:
1
g
|
Monounsaturated Fat:
5
g
|
Sodium:
6
mg
|
Potassium:
207
mg
|
Fiber:
1
g
|
Sugar:
3
g
|
Vitamin A:
614
IU
|
Vitamin C:
16
mg
|
Calcium:
15
mg
|
Iron:
0.3
mg
Rosemary is the editor-in-chief and strategist at Authentic Food Quest.
Traveling slow since 2015 with her partner, Claire, she has explored the cuisine in 45 countries and more than 240+ culinary cities.
Her writing about local food specialties has been featured in Lonely Planet, Business Insider, Honest Cooking, Food Insider, and Huffington Post.
As a food and travel writer, Rosemary has co-authored three books, including one in collaboration with Costa Brava Tourism.
Rosemary is an avid runner when she's not eating and exploring new destinations. She has run ten marathons and counting.
Before Authentic Food Quest, Rosemary held senior-level strategy positions in advertising. 
Find out more about Authentic Food Quest