This article has links to products and services we recommend, which we may make a commission from.
Love at first sip, this Chilean Pisco Sour recipe is one of the simplest cocktails to make. Aromatic and fruity simply mix three parts Pisco, with one part each of sugar syrup, lime juice, and ice.

What is Chilean Pisco Sour?
Chilean Pisco Sour is considered Chile's National Spirit. Neighboring Peru, also has its own version of Pisco Sour that it also claims as its national beverage.
Between the two countries, the origins of Pisco are fiercely debated. No matter which country you are in, you'll get an earful as to why that country's version is superior.
Pisco itself is a type of brandy produced in the winemaking regions of Chile and Peru. Each country claims to have the best ingredients for Pisco Sour.
Not surprisingly, Chilean pisco sour calls for Chilean ingredients. Pisco brandy must be from Chile, the limes are from the Pica region of the country and finally, sugar and ice.
How Strong is Pisco Sour
Pisco Sours are delicious. They are just simply good cocktails. They are subtly sweet, refreshing and incredibly easy to drink.
However, you do want to watch the alcohol levels. The alcohol content in a Pisco Sour drinks is between 30% and 50%.
In Chile, the fine balance between the intense citrus lime juice and sweetness of the sugar makes them very palatable. Be warned, too many Pisco Sours can knock you off your feet.
What does Pisco Sour Taste Like?
Despite the name, pisco sours are not sour. They are a curious blend between sweet and tart and most importantly very smooth.
The ingredients used to make a pisco sour have a big impact on the taste. For instance, the recipe for Chilean Pisco Sour calls for thin-skinned limes from the Pica region of Chile. This gives the Chilean pisco a bright and slightly sour taste.
If lemons are used instead, the Chilean Pisco Sour will be more citrusy, a little sweeter and feel more tropical.
Differences between Chilean Pisco Sour and Peruvian Pisco Sour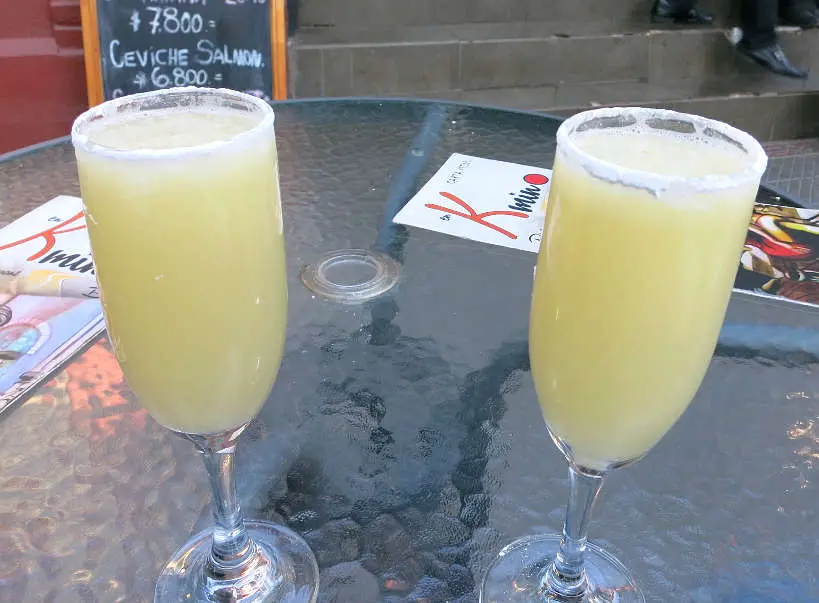 Regardless of whether the origins of Pisco Sour lie in Chile or Peru, the ingredients bear some similarities and differences.
In Chile, Pisco Sour is made using Chilean Pisco brandy, blended with fresh juice of pica lime and sugar, and ice.
Peruvian Pisco Sour, uses Pisco from Peru and adds lime juice, simple syrup, ice, egg whites and Angostura bitters.
There are also significant differences in the way the Pisco brandy is made. In Chile, the better quality Pisco brandy is aged in oak barrels which is not the case for Peruvian Pisco.
The range of grapes used to make Pisco also varies. Chilean Pisco can be made from a range of 13 different grapes, as opposed to eight in Peru.
Putting all differences aside, the first Saturday in February is a special day. It is International Pisco Sour Day, celebrated all over the world.
Discovering Chilean Pisco Sour in Chile – Chile's National Drink
During our time in Chile, we were struck by how pisco is deeply woven into the local food culture.
Chilean pisco, usually in the form of a pisco sour, was available on practically every menu. With its light and playful aromas, it was often paired with ceviche, seafood and salads.
One of the things that surprised us about Chile, was the diversity of local drinks available.
In addition to Chilean Pisco Sour, the country also makes world-renown Cabernet Sauvignon wines and a myriad unique local drinks.
There is a lot to sip on Chile. Try the Chilean Pisco drinks and don't miss out on the other local favorites.
History of Chilean Pisco Sour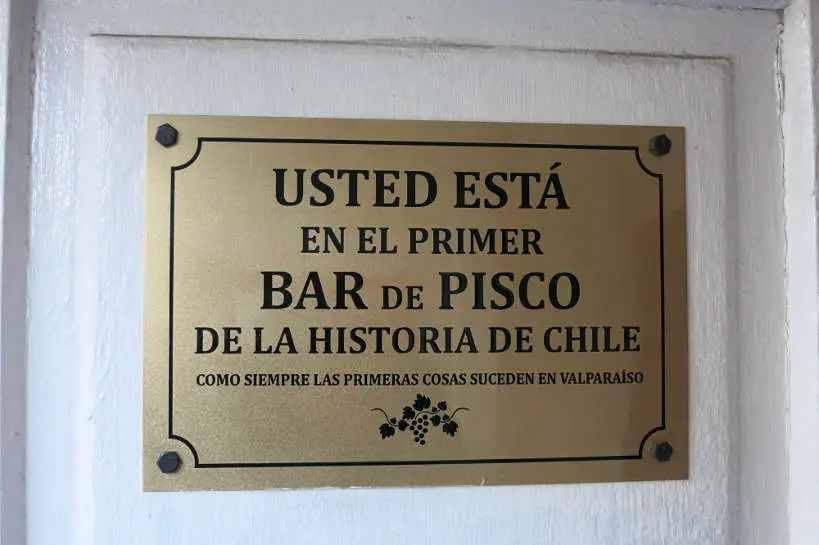 Chileans claim Pisco Sour was invented in 1872 by Elliot Stubb, a steward on an English Ship. Apparently, when setting up a bar in the northern Chilean city of Iquique, he introduced a new drink.
He combined Pisco with limon de pica, a small lime that grows in the area establishing it as the birthplace of Chilean pisco sour.
Peru, however, disputes the claims. The origins of Pisco Sour are attributed to Victor Morris, a bartender from the U.S., in Lima. In the 1920s, Morris began experimenting with Pisco based cocktails and created the Pisco Sour.
Going even further back, Pisco was developed and popular among Spanish settlers in the 16th century. It was made from the distillation of grapes from wine growing regions.
Chilean Pisco is made in only two regions of the country known for low humidity and desert like terrain. The Atacama and Coquimbo regions in the north.
Pisco brandy made from other regions of the country are called Aguardiente, and by law cannot be called Pisco.
AUTHENTIC FOOD QUEST TIP: If you are looking for Chilean Pisco for your Chilean Pisco Sour recipe, you can have it delivered to your home. You can order Capel Chilean Pisco, a spectacular artisanal bottle, and enjoy the ultimate national Chilean Spirit.
How to Make Chilean Pisco Sour at Home
This delightful cocktail can be whipped up in no time. The ingredients for this Chilean Pisco Sour recipe are simple. Start with Chilean Pisco brandy as your base, add, lime or lemon juice, sugar and ice and shake it all together.
In less than five minutes you'll savor the refreshing flavors of Chile's national drink.
Adapting Your Chilean Pisco Sour Recipe
In Chile, the limes used to make a Pisco Sour are specific limes from the Pica region. As these limes are not widely available outside Chile's borders, you can substitute with either limes or lemons.
The taste will vary from slightly more tart with limes to sweeter and tropical with lemons. Simply pick your preference.
Most Chilean Pisco Sour recipes use powdered sugar. However, simple sugar syrup can also be used. You can make simple syrup at home by combining equal parts of sugar and water and bringing it to boil. One the sugar has dissolved, allow it to cool and use it in your Pisco Sour.
For this simple recipe, you don't need to mix the ingredients together in a blender. Simply use a cocktail shaker and shake vigorously until the sugar dissolves.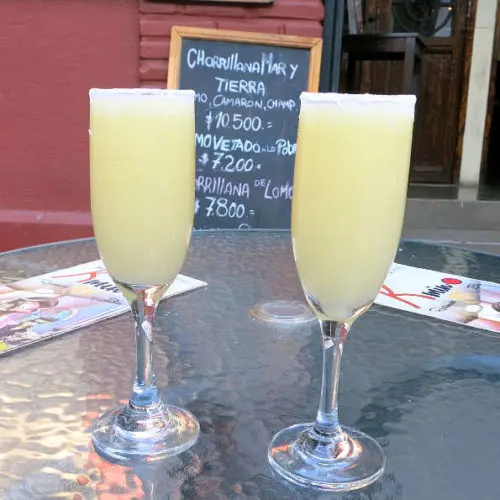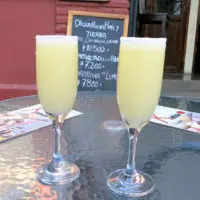 Chilean Pisco Sour
Delectable classic Chilean Pisco Sour cocktail. Easy to make in 5 minutes or less. Enjoy as an aperitif or with seafood dishes like ceviche or fish.
Print
Pin
Rate
Ingredients
3

ounce

Chilean Pisco

1

ounce

lime or lemon juice

1-2

tablespoon

Powdered Sugar

¼ – ½

cup

crushed ice
Instructions
In a cocktail shaker with crushed ice add sugar followed by Pisco and topped with lime/lemon juice

Shake vigorously until sugar dissolves 

Taste and adjust sugar to your liking

Serve in chilled tall narrow glasses like champagne flutes or in short cocktail glasses
Nutrition
Serving:
1
|
Calories:
37
kcal
|
Carbohydrates:
10
g
|
Protein:
0.1
g
|
Fat:
0.1
g
|
Saturated Fat:
0.01
g
|
Polyunsaturated Fat:
0.01
g
|
Sodium:
3
mg
|
Potassium:
29
mg
|
Fiber:
0.1
g
|
Sugar:
9
g
|
Vitamin A:
2
IU
|
Vitamin C:
11
mg
|
Calcium:
4
mg
|
Iron:
0.02
mg
Rosemary is the editor-in-chief and strategist at Authentic Food Quest.
Traveling slow since 2015 with her partner, Claire, she has explored the cuisine in 45 countries and more than 240+ culinary cities.
Her writing about local food specialties has been featured in Lonely Planet, Business Insider, Honest Cooking, Food Insider, and Huffington Post.
As a food and travel writer, Rosemary has co-authored three books, including one in collaboration with Costa Brava Tourism.
Rosemary is an avid runner when she's not eating and exploring new destinations. She has run ten marathons and counting.
Before Authentic Food Quest, Rosemary held senior-level strategy positions in advertising. 
Find out more about Authentic Food Quest