When we first arrived in Bangkok on our quest for authentic food, exploring Bangkok Chinatown was high on our list. In addition to being one of the world's largest and most authentic Chinese communities outside China, Chinatown Bangkok is also one of the capital's busiest and liveliest districts.
Known to locals as "Yaowarat", Chinatown Bangkok goes way beyond a tourist attraction. It is a working Chinatown with two distinct atmospheres. The Chinatown market by day and a massive open air food market by night.
So the question became, how do you find amazing Chinatown Bangkok food in one of the busiest districts of Bangkok?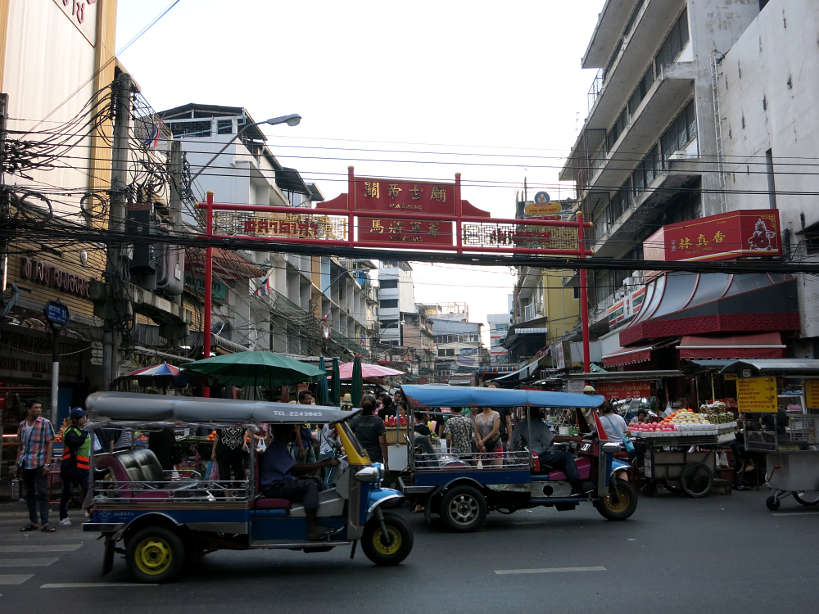 Chinatown Bangkok:  A Sensory Experience
Bangkok's Chinatown is vibrant and engages all senses. During the day, Chinatown is bustling with stores, shophouses and street vendors. You see vendors selling produce, fruits and juices. Many stores and shophouses loudly display their wares, everything from gold, clothing  to Chinese medicinal products.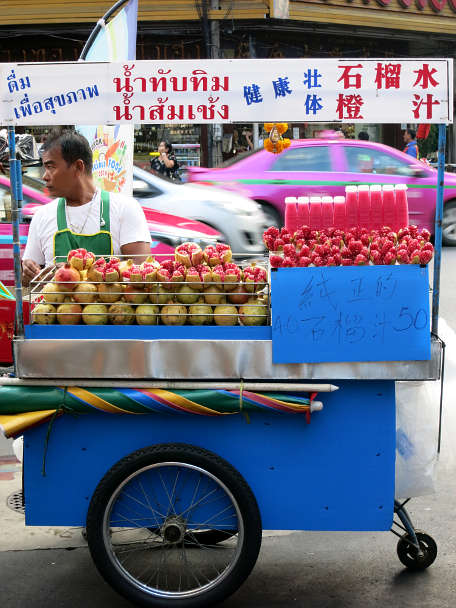 When night falls, street food vendors come out to light up Chinatown's sidewalks and dark alleys. Hundreds of food stalls tempt and invite you with delicious smells from their cooking pans. Sizzling woks, chopping boards and the sights of cooking flames will compete for your attention.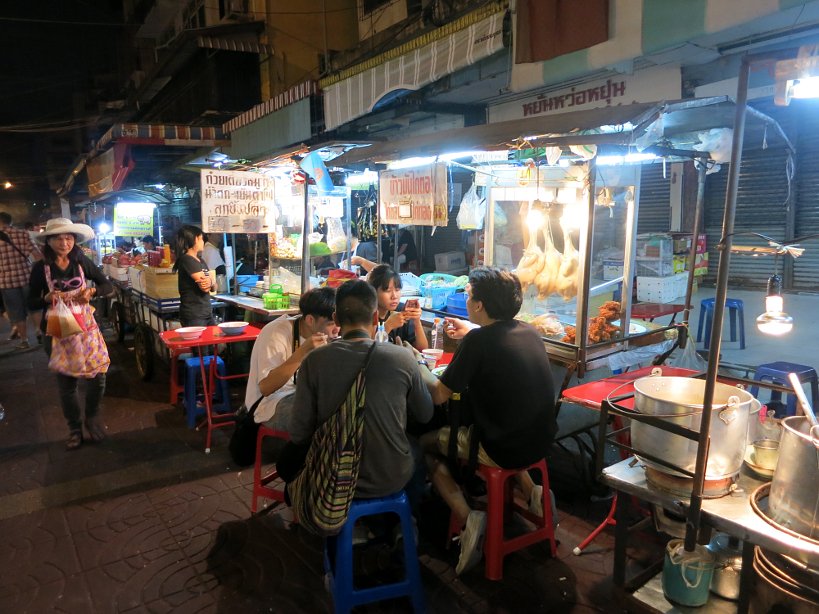 Chinatown Market Visit
To guide us through Chinatown, Ren from Context Travel was our guide. We had taken a Paris Chocolate tour with Context Travel previously and loved learning about the history of chocolates in Paris. When we found out that Context offers tours in Bangkok Chinatown, we jumped at the opportunity to explore Chinatown Bangkok food.
Our tour through Bangkok's Chinatown started at 4:30pm which gave us a chance to see Chinatown by day and by night. We meandered through small and narrow alleys making our way through Itsara Nuthap alley on Soi 6, one of the markets within Yaowarat .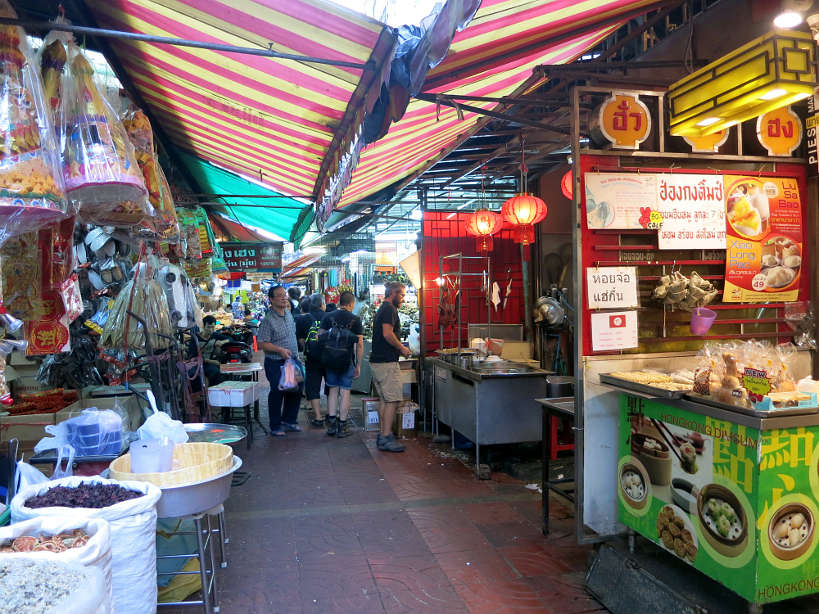 As we navigated our way around, our noses were assaulted by a variety of interesting smells. From durian at corners stalls, to flowery scents of Chinese teas, to ducks hanging upside down like prized trophies.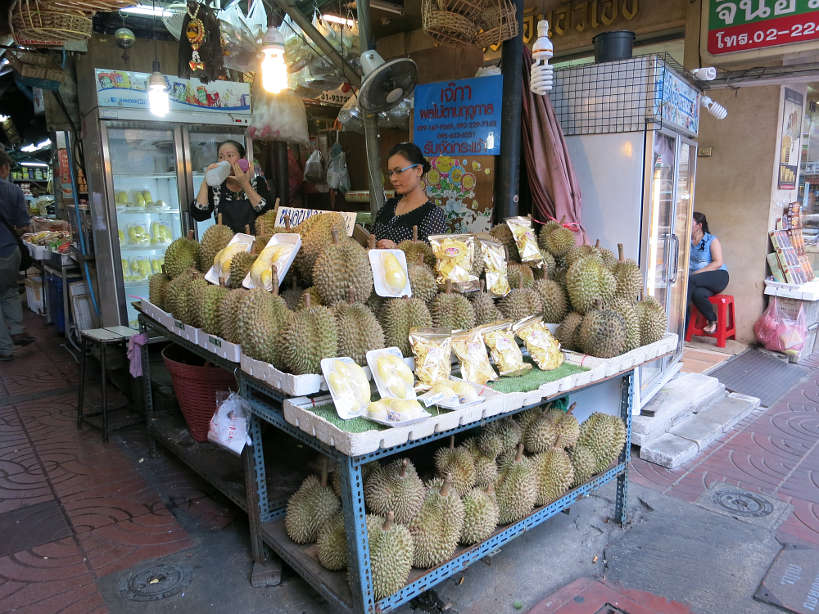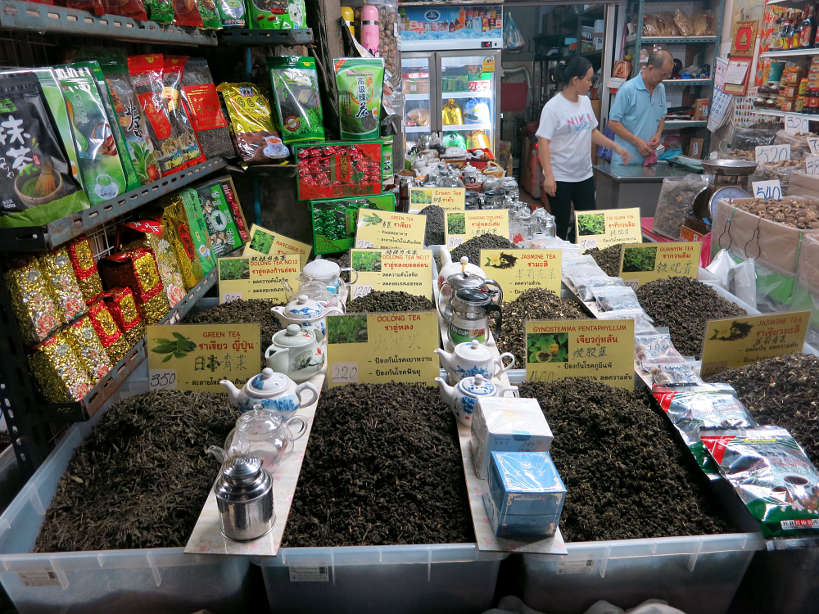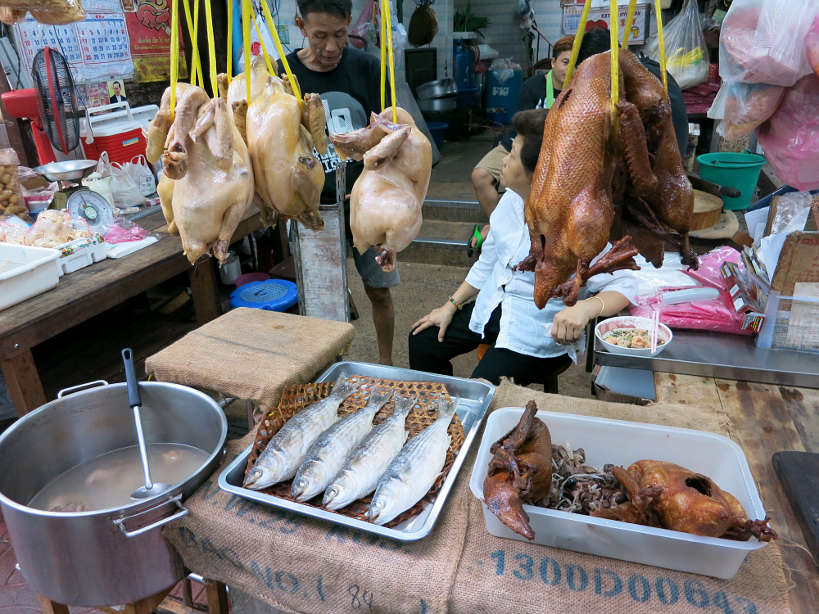 After strolling through the market, we ended up at Charoen Krung Road, a few steps away from the famous Khao Gaeng Jake Puey Curry.
Best Curry in Chinatown at Jek Pui Curry
Khao Gaeng Jake Puey Curry also goes by Jek Pui Curry. This large food stall is located on the sidewalk of a busy street. Though it is an unlikely location for a food stall, the curry simmering in large pots and art deco background makes it quite intriguing.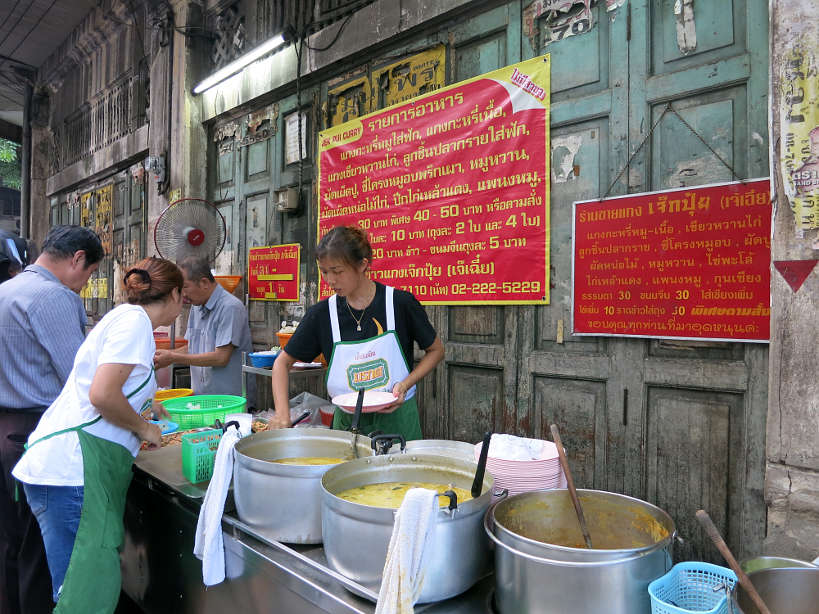 Get yourself tempted by the pork or chicken curry. We couldn't pick one, so we had a chance to try both. Be aware that the place is very popular with locals, especially office workers at the end of the day.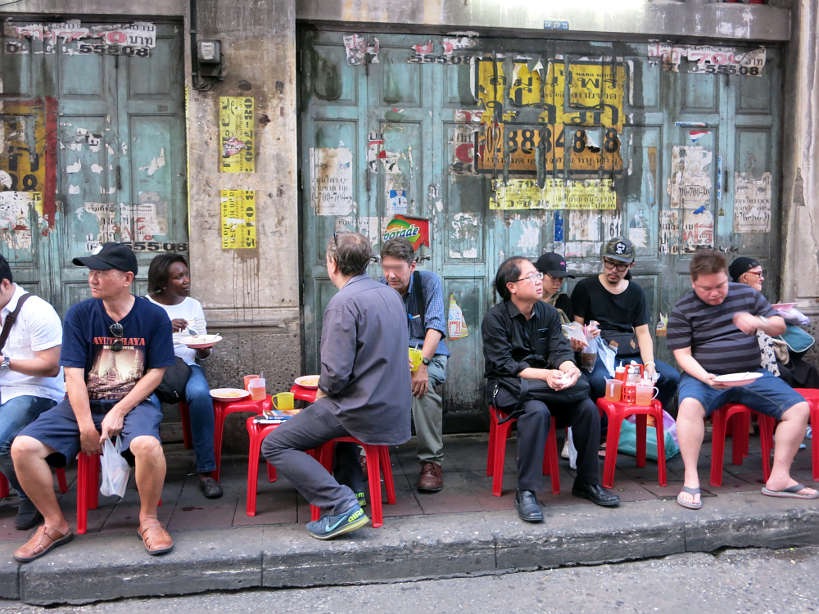 One of the first things you will notice is that there is no tables at Jek Pui Curry because of the lack of room and the popularity of the place. Once you place your order you simply pull up a pull a little plastic chair on the sidewalk and wait for your order to come. With no tables, you eat your meal holding your plate in your hands.
This family owned 70+ year establishment is well worth the experience. Our delicious curries and rice, were tasty and not too spicy,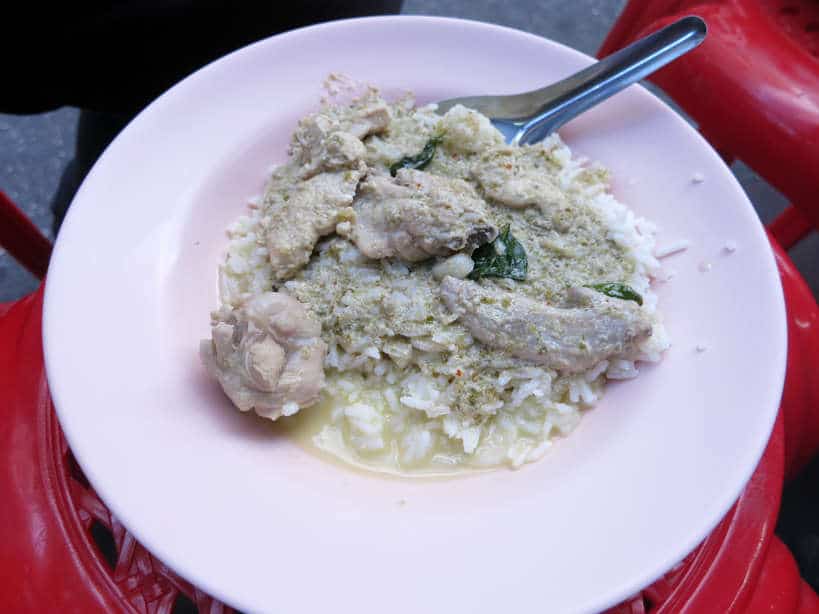 Where
Khao Gaeng Jake Puey Curry
Address: 427 Mangkon Rd, Bangkok.
Hours: 4:00 pm to 9:00 pm. Closed on Monday.
A Temple Stop at Wat Mangkon Kamalawat
On your way to Jek Pui Curry from the Chinatown market, you will see the temple known as Wat Mangkon Kamalawat.
Your stop in Chinatown should not miss the most important Chinese Buddhist temple in Bangkok. Wat Mangkon Kamalawat, known in Chinese as Wat Leng Nui Yee is the center of festivities for important events such as Chinese New Year and the Chinese Vegetarian Festival.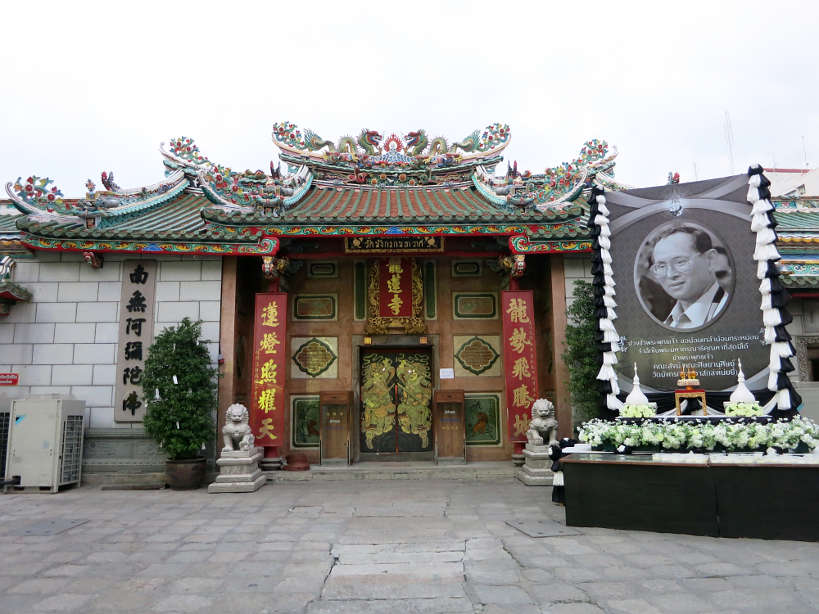 This impressive temple is built in Chinese architectural style with wave-like roof tiles and and Chinese animal and floral designs. Inside you will many buddha images and shrines.
In the principle alter, you will see Chinese faithfuls burning incense and paying homage to Buddha and the saints. The faithful believe that coming to pay homage will bring them good luck in family, business or health.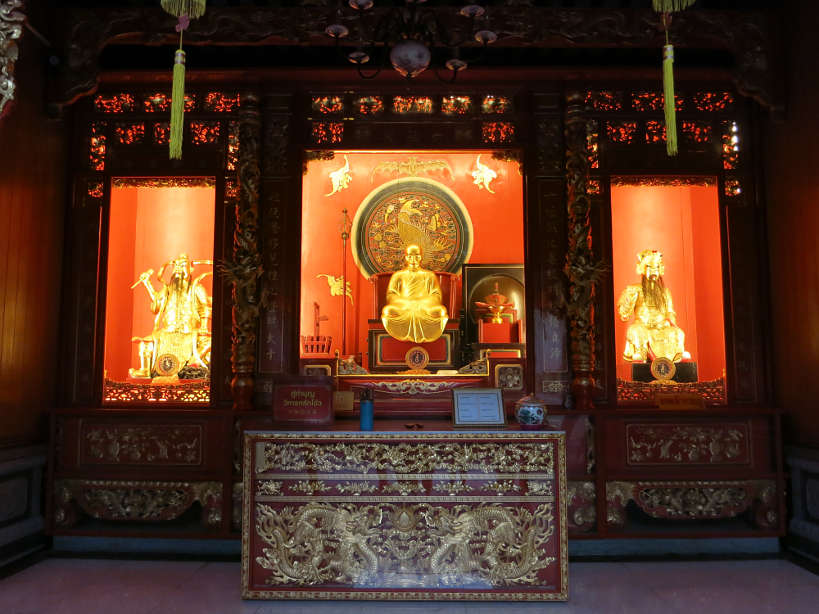 Delicious Thai Oyster Omelet at Nai Mong Hoi Thod
After leaving the temple, we strolled on Charoen Krung Road until we reached Phlap Phla Chai Street and then turned left. About 50 meters on the right hand side, we stopped at Nai Mong Hoi Thod, famous for their crispy Thai oyster omelet!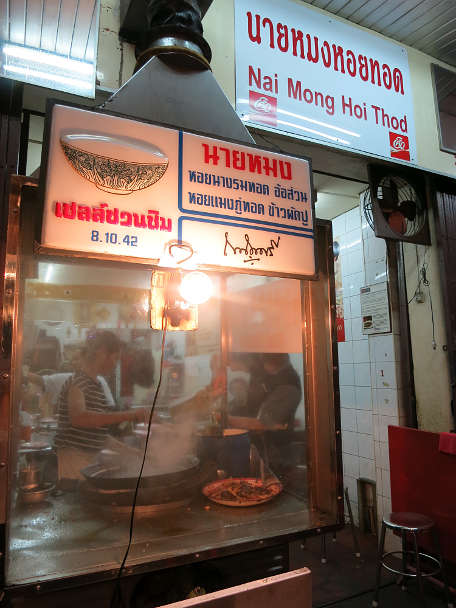 This Thai oyster omelet is also known as Hoy Tod. It is a dish brought by Chinese immigrants revisited 'the Thai way'. At Nai Mong hoi Thod, a shop house style restaurant, they specialize in only this dish and they make it with either oyster or mussels. It is served with a sweet chili sauce on the side.
We had the oyster version which we found to be full of flavor, though a little greasy. The oyster were surprisingly fresh and very tasty. A highly recommended stop as a way to immerse yourself into the local Thai-Chinese culture, through food.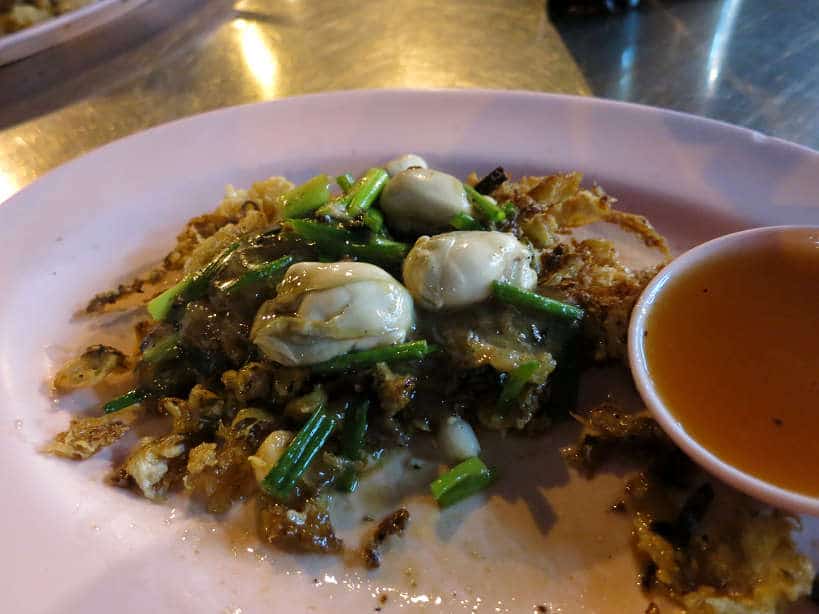 Where
Nai Mong Hoi Thod
Address: 539 Phlap Phla Chai Rd Bangkok.
Hours: 11:30 am to 9:30 pm. Closed on Tuesday.
Chinese Noodles & Dumplings at Mung Korn Khao Noodles
No tour of Chinatown would be complete without a stop for Chinese noodles and dumplings. We stopped at a small noodle shop right off one of the alleys, popular for selling freshly made noodles and dumplings.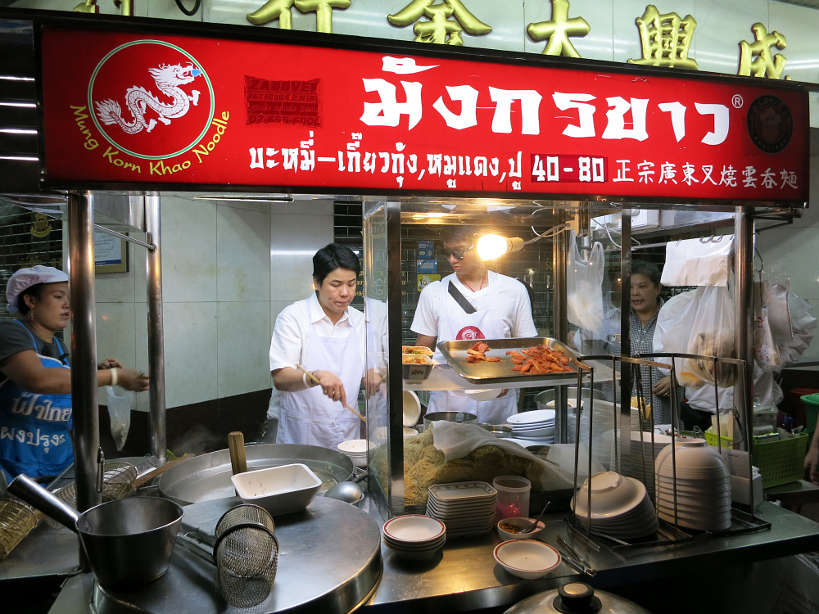 If we had not been with Context Travel  we would not have known about the popularity of the place. Here we had the egg noodles and pork soup and we also shared a side of pork and shrimp dumplings.
The soup had deliciously flavorful and the pork, tender and not fatty. The noodles used were thin and cooked to perfection.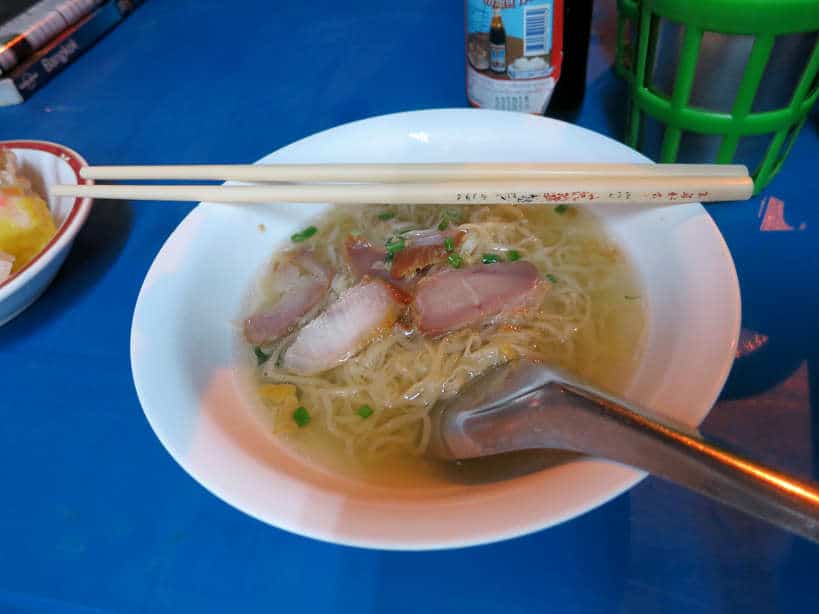 Stuffed from our previous stops, we could only manage to share one soup. We made sure to leave room for the pork and shrimp dumplings, which were delicious. Rosemary was a big fan of the Chinese dumplings especially when combined with the salty/sour sauce. This was a delicious stop on the Chinatown Bangkok tour!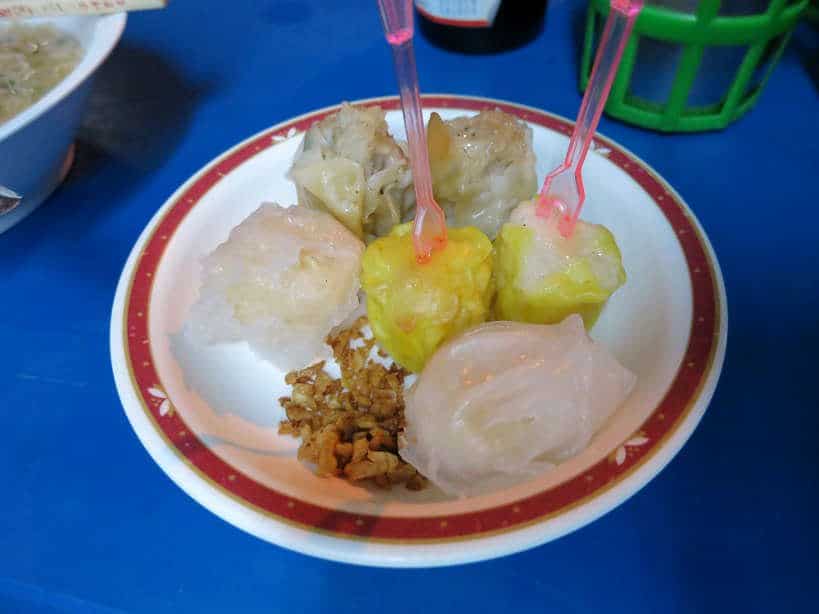 Where
Mung Korn Khao Noodle
Location: 395 Yaowarat Rd, Bangkok.
Hours: 6pm – late night daily.

In Summary
Chinatown is one of Bangkok's most vibrant districts and it is not to be missed on your travels to Bangkok. It is a great location to see the different market vendors and day to day activities, as well as the temples and rich Chinese culture and heritage.
The best time to visit Chinatown Bangkok is in the late afternoon, where you can experience the two atmospheres of the district. Chinatown shops by day and the vibrant street side cuisines by night.
Taking a tour with Context Travel, a company that specializes in small group tours for the intellectually curious travelers is a good idea. Our tour was private and tailored for the two of us. It was a mix of culture and historical elements, mixed together with the food culture. Having a guide that spoke Thai was a huge bonus as well.
If you are planning a trip to Thailand, be sure to explore Chinatown Bangkok and the best places for street food with Context's Bangkok food tours or any of their other tours in Bangkok.
Additional Information
Tour: Book your Chinatown Bangkok tour directly with Context on their website Bangkok food tours.
Duration of the tour: Approximately 3 hours. Bring comfortable walking shoes.
Cost: $54.00 USD per person for groups. You can also book private tours directly on the website
Special thanks to Context Travel for having us on this tour. All views and opinions expressed are our own. Full bellies and happy taste buds too.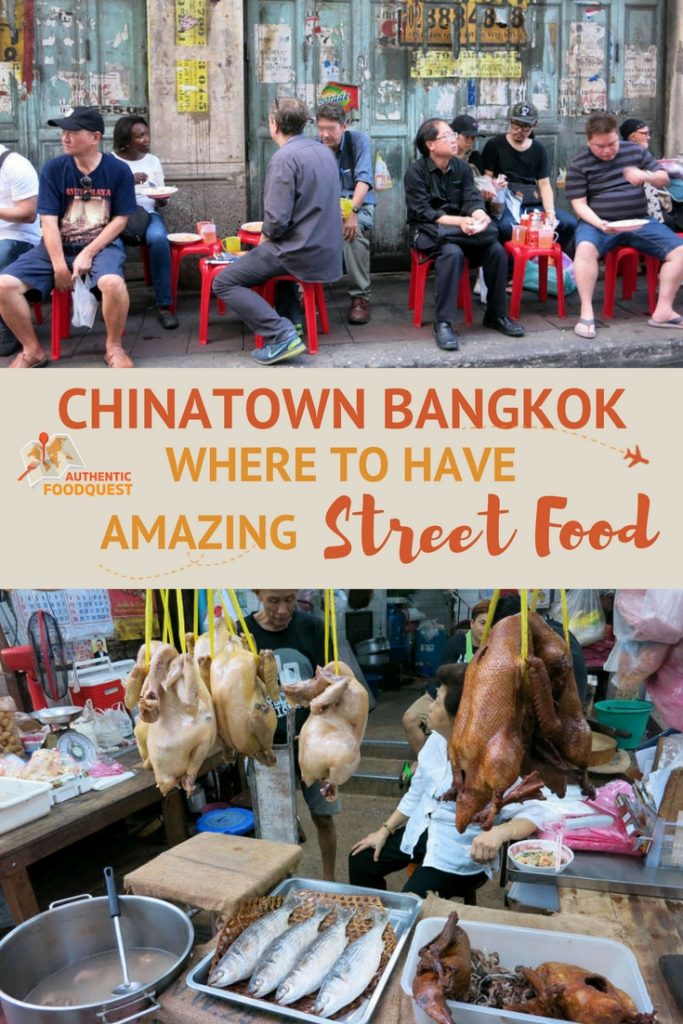 Rosemary is a writer and culinary explorer. Together with her partner, Claire, they created Authentic Food Quest to inspire people to travel deeper through authentic food. Through food, they believe, people can have more meaningful connections on their travels. Prior to creating Authentic Food Quest, Rosemary worked as a director of strategy in advertising for over 15 years.   Take the quiz and find out your Food Traveler Profile.