This article has links to products and services we recommend, which we may make a commission from.
This chocotorta Argentina cake is a true wonder and unbelievably easy. It's a classic Argentina birthday cake layered with dulce de leche and then chilled in the refrigerator. This no-bake chocolate cake is one of the easiest traditional Argentina desserts you can make.

What is Chocotorta Argentina Dessert?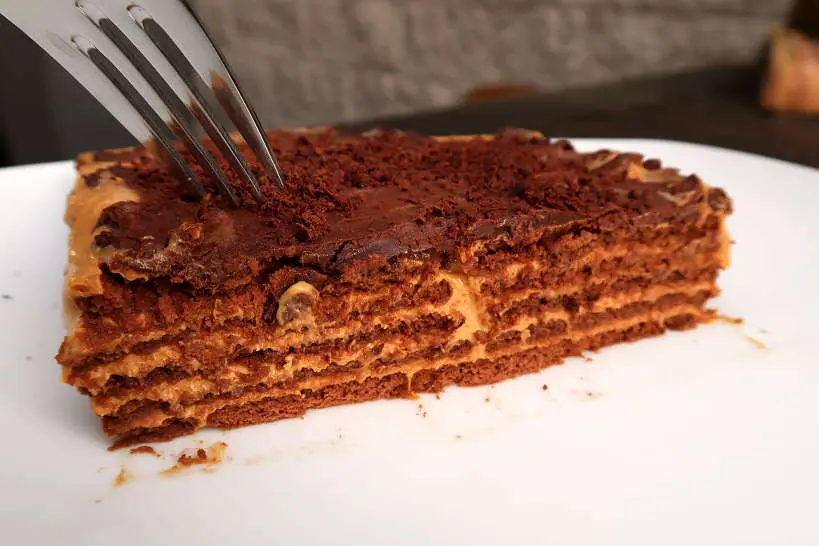 The chocotorta Argentina dessert is one of the most popular Argentina desserts that's eaten at home and not at restaurants.
The preparation is somewhat similar to a classic tiramisu or a grandmother's biscuit cake.
In Spanish, chocotorta literally translates to "chocolate cake." It is a traditional Argentina dessert that is typically made for birthdays.
No birthday celebration in Argentina is complete without a chocotorta or chocolate cake.
Combining traditional ingredients like dulce de leche with cream, coffee, and chocolate cookies, it is remarkably easy to make.
Discovering Chocotorta or Argentina Birthday Cake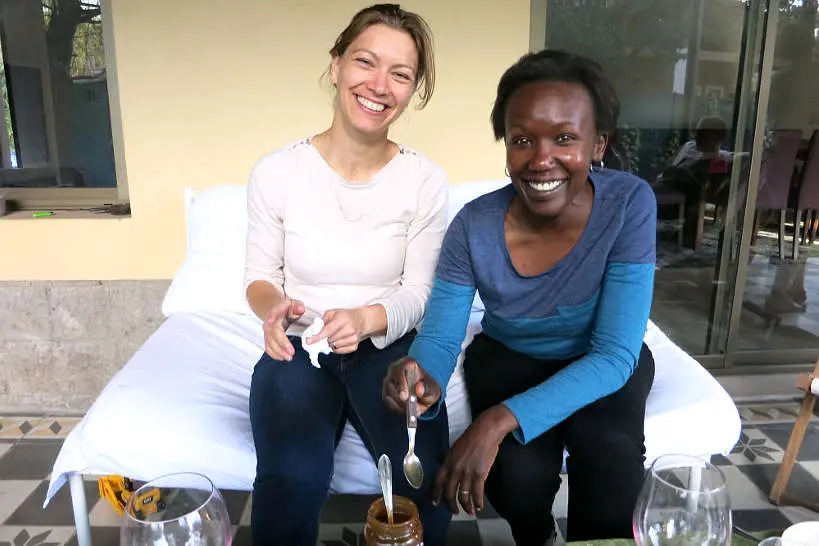 While in Argentina exploring the local food specialties, we shared an Airbnb with locals in Buenos Aires.
One night, friends of our Airbnb hosts invited us to join them at a friend's birthday party.
We were excited and looking forward to meeting other porteños (the name given to people from Buenos Aires).
The theme for the birthday party was "Peruvian ceviche" Since we were planning on traveling to Peru, we were eager to discover Peruvian ceviche in advance.
At some point during the festivities, our friends disappeared into the kitchen to make the cake.
Right before the party ended, they went back into the kitchen and emerged holding the chocotorta Argentina or chocolate cake.
Both Claire and I were intrigued. I can still vividly remember looking at the cake and salivating while singing happy birthday. My first bite into the creamy dessert was sublime.
Both Claire and I looked at each other and nodded in approval. We knew immediately we needed the Argentina chocotorta recipe.
This chocolate Argentina cake is not usually found on the dessert menus at restaurants. Argentinians eat it on a regular basis typically at family gatherings or birthday celebrations.
To try this traditional Argentina dessert, make it at home for friends and family. Put a spin on the next birthday celebration with this easy chocotorta Argentina cake.
The History of Argentina Chocotorta Cake
It's rare when my previous advertising career and traditional recipes collide. While researching the origins of Argentina chocotorta recipe, I was thrilled to discover the inventor was an advertising executive.
In 1982, Marité Mabragaña, worked as a creative director at Ricardo de Luca, the largest Argentina advertising agency. Her clients at the time were a cream cheese company and a chocolate cookies company.
As a mother who cooked her family, she had the idea of coming up with a recipe that combined the two brands. She made the cake for her children and agency executives and it was an immediate hit.
Her clients needed a little bit more convincing, but they eventually came around. Television advertisements were created and the chocotorta dessert became popular throughout the country.
The success of the chocotorta Argentina cake is in its simplicity. A chocolate cake that mixes a few ingredients together and does not require any baking.
So simple, this dessert is credited to bringing men and boys into the kitchen to make it.
Nowadays, the chocotorta is the most Argentinian of cakes, present at almost every birthday party.
How to Make Argentine Chocotorta at Home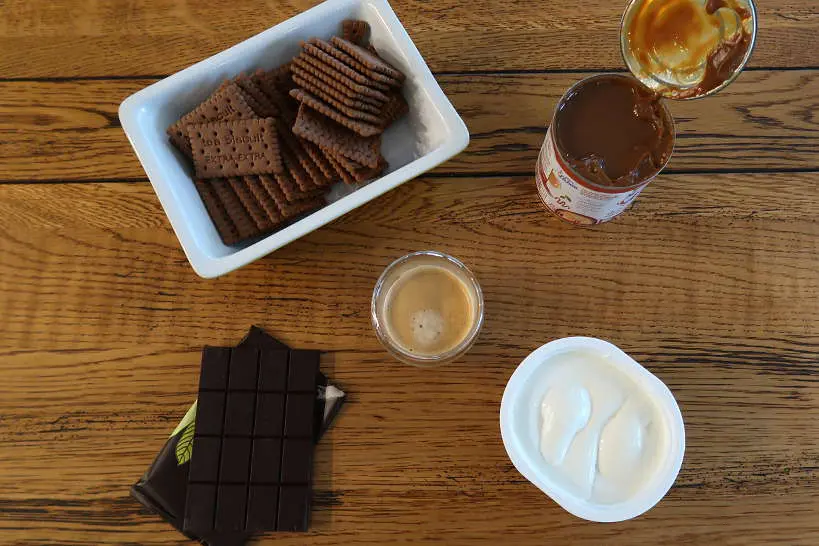 Done well, this simple chocotorta recipe can be transcendent. The key to a crowd-pleasing Argentina chocolate cake relies heavily on the quality of its ingredients.
Get the best quality dulce de leche you can get your hands on. Skip milk chocolate and garnish your cake using high-quality dark chocolate instead. Soak the cookies in freshly brewed quality coffee.
What is Dulce de Leche?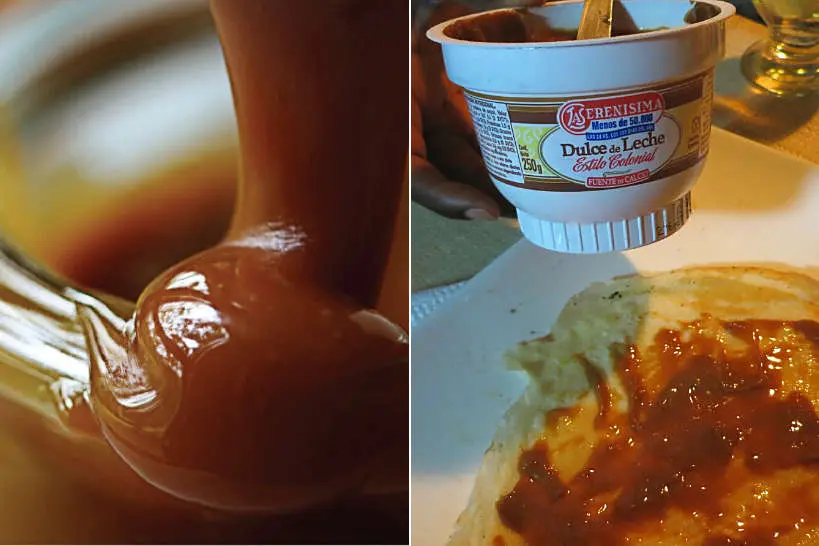 Dulce de Leche is a heavenly sweet cream. It is a kind of sticky syrup or caramelized milk and sugar sauce.
In Argentina, it is considered a delicacy and sometimes referred to as the nation's sweet.
You will find variations of dulce de leche in other Latin American countries as well as France, Spain, and the United States.
Dulce de leche is used in many Argentinian desserts.
AUTHENTIC FOOD QUEST RECIPE: The Best Homemade Dulce de Leche in Argentina – Authentic Homemade Recipe
Argentina Chocolate Chocolina Cookies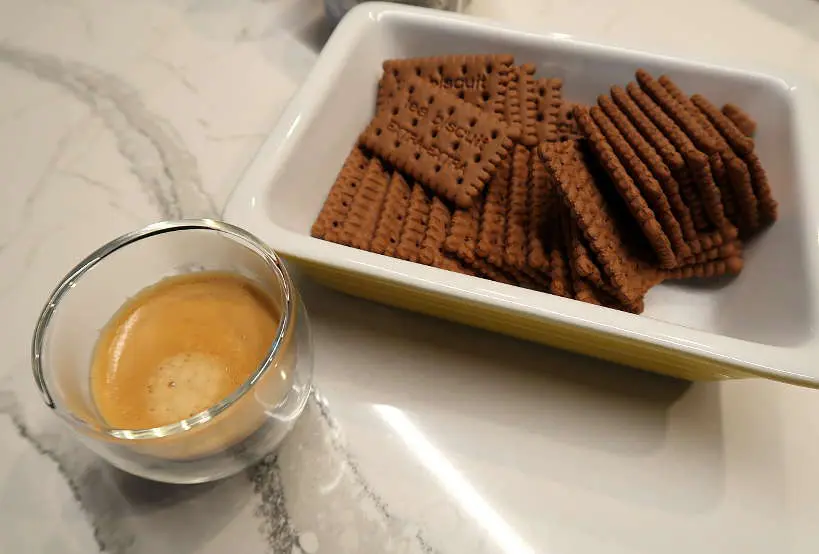 Finding simple chocolate cookies for this recipe was surprisingly difficult. Most of the cookies at the grocery stores have some kind of filling.
If you cannot find chocolate cookies at your local grocery store, order Chocolinas, the most popular brand of Argentinian chocolate cookies.
What does the Argentina Chocotorta Taste Like?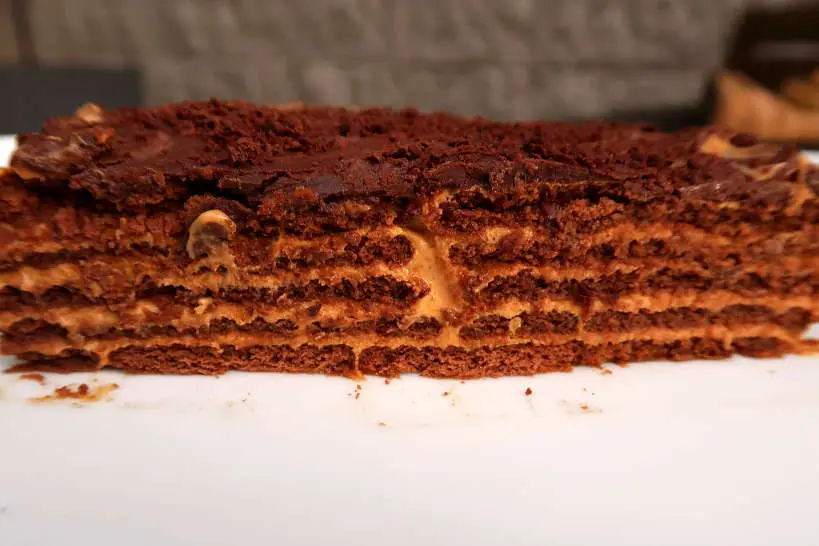 The Chocotorta is a sensational dessert that always pleases. It is moist and soft and eaten by the spoonful.
It is not extremely sweet but rather smooth and silky. The combination of the cream cheese and sour cream cut through the sweetness of the dulce de leche.
The chocolate cookies soaked in coffee provide a wonderful mocha flavored contrast to the dark chocolate.
Argentine Chocotorta Recipe Tips
This simple Argentina chocotorta recipe is easy to make at home and can be adapted to your tastes.
You need only a few ingredients for this Argentina cake. However, do keep in mind, the better the quality of the chocotorta ingredients, the better the flavors.
What Should I Dip My Chocolate Cookies in? Milk, Coffee or Kahlua?
You'll find several variations to the chocotorta ingredients, especially regarding what to dip the chocolate cookies in. Child-friendly versions typically use whole milk.
Whereas, Kahlua liquor is a popular version for adult only chocotorta cakes.
Interestingly, the original chocotorta recipe dipped the chocolate cookies in port wine.
How Should I Top My Chocotorta Cake?
For an elegant finish, you may top your chocotorta cake with a layer of melted chocolate. We recommend Valrhona dark chocolate (85%) a refined chocolate from the Rhône valley in France.
Or you can use any other high-quality dark chocolate for a silky and non-sweet finish.
How Long Can I Keep the Chocotorta in the Refrigerator?
If you happen to have any leftover chocotorta after your festivities, you keep it in the fridge. The chocotorta cake can keep up to 3 to 4 days in the fridge.
We found the flavors to actually get better after 2 days.
If you don't think you're not going to finish it in a week, you may consider freezing part of it.
Can I make the Chocotorta Argentina Cake ahead of Time?
You can easily make the chocotorta recipe up to 2 days in advance allowing the flavors to soak in completely.
Argentina Chocotorta Recipe Step by Step Instructions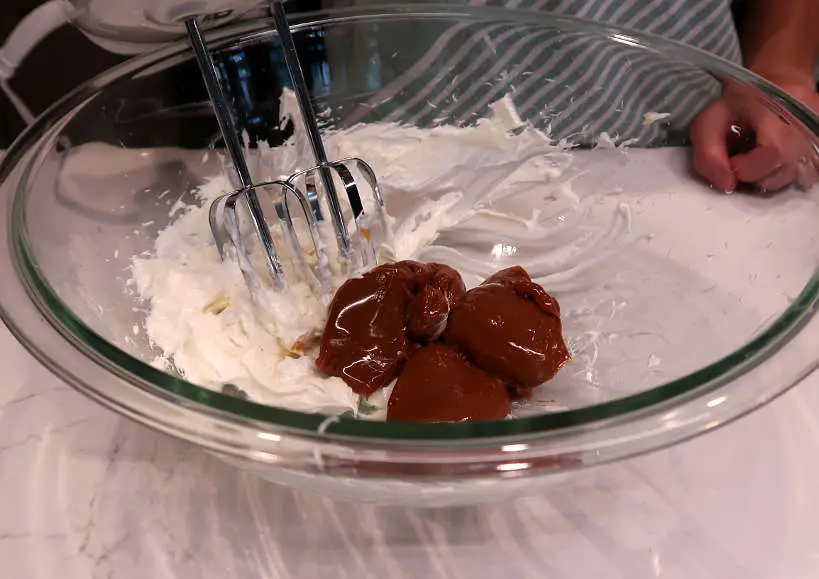 Place the cream cheese in a bowl and mix thoroughly with a hand blender. Add in the dulce de leche and continue mixing until you get a light caramel color mixture.
Add sour cream or creme fraiche and mix. Taste as you mix until you get the desired level of sweetness.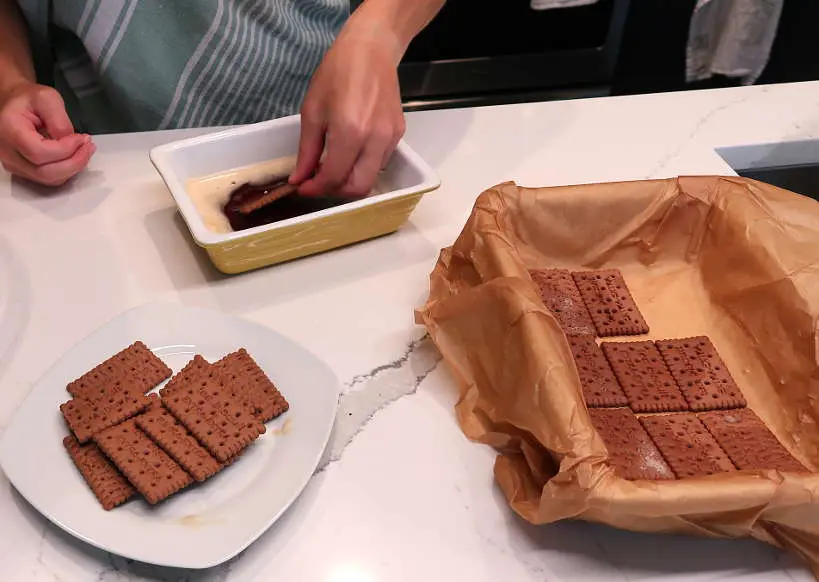 Dip the chocolate cookies in freshly brewed coffee and then place them in a dessert tray. While it's optional, lining the dish with parchment paper makes for less mess and easier cleanup.
Be sure not to dip the chocolate cookies for too long or they will crumble. Once you have the first layer done, spread on dulce de leche mixture and evenly with a spatula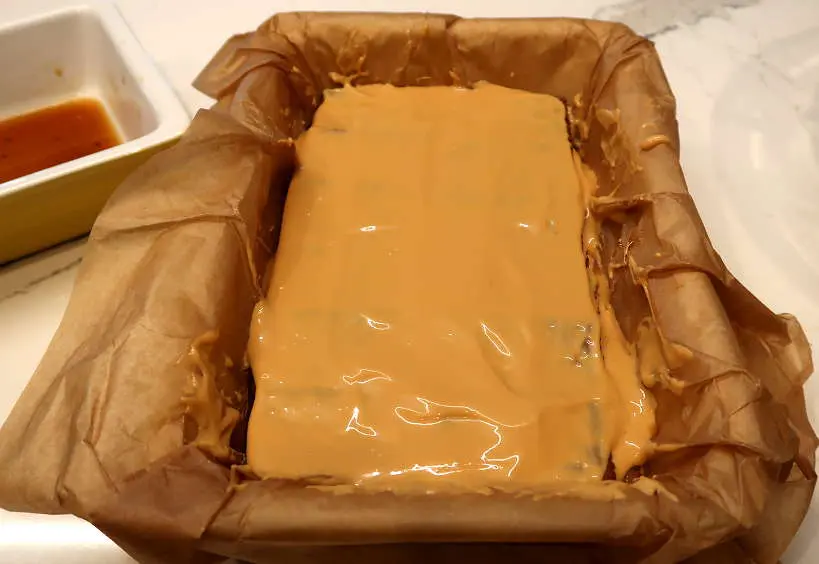 Keep layering your cake until you end on the last layer of the dulce de leche mixture.
For the final layer, melt a few squares of high-quality dark chocolate using the bain marie method. Once melted, spread a thin layer of the chocolate over the last dulce de leche layer.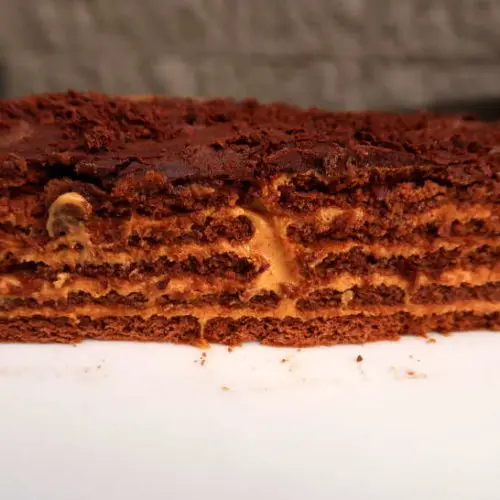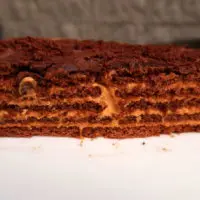 Argentina Chocotorta Recipe
This classic chocotorta Argentina cake is unbelievably easy to make.  A no-bake, dulce de leche layered cake, this dessert is a guaranteed success.
Print
Pin
Rate
Ingredients
7

oz

Dulce de Leche

5.3

oz

Cream Cheese

remove from fridge and allow it to soften

2

tbsp

Creme fraiche or sour cream

optional

8

oz

Chocolate Cookies

depending on the size of your dish

1

cup

coffee

freshly brewed

1

oz

Valrhona dark chocolate

for garnishing

Parchment paper

optional
Instructions
In a large bowl, using a hand mixer, combine the dulce de leche and cream cheese and beat until fluffy. Add creme fraiche or sour cream and continue mixing. It should be a light caramel color with no lumps. Taste to achieve the ratio you like. Reserve

Brew a cup of black coffee and pour it in a shallow dish. This is for dipping the chocolate cookies to make them moist. Make sure not to dip them for too long or they will get soggy and crumble.

Line your dessert baking dish with parchment and begin building the Argentina cake.

Submerge each chocolate cookie one by one in the coffee and line them across the parchment paper in the dessert baking dish. You may need to break up a couple of cookies to get the right geometrical shape to cover the entire surface.

Pour some of the dulce de leche mixture and spread evenly with a spatula. Arrange another layer of coffee-soaked cookies. And then, add another layer of the dulce de leche mixture.

Continue adding layers of chocolate cookies dipped in coffee followed by more dulce de leche mixture.

You should have at least four layers of cookies ending with a layer of dulce de leche.

For garnishing, melt a few squares of high-quality dark chocolate and pour on top of the last layer of dulce de leche.

After having made the recipe for the first time, we would now recommend delicately melting the chocolate. Instead of melting the chocolate over a stovetop, we recommend using the bain marie method for a smooth finish.

Once you have spread it out evenly, grate a few dark chocolate squares and sprinkle over the Argentina cake.

Cover with a plastic wrap and refrigerate for at least four hours. The longer the Argentina cake sits in the refrigerator, the better it gets.
Notes
You can substitute the coffee for milk especially if serving children. 
For an adult-only version, some recipes call for mixing Kahlúa with the coffee
To allow the flavors to settle, it's important to refrigerate for at least 4 hours or even overnight.
Nutrition
Serving:
1
|
Calories:
213
kcal
|
Carbohydrates:
24
g
|
Protein:
3
g
|
Fat:
13
g
|
Saturated Fat:
6
g
|
Polyunsaturated Fat:
2
g
|
Monounsaturated Fat:
4
g
|
Cholesterol:
21
mg
|
Sodium:
225
mg
|
Potassium:
103
mg
|
Fiber:
1
g
|
Sugar:
13
g
|
Vitamin A:
274
IU
|
Vitamin C:
0.03
mg
|
Calcium:
31
mg
|
Iron:
1
mg
More Argentina Cooking Products
Looking for More Argentinian Local Food Experiences?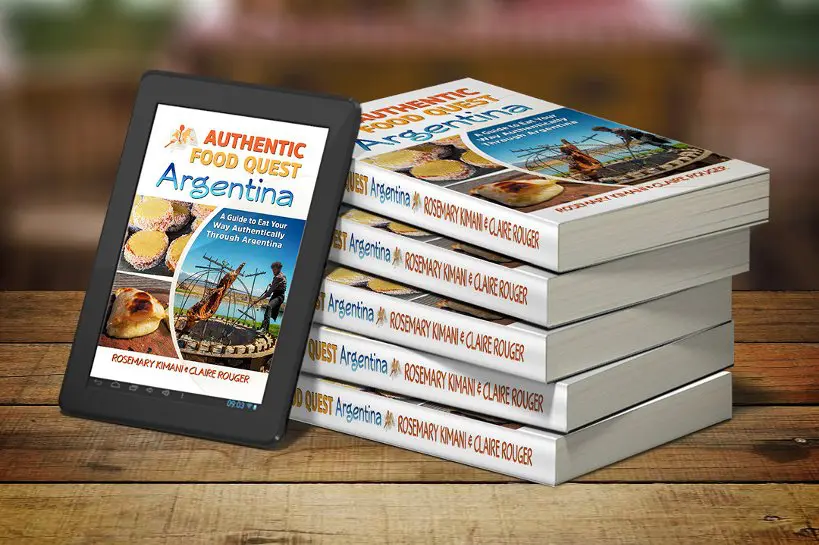 Our book, Authentic Food Quest Argentina takes you on a journey through food in four main regions of Argentina. Buenos Aires, Mendoza & the Wine Regions, the Andean Northwest, and Patagonia & the Lake Region.
In it, you'll find descriptions of the typical dishes, desserts, beverages, street food, and unique produce not to miss. Also included is an overview of the farmers markets and local stores, restaurants, wineries, and local producers worth visiting.
Throughout the guide, are stories and insights shared by local experts including Argentina's most renowned Chef, Francis Mallmann.
By combining storytelling with local information, this unique guidebook that inspires intrepid and armchair travelers to savor their adventures in Argentina.
Available on Amazon and Barnes & Noble
Rosemary is the editor-in-chief and strategist at Authentic Food Quest.
Traveling slow since 2015 with her partner, Claire, she has explored the cuisine in 45 countries and more than 240+ culinary cities.
Her writing about local food specialties has been featured in Lonely Planet, Business Insider, Honest Cooking, Food Insider, and Huffington Post.
As a food and travel writer, Rosemary has co-authored three books, including one in collaboration with Costa Brava Tourism.
Rosemary is an avid runner when she's not eating and exploring new destinations. She has run ten marathons and counting.
Before Authentic Food Quest, Rosemary held senior-level strategy positions in advertising. 
Find out more about Authentic Food Quest