This article has links to products and services we recommend, which we may make a commission from.
Oaxaca, is one of the states in Mexico with a rich culinary tradition recognized nationally and internationally.
The food in Oaxaca is rich, layered, and varied. Taking a cooking class in Oaxaca offers the opportunity to discover the flavors of the region hands-on.
One reason we took a cooking class in Oaxaca was to understand the intricacies of Mexico's most revered cuisine.
The immersive experience at La Cocina Oaxaqueña cooking school offered exactly what we were looking for.
A local market visit for context, followed by cooking Oaxaca specialties in a local's home.
There are many reasons to take a cooking class in Oaxaca. Oaxaca cooking classes are fun, delicious, and enriching culinary experiences.
Here's why a La Cocina Oaxaquena cooking class should be part of your culinary itinerary in Oaxaca.

Oaxaca Cooking Class With La Cocina Oaxaqueña
La Cocina Oaxaqueña cooking school offers cooking classes devoted exclusively to Oaxacan cuisine and traditional cooking techniques.
Run by three generations of Oaxaca cooks, they share their knowledge to preserve and pass on their heritage.
Our morning cooking class started with a market visit followed by an immersive cooking experience at Chef Gerardo Aldeco's family home.
Assisted by his lovely mother, Socorro Pinelo, we cooked for about 4 hours. After slicing, dicing, and cooking, we spent the last hour savoring the fruits of our labor with traditional drinks.
If you are visiting Oaxaca, here are some of the main reasons for taking a cooking class with La Cocina Oaxaquena.
AUTHENTIC FOOD QUEST TIP: To book a cooking class in Oaxaca, we use Cookly, a website that offers authentic cooking classes around the world. On the website, you'll find a variety of Oaxaca cooking classes and experiences. From pre-Hispanic dishes and drinks, experiences at nearby villages or even vegan focused recipes, there's plenty to choose from. Get 5% off at checkout for any class with discount code AFQ5
1. Visit the Largest Food Market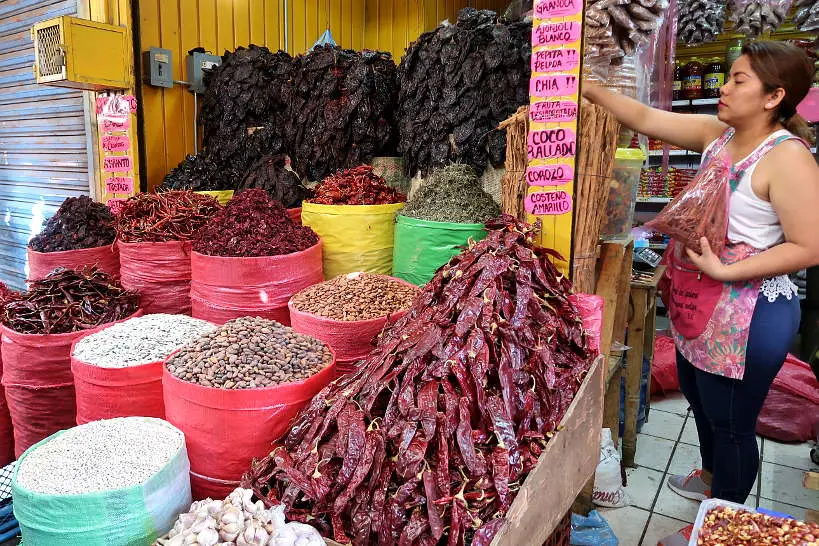 Part of what makes for an authentic cooking class experience is shopping for your produce at the local market.
For our cooking class in Oaxaca, we started the day at Central de Abastos market, the largest in the city.
At 8:30 am, chef Gerardo picked us up, and together with a couple from the US, we drove to the market.
The market was quite overwhelming in size and we were glad to have had a guide.
The smells, sounds, and vibrant colors assaulted us in every direction. The energy was high with vendors selling their wares and people moving through quickly.
In the midst of it all, chef Gerardo walked us around picking up ingredients for our Oaxaca cooking class experience.
Knowing how to navigate the local market visit with a local chef deepens one's understanding of the local food culture.
2. Shop Locally With an Oaxaca Chef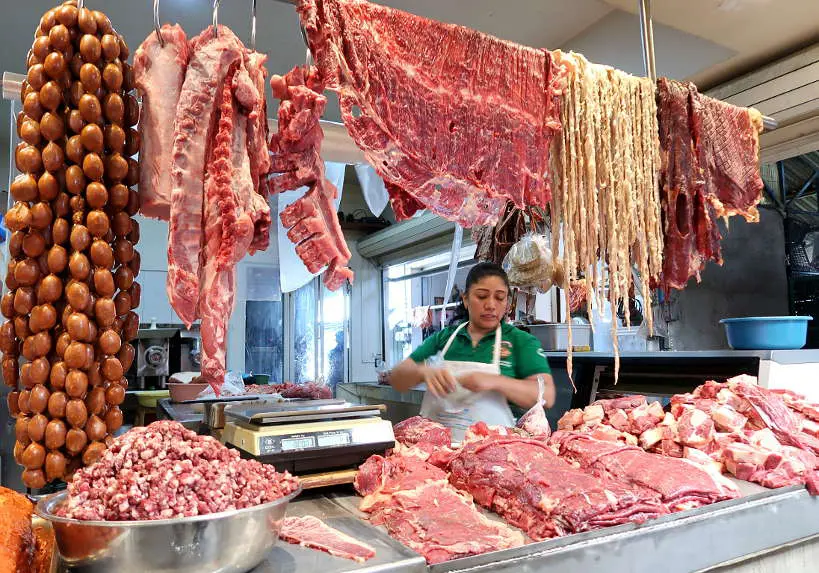 Shopping like a local and learning to negotiate is part of the market experience.
So is knowing the right stalls to go to for the freshest products.
As we made our way through the narrow market alleys, chef Gerardo expertly balanced stopping for ingredients and showcasing the culinary diversity.
We picked up pan dulce or Mexican sweet bread for breakfast. A nearby tamales stand was constantly busy with locals picking up tamales to go.

At a vegetable stall, we picked up chiles de agua to make chiles rellenos or stuffed peppers. As we walked further into the market we made a fascinating stop at a limestone vendor.
Here, chef Gerardo talked about nixtamalization an ancient technique used to make tortillas.
From limestone mines found around Oaxaca, corn is treated and ground up to produce the flour used to make tortillas.
This helped us understand why a comal or flat griddle used to make tortillas have a layer of white on them.
Shopping at the Food Section or Mercado de Comida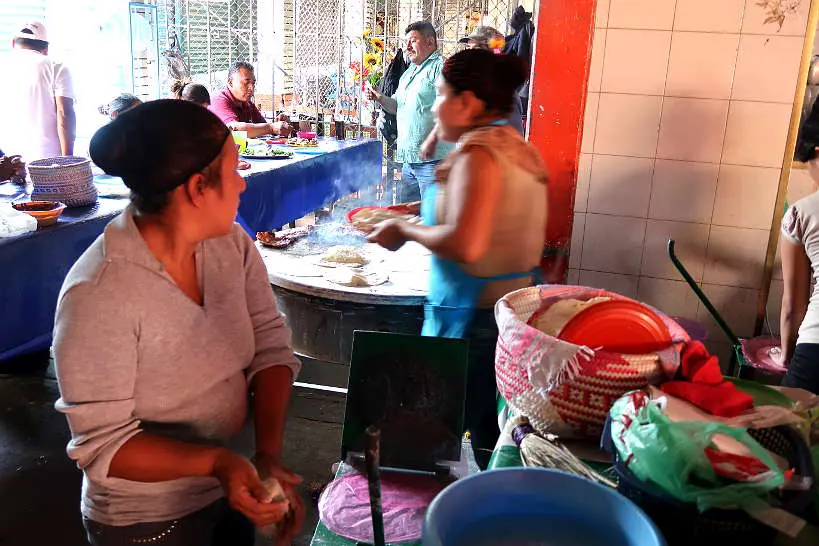 The Mercado de Comida or food section of the market was another lively stop. Wonderful aromas filled the air with ladies busy cooking up soups, tortillas, eggs, and meat.
For the protein in our Oaxaca cooking class, we picked up farm-raised fresh Mexican yellow chicken breasts. The color, we learned, comes from chicken feed which includes marigold.
And, from the butcher with exposed meats and sausages hanging down, we picked up tasajo, a cut of meat typical from Oaxaca.
The market visit lasted about 1.5 hours and it could have gone on forever.
As much as we would have liked to stay, we needed to leave and start our Oaxaca cooking class.
3. Oaxaca Cooking Class Experience In a Local's Home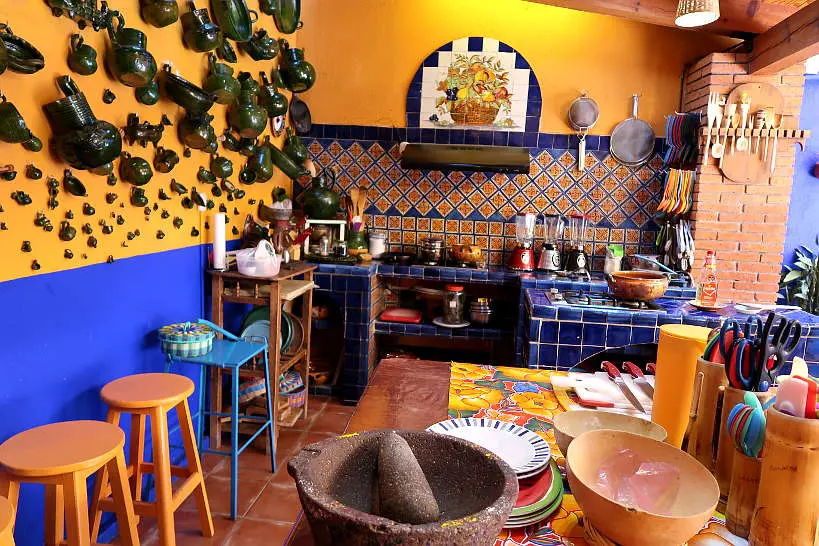 The environment where you have your cooking class matters. Whenever we can, we always choose intimate classes, preferably at a local's home.
The opportunity to be in a working kitchen gives you even more insights into home cooking.
The open-air kitchen at chef Gerardo's family home was warm and inviting.
As soon as we walked in, we were instantly captivated by the bright colorful tiles and well organized spaced out cooking stations.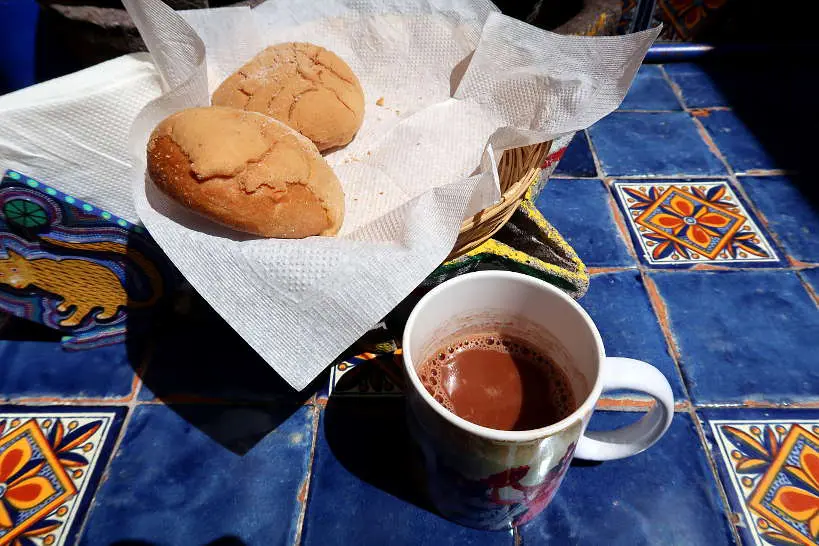 Just before starting our Oaxaca cooking class, we sipped on hot chocolate and savored pan dulce, a typical Oaxaca Mexican breakfast.
Once finished, we put on our aprons and got to work.
4. Taste The Oaxaca Version of Popular Mexican Dishes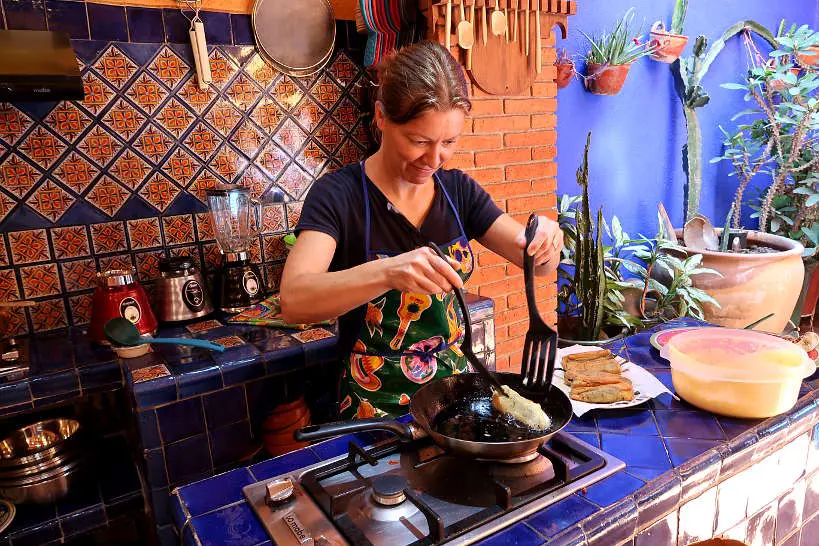 Mexican food is diverse. There are regional differences each with their own ingredients, techniques, and signature dishes.
Tacos are typically what most people think of when they think of Mexican food. While exploring the tacos in Guadalajara, we were surprised by the differences compared to Mexico City.
Tacos de barbacoa in Mexico City are made with slow-roasted lamb. While in Guadalajara, they are made with beef and the tortillas fried slightly on a comal.
Similarly, chiles rellenos or stuffed peppers are popular all over Mexico and are said to have originated from Puebla state. Typically, they are stuffed with cheese.
However, in Oaxaca, they are stuffed with shredded chicken and a combination of sweet and savory ingredients.
Known as Chiles Rellenos de Picadillo, they are made with chile de agua, the heirloom chile from Oaxaca.
When you take a cooking class in Oaxaca, you learn about regional differences in Mexican food. From the raw ingredients at the market to the cooking techniques.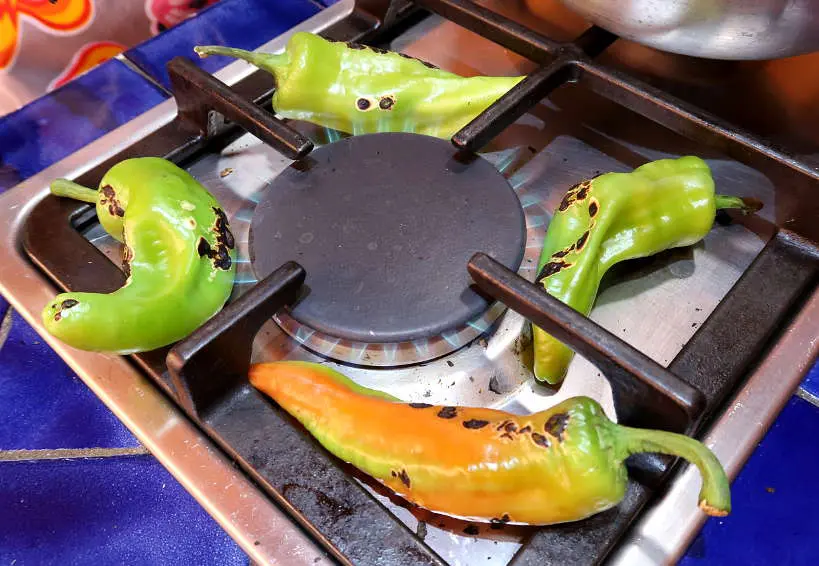 Making the chile rellenos was surprisingly time-consuming. The longest part was roasting the chiles on a gas burner to transform the flavors.
The picadillo stuffing which had onions, tomato, garlic, olives, raisins, capers, and almonds was delectable.
Lightly fried, the chiles rellenos were fluffy and not overly oily. The spiciness, sweetness and flavors made this my favorite Oaxaca cooking class dish.
5. Learn to Make Traditional Oaxaca Foods Like Mole Amarillo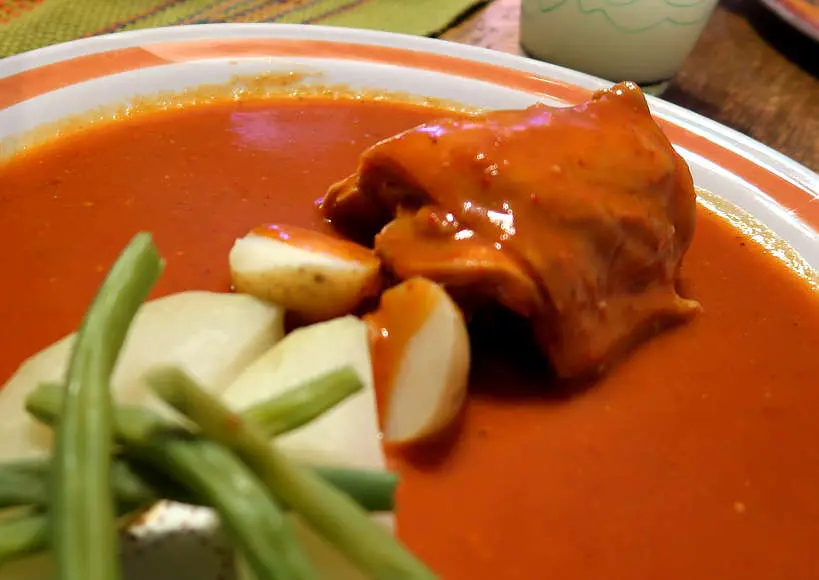 Oaxaca is sometimes called the "Land of Seven Moles". And, no trip would be complete without learning how to make mole in an Oaxaca cooking class.
Eager to dive into this local specialty, we were particularly attentive to the cooking instructions and techniques.
In our Oaxaca cooking class, we made chicken with mole amarillo which has a distinct yellow color. Oaxaca's famous moles are based on their colors such as green, black, yellow, and red.
Moles in general, are very involved and time-consuming to make. Oaxaca moles can have upwards of 30 ingredients or more.
Fortunately, chef Gerardo's mom prepped the ingredients in advance of our cooking class, leaving us the opportunity to cook the mole.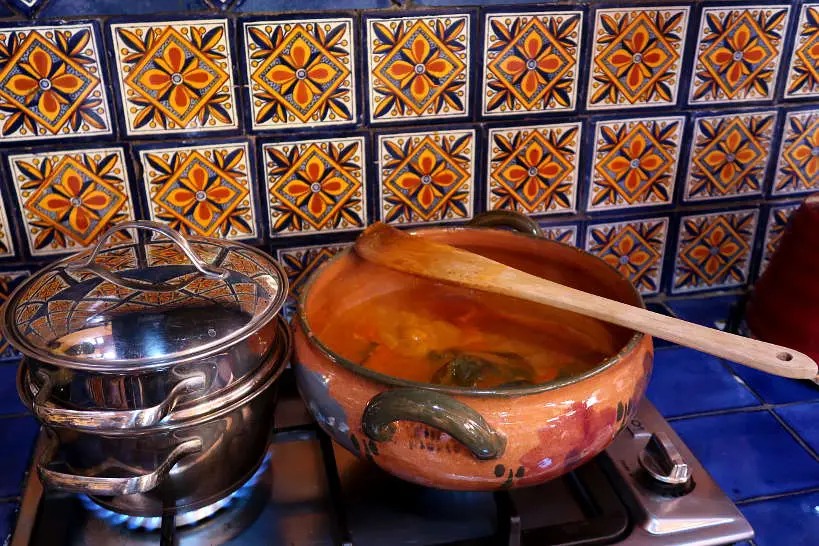 Beyond the time needed, cooking moles requires using a specific dish. A clay pot.
The love of mole actually starts with the pot. Before toasting, grinding, and frying the chiles to make a mole, there is the clay that's been handled by an artisan's hands.
The clay pot, as we learned, is superior because the mole doesn't stick and the heat is more evenly distributed.
6. Make Mexican Tortillas From Scratch
One of the most fun and challenging experiences in our Oaxaca cooking class was pressing our own tortillas.
After seeing ladies on the streets making fresh tortillas on a daily basis, we were always curious about making tortillas.
One thing we love about taking a cooking class at a local's home is the use of the kitchen tools a local would use.
The kitchen equipment is not adapted for foreigners or for the standard kitchen. You make local specialties with local kitchen tools.
It was our first time using a tortilla press and we first had to adjust to the position.
Next, we had to find a rhythm between making the tortilla from the dough and then putting them on the comal.
Making tortillas is a back-breaking job that requires skill and fitness. We learned to first roll the masa dough into a small ball.
Put it on the press between two sheets of plastic wrap. And then press down three times.
Once pressed, peel off the plastic on one side, then peel off the other side. And, with one hand, delicately place it on the hot comal.
We failed miserably. Several times. Even with explicit instructions, we never got the tortilla to land perfectly on the comal.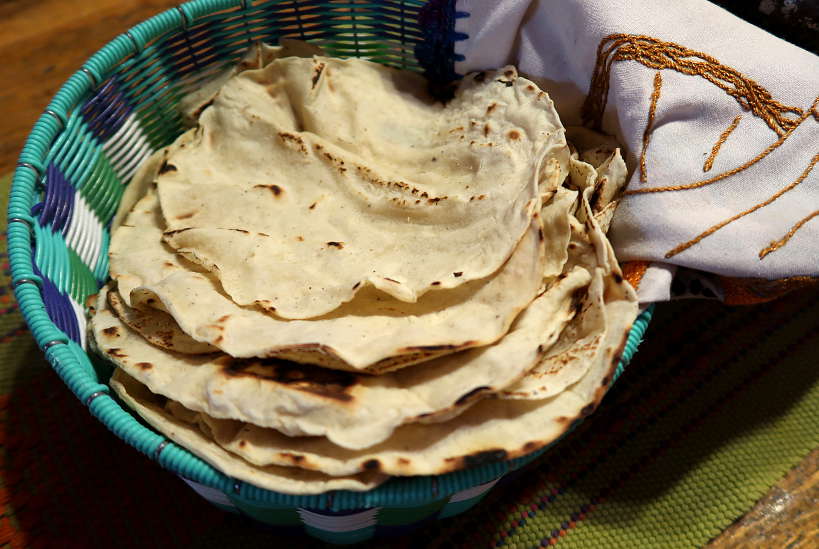 Chef Gerardo, ended up making the tortillas. And, at the same time, we were humbled with a renewed sense of appreciation for the ladies flawlessly making tortillas.
If you want to try making tortillas at home, check this high-quality hardwood tortilla press. It helps make nice and flat tortillas consistently and makes for a great display in your kitchen.
7. Savor Your Best Oaxaca Meal with New Friends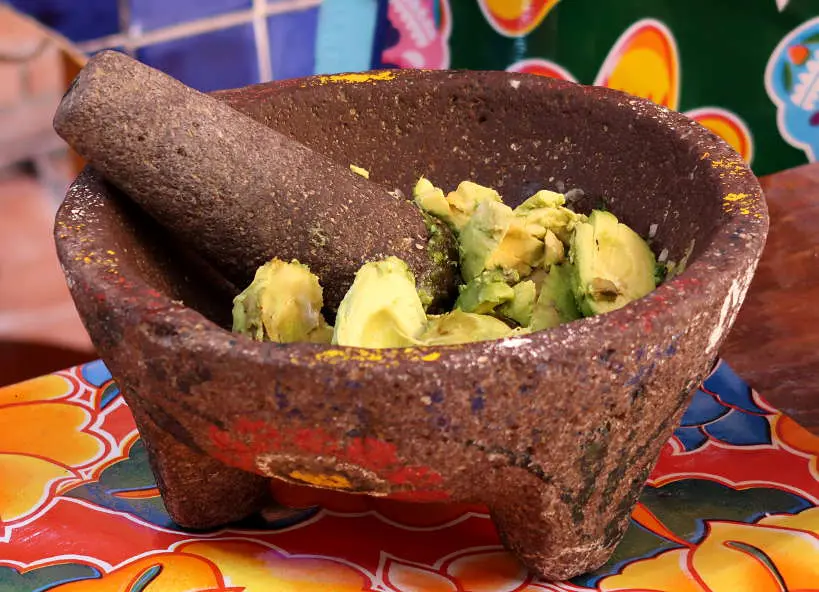 One of the best parts of taking a cooking class in Oaxaca is eating. The moment when you actually rest and taste all the unique flavors you've been working with.
Sharing the meal with other like-minded culinary travelers makes the experience even more fun.
In our Oaxaca cooking class, we made four traditional Mexican specialties, Oaxaca style.
In addition to chiles rellenos and mole amarillo with chicken, we also enjoyed two starters and a dessert.
To go with our meal, we had a choice between Mexican red wine, craft beer, or Mezcal.
We all sipped on a little Mezcal and Rosemary had wine and Claire, beer.
Sopa de Azteca or Tortilla Soup. This was a richly flavored soup from the Oaxaca region. It had avocados, Oaxaca cheese, slices of lightly fried tortillas and, Epazote, a typical Mexican herb.
We all enjoyed the combination of ingredients in this soup.
Guacamole. This slightly spicy guacamole was a hit at the table. We loved the creamy avocados and the bite from the chilies serranos. This was our first time making guacamole with no tomatoes and white onions and the end result was exquisite.
Ate de Limon. Fortunately, dessert was light as we were all stuffed. Socorro, chef Gerardo's mom, prepared a traditional Mexican dessert. Ate is a thick jelly made with meaty fruits like quince, pear, guava, or apple.
The one we had was made with lime and it was the perfect sweet and light finish to an amazing meal.
AUTHENTIC FOOD QUEST RECIPE: Make authentic Mexican guacamole at home with this creamy Mexican guacamole recipe, demo video included.

In Summary
Immersing yourself in an Oaxaca cooking class is one of the best ways to experience the region's culinary riches.
La Cocina Oaxaqueña offers an experience, you'll never forget. Going to the local market and seeing unique Oaxaca ingredients is a fascinating experience.
Chef Gerardo and his mother made us feel right at home. The class was well organized and the timing of all the dishes was perfect.
Our conversations around Oaxaca foods while handling the raw ingredients helped connect us even deeper to the culinary heritage.
For a fun and hands-on experience, you'll enjoy taking a cooking class in Oaxaca with La Cocina Oaxquena.
You'll leave much more knowledgeable, well-fed, and with recipes to recreate the dishes at home.
How To Book Your Cooking Class in Oaxaca at La Cocina Oaxaqueña
Book your cooking class in Oaxaca at La Cocina Oaxaquena for an authentic and immersive experience.
Location: La Cocina Oaxaquena will pick you from your hotel and drop you off at the end of your cooking class. The cooking classes take place at Chef Gerardo's family home in Oaxaca city.
Classes: Two classes are offered daily. The morning class begins at 8:30 am and the afternoon class starts at 2:30 pm. Each class offers a local market tour and the preparation of four to five dishes. Local beverages are also provided.
Cost: $54 per adult, $28 per child ages 5-10 years
Discount Code: Enter code 'AFQ5' at checkout and receive 5% off any Cookly cooking casss
Love it? Pin It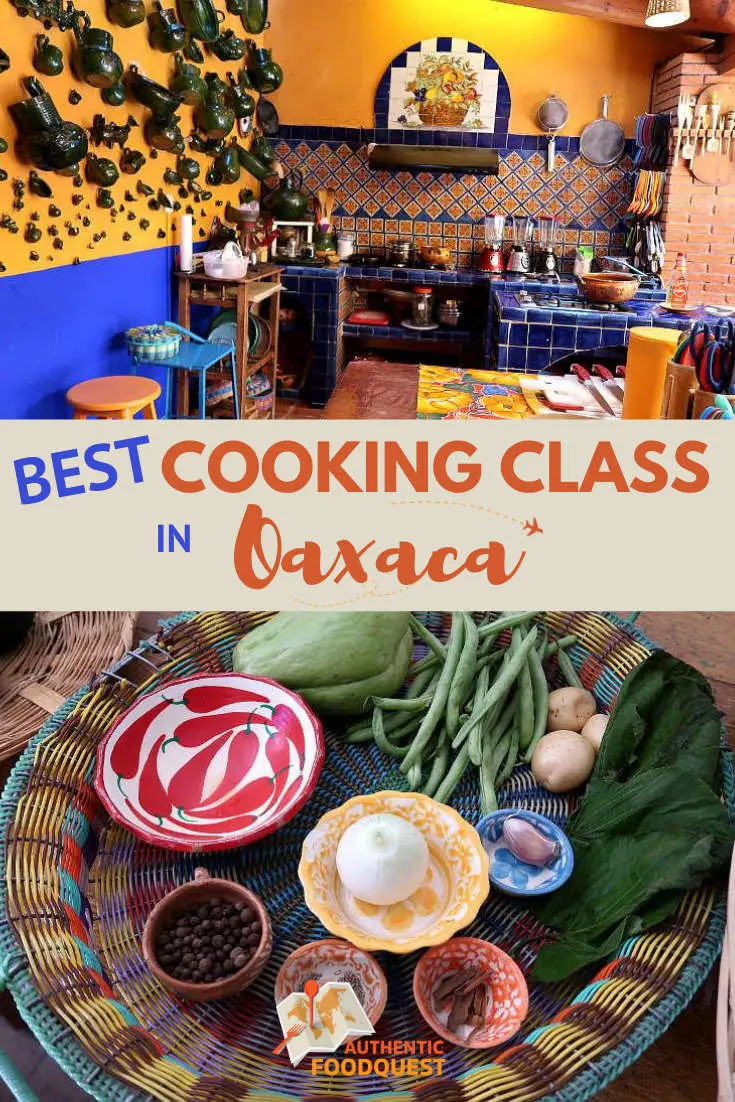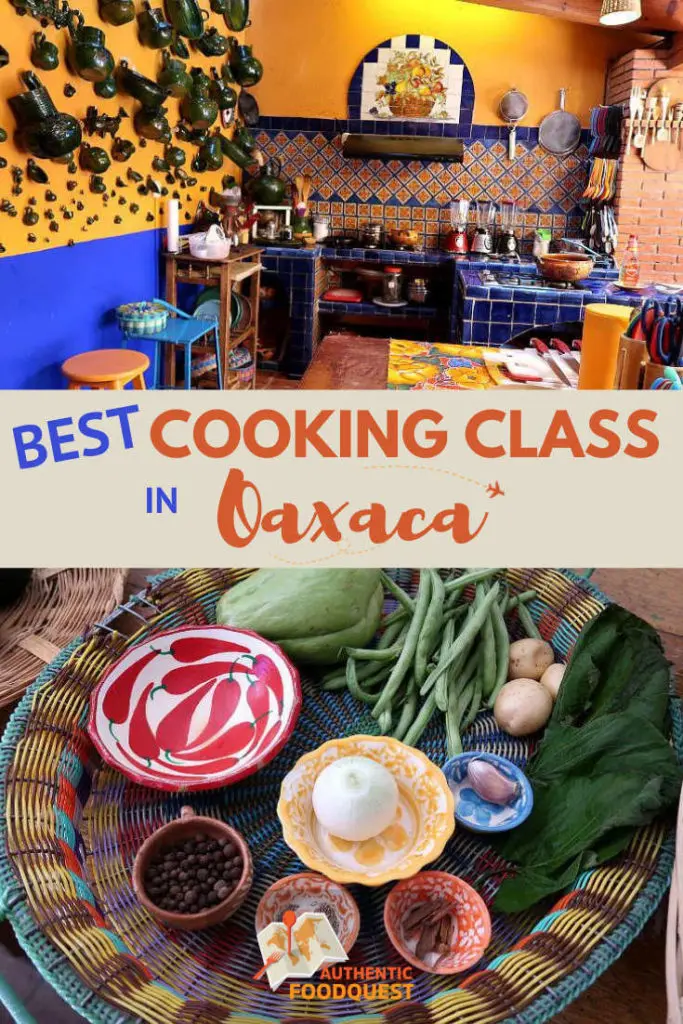 Special thanks to Cookly and La Cocina Oaxaquena for having us in this immersive cooking class in Oaxaca. All views and opinions expressed are our own. Full bellies and happy taste buds too.
Rosemary is the editor-in-chief and strategist at Authentic Food Quest.
Traveling slow since 2015 with her partner, Claire, she has explored the cuisine in 45 countries and more than 240+ culinary cities.
Her writing about local food specialties has been featured in Lonely Planet, Business Insider, Honest Cooking, Food Insider, and Huffington Post.
As a food and travel writer, Rosemary has co-authored three books, including one in collaboration with Costa Brava Tourism.
Rosemary is an avid runner when she's not eating and exploring new destinations. She has run ten marathons and counting.
Before Authentic Food Quest, Rosemary held senior-level strategy positions in advertising. 
Find out more about Authentic Food Quest