Costa Brava restaurants, with a concentration of 18 Michelin stars awarded to 14 restaurants, enhances Spain's image as a food destination.
But, you don't have to dine at Michelin star restaurants in Costa Brava to enjoy the best Catalan food.
While exploring the local foods in Catalonia, we discovered five amazing restaurants guided by Costa Brava Tourism Board.
Each of these Costa Brava restaurants offer creative Catalan dishes made with the finest cuisine local produce in their own signature style.

1 – Casa Marieta – Girona Restaurant
Founded in 1892, this is one of Girona's oldest and most emblematic restaurants. This family owned restaurant is known for offering traditional Catalan specialties.
The restaurant is located in Plaça Independència, one of Girona's most popular squares.
In the middle is an impressive monument honoring the Spanish soldiers during the 19th century independence war against Napoleon Bonaparte.
The restaurant's interior is warm and rustic. The decor is of a time gone by and it feels like you are eating at the best grandmother's kitchen in Girona.
During our Girona Food Tour, our guide, Pat, had warned us about the many touristy restaurants around the Plaça Independència.
But Casa Marieta was one of her few recommendations for a truly traditional Costa Brava restaurant not to miss.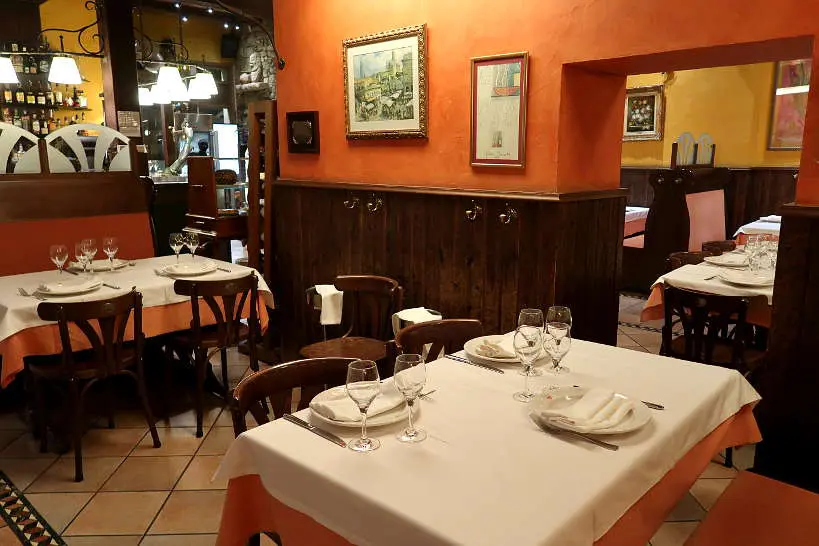 Traditional Catalonian Dishes
On the menu are home cooked traditional Catalonian dishes with uncompromising flavors.
We recommend tasting the "sea & land" toast which makes a perfect appetizer. It is an assortment of Catalan cold cuts served on a traditional pan con tomate.
Anchovies, spanish ham, onions, red peppers make up this flavorful appetizer.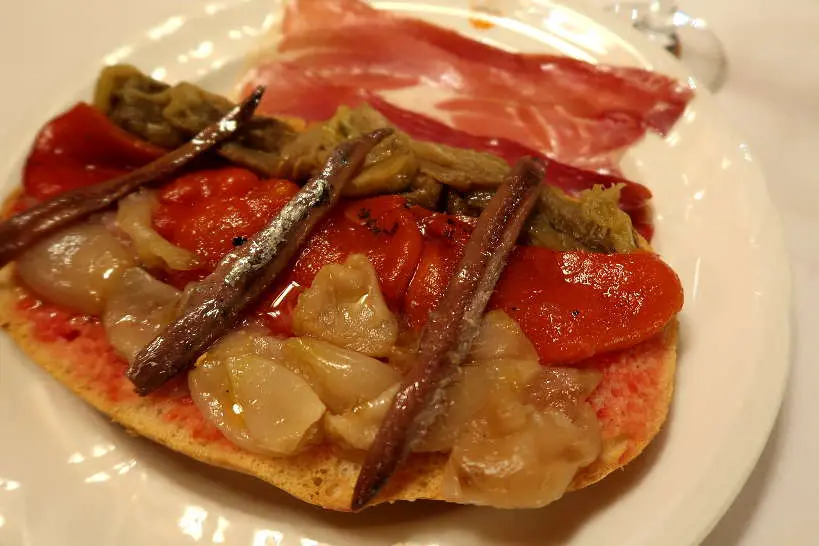 If you prefer something lighter, choose the grilled squid or Calamars a la Planxa with vegetables.
For the main dish, we particularly enjoyed the roast lamb shoulder, a house specialty. The slow cooked meat is so tender that it detached from its bone easily. You can taste the full flavors of the meat at the first bite.
Botifarra pork sausage is another Catalan traditional dish which is simply prepared and exquisite.
Finally, traditional homemade house desserts round out the introduction to traditional Catalan cuisine.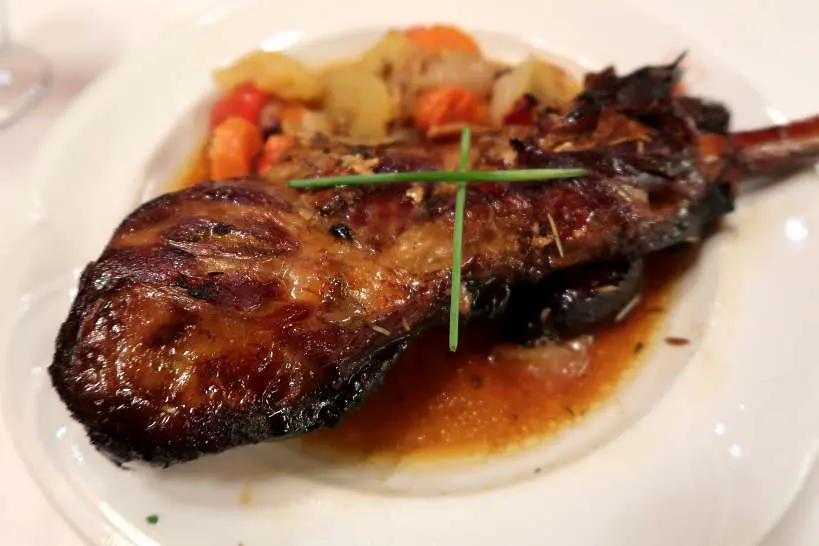 Girona Restaurant in Costa Brava Where to Eat Traditional Catalan Food
Address: Pl. Independència, 5-6-7, 17001 Girona
Tel: +34 972 201 016
Email: [email protected]
Authentic Food Quest Tip: We highly recommend this restaurant to get a sense of traditional Catalan food. Get help from your server on what to order as the daily Catalan specials are written in Catalan.
2 – Vicus Pals Restaurant
Vicus restaurant was the highlight of our trip to Baix Emporda, in the lower region of Costa Brava.
It is one of the best restaurants in Pals, a medieval village near the Costa Brava coast.
In 2011, owners Elisabet and Gerard left their careers in finance to return back to their roots in Emporda. They started Vicus Restaurant as their new project.
With chef Damià Rafecas, they take you on an experience featuring contemporary Catalan cuisine with the finest local and seasonal products.
A carefully selected wine list featuring excellent lesser-known wineries from the DO Empordà region accompanies the food.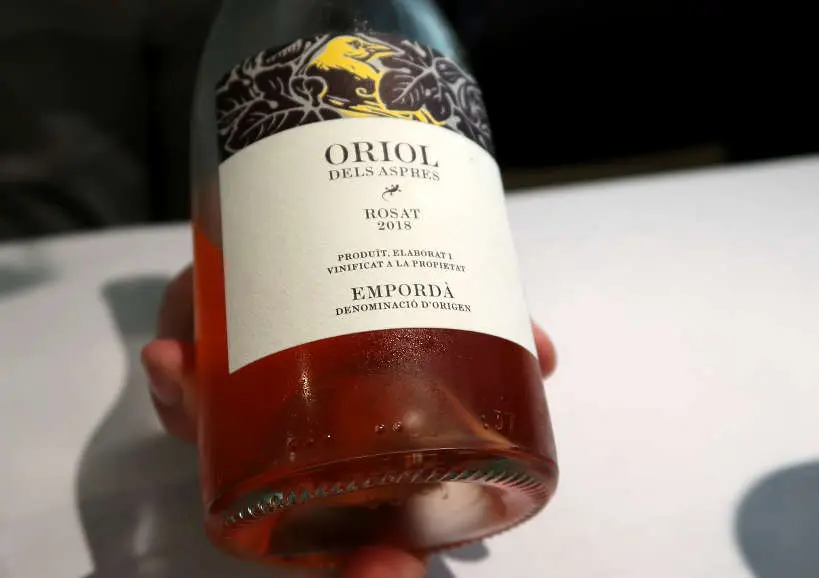 Contemporary Catalan Cuisine
The food at Vicus is a celebration of what is local. The menu features an impressive number of local products and producers.
At this Costa Brava restaurant, the menu is seasonal and changes four to five times a year.
Every dish and wine has a sense of place and history. Not to mention, the flavorful cuisine with unusual combinations, is a hallmark of the chef's creativity.
From the variety of dishes we tasted it is hard to single out one favorite. Every single plate delighted us.
We particularly enjoyed the homemade marinated sardines from Costa Brava. They were delicately prepared with salt, soy sauce, rice vinegar and olive puree.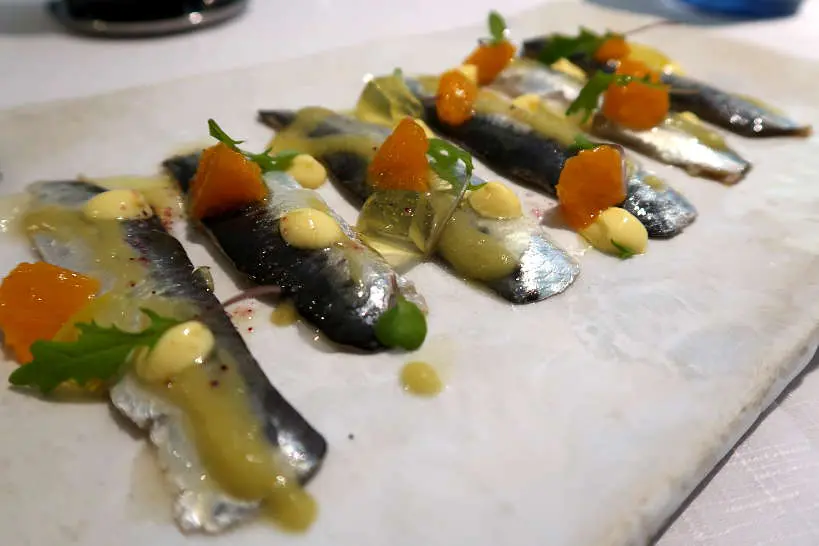 The main dish was a raw carpaccio of prawns served on a bed of rice from Pals cooked in a prawn broth. The presentation and flavors were outstanding. This was truly a creative delight.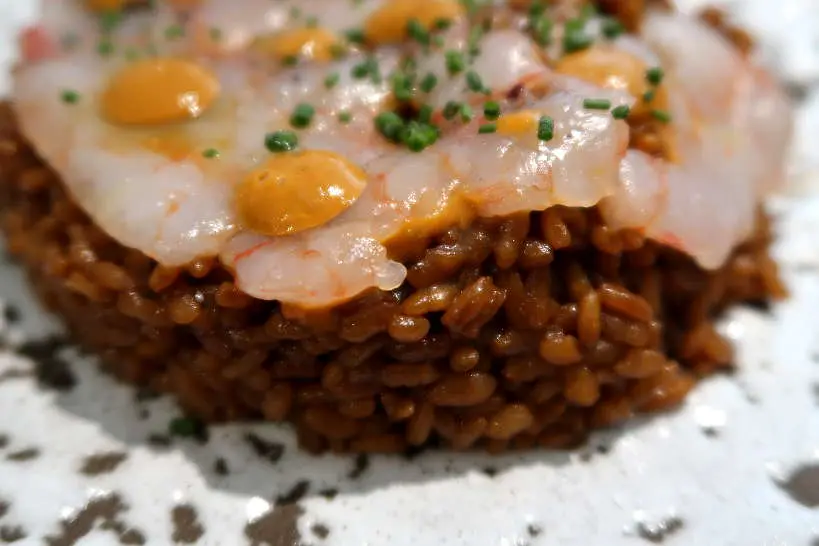 Eat at One of the Best Pals Restaurants in Costa Brava
Address: C/ Enginyer Algarra, 51 – 17256 Pals, Baix Empordà
Tel: +34 972 636 088
Email: [email protected]
Authentic Food Quest Tip: The restaurant is open every day except Monday and Tuesday. Advanced booking is recommended.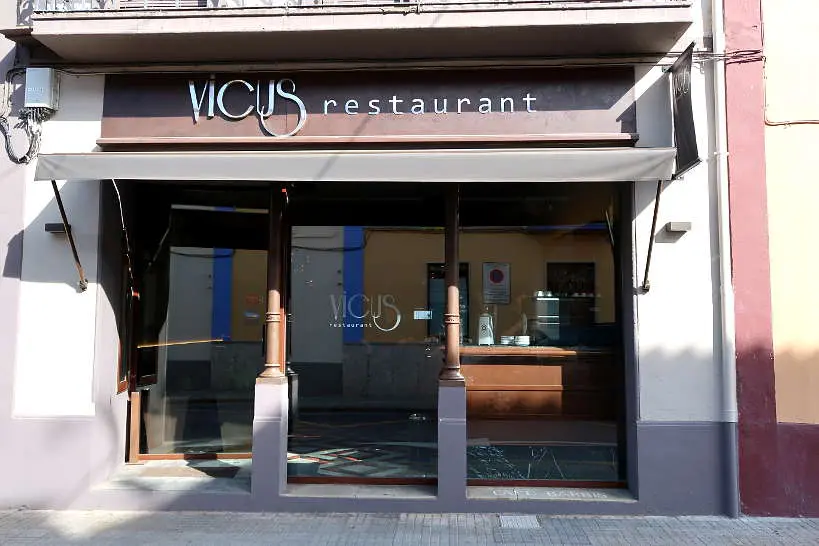 3 – Cidery Mooma Restaurant near Pals
Lost in the middle of the apple orchards and fields is the Costa Brava restaurant, Mooma, a few kilometers from Pals.
Mooma first opened as a cidery in 2016. From a three generation family of fruit farmers, Mooma offers unique sparkling cider using locally grown apples.
The name comes from a combination of two words. Mo comes from "Montgri", the mountain in the background of the orchard fields, and oma from "poma" which means apple in Catalan.
Mooma offers two types of ciders. One young fruity cider in a green bottle. And one dry premium cider, aged in oak barrels known as Gold.
Both Mooma ciders are natural, low in alcohol and made using Granny Smith and Red Apples from the orchards.
Four natural apple juices complete the offer. From sweet juices made with Gala apples, to sour ones made with Granny Smith apples.
The best way to enjoy the ciders and juices is to eat at Mooma Restaurant, the latest addition to the farm.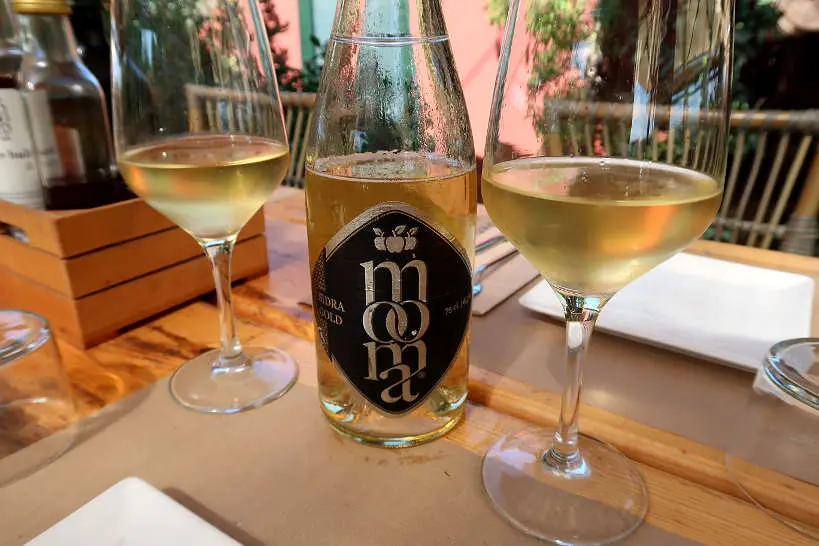 Mooma A Farm to Table Restaurant
This farm to table restaurant offers local Catalan specialties using apples, their local produce. What results is a unique combination of savory and sweet dishes made with the apples and accompanied by cider.
As fans of French boudin noir, we loved their blood sausages prepared on a toast with fresh apple sauce.
Don't miss this wonderful appetizer with a bottle of Mooma premium gold cider.
Rosemary had a surprising cod fish, prepared in a delightful sauce served with warm apples.
For dessert, the "hard to choose" selection gave us an out with their combination plate.
This plate has relatively small servings of their four main desserts made with apples.
The Xuixo, made with applesauce, and the Granny Smith crumble, were our favorites for their flavor and creativity.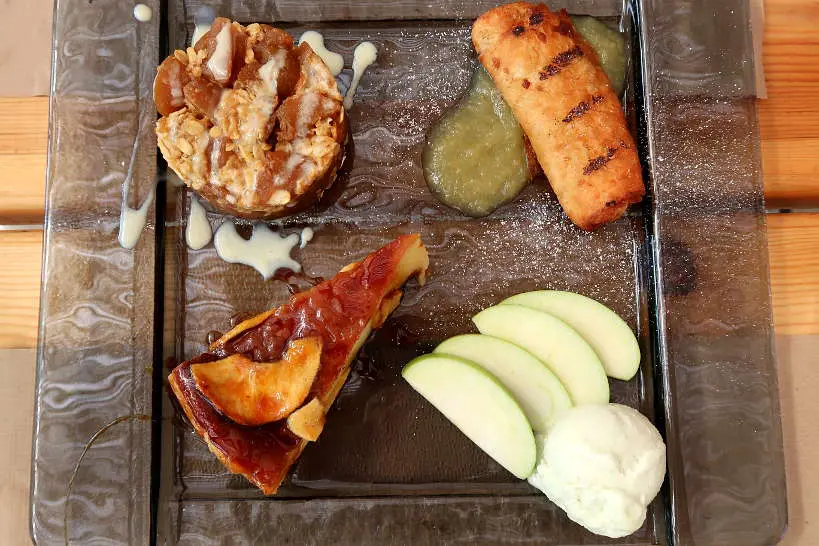 Where to Eat Catalan Food in Nature in Costa Brava
Address: 17256 Palau-sator, Baix Empordà
Tel: +34 872 026 088
Email: [email protected]
Authentic Food Quest Tip: We recommend visiting the apple orchard and cidery as part of your experience at Mooma. During the summer months, Mooma Restaurant is open every day. The rest of the year the restaurant is open from Friday evening to Sunday lunchtime.
Tours to the apple orchard and cidery are offered when the restaurant is opened. Bookings are required for both the tours and dining at Mooma Restaurant. Please note Mooma is closed during the months of January and February.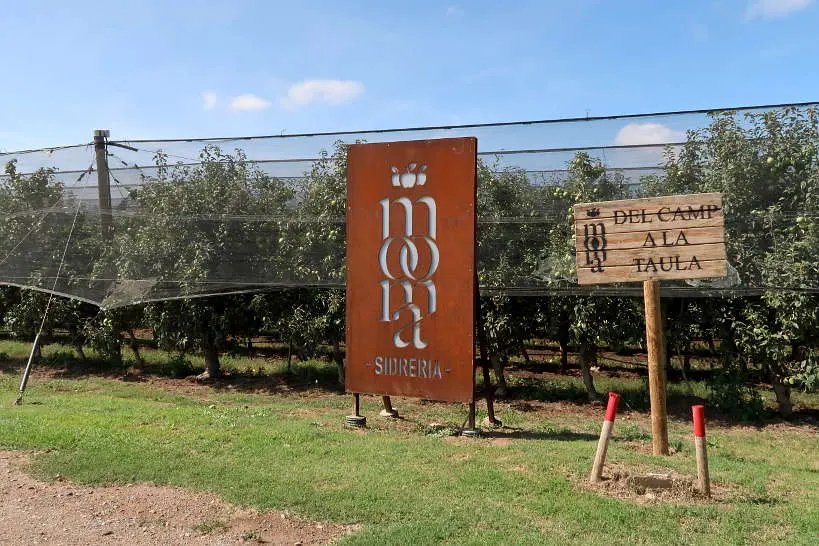 4 – Es Baluard Cadaques Restaurant
Es Baluard was our favorite restaurant experience in Alt Emporda where we enjoyed amazing seafood and Mediterranean views.
In Costa Brava, the Alt Emporda region is nestled between the Mediterranean Sea and the Pyrenees, along the French border.
An area rich in natural heritage, its gastronomy is shaped by the sea and mountains and the northerly Tramuntana winds.
Located in Cadaques, in the middle of the Cap de Creus peninsula, Es Baluard is an idyllic location by the sea.
Freshly reeled in local fish is what you can expect as you look at the colorful boats in the ocean right outside the windows.
Opened in 1967, this family-owned restaurant, now on the third generation, is managed by the daughter Aina of the Seriñana Puig family.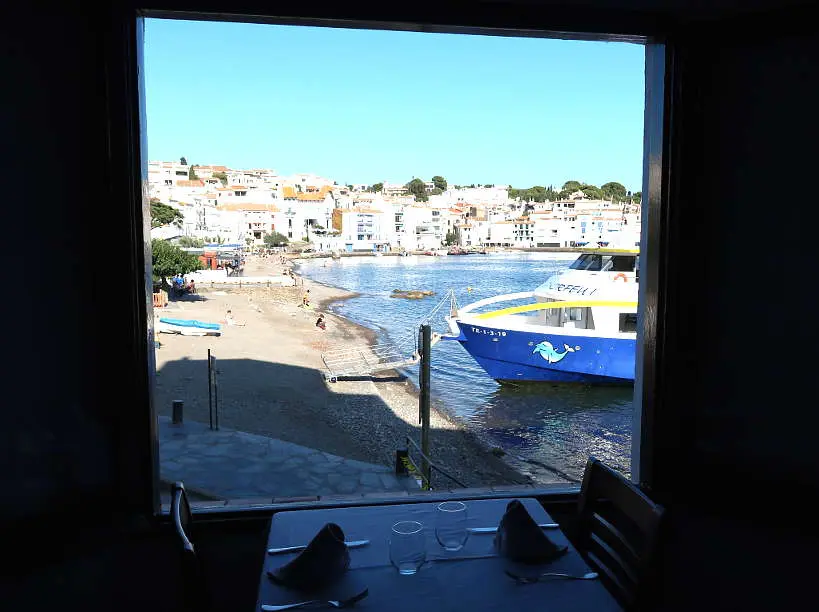 Es Baluard Cuisine and Seafood Menu Highlights
Es Baluard specializes in seafood cuisine with locally caught produce. The dishes are prepared with simplicity and with a total respect for nature.
The fish and seafood featured are based on what the fishermen catch fresh that day. You get to sample a variety of grilled or baked fish, fish stews with wines from the DO Empordà region.
As an appetizer, we devoured the clams simply prepared with garlic and parsley.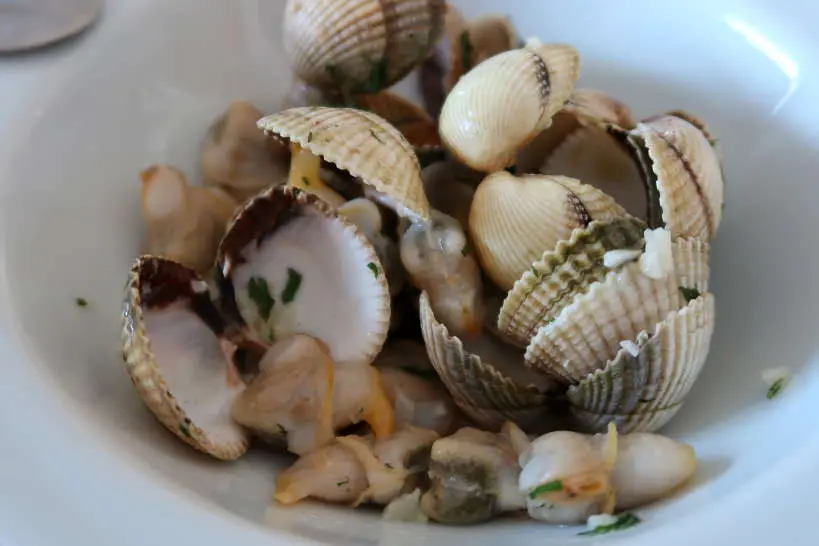 While you can't go wrong with any of the seafood dishes, we highly recommend trying suquet, a traditional fish stew.
It is a typical Catalan dish made with potatoes, tomatoes and garlic cooked with monkfish.
We also had a whole grilled fish, a red scorpion fish, which was outstanding with a firm and fresh meat.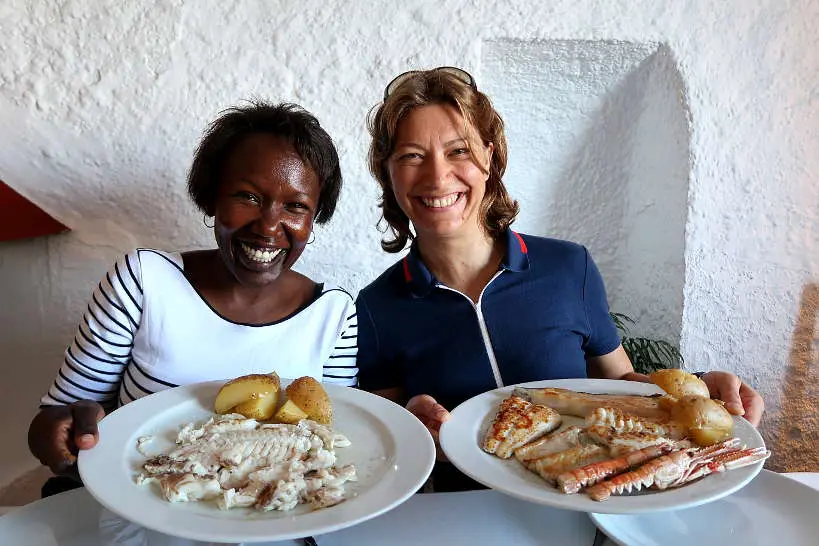 Where to Eat Catalan Seafood in Costa Brava
Address: Riba Nemesio Llorens, 2 17488 Cadaqués
Tel: +34 972 258 183
Email: [email protected]
Authentic Food Quest Tip: To admire the views of the Mediterranean and get the best table in the restaurant, book in advance and ask to be seated by the window.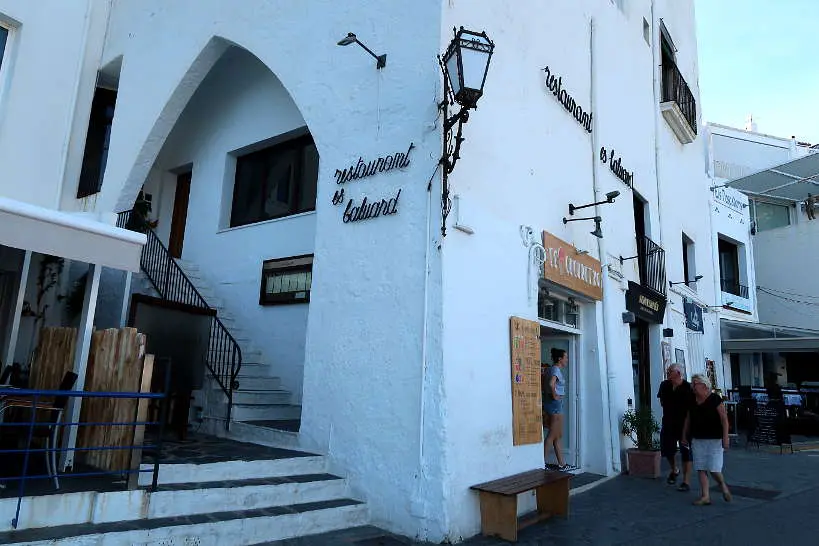 5 – El Moli de L'Escala Restaurant
Steeped in 23 centuries of history, this ancient flour mill, El Molí de L'Escala, is now a gastronomic hotel and restaurant.
Contemporary cuisine made with locally sourced and seasonal ingredients has established El Moli de L'Escala as one of the best restaurants in Costa Brava.
Leaving Mas Alba dairy after our fabulous cheese tasting to go to El Moli, our host told us that Elon Musk's brother recently got married there.
As we hit the road, we were excited and eager to discover the cuisine at El Moli de L'Escala.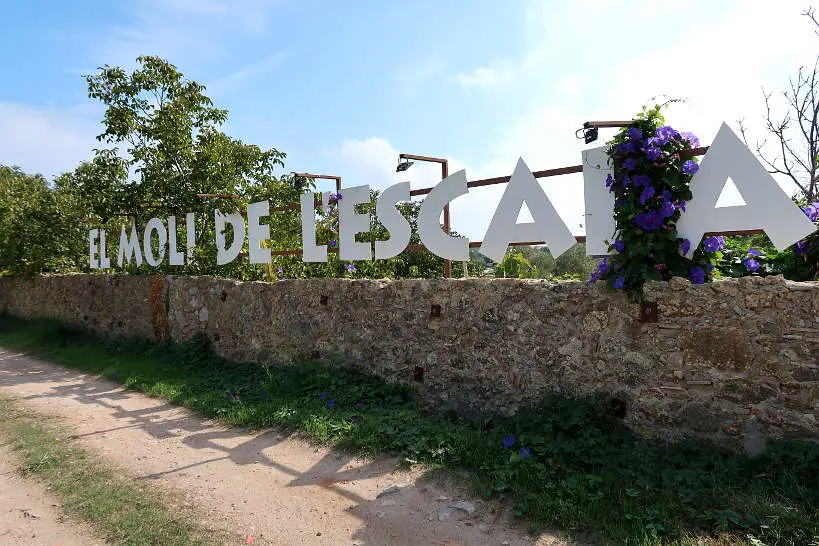 Contemporary Catalan Cuisine With WorldWide Flavors
Chef Jordi Jacas inherited this Costa Brava restaurant from his father 25 years ago.
Trained at the famous El Bulli restaurant in the 1990s, he continues the legacy of merging culinary creativity with local produce.
The menu draws on inspiration from cuisines around the world with a firm Catalan twist.
The highlight of our meal was the traditional fisherman rice of l'Escala. It was prepared with a wonderful combination of fish cooked in the rice from Pals.
It is a typical dish made on the fisherman boats, recreated by Chef Jordi. It is a hearty dish with delectable seafood.
As an appetizer, we devoured clams simply prepared with garlic and parsley.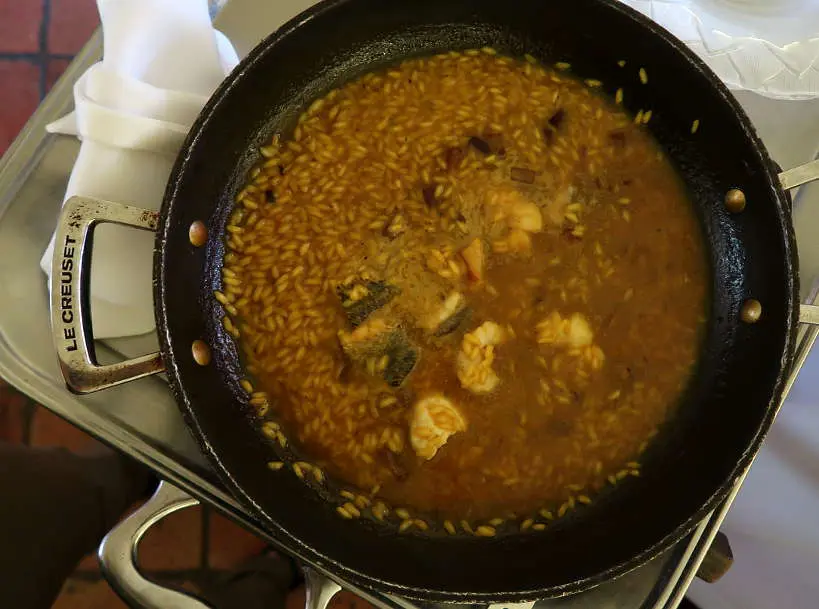 The dessert simply called "White" had us travel with Chef Jordi drawing on his own experience.
The name comes from the color and ingredients. White chocolate, white Ethiopian coffee, Sichuan pepper and a crispy Greek yogurt biscuit.
This surprising desert was intensely chocolatey but not overpowering. Paired with a delicious sweet wine from the region, we could not ask for a better finale.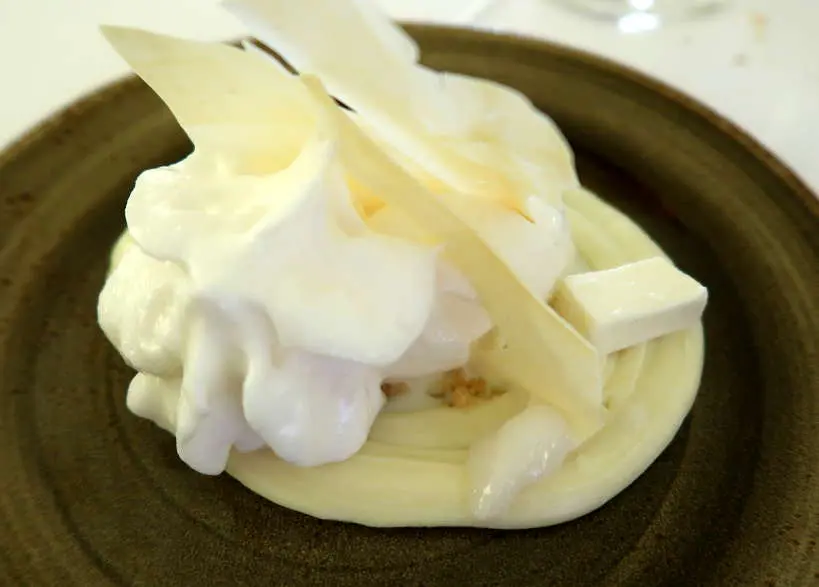 One of the Best Costa Brava Restaurants for Catalan Cuisine With World Wide Flavors
El Molí de L'Escala Restaurant
Address: Camp dels Pilans, s/n, 17130 L'Escala
Tel: +34 972 774 727
Email: [email protected]
Authentic Food Quest Tip: A relaxing retreat, El Molí de L'Escala is also a boutique hotel. With five suites and three junior suites, the luxury 4* accommodations are designed around your comfort. Explore l'Escala and visit the fisherman town and the fascinating Anchovy and Salt Museum or Museu de L'Anxova I de la Sal.

In Summary
Seasonal menus with the best local food and produce is what you can expect at these amazing Costa Brava restaurants.
As Chef Damià of Vicus Restaurant told us:
"Sharing dishes made with the best local produce is more important to me than getting a Michelin star".
All these Costa Brava restaurants are excellent and worth visiting on your trip to Costa Brava.
While they may not add more Michelin stars to Spain's reputation as a food destination, they uphold the country's excellence for local food and produce.
Love it? Pint it!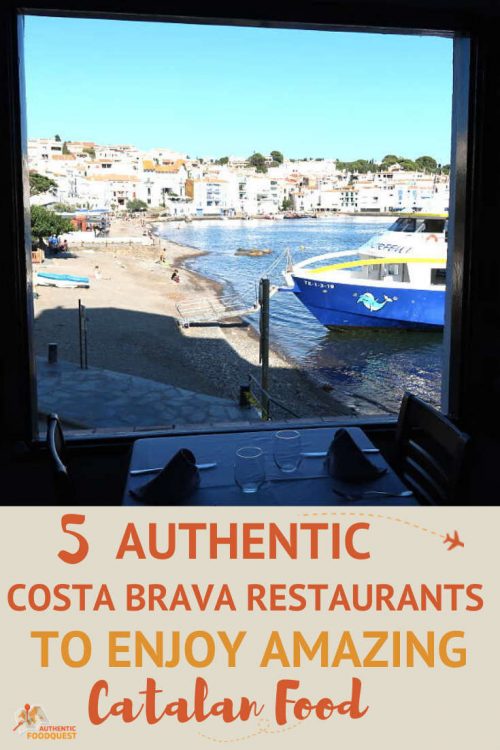 Disclosure: Special thanks to Costa Brava Tourism Board for having us at these Costa Brava restaurants. All views and opinions expressed are our own. Full bellies and happy taste buds too.
Disclaimer: This page contains affiliate links. That means at no extra charge to you, we earn a small commission when you purchase using these links. Thank you for your support.
Claire is co-founder of Authentic Food Quest and a lover of simple and exquisite cuisine. Since 2015, with her partner, Rosemary, she has been traveling the world as a digital nomad, creating content about local food experiences.
Her advice from visiting 45 countries and more than 240 food cities has been featured in Lonely Planet, Business Insider, Honest Cooking, Food Insider, and Huffington Post. She has also co-authored three books, including one in collaboration with Costa Brava Tourism.
An ex-mechanical engineer, Claire is responsible for SEO, keeping the website running, and the fun food & travel videos on YouTube.
When Claire is not eating, she can be found running or cycling. Find out more about Authentic Food Quest