Cusco is one of the most colorful cities with a strong Andean culture that we have visited on our quest for authentic food.
Walking down the cobblestone streets, it is not unusual to see ladies in traditional Andean attire walking with Ilamas and baby goats.
Cusco is the former capital of the Inca Empire and a Unesco World Heritage Site. It is one of Peru's most visited cities for Machu Picchu, the Sacred Valley of the Incas, and other Inca heritage sites.
Cusco is considered the second gastronomy city in Peru after Lima and has the best cuisines in the Peruvian Andes. In this article, we delve into Cusco food specialties and the 4 dishes that are not to be missed on your trip to the area.
Hungry? Let's go!

Cuy – Guinea Pig
Even before we arrived in Cusco. We had read and heard about the famous Cuy (pronounced COOee) or guinea pig. It was a delicacy that we had to try. Even though neither one of us were particularly excited about trying this furry animal, we knew we needed to as part of our quest for authentic and local specialties.
Cuy are essentially guinea pigs. A species of rodents belonging to the Cavia Porcellus family. In Western societies, guinea pigs are popular household pets. In South America and in the Andes region, cuy are an important food source among indigenous groups. Ancient Peruvians supplemented their diet with guinea pig and this custom still exists today.
Where To Try Cuy
Given that we were going to try Cuy only once, we wanted a reputable restaurant away from all the touristy places around at Plaza des Armas (the Main Square). We asked our Airbnb hosts who recommended Cuyeria Sabor Moqueguano, a local restaurants that specializes in this Cusco food specialty. This restaurant was off the beaten path and located in a residential area, between homes.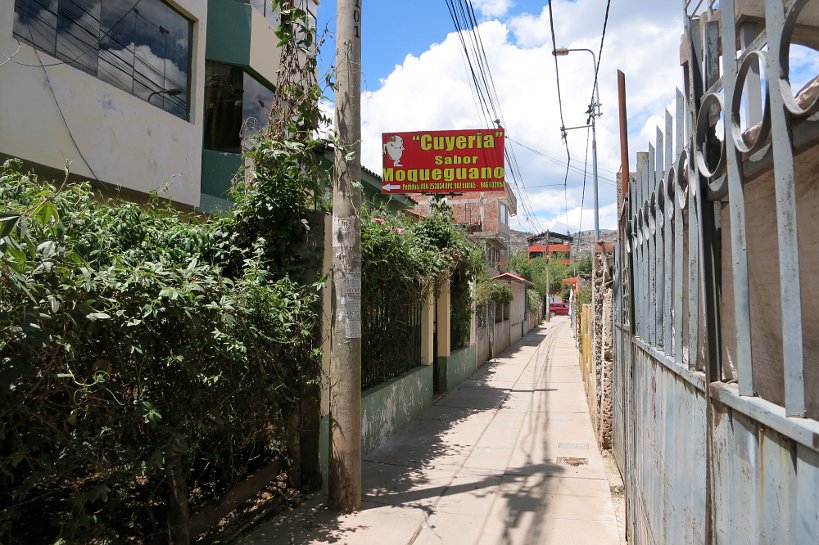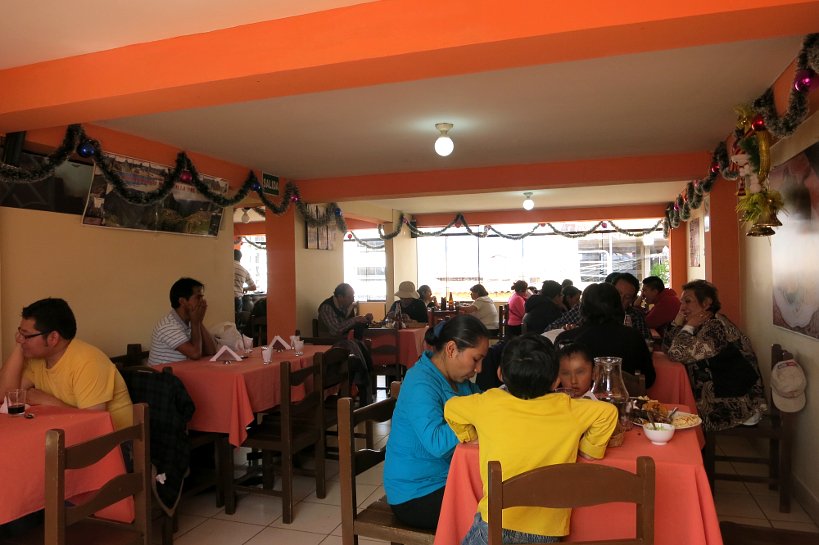 Cuy Chactado
There are two main ways in which Cuy is prepared. Cuy al horno (baked cuy) or Cuy Chactado (fried cuy). Our hosts recommended that we try Cuy Chactado as it is more flavorful. The cuy was served with potatoes and Rocoto Relleno (fried stuffed peppers) which are food specialties from the Arequipa region.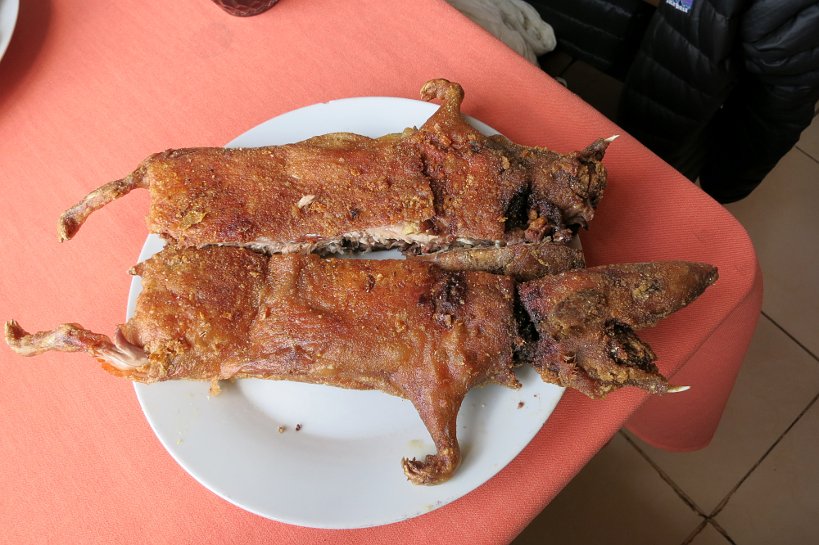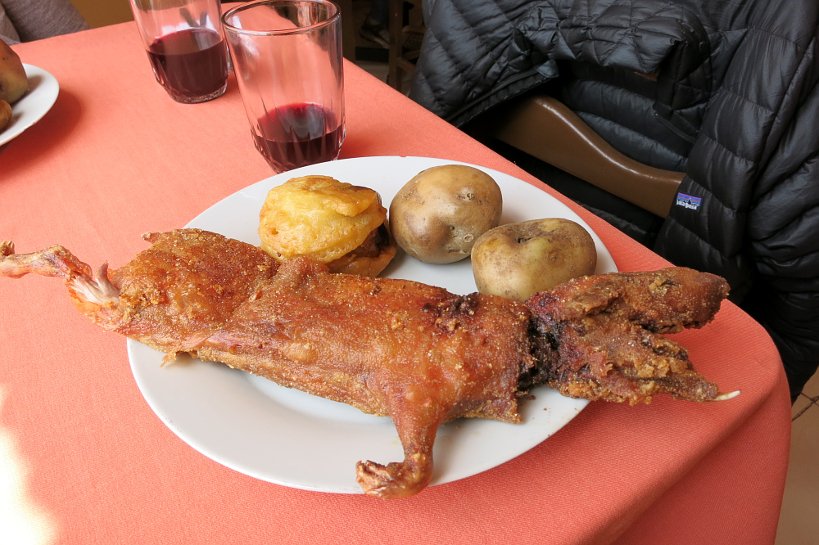 How to Eat Cuy
Not knowing if we would like the taste, we ordered one Cuy to share between us. When we got our Cuy, our first question was how do we eat it? We looked around the restaurant to see how the locals were doing it. This is not a knife and fork meal. This is the kind of dish where you get your hands dirty. The bones are really thin and brittle and your hands are the best bet.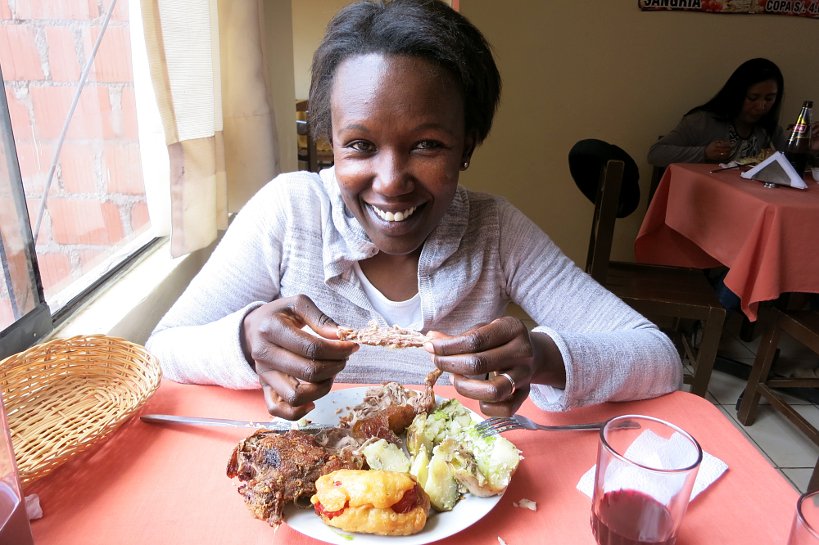 The Taste of Cuy
Everyone says everything a little strange "tastes like chicken". This is not the case with the Cuy. It is a dark meat, very lean and with not a lot of meat on the bones. After biting into it several times, the closest thing we could come up with is that it tastes like rabbit…though, not exactly. It's not too gamey, and just tastes like a different type of meat.
Honestly, we did not find Cuy to have much meat or any distinctive flavor. What was weird, was biting into a whole guinea pig, served with the head, teeth, and legs. All in all, this is a once in a lifetime experience and one Cusco food specialty you should not shy away from.

Alpaca – Relative of the Llama
The Alpaca is a domesticated species of South American camelid and it looks like a small llama. The difference between the llama and Alpaca is that the IIama is used to transport products and goods and the meat is tougher. The Alpaca is raised mostly for their fiber which are used to make woven items such as blankets, sweaters, gloves and more. They are too small to be used as pack animals and are instead bred for their fiber and meat.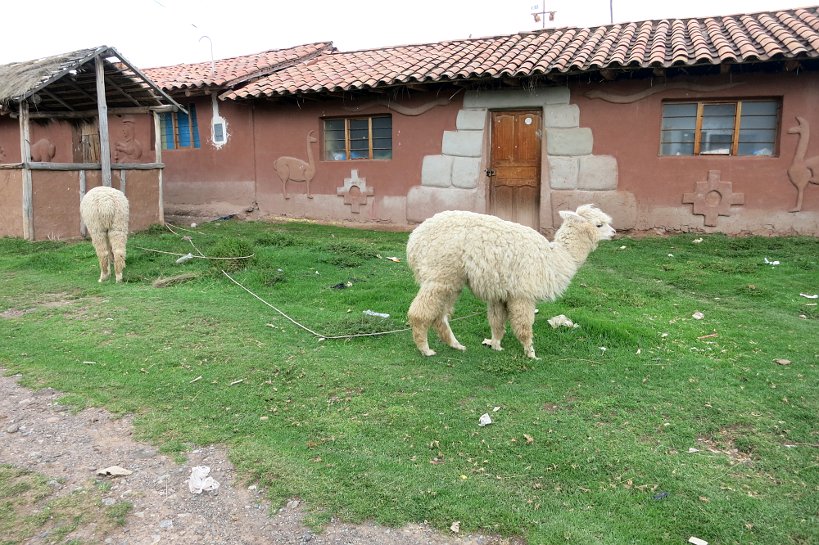 The meat from the alpaca is more tender than the llama meat that we had experienced in the Northern part of Argentina. This is due to the fact that it is not an animal that carries goods.
The Alpaca meat has the same properties as the llama meat: high in protein and low in fat making it a great alternative to beef for its low cholesterol intake.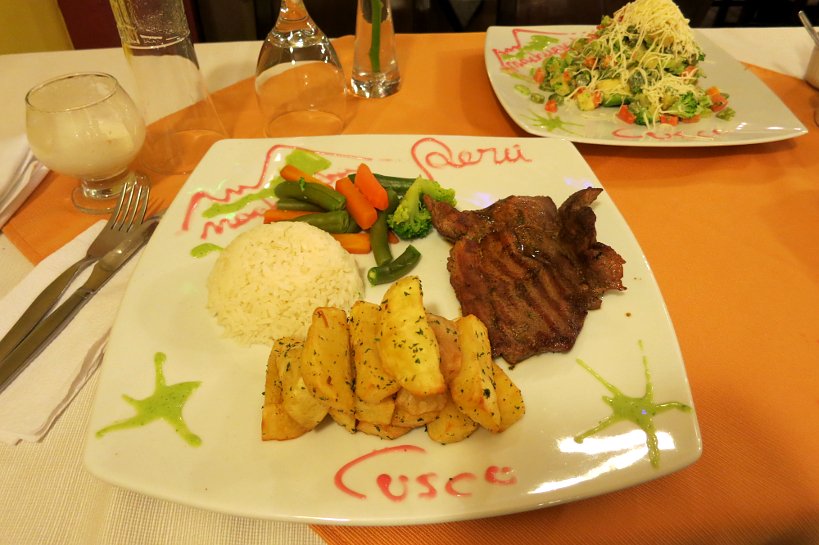 Where To Try Alpaca
You can find lomo de alpaca (alpaca sirloin) in many restaurants in Cusco. We actually experienced Alpaca on our way to Machu Picchu in Aguas Calientes.
We had dinner at a local restaurant called Restaurante Lindo. They served us alpaca as a steak with potatoes, rice and vegetable. The steak was served well cooked. As a result, it diminished the flavors from the meat itself. Nonetheless, the meat was really good and very easy to eat.
A nice change from beef and one of Cusco food specialties you will truly enjoy.

Chicharrón – Fried Pork
Another local favorite is Chicharrón. This is a dish that is made with different cuts of fried pork including pork belly or pork rinds. This dish is originally from Spain and is part of the traditional cuisine of countries with Spanish influence. In Cusco, we spotted the dish at a number of places around the main square or Plaza des Armas.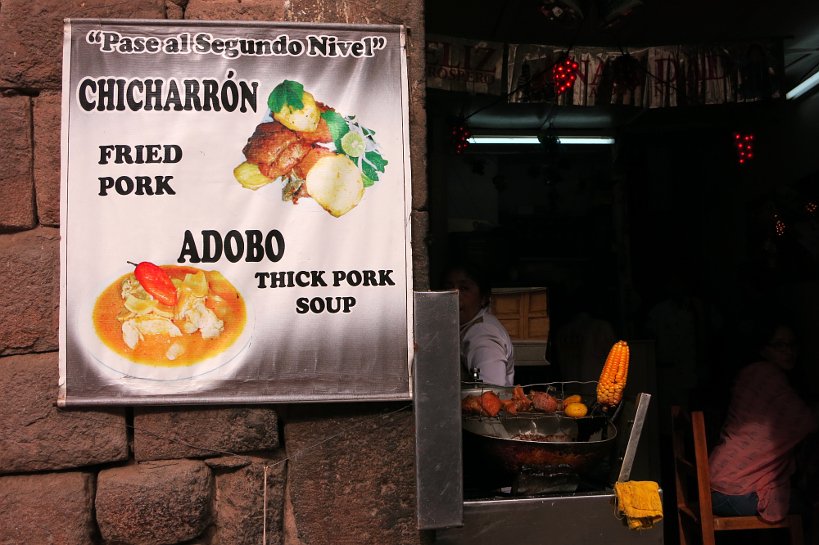 The Chicharrón in Cusco, is actually pieces of fried pork, served with white corn, potatoes, onion mint and lemon. Unfortunately, we did not get a chance to try out this local speciality. At the time, we were both suffering from a slight touch of stomach flu and did not want to make to aggravate the situation further. Nevertheless, when you find yourself in Cusco, do seek out the apparently delicious local specialty, Chicharrón.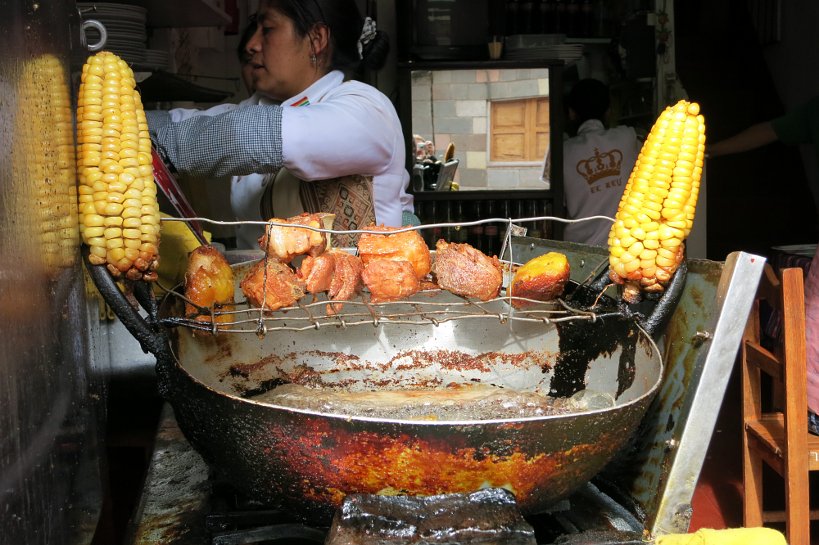 Chiriuchu – Medley of Cusco food specialties
Chiriuchu is a cold meal that literally means chili or spicy cold in the Quechua language. It is a festive and traditional dish that is usually prepared in the month of June during the celebration of Corpus Christi. If you are a fan of combo meals and want to try several items at the same time, Chiriuchu might be for you!
It is a huge plate with a large variety of meats combining products from the coast, the highlands and the amazon. It has been said to date from the time of the Incas when villagers from various regions of Tawantinsuyu, (Inca Empire), arrived in Cusco to participate in religious processions.
In Chiriuchu, you find the following specialties: cuy (guinea pig), chorizo (sausage), gallina (hen), cecina or charki (dried meat), cochayuyo (seaweed), maiz (corn), torreja (a type of omelette with corn flour, potatoes, yellow squash, green onions, and spices), huevas de pescado (fish eggs), queso (cheese) and cancha (toasted, crunchy corn). All the ingredients are piled on top of each other with hot peppers at the very top.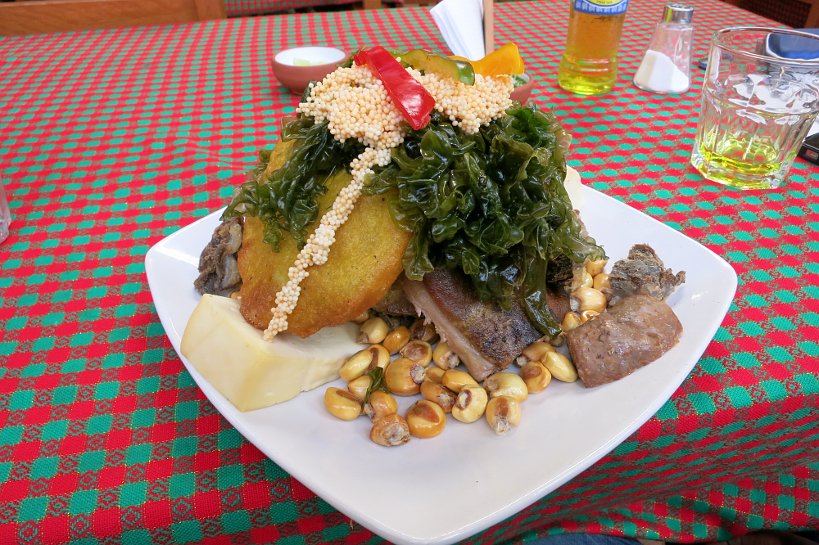 Where to try Chiriuchu
Unless you are in Cusco in June where Chiriuchu is served in many eateries, you will need to find specialties restaurant to try the Chiriuchu.
We went to La Cusquenita, a tradicional pikanteria (traditional restaurant serving meat) in Cusco to experience it. The place was recommended to us by our airbnb host, Doris. It is a large dining room where locals converge to have a traditional meal. Here you find several Cusco food specialties from the region such as the cuy (guinea pig), caldo de gallina (chicken soup), chicharon (fried pork) and trucha frita (fried trout).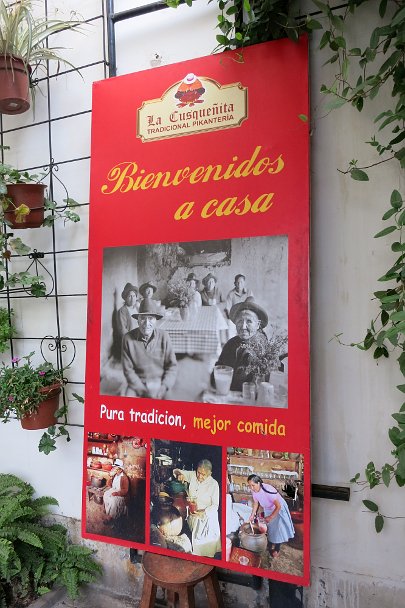 The Chiriuchu was a bit spicy but very much bearable with the corn and cheese to soften the taste of it all. The Cuy cold was not particularly tasty. We definitively preferred the Cuy cooked al Chactado that we described earlier. The gallina was good, but a bit tough though very flavorful. The chorizo and the charki were naturally flavorful in spite of them been cold. We didn't mind the fish eggs and seaweed, although it was a weird combination overall with the meat. One of the best parts of the dish was the the torreja (omelette-like) which was served at room temperature and had a nice combination of flavors from the spices.
It is definitively a meal that you want to share with other people as it is quite filling. You might also want to have an emoliente or another drink to soothe the stomach after the big plate.

In Summary
A trip to Cusco, would not be complete without experiencing Cusco food specialties. You will probably find yourself in Cusco visiting Machu Picchu and the surrounding Inca ruins.
Don't forget to indulge in the once-in-a-lifetime local specialties as well. Cuy is the most popular and is an experience all by itself. If you don't have a lot of time, the mixed Chiriuchu platter will allow you to sample several meats and eat like the Inca's did in their time.
Visit the Mercado San Pedro farmers market and delight your senses and stomach with unique Cusco food specialties. Make the entire visit to Cusco an experience you will never forget.
Locations Mentioned
Cuyeria Sabor Moqueguano, 28 de Julio, Tercer Paradero, Cusco
Restaurante Lindo, Av Imperio de Los Incas, Aguas Calientes
El Rey Chicarroneria, Pampa del Castillo 335, Cusco
La Cusquenita, Av Tullumayo 227, Cusco
Have you ever had any of these specialties before? Please let us know in the comments below.
Savor The Adventure!
Curious by nature, Rosemary loves exploring new flavors and connecting with locals. She shares her insights and culinary finds from her travels to inspire people to connect local through food.