As we are transitioning and re-connecting with friends from Chicago, we are also traveling with our mouths and stomachs as we experience delicious ethnic foods in Chicago.
Chicago is one of the most diverse cities in the United States. For decades, immigrants from all over the world have settled in the Midwestern city and made it their home. The top 5 immigrant communities found in Chicago are Mexican, Polish, Indian, Filipinos and Chinese. Other prominent communities that have contributed to the rich and diverse food palate, include the Irish, Thai, Vietnamese, Italian and Greeks. Chicago's many ethnic communities are shaping the food landscape in the city, and we invite you to discover a few of our favorites.
Indian on Devon Street
Devon street, found on the North Side of Chicago is one of the most intriguing multicultural streets in the city. Though mainly Indian, you will find businesses also run by Pakistanis, Iraqis, Russians, among others. Demographically speaking, this is one of Chicago's most diverse areas.
Walking down the street is a non stop barrage of stores and activities. Not only is Devon street known for the cuisine, it is also a traveler's paradise for cheap appliances, luggage and international adapters. If you're traveling and in need of luggage or adapters and transformers, you can not beat the selection on Devon Street.
We digress! Now, back to the food. Having lived in Chicago previously, we are quite familiar with the restaurants in the area. One of our favorites and best option is Tiffin. Specializing in food from Bombay, this restaurant proposes a range of traditional and delicious Indian staples. It is also one of the few restaurants in the area that focuses on the decor making it a wonderful experience to enjoy traditional Indian cuisine. The one thing to be weary of is the service. Unfortunately customer service is not their strong suite. So, stay for the food and experience and don't expect too much from the service.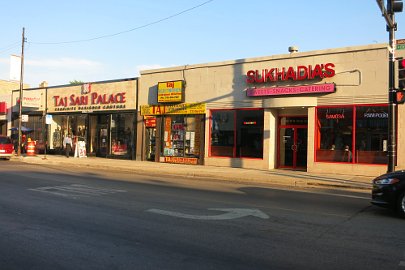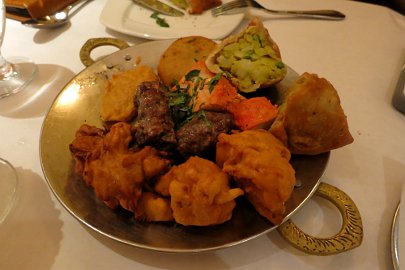 Little Saigon – The Best Vietnamese Food
Uptown, also on the North Side of the City is home to eclectic Asian flavors, smells and cuisines. The culinary jewel is Argyle Street, also know as "Little Saigon". It is the core of the Vietnamese community. From bakeries, to grocery stores, mom and pop restaurants, it truly has a lot to offer. One of our favorite spots to enjoy a lunch is Tank Noodle. It is a casual, family owned restaurant that serves delicious and fresh vietnamese fare. One of the surprising things about the restaurant is the interior. You will find large tables in the middle of the space and private tables for 2 -3 along the edges. Don't be intimidated. Grab a seat on one of the large center tables and share the experience with others.
Our favorite thing on the menu is the Bun Bo or any of the rice vermicelli noodle dishes. The flavors are intense and ingredients are fresh making it a delightful meal. The best way to finish off the meal is to grab dessert from our favorite Euro-Asian bakery, La Patisserie P which is just a few blocks down from Tank Noodle. Here they specialize in a number of different pastries including our favorite Asian pastries, which are red bean paste cake and green bean paste cake Yummy!
Comfort Food From the Mountains of Ethiopia
African cuisine has formed a niche in the North Side side of the City and in particular Edgewater and Uptown neighborhoods. Rash Dashen, one of the iconic restaurants of the area specializes in Ethiopian foods, with many vegetarian and vegan options.
We were introduced to Rash Dashen by friends who are vegetarian and have enjoyed several delicious meals there. The quality of food is exceptional, the flavors are bold and unique and the eating experience is very interactive. As tradition calls, the dishes are served with injera, a pancake-like bread that is used to scoop up the food. The injera is topped up with a variety of delicious sides and you use your hands to tear up the injera and enjoy it with the side dish. If you're looking for an amazing and interactive eating experience from Africa, give Ethiopian food and Rash Dashen a try.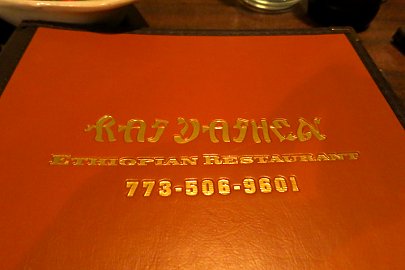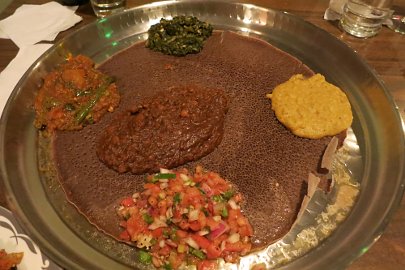 Traveling Through Food
What we have highlighted is only a snapshot of what's available. Chicago has plenty more to offer and we encourage you to wander through the many neighborhoods and experience unique flavors.
One the North Side you will find Andersonville, a neighborhood that offers Middle Eastern food as well as Swedish and other European specialties. The North West Side is home to Avondale, which is commonly referred to as Polish Village, and is filled with Polish restaurants, businesses and local stores.
On the Near West and South Side, you will find Greektown, a popular destination for Greek cuisine. For Mexican food, Pilsen is home to a largely Hispanic community that is predominantly Mexican. Chinatown, located on the South Side of Chicago is the go-to place for dim sum and other Chinese staples. Located next to the University of Illinois at Chicago, you will find Little Italy on Taylor Street. Make sure to check it out for shaved Italian ice and affordable Italian dishes to satisfy your Italian cravings.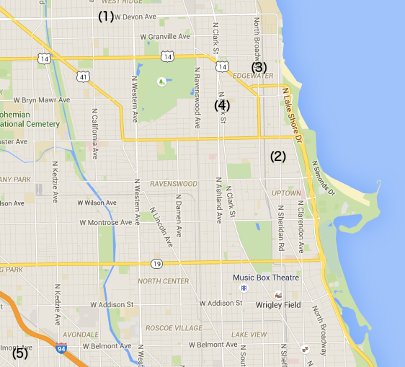 North Side of Chicago
(1) Devon Street
(2) Argyle Street
(3) Edgewater / Broadway Street
(4) Andersonville
(5) Avondale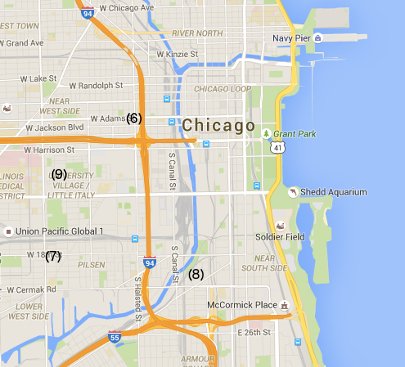 Near West and South Side of Chicago
(6) Greektown
(7) Pilsen
(8) Chinatown
(9) Little Italy
Traveling through food is an amazing window into other worlds. We highlighted three areas of delicious ethnic foods in Chicago. What ethnic foods does your city offer? How many "worlds" can you visit? Take time to enjoy the ethnic foods in your city and share your experiences and comments with us. Savor the Adventure!
Claire is a culinary explorer who travels the world in search of the best local foods. She is always looking for her next culinary adventure to bring you the best bites while exploring new places.