Our quest to discover authentic food in Argentina has taken us from Mendoza to Salta, which is in the Northwestern region of Argentina. The reason we chose to visit Salta is because it is known for it's unique traditional food influenced by Andean culture specialities.
In addition to visiting Salta for it's unique local specialities, Salta is also a charming Spanish colonial town that was founded in 1582 by Spanish commander Hernando de Lerma. Today, Salta is a emerging as a popular tourist destination and it bears the nickname Salta La Linda (Salta the beautiful). With the local specialities and amazing architecture, we set off for the 18 hour bus trip.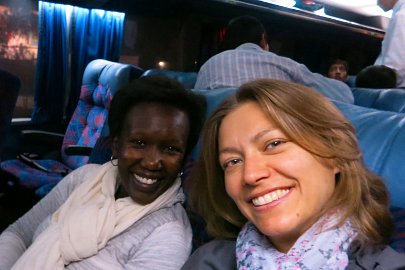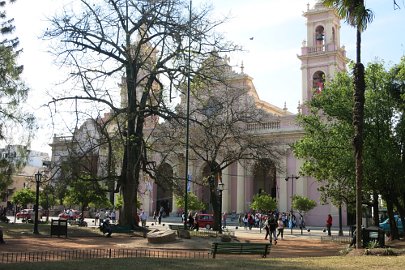 In this post, we are highlighting 3 unique and typical dishes from Salta. We do however have to acknowledge that Salta is also arguably also known for the famous empanadas salteñas. We have sampled and enjoyed quite a few and will be writing about empanadas in a forthcoming post.

Locro
The hunt to taste Locro was actually quite interesting. We had reserved our second to last evening in Salta to taste Locro at a particular restaurant that was recommended to us by a local saltenõ instructor at a cooking school. After walking halfway across town to find the restaurant, we got there to find out that they didn't have it on their menu. Dejected, but not disappointed, we hauled our hungry stomachs back to the other end of town where we had spotted another restaurant serving regional cuisine. This time we checked the menu in advance before getting seated. Just as we were placing our dinner order, the server tells us that due to the unseasonably warm weather, they were not serving Locro. This time I was really bummed. We were leaving in two days and had had come all the way to Salta to taste this local regional dish. With two days to go, I was determined to find and taste Locro, no matter what. The opportunity to taste Locro came the next day on our day long trip to Cachi, a small town in the Alto Calchaqui Valley. Most of its inhabitants (aprox. 5.5K) are descendants of the Diaguita – Calchaqui culture with an influence of the Incas, making it a popular destination.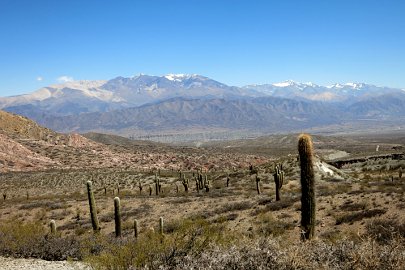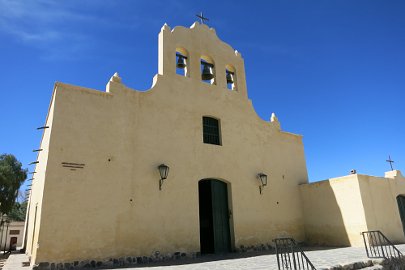 This time our primary concern was to find a place to eat as we had been up 5 hours before and our stomachs were hurting. Much to our surprise, several restaurants were advertising Locro on their menu for the day. Success!! We sat at a restaurant in Cachi that was advertising and indeed serving Locro on their lunch menu.
So, what is Locro and why was I so determined to taste it? Locro is a hearty thick stew, popular along the Andes Mountain range. It's name comes from the Incan language, Quechua and it is usually eaten in the winter months. There are several variations of Locro and the one that I had was Locro Pulsudo at Nevado de Cachi restaurant in Cachi.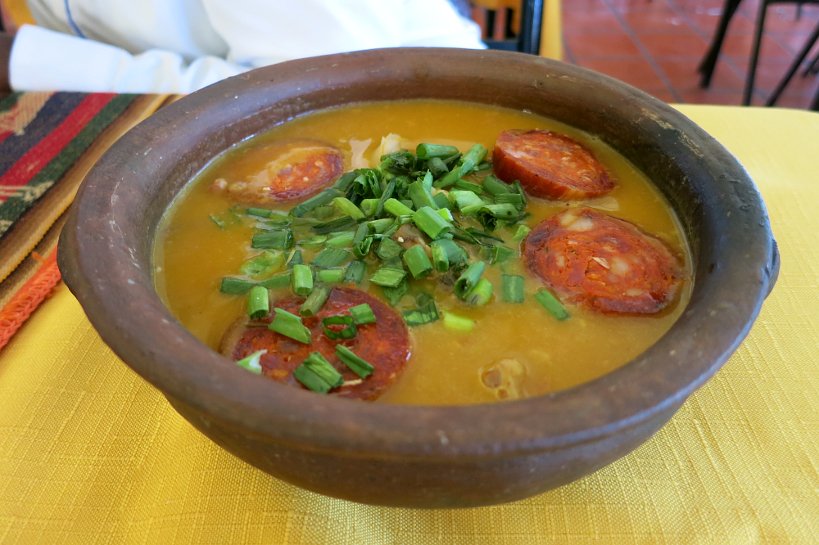 This particular Locro Pulsudo had beef, white beans, white corn, green onions, chorizo, paprika, cumin pepper and salt. The taste needed a little getting used, but after the first spoonful, I was hooked. Don't hesitate to try out the Locro the next time you find yourself in Argentina, it is one delicious hearty stew like no other.
Tamales and Humitas
In a previous post, which you can see here, we wrote about our experience sampling Humitas before in Mendoza and we did not particularly enjoy them. Given that Humitas are a speciality of Salta, we decided to give them another go.
The question we then faced was "where is the best place to try the famous Saltenõs Humitas?" Every time we are faced with this question, we have to get creative on how to answer it. For this trip, on our regular visit to the Mercado Central (Farmers Market), we decided to ask the vendors for their recommendation. As we were buying fruits for breakfast the next day, Claire mustered up her Spanish and asked the lovely lady who was helping us, where she would recommend. She sent us a few blocks down the street from the Farmers Market to the Patio De La Empanada We checked out the place and saw that they also had Tamales, and so we decided to make it our lunch spot the next day.
The Patio De La Empanada is an open-air restaurant with about 5-7 vendors competing for your business. As soon as you walk in, menus are thrust in your face and people ushering to sit in their respective areas. We picked the table at the restaurants that was the most busy with locals and settled down to try the Tamales and Humitas.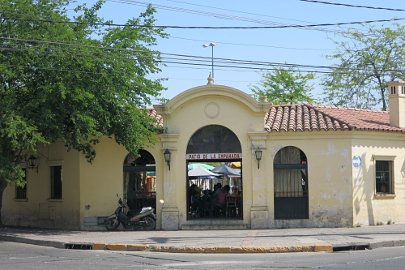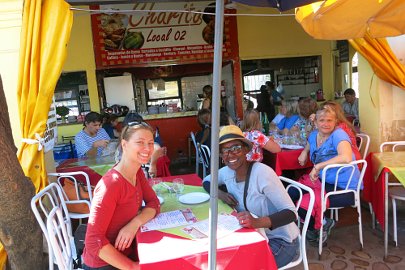 Tamales
Wrapped in corn husks and tied up to look like a "bonbon" ( as Claire would say) was a delicious corn based dough around the Tamale. The filling was ground beef, potatoes, spices and salt and pepper.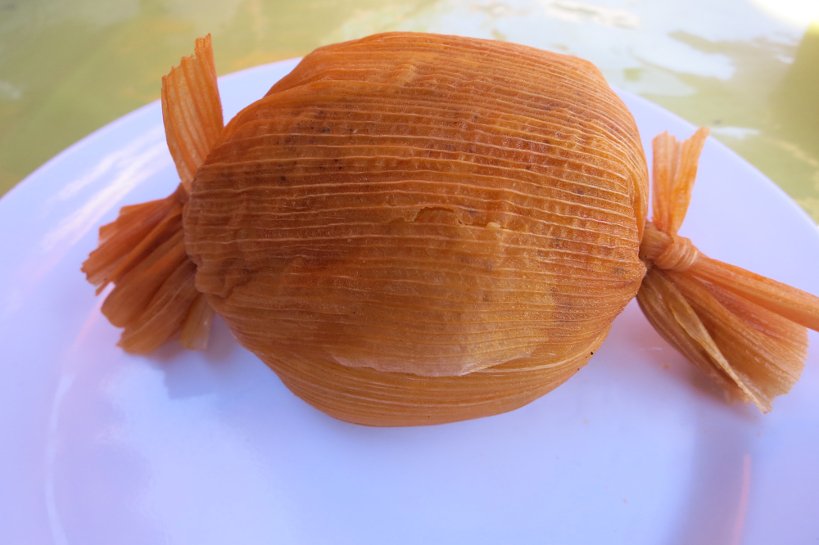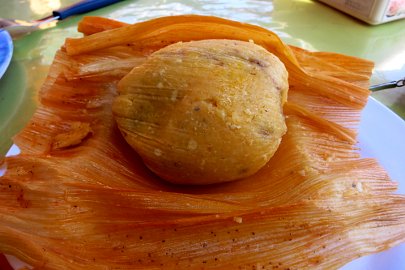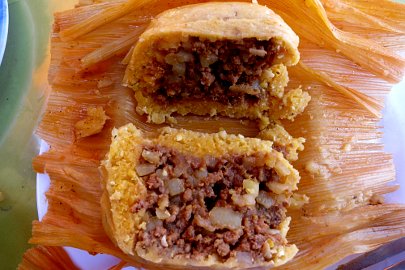 When we tried the Tamales we were very impressed. They are nothing like the Tamales one finds in the US. The combination of the corn and the beef with the various spices was heavenly. These Tamales quickly became one of the best regional dishes we have tasted thus far. We encourage you highly to try the out when you are in Argentina. Note that each region may prepare them a little differently, so if you can choose the Saltenõs version, we guarantee you will not be disappointed.
Humita
Given our previous experience with Humita, we were not eagerly anticipating the Humita. However we kept an open mind after seeing many of the tables around us with discarded Humita corn husks.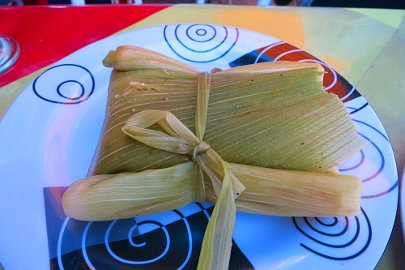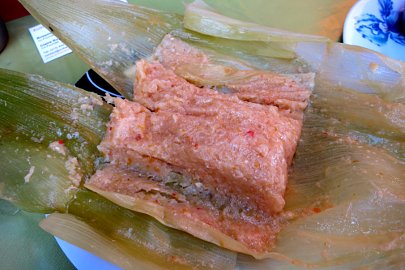 Shockingly delicious is what we thought after we had our first bite into the Humita. Totally different from the ones we tried in Mendoza. The Humita was filled with sweet corn and cheese and picante (spicy) seasonings. The combination of salty and sweet was is what made these Huminta unique. This time we can unequivocally say, "try the Humita, especially the Saltenõs version.

Our quest for authentic food in Salta ends here. We will not forget these typical dishes from Salta. Stay connected as our quest continues further north in Argentina to discover other authentic specialities. Feel free to leave a comment and let us know what you think.
Locations Mentioned:
Nevado de Cachi restaurant Cnel. R. Llanos y F. Suárez, Cachi, Salta
Patio De La Empanada Av San Martin esq. Esteco, Salta
Savor The Adventure!
Curious by nature, Rosemary loves exploring new flavors and connecting with locals. She shares her insights and culinary finds from her travels to inspire people to connect local through food.