This article has links to products and services we recommend, which we may make a commission from.
In northwest Argentina, Salta food is well known for its regional flavors with a local Andean twist.
Within the province of Salta, amazing local dishes like empanadas, locro, humitas, tamales and others stand out.
While the use of indigeneous ingredients and produce are dominant, the cuisine also has a Spanish flair from the colonial era.
During our visit to Salta, we loved the unique traditional food scene and its originality compared to the rest of Argentina.
If your travels take you to Salta, use this Salta food and restaurant guide to what and where to eat.
Here are the five best Salta foods, and the restaurants to try them.

1. Empanadas Salteñas – Empanadas From Salta
Salta is arguably known for its famous empanadas salteñas. While these delightful little pastries may look similar to other empanadas, the taste and appearance of salta's famous dish is truly unique.
Salteña empanadas are typically filled with a stew filling made of beef or chicken and vegetables.
The salteña's empanada seal or close of the empanada is on top instead of on the side, like empanadas from other regions of Argentina.
Salteñas are baked with the repulgue or seal facing upwards until they are golden brown.
With Salta being in close proximity to Bolivia, these traditional empanadas are also quite popular in the country.
While some claim empanada salteñas are Bolivia's national dish, it was actually invented by an Argentinian woman.
According to legend, a journalist named Juana Manuela Gorriti and her family fled to Bolivia from Argentina for political reasons.
However, to support her family, she found herself baking and selling food to survive. The locals often called their children and asked them to buy empanadas from the "Salta woman."
Thus, the name and dish empanada salteñas was born.
Best Restaurants in Salta To Eat Empanadas Salteñas
La Tacita café is a down-to-earth stop along a main street. The interior decor is simple with wooden chairs and tables and a brick oven in the corner.
You don't go to La Tacita for the decor, but for amazing and mouthwatering empanadas salteñas. Don Porfirio the owner, is reknown beyond Salta for possibly "the best empanadas in Argentina".
Visitors and locals alike flock to its simple cafe to try the famous empanadas saltenas. Baked to order, the empanadas are piping hot but so deliciously fresh.
Conveniently located near popular spots like Iglesia San Francisco and Casa de la Cultura, it is definitely worth the trip.
Address: Caseros 396, Salta
Hours: Open everyday, 8:00 a.m. to 12:00 a.m.
Price: Individual empanadas are priced at approximately ARS$70 (approx $0.60)
Pro tip: Be sure to ask for the hot sauce to go with your empanadas
El Charrua Caseros is located near Plaza 9 Julio de Salta and the Museum of High Altitude Archaeology.
It's a quaint little restaurant with dim-lit interiors and limestone walls. The local Salta food selection at El Charrua is very good, and the empanadas salteñas are no exception.
Find a wide variety of empanadas to choose from. And, be aware, the portions sizes are quite generous.
Address: Calle Caseros 221 Entre Catamarca y Lerma, Salta
Hours: Open everyday, 11:00 a.m. to 3:30 p.m. and 7:30 p.m. to 12:00 a.m.
Price: Individual empanadas are priced at approximately ARS$ 50 (approx $0.40)
Pro tip: The restaurant is also a parilla so you can pair your empanadas with delicious Argentinian beef
AUTHENTIC FOOD QUEST RECIPE: How To Make Delicious Argentinian Empanadas Mendocino Style
2. Locro – Hearty Andean Stew
Locro is a hearty thick stew, popular along the Andes Mountain range. It is hearty and filling and typically made with squash, beans, corn, and meat.
Its name is derived from ruqru, a robust squash stew, in the Incan language, Quechua.
There are several variations of Locro. The one we had was Locro Pulsado, at a restaurant in Cachi during our amazing trip through the Calchaquí Valley.
This particular Locro Pulsado had beef, white beans, white corn, green onions, chorizo, paprika, cumin pepper, and salt.
While locro is usually made with pumpkin or squash, some regions also prepare it with potatoes.
The beef was cooked perfectly to blend with the other ingredients. And, the chorizo added a nice smokiness while the paprika, cumin and pepper give it a slight kick.
To go along with the stew, quiquirimichi, a red hot sauce made from red peppers and paprika, is sometimes served on the side.
We had a hard time to find Locro in Salta and finally ate it in Cachi. We learned that Locro is meant to be enjoyed in colder months not in the summer months during our stay.
It is also often served on May 25, the anniversary of the May Revolution. If your travels take you to Salta, Argentina during the winter, don't hesitate to try out the Locro. It's one delicious, hearty stew you won't want to miss.
Best Restaurants in Salta To Eat Locro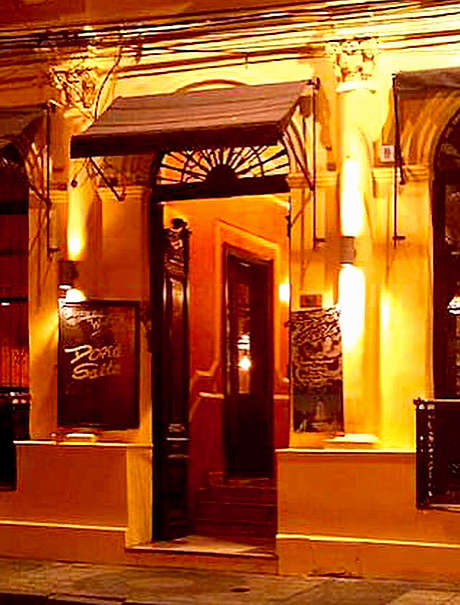 Doña Salta is a rustic restaurant with limestone walls and wood decor oozes with charm.
The ambiance is warm and the service friendly. Find locro and a variety of regional specialty dishes. This is one of the best restaurants for traditional food in Salta.
Address: Córdoba 46, Salta
Hours: Open everyday; 10:00 am to 3:00 pm. and 8:00 pm to 12:00 am
Price: Bowl of Locro for approximately ARS$ 1100 (approx $8.90 USD)
Pro tip: Try the different types of of locro on the menu
RELATED: Argentina Food Guide: Top 15 Authentic Food You Must Try
3. Tamales – Filled Corn Husk from Salta
Salta cuisine is largely defined by its local ingredients, and the tamales are a perfect example of this.
Tamales salteños or tamales from Salta have their roots in pre-Hispanic maize dough called masa. They are steamed in a corn husk or chalas and to wrapped to look like a "bonbon."
When we first tried the tamales from Salta, we were very impressed. Different from tamales we typically find in the US or Mexico, the ones from Salta are unique.
The corn based dough around the tamales we tried were filled with ground beef, potatoes, spices and salt and pepper.
The combination of the corn and the beef with the various spices was heavenly.
In Argentina, tamales are prepared differently in each region. If you can choose the Saltenõs version, on your next trip to the country, we guarantee you will not be disappointed.
Best Restaurants in Salta To Eat Tamales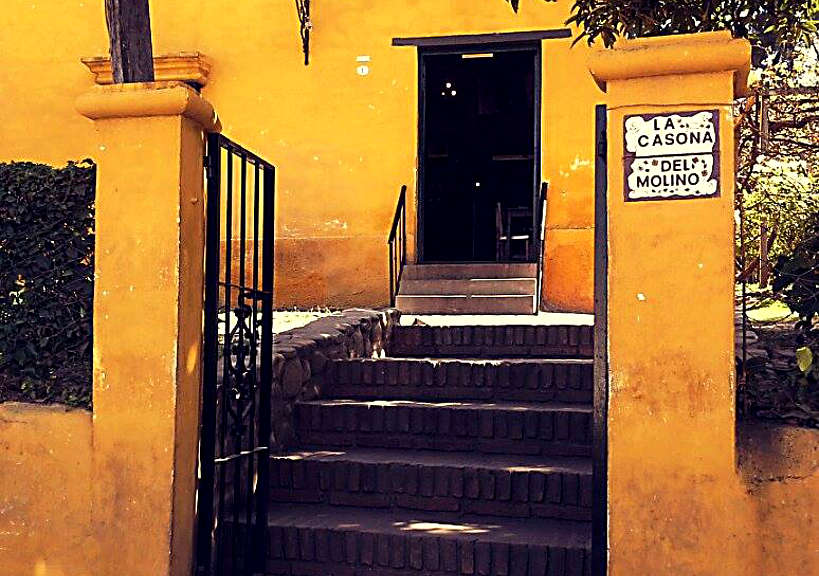 La Casona del Molino is located in an old yellow mill house with outdoor sitting and a large open kitchen.
On most night, you'll find bands playing Argentinian folk songs in this traditional restaurant in Salta. The menu is focused on local specialties accompanied by wines and beverages.
Address: Cnel, Luis Burela 1, Salta
Hours: Open everyday except Monday, 12:00 pm – 3:00 pm – 9:00 pm – 4:00 am
Price: Tamales cost around ARS$60 (approx. $0.50)
Pro tip: Weather permitting, dine outdoors. Best to make a reservation in advance to get an outdoor spot.
RELATED: Mendoza Food Guide: What and Where to Eat in Mendoza Argentina
4. Humitas – Mesoamerican Corn Dish
Humitas are a delicious native dish from South America that date back to Mesoamerican times. The etymology of the name cames from the Quechuan language, humint'a.
Surprisingly tasty is what we thought after we had our first bite into humitas from Salta. Unlike humitas we had tried in other regions, the ones from Salta were divine.
The humitas Saltenõs we had were filled with sweet corn and cheese and a picante spicy seasonings. The combination of salty and sweet was is what made these humitas unique.
This Salta food must be sought out on your trip to Argentina. These humitas, especially the Saltenõs version are some of the best in the country.
Best Restaurants in Salta To Eat Humitas
Patio De La Empanadas is an open-air restaurant with about 5-7 vendors competing for your business. As soon as you walk in, menus are thrust in your face and people ushering to sit in their respective areas.
Choose a table at a restaurant stall that is the most busy with locals. We chose the stall called Charito and had a wonderful meal with humitas, tamales and empenadas saltenas.
Charito – Patio De La Empanada
Adress: Patio de la Empanada, Av. San Martín Local 2, A4400 Salta, Argentina
Hours: Open every day 11:00 am – 4:00 am and 8:00 pm to 12:00 am
Price: Humitas cost around ARS$280 (approx. $2.30)
Pro tip: While you don't want to miss the humitas, the menu is pretty varied. It's a great place to try other unique Salta foods.
5. Dulce de Cayote – Pumpkin Based Dessert
Dulce de cayote or cayote candy is a traditional dessert from northern Argentina. It is made from pumpkins cooked in a syrup flavored with cloves and cinnamon.
The cayote vegetable, is a gourd, which belongs to the same family as pumpkins and watermelons. It has a white and fibrous interior and is commonly found in northern Argentina.
Dulce de cayote and its candied flavor is unique and delicious, and the texture is crispy.
In Salta, and northern Argentina in general, dulce de cayote is filled in sweet empanadas called empanadillas.
These empanadillas or empanadas de cayote were a sweet treat to end our meals.
Another popular way of eating dulce de cayote, is with regional cheese or quesillo. This delicious combination is known as quesillo con dulce de cayote.
Dulce de cayote is also cooked directly in traditional recipes, most popularly in Pasta Real. This is a delightful sponge cake with layers of sweet cayote and almond cream covered in meringue.
In Salta, desserts made from duce de cayote are common and can be found at bakeries and on restaurant menus.
Rich in tradition and unique to the area, this is one unmissable Salta food.
Best Places in Salta To Eat Dulce de Cayote Sweets
Hebradorada is a cannery located in Mendoza, known for their wide variety of jams, jellies, and marmalades. You'll find their products easily available in Salta and northern Argentina.
Hebradorada's cayote preserves are made with only the finest ingredients and are GMO-free.
Adress: Mendoza 1447, Salta, Argentina
Hours: Open Monday – Friday; 8:30 am – 1:30 pm and 5:00 pm – 8:00 pm, Saturday, 8:30 am – 1:30 pm. Closed on Sundays.
Price: Jar of dulce de cayote costs around ARS$750 (approx. $6)
La Esquina De La Empanada is a take-out restaurant with a wide range of sweets, including dulce de cayote.
This is the perfect stop for anyone with a sweet tooth and the prices are very reasonable.
Adress: Juan José Castelli 1910, Salta, Argentina
Hours: Open every day except Monday; 11:00 a.m. to 2:00 p.m.
Price: Jar of dulce de cayote costs around ARS$750 (approx. $6)
This popular restaurant in Salta has an excellent dessert menu with regional sweets.
Enjoy the traditional restaurant ambiance and be sure to leave room for dulce de cayote treats.
Address: Córdoba 46, Salta
Hours: Open everyday, 10:00 a.m. to 3:00 p.m. and 8:00 p.m. to 12:00 a.m.
Price: Dulce de cayote costs around ARS$350 (approx. $2.8)

In Summary
The Salta region is home to a variety of different cultures, and this is reflected in the food. The indigeneous cuisine and local products are unique to the region and difficult to find in other parts of the country.
Discovering the iconic salteña's empanada and the very unsual selection fo dulce de cayote desserts was deliciously surprising.
Throughout our travels across the country over 3 months, the flavors from the northern region were among the most fascinating.
While in Salta, be sure to taste the local culture as you eat at the best Salta restaurants. You will leave, as we did, with unforgettable memories of food and place.
In the comments below, please tell us what is your favorite Salta food.
Savor The Adventure!
Looking for More Argentinian Local Food Experiences?
Our book, Authentic Food Quest Argentina takes you on a journey through food in four main regions of Argentina. Buenos Aires, Mendoza & the Wine Regions, the Andean Northwest, and Patagonia & the Lake Region.
In it, you'll find descriptions of the typical dishes, desserts, beverages, street food and unique produce not to miss. Also included is an overview of the farmers markets and local stores, restaurants, wineries and local producers worth visiting.
Throughout the guide, are stories and insights shared by local experts including Argentina's most renowned Chef, Francis Mallmann.
By combining storytelling with local information, this unique guidebook that inspires intrepid and armchair travelers to savor their adventures in Argentina.
Curious by nature, Rosemary loves exploring new flavors and connecting with locals. She shares her insights and culinary finds from her travels to inspire people to connect local through food.