We are currently in Lima, the capital of Peru, our last stop in South America, on our quest for authentic food. We decided to end our trip in the Gastronomy Capital of South America, discovering Peruvian Ceviche and more Peruvian food.
Lima is a very interesting city and it reminds us a lot of Los Angeles. It is a huge city with one third of of the population of Peru living in the metropolitan area. The city is spread out and subdivided into 43 different distritos (districts). Like Los Angeles, the climate is very similar and it hardly ever rains.
In Lima you will find an incredible waterfront with gorgeous sunsets along the Pacific Ocean. The historic city center of Lima is the colonial capital of Peru, that was founded by Spanish conquistador Francisco Pizarro  in 1535. The historical center was declared a World Heritage Site by UNESCO in 1988 and and a "Cultural Patrimony of Humanity" in 1996.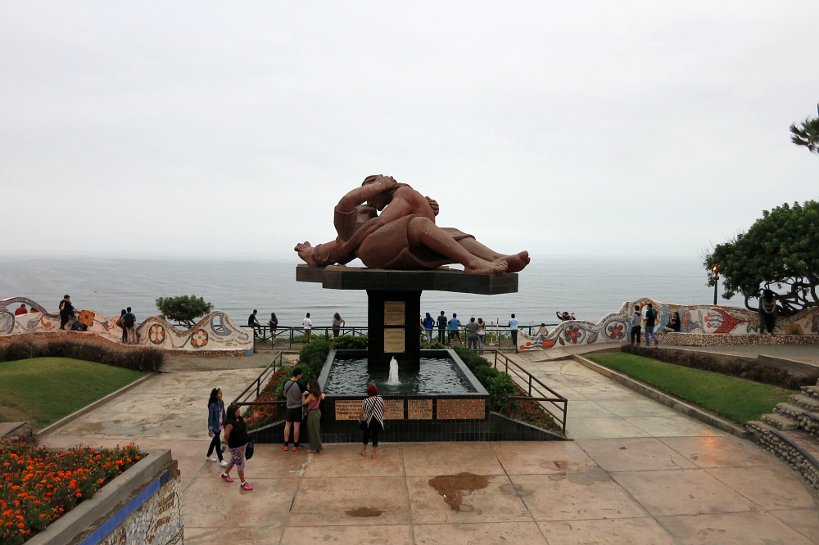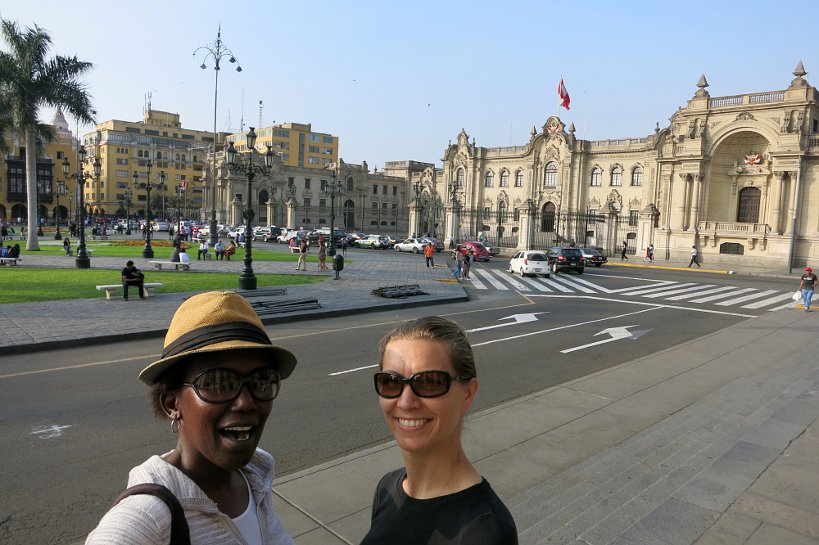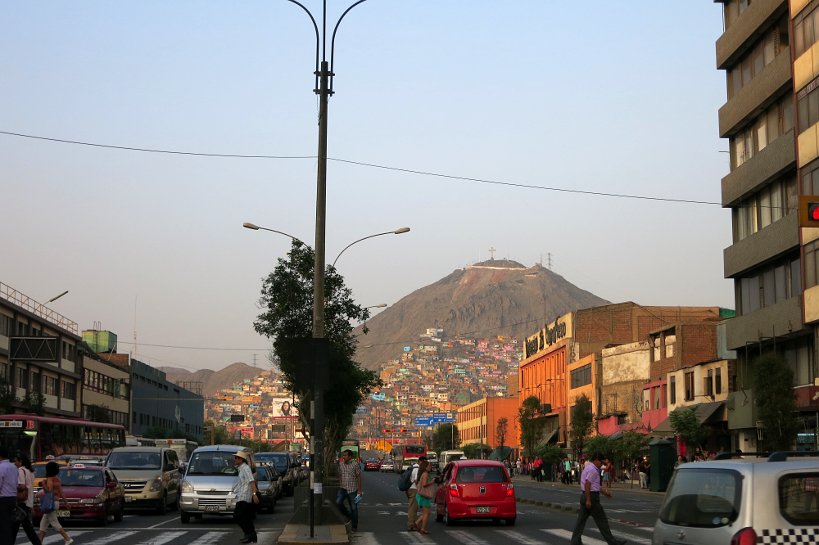 Discovering Ceviche in Peru
Ceviche in Peru is often considered as Lima's dish of the city. And sometimes as Peru's favorite dish.  The Peruvian government created National Ceviche Day in 2008 to honor Ceviche as part of Peru's national heritage. National Ceviche Day is celebrated every year on June 28th. It is said that Ceviche evolved from a dish that was brought to Peru by Moorish women accompanying Spanish conquistadors.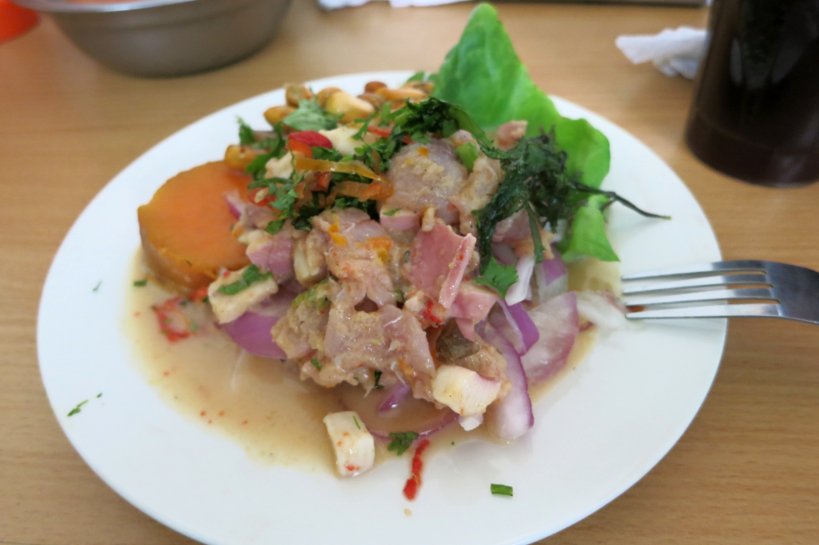 When you travel to Lima, Peru, if there is one thing not to miss is the Ceviche. With Lima having so many eateries and us wanting to have an authentic experience outside of the 5 stars restaurants, we asked locals to tell us where the locals go to get good Ceviche. We got some great tips from local limeñas (female natives of Lima); our airbnb host Patricia as well as our friend Cecilia, a gastronomy critic in Lima.
That is how we learned that Lima has four different kind of eateries: restaurants, huariques, mercados and street food. We tried Ceviche at each of these different places. We chose a more local feel rather than trying Ceviche at the most well-known places in Lima. However, we plan on visiting additional cevicherias and we will update this list in the near future.

Discovering Ceviche in Peruvian Restaurants
Restaurants in Lima are not much different than typical restaurant elsewhere. They are comfortable places where you sit down and meals are prepared to order from a menu. In Lima, restaurants are usually places that are upscale in prices and feel. To experience Ceviche at a restaurant, it was suggested that we should visit Cervicheria El Mordisco, a popular restaurant in the Lince distrito or district, where we are staying.  

Discovering Ceviche in Huarique (pronounced wahreekay)
In the gastronomy capital of South America, you can find very high-end restaurant offering meals for five to ten times the prices of a meal offered in the market. However, between the markets and the restaurants you will find another set of places to enjoy Peruvian food. These are called Huarique.
A Huarique also spelt "warique" is a type of family restaurant that offers traditional food and typical dishes from the region.  They are typically not fancy places, but rather eateries where ordinary people can enjoy a simple, home cooked meal. They are also somewhat secret places that are not advertised. People learn about them via word of mouth. Huarique, although a Spanish word, comes from two words of the Quechua language. "Wa" which means hidden or secret, and "Rique" which means a stew. Hence a secret place that serves good food. Indeed the dishes served are typical and tasty home-made meals.
To experience Ceviche at a Huarique, we went to Punto Azul, a place recommended by our friend Cecillia.

Discovering Ceviche in Peruvian Farmers Markets
As we highlight in our free ebook, "The 5 Best Ways To Find Authentic Food While Traveling" farmers markets or mercados are great places to get local and authentic products. Not only are they places to learn about the fruits and vegetables that grow in a country, they are also great spots to enjoy authentic meals. 
The markets in Lima markets validated this point. The markets we visited all had great places to try ceviche. However at the market, don't expect nice seating and well presented menus. You may need to seat on a stool and eat your food on the counter, which is actually an ideal place to see how the food is being prepared in front of you. Usually, the menu is on a chalkboard and dishes might get erased as they become unavailable. Menu are very basic and they include: appetizer, main meal and a drink (refresco) which is either agua de pina (pineapple juice), maracuya (passion fruit juice) or chicha morada (purple corn sweet drink).
We enjoyed ceviche at several stalls at different farmers market in Lima. Two of the popular market to experience ceviche in Peru are Mercado de Surquillo and Mercado Central. Check at the end of the post for the locations addresses.

Discovering Ceviche: Street Food
Street food is very common in Lima and your best best is to line up near a street vendor with long lines of locals waiting to order their food.They are many types of street food vendors and the most common are the ones selling: emoliente (soothing and medicinal drink), Anticucho (Quechua word for cut stewed meat which may consist of chicken, beef or heart), Mazamorra arroz con leche (rice pudding with purple corn), and sandwiches. They usually either have a cart or a little truck where they prepare the food.
While we were in Cusco, we were intrigued by a little Cevicheria truck that would show up at lunch time everyday (except weekends) and sell Ceviche from the back of the truck. Knowing it was Peru's favorite dish, we took a leap of faith and ordered the ceviche.

The Taste of Pervuvian Ceviche
Ceviche is essentially a raw dish that consists of fish soaked in citrus juices such as lime and spiced with chili peppers. There are just 5 ingredients in the national dish of Peru: raw fish, salt red onions and ají, Peru's unique line of chili peppers, all doused in lime juice. The acidic liquid 'cooks' the fish and changes the proteins in the fish making it firm and opaque. The marinade is called leche de tigre (tiger's milk). The ceviche in Peru is generally accompanied by camote (sweet potatoes) and choclo (large, white Andean corn), which are both native to Peru.
Ceviche is traditionally eaten at lunch, when the fish is most fresh. Everywhere we ate ceviche was incredibly busy and full. Limeños (people of Lima) are crazy about Ceviche.  In Peru, people eat an average of 44 pounds of fish every year compared to just 16 pounds in the U.S.
We had Ceviche prepared in two different and popular ways: Pescado and Mixto.  The Pescado is the traditional mix of thinly cut slices of fish. The Mixto has the fish and the addition of squid, octopus and scallops. Wow! is what we said every single time we tried ceviche at the various eateries. We were blown away by the high quality fish and the combinations of flavors. It didn't matter if we were at a restaurant or at the mercado, the fish and seafood was incredibly fresh and some of the most delicious seafood we have tasted. The onions, limes and spices gives it a tangy bite and that's where the unique sweet taste of the camote comes into play. The sublime mix of flavors is incredible. It is understandable why this dish has it's own national day.

In Summary
A trip to Lima would not be complete without indulging in an authentic Peruvian Ceviche. If you find yourself in the capital of Peru, try Ceviche at the various types of eateries. Enjoy the experience outside the traditional restaurants in the popular neighborhoods. Check out a Huarique and pull up a bar stool at the Mercado. You may surprise yourself when you taste the high-quality fresh fish in unsurprising places. 
Location mentioned:
El Mordisco, Av. Petit Thouars 2631 – Lince, Lima.
Punto Azul, Esq. Javier Prado con Petit Thouars, San Isidro, Lima.
Mercado de Surquillo, Paseo de la Republica block 53, Surquillo, Lima.
Mercado Central, cnr Ayacucho & Ucayali, Lima Centro, Lima.
Do you like Ceviche? Tell us the best place you've had ceviche. Share your comments below.
Don't forget to sign up for our monthly newsletter here and get your free ebook on The 5 Best Ways to Find Authentic Food While Traveling.
Savor The Adventure!
Claire is co-founder of Authentic Food Quest and a lover of simple and exquisite cuisine. Since 2015, with her partner, Rosemary, she has been traveling the world as a digital nomad, creating content about local food experiences.
Her advice from visiting 45 countries and more than 240 food cities has been featured in Lonely Planet, Business Insider, Honest Cooking, Food Insider, and Huffington Post. She has also co-authored three books, including one in collaboration with Costa Brava Tourism.
An ex-mechanical engineer, Claire is responsible for SEO, keeping the website running, and the fun food & travel videos on YouTube.
When Claire is not eating, she can be found running or cycling. Find out more about Authentic Food Quest