Chile is the world's longest and narrowest country with its borders defined by the Andes Mountain and Pacific Ocean. The coast line runs from the tropics to the wintery southern tip which means there is a staggering amount of Chilean seafood.
Not just fish, but a huge variety of Chile seafood. Fishing is a major industry in Chile and it is one of the major exporters of fish and seafood in the world. The Chilean sea is considered among the most productive marine ecosystems in the world.
Trying the traditional Chilean seafood dishes was high on our list for our visit to Chile. We were eager to take a break from all the beef we had been eating in Argentina and Uruguay.
Even though most of the unique Chilean seafood and fish is available fresh along the coast, it can also be found in the capital where we are based for about 2 weeks.
For the best Chilean seafood in Santiago, join us at Mercado Central, the mecca for fresh, local Chilean seafood.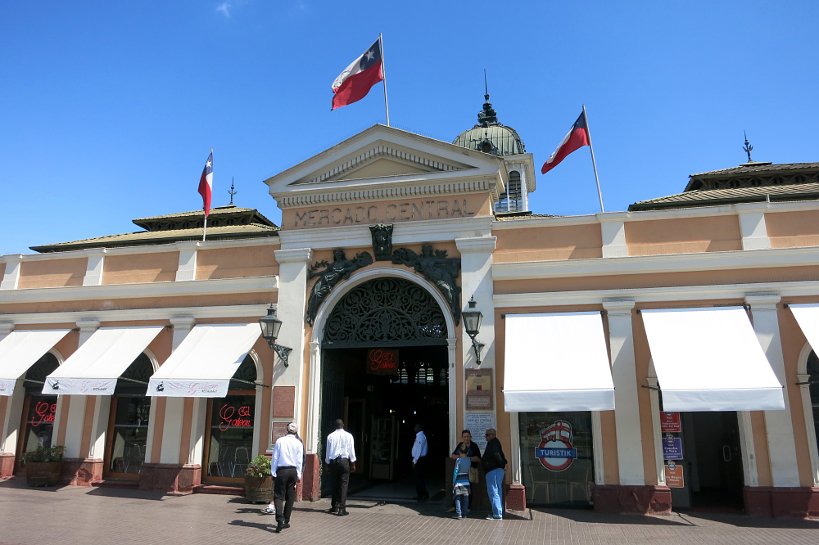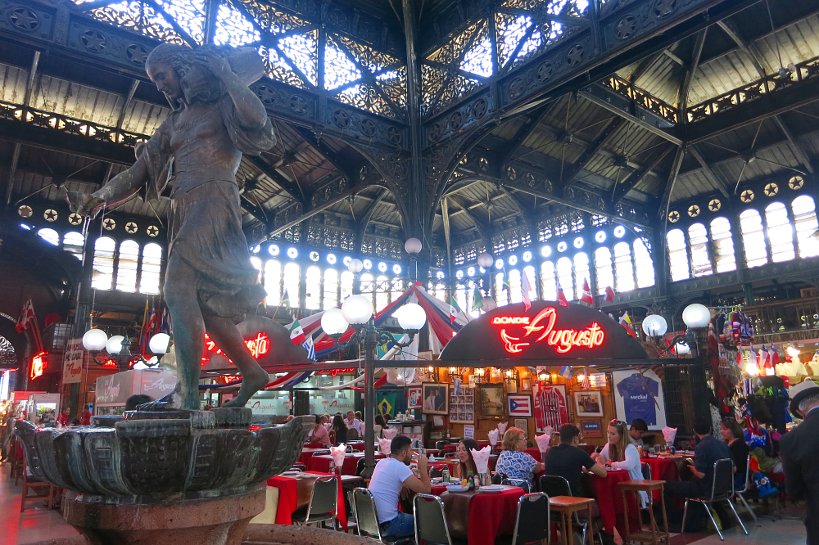 Mercado Central Santiago
The Mercado Central is one of those places that must be on your must-visit list in Santiago. It is a place to eat as well as pick up fresh fish.
Mercado Central Santiago is frequented both by locals and tourists. Locals go early to get their fresh fish for use at home. Whereas, tourists walk around leisurely taking pictures and admiring the various fish stands.
In addition to the stalls within the market, there are also are several fish stands on the the outer edges you don't want to miss.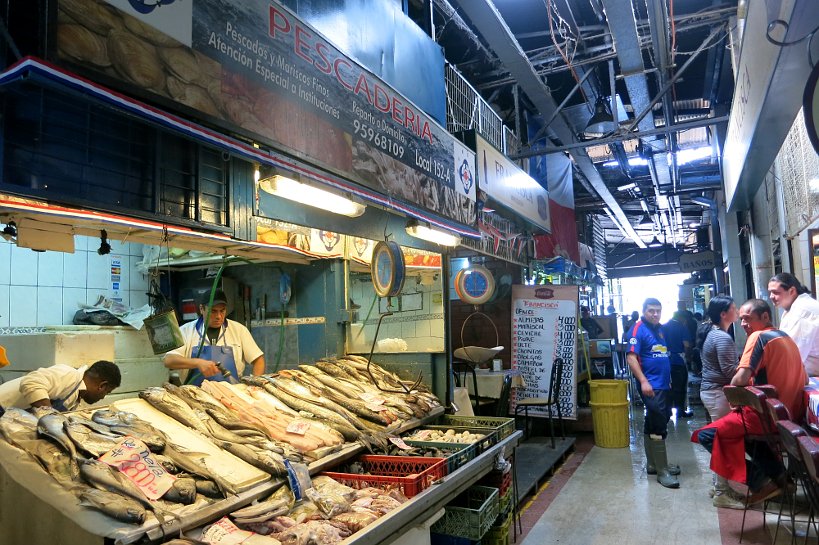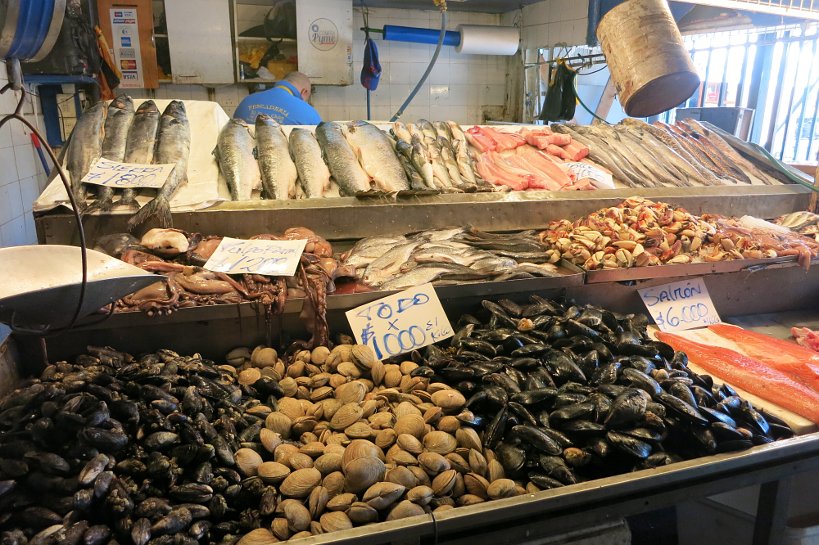 Authentic Food Quest Tip: To make the most of your market visit, consider taking a Santiago Markets tour with a local guide. Visit the main Santiago markets on bikes and learn about Chile's culture and tasty bites.
Mercado Central Santiago Restaurants
We made our way through the market looking for somewhere to taste traditional Chile seafood specialities.
The center of the market is the true tourist trap. Here waiters call out to you and tempt you to their restaurants, each competing for your business while offering "special deals."
The less touristy restaurants that are filled with locals are in the periphery of the market.
Before we decided on where to eat, we walked around the market looking for restaurants that meet 3 main criteria.
Restaurants that are clean, filled with locals and offer a "short menu" (meaning, offer just a few local specialties).
With this criteria in mind, we ended up at YiYi Restaurant at the far end of the market.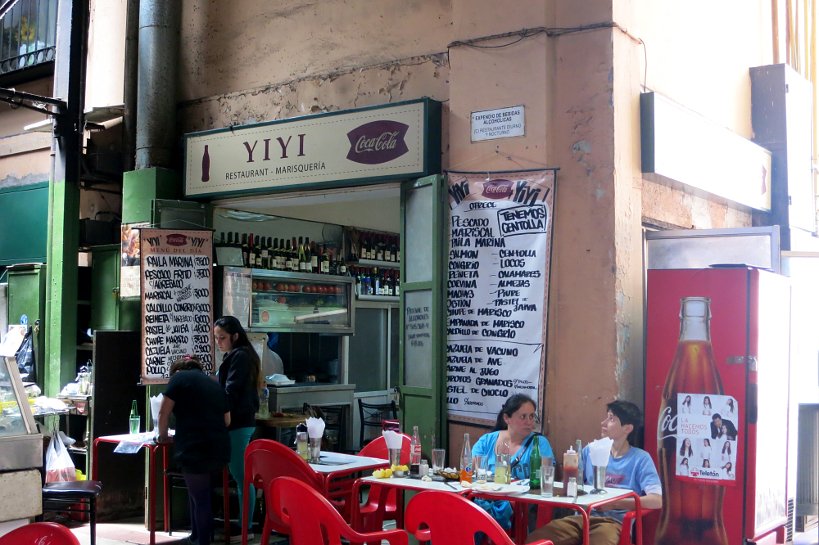 Chilean Seafood at Yiyi Restaurant Mercado Central Santiago
Given that fish is a speciality in Chile, there were several specialities offered at YiYi's.
Not knowing what to pick, we ordered two popular and recommended Chilean seafood specialities to try.
We chose the Locos Papas Mayo (abalone fish ) and Pastel de Jaiba (Chilean crab casserole).
Locos or Chilean Abalone Seafood
So, what are Locos you might be wondering. Locos or Chilean Abalone are a species of large edible sea snails.
They are known as concholepas concholepas, and are native to the coasts of Chile and Southern Peru.
These sea snails are known as "univalve". This means that they have just a protective shell on one side of their body. The other side attaches to any rocky surface feeding off of algae.
When it lays flat, the muscle spreads out. But, once it's removed, the muscle contracts to protect the "meaty" inside.
The name "locos" in Chilean Spanish comes from the native Mapuche language and it means "crazy". Interestingly, the name has nothing to do with the food.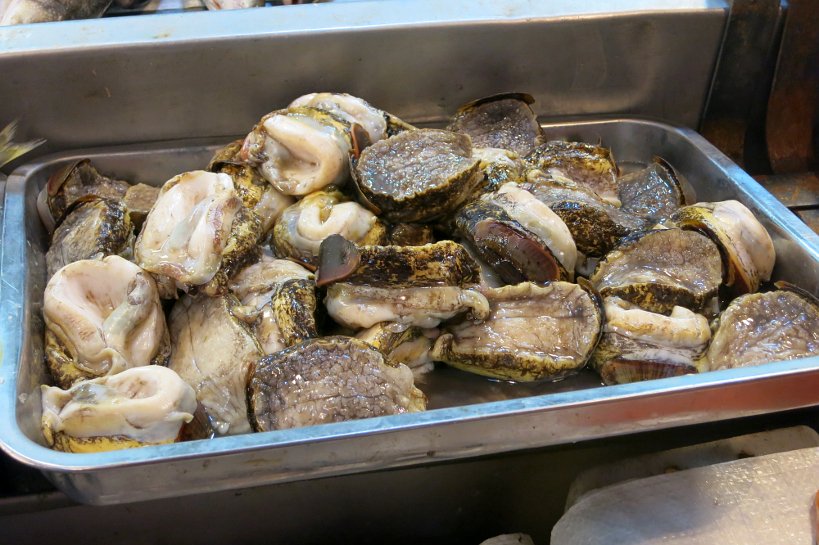 The most common way to eat locos in Chile is in the dish Locos con Mayo. As the name implies, locos are prepared with mayonnaise.
In adition, my dish also came with papas or potatoes.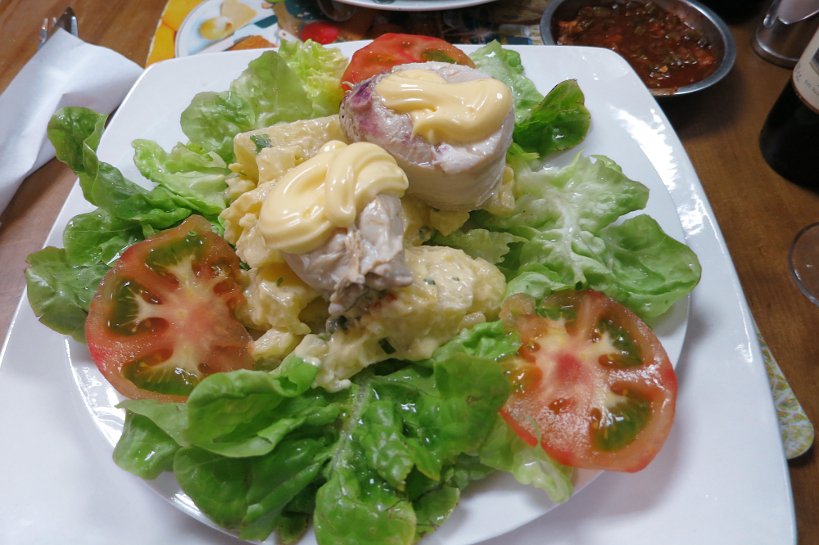 Appearance
When I first looked at the plate, I was surprised to see so much mayo on the locos. We typically do not use mayonnaise at all and was concerned that it was there to mask the taste.
Fortunately, the lettuce, tomatoes and potatoes looked fresh, so if I didn't like the locos at least I had something to eat.
Taste
The texture of the locos was crunchy and firm. It was hard to cut and needed a steak knife. Once I bit into it, I found it having a mild flavor similar to a calamari steak and maybe even scallops.
When preparing locos, they must be tenderized first, which involves pounding them first against a hard surface to soften the muscle. We learned from our waitress that this pounding of the locos has something to do with the name.
The dish was served warm, at room temperature and the combination of tastes and textures was perfect.
To be honest, even though the locos looked a little strange, what they lack in looks, they make up in taste. After one bite you understand why they are a "delicacy".
Costs
7,500 CLP (Chilean Pesos) Approx $8.92 USD.
Locos are strictly controlled in Chile and are only available in certain times of the year. Chile banned the fishing of locos in 1989, after the population had dropped dramatically.
Today, the only legal way for Chilean fishermen to catch locos is to have a permit. This makes them sustainable, however illegal fishing is common. Summertime, which is December through April is the best time to eat fresh locos.
Pastel de Jaiba (Chilean Crab Casserole)
As a crab lover, Claire decided to go with the Pastel de Jaiba.
We had recently eaten delicious crab in Ushuaia (the southernmost tip of Argentina), where they call it Centolla. And, that experience was still fresh in Claire's mouth.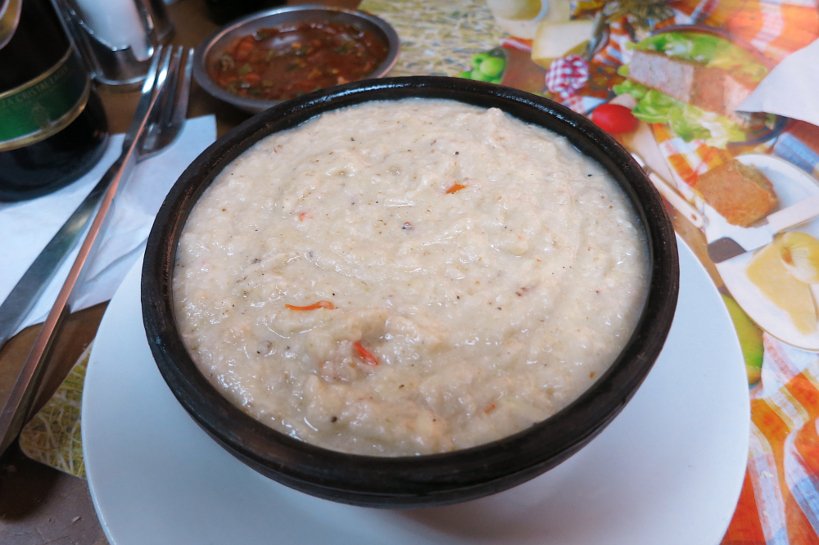 Appearance
This Chilean seafood dish was surprising in many ways. First the look. The pastel de jaiba came in a dish, similar to a soup bowl. It was a white, thick liquid, dotted with pieces of red crab. A very different presentation as we were expecting something close to baked crab cakes.
Taste
The dish was served hot and with a soup spoon. "Wow" were the first words that came out of Claire's mouth when she took her first bite.
She found it rich, creamy and flavorful. We asked the waitress how the dish was prepared and she told us it had four simple ingredients: cheese, milk, bread and crab.
Knowing this helped us decipher the flavors, which was crab although masked with cheese. Overall, Claire enjoyed the dish, but found it a little too heavy.
Costs
4,500 CLP (Chilean Pesos) Approx $6.33 USD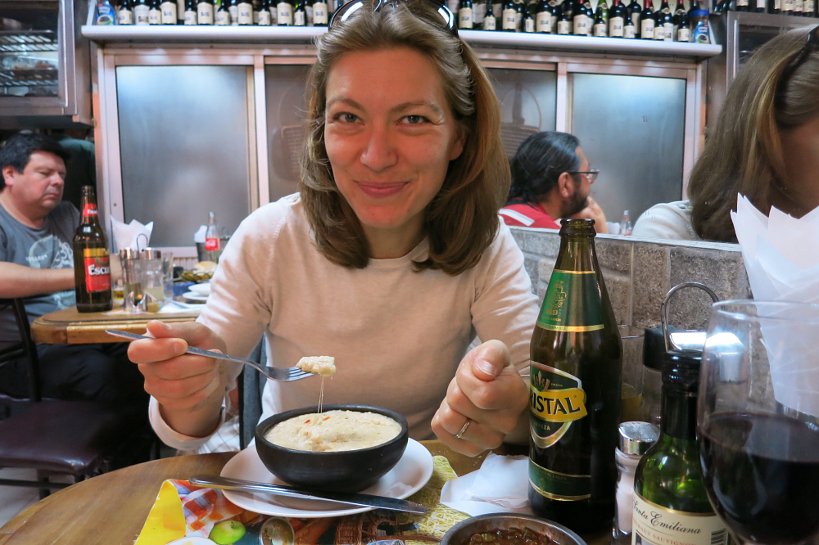 Where to Eat at Mercado Central Santiago
YiYi Restaurant and Marisqueria
Address: Mercado Central, San Pablo 967, Local 93- 94, Santiago, Chile.
Hours: Open everyday 9:00 – 5:00pm
Price: from 3,500 to 7,500 CLP per dish (approx. $4.16 USD to $8.92 USD)

In Summary
We were surprised by the variety of Chilean seafood and unique fish available in Santiago. The Mercado Central is a great place to see the Chilean seafood diversity.
In addition to the locos and pastel de jaiba that we experienced, you will find many other Chile seafood.
Other traditional Chilean seafood include erizos (large sea urchins), caldillo de congrio (a soup of conger eel, tomatoes, potatoes, onions, herbs and spices), cochayuyo (seaweed), machas (razor clams) and sopa de mariscos (seafood soup).
Chile offers a lot of seafood and fish to discover and experience. On your travels to the capital, explore the local specialties with a local guide on a food tour. Or, simply let your taste buds guide you at Mercado Central Santiago.
Have you had Chilean seafood before? Please let us know your comments below.
Savor The Adventure!
Love it? Pin it!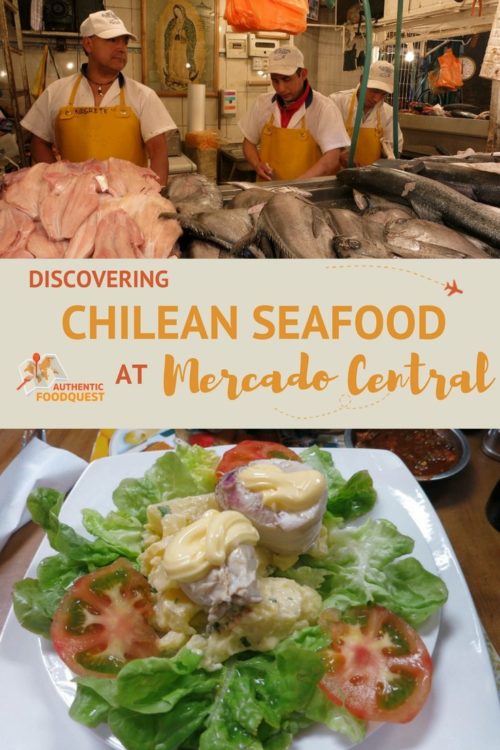 This article has links to products and services we recommend, which we may make commission from.
Curious by nature, Rosemary loves exploring new flavors and connecting with locals. She shares her insights and culinary finds from her travels to inspire people to connect local through food.