Our journey discovering authentic food across South America continues and now has us in Uruguay.
More specifically we are in Colonia del Sacramento, a picturesque town and the Barrio Historico (historic quarter) was declared a World Heritage Site by UNESCO in 1995.
In case you may be wondering, Uruguay is South America's smallest country with a population of about 3.3 million. The capital is Montevideo and that is our next stop on this adventure in Uruguay.
Our trip to Uruguay was both practical and also to discover the famous Chivito sandwich. On the practical end, we needed to leave Argentina before the expiration of our tourist visas so that we would be able to come back into the country on a new tourist visa and continue our travel adventure to the south of Argentina.
Colonia in Uruguay is conveniently located literally across Buenos Aires and is easily reached by ferry by crossing the Rio De La Plata. There are two main companies that provide ferry service to Colonia from Buenos Aires; Buquebus and Colonia Express.
We took Colonia Express, and in just about one hour we landed in Colonia. Easy and convenient to get to, Colonia is also visited by many porteños (locals from Argentina) for a day trip. Now, onto the sandwich.
Chivito sandwich
Being a national speciality, there was no shortage of places with Chivito Sandwich on the menu. It took us a little time to find a restaurant that we liked. As we were touring the old city of Colonia, we spotted El Drugstore, a quaint restaurant with live music, serving the speciality. Once we settled down at El Drugstore restaurant, we ordered the chivito al plato (chivito as a platter).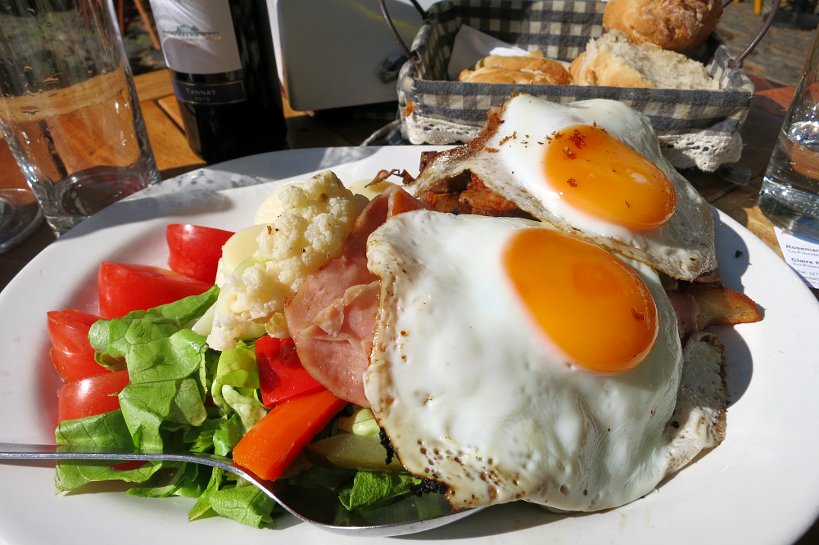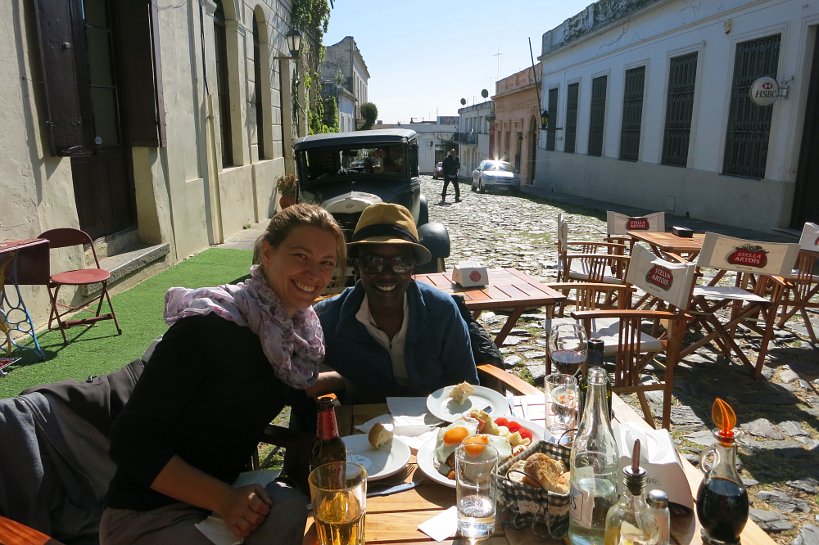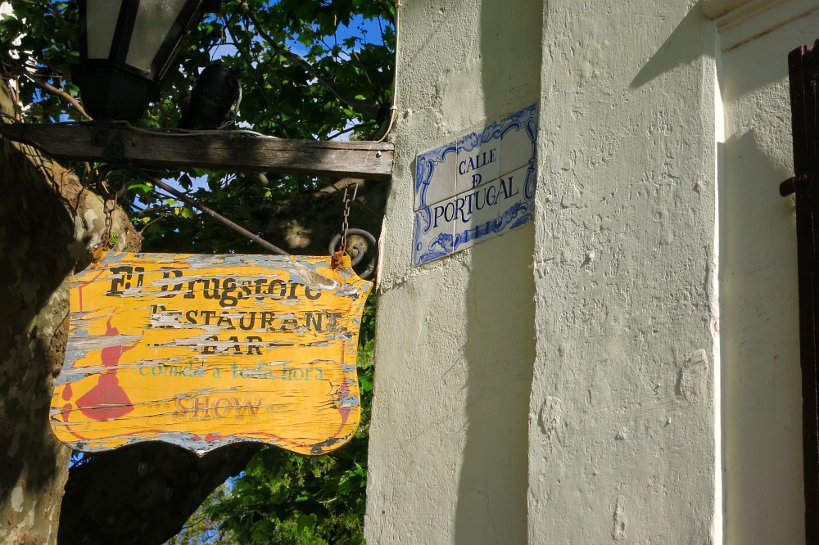 This is a serious dish filled with meat. It is made up of a thin slice of churrasco (filet mignon beef), topped with bacon, mozzarella cheese, tomatoes, lettuce, mayonnaise, ham, olives and a fried egg. It is mentioned on the menu as a meal for one or two. We highly recommend to take it for two as it is very filling. When it is served as the platter, it comes without the sandwich bread and it is usually served with french fries or baked potatoes.
Incredibly delicious is how we both described our first bite of the Chivito Sandwich. Rich, heavy and something about all the flavors together, works very well. Decadent and a carnivores fantasy, it is actually surprisingly good. We were overly stuffed and can now understand intimately why the Chivito Sandwich is the national Uruguay dish.
Apparently, legend has it that a female tourist from Argentina stopped by a restaurant in Punta Del Este (Southern part of Uruguay) and ordered "chivito" (baby goat meat) like the ones she had in Argentina. The restaurateur not wanting to lose a client, accepted the order and proceeded to make her a churrasco (steak, not goat) sandwich topped with everything but the kitchen sink. She ends up loving it and the sandwich earns a permanent place on his menu under the name Chivito, going on to become Uruguay's national sandwich.
We had tried the Chivito platter, and now needed to try the sandwich. The opportunity presented itself the next day after we took a 5km walk over the Rambla de las Americas, along the water to Real de San Carlos.
This is worth noting because there you will find the largest bullring (where bullfighting is performed) in South America. It was built at the beginning of the 20th century by Nicolás Mihanovich, an Argentine business man. The Plaza de Toros (bullring) opened in 1910 and could hold up to 10,000 people. It was only opened for 2 years and held 8 bullfights in total. Bullfighting was finally outlawed in 1912. Legend has it that the President of Uruguay at the time, Jose Batlle y Ordóñez once attended a bullfight with his daughter and upon seeing how the bulls were treated and finally killed in front of everyone, she cried and complained so much to her father that the sport was finally banned.
So, while we were in the Plaza de Toros area, and after a walked that prepped our stomach for some consequent food, we stopped at at a clean looking shack called Lo De Pedro on ave. Mihanovich leading to Plaza de Toros and this time ordered the Chivito Sandwich. As you can see, it closely resembles the chivito al plato just with the addition of the bread.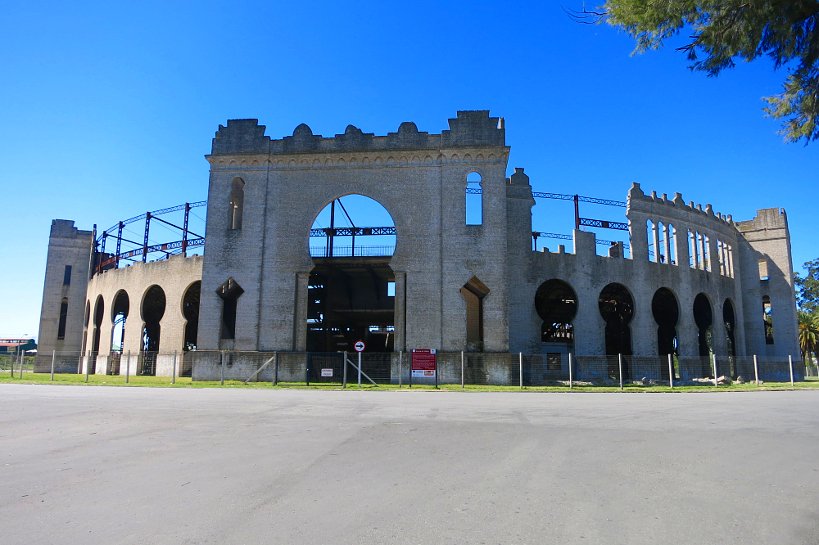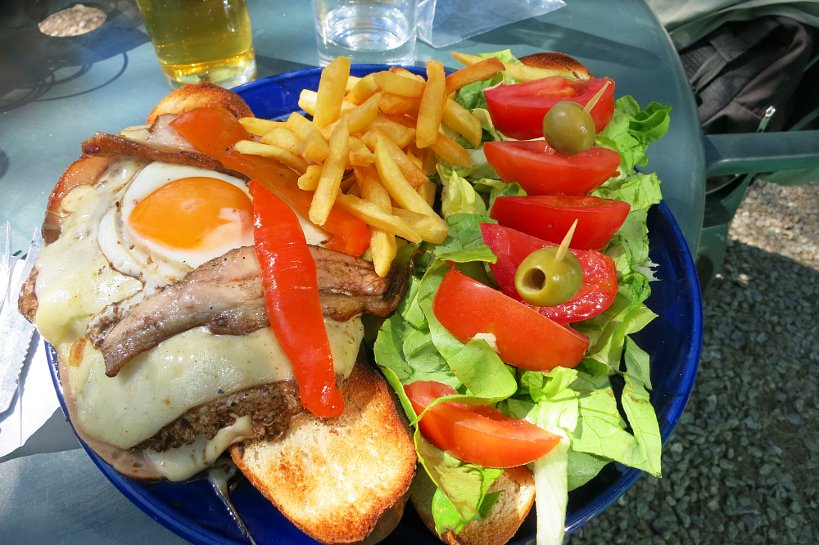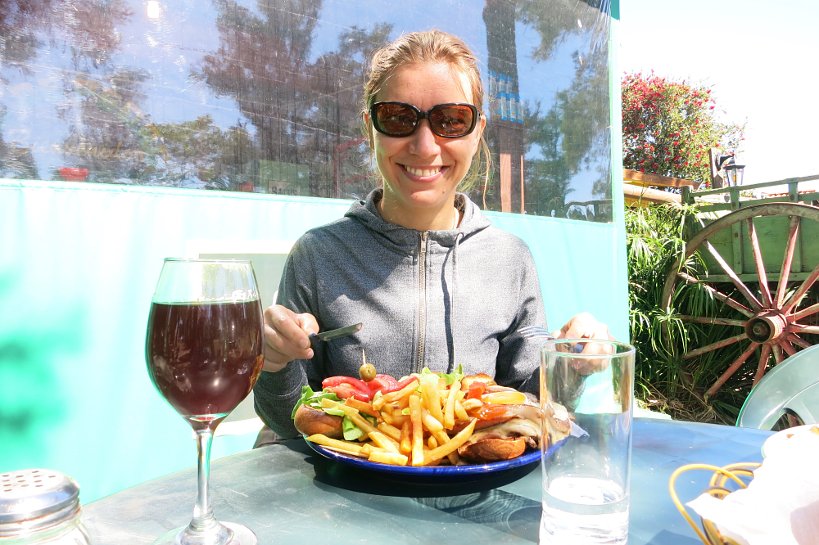 Claire described the experience as…"huge sandwich, more than enough for two. It really looks like two sandwiches together…one sandwich of meat and the other of vegetables. The meat is delicious and tender. The bacon is really good and not fatty…thank goodness for all the veggies which cut the fat and make it slightly healthy."
Overall, the two different type of preparations of the chivito – al plato or with bread as a sandwich were pretty much the same.
After all the Chivito, and if you are looking for a break be sure to check out Buen Suspiro, a cozy spot specializing in picadas (finger foods to nibble on) on the most emblematic street of Colonia, Calle de los Suspiros. Here we enjoyed 4 different types of cheeses, chorizo sausage and slices of two different types of tartas (quiche-like). We downed this with amazing Tannat wine, a speciality from Uruguay that we also discovered in Cafayate, Argentina.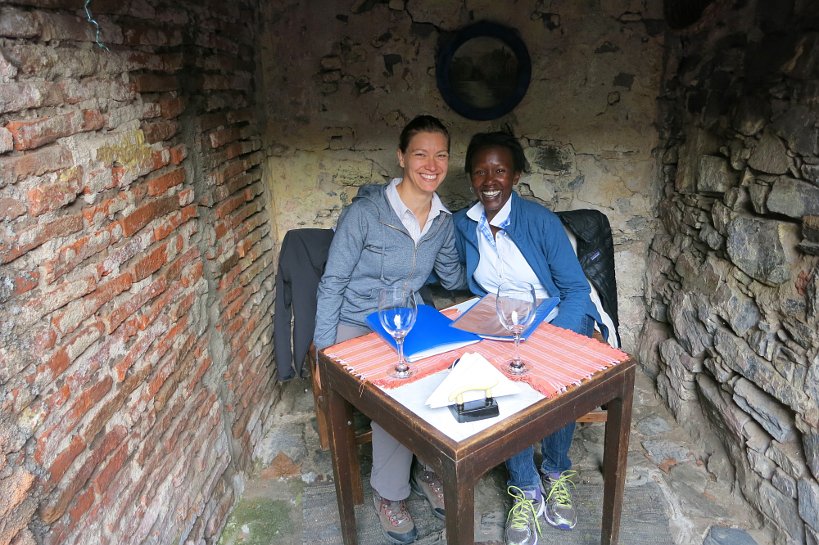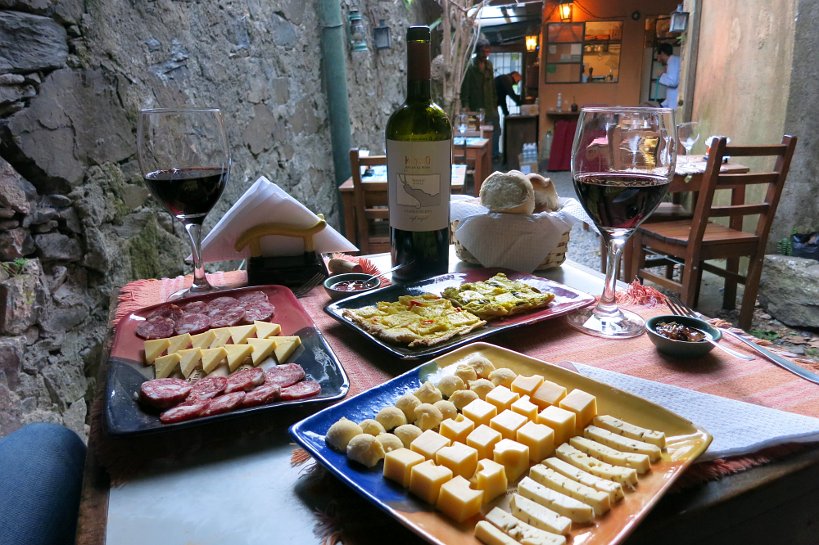 Colonia Del Sacramento in Pictures
If you've never considered visiting Uruguay, we encourage you to put it on your radar. Colonia Del Sacramento is only a short distance away from Buenos Aires in Argentina and it has an entirely different feel. Here is more about Colonia in pictures.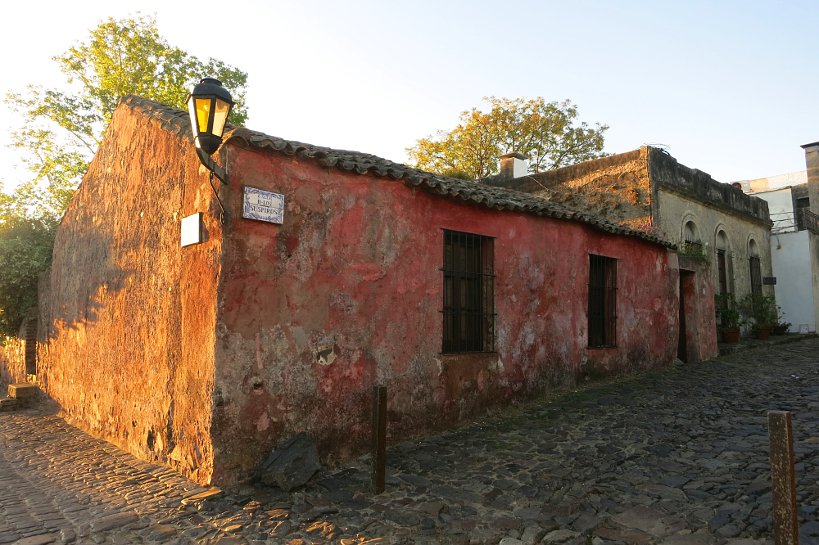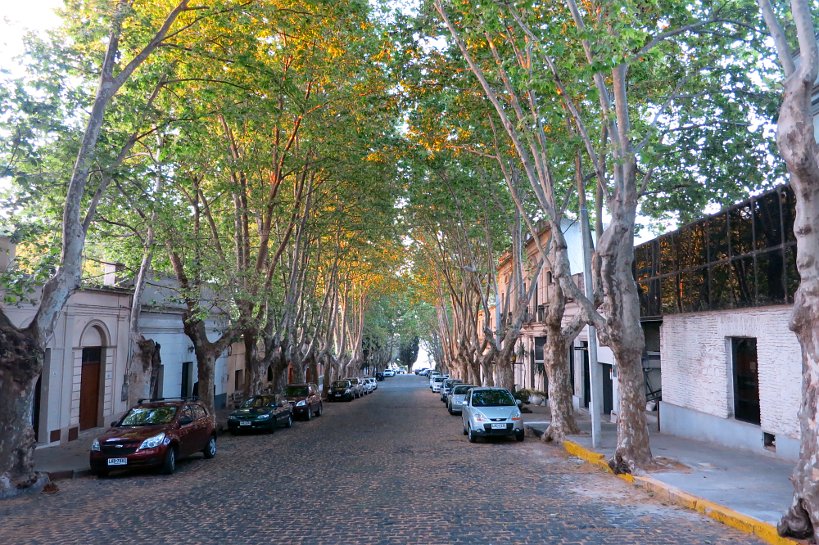 Follow our quest as we continue onwards to Montevideo, the capital and we will share more about our experience and the authentic foods of the region. Tannat is already on our list and we can't wait to go visit the farmers market in Montevideo. Based on our experience thus far in Colonia, it is worth visiting Uruguay especially for the "Chivito Sandwich."
Savor The Adventure!
Curious by nature, Rosemary loves exploring new flavors and connecting with locals. She shares her insights and culinary finds from her travels to inspire people to connect local through food.