Discovering the farmers markets for us is always an adventure and a delightful experience. Needless to say, that one of the first things we did when we arrived in Buenos Aires was to research and find the local farmers markets. After talking with locals and researching online, we got several addresses and location information. To our surprise, unlike the farmers markets in France or in the US, we found out that not all the farmers markets in Buenos Aires are alike or propose the same products. What we found instead, are three distinctive ways to look at farmers markets. We present below the different types and where to find them.

Organic Farmers Markets
First, there are the organic farmers markets in Buenos Aires. This appears to be driven by a growing trend in Argentina for healthier foods and organic products. As a result, you will find several niche markets that sell only organic foods in Buenos Aires. However, don't expect to fill your shopping cart with all your vegetables and fruits for the week. At these farmers markets you will find smaller selections and vendors that sell organic fruits, vegetables and specialties made with organic ingredients.
Here are the main organic farmers market you can find in Buenos Aires.
Feria Organica San Telmo Verde. It is a covered market located on Peru 677 in San Telmo. The market is only on Tuesday's and Friday's from 10am to 5pm. It is rather small, with about 20 stands showcasing organic products. Here you will find bread, tartas (quiches type), budin (sweet cakes), chocolate, cheese, dry cured sausages, grains, dried fruits, organic drinks and juices. We've sampled several homemade tartas and we definitely recommend stopping there when you need a quick lunch or if you don't know what to make for dinner. Because of the limited selection, this stop is certainly not enough to shop for enough fruits and vegetables for a week. For that we recommend to stop at the verduleria and other specialty stores that BA has to offer as describe in our previous post on Buenos Aires food stores.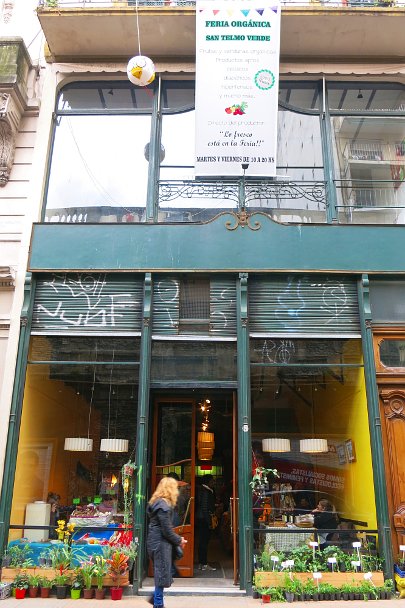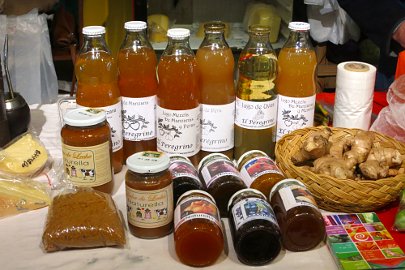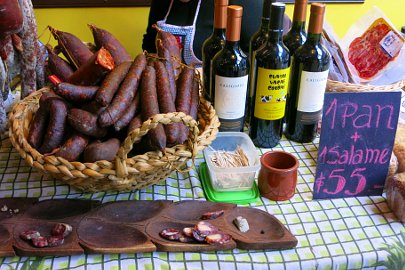 Mercado Solidario BonPland. This covered market is located on Bonpland 1660 in Palermo. It is open on Tuesday, Wednesday, Friday and Saturday from 10am to 10pm. We went there earlier in the afternoon and it was very quiet. We recommend to go earlier before 12pm or later after 5pm when there are more vendors open or people shopping. This market is a bit more sophisticated than the one in San Telmo. There are several boutiques offering organic products such as cheeses, pastas, olive oil and vegetables.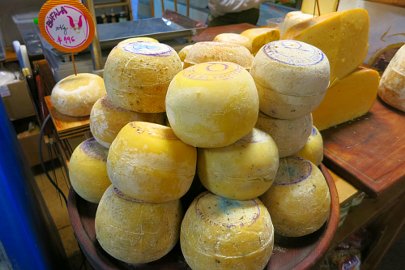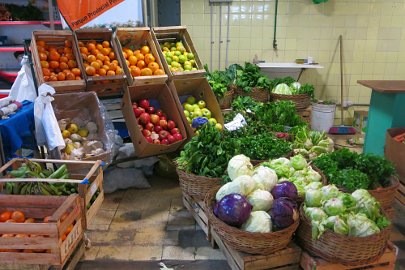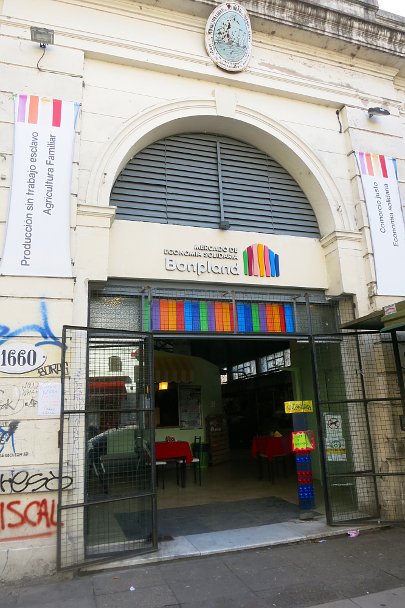 Sabe la Tierra. This market takes place at several locations in and around Buenos Aires. We went to the market one Saturday in San Fernando. This was a very cool and unusual location because the market was held at a working train station called San Fernando del Tren de la Costa which is located on the northern outskirts of metropolitan Buenos Aires in San Fernando. Getting there is an adventure. We had to go to Retiro station by Subte (metro) and then take the train to Mitre and come off in San Fernando. Once you arrive in San Fernando, it's a short walk 8 blocks north, to the market. You will see a small open air market on two sides of railway tracks. On one side of the tracks, you will find mostly prepared organic foods. Here we sampled organic mediterranean hummus, cheese, fresh juices, lentil soups, artisanal beers and much more. On the other side of the tracks was a small selection of fresh fruits and vegetables. The atmosphere was very convivial, with music playing and tables set up to enjoy the hot dishes. We ended up eating homemade Israeli potato knishes accompanied with a fresh salad and pickled carrots. Very tasty and filling.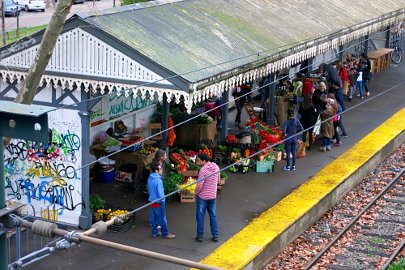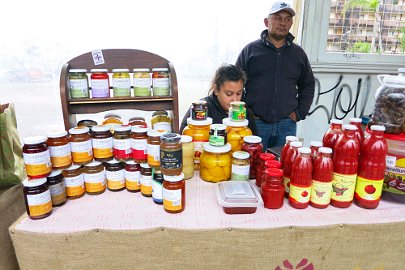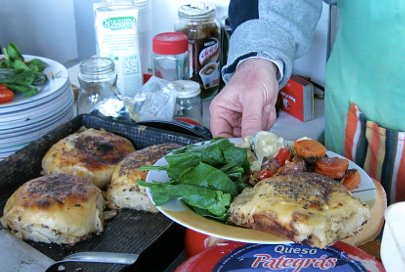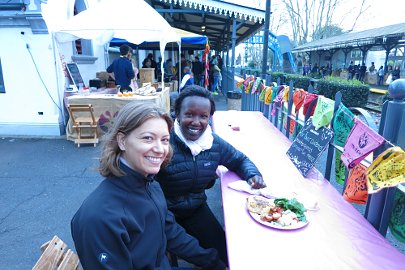 El Galpon. This market is one of the most popular and talked about organic markets. It is located in a warehouse-like building where several producers showcase their products. Unfortunately, we haven't had the chance to visit it personally, but we thought it is worth mentioning due to it's popularity. It is located on the west side of Buenos Aires on Av. Federico Lacroze 4171 in Chacarita. It takes place every Wednesday and Saturdays from 9am to 6pm. Their website provides some insights on what you will find, everything from cheeses to vegetables producers. We let you discover it for us!

Permanent Farmers Markets
This group of farmers markets in Buenos Aires are permanent and covered (as opposed to open-air markets). While there are several permanent and covered markets, we are highlighting two of the most popular that we personally visited.
The first is Mercado de San Telmo, located on Defensa y Carlos Calvo, in San Telmo. It is one of the oldests markets built in 1897 to serve as a large centralized fruit and vegetable market for the immigrants in Buenos Aires. Today, it is a mix of antiques stands, food & coffee stands and fruits and vegetables. Note that the fruit & vegetable stands are open all day long, the butchers tend to open only in the morning or after 5pm. It is definitely worth visiting and the kind of market where you can show for your weekly fruits and vegetables. It's also a great place to stop at the coffee store in the center of the market and take a break after visiting all the stands.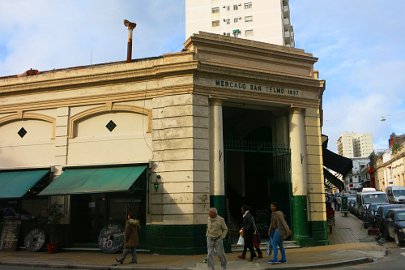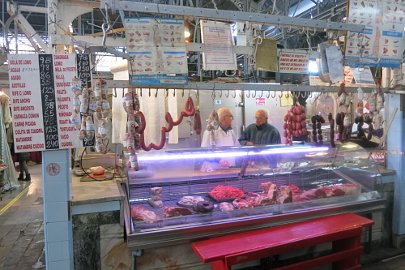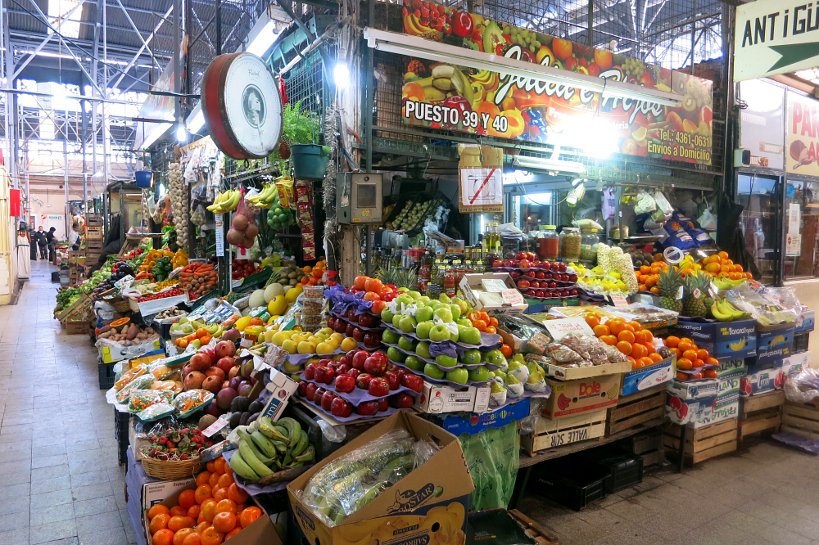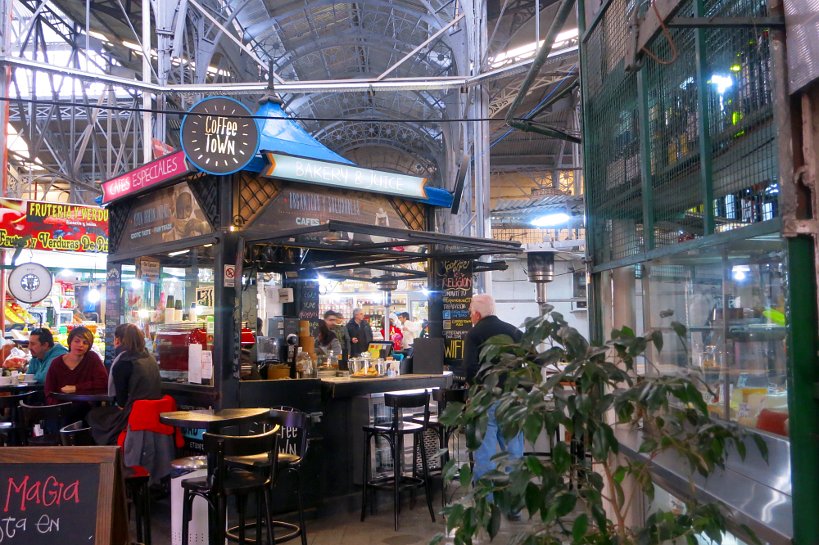 The second market is Mercado del Progresso, located on Av Rivadavia 5430, in Caballito. It is predominantly filled with butchers. You will see several stands with people preparing the famous Milanesa (thin cuts of beef, chicken, veal or even soy covered with breadcrumbs. See our post on Milanesa and the Italian influence in Argentina's cuisine for more details. This market is vibrant, energetic with very animated vendors. We met several vendors from butchers, to vegetables producers. We talked to a potato producer from Jujuy that was selling several different type of potatoes. We were struck by the little small round and colorful ones that come from Jujuy. We look forward to learning more about the native potatoes on our upcoming trip to Jujuy. Stay tuned for more. One thing to note is that this was the first market where we say fish stands. Surprisingly, given the proximity of the Atlantic, Argentinians are not fish eaters. But if you have a craving for fish this is the place to go to.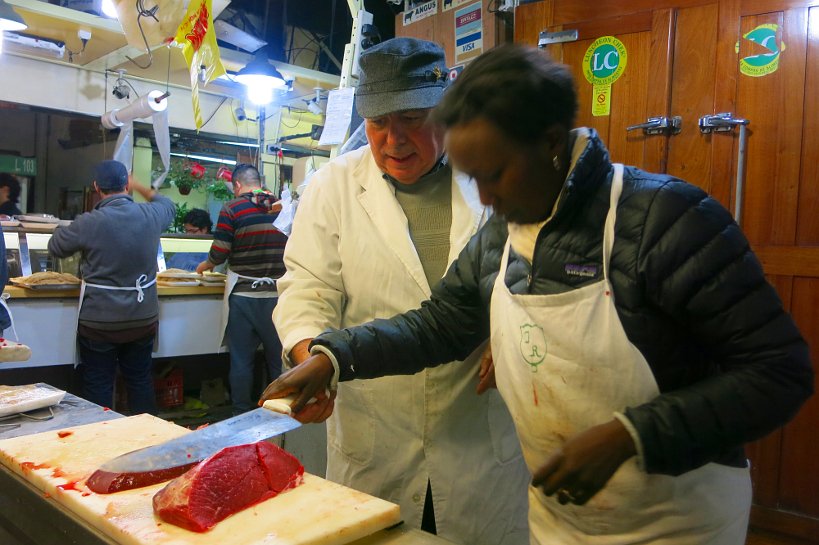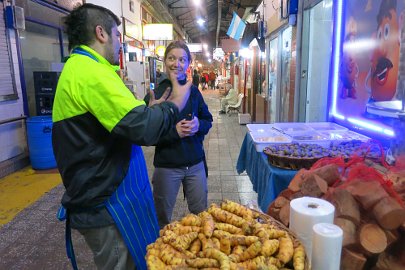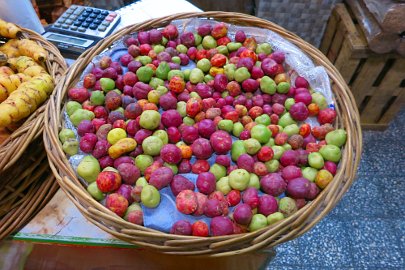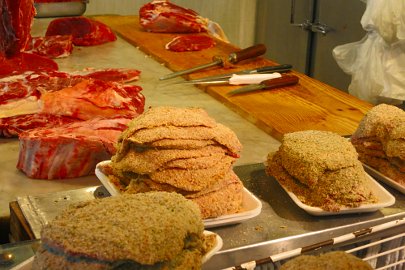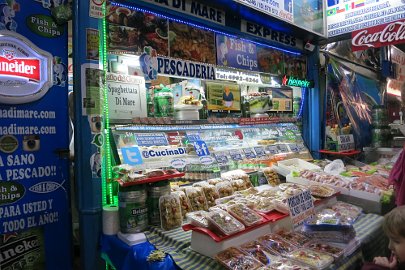 The "Mobile" Farmers Markets
These are farmers markets that we call "mobile" and they take place in different locations around the city. The most popular (and trendy) mobile market is the Buenos Aires Market. This market takes place two times a month at different locations in Buenos Aires. We went to the one in August that is located at the Hipodromo de Palermo. You can read more details about our experience with this market in our previous post here, and you can see the experience at the market here. As we mentioned in the post, this is the type of farmers market where you come for the experience. You spend the day there, eat prepared meals from different vendors and enjoy a variety of sweets as well.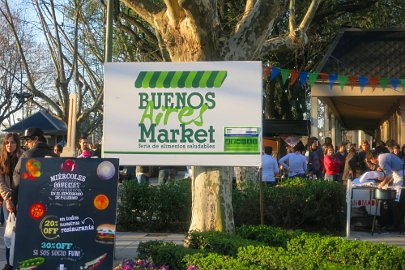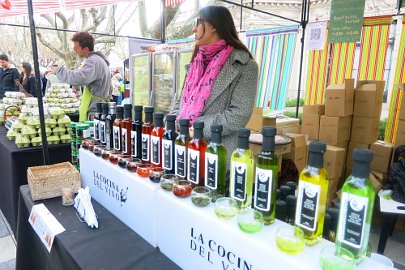 In conclusion, there are several types of farmers markets in Buenos Aires for you to discover, with each one fulfilling a specific role. The permanent farmers markets are great for getting your weekly supply of vegetables and meat. The mobile farmers markets are an experience and awesome way to spend the day, while at the organic farmers markets you can get exclusive and delicious product to try at home or on the road. So, let yourself be tempted and go experience the farmers markets while you are visiting Buenos Aires!
Savor the Adventure!
Claire is a culinary explorer who travels the world in search of the best local foods. She is always looking for her next culinary adventure to bring you the best bites while exploring new places.