In many parts of the world, you don't have to worry much when you drink water from the tap. Southeast Asia, is unfortunately not one of those places.
When traveling through Southeast Asia, having clean and safe drinking water was a big concern.
In the Philippines, Thailand, Vietnam, Laos, and Cambodia, drinking countries was questionable. Fortunately, neither one of us has fallen ill or become sick as a result of the tap water.
In this article, we shed light on how to drink water safely, particularly around food situations. Travel safe with these helpful tips to drink water safely in Southeast Asia.

Drink Water Safely at Home – Hotels, Guesthouses & Locals Homes
In Southeast Asia water from the faucet is not potable. Depending on the type of accommodation you choose for your stay, the availability of potable water will vary.
In general, hotels and guesthouses will give you one or two ½ liter bottles of complimentary mineral or purified water per day. After that, you have the choice of buying additional bottled water from your hotel, which can quickly add up and become spendy. Your next alternative is to go to the nearest 7 Eleven or local deli store and get a large bottle of water.
Be aware that in some cases, the gym at your hotel might not even provide filtered water on site. Ask before you work out as you may need to purchase bottled water in advance.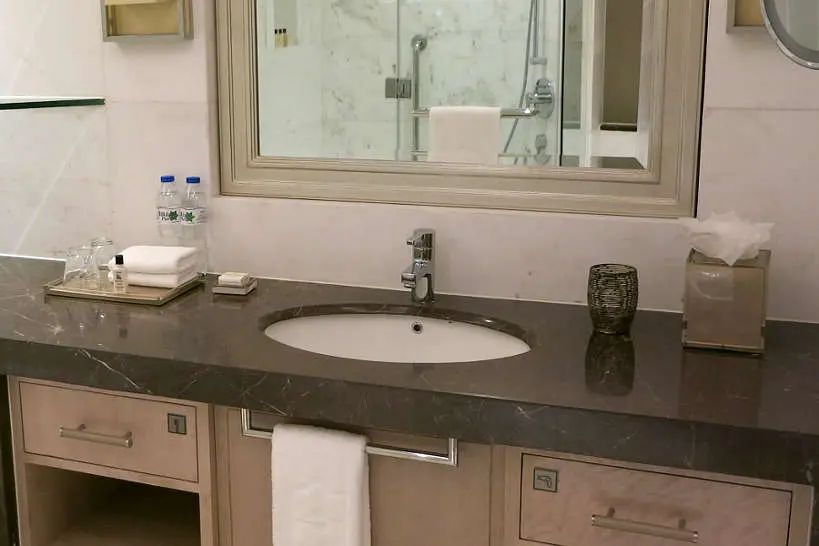 Staying with locals using Airbnb is our prefered accommodation, and one way of connecting at a local level.
At home, we saw locals in several countries using a filtered bottle water service. They would get filtered water delivered to their door. These huge containers of water, 30 liters or more, would be put on a piece of furniture and used exclusively for cooking and as drinking water.  This was especially true for Cambodia and the Philippines.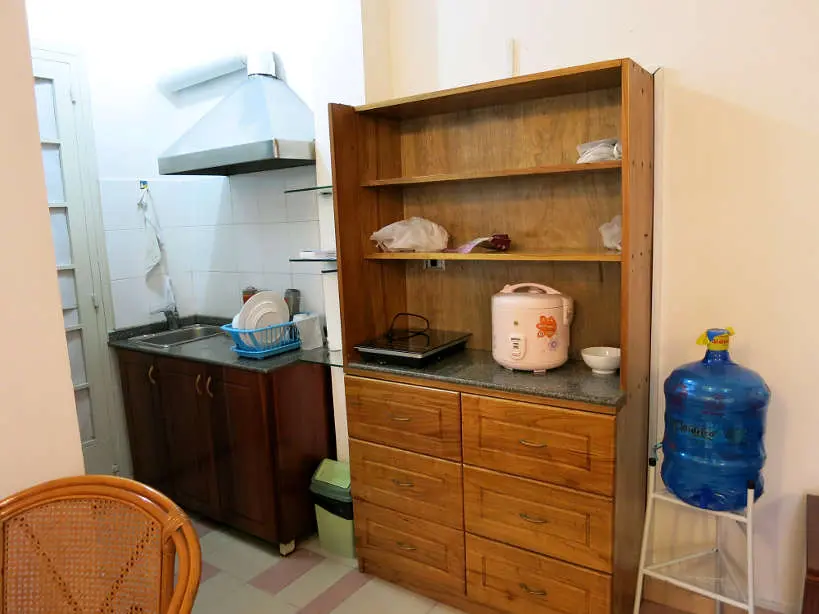 In Vietnam boiling the water is usually enough to make it drinkable. In the kitchen, locals would have a pitcher of water cooling off, right next to the kettle.
Discovering The Public Reverse Osmosis Drinking Water
In Thailand, we stayed at short term apartment rentals. These apartments were not set up with a filtered water delivery system. That's when we discovered the public option: Reverse Osmosis drinking water.
Along the streets are machines, about the size of a typical vending machine, which are popular for refilling bottles of water. At the inexpensive cost of 1 Thai Baht (about $0.03cts) you can refill your 1 liter bottle.
We would typically buy two large 6-liter plastic bottles and refill them regularly using one of the reverse osmosis machines for about 11 Thai Bhat (about $0.31cts).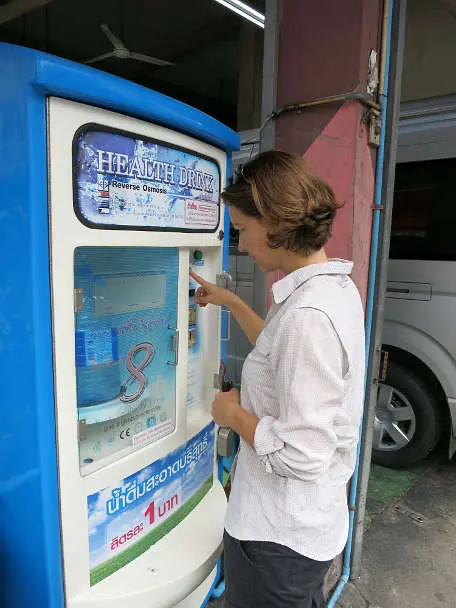 How to Order Water at Restaurants
Service Water
In most restaurants, except for Cambodia, you get free tap water or what they call "service water" with your meal.
Many of the little restaurants or food stalls will usually have a small space with cups on shelves reserved for drinking water. This is typically self-service. You take a cup that is placed upside down (indicating it is clean) from the shelf, as well as a short straw from a nearby cup.
Next to the cups is a bucket of ice for you to use fill your glass. Take your cup with ice back to your table where you will find a pitcher of room temperature water. Be aware that in some places in Thailand you may have to pay additional for the ice.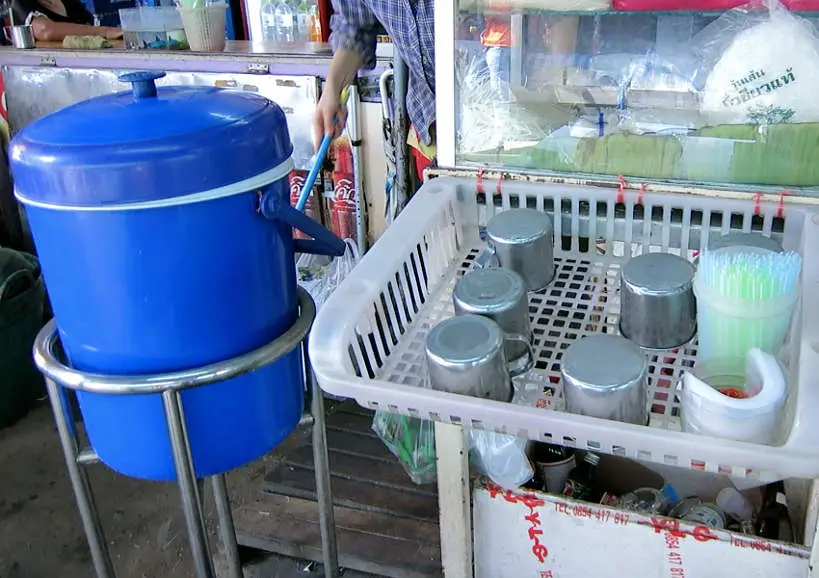 Light Tea in Vietnam and Thailand
In Vietnam and parts of Thailand, the water is sometimes replaced by a light tea called tra da in Vietnamese. It is a tea that is diluted with lots of water. While the tea gives the water some taste, our recommendation is to be cautious of the cups.
In Vietnam especially, the used cups are not always washed. Instead, they are used and then put back on the rack upside down to be used again. The hygiene levels in Vietnam can be questionable at times.
To be sure, drink using the clean straws that are available.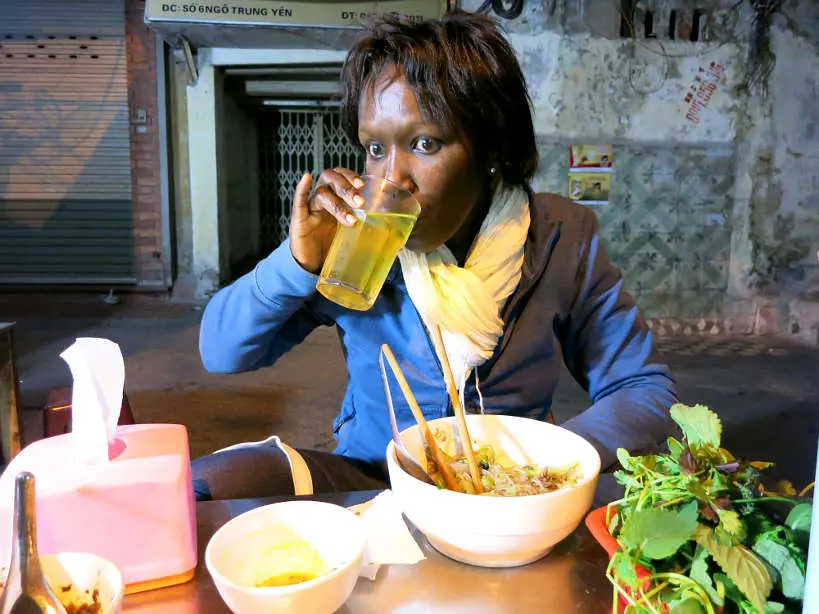 Soda Water
If you are looking to buy bottle water at the restaurant, consider trying the "Soda water" or sparkling water, sometimes also called gasified water. The price is equivalent to a regular bottle of mineral or purified water.
The soda water comes in a glass bottle instead of a plastic bottle, which is better for the environment. And it is a nice change from flat water, adding a bit of sparkle to your drink!
Expect to pay between $0.25 cents and $0.50 cents USD for a small bottle of water (500 ml).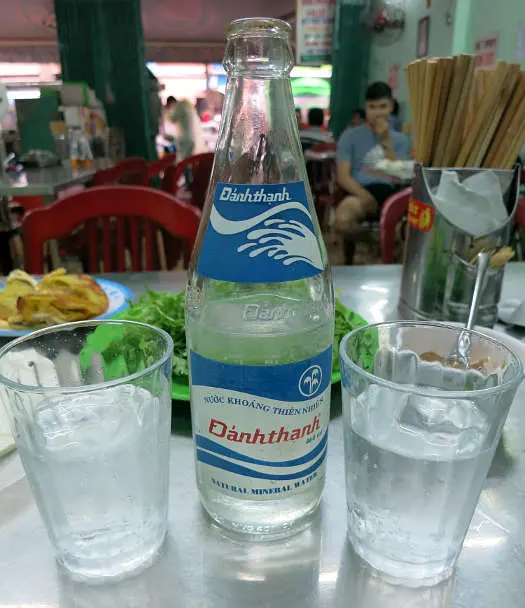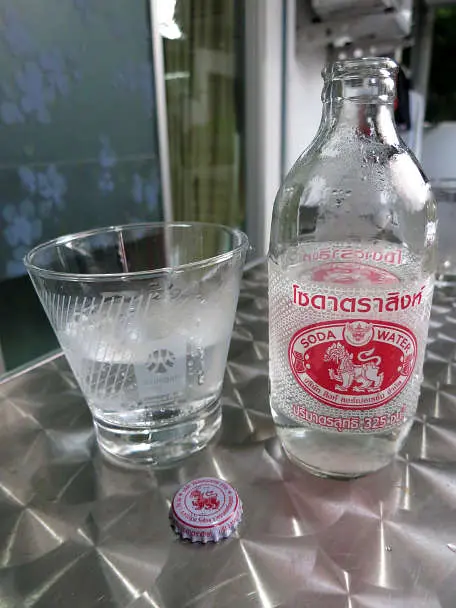 In Cambodia, you have to order your water and buy whatever brand of water the restaurant has available. Prices are slightly on the higher side, where water starts a $0.50 cents for a small (500ml) bottle of water due to the use of the US dollar as the local currency.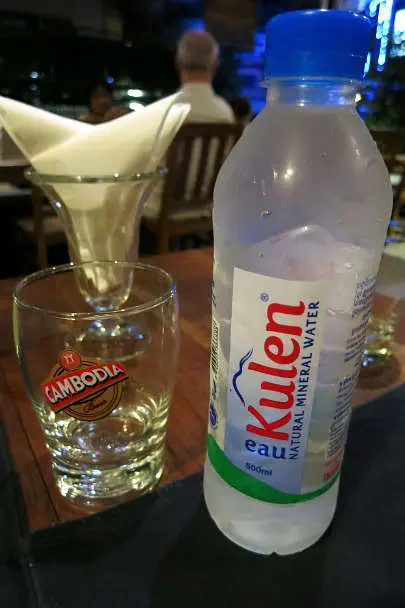 Interestingly, you will find branded mineral water coming from France or Italy such as Evian, Badoit or San Pellegrino. A nice surprise to discover in Southeast Asia.
Expect to pay a higher price for this type of water: $1.50 USD for a small bottle of water (500 ml).
Get Water on the Go
Bottled water is very accessible on your travels throughout Southeast Asia. You can easily find water at any of the local convenient stores you will see all over. 
At convenient stores, the typical price of bottled water ranges from about $0.20 cents for 500 ml up to $1.00 for 6 liters. Be prepared to spend a little more if you buy water from a well-known brand.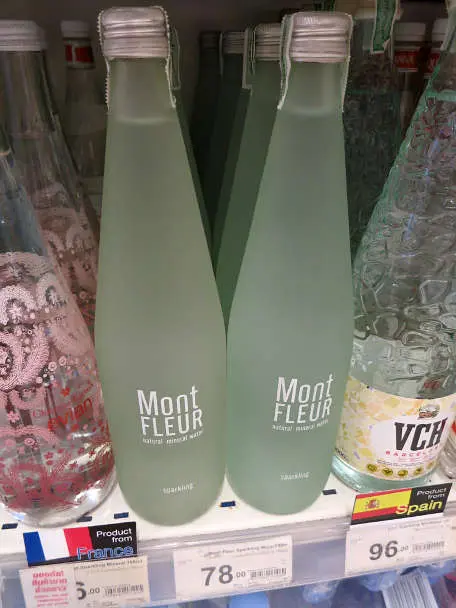 GRAYL – Our Solution to Drink Water Safely in Southeast Asia
To keep us healthy and safe on our quest, as well as "do good" for the environment, our water partner is Grayl. Grayl makes an ultralight purifier bottle, that allows you to easily make clean and purified drinking water.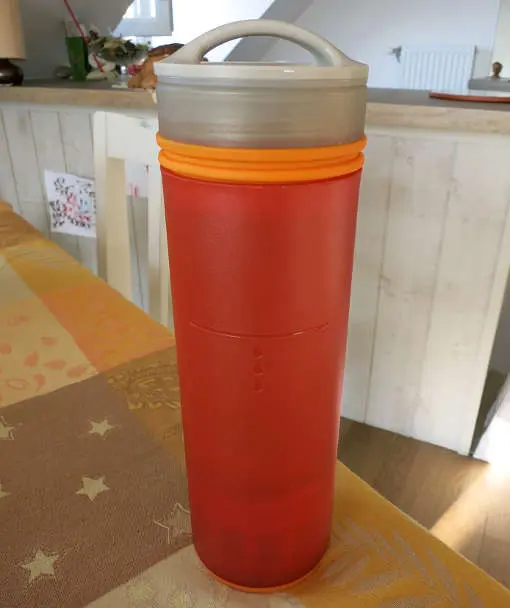 With one press and in under 15 seconds, water from virtually any source can be purified against all types of viruses, chemicals and heavy metals.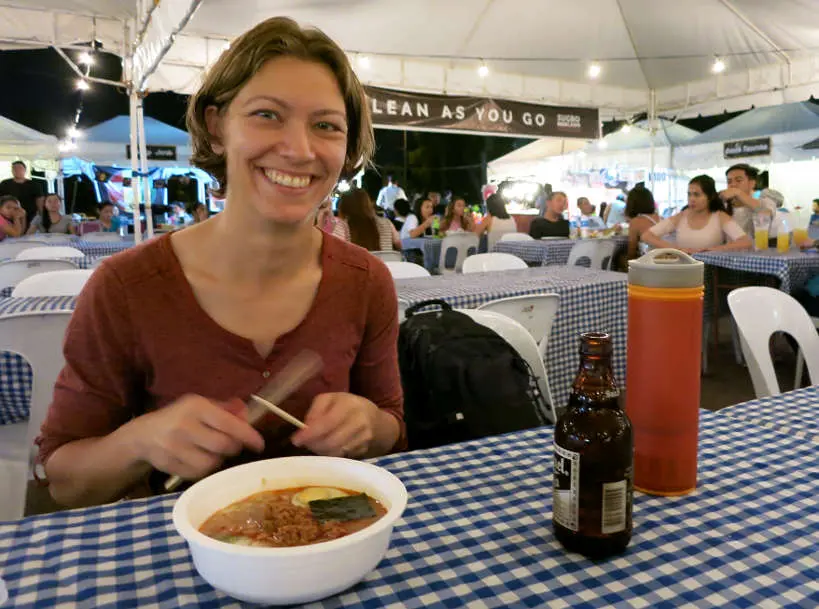 We use our Grayl water bottles regularly and in two unexpected ways – drinking coffee and keeping fit.
Drinking Coffee with GRAYL
Are you a coffee lover? Do you love walking up and enjoying a freshly brewed cup of coffee? If that describes you, then you will probably find yourself in the same situation we found ourselves.
I'm not a coffee drinker, but Rosemary loves a fresh cup of coffee when she gets up. Given that we prefer to stay at Airbnb's or rent an apartment, we usually have access to a kitchen.
In Thailand, where the tap water is not drinkable, instead of using bottled water, Rosemary would simply filter the water using her Grayl bottle and then boil the water and make coffee.
We never thought we would use our Grayl water bottles for something as simple as coffee. This unexpected benefit has not only kept us safe, it has also allowed us to avoid waste and unnecessary plastic.
Keeping Fit with GRAYL
Keeping fit and healthy on our quest for authentic food is a huge priority for us. As we enjoy local delicacies around the world, we also look for places to run and exercise.
In Bangkok, one of the best parks that we discovered for running was Lumpini Park. We would run regularly and use the outdoor equipment. In the Philippines, we discovered several ways to keep fit in Manila and Cebu City.
With running being our favorite form of exercise, staying hydrated becomes important. In the time that we have been in Southeast Asia, it has been hot. Temperatures we are told, are above average in most of the countries we've visited.
To keep us hydrated, we carry water on our runs. Rather than buy bottled water, we would filter the water first using our GRAYL water bottles and then fill up our running bottles and go off for a run.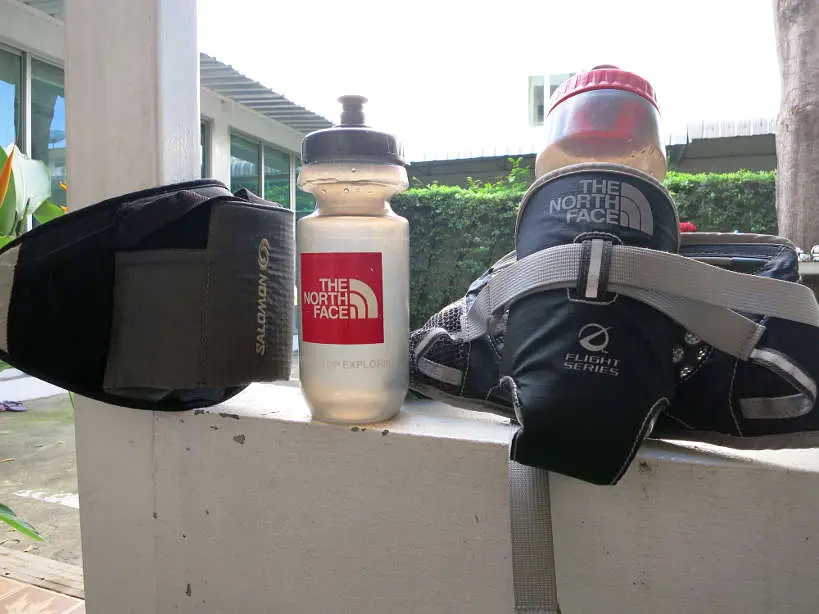 In Summary
If you are planning a trip to Southeast Asia, be prepared for lack of access to safe drinking water.
As noted, bottled water is easily accessible, though you pay the price for excessive use of plastic and waste. To help guide you on your travels, keep these helpful tips in mind as you navigate the local water situation.
Tips to Drink Water Safely in Southeast Asia for Savvy Food Travelers
1- Ask the locals. In whichever country you are in, always ask the locals if the tap water is drinkable. If it is not, do what they do and let them tell you the best place to find filtered water.
2- At a restaurant, with the exception of in Cambodia, you can get service water, which is filtered and available for free. Simply ask for it, or serve yourself.
3- The Ice is safe to use. In the mornings, we would see ice trucks delivering ice to the local restaurants. The ice in the ice buckets at restaurants is safe to use and made with purified water. If you are not comfortable or have any doubts about the ice, feel free to ask the restaurant owners or avoid drinking water with ice.
4- Be cautious about the hygiene level of the cups, especially in Vietnam. More than likely the water cups are just rinsed and reused. Whenever possible, use a straw.
5- Get insurance to cover any unexpected health issues. We use and recommend Allianz Travel Insurance which is affordable and a great option for travelers.
READ MORE: When traveling, you always want to be prepared for the unexpected. We are covered by Allianz Travel Insurance and it has unexpectedly come to our rescue in Thailand for dental treatment. Read our review of Allianz Travel Insurance and the benefits of being covered on your travels.
In the comments below, please share with us your tips for drinking water safely on your travel.
Savor the Adventure!
Love it? Pin it!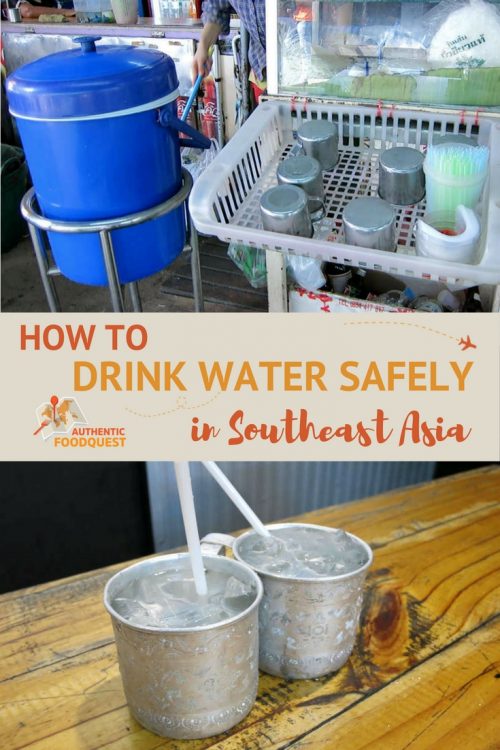 Disclosure: Please note that some of the links below might be Amazon or affiliate links. If you purchase products through our website link, we will get a small commission at no cost to you. 
Claire is co-founder of Authentic Food Quest and a lover of simple and exquisite cuisine. Since 2015, with her partner, Rosemary, she has been traveling the world as a digital nomad, creating content about local food experiences.
Her advice from visiting 45 countries and more than 240 food cities has been featured in Lonely Planet, Business Insider, Honest Cooking, Food Insider, and Huffington Post. She has also co-authored three books, including one in collaboration with Costa Brava Tourism.
An ex-mechanical engineer, Claire is responsible for SEO, keeping the website running, and the fun food & travel videos on YouTube.
When Claire is not eating, she can be found running or cycling. Find out more about Authentic Food Quest