While on our quest for authentic food in Southeast Asia, we could not miss the infamous Durian. There is no other fruit that inspires much debate amongst visitors to Southeast Asia.
People either love durian taste or hate it, while remaining puzzled by the locals addiction to the fruit.
Durian is known as the "King of Fruits" in Southeast Asia. The name comes from the Malay word for thorns, durio. It is characterized by its large size, strong odor and thorned skin or rind.
Native of Brunei, Indonesia and Malaysia, we encountered Durian in many Southeast Asian countries.
Here's how you can appreciate durian taste while traveling through Southeast Asia.

Different Varieties of Durian Fruit
There are different varieties of durian and the taste varies from one type to another. Wikipedia lists 30 recognized durian species, but only nine edible fruit and over 300 named varieties in Thailand and 100 in Malaysia.
Today, Thailand is the largest exporter of durian fruit and and is host to the World Durian Festival in Chanthaburi province. Malaysia is also famous for their high quality durian fruit.
We saw durian fruit throughout our travels across Southeast Asia, and noticed a special reverence for the fruit in Malaysia.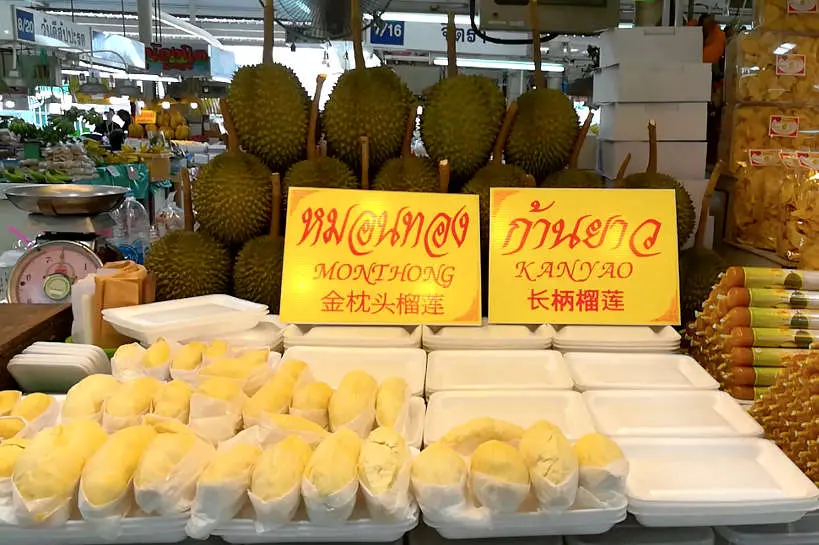 Our First Encounter with Durian in the Philippines
We saw durian for the first time in the Philippines while visiting a local farmer's market in Manilla, Philippines. Legazpi Sunday Market, in the Makati neighborhood is a laid back market, with an array of local Filipino specialities, small producers and local restaurants.
As we were exploring the market, we stopped at a stand and watch amazed at the dexterity of a local vendor "breaking into" a durian fruit. The short video below highlights the technique and strength needed to eat the "King of Fruits."
Experiencing Durian Taste for the First Time in Thailand
Or Tor Kor Market in Bangkok, is one of the best places to taste durian. It is one of the best fresh markets in Bangkok, and has even been ranked by CNN, as one of the 10 world's fresh market.
Or Tor Kor Market is a great place walk around, browse or do some actual grocery shopping. It is very clean, well laid out with different sections for fresh meats and seafood, flowers, vegetables and fruits.
It is very popular for fresh fruits of all kinds and varieties. If you have never experienced durian taste, this is a great market to try the "King of Fruits" as it is available all year round.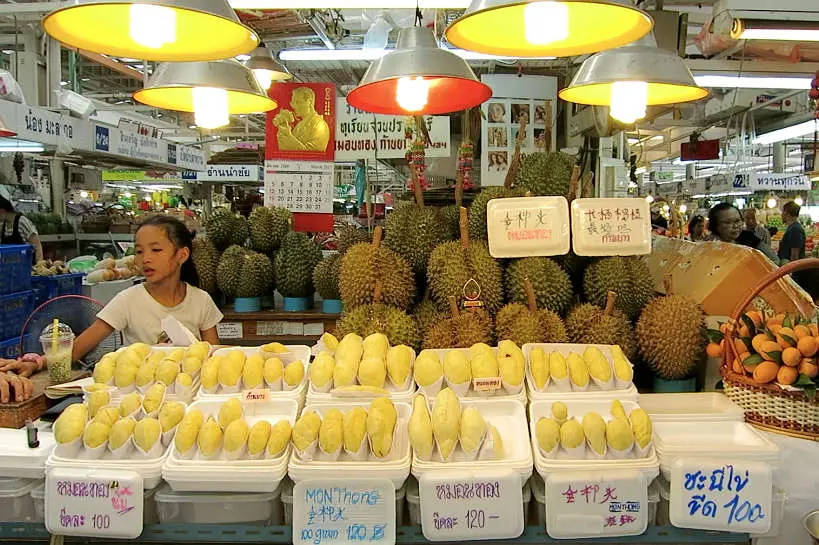 Tasting Monthong and Kanyoa Durian Varieties
While walking around, we noticed two different varieties of durian – Monthong and Kanyoa. Not knowing the difference, but curious about the taste, we approached a popular stall and friendly vendor.
In our discussion, we learned that the month of March is the Monthong variety, while April is the best for Kanyoa. We bought the two varieties and sat down to taste durian for the first time.
While we both had different opinions of the durian taste, we both preferred the Monthong variety. Surprisingly creamy, the texture was quite soft and smooth. The aroma was not pronounced for either of the varieties.
Eating durian, is an experience that you must indulge in on your travels to Southeast Asia. It is an acquired taste and one that you can grow to love. The sweet and creamy Monthong variety is actually grown for export, to countries like the U.S.
For durian taste, visit your local grocery store and see if they have the Monthong variety available.
If You're Hesitant About Durian Taste
Durian is used to flavor many sweets and desserts in Southeast Asia. If you are too skittish to eat it raw, here are a few treats made with Durian that will convince you to give it a try.
Durian Ice-cream
Durian is definitely less intimidating in the form of ice-cream. You will find Durian ice-cream or popsicles in Malaysia and in a few other Southeast Asian countries.
We found the Durian ice-cream to be quite mild and not too sweet making for a refreshing treat.
Durian Sticky-Rice
In Thailand, you can find Durian Sticky Rice or Khao Niao Toorien along the famous Mango sticky rice.
In the case of the Durian sticky rice, the fruit is sliced ahead of time and then placed in a container on top of the sticky rice for you to enjoy.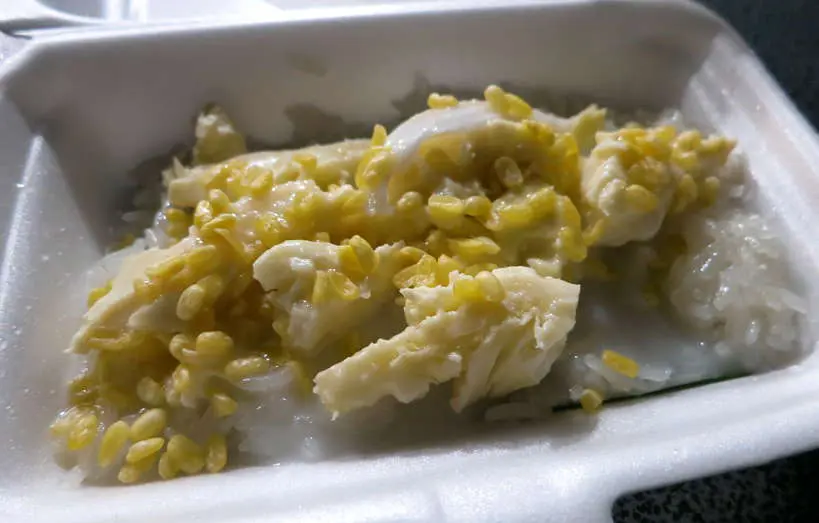 Durian Stuffed Pastries
In Vietnam, you will find soft durian cakes made with egg called Bánh Dau Xanh Trung or Bánh Pia. These soft eggy cakes are deliciously sweet and filled with durian paste.
In Malaysia, you will find Tambun biscuits a Penang delicacy, made with Durian the "King of Fruits". Made from wheat flour, sugar, green bean paste, fried onions, lard, and salt, these pastries have an interesting salty and savory combination.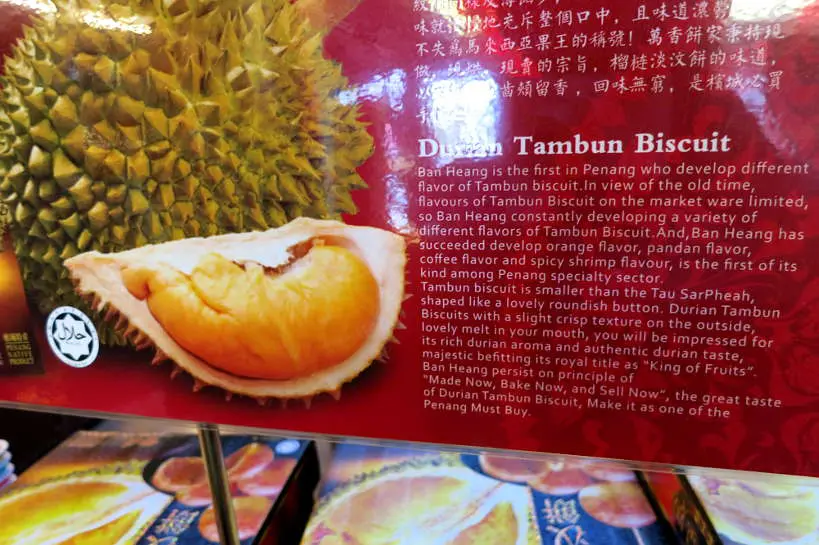 Fun Facts about Durian
If the durian taste is not bearable to you, know that you are not alone. Durian is the only fruit that is banned by airports, hotels and many public transportation spaces.
You will find signs reminding you not to transport this pungent smelly fruit with you. And if a hotel finds out that you had Durian in your room, they may fine you for that.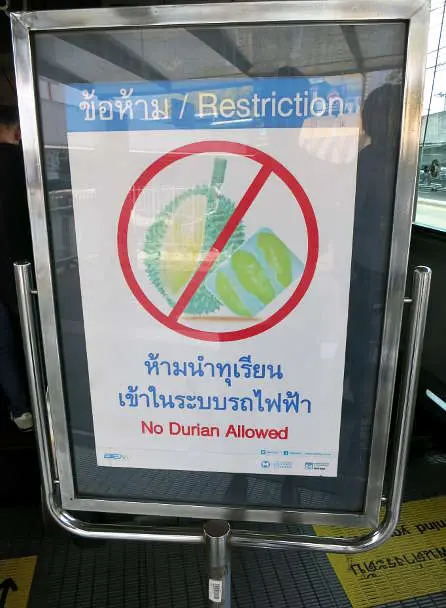 Needless to say, it's safer and far more enjoyable to have it at a market or a fruit stall vendor. Not only it will be prepared so you can taste it in its best conditions and it will keep you out of trouble!

In Summary
Undoubtedly, Durian is a fruit that gets a lot of attention on your travel through Southeast Asia.
Don't be afraid to learn more about it and taste it on the many markets across Southeast Asia.
Take the time to appreciate the durian taste, even if it means easing into it with flavored yummy Durian treats and ice-cream.
And if after many attempts, the "King of Fruits" is not quite your thing, then try instead the Mangosteen, also known as the "Queen of Fruits"!
Locations Mentioned
Address: Parking lot, V. A. Rufino corner Legazpi Sts., Legazpi Village, Makati
Hours: Sundays, 7:30 am to 2:00 pm
Address: Kamphaengphet Road, opposite Chatuchak Weekend Market (Take the MRT subway to Kamphaeng Phet station)
Hours: Open every day, 6:00 am to 8:00 pm every day.
Have you had durian fruit before? What did you think of the durian taste? Let us know in the comments below, how you liked it!
Savor The Adventure!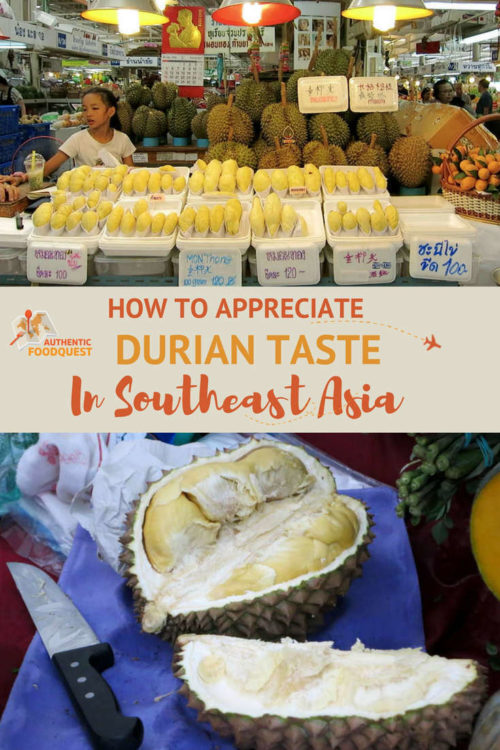 Claire is co-founder of Authentic Food Quest and a lover of simple and exquisite cuisine. Since 2015, with her partner, Rosemary, she has been traveling the world as a digital nomad, creating content about local food experiences.
Her advice from visiting 45 countries and more than 240 food cities has been featured in Lonely Planet, Business Insider, Honest Cooking, Food Insider, and Huffington Post. She has also co-authored three books, including one in collaboration with Costa Brava Tourism.
An ex-mechanical engineer, Claire is responsible for SEO, keeping the website running, and the fun food & travel videos on YouTube.
When Claire is not eating, she can be found running or cycling. Find out more about Authentic Food Quest