This article has links to products and services we recommend, which we may make a commission from.
This lutenitsa recipe is for a popular and traditional Bulgarian spread made with red peppers, tomatoes and eggplants. Bursting with flavors, it's eaten alongside meat, sausages, cheeses or spread on bread. This delightful dip is a staple in most households, and while synonymous with Bulgaria, it is also popular in the Balkans. Get to know this exciting and flavorful Bulgarian lutenitsa spread.

What is Lutenitsa or Ljutenica?
Lutenitsa, also spelled ljutenica or lyutenitsa, is a delicious spicy-sweet spread, also referred to as Bulgarian ketchup.
It's made with roasted red peppers, carrots, onions, tomatoes, an eggplant and seasonings. However, there are many ways of making this delicious dip or relish and every family has their own secret recipe.
The name ljutenica comes from the Bulgarian word ljut which means spicy. As a result, you'll find some versions that are spicy and others mild based on the peppers and seasonings used.
Moreover, there are differences in the texture of lutenitsa ranging from a smooth sauce to a coarse one with little pieces of vegetables.
This lutenitsa recipe is not complicated and easy to make at home. The taste is sensational and the rich spread of roasted vegetables will become a new favorite at home.
Lutenitsa vs Ajvar
Lutenisa and Ajvar are two typical Balkan spreads. Lutenitsa is most often associated with Bulgaria, whereas Ajvar is associated with Serbia and Macedonia.
Both of these traditional spreads are made with roasted red peppers. However, the difference comes with the use of tomatoes. Lutenitsa is made with tomatoes while Ajvar does not use any tomatoes.
AUTHENTIC FOOD QUEST RECIPE: Ajvar Recipe: How To Make Delicious Roasted Balkan Red Peppers Sauce
History of Lutenitsa Sauce
Homemade lutenitsa is a traditional Bulgarian treat and a culinary symbol of Bulgarian cuisine. The preparation and tradition is passed down the generations and it is often associated with the end of the summer.
The history of Bulgarian lutenitsa is rather murky. One story attributes its origins to the 1930s, when Bulgaria began intensively producing tomatoes and red peppers for domestic consumption and export.
During WWII, lutenitsa was manufactured in large quantities and it quickly gained popularity. By the 1950s lutenitsa was mass produced and the Bulgarian government set a standardized recipe.
It was stipulated that lutenitsa should be made only with tomato and pepper puree, onion, salt, sugar, and oil.
Later, after the fall of the Iron Curtain, many versions of lutenitsa flooded the market. Added ingredients like carrots and eggplants were popular additions to the lutenitsa recipe.
Today, you'll find distant cousins like Ajvar, Pindjur or Zacuscă in other Balkan countries.
This simple Bulgarian lutenitsa recipe combines red peppers, tomatoes, carrots, eggplant, onions and garlic with a little sugar, salt and pepper.
Discovering Lutenitsa in Bulgaria
In the three months we spent in Bulgaria discovering the local food specialties, lutenitsa played a starring role in our meals.
This traditional dip is often served at restaurants as a starter before meals. We also enjoyed it with meat dishes or simply slathered on bread.
Throughout our Bulgaria travels in Sofia, Bansko and Plovdiv, we noticed slight variations in tastes and textures.
While always consistently delicious we appreciated the range in taste from mild to slightly spicy.
After learning how easy it is to make lutenitsa, we wanted to share this recipe with you.
With just a handful of simple ingredients, you can make one of Bulgaria's most popular and traditional spreads at home.
READ MORE: Bulgarian Food Guide – What You Should Know And Love
Lutenitsa Recipe – How To Make Bulgarian Lutenitsa At Home
Making lutenitsa at home is actually quite simple. While the recipe is not difficult to follow, it does take time to cook and peel the vegetables.
Once all the ingredients are ready, you simply mix everything together. Use a food processor or electric blender to make your own lutenitsa recipe. Once your tasty lutenitsa spread is ready, fill jars to store it. Make sure to prepare well-sterilized jars for a longer shelf like.
16 medium sized red peppers
8-9 medium ripe tomatoes
1 large eggplant
1 large onion
2 carrots
Vegetable oil
Sugar
Salt
Bulgarian Lutenitsa Recipe Tips
Nothing beats the taste of freshly made lutenitsa. To get the most from your Bulgarian lutenitsa, use the freshest ingredients you can find.
Here are a couple of lutenitsa recipe tips to consider.
Red Peppers: Red Kapia peppers, which are native to Eastern Europe are most commonly used in making lutenitsa. They are long in shape, sweet and extremely flavorful. Outside of Bulgaria or the Balkans you can use sweet red peppers instead.
Spice Levels: Even though the root of the name, ljutenica, means spicy, it really is not spicy at all. However, you can adjust the heat of this recipe by adding either a chili or jalapeño pepper if you like spicy food.
Peeling the Vegetables: One of the easiest ways to peel the skin off the red peppers is to let them sit under a plastic wrap. After you remove them from the oven, and while they are still hot cover them with plastic wrap. Let them sit out to cool, covered. We recommend 24 hours though it can be shorter. After the peppers have cooled, remove the film and the skin should peel away easily.
On the other hand you can easily peel the eggplant and tomatoes. Once they have cooled down, use your hands to peel off the skin.
AUTHENTIC FOOD QUEST RECIPE: Learn to make Pebre, a delicious Chilean sauce using tomatoes as well.
How to Eat Lutenitsa
Ljutenitsa is a versatile dip and can be eaten in many different ways. You can add it to a salad, or even better, spread it on toast to accompany your salad.
In Bulgaria it is eaten together with grilled meats and you can use it as condiment on a sandwich, hotdog or hamburger.
We also enjoy it mixed with scrambled eggs and eaten together with cheese on bread.
However you choose to enjoy lutenitsa, you'll certainly enjoy the elevated tastes and flavors.
Where To Buy Lutenitsa
If you are lucky to live in an area with ethnic grocery stores that carry products from the Balkans, you'll be sure to find lutenitsa.
In Chicago, we have seen lutenitsa and other Balkan products at a few grocery stores. If you would like to try lutenitsa without making it at home, Trader Joe's has a similar product.
This eggplant garlic spread with sweet red peppers from Trader Joe's is based on the Bulgarian lutenitsa recipe.
This gives you a taste of Bulgaria's celebrated dish, though making lutenitsa using this simple recipe is much more authentic.
Blend and Cook the Lutenitsa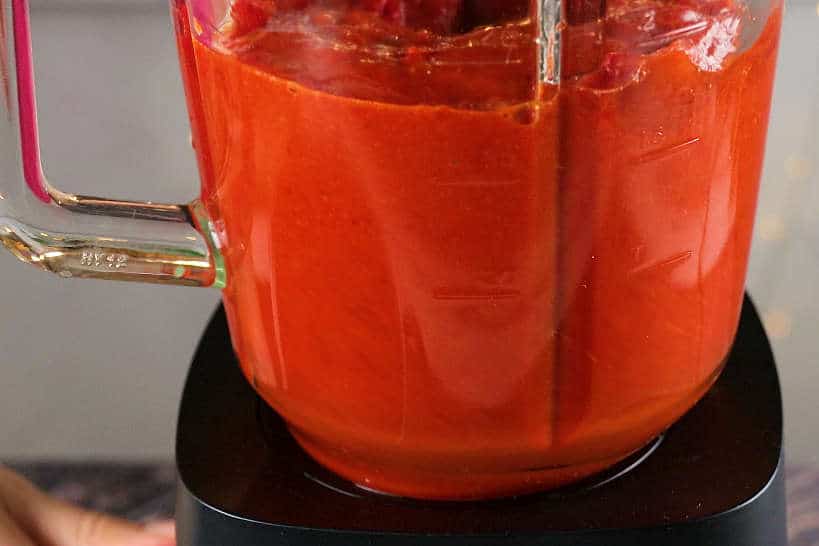 Once all the vegetables are cooked and peeled. Blend everything in an electric blender or food processor. Start with the carrots, onions and eggplant. Then lend the red peppers and finally the tomatoes.
Put everything in a deep pot, together with seasonings and cook over low heat for 1 to 2 hours.
More Related Cooking Products
Claire is a culinary explorer who travels the world in search of the best local foods. She is always looking for her next culinary adventure to bring you the best bites while exploring new places.