Bacalhau or Portuguese codfish took us by surprise in Portugal. The simplicity of the dish, the multiple variations and cooking preparation styles and the rich flavors made it land on our personal list of "top 100 authentic food experiences to have before I die."
The Portuguese are obsessed with Bacalhau. This traditional food is one of Portugal's most treasured dishes. It is eaten baked, barbecued, canned, with potatoes, with rice, and so many other ways.
There are a variety of Portuguese bacalhau dishes. You can have it baked, barbecued, canned, with potatoes, with rice, and more. There are over 365 ways of preparing bacalhau, and some say over 1,000 ways of serving it.
Surprisingly, bacalhau is not native to the coastline of Portugal. Bacalhau Portugal is imported from Newfoundland or Norway. It has been an integral part of Portuguese cuisine since the 16th century when Portuguese fishermen first brought it back from Newfoundland.
We eagerly ate our way through Portugal, sampling the different preparation styles of this national dish. While we didn't come close to eating all 365 or 1000 different recipes, we did eat enough bacalhau in Portugal to feed our ravenous appetites.
Join us for an amazing culinary journey of our top 5 authentic ways you want to eat bacalhau in Portugal.
Article last updated – May 3rd, 2019 with additional information and resources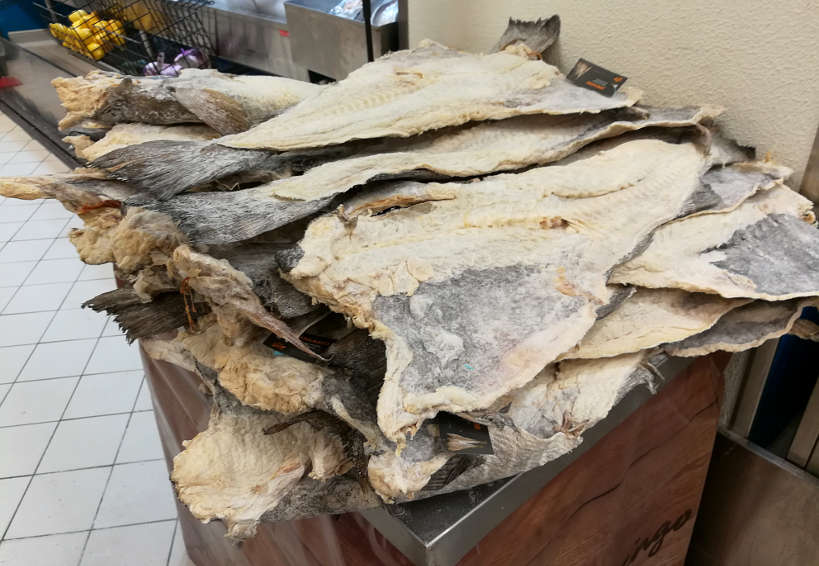 #1 – Bacalhau à Brás – Salted Portuguese Codfish, Eggs & Potatoes
Bacalhau à Brás is one of Portugal's most popular dishes and one of our favorite Portuguese bacalhau dishes. What's wonderful about this dish is its simplicity and delightful flavors.
The dish consists of combination of Bacalhau (cod) pieces mixed together with potatoes, eggs, onions, olives, chopped parsley and garlic.
The origin of the recipe is uncertain, but it is said to have originated in the Bairro Alto neighborhood of Lisbon, by a tavern owner named Braz. Due to the spelling of the name, the dish is also sometimes referred to as Bacalhau à Braz.
We had Bacalhau à Brás several times at different restaurants and even learned how to cook it at our Airbnb. Our favorite Bacalhau à Brás dish was in Sintra at Incomum Restaurant. In our article, how to eat your way in Sintra in one day, we highlight the amazing lunch special featuring this exquisite codfish dish.
Chef Luis Santos, at Incomum, puts a creative spin on the dish with the addition of delicious vegetables and with eggs that are lightly battered and fried.
So delicate and delicious, you'd easily make the 45 minute trip to Sintra from Lisbon, just for the creative touch of chef, Luis Santos.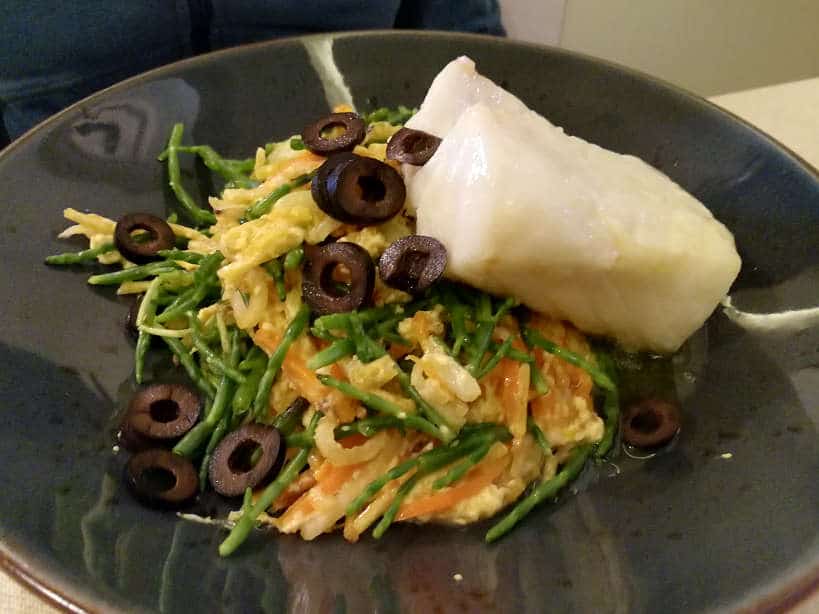 Where To Eat The Best Bacalhau à Brás in Sintra
Address: R. Dr. Alfredo da Costa 22, Sintra
Hours: Everyday from 12:00 pm to 11:00 pm except Saturdays 5:00 pm to 11:00 pm
Price: €15.50 euros
Pro Tip: The restaurant can get busy. We recommend making reservations in advance
#2 – Bacalhau com Natas – Salted Portuguese Codfish with Cream
A lot of Portuguese dishes are prepared with olive oil or simply grilled. With Bacalhau com Natas, you get to experience a delicious Portuguese dish made with cream.
They are several variations of this dish. Though it mainly involves cooking Portuguese codfish with potatoes, onions, and cream.
At the Time Out Market in Lisbon, you can taste some of the famous Portuguese food made by the best chefs in town. This is the case at Cozinha da Felicidade.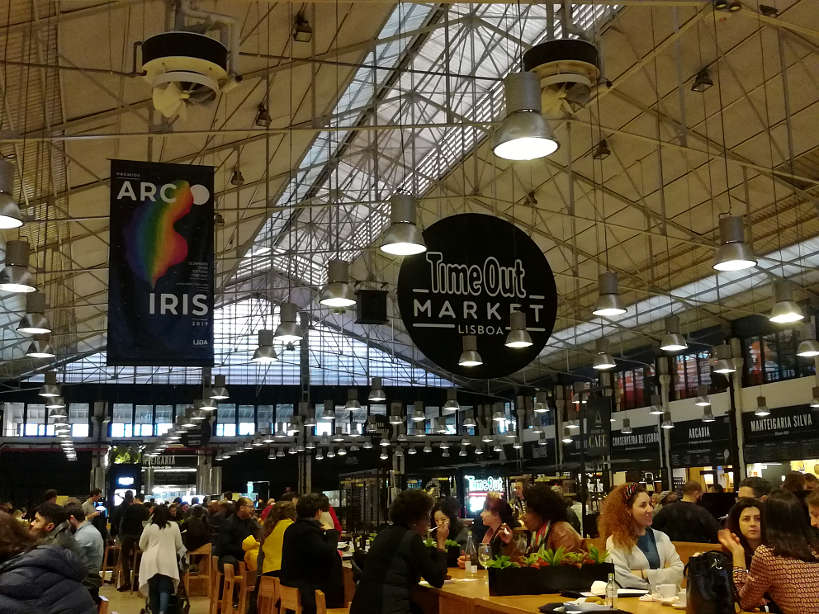 Cozinha da Felicidade literally means "Kitchen of Happiness" and is named after the chef, Susana Felicidade. She prepares a delicious adaptation of the Bacalhau com Natas with sweet-potato chips and olive dust.
Beautifully prepared, the bacalhau is divine. The codfish is really fresh and the flesh is tender and soft. The flavorful cream enhanced with the olive dust just melts in the mouth.
This is definitely a must-try if you are looking for an original way to eat bacalhau in Portugal.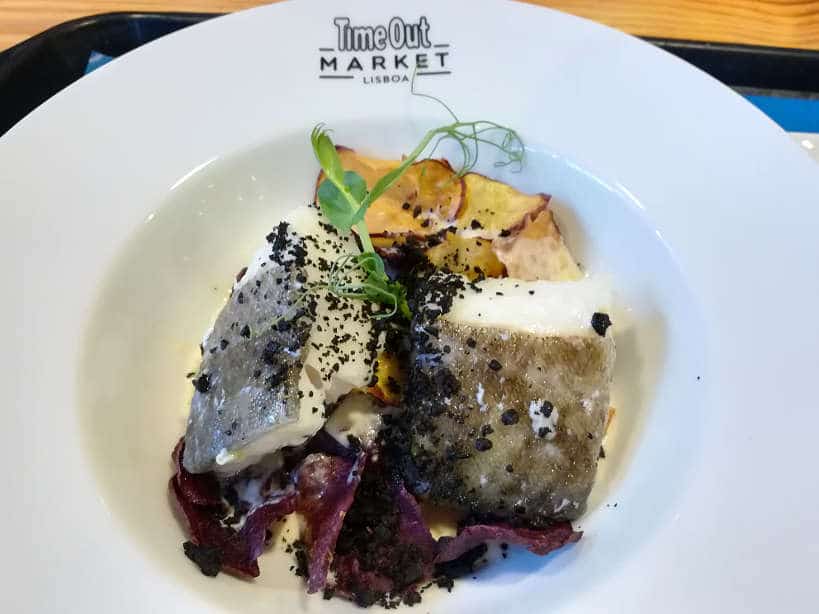 Where to Eat The Best Bacalhau com Natas in Lisbon
Address: Time Out Market, Av. 24 de Julho 49, Lisboa
Hours: Everyday, 10:00 am to 12:00 am
Price: €10.90 euros
#3-Pasteis de Bacalhau or Bolinhos de Bacalhau– Salted Cod Fish Cakes
Pasteis de Bacalhau or codfish cakes are also called bolinhos de bacalhau in northern Portugal. This is one of the most popular ways to eat bacalhau in Portugal.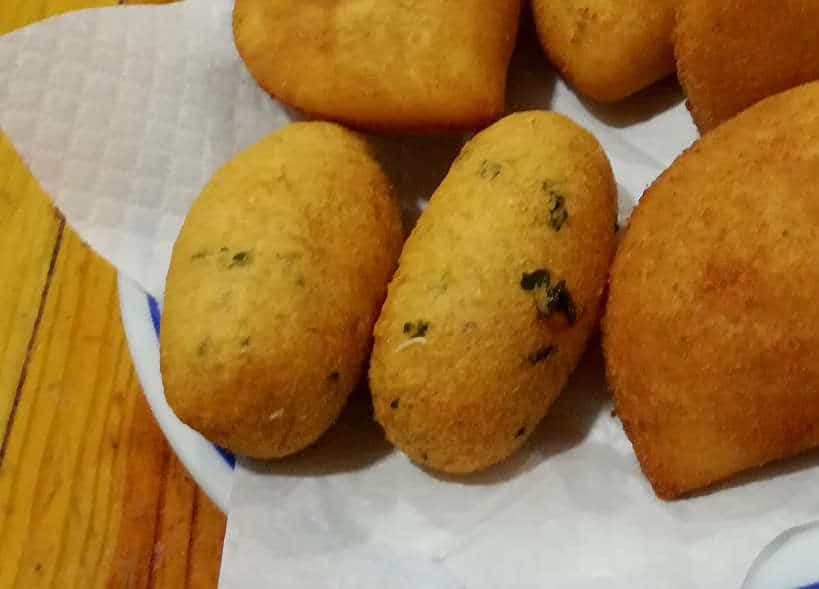 These delicious cod cakes or bolinhos de bacalhau, are made with mashed potatoes, codfish, eggs, parsley, and onion. Shaped with two spoons, they are deep fried before being served hot as an appetizer. You can also find them as a main dish served with rice, salad, and olives.
With their popularity, it is easy to find Pasteis de Bacalhau all over Portugal. You will find this delicious Portuguese snack in cafes, restaurants, and pastelerias or Portuguese bakeries.
Although deemed by bacalhau purists as a tourist trap, Casa Portuguesa do Pastel de Bacalhau serves an interesting version of Pastel de Bacalhau. This concept store has reinvented the way the codfish cakes are made.
Casa Portuguesa do Pastel de Bacalhau combines the traditional codfish cake with the famous Serra da Estrela Portuguese cheese into one delicious Pastel de Bacalhau.
This version of Pastel de Bacalhau is about twice the size of a typical Pastel de Bacalhau and at €4 euros, it is also quadruple the price.
Casa Portuguesa do Pastel de Bacalhau has two locations. The first location opened in Lisbon and they now have a second location in Porto. We tried the location in Porto, where, for €9 euros, you get the Pastel de Bacalhau and a glass of white Porto wine.
We loved the combination of the bacalhau and Port wine. For us, it may be the perfect combination. First, as you bite into the codfish, you taste the intense flavors of the melted Serra da Estrela cheese. To accompany this delightful treat, you sip on a glass of Porto white wine.
Although pricey, it is worth the experience.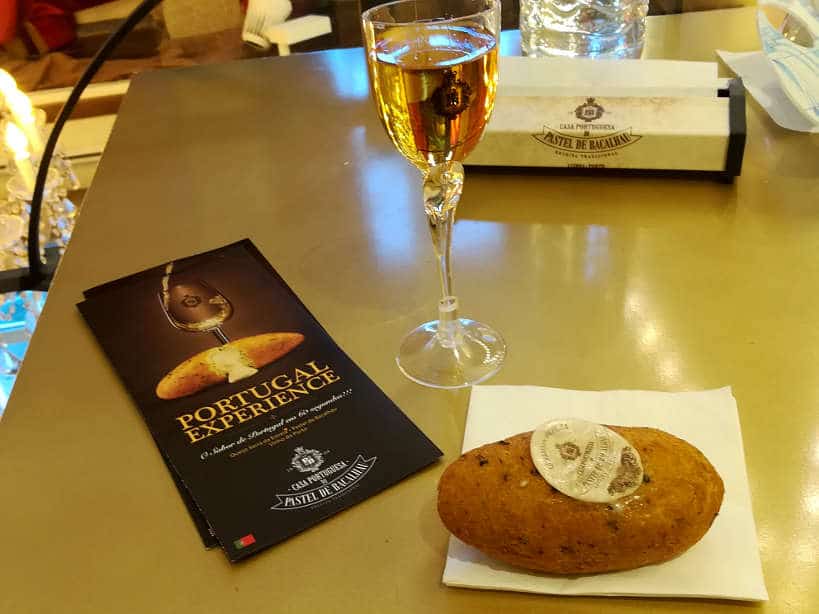 Where to Eat The Best Pasteis de Bacalhau in Porto
Casa Portuguesa do Pastel de Bacalhau
Address: R. Campo dos Mártires da Pátria 108, 4050-36, Porto
Hours: Open every day, 10:00 am to 8:00 pm
Price: €4 euros or €9 euros with a glass of white Porto
Where to Eat Pasteis de Bacalhau in Lisbon 
Casa Portuguesa do Pastel de Bacalhau
Address: R. Augusta 106, 1100-053 Lisbon
Hours: Open every day, 10:00 am to 10:00 pm
Price: €4 euros or €9 with a glass of Madeira wine
#4- Bacalhau Assado Na Brasa com Batata a Murro  – Roasted Portuguese Codfish with Potatoes
This modest bacalhau Portugal dish exceeds expectations. It is a simple Portuguese bacalhau dish that consists of roasted codfish with potatoes.
The secret to this exquisite dish is the use of good quality ingredients. The Portuguese cod needs to be of high quality and the finest olive oil completes this dish.
Typically, the bacalhau is seasoned with salt, garlic, onions, vinegar and generously sprinkled with high-quality Portuguese olive oil.
Along with the codfish, the dish is accompanied with roasted potatoes and this makes for a classic traditional Portuguese food.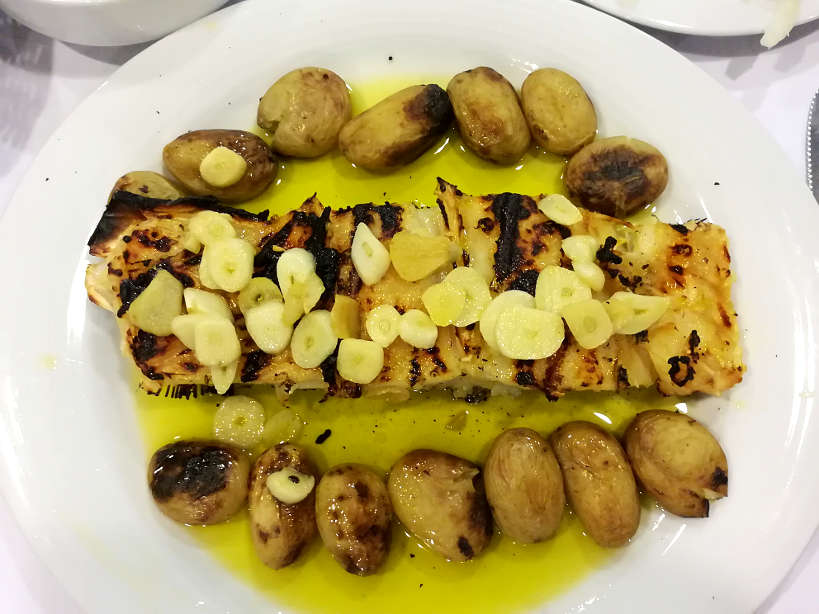 After eating this dish a number of times and noting the variations in quality, we found our favorite Bacalhau Assado Brasa com Batata a Murro dish at a local Lisbon restaurant. Carvoaria Jacto Restaurant is in the non-touristy neighborhood of Penha de França.
What makes this dish stand out is the use of high-quality codfish. The bacalhau is perfectly grilled and when drizzled with olive oil and paired with the delicious potatoes, you taste the true essence of traditional Portuguese food.
Be warned the portion sizes are humongous. Go hungry or plan to share.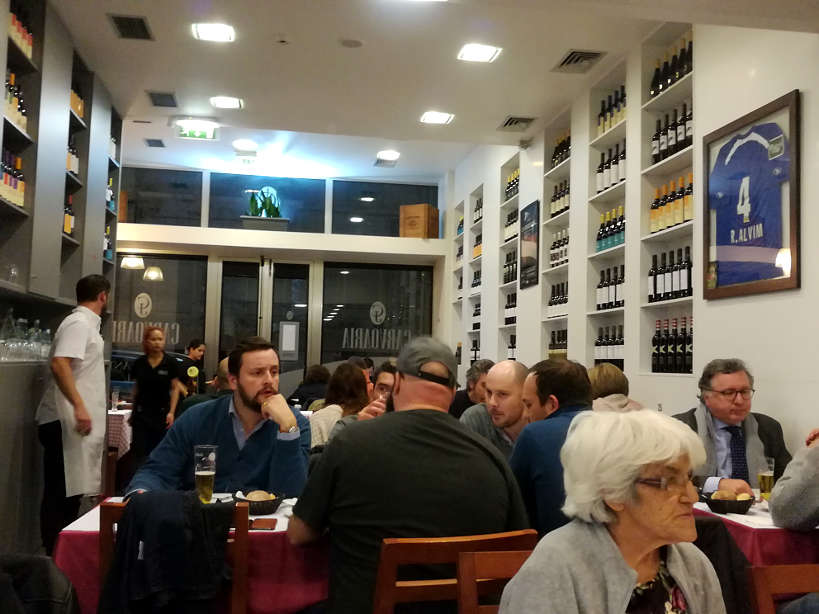 Where to Eat Bacalhau Assado Na Brasa com Batata a Murro in Lisbon
Address: Rua Maria Andrade 6 B, Lisboa
Hours: Monday – Saturday, 12:00 pm to 10:00 pm
Price:  €14.50 euros for the Bacalhau and you'll also find amazing steaks and delicious Portuguese wines
#5 – Pataniscas de Bacalhau – Portuguese Salted Cod Fritters
Pataniscas de Bacalhau are delicious cod fritters and another version of the deep fried bacalhau.
The cod fritters are made with eggs, flour, Portuguese codfish, eggs, parsley, and onion. The dough is made by mixing all the ingredients together. The cod fritters are then deep fried into a pan before serving them hot as an appetizer or as a main dish with rice.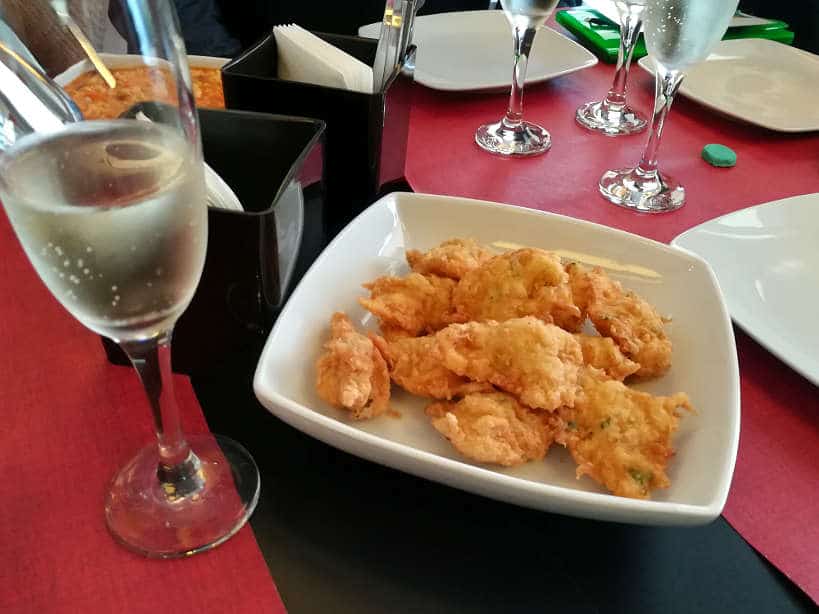 At Flagrante Delitro, you get to taste Pataniscas de Bacalhau with the typical soupy rice, arroz de feijao, made the Portuguese way. The cod fritters are fresh, lightly fried and served with the hearty rice, making this a perfect Portuguese food for the winter months.
In addition to serving traditional Portuguese cuisine, Flagrante Delitro is part of Casa de Fernando Pessoa. This cultural house is dedicated to the famous Portuguese poet, Fernando Pessoa, where he lived in Lisbon for the last 15 years of his life.
The name Flagrante Delitro is actually inspired by a famous photo that shows the poet drinking a glass of wine in Lisbon and working time. He sent this photo to his beloved with the dedication "in flagrante delitro". This is a play on words with the expression 'caught in the act' – "flagrante delito".
Having cod fritters at the Casa de Fernando Pessoa is a delicious way to immerse yourself into the local Portuguese food culture.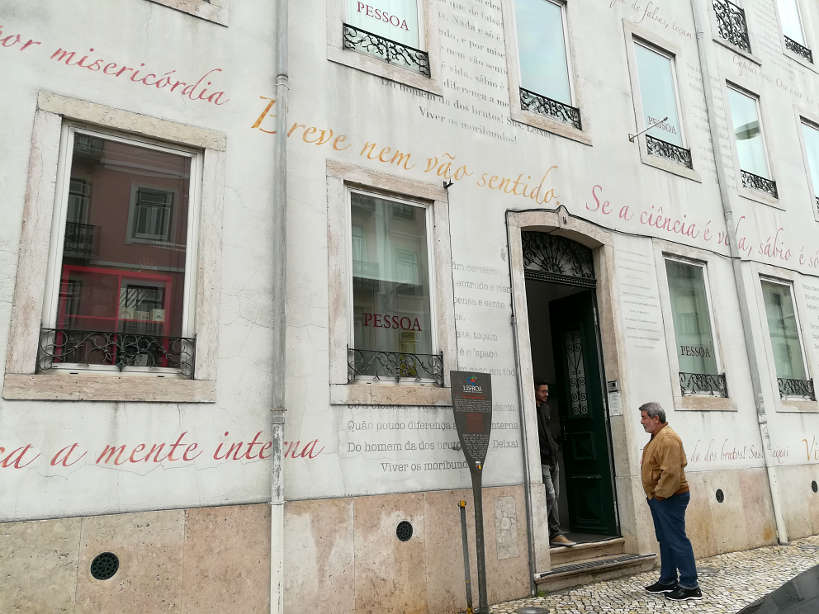 Where to Eat Pataniscas de Bacalhau in Lisbon
Address: Casa Fernando Pessoa, R. Coelho da Rocha 18, Lisboa
Hours: Everyday 10:00 am to 11:00 pm; Closed on Sunday
Price: €7.50 euros

In Summary
There are so many ways to enjoy bacalhau Portugal, depending on region, tradition, and household. As the Portuguese would say "there are more than 365 ways to cook bacalhau, one for every day of the year."
With these 5 Portuguese bacalhau dishes, you get to eat the best bacalhau in Portugal like the locals. Even if codfish may not your favorite dish, you'll certainly find a version to satisfy your curiosity and appetite.
As long as you are in Portugal, stretch your boundaries and learn how to make bacalhau other traditional Portuguese dishes. Take a cooking class and learn to make your favorite version of bacalhau.
Love it? Pin it!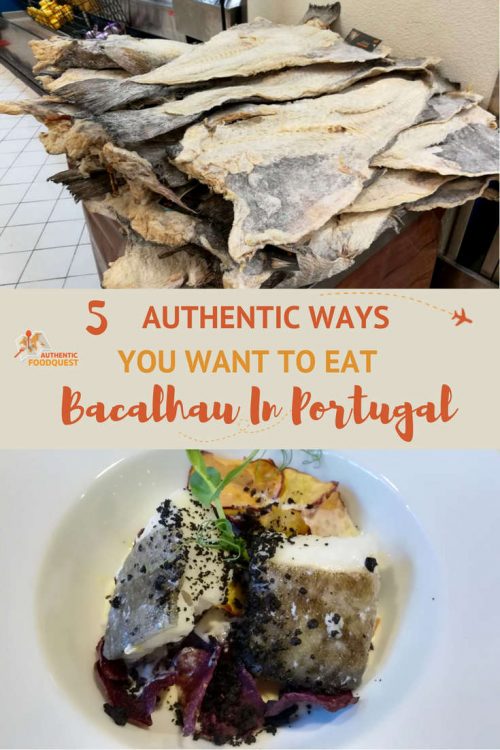 Disclaimer: This page contains affiliate links. That means at no extra charge to you, we earn a small commission when you purchase using these links. Thank you for your support.
Claire is a culinary explorer and the engineer brain behind Authentic Food Quest. Together with her partner, Rosemary, they created Authentic Food Quest to inspire people to travel deeper through authentic food. Through food, they believe, people can have more meaningful connections on their travels. Take the quiz and find out your Food Traveler Profile.