When you first arrive in Bangkok, chances are you will find the sprawling mega-city to be quite intimidating. And when it comes to the food, delicious smells will tempt you everywhere, and the options will be numerous.
So, how do you know where to have authentic food experiences in Bangkok?
This was our exact dilemma when we arrived in Bangkok for the first time.
We were taken by surprise and found the Bangkok local food scene to be quite overwhelming at first.
After "living like a local" in Bangkok on multiple occasions, we have a good grasp of the local food scene. Furthermore, we've also taken a variety of Bangkok food tours to dive even deeper into the local food culture.
And so with that, we have put together 10 tips to help you eat amazing authentic food in Bangkok.
This guide is perfect for first-time visitors to Bangkok, or those looking to branch out and eat like a local.
Are you ready to eat?

Choose From The Different Eateries in Bangkok
There is no shortage of places to eat in Bangkok. This section highlights the four main types of eateries you will find in Bangkok for local and authentic experiences. At the end of each subsection, we note our favorite places and where to find them.
#1 The Best Street Food Is in Bangkok
Bangkok is known to be the best city for street food in the world. And rightly so!
The typical street vendors have mobile food carts with their ingredients and cooking utensils. Wherever there are people, there is street food! Which means that there is street food practically everywhere you look!
With such overwhelming offers, it is not that easy to make a good choice. And while most of the street food is good, it is best to pick wisely.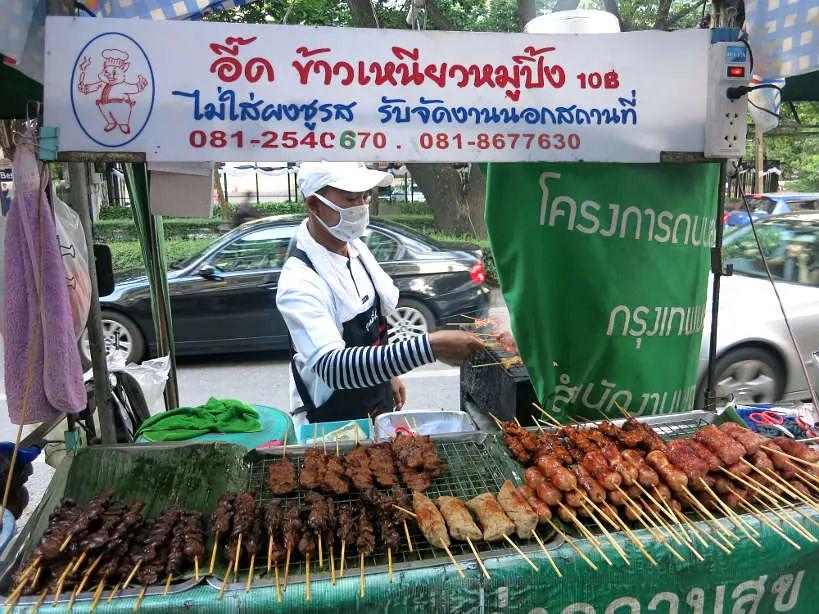 First, you should know that the best street food vendors specialize in one dish. The best part is that you see them prepare it in front of you. If you are not sure about which street vendor to choose from, start by observing.
How are they preparing the food?

Are there a lot of locals stopping by to order or eat there? If family and elderly are stopping, that's even better!

What are the cooking conditions? Is it looking clean and organized? Are they using a lot of oil or not?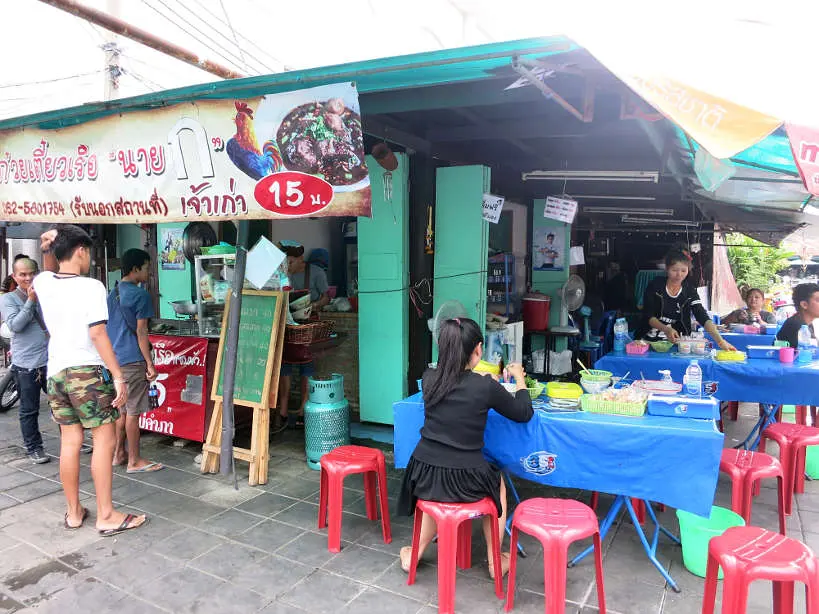 Our Favorite Place for Bangkok Street Food
One of our favorite spots for street food in Bangkok is on Rama IV road in Sathorn between Lumpini and Khlong Toei Station. It is not one of the most famous places for street food, but it is very local and authentic.
One of the best parts is that the prices are local and not geared toward tourists. For example, the popular mango sticky rice dessert costs about 40 Baht, versus the 100 Baht you will pay in Chinatown.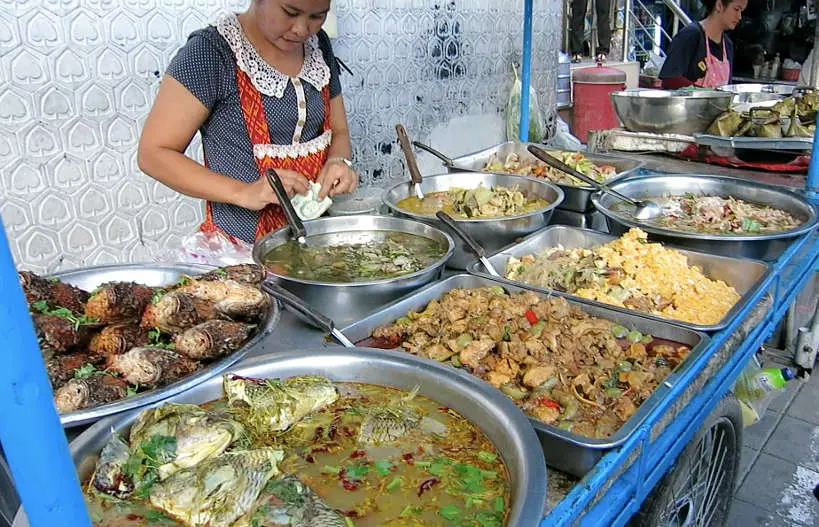 Where
Rama IV road, Sathorn, Bangkok between Lumphini Park and Klong Toei MRT Station.
Hours: Open every day from 5 pm to 9 pm
Prices: About 30 THB to 80 THB per dishes per person ($0.90 – $2.23 USD)
At the corner of Puk Chik 1 Alley and Rama IV road across from Lumpini Tower
Find one of the best curry street food vendors.
On the same sidewalk, going toward Klong Toei Station;
Find the old smiley lady selling mango sticky rice.
Don't miss the lady selling skewers of pork, chicken, and liver… all delicious!
#2 Eat at The Local Markets
You will find many local markets in Bangkok. Some markets are large weekend markets, while others are local to the neighborhood.
One thing that you will notice is that markets are usually organized by section. You will find the fruits, then the vegetables, and then what they call the "wet market." This is where you will find the fresh fish, meat, and poultry.
Generally speaking, you will find the food vendors at the periphery of these markets.
Like the street food vendors, the market vendors tend to specialize in one type of dish. Scoop around to find the dishes that you want to try. Proceed as mentioned in the street vendor section to make sure you eat the best.
One famous food market is Bangkok's Khlong Toei market, about a 10 mins walk from the Khlong Toei MRT station. Here we found one of the best sticky rice vendors in town. This vendor is located on the West side of the market, at the entrance of the market when coming from the MRT station.
The Khlong Toei market is Bangkok's biggest fresh market. You will find more meat, fish, and produce than food vendors. Our article featuring 7 of the best Bangkok food markets goes into more detail.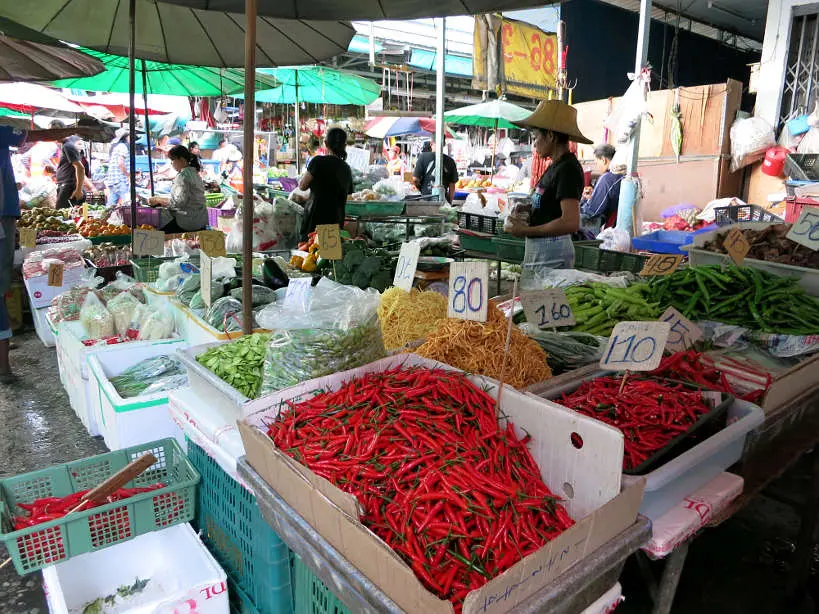 Our Favorite Local Market
Our favorite was our local market in Sathorn. The market is a few blocks from Tops Supermarket on Yen Akat Road. The market is open on Monday's, Wednesday's and Friday's from about 3:00 pm – 8:00 pm. We were never able to get the name of the market, but on Google Maps, it shows up as Marine Market.
At this small and local market, you will find a small section of fruits, vegetables, meat, and fish. At the edge of the market, are vendors selling shoes, clothing, and toys.
The food vendors make up for the majority of the market. And you can find anything you're looking for in terms of Thai local food specialties.
Where
Khlong Toei Pier Market, Bangkok
Hours: Open every day from about 7 am to 9 pm
Find the mango sticky rice market vendor at 27 Rama 3 Road
Marine Market
Located across Tops Market On Yen Akat Road, Sathorn, Bangkok
Open on Monday, Wednesdays and Fridays from about 3 pm to 8 pm.
#3 Bangkok Food at Cafeterias For Office Workers
A great place to have local and authentic food is to go to the local Universities or where Bangkok office workers eat during the week.
You will find large parking lots transformed into street food cafeterias for lunch. Others may be permanent and dedicated cafeterias.
One good example of a cafeteria is the one near Silom complex, not far Sala Daeng BTS Station. Alternatively, you can also eat at the cafeteria at the Bangkok Thammasat University near the Grand Palace.
You also find cafeterias behind the Goethe Institute of Thailand or near the U.S. Embassy on Witthayu Road.
These are only a few of what Bangkok has to offer. Look for places where there are a lot of office workers and you will find your way to these cafeterias.
Our Favorite
It is difficult to highlight just one place that we enjoyed the most. Primarily because we tried to hit several places and try different dishes. Nevertheless, we found the cafeteria across from the Goethe Institute a charming place.
One thing to keep in mind when you go to the cafeterias are the hours. Go early (before noon) and you'll find the most options. Go late (after 1:30 pm) and you will have what is left though the ambiance will be a bit more chilled.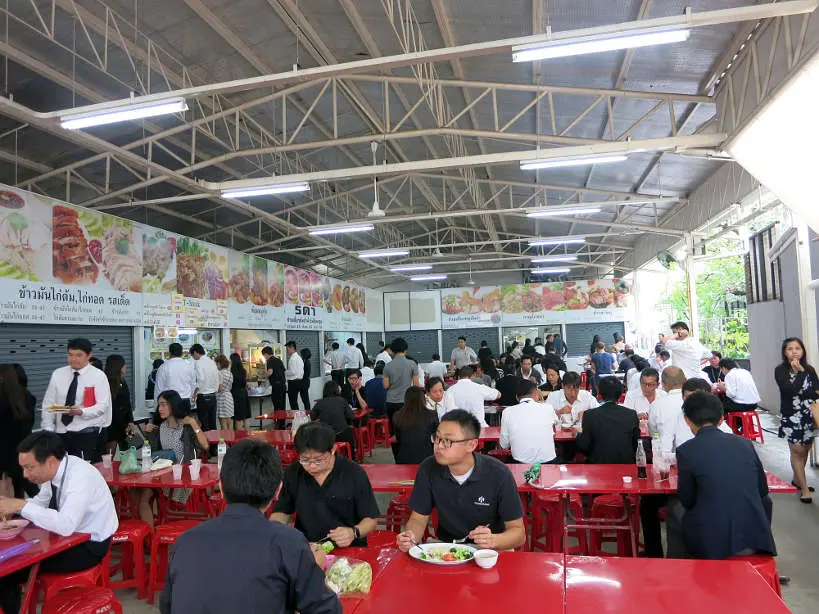 Where
Cafeteria across Goethe Institute
Close to Soi Sathon 1, Lane 2, Sathorn, Bangkok.
Hours: About 11 am to 2 pm
Prices: About 30 THB to 80 THB per person ($0.90 – $2.23 USD)
# 4 Authentic Bangkok Restaurants
When you are in a city like Bangkok where the street food is delicious and cheap, it is hard to justify going to a restaurant to pay the high prices for something you can easily find on the streets.
So why would you want to go to the restaurants in Bangkok?
Well, for starters, the "high-end" restaurants will have air conditioning. And it can be very hot in Bangkok. So a break from the heat can be a nice relief.
Also, you will find restaurants that offer dedicated specialties. Many times these restaurants started on the streets with a street cart. With success and popularity, they were able to open a restaurant and continue to serve the traditional meal in a "proper" environment. You might pay more for the same meal than in the street, but at least you know what you are getting.
Another reason to go to a restaurant is after you have just arrived. In our article, How To Enjoy Great Authentic Food On Your Travels, we recommend taking it easy and starting on the safe side, as you adjust to your new environment.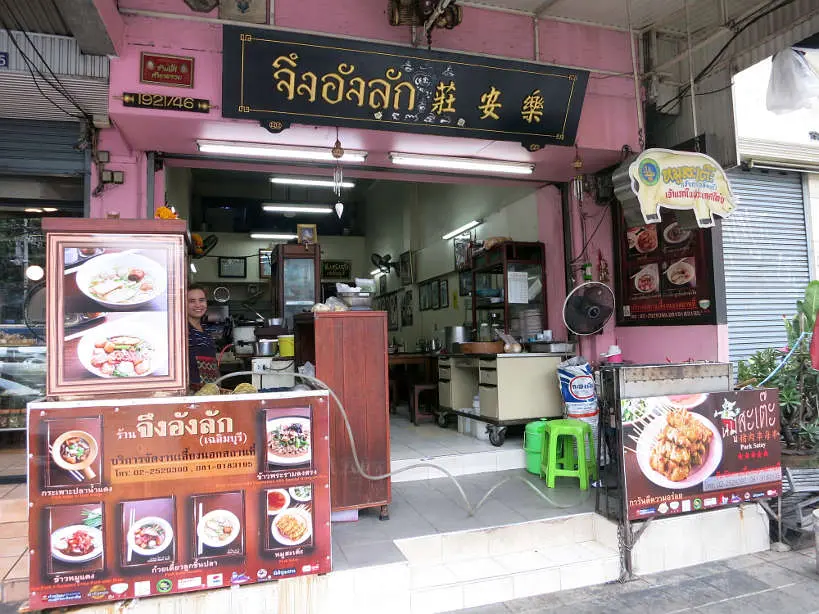 Bangkok ShopHouse Restaurants
One of the particularities of the Bangkok restaurant scene is the "ShopHouse Restaurants." This is basically a room on the first floor of a home, that is dedicated to receiving and serving customers. It is almost like eating in someone's home. The kitchen is either a food cart on the street or a small kitchen in the corner of the room.
Again most of these "restaurants" will have one dedicated dish to offer.
To eat like a local, we recommend these types of restaurants for the most part.
We tend to avoid restaurants that have English translations, menus that are multiple pages long, or menus with Western foods and no specialties.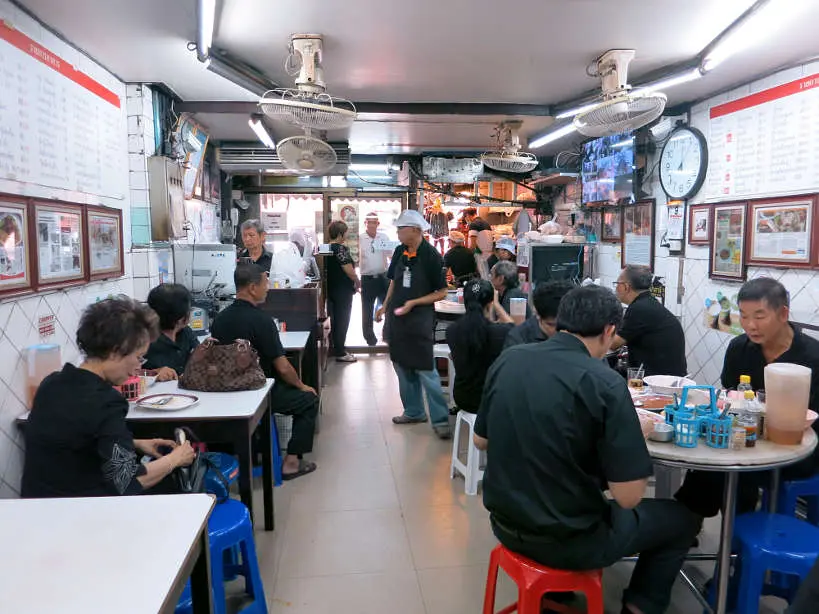 Our Favorite
One of our favorite Bangkok restaurants isPrachak Petyang. This restaurant in the Bang Rak neighborhood serves only their specialty. The family-owned restaurant has been around for more than 100 years serving this one dish: Roasted Duck with Egg Noodles. It is not a fancy restaurant but you come here for this single delicious dish.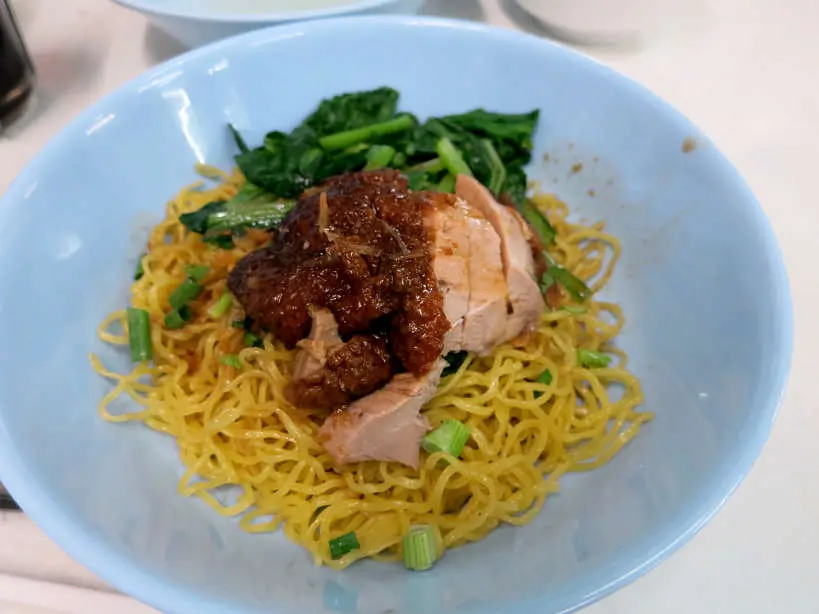 Where
1415 Charoen Krung Rd, Silom, Bangkok.

Open every day from 8 am to 8:30 pm
Prices: About 50 THB to 100 THB per person ($1.40 to $2.80 USD)
The Local Eating Experience
#5 How to Order Your Food in Bangkok
When you don't speak Thai, communicating can be difficult. Especially when it comes to ordering food.
As mentioned above, many of the local shophouse restaurants or street food stalls focus on only ONE dish. This immediately makes things easier. In addition, many of the local joints have pictures on the wall, which also helps. If you ordering street food, you also have the benefit of seeing exactly what is cooking in front of you.
While most vendors do not speak English, the one word they know is "pork." You will easily be able to identify the fish, and after that, your options will most likely be pork (which is the most common) or chicken.
If you are ordering a noodle dish, don't be intimidated by the many different types of noodles you will see. Simply place your order and trust the cook to use the right noodles for your meal.
Keep in mind, that most times no one will come and take your order. Be forceful and act like the locals who place their order before taking a seat.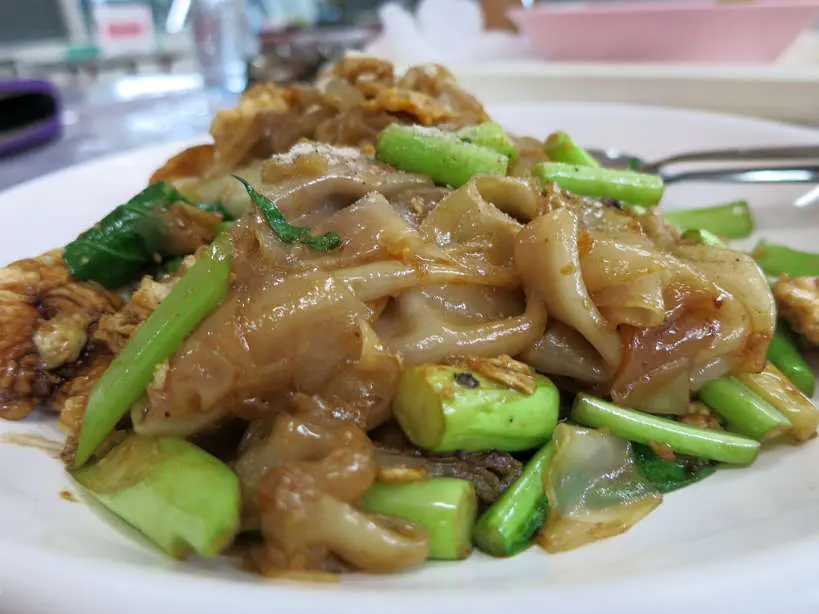 # 6 Bangkok Food Portion Sizes
Many of the dishes you will find at street stalls or shop house restaurants are single dishes, which are complete meals by themselves. This could be a plate of stir-fried noodles such as Pad Thai or a plate of rice served with a variety of toppings. When eating at a cafeteria, you may be required to share a table. If so, don't "force conversation" unless invited to.
At restaurants, food will typically come family-style for everyone to share. The rice and other dishes are usually served in a big bowls and placed at the center of the table.
Using your smaller individual plate, serve yourself and eat to your satisfaction. Do keep in mind that a pair of chopsticks and a spoon and fork are the traditional utensils.
Rarely will you find a knife at the table.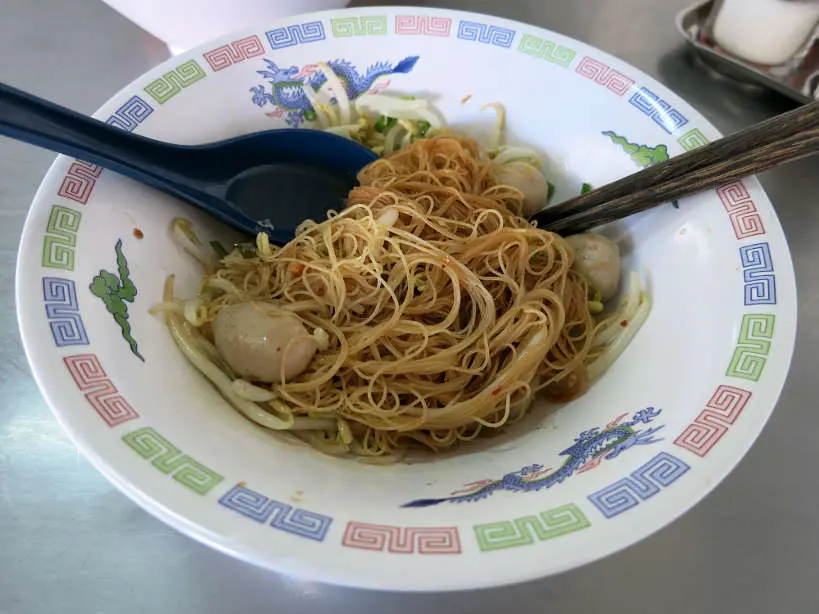 # 7 How Spicy Is Bangkok Food?
The question about the spice level of the food is probably on your mind. It certainly was on ours before we got to Bangkok.
From our experience, we found the food to be more spicy than Thai food in the U.S. Some soups and curries tended to have chili peppers hidden within. Despite the spice, the food is still edible and tasty.. There is a wonderful balance of flavors between sweet, sour, spicy and salty.
Many locals add more spices to their meals using various peppers and sauces that are found on each table. If you are concerned about the spice levels, knowing these two words in Thai will help: not spicy – Mai pet and very spicy – Pet maak!
# 8 Bangkok Eating Hours
You will never go hungry in Thailand, and as mentioned previously, where there are people, there is always food. There are some dishes, like rice, that are eaten at all times of the day.
You will see locals on their way to work huddled together at food stalls before 8:00 am eating breakfast. The breakfast meal might include rice, soups or soy milk based products.
If you want to take advantage of the cafeterias where the office workers eat, go between 11:30 am and 1:00 pm. You will get the best variety and a buzzing atmosphere.
To eat at the local markets, the best times to go are between 5:00 pm and 7:00 pm. The hours at the restaurants vary. Some of the restaurants that specialize on a specific dishes close early, while those that are geared towards Westerners close a little later. Be sure to check ahead of time.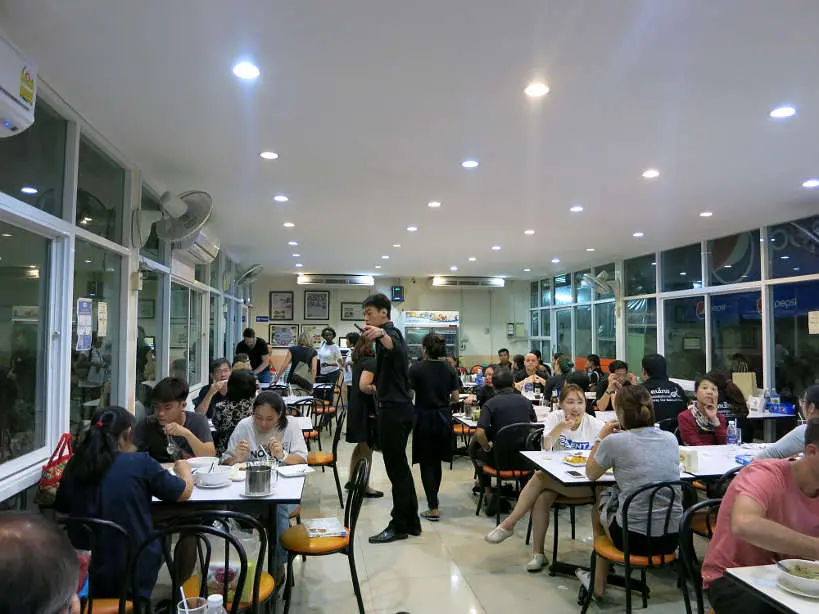 #9 Cash & Tipping in Bangkok
When eating at the local stalls or shophouse restaurants, be prepared with cash. Most of the local joints do not accept credit cards. If you can pay with smaller bills rather than large bills.
At restaurants and especially higher-end restaurants, you will be able to pay via credit card. Just look for the Visa or Mastercard logo on the door or menu, and you will be all set.
Tipping is not common and certainly not expected at streetside stalls and eateries. If you have a favorite vendor or you want to show appreciation for a dish, leaving even your small change will be appreciated.
At restaurants, tipping is not mandatory but is appreciated. If you receive excellent service, by all means, feel free to tip about 5% to 10% of your bill.
Some restaurants do automatically add a 10% service fee to your bill. This acts as a "sort of tip". In these cases, you do not need to add any incremental amount.
How To Drink Like a Local
# 10 What to drink
Water
You will find bottled water at street stalls and restaurants alike. However, you can also drink the filtered plain water presented on the table. Usually, you will find a bucket of ice and a tray of cups to serve yourself. It is free of charge. Otherwise go for the bottled water.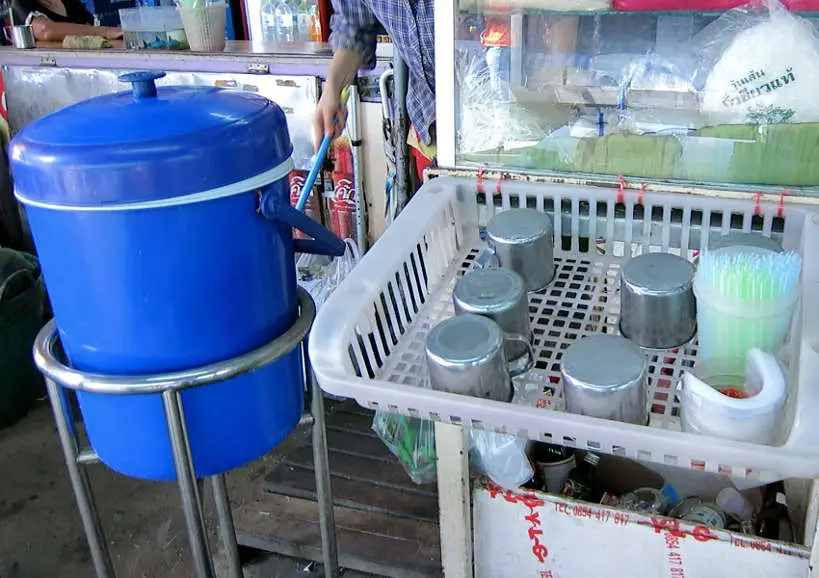 Thai Coffee & Thai Tea
Thai Coffee and Thai Tea are popular accompaniments to the hot spicy dishes or simply a delicious treat on a hot day. Unlike the coffee or tea, you will find in North America, the traditional recipes in Thailand call for the addition of sugar and condensed milk.
While you can get either of the drinks hot, drinking them over ice is a refreshing and popular option. Many Thai's take their iced coffee or tea to go. While I did enjoy the traditional iced Thai coffees and teas, I found them both way too sweet and more appropriate as an afternoon snack rather than a breakfast beverage.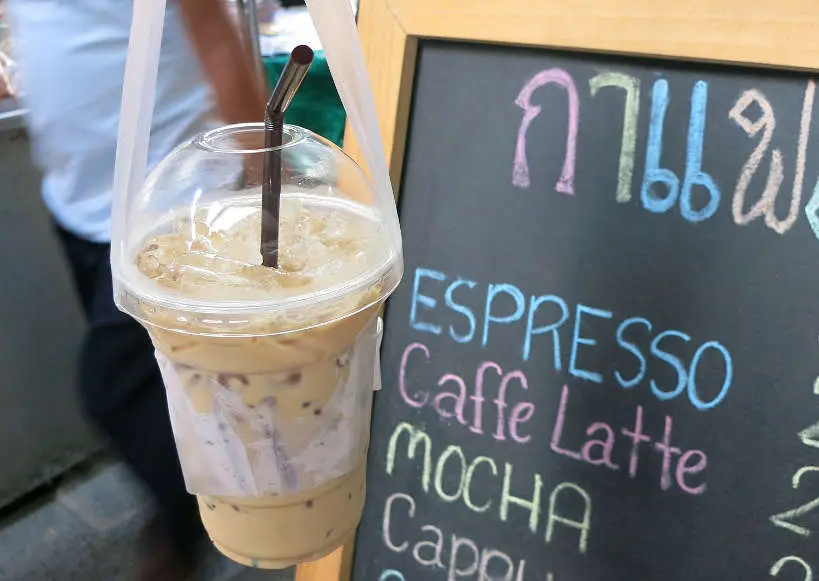 Thai Beer
One of the most common drinks in Thailand is the beer. You will find Singha, Chang or Leo (by order of preference). All are Pale Lagers, which Claire did not find very flavorful. The Leo is known as the cheap beer, and there is nothing exciting about it.
They are usually served in 500ml bottles. A bottle or can of beer will cost you between 50 and 80 Baht ($1.40 to $2.30 USD). You will find it easy to get tempted by the beers. To cool off from the Bangkok heat and spicy food.
Wine
If you love to have wine with your dinner, then Thailand is not the place!
Generally speaking the wine in Thailand is expensive and you can expect to pay double the prices you would pay in North America as the wine is imported.
If you are eating like a local on the streets or at a shop house restaurant, do not expect to find wine on the menu. Once you move up to the "high-end" restaurants, wine makes an appearance on the menus.
The selection of wines varies (Chilean, Australian, South African wines), as does the price points. With the heat, don't be surprised to be served a glass of "refrigerated" red wine.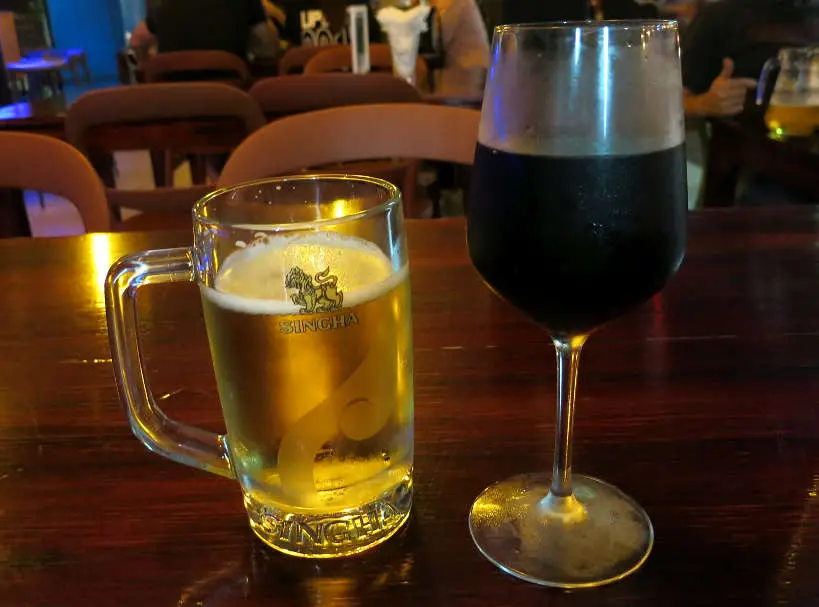 In Summary
With Bangkok's reputation of having one of the best cuisines in the world, you must enjoy all the delicious food the city has to offer.
Don't be afraid to branch out and try Bangkok street food. Make it a point to eat new dishes in new venues. Eat on the streets, at the markets and the shophouse restaurants.
If you cannot communicate, simply point. Let your nose guide and your eyes confirm the most interesting dishes to try.
Take advantage of your time in Bangkok to eat like a local and eat where the locals eat. With the on-going efforts to clean up the streets, what is there today, may not be there tomorrow.
Have you been to Bangkok? If so, share your favorite Bangkok food and local eating experience below. If not, tell us what has surprised you from this article.
Savor The Adventure!
Love it? Pin it!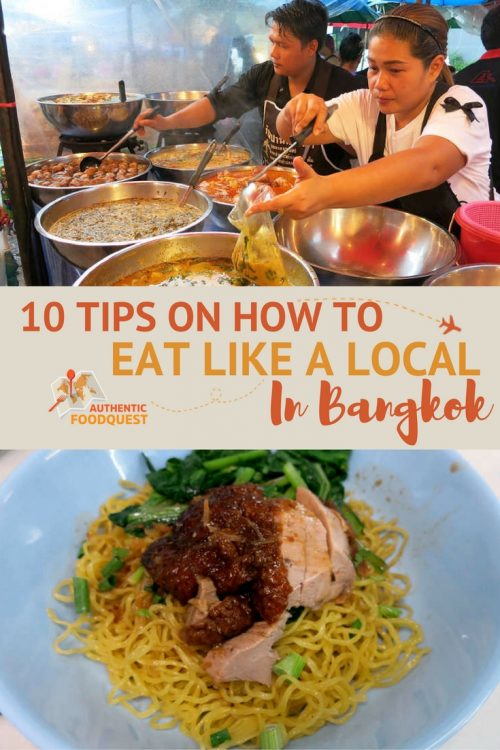 Disclaimer: This page contains affiliate links. That means at no extra charge to you, we earn a small commission when you purchase using these links.
Rosemary is the editor-in-chief and strategist at Authentic Food Quest.
Traveling slow since 2015 with her partner, Claire, she has explored the cuisine in 45 countries and more than 240+ culinary cities.
Her writing about local food specialties has been featured in Lonely Planet, Business Insider, Honest Cooking, Food Insider, and Huffington Post.
As a food and travel writer, Rosemary has co-authored three books, including one in collaboration with Costa Brava Tourism.
Rosemary is an avid runner when she's not eating and exploring new destinations. She has run ten marathons and counting.
Before Authentic Food Quest, Rosemary held senior-level strategy positions in advertising. 
Find out more about Authentic Food Quest