Have you ever been to a wonderland? If you visit Lisbon, don't miss the chance to go to Sintra to experience the wonderland of Portugal.
Sintra is a long time royal destination, with lush forest and magical palaces. Just 40 mins by train from Lisbon, the now Unesco World Heritage Site offers the perfect haven to venture out of Lisbon for a day.
Because any journey in wonderland should involve food, we put together the perfect guide on where to eat in Sintra in one day!

A Majestic Morning at the Star of Sintra – Palacio Nacional de Sintra
Start the day with a delicious cup of Portuguese coffee at Cafe Saudade which is located close to the Sintra train station. This cozy restaurant offers a variety of coffee drinks, including the signature Portuguese style Galão coffee, which is similar to a latte or cappuccino.
Served in a tall glass, it made with half milk and half coffee, perfect for breakfast or with a sweet pastry on the side.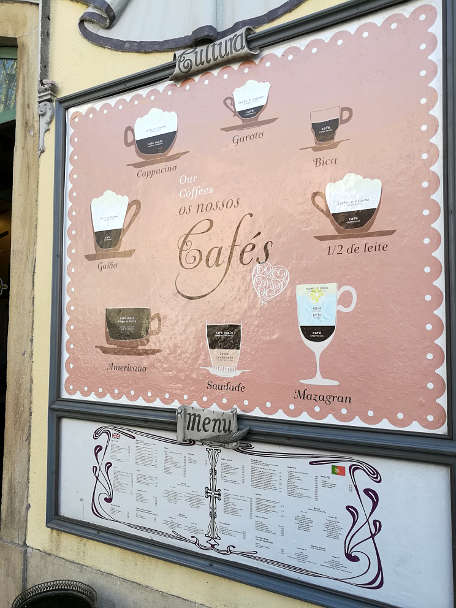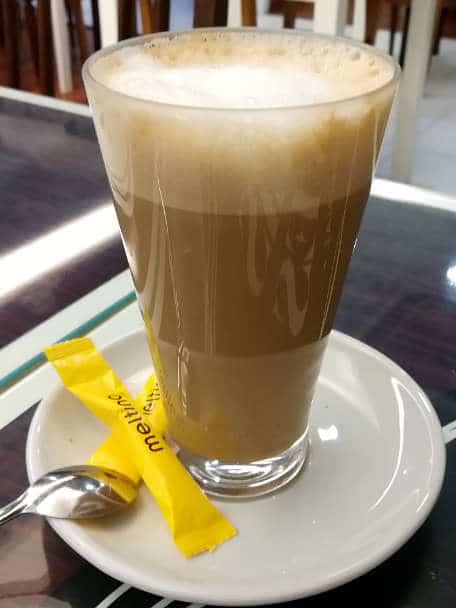 Once fueled up, make your way to the Palacio Nacional de Sintra and be impressed by the two unusual enormous large chimneys. This medieval royal palace was built on a site that was once a Moorish castle. New parts were added over time and it was a favorite with the Portuguese nobility from the early 15th to the late 19th centuries.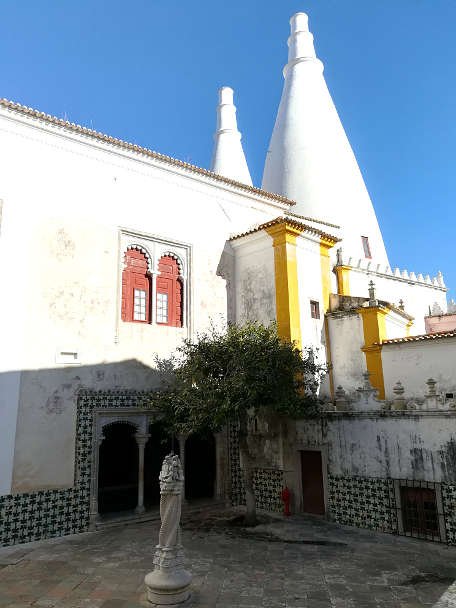 The palace is lavishly decorated with richly decorated rooms, galleries, and corridors. You will be dazzled by the eclectic blend of Moorish, Gothic, and Manueline architectural styles.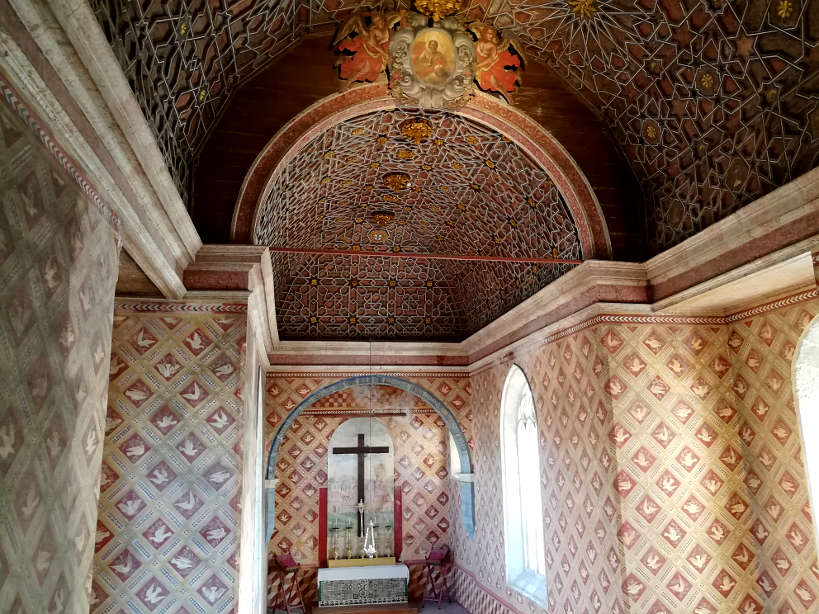 Don't forget to stop by the kitchen and look up the 33 meter high massive chimneys. This is also where royal banquets were prepared and on display are the original roasting spits and various copper and iron kitchenware.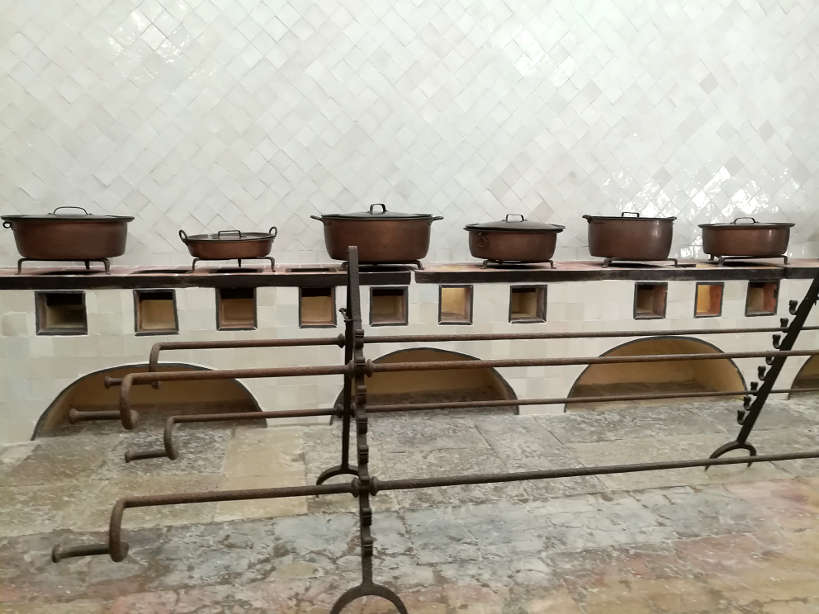 Gourmet Lunch at a Steal  –  Incomum: The Best restaurant in Sintra
The kitchen visit at the Palacio Nacional de Sintra will leave you hungry. You'll be eager to lunch in Sintra and taste the local Portuguese delicacies unique to the region.
For lunch, don't bother weighing any options, the menu executivo at Incomum is a no-brainer. At the best restaurant in Sintra, chef Luis Santos offers a creative cuisine with local products at a defying price of only €11 euros.
With this, you have the choice of soup or salad, fish or meat, a dessert, and a drink, a Portuguese wine, of course, is highly recommended. The price includes the famous "couvert" which is bread, olives and olive oil, that is typically paid for.
You can also choose your meal from the menu or opt for the tasting menu. Rosemary chose the Bacalhau a bras, one of our favorite ways to eat the famous Portuguese codfish style. I was tempted by the all-inclusive menu executivo.
The restaurant is upscale yet accessible with tasteful decor and soft lighting.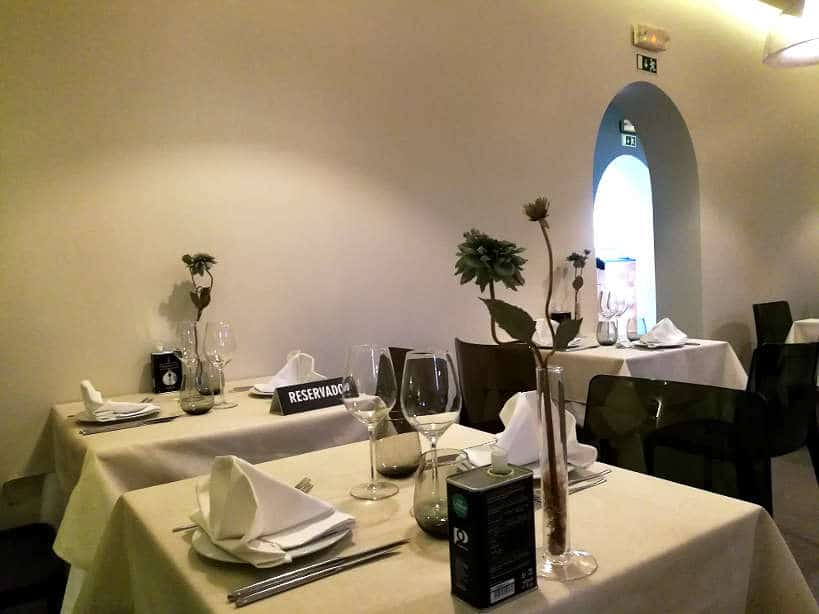 We very much enjoyed the thoughtful touch from the waiter, bringing Rosemary a complimentary tasting of the local specialty, "pig's ear with polenta" while I was enjoying my chickpea soup, the starter on the menu.
The Bacalhau a bras, revisited by Chef Luis Santos, was very fresh and tender, prepared with delicious vegetables and the eggs, lightly battered and fried.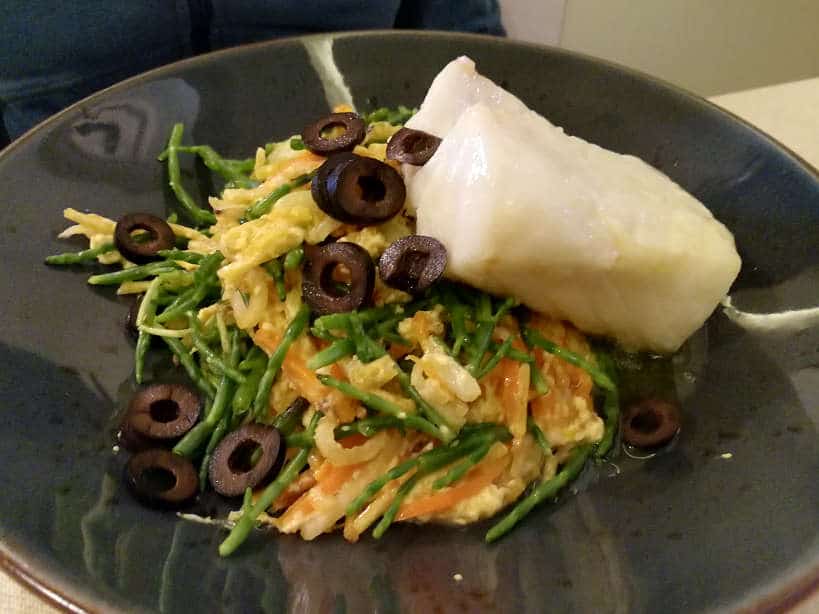 With the menu executivo, I had the Portuguese pork also called Iberian pork served with beans, vegetables, and sausages. It was hearty and full of flavor.
We shared the menu executivo dessert, a pie made of almonds with a raspberry jam. Rich and tasty but a tad sweet. It was the perfect size for sharing.
For wines, Rosemary chose a fresh and fruity Vinho Verde, while I had a nice red from the Alentejo region. Both were a great pairing for our Sintra food.
Spend the Afternoon in Wonderland – Palacio Nacional da Pena
Perched on the hills is one of Portugal's fairytale castles. This whimsical building is the magical realization of King Don Fernando II, in the 19th century, also known as the "Artist King".
Work your lunch off as you make your way up the hills to the Palacio Nacional da Pena. It will take about 45 minutes, and it is a doable hike, contrary to what you might hear.
The palace is a remarkable example of Portuguese Romanticism architecture. The fanciful architecture includes a mix of Manueline and Moorish styles.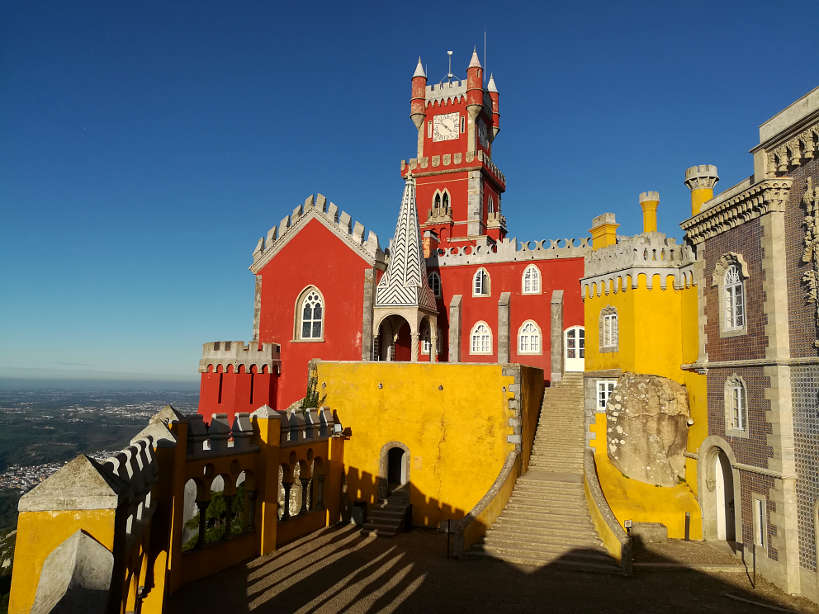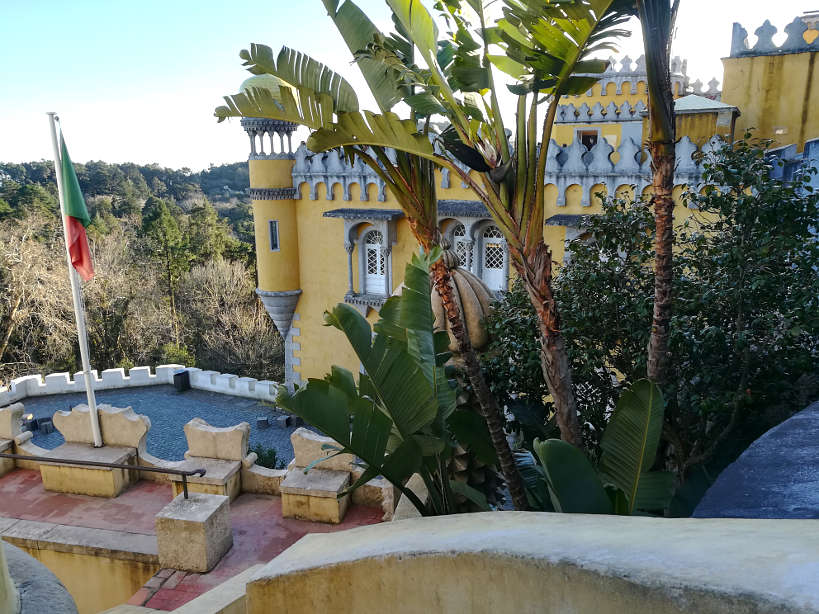 After your visit, walk around the 85-hectare park, which surrounds the palace. Waterfalls, ponds, pavilions, and exotic plants and trees make this an exceptional place to explore.  
One tip when buying your tickets is to purchase the combined ticket that gives you access to both the palace and the park grounds.
On your way up to the Palace, stop by Fábrica das Verdadeiras Queijadas da Sapa and pick up the famous queijada pastries as your reward after the 45-minute hike up. The combination of breathtaking views and delicious pastries is sublime.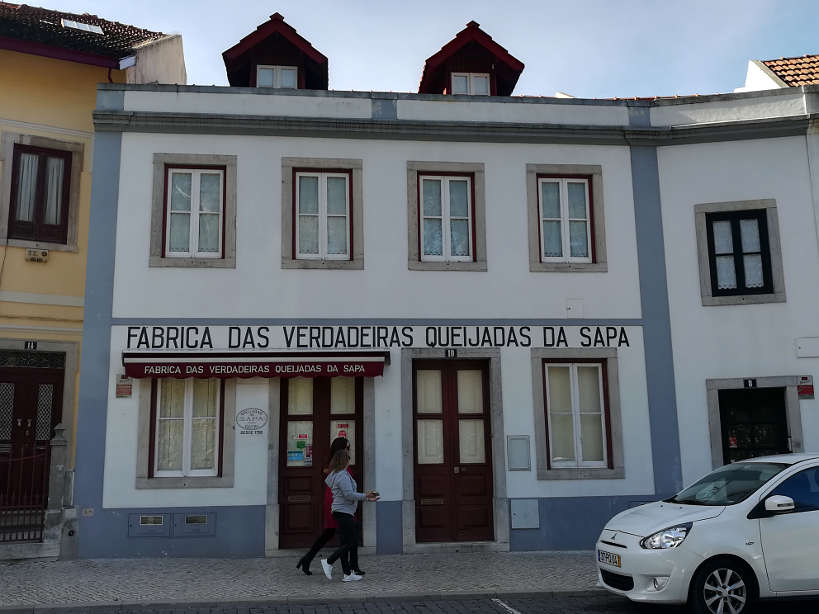 A Sweet Finish With Sintra Must Eat Desserts at Casa Piriquita
Finish the day at Casa Piriquita and have the two delicious and famous desserts of Sintra. This pastry shop has been "fattening up" royalty and visitors alike since 1862, and you too will be tempted.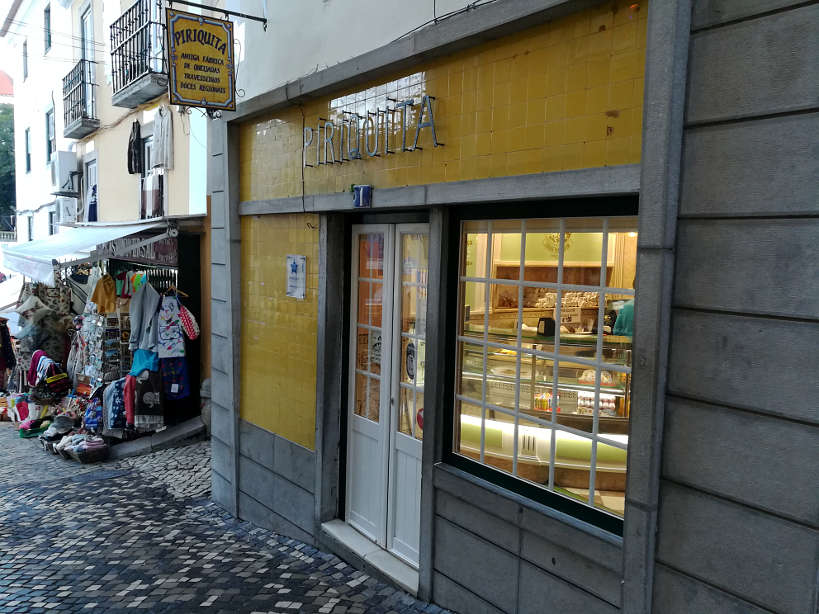 The famous Queijada de Sintra (if you didn't try it at the Fábrica) is what got this pastry shop started, and was propelled to success by King Carlos I.
These delicious little pies have a crusty exterior and a soft inner batter made with cheese, sugar, eggs, flour and a little cinnamon. They are not too sweet and have a hint of a fresh cheese taste. Delectable!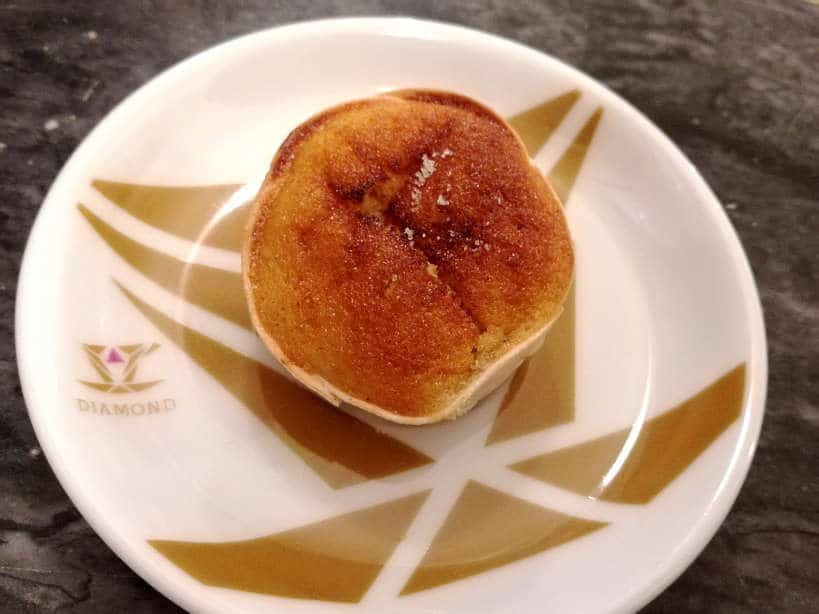 Our absolute favorite and another signature dessert from Sintra and also created at Casa Piriquita is the Travesseiro.  This dough based pastry, which is long and slender like a "pillow" absolutely melts in the mouth.
We ordered one to share and after the first bite, knew we made a mistake. We quickly ordered a second one because we couldn't share. This light pastry filled with almond cream and other secret ingredients is heavenly. As you eat your way through Sintra, don't miss the Travesseiro dessert and keep in mind this is one dessert you cannot share.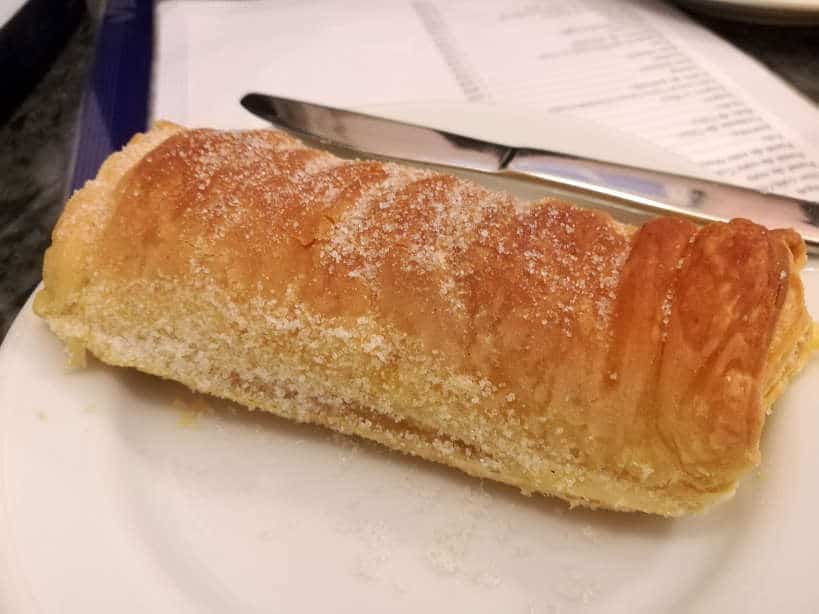 In Summary
Sintra is a fairytale destination worth visiting. You can also eat your way in Sintra. It is a gem for food travelers, particularly sweet lovers. Eating travesseiro is a wonderland for the palate, with each bite melting in the mouth.
Walking in Sintra and exploring the palaces and castles will leave you hungry for more delicious Sintra foods. Your wish will be granted with the gourmet cuisine from chef Luis Santos at Incomum. Additional sweets from the region such as the famous queijada de Sintra will satisfy your appetite
You will be surprised how a day in Sintra can go by so fast. If time isn't a concern, you should definitely plan for two days or more in this wonderland!
Where to Eat in Sintra
Address: Av. Doutor Miguel Bombarda, nº6, Sintra
Hours: Everyday from 8:30 am pm to 8:00 pm
Book a table or see the reviews here
Address: R. Dr. Alfredo da Costa 22, Sintra
Hours: Everyday from 12:00 pm to 11:00 pm except Saturdays 5:00 pm to 11:00 pm
Book a table or see the reviews here
Fabricas das Verdadeiras Queijadas da Sapa
Address: Volta Duche 12, Sintra
Hours: Everyday from 9:30 am to 6:00 pm, closed on Mondays
Address: R. Padarias 1, 2710-533 Sintra
Hours: Everyday from 9:00 am to 8:00 pm,  closed on Wednesdays
Have you been to Portugal before? In the comments below, tell us your favorite Portuguese city.
Savor the Adventure!
Book a Tour
Click below and book a convenient trip to Sintra from Lisbon.
Love it? Pin it!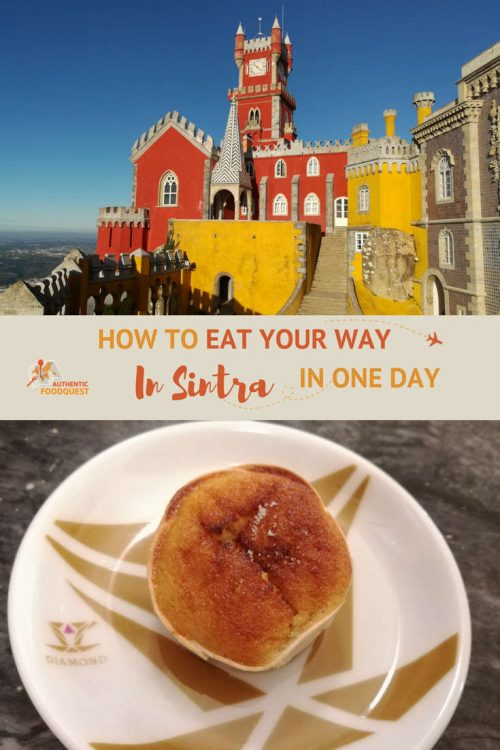 Claire is a culinary explorer and the engineer brain behind Authentic Food Quest. Together with her partner, Rosemary, they created Authentic Food Quest to inspire people to travel deeper through authentic food. Through food, they believe, people can have more meaningful connections on their travels. Take the quiz and find out your Food Traveler Profile.