The cuisine in Lima has continued to fascinate and delight us. As we continue on our quest to discover Authentic Peruvian food, we were told not to miss some of the best food in the country: Peru Northern cuisine.
Piura, the largest city in Northern Peru, is known to be one of the best places to eat in Peru. Founded in 1532, Piura is the oldest Spanish city in South America and is fondly referred to La Primera Ciudad (the first city). Although Piura is not as visited as Machu Picchu in Cusco or the Amazon jungle, it has a rich and interesting history.
The gastronomy in the north or in Piura has an fascinating heritage. The food from the area has been influenced by its important mestizo culture. This mestizo culture includes primary influences from the Spaniards, Africans (from Madagascar or Malgache slaves) and Chinese workers (who migrated to work in the rice fields). This mestizo culture created a very rich gastronomy and we highlight here 5 authentic and traditional dishes of you can find in Peru Northern cuisine.

Los Piuranos – one of the best traditional restaurant in Lima for Peru Northern Cuisine
We didn't have the opportunity to go to Piura, so we chose to travel there through food.  Our friend and gastronomy critic Cecilia Portella Morote, invited us to Los Piuranos to experience Peru northern cuisine with her friend Mae.
Los Piuranos is one of the best restaurant in Lima to try authentic and traditional Peru Northern cuisine. Located in Lince distritos, where we were staying, we stopped by one Saturday afternoon. The restaurant was packed. Tables outside and inside were occupied. We managed to find a spot on the second floor in a small room that looked like a dinning room in someone's home.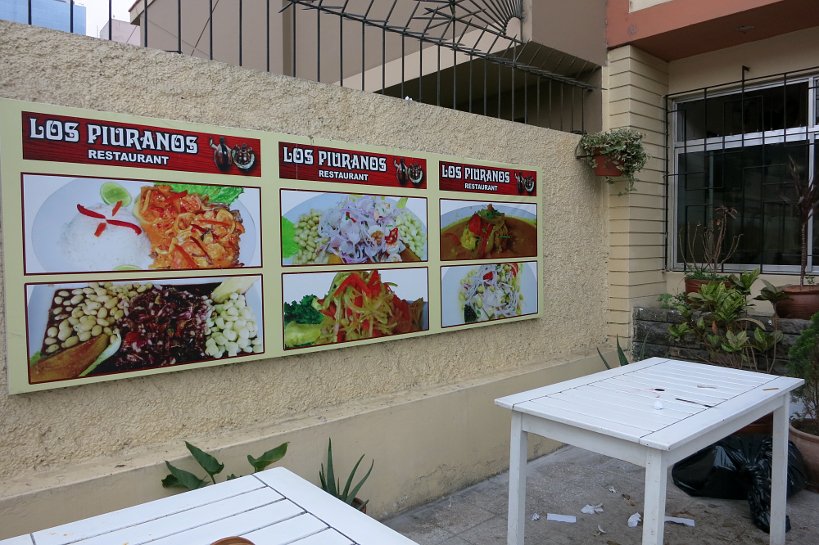 1) Tamalito Verde – The Typical Appetizer from Peru Northern Cuisine
We talked about the delicious tamales we had in the streets of Lima in our post about street food. In the Northern part of Peru, they make a different tamale called Tamalito Verde. It is prepared with cilantro which gives it a nice rich green color. The taste was absolutely delicious, and I liked it better than the previous one we had tasted at the market.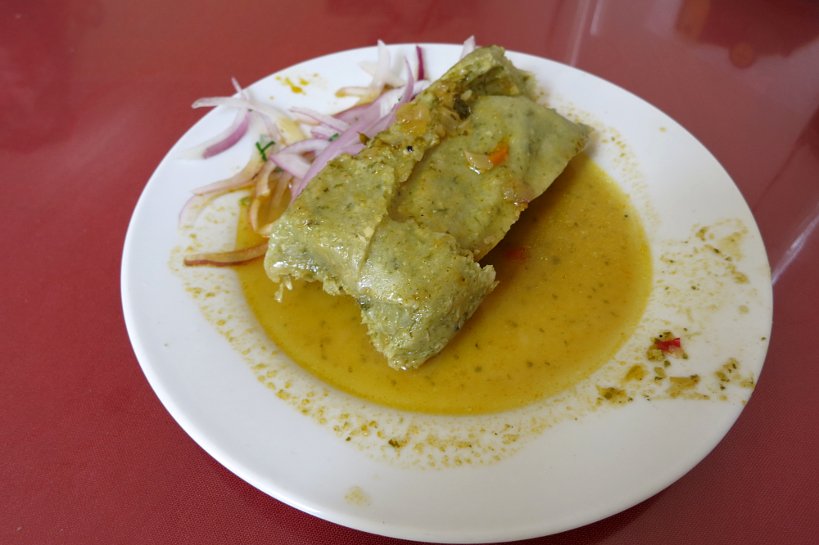 This tamale was very fresh and easy to eat. It was made with corn, cilantro, onion, cheese, and huancaina sauce (made with yellow chili). The tamales were cooked in banana leaves and served without the leaves. The Tamalito Verde was served in a delicious huancaina sauce. The consistency of the tamales was very soft and melting in the mouth. The sweet and spice combination of the corn and chili was just perfect. Simply put, a delight!

2) Majado de Yuca – Mashed Yuca
After our delicious appetizer, it was time to get to the main meal. With our friends Cecillia and Mae, we sampled different Peru northern cuisine favorites. One of them is Majado de Yuca which can be translated as mashed Yuca.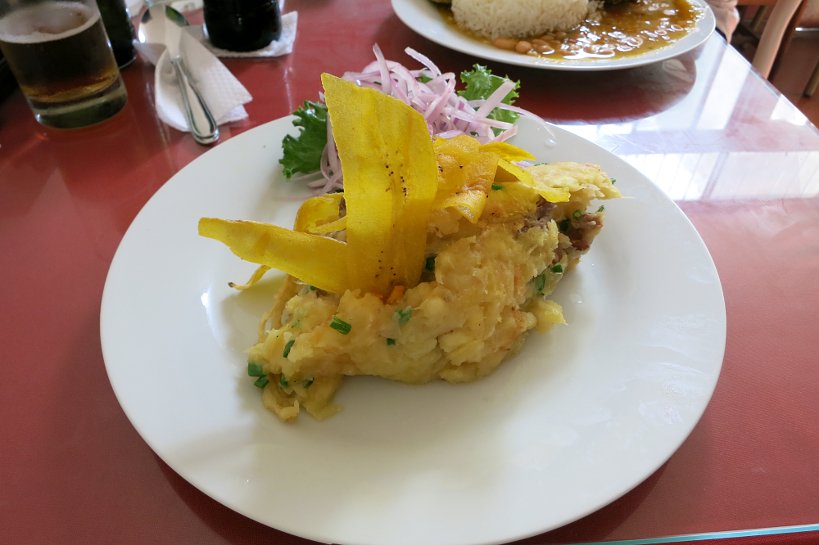 It was made with roasted yuca and chopped pork meat mixed with green onions and garlic. It was served with chifles which are plantain chips. We enjoyed the combination of the spices and flavors, the yuca giving it a soft and mild taste while the pork adding a smoky flavor. Though we found it a bit dry, and the drink and beer helped make it easier to swallow.

3) Seco de Cabrito  – Goat Stew
This typical dish from the North of Peru was huge. Overflowing on the plate was a sauce made of pinto beans in a deliciously spiced sauce. The seco de cabrito or goat was stewed with cilantro and served with white rice. This was accompanied by the traditional Tamalito Verde that we described above.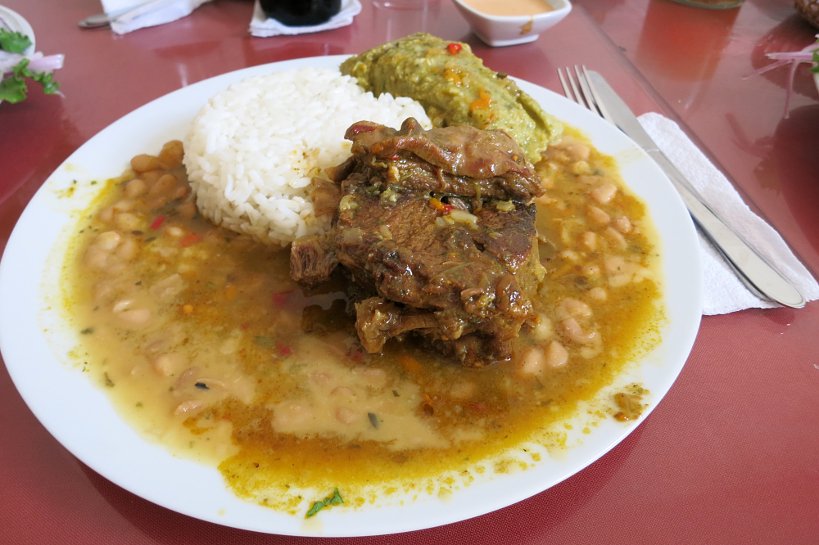 This dish was pretty much made for inducing fatigue. It was huge. Though fortunately delicious. The goat pretty much falls off the bone. Paired with the Tamales and the sauce, you have a match made in heaven. Be prepared, as we did, to take a long walk after to walk off this gigantic serving. Tip! Plan on ordering and sharing this dish.

Combo Dish: with Seco de Chavelo and Carne Seca 
The Peruvians are very hospitable. They are some of the most welcoming people we have met along our quest for authentic food. This point was proven once again at Los Piurano's. You see our friends, Cecilia and Mae wanted us to try different authentic dishes from the region, but there was no "combo" meal (combination of dishes) on the menu. So, they politely asked our waitress to go "off menu" and create a special combo plate for us, and she happily obliged.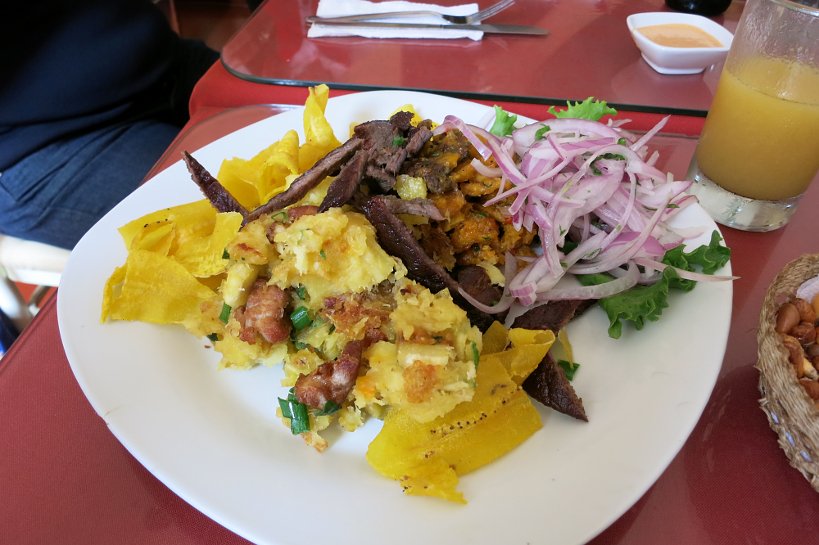 The combo dish was made of three key specialities that they wanted us to try from Piura: Seco de Chavelo,  Carne Seca and Majado de Yuca (we talk about the Majado de Yuca above).
4) Seco de Chavelo
The Seco de Chavelo is a typical dish of the lower Piura and was invented by a man named "Chavelo" more than 100 years ago. It is the serving that you see on the picture above, near the red onions. The main ingredients are roasted banana plantains and pieces of beef.  It also has green peppers, onions, tomatoes and Chicha (fermented maiz beer). This dish reflects the diversity in Piura and is a fusion of tastes of Hispanics, Africans and the indigenous people. 
Rosemary absolutely fell in love with this dish. What she enjoyed the most was the sweet salt combination of the plantains and beef. The texture was soft and moist despite having the word "seco" or dry in the description. This is a dish that makes it worth visiting Peru Northern cuisine.
5) Carne Seca
The carne seca are the thin strips of meat you see on the plate. In Piura, we learned that it is customary to dry meat and share it amongst friends and family. This makes it a communal and celebratory dish that is well-loved.  Not having very many strips of meat on the plate, we jokingly had to fight to get enough. In a nutshell, we both loved this dish and would have liked to eat it as a full meal. That's always the challenge with little bites – you get just enough to tempt you, but not enough to fill you up.

Mango Ciruelo Frozen Juice – A speciality of the North
In the picture above, you probably noticed a thick yellow liquid juice. This juice is made from a unique fruit that is only found in northern Peru called Mango Ciruelo. It is not grown on a large scale and therefore little known. It looks like a cross between a mango and a plum. We did not get a chance to try the fruit, but the the frozen juice is a speciality of the north of Peru and Piura.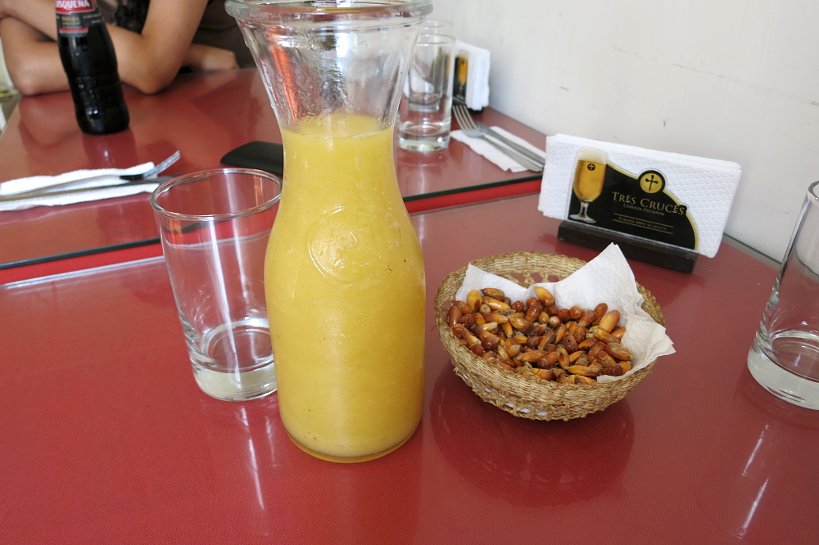 Absolutely delicious, this frozen juice was refreshing and a perfect thirst quencher for a hot day. It was a little heavy, but not too sweet. Despite being heavy, it did not take away from the flavors of the the dishes. Definitively one that you should experience as part of the northern Peruvian cuisine.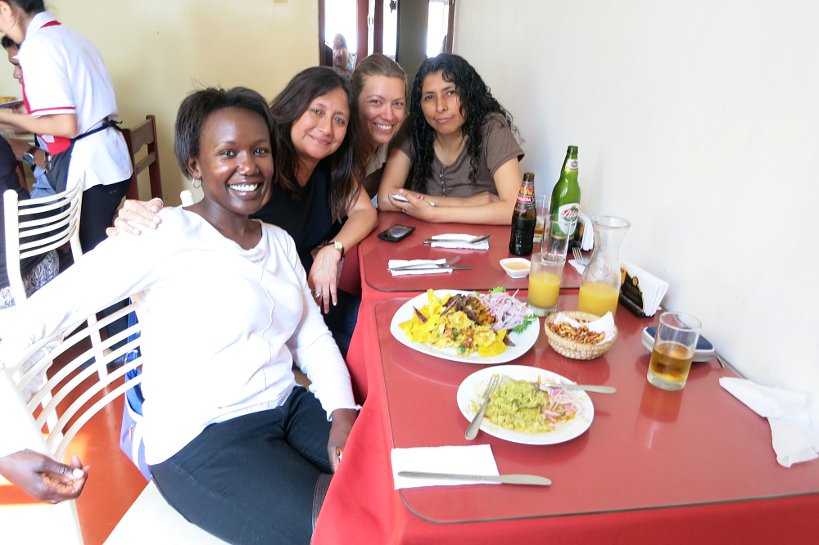 In Summary
The cuisine in Peru is incredibly diverse. Each region of the country has it's owns specialties and unique ways of preparing meals. The Peru northern cuisine is often overlooked by tourists who visit the country and hit the high points of Lima and Cusco (for Machu Picchu).  Being on the coast, Piura cuisine also includes seafood and the famous ceviche. Having talked about ceviche previously, we wanted to highlight the local and authentic specialities that we discovered and fell in love with. Our goal is to highlight the authentic and traditional specialities that are often overlooked, to help enhance your travel experience.
Please tell us: Of the dishes highlighted, which one is your favorite?
Savor The Adventure!
Location Mentioned
Los Piuranos, Orquideas 2682, Lince 15046, Lima.
Claire is co-founder of Authentic Food Quest and a lover of simple and exquisite cuisine. Since 2015, with her partner, Rosemary, she has been traveling the world as a digital nomad, creating content about local food experiences.
Her advice from visiting 45 countries and more than 240 food cities has been featured in Lonely Planet, Business Insider, Honest Cooking, Food Insider, and Huffington Post. She has also co-authored three books, including one in collaboration with Costa Brava Tourism.
An ex-mechanical engineer, Claire is responsible for SEO, keeping the website running, and the fun food & travel videos on YouTube.
When Claire is not eating, she can be found running or cycling. Find out more about Authentic Food Quest