Discovering the local foods of a region or country is a multi-layered effort. At Authentic Food Quest, we follow a process called, "Savor Local", which goes beyond simply eating the local foods.
One critical part of the process involves talking to local experts and getting their perspective on the important heritage dishes of their country.
When in the Philippines, attending TBEX, a travel blogger conference, we had the opportunity to meet with Anton Diaz. Anton is the founder of Our Awesome Planet, the #1 food and travel blog in the Philippines. We had dinner together to get his perspective on the local culture and the local Filipino dishes.
We're thrilled to share this interview about the top Filipino dishes not to miss in the Philippines, according to Anton, the # 1 food and travel blogger in the country.

Introducing Anton Diaz, Founder of OurAwesomePlanet.com
One of the things that really stood out to us in the Philippines was the friendliness and generosity of the Filipinos. Anton truly exemplified this.
We reached out to him with no expectations and were thrilled when he responded a few days later agreeing to meet with us. We felt really privileged because, in addition to running his successful food and travel blog, Anton was also heavily involved in organizing TBEX. However, within his busy schedule, Anton found time to meet and share his love for his country and its food.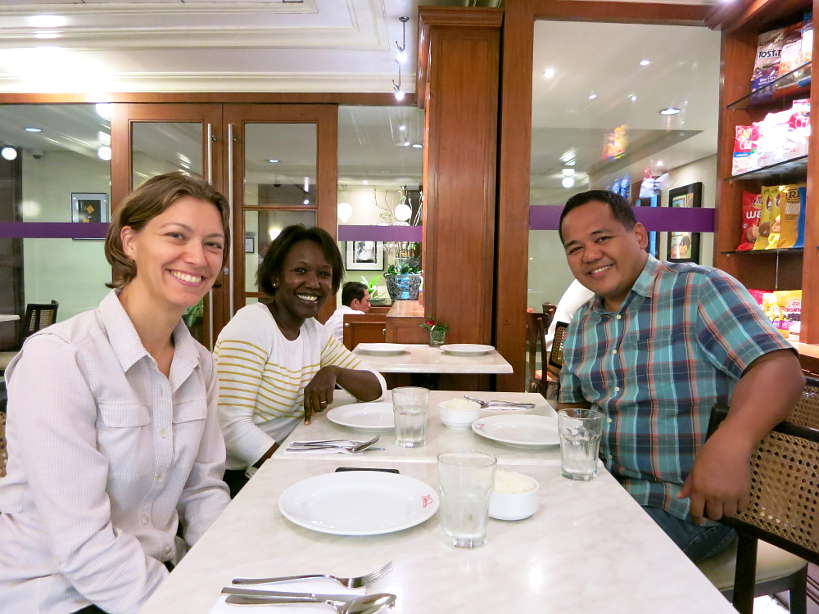 Anton founded his successful blog Our Awesome Planet, in 2005. The website showcases the best of food and travel destinations in the Philippines, Southeast Asia and beyond. Through the stories of the food and travel adventures of his family, Our Awesome Planet encourages visitors to visit and taste the very best of the Philippines.
Prior to our meeting, we visited Mercato Centrale, popular weekend night market in Manila where Anton is the co-founder. This was great opportunity to sample some of the very best street foods and regional foods from the Philippines.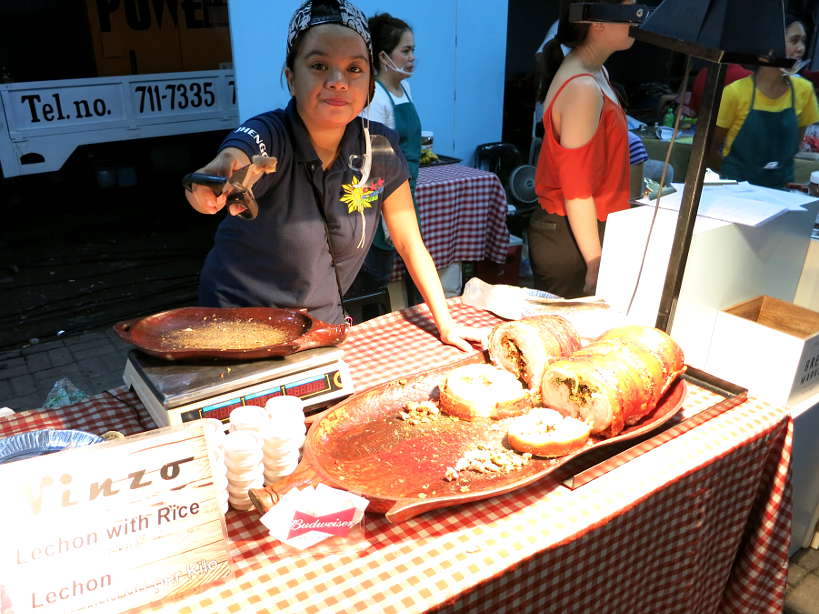 Milky Way Cafe
We met at Milky Way Cafe, a historical restaurant located in the heart of Manila, in the Makati Neighborhood.
Milky Way Cafe was originally an ice-cream parlor that opened in the 1950's. Later on, the new owner added homemade Filipino dishes to the menu and the cafe quickly grew in popularity.
Today, the Filipino chef and owner J. Gamboa, has cultivated a nostalgic 1950s/1960s atmosphere at the cafe. The menu includes a large selection of homemade classic Filipino dishes that have made Milky Way Cafe famous.
In the backdrop of this classic restaurant, we could not wait to dig into the menu and Anton's expert advice of the Filipino dishes not to miss.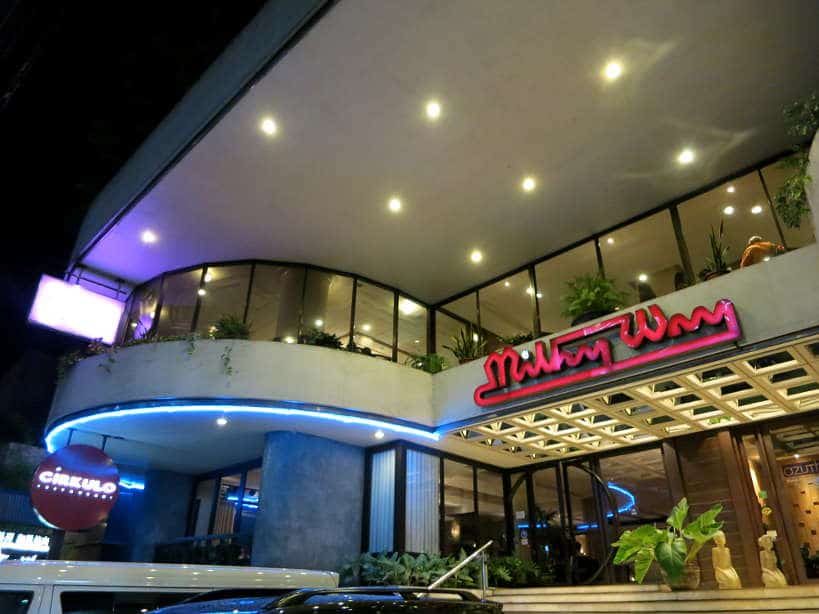 Top Filipino Dishes, Desserts and Street Foods Visitors to the Philippines Should Not Miss
Lechon – Suckling Pig
For Anton, visitors to the Philippines should not miss the famous "lechon." For those not familiar, lechon is literally roasted pig. In the Philippines, the whole pig is cooked over a pit filled with charcoal.
The pig is prepared in advance with seasoning placed on the inside, and the whole pig is cooked rotisserie style for 1.5 to 2 hours depending on its size.
We had heard so much about "lechon" that when we first arrived in the Philippines, we went immediately to Cebu City, where the best lechon in the Philippines is found.
Lechon from Cebu is truly spectacular and it has been described by Anthony Bourdain, the popular chef and TV personality as "the best pig ever."
According to Anton, what truly makes lechon in the Philippines stand out is perfectly cooked crispy skin.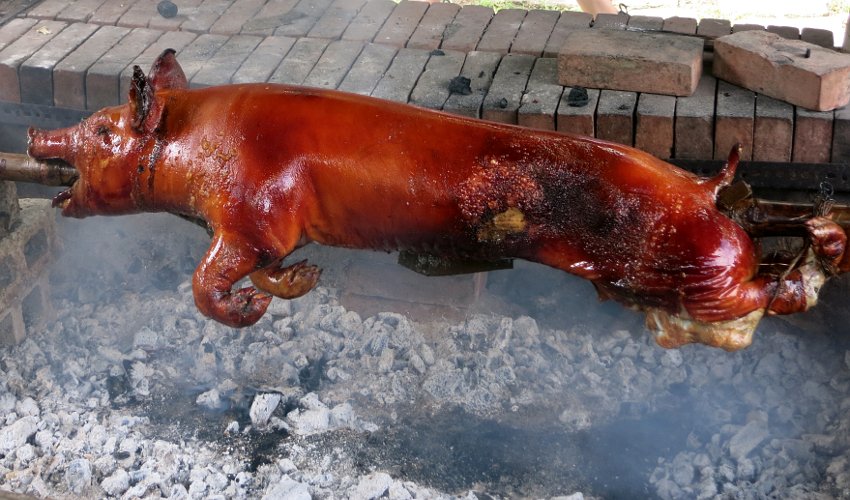 Sinigang – A Sweet & Sour Filipino Soup
This popular Filipino soup is characterized by its sour taste. Pronounced ("see-nee-gang") it is one of the most representative dishes from the Philippines, according to Anton.
The sour soup dish is prepared with tamarind and meats like pork, beef, chicken or seafood including fish and prawns.
Different vegetables such as kangkong (water spinach), taro, radish, string beans, okra, green chilies, tomatoes, onions, and eggplant are cooked in a clay pot with tamarind, the 'star' ingredient. It is the tamarind that gives it the distinctive sour flavors.
At Milky Way Cafe, we shared a big bowl of Sinigang Salmon soup, one of Anton's favorite dishes. We enjoyed the unique taste and complexity of flavors.
Heed Anton's advice and don't miss this soup in the Philippines.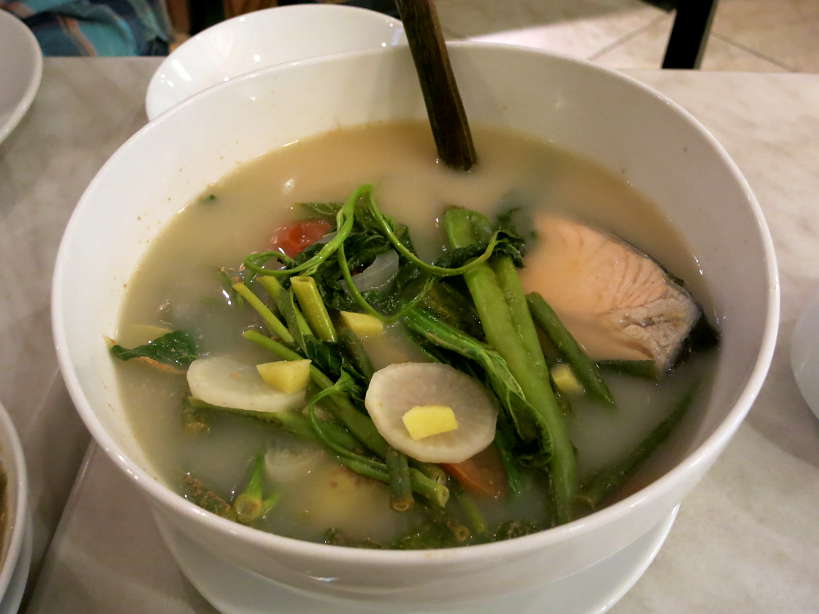 Dinuguan – Savory Pork Blood Stew
This Filipino dish might not be for everyone. But for Anton, it is one of his favorites and an experience for everyone to savor in the Philippines.
Dinuguan is a type of stew made from Pork and Pig blood. It is a savory stew where the pork simmers in a rich, spicy gravy of pig blood, garlic, chilies, and vinegar. The term Dinuguan come from the word dugo which means blood.
Anton talked about the popularity of this dish throughout the Philippines. It is one that is eaten on any occasion, from simple family gatherings to weddings.
Accompanying pork dinuguan is a type of Filipino rice cake called Puto. These steamed rice cakes are mild in taste which perfectly complements the dinuguan.
Claire grew up in France and we lived there together for several years. One of our favorite dishes are blood sausages, which are typically eaten around the holiday season. As such, dishes made with pork blood are not foreign to us and we thoroughly enjoyed the pork blood stew.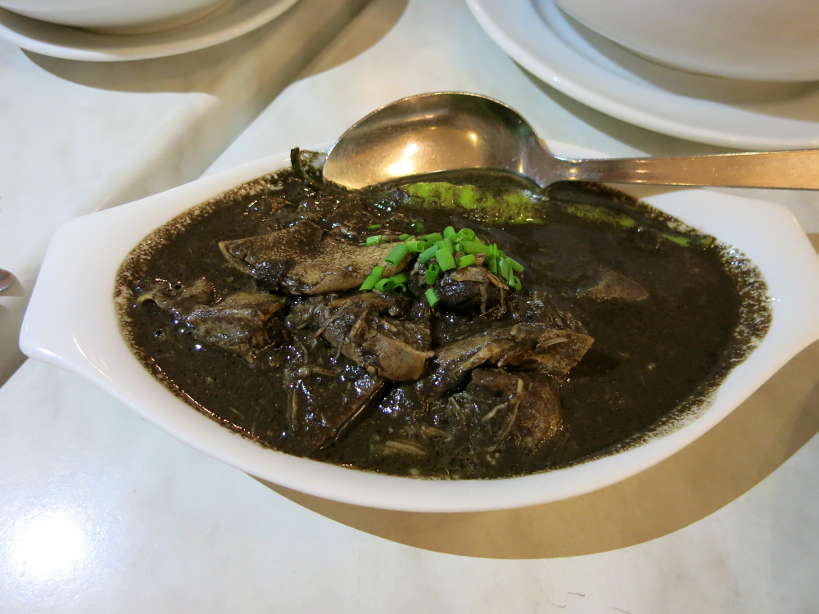 Halo-Halo: The Filipino Dessert You must Have
Although our stomach were getting full after so many delicious dishes, we could not miss one of the most iconic desserts in the Philippines, the Halo-Halo.
Halo-Halo is a colorful dessert made of shaved ice and evaporated milk to which are added various ingredients. Typically, these ingredients include boiled sweet beans, coconut, tubers, fruits and more.
Milky Way Cafe got it start as an ice-cream parlor and was at a time making as many as 22 different types of ice-cream. Milky Way has perfected its craft in making homemade ice-creams and is known to have the of the best Halo-Halo in Manila.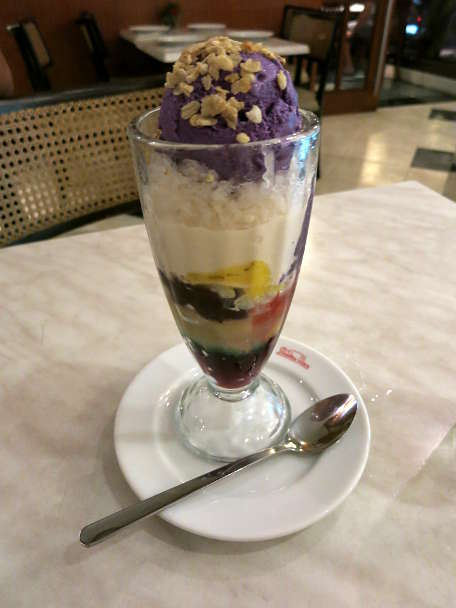 Halo-Halo first became popular in the U.S. after it was named one of the top Filipino dishes on the TV Show "Top Chef" in 2008. It has continued to grow in popularity since then.
You definitely want to leave room for Halo-Halo dessert when dining at Milky Way Cafe.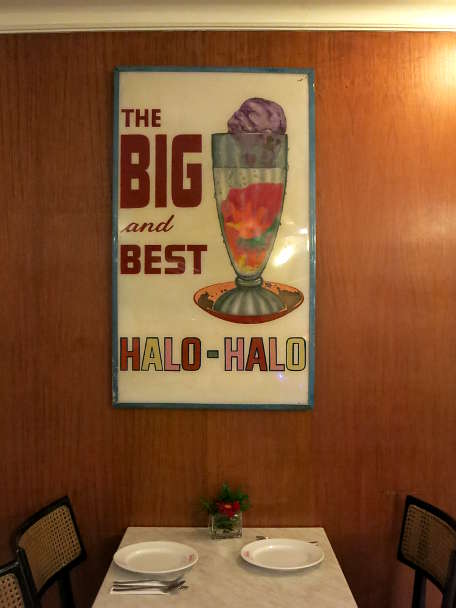 The Halo-Halo at Milky Way was one of the best we had. Not too sweet, it had a nice balance of ingredients and the succulent Ube ice-cream made the rest! If you're not familiar with Ube, it is simply purple yam.
In the Philippines, Ube is used in many desserts. We had it for the first time at Milky Way Cafe and loved it.
Filipino Street Foods Not to Miss If You Dare
Isaw – Chicken Intestines on a Stick
Anton introduced us to Isaw, a famous street food in the Philippines. It is made out of chicken or pig intestines grilled on a stick and dipped in vinegar or spicy sauce.
You can easily recognize it by its undulated shape on the stick. The best is to eat it freshly cooked from a popular vendor.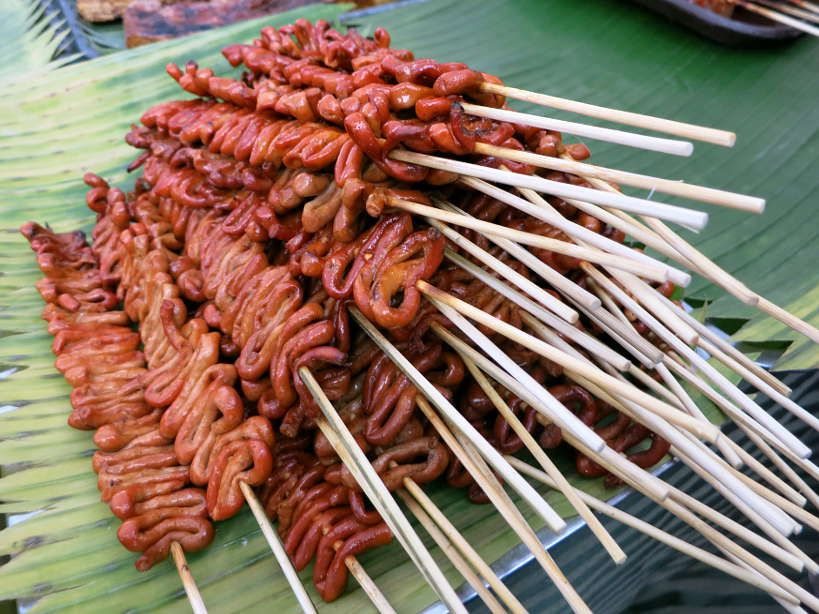 Balut – The Controversial Filipino Street Food
Balut is another popular and famous Filipino street food. Balut is a developed duck egg boiled and eaten in a shell. The embryo typically develops from 14 to 21 days before being boiled.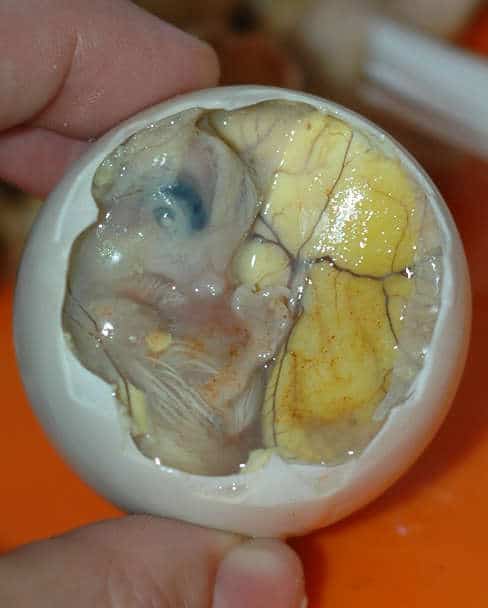 The number of days is a matter of preference. Filipinos who rave about balut will tell you at how many days you should eat the balut for the best taste.
However, when you eat from a street vendor, there is no real choice. You usually get the balut of the number of days that the vendor has. That's how we first tasted balut on the streets of Manila. In the short video below, see our reactions to trying balut for the first time.
We personally didn't like it. The texture was very chewy and hard and there was no particular taste. We were told afterward that we had probably eaten an old egg.
It is generally recommended to eat balut with a lot of beer, which certainly helps to wash it down!
The Future of Filipino Food – The Next Big Trend in The U.S.
The future for Filipino food is bright. According to Anton, more Filipino dishes are being exported and growing in popularity worldwide. Popular Filipino dishes like lechon and halo halo are available in many cities across the U.S. as well as more and more Filipino restaurants opening up.
Growth of Filipino Dishes According to Andrew Zimmern
In a recent interview, Andrew Zimmern, chef and host of "Bizarre Foods with Andrew Zimmern" talked about the growth of Filipino food in the U.S.
In particular, he talked about the growth of Filipino dishes due to the European culinary heritage, use of high quality of ingredients and the unique combination of flavors. Click to see this short video (with footage from Authentic Food Quest) for more about why Filipino food is the next big thing in America.

In Summary
In closing, meeting with Anton and learning about the Philippines culinary heritage and Filipino dishes was a wonderful opportunity. It was great to get a local's perspective as well as sample some of his favorite foods. In the video below, listen as Anton describes the top Filipino dishes not to miss on your travels.
The food in the Philippines covers a diverse range of flavors and taste profiles and the Filipino dishes recommended by Anton are a great place to start your exploration.
If you want to add Filipino flavors to your daily food routine, check out the dishes and snacks on the Authentic Food Quest Store page.
Learn how to make popular Filipino dishes from the popular cookbook by Filipino chef Claude Tayag and his wife: Linamnam: Eating One's Way Around the Philippines.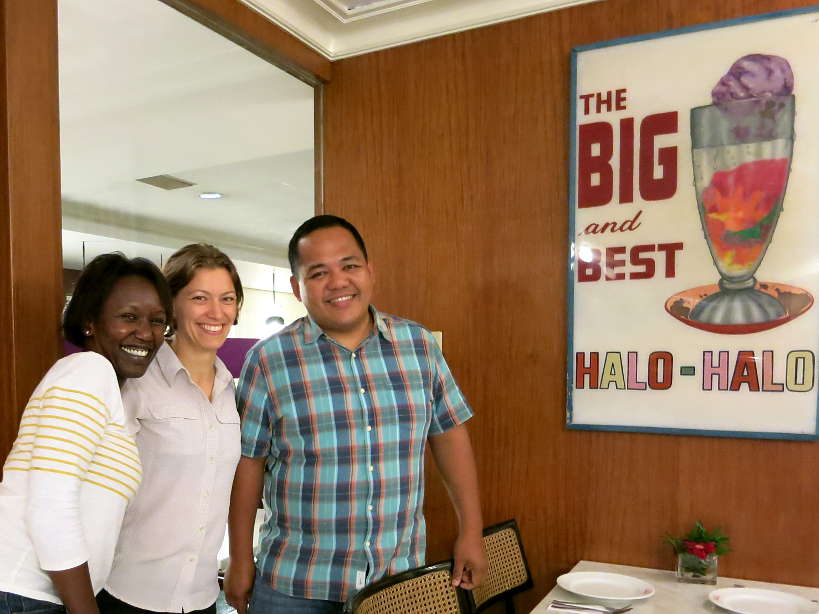 Practical Information
Address: Milkyway, 900 Antonio Arnaiz Ave, Makati, Manila
Hours: Everyday from 11am to 10pm except on Sundays: 2pm to 10pm
Prices: About 300 to 800 Philippine pesos per dish – (from $6 to $15 USD)
Anton Diaz
Founder of Our Awesome Planet, the #1 Food and Travel Blog in the Philippines.
In the comments below, tell us, would you rather try Anton's recommended Filipino street foods or the Filipino dishes at the Milky Way Cafe?
Savor The Adventure!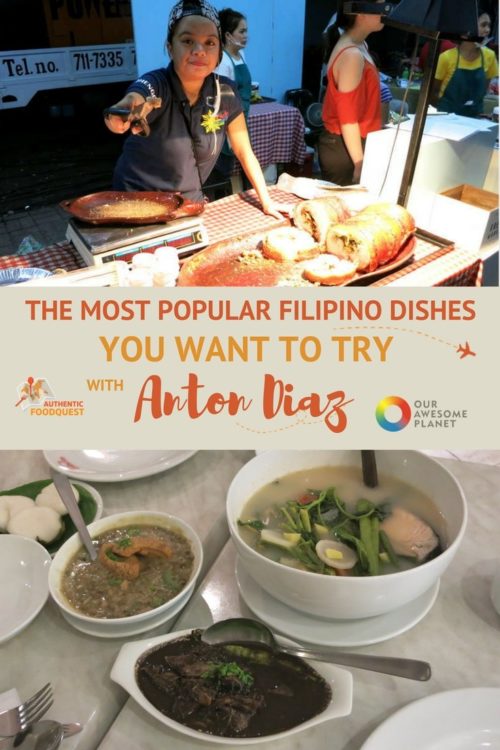 Disclaimer: This page contains affiliate links. That means at no extra charge to you, we earn a small commission when you purchase using these links. Please note we only link to products and services that we personally use or trust. Thank you for your support.
Rosemary, ex-marketing and advertising strategist, is a digital nomad and content creator at Authentic Food Quest. Since 2015, with her partner, Claire, they travel the world in search of the best local food experiences. Their mission is to help you enjoy the best local specialties on your travels or via recipes in your home kitchen. Favorite country for food: Peru. Favorite local dish: Bacalhau. Favorite way to keep fit: Running. Rosemary is the chief content writer and strategist on Authentic Food Quest. She is also co-author of Authentic Food Quest Argentina and Authentic Food Quest Peru, available on Amazon.