This article has links to products and services we recommend, which we may make a commission from.
Finca Chelin opened our eyes to the depth and nuances of Mexico coffee. While in Oaxaca, exploring the local specialties, we were intrigued by the coffee shops and cafes all over the city.
Oaxaca is one of the most important regions for Mexican coffees. And to better understand Oaxaca coffee we had the opportunity to meet Enrique López of Finca Chelin.
Finca Chelin is considered one of Mexico's extraordinary coffees. And Enrique López is recognized as one of the most creative coffee producers in the world.
I am not a coffee snob and Claire doesn't even drink coffee. However, our conversation heightened our appreciation for coffee in new ways.
Like wine, coffee is complex and speciality coffee like Finca Chelin, even more so. The care and attention that specialty coffee results in superb notes and flavors.
Get a glimpse into the future of Mexican and Oaxaca coffees with pioneer, Enrique López of Finca Chelin.

Mexico Coffee
Coffee Production in Mexico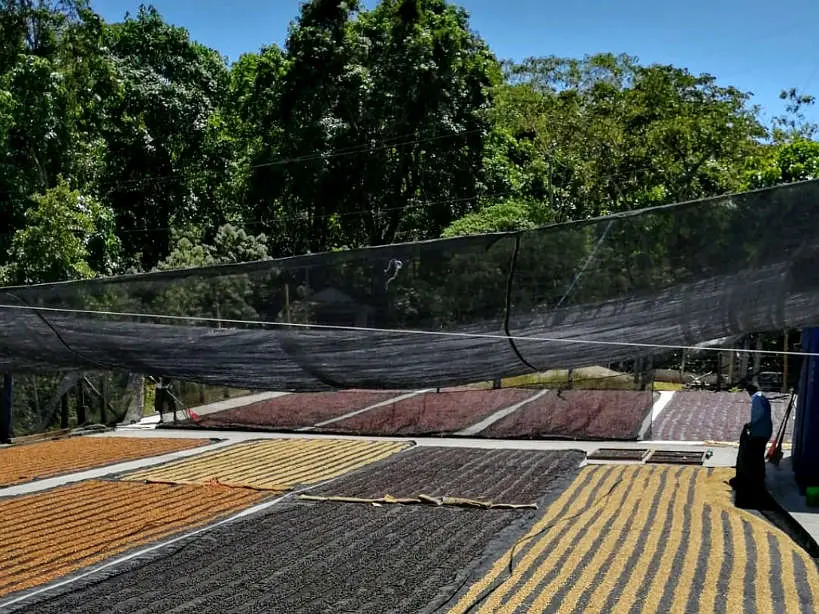 Mexico is among the top 10 coffee producing countries in the world. And, the country is also the largest supplier of coffee beans to the United States.
Most Mexican coffee farmers are small producers with less than 10 hectares of land. The farms are privately owned and the work of picking the beans and drying is carried out by hand.
As a result, the majority of Mexican coffee is organic and Mexico is one of the leaders in the production of organic coffee.
Mexican coffee tends to be Arabica coffee growing at high elevations of 900 meters or higher above sea level. Coffee grown at higher elevations is typically of higher quality.
Specialty coffee like Finca Chelin, grows at an altitude of 1,700 meters. The coffee, we learned, is shade grown and free of fertilizers and herbicides.
The magic comes through with Enrique's continuous experimentation in fermentation, washing, and drying processes to produce superior balanced tastes.
Mexican Coffees Taste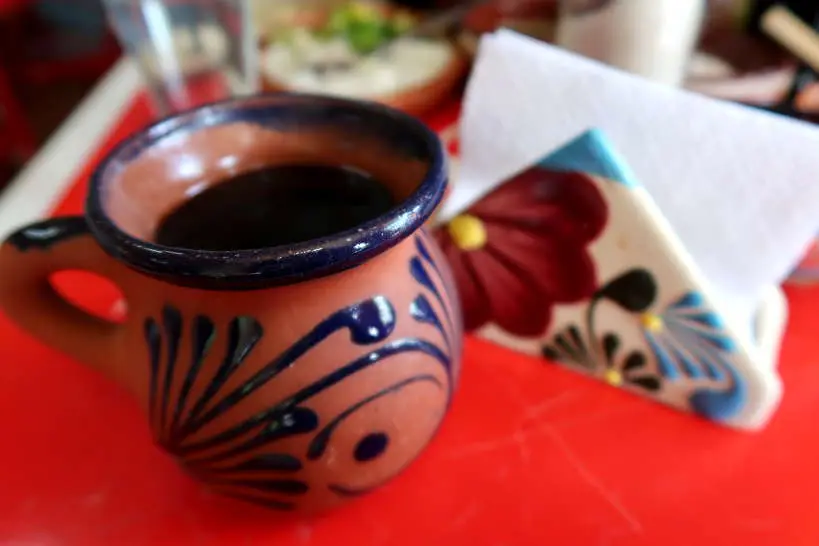 In general, Mexican coffees tend to be mild and light- bodied with subtle flavors. Because of their delicate light flavors, Mexican coffees are a popular choice for blending to create complex and flavorful coffees.
Throughout our stay in Mexico, I tried several Oaxaca coffees and I appreciated the delicate nuances of each one.
Coffee experts describe Mexican coffees as having a delicate body with an acidy snap. Similar to fine white wine.
AUTHENTIC FOOD QUEST TIP: If you are a coffee lover, considering taking a tour of the world's top coffee producing regions. Try chocolaty coffees from Latin America. Earthy Sumatran blends. And, vivid fruit forward African roasts when you get a World Coffee Tour Box from Bean Box. You'll get tasting notes, brewing tips and free shipping with micro-lot coffees from around the world.
Mexican Coffee Culture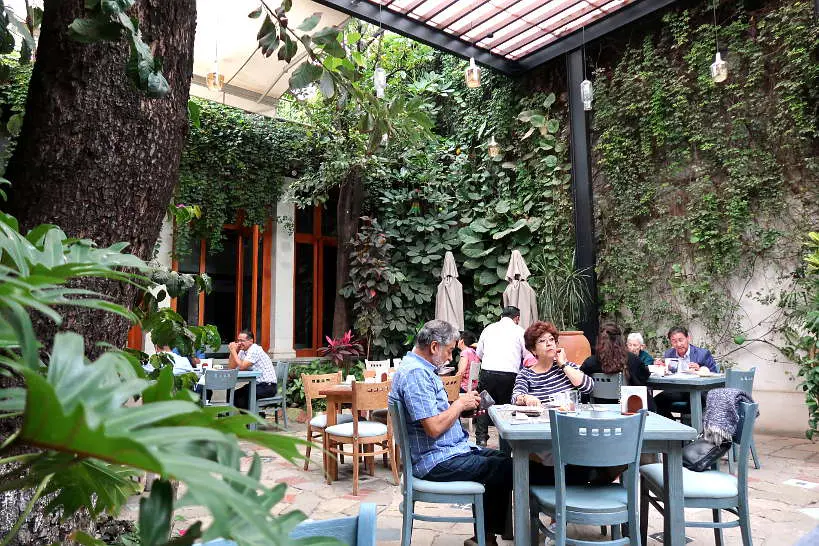 When we first arrived in Mexico, we were struck by the high number of coffee shops all over. In Mexico City, it seemed like there was a coffee shop on every corner.
In the smaller cities of Guadalajara and Oaxaca, I experimented with different Mexican coffees and enjoyed amazing flavors.
The Mexican coffee drinking culture has evolved over the years. The most common hot drinks, particularly in traditional communities have been hot chocolate or tea.
All over Mexico, people drink their coffee in a variety of ways. Some like it black while others add milk and sweeteners.
Café de Olla is one of the ways coffee is enjoyed in Mexico. It is an experience and a way to learn about traditional Mexican coffee.
In this case, Mexican coffee is brewed in a clay pot with cinnamon and piloncillo or unrefined cane sugar.
In general, coffee shops all over Mexico offer excellent specialty coffee using the latest brewing techniques and blends.
Coffee has deep roots in Mexico and its heritage is celebrated in each cup.
READ MORE: The Best Guide to Chocolate in Oaxaca
Best Regions for Mexico Coffee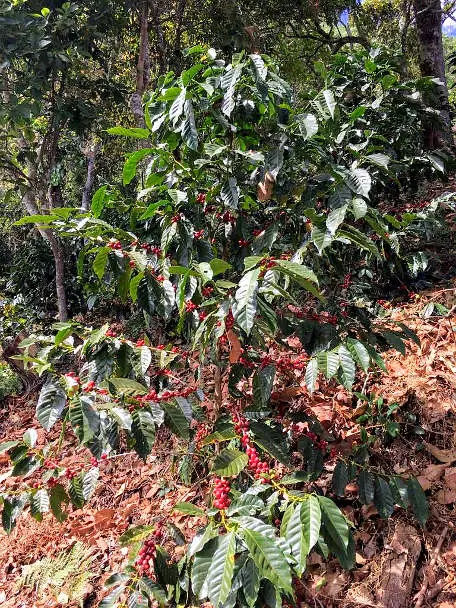 Coffee grows in several states in Mexico though the main regions are the states of Veracruz, Chiapas and Oaxaca.
Here is a brief overview of the three main Mexican coffees coming from these regions.
Mexican Veracruz Coffee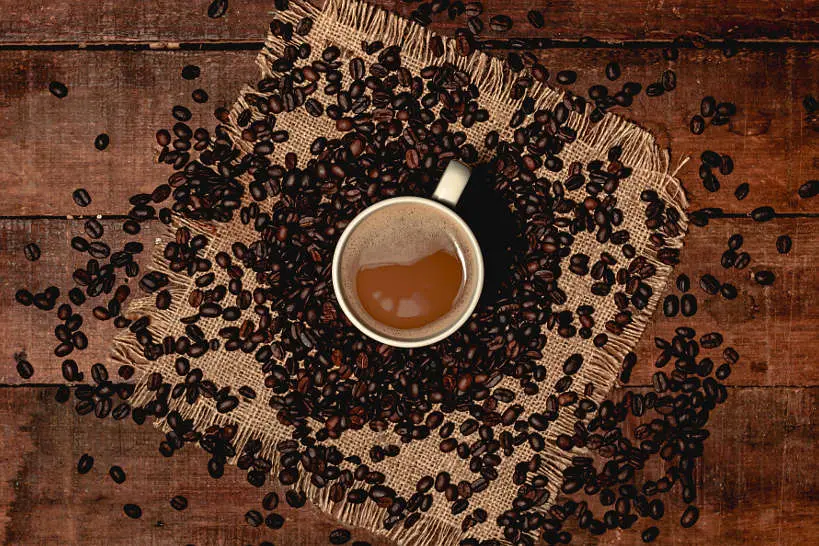 Veracruz was the first region in Mexico to produce coffee since it was introduced in 1790. The coffee beans from the state are famous for their outstanding body, aroma, and flavors.
Within Veracruz, the small town of Coatepec is distinguished for its coffee. It is nicknamed "The Capital of Coffee" in Mexico because of its exceptional coffee beans.
Today, more coffee is produced in Chiapas and Oaxaca, but Veracruz remains a significant coffee region.
To taste Veracruz coffee, have it delivered to your home from Amazon.
Mexican Chiapas Coffee
Mexican coffees grown at high altitudes in Chiapas are often considered the country's best.
Nearby volcanoes provide fertile nutrient rich soil to the coffee.
Chiapas is the southernmost region in Mexico and it shares borders with Guatemala to the west, and Oaxaca to the east.
Chiapas coffee from Tapachula is highly regarded and said to rival the complexity of Guatemalan coffee. This coffee is distinguished for light medium body and delicate flavors.
Try Chiapas coffee from Tapachula at home when you order it here on Amazon.
Mexican Oaxaca Coffee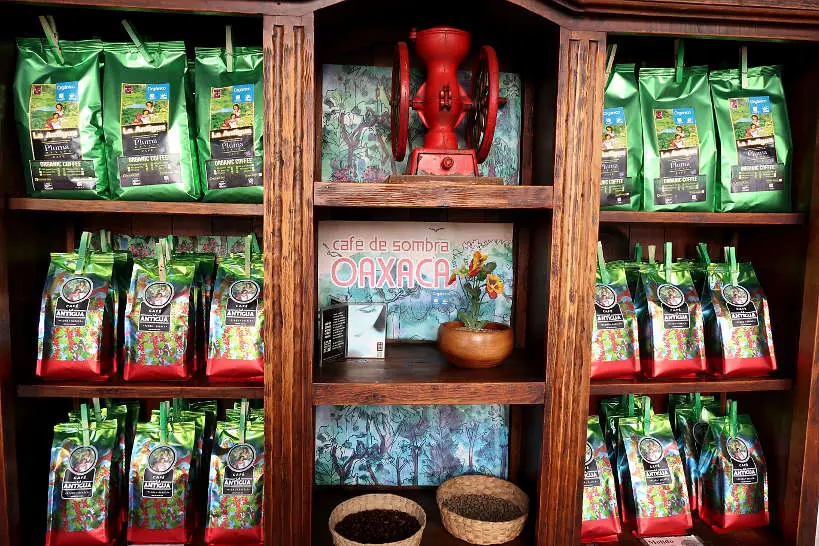 Being in Oaxaca, I really got to discover and enjoy Oaxaca coffees. The coffee in the state is produced in the mountainous regions of the Sierra Norte, the Sierra Sur and the Mixteca.
The mountain ranges provide rich soil and cool climate for great coffee bean growing conditions. Oaxaca coffees tend to be sweet with caramel overtones with notes of yellow fruits, a creamy body, and floral hints.
Pluma, a region of Oaxaca, has a rich history along with incredible coffees. The city of Pluma Hidalgo produces one of the most coveted premium coffee beans named Pluma coffee after the city.
Oaxaca coffees are highly regarded and you can find Oaxaca Pluma Hidalgo on Amazon.
RELATED: Oaxaca Foods: Your Best Guide To The Most Authentic Food & Drinks
Diving Deep Into Oaxaca Coffee with Enrique López at Finca Chelin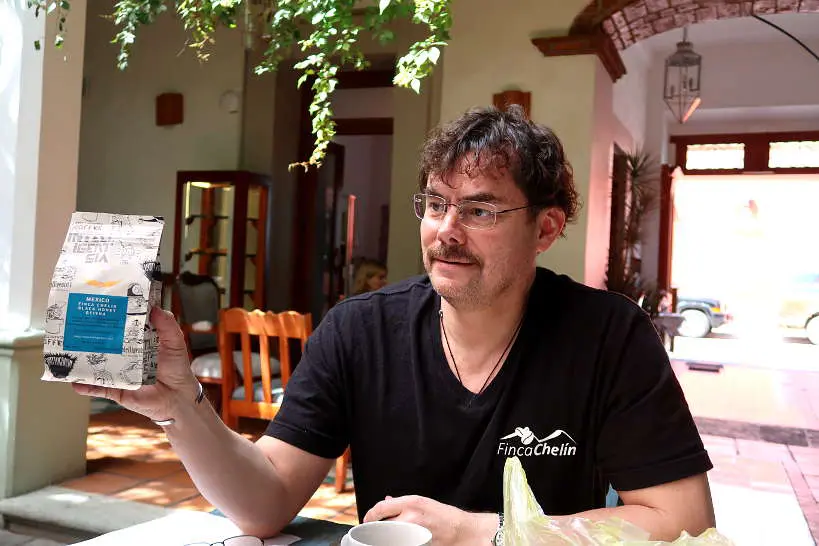 A passionate and incredibly humble entrepreneur, Enrique López, of Finca Chelin helped us understand Mexican coffees and specifically, Oaxaca coffee.
Our meeting took place at Casa Vertiz, a charming boutique hotel in Oaxaca's center. The hotel, owned by Enrique's sister, was at first a coffee shop before being converted into a hotel.
The intimate hotel with 14 rooms celebrates coffee heritage with the naming of the rooms, decor and paintings.
Together with Enrique and his son Alex, we talked about Finca Chelin, Oaxaca coffee, and Mexican coffees in general.
Finca Chelin Coffee Farm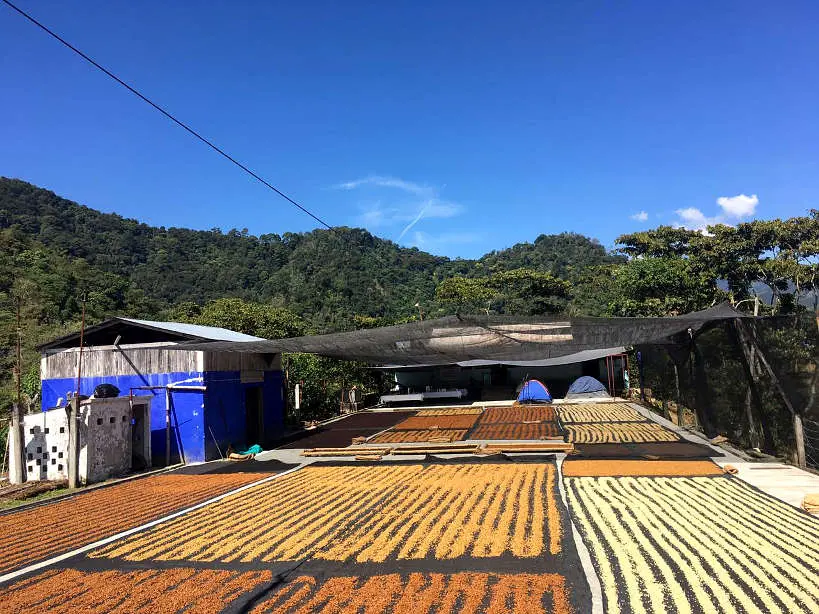 Even though Enrique came from a family of coffee growers, he had no interest in the coffee business. But that all changed in 2000, when his father passed away.
Coffee, we learned, was a family tradition. Enrique's maternal grandmother founded an Oaxaca coffee farm in 1910. And later, his father opened coffee farms in Veracruz in 1956 and Chiapas in 1986.
"My background was in commercial aviation and finance," he told us. And when his father died, his family asked him to visit his father's farms and decide if he wanted to manage them.
Rather than build on his father's dream, he decided to let his brothers manage the farms and create his own.
In Candelaria Loxicha in Oaxaca, where his mother's family was from, he bought 50 hectares of land in 2002. In 2013, he launched Finca Chelin, his own brand of coffee ready for the market.
The name "Chelin" he told us was his mother's nickname. He named his Oaxaca coffee farm in her honor.
Finca Chelin – One of the Best Mexican Coffees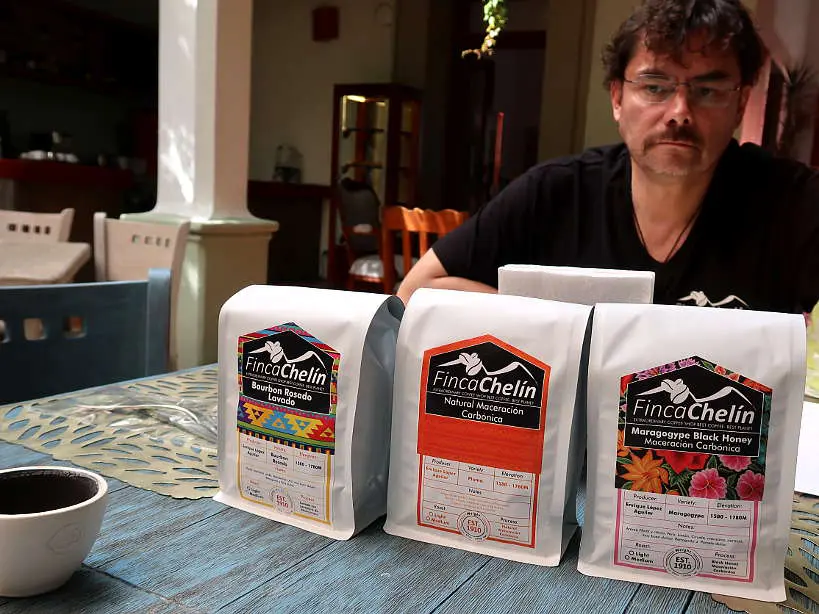 Quality, not volume, is what distinguishes Finca Chelin coffees. Big coffee producers like Brazil and Vietnam do not necessarily produce the best coffee, Enrique told us. Smaller producers have more quality control.
"It's analogous to producing body lotion versus perfume", he added. "I like to produce coffee perfumes".
Enrique López is one of Oaxaca's most successful coffee farmers. He is also recognized by many, including Intelligentsia Coffee, as one of the most creative coffee producers in the world.
The coffee beans from Finca Chelin, we learned are of the highest grade, known as Speciality Coffee. This is the prime pick of coffee and it comprises only 3% of all the global coffee.
To achieve this status, the coffee goes through a rigorous classification meeting incredibly strict standards.
Throughout our discussion, we were sipping on Finca Chelin coffee. The more we talked and learned about the coffee, the better it seemed to taste.
"Finca Chelin coffee beans", he told us "are carried by two of the world's top specialty coffee producers. Chicago based, Intelligentsia Coffee and Toby's in Australia."
The coffee is Direct Trade, which is coffee bought by the roaster directly from the producer. This is part of the Third wave coffee culture about coffee's origin and impact on the cup.
Enrique and Finca Chelin are pushing the boundaries of coffee flavors. More than 20 varieties including Marogogype, Bourbon, Geisha, Pluma Oaxaca coffee, and more, are produced at present.
Inovacafé – Empowering Small Mexican Coffee Producers
One thing that impressed us about Enrique is his vision to make Mexico known as one of the best producers of coffee.
He wants to use his success to put Mexico coffee on the world map. "There are a number of small farmers that cultivate coffee above 1500 metres above sea level", he told us. "And these farmers produce extraordinary coffees, including beans for Finca Chelin."
To help these small farmers, Enrique created Inovacafé where he helps small producers command higher prices. These small producers are mostly women, and as Enrique described them as "having a rough diamond."
The courses and workshops help them better optimize their techniques for growing and harvesting and ultimately commanding higher prices.
Where To Buy Finca Chelin Coffee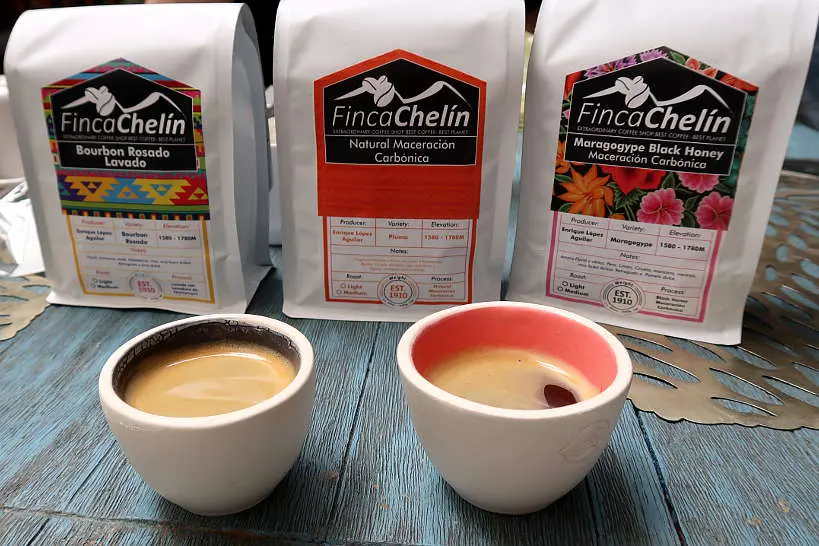 At the end of our conversation, Enrique graciously offered us three different Finca Chelin coffee varieties to try. Over the following weeks, I enjoyed the nuances of the flavors and notes in each one.
The coffees are on the medium end and perfect as I don't take sugar or cream in my coffee.
Almost every time I'd brew a cup of coffee, Claire, a non-coffee drinker, would be seduced by the aromas and indulge in a small cup. Finca Chelin is now my favorite coffee and the standard by which I judge other coffees.
In our opinion, the best place to enjoy Finca Chelin coffee is in Oaxaca. However, you can also find Finca Chelin at Intelligentsia Coffee stores.
In Oaxaca, restaurants like Las Nubes at Casa Vertiz, Itatoni, Lula Cafe, Casa Convite are some of the places where you can try it.
And, if you are in Mexico, Finca Chelin ships all across the country. Contact them here directly to order your Finca Chelin coffee.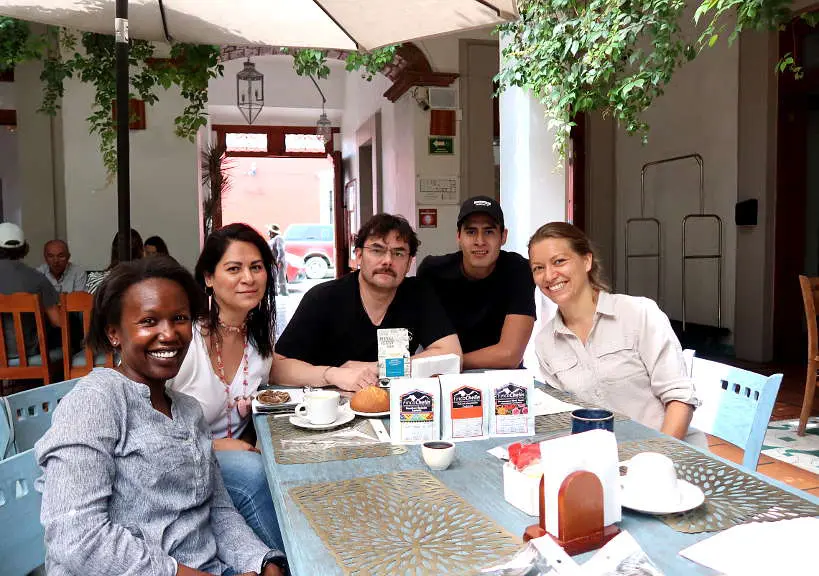 RELATED: Authentic Oaxaca Restaurant Guide – Top 14 Restaurants You Want To Try in Oaxaca
Love it? Pin it!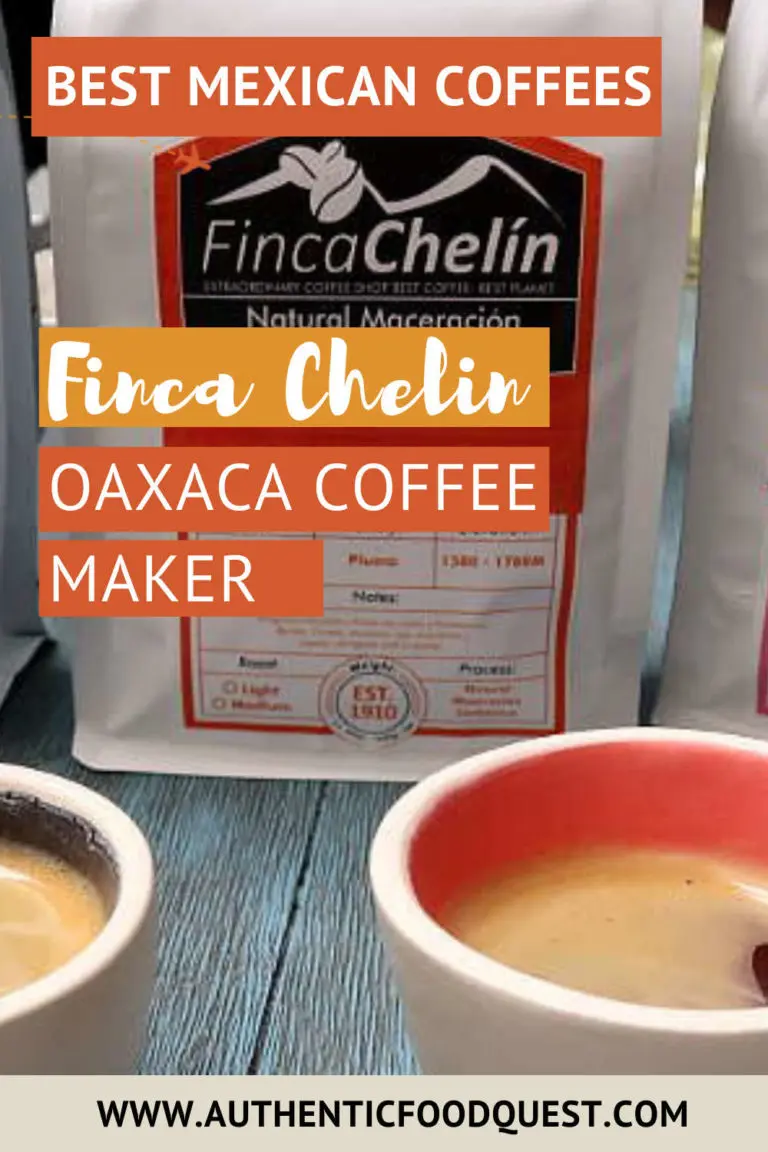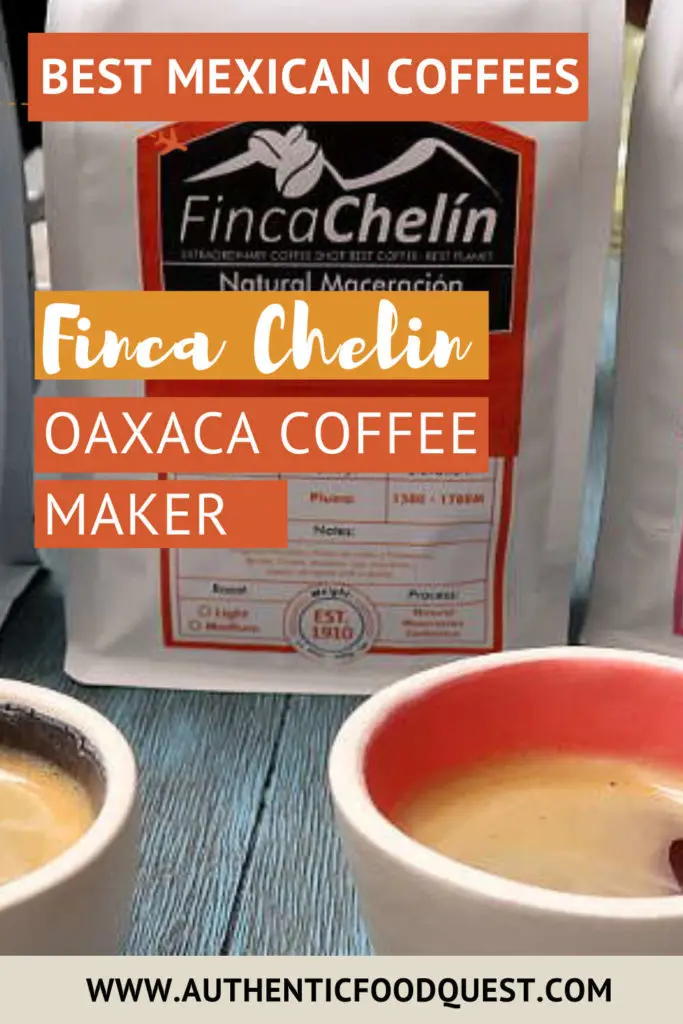 Special thanks to Enrique López and our friend Maggie Roberts for introducing us to Lalo of Cafe Revueltas, who facilitated the interview.
Rosemary is the editor-in-chief and strategist at Authentic Food Quest.
Traveling slow since 2015 with her partner, Claire, she has explored the cuisine in 45 countries and more than 240+ culinary cities.
Her writing about local food specialties has been featured in Lonely Planet, Business Insider, Honest Cooking, Food Insider, and Huffington Post.
As a food and travel writer, Rosemary has co-authored three books, including one in collaboration with Costa Brava Tourism.
Rosemary is an avid runner when she's not eating and exploring new destinations. She has run ten marathons and counting.
Before Authentic Food Quest, Rosemary held senior-level strategy positions in advertising. 
Find out more about Authentic Food Quest