Have you heard of Floribbean cuisine?
Neither had we until we took a Taste History Culinary Tour of Historic Palm Beach County.
Floribbean, we learned, is a "portmanteau", a combination of two words, Florida and Caribbean.
No doubt you've heard of dishes like key lime pie, conch fritters, mango salsa, various types of rice and bean dishes, arroz con pollo (chicken with rice), jerk chicken, and certain seafood gumbos and salads. These are all part of Floribbean cuisine.
Floribbean cuisine represents cuisines that evolved in Florida, migrated to Florida or immigrated to Florida. The cuisine takes the elements from Latin America, the Caribbean, Africa, Europe and Asia.
The roots of Floribbean cuisine can be traced back to the exploration of the New World by the Spanish. Today, the cuisine is popular in South Florida and slowly making its way into mainstream America.
We heard about Taste History Culinary Tours from our friend Vicky, who writes at Buddy The Traveling Monkey. When she told us the tours focus on local foods at off the beaten path restaurants we were immediately intrigued.
In this article, we take you on a culinary journey through Delray Beach and Boynton Beach, Florida. Join us and discover Floribbean cuisine and the emerging local art scene.

A Taste History Culinary Tour
Taste History Culinary Tours is a non-profit organization and the educational program of the Museum of Lifestyle & Fashion History. Lori Durante, the Executive Director and native of Florida, runs the historical and culinary tours and is a wealth of knowledge.
Three different tours are offered – West Palm Beach, Lake Worth & Lantana, and Delray Beach & Boynton Beach. In general, the tours cover about 500 years of Florida history, punctuated with visits to emerging arts districts and off the beaten path local restaurants, featuring cuisines that have shaped the Florida culinary landscape.
Tours are held year-round on Saturday's and last about 3 to 4 hours. The tours are a combination of bus riding and walking. At least four to five local and family owned restaurants are visited as well as three to four emerging art galleries and art districts.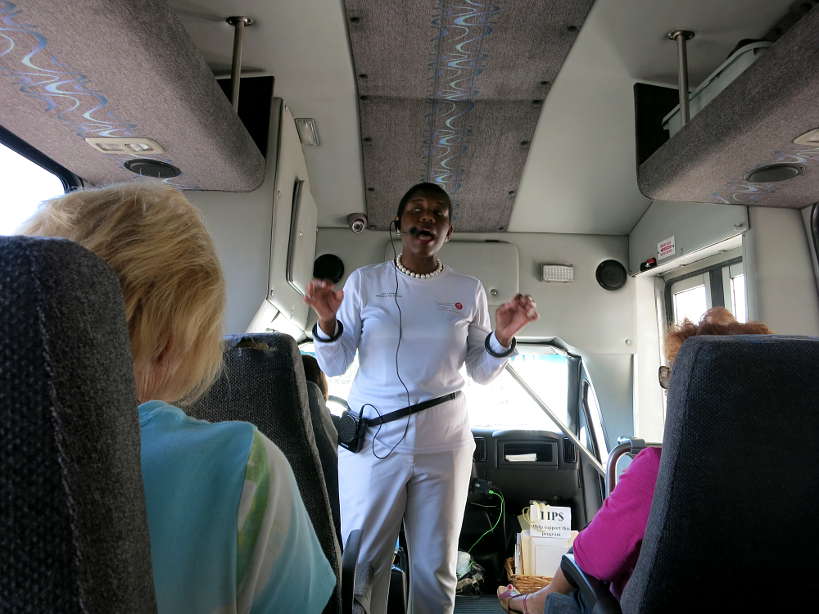 Discovering Delray & Boynton Beach with Taste History Culinary Tours
We met our tour guide extraordinaire Lori, and the tour bus at 10:45 am in front of Macy's at the Boynton Beach Mall to begin our culinary adventure. It was a small intimate group with a group of four ladies who had recently relocated to the South Florida area.
On the way to our first stop, and in that time, Lori gave us a brief history of the area. We learned about the arrival of the Spaniards to Florida, the pioneer Seminole Indians and African-Americans, the early White settlers and the development of Boynton Beach.
Fresh Seafood in Downtown Boynton Beach at Hurricane Alley
The first tasting was at a local seafood restaurant in Downtown Boynton Beach, on the Avenue of the Arts District.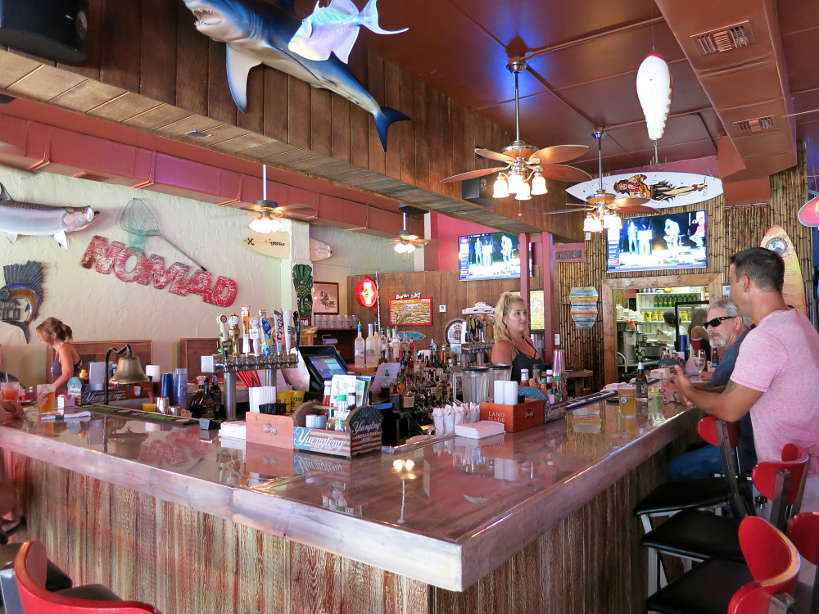 Hurricane Alley Raw Bar & Restaurant combines an eclectic decor with fresh seafood. Their specialty is the smoked tuna dip that is smoked in-house. Served with the dip was a calamari seaweed salad with tricolor pasta and a seafood bisque. The food was really fresh and tasty.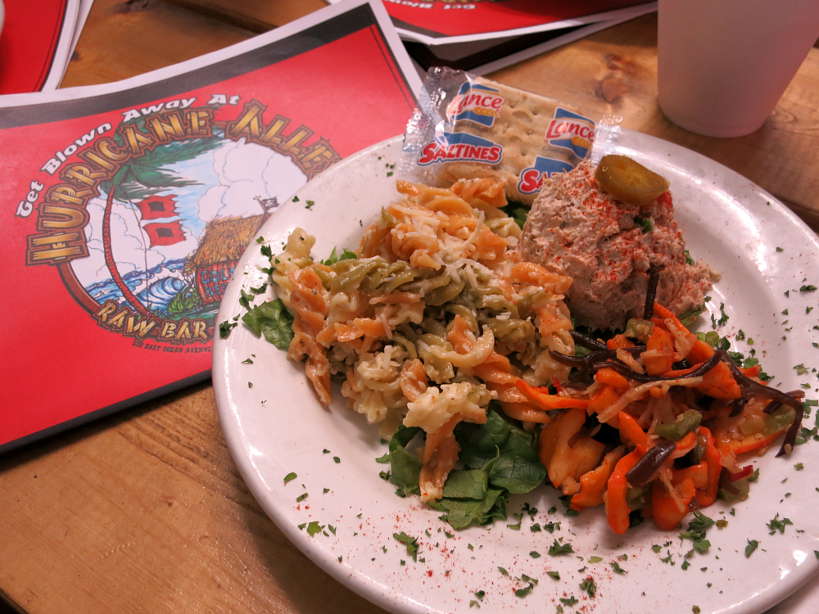 In addition to the local seafood, they have a few signature Floribbean dishes such as Conch fritters or fried shellfish cakes. We had to wait for our next stop to try this shellfish dish.
Hurricane Alley also can organize fishing trip for their customers on a boat called the Sea Mist. The fun part is that if you happen to catch a fish, they'll cook it for you!
Amanda James Gallery – Boynton Beach Avenue of the Arts District
We took a short stroll past kinetic sculptures on our way to the colorful Amanda James Gallery. Amanda's passion and energy greeted us as soon as we walked into her gallery. Adorning the walls and every inch of square space was art work, pillows, scarves, dresses and more.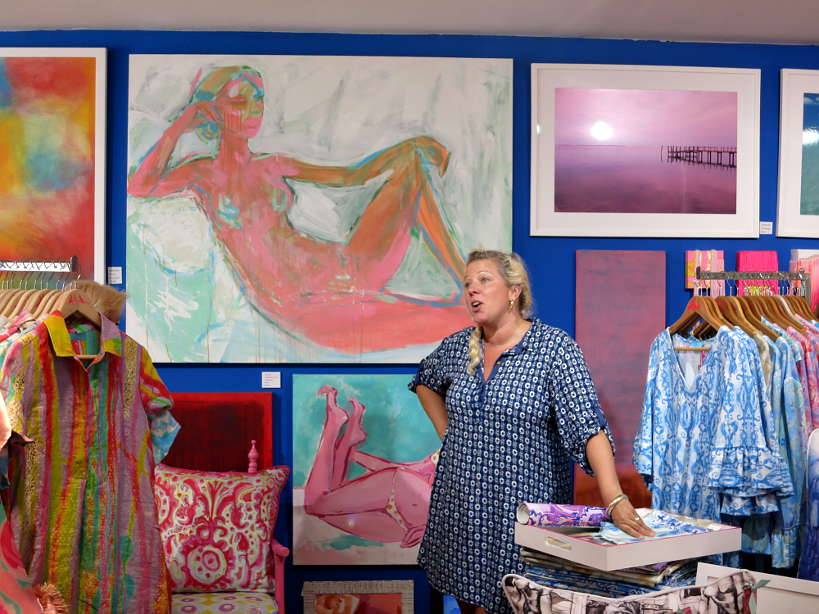 A very talented artist, it was inspiring to hear her story and commitment to the arts and the Boynton Beach community.
Floribbean Barbecue at Troy's Barbeque
Troy's Barbecue, a brand new restaurant serving Floribbean style barbecue was the second food stop. We met Troy, the owner who got started cooking in his mother's backyard for about 20 years.
He told us about his grilling techniques and popularity of his ribs. He attributes his success to the consistency of his grilling. Over the years, Troy has refined and perfected his grilling technique, cooking meat slowly over charcoal using hickory and oak wood. The wood gives his meat its signature smoky taste.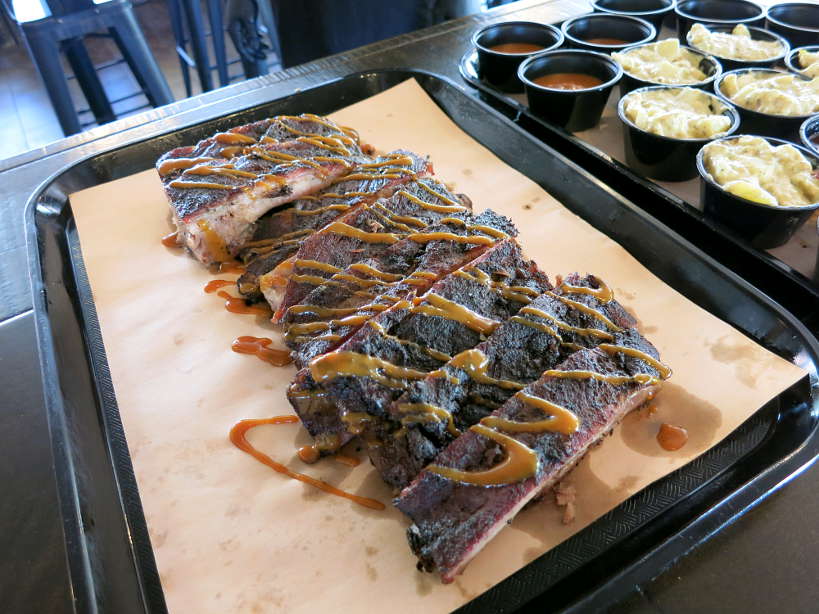 To accompany the ribs, we were served beans cooked in a sweet homemade sauce and a potato salad. The pork ribs were tender and falling off the bone. The potato salad was fresh and creamy while the beans had a sweet flavor, that was really tasty! Troy also makes his own rib sauce to accompany the meat.
Before we left, Troy had us taste his homemade conch fritters. We were eager to try this Floribbean specialty after our first seafood stop.
This dish comes from the Bahamas, where conch, a shellfish, is mixed in a spicy batter and then deep fried before being served. Although greasy, it is truly delicious! The conch is served as a soft patty and the filling simply melts in the mouth.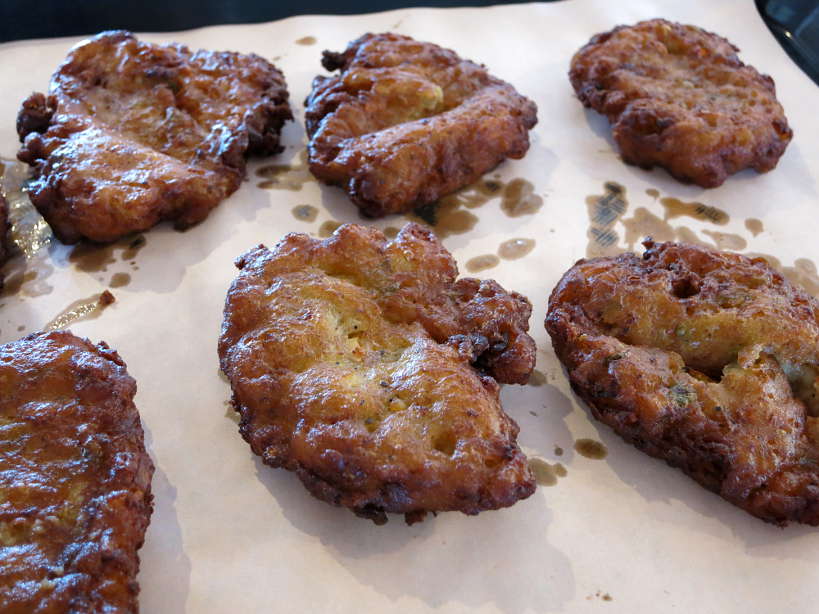 Floribbean Latin Fusion At Cabana El Rey
For a fusion of Latin flavors, we stopped into Cabana El Rey restaurant in downtown Delray Beach. This Nuevo Latino restaurant includes different flavors from across Latin America and the Caribbean.
The staff welcomed us warmly as we took our seats around the table. The tasting kicked off with the flavors of Peru and specifically Pisco Sour made with chicha morada (purple corn).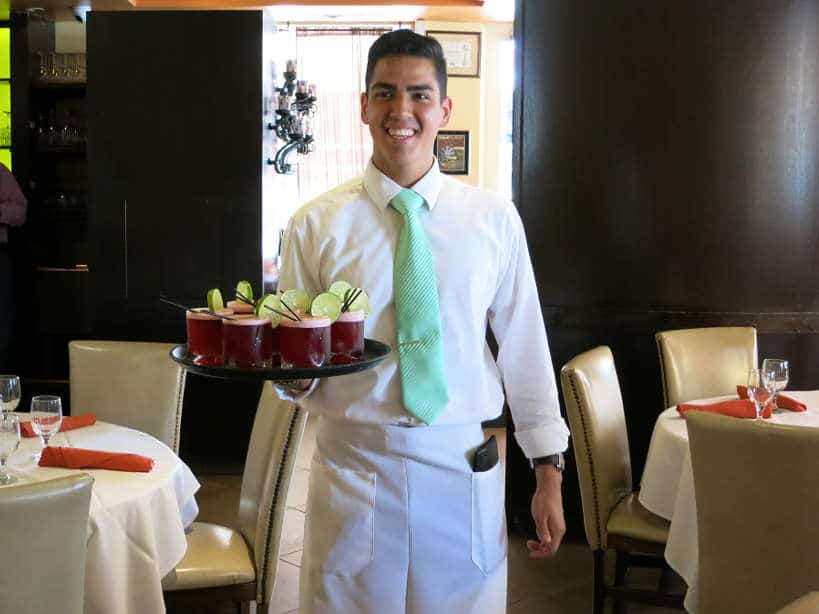 This was followed by a sampling of flavors from Venezuela. We were each served a trio of "arepas", which are traditional Venezuelan corn meal cakes. Each arepas had a different filling. One was filled with ropa vieja (shredded skirt steak), another queso fresco and the last one, a shrimp sofrito finished with avocado and tomatillo aioli.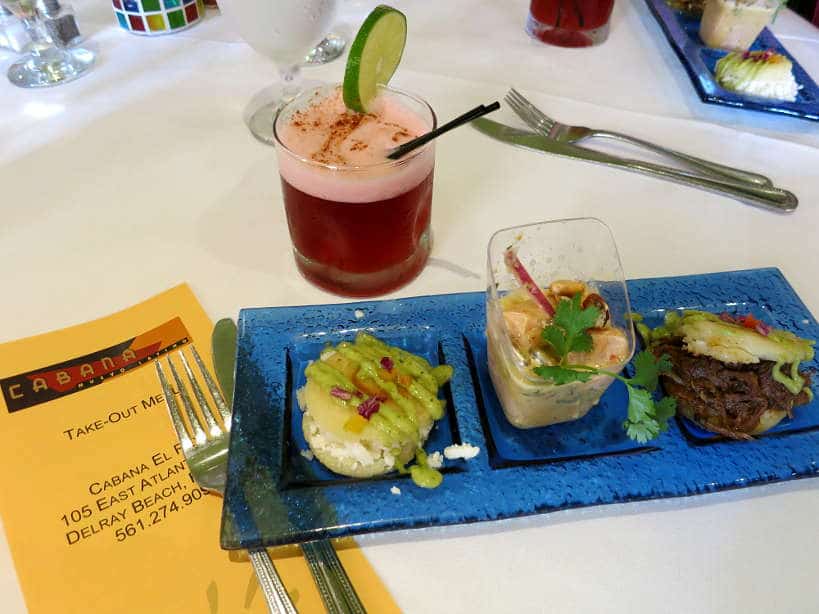 While enjoying the food and the break from the heat, the chef came out and introduced himself. Hailing from Peru, he talked about this background and culinary journey. Friendly and jovial, we all enjoyed talking with him.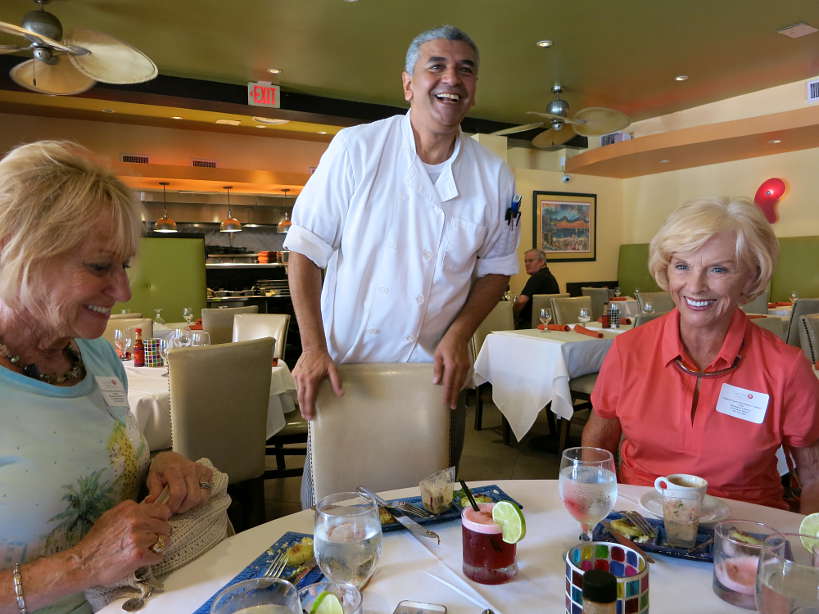 Bamboo Fire Café – Caribbean & World Cuisine
Chef Beverly and her husband Donald, own and operate this restaurant serving Caribbean cuisine, by way of Guyana, their homeland. We were delighted to discover Guyanese cuisine and learn about the history that has shaped the food in South America's smallest country.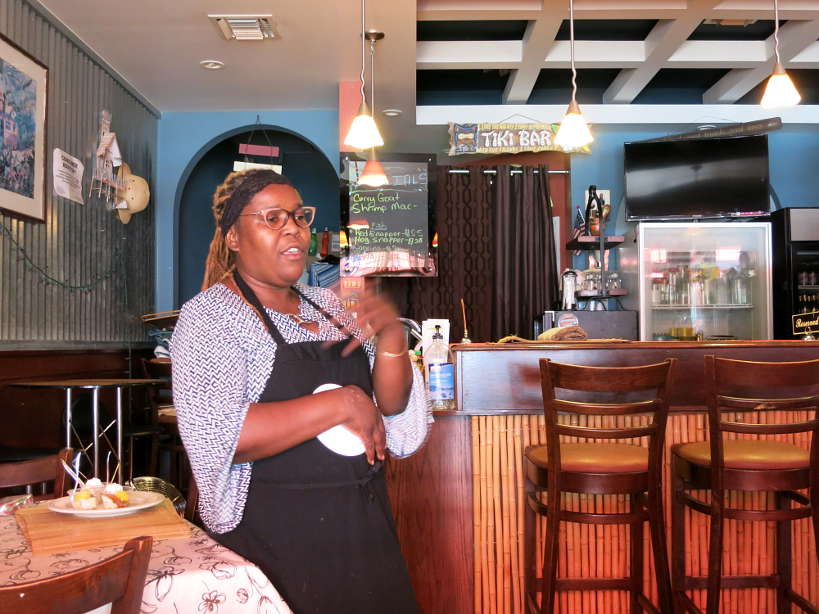 Our tasting included the best mac & cheese we've ever had. Chef Beverly uses tortellini pasta, goat cheese and sweet plantains. Absolutely delicious. We also sampled her famous curried meatballs, which were perfectly spiced. The tasting ended with light and flavorful homemade cheesecake with fresh mango.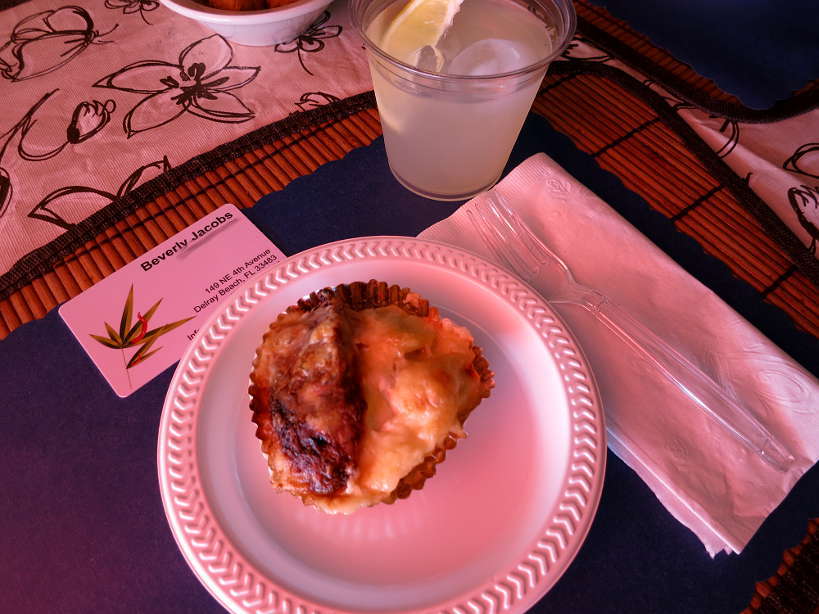 Outdoor Arts To Discover
The fun part of this tour is that you get to walk through different art districts in the local community. This also provides for much-needed exercise after all the copious food. It is also a wonderful way to learn about the local culture and community.
As part of the revitalization efforts, the city of Boynton Beach has designated Ocean Avenue, the "Avenue of the Arts", a location to showcase and celebrate local art.
Along the streets, several Kinetic art sculptures are exhibited. This is art that is in motion and powered by wind, light, water, gravity and other elements. The City changes the sculptures regularly featuring different artists. This keeps the area buzzing and interesting for visitors to check out the exhibits over and over again.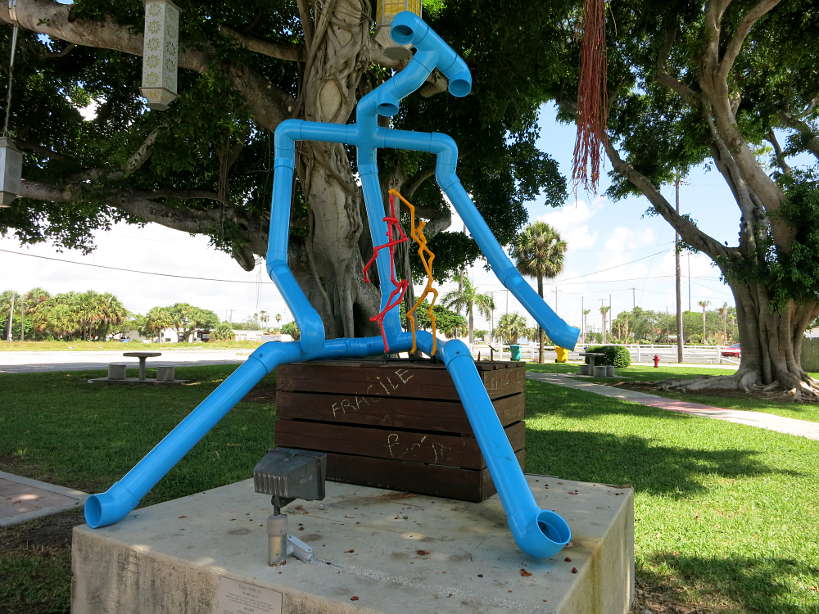 The last art stop we made was quite surprising. We went to an industrial district that features local artists and their art from Miami and all over Florida. The Bay Gates Mural Project is an impressive stop. The images are striking images and they breathe life to a quiet industrial zone.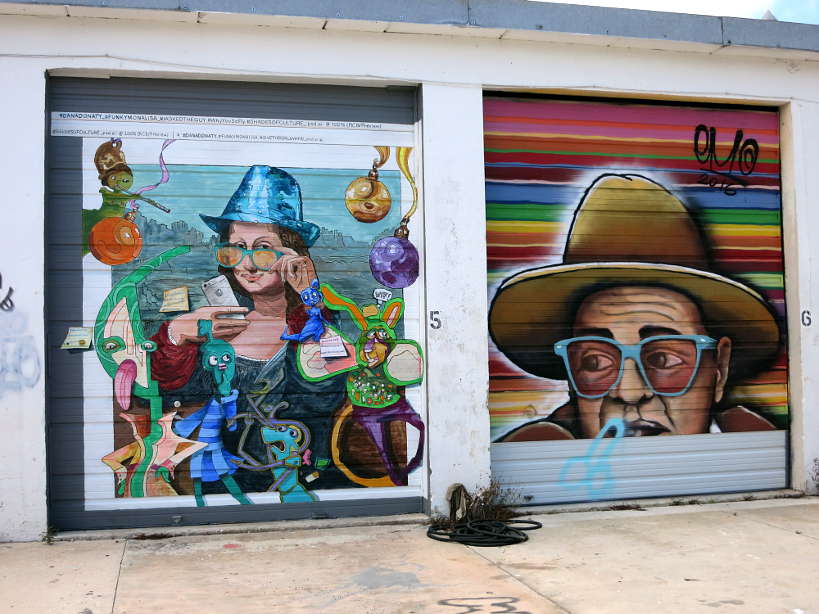 A Sweet Treat At Palermo's Bakery
To put a sweet finish to our tour, the last stop was Palermo's Bakery, a family owned Italian bakery.
Palermo's roots go back to the 1920's when the owner's grandfather started Palermo's in Sicily. The business moved to the Boynton Beach area in 1961 and is now the #1 Italian neighborhood bakery in Palm Beach county.
To taste the Italian influence in Florida, Palermo's prepared a huge spread of delicious Italian desserts. From cannoli's biscottis, panna cotta, Rhum Baba, torta caprese and more, there was more than enough for everyone.
The only regret is that this was the last stop on the tour and we were all stuffed by then.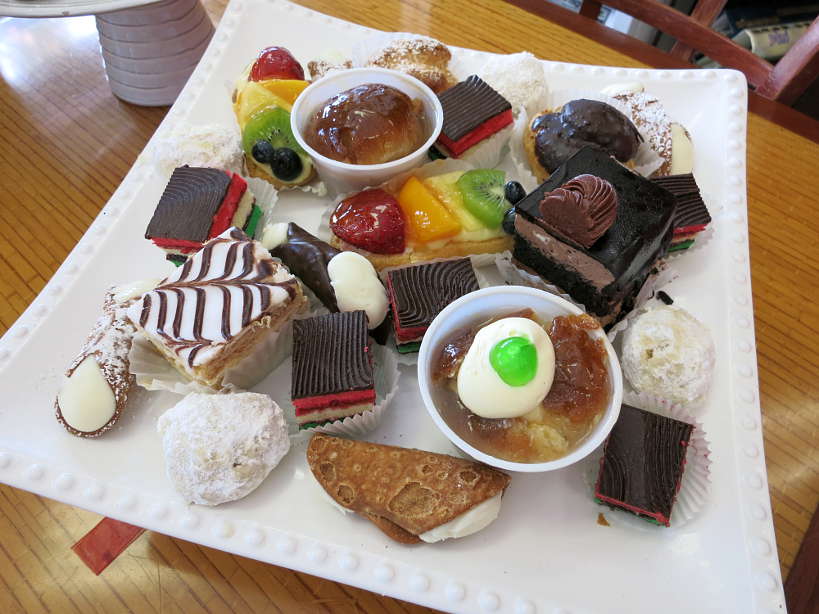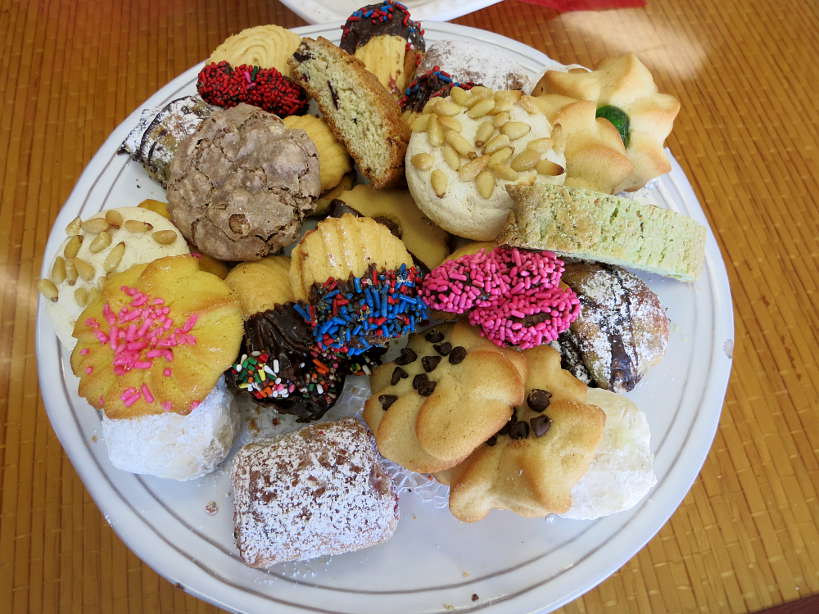 In Summary
Without a doubt, this was one of the most insightful food tours we've taken so far. The tour is chock full of information about the local history, culture, and food. Starting from the arrival of the Spaniards to the food exchanges between the natives and Spanish, you get a good understanding of the distinctive Floribbean cuisine.
Eating at the local restaurants and meeting the owners and chefs was a highlight of the experience. Their stories and passion was contagious and their food delicious. Definitely, a fun way to meet the passionate people behind the food.
Taste History Culinary Tours is a wonderful way to get off the beaten path and learn about Floribbean cuisine and its history. Lori is a great tour guide and a wealth of historical knowledge. As a native of Florida, she knows the area like the back of her hand. For your next travels to Miami, this is one tour you must definitively take.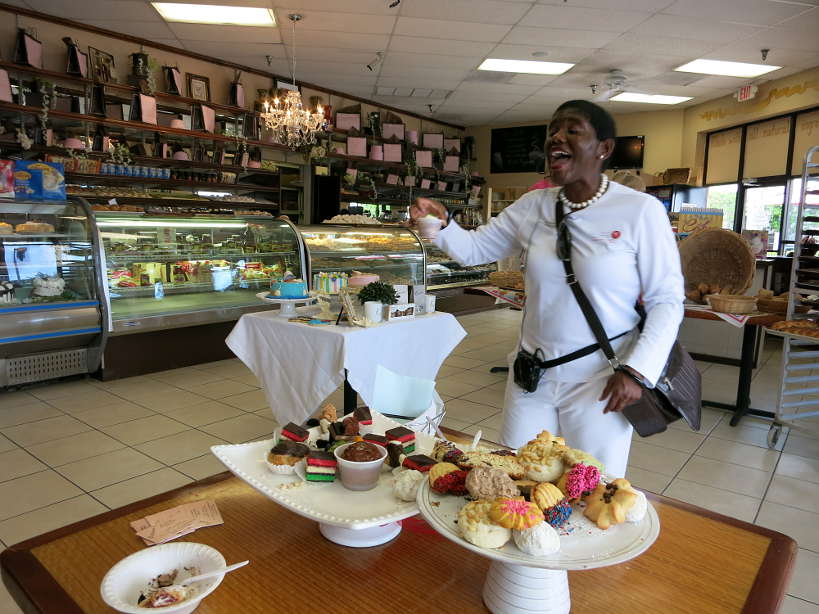 Practical Information: Taste History Culinary Tours
Taste History Culinary Tours offers a tour every Saturday in three different locations. You can choose from West Palm Beach, Delray Beach & Boynton Beach and Lake Worth & Lantana. location.
Each tour is different and even if you decide to go to the same tour, the places you will visit are always different. You can find more information directly on their website at Taste History Culinary Tours
To book your tour, click on the link Taste History Culinary Tours.
Please note that the tours are very popular and are some are sold out weeks in advance. So prepare ahead!
Keep in mind that the tour does not accommodate any dietary restrictions.
We also highly recommend eating a very light breakfast. The portion sizes at the restaurants are generous. You will have a very light dinner if any as well!
Special thanks to Taste History Culinary Tours for having us on this tour. All views and opinions expressed are our own. Full bellies and happy taste buds too!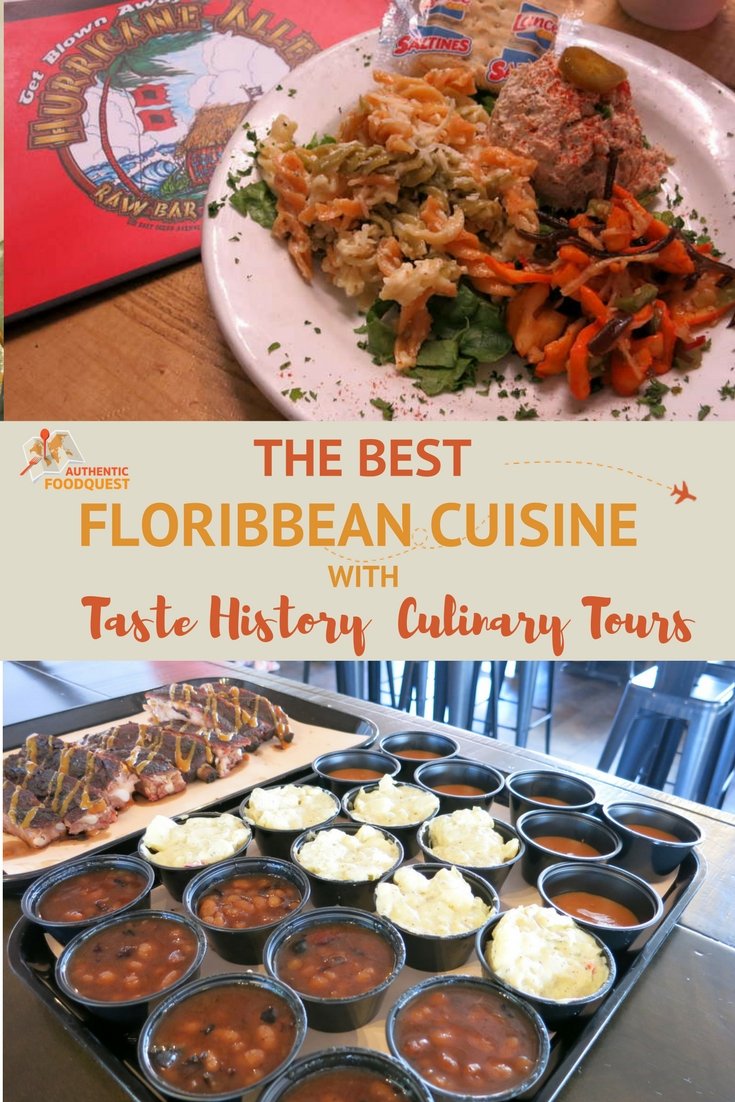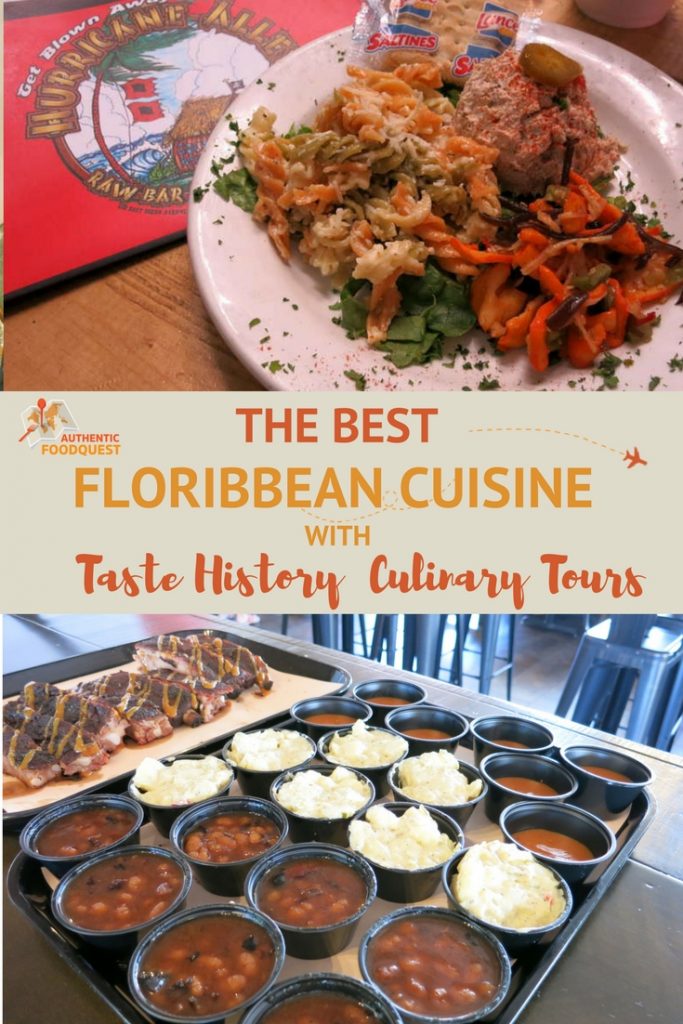 Claire is co-founder of Authentic Food Quest and a lover of simple and exquisite cuisine. Since 2015, with her partner, Rosemary, she has been traveling the world as a digital nomad, creating content about local food experiences.
Her advice from visiting 45 countries and more than 240 food cities has been featured in Lonely Planet, Business Insider, Honest Cooking, Food Insider, and Huffington Post. She has also co-authored three books, including one in collaboration with Costa Brava Tourism.
An ex-mechanical engineer, Claire is responsible for SEO, keeping the website running, and the fun food & travel videos on YouTube.
When Claire is not eating, she can be found running or cycling. Find out more about Authentic Food Quest