Cambodia is a fascinating country, where the past is always present. The history of the country, both the ancient as well as the modern tyranny of the Khmer Rouge period (1975 – 1979) is reflected everywhere.
The big draw to Cambodia are the ancient temples of Angkor Wat in Siem Reap. This UNESCO World Heritage Site contains the magnificent remains of the different capitals of the Khmer Empire, from the 9th to the 15th century.  
The food in Cambodia is distinct and influenced by the country's culture and history. Along our journey to discover the local food specialties, we met some of the warmest and friendliest who proudly shared their dishes with us.
If your travels take you to Cambodia, here are 10 surprising facts you need to know about the food in Cambodia.

1 – Cambodia Cuisine – Not a "Version" of Thai or Vietnamese Food
Before visiting the country, we didn't know anything about Cambodia cuisine or what to expect. At the time of our visit, we had explored the local dishes of the Philippines, Thailand, and Vietnam. Our expectations were that Cambodia cuisine would resemble that of its neighboring countries, Thailand to the west and Vietnam to the east.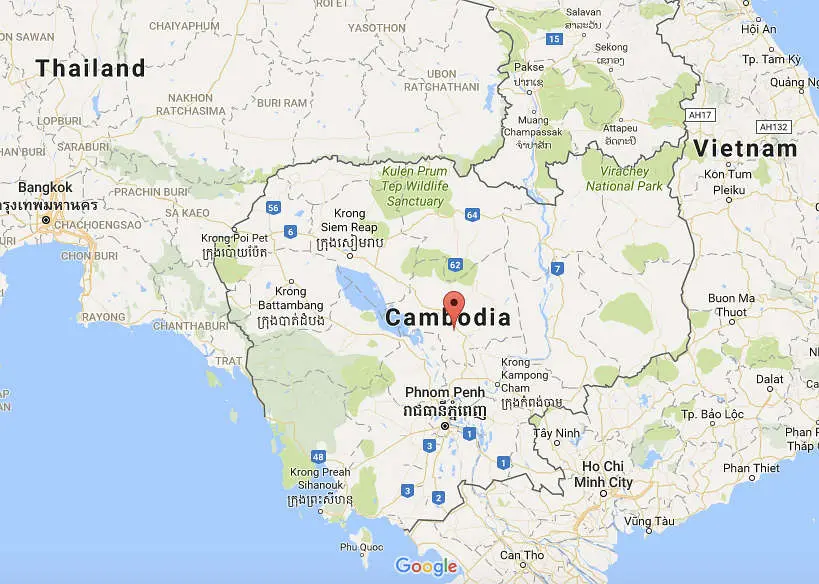 What we found instead, were unique tastes and flavors to Cambodia.We tasted sour and bitter soups that we hadn't eaten elsewhere. We learned how to make Amok, the national dish of Cambodia.
For breakfast, we discovered Kuyteav, a delicious rich rice noodle soup. And the seasonings and condiments like prahok (pungent fish paste), Kroeung (aromatic herbs and spices) and Kampot pepper (one of the world's best peppers), all make for delicious Khmer food.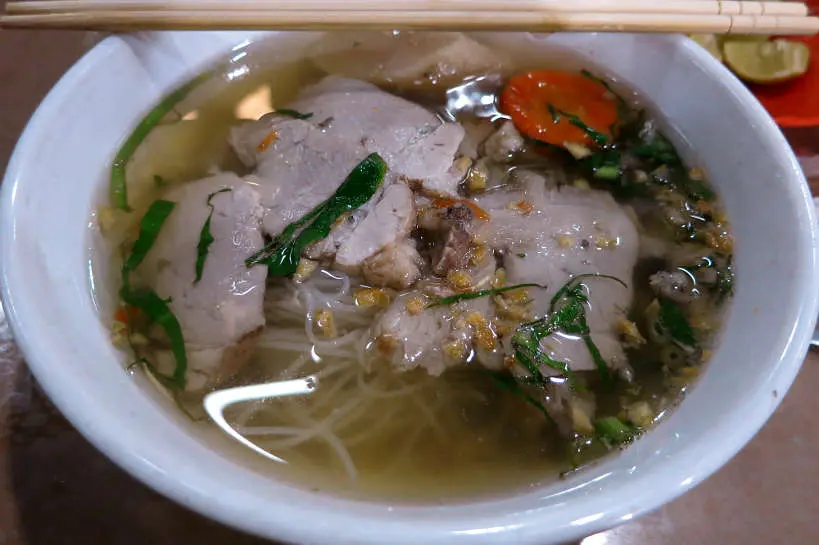 In short, the food in Cambodia has its own characteristics. To compare it to the cuisine from the neighboring countries is limiting to the food and your experience. Even though you will find Thai influences in the food, as the Khmer Kings once ruled Thailand, Khmer cuisine is distinct in its own right.
2 – Heavy Western and French Influence on the Food in Cambodia
Visitors to Cambodia will quickly notice the Western influence, due in part to French colonization and the current NGO presence.
For a relatively under developed country, we were quite surprised to see the "invasions" of U.S. food chains particularly in Phnom Penh. You will find Burger King, Carl's Jr, KFC, Krispy Kreme and more.
Additionally, with a large expat community, many restaurants cater to the Western palate, popular Western foods or Western versions of the local food. For example, you might find french fries instead of the traditional rice in local dishes.
Furthermore, the French influence in the local food was also evident. Similar to Vietnam, the French brought the baguette to Cambodia called nom pang in Khmer. It is also a sandwich similar to the Vietnamese Bánh mì  although lacking some of its fresh herbs and delicate flavors.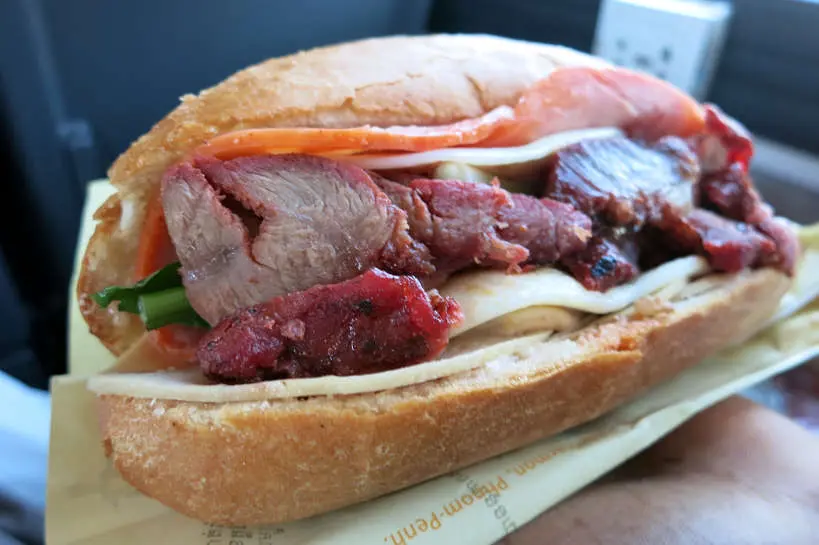 In Phnom Penh and Siem Reap, you will find grocery stores that carry French products such as wine, cheese, butter, pastries, couscous, and other iconic French food products.
If you are a wine lover or have been traveling in Southeast Asia for a long time, Cambodia is the best place to find great wine at reasonable prices. A good grocery store to look for is Thai Huot located in downtown Phnom Penh and Siem Reap.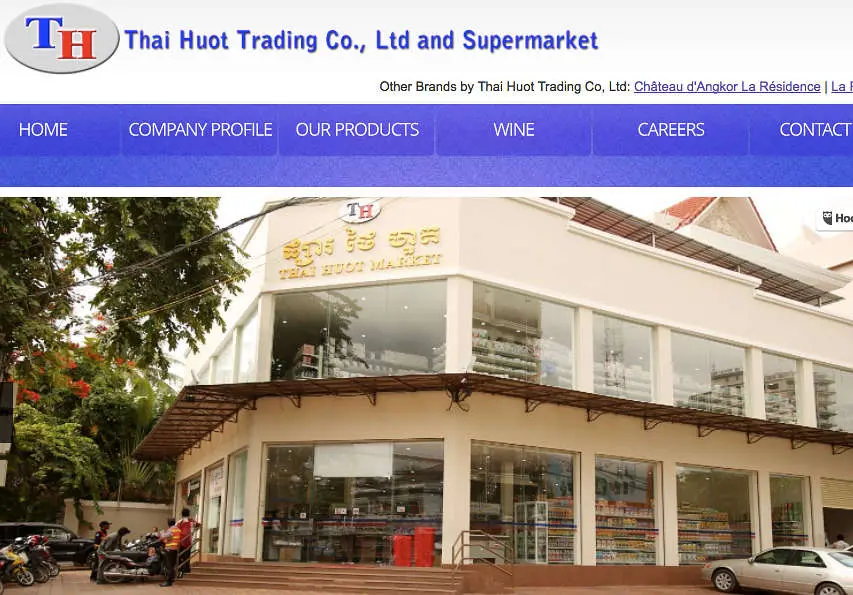 3 – Finding Local Food Takes Effort
When it comes to finding local food, it took us some real effort to find the local gems. After seeing a lot of Western chains and international menus catering to tourists, we struggled to find the local dishes
One of the challenges we run into at some places was locals saying "you will not like this" or "this is not for you." Instead, they would recommend "familiar" foods or dishes they deem palatable to Western tastes.
Given that we are on a quest to discover and showcase the local dishes, we had to dig deep and find the local specialties. We started by asking locals in the area, including expats like Jen and Stevo, at Two Can Travel, who have called Cambodia home since 2015. In addition, our local Airbnb hosts shared their local insights and recommendations with us.
Our quest for the local foods went deeper and led us to the local markets, where we ate and tasted a variety of local specialties. From dishes to desserts and drinks and sandwiches, our local food discoveries were guided by local stall vendors.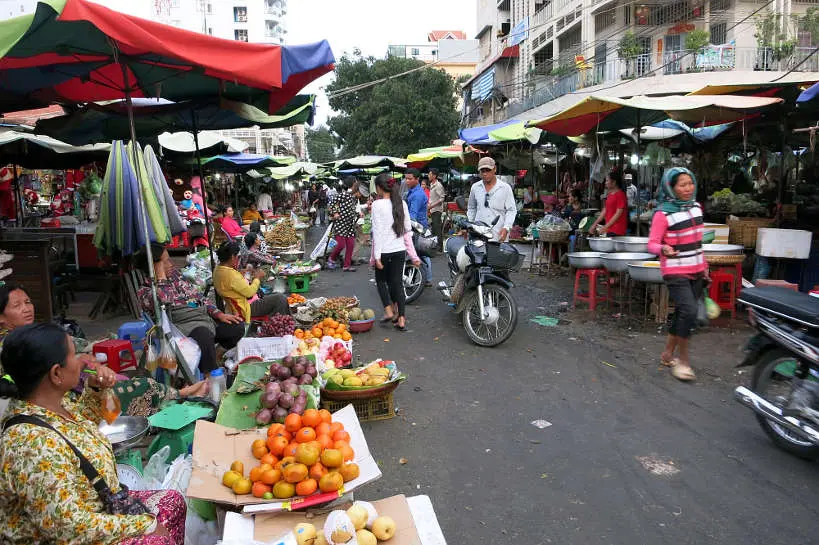 Ultimately, curiosity and willingness to try new foods is best. For instance, the way we stumbled onto Bitter Melon soup with Pork (Sgno Mareash) was simply not accepting the common phrase "this is not of your" and demonstrating a willingness to try.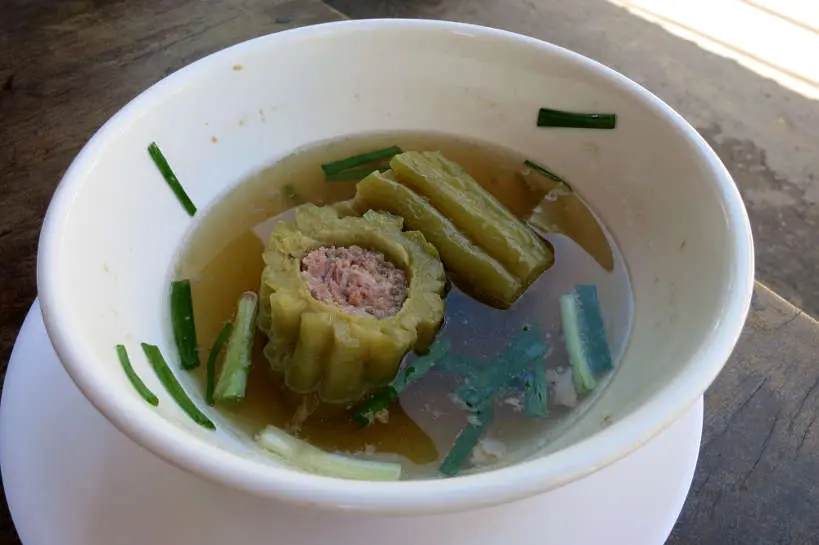 We walked into a popular local joint for lunch and were intrigued by all the bowls of soup on the tables around us. When we looked at the English menu we noticed the soup was not listed, in spite of a huge pot boiling next to our table. After insisting we wanted the same soup, the vendor reluctantly served us a bowl.
An English-speaking Khmer customer seated next to us explained that the reason the vendor was hesitant to serve the soup was because it was very bitter. Though, he also described it as popular with locals and not tourists.
While it was true the soup was bitter, it was pleasantly tasty as well. The experience of ordering and eating like a local does take persistence and determination.
4 – Everything On The Grill – BBQ in Cambodian Food
If you like grilled dishes and seafood, Cambodia is the food destination for you!
Anything and everything is grilled in Cambodia. With easy access to the Mekong River and the Tonlé Sap lake, fish and seafood are predominant in Cambodia cuisine and BBQ's.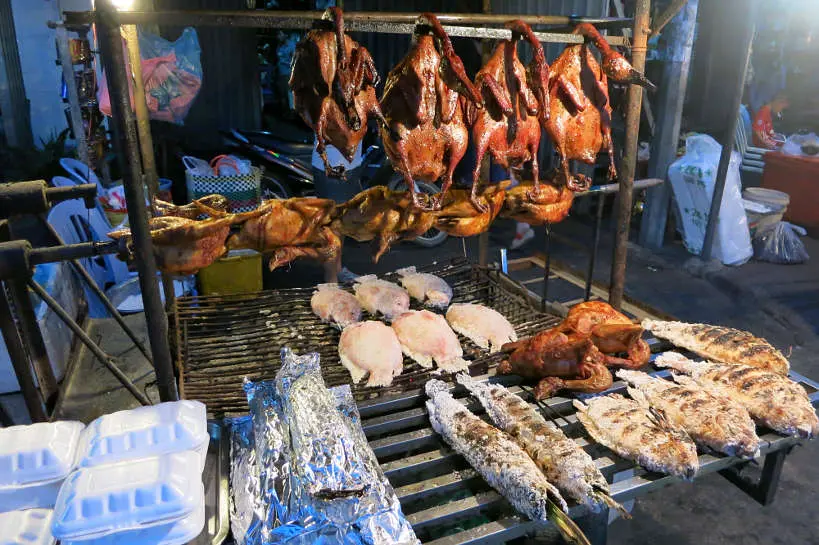 It is common to see chickens and pork ribs grilling on large charcoal pit around markets.
And, you can also find unusual foods like grilled frog legs or grilled bugs!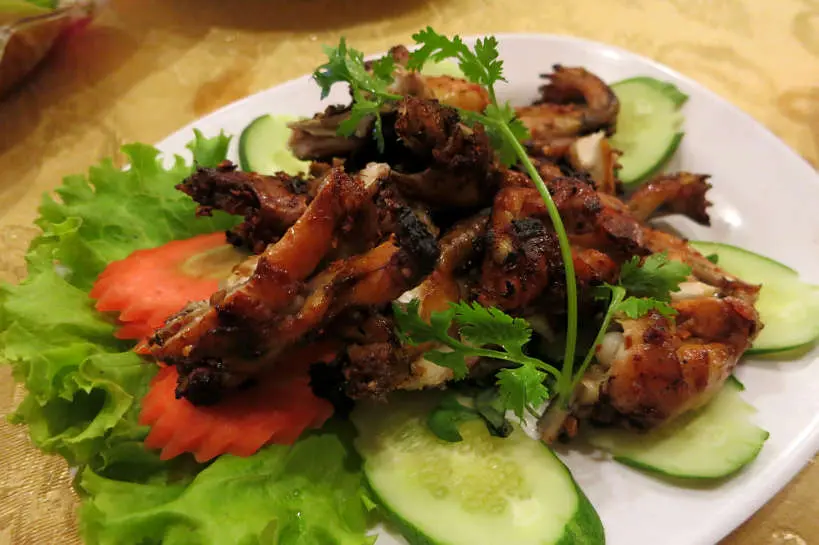 Even desserts are grilled! You will easily find street vendors with mobile BBQ carts grilling bananas for an afternoon snack or after lunch dessert.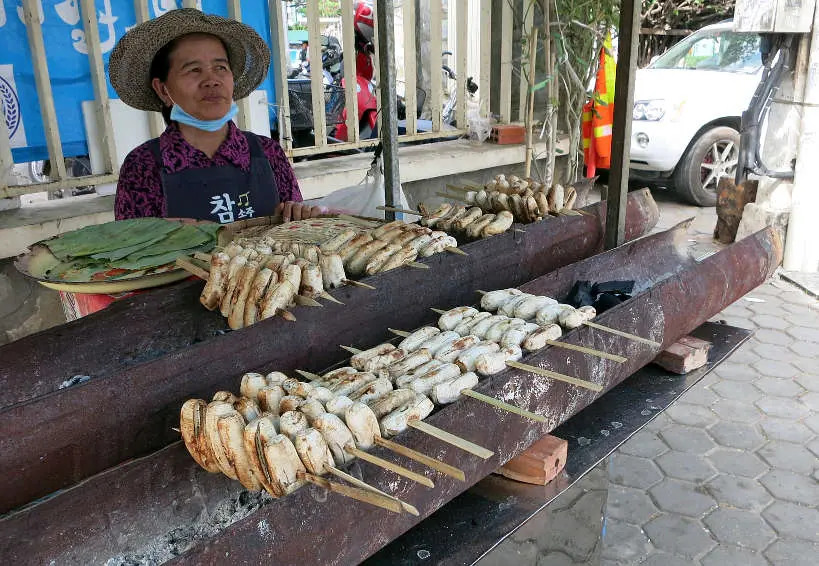 The most popular drinks at BBQ's are beers. The most popular Cambodia beer is the Angkor beer which is widely recommended on menus. In addition, you will also find Cambodia, another local beer and the widely distributed Heineken.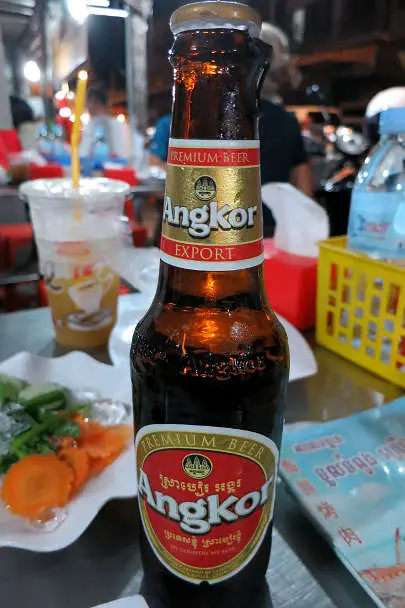 5- Bizarre Khmer Foods – Snakes, Bugs, Dogs and More
Cambodia is the only country on our quest for authentic food where we encountered the most bizarre foods.
Eating bugs is common practice, and we saw children eagerly eating ants as snacks at the market after school. The first time we saw this, we were shocked.
As we got to know the Khmer culture and the ravaging history of the country, we learned that bugs and ants were the main sources of protein during the infamous Pol Pot regime. Basic food was scarce and Cambodians took to eating whatever insects, frogs, and snakes, snails—whatever they could find, "to survive."
Nowadays, eating bugs, snakes, ants and more are not only part of Khmer cuisine, but also a huge attraction for tourists. As a result, you will find many vendors selling all sorts of grilled insects and reptiles on the street. Choose from typical Cambodian street foods like grasshoppers, worms, spiders, and snakes. Take a deep breath and give it a try!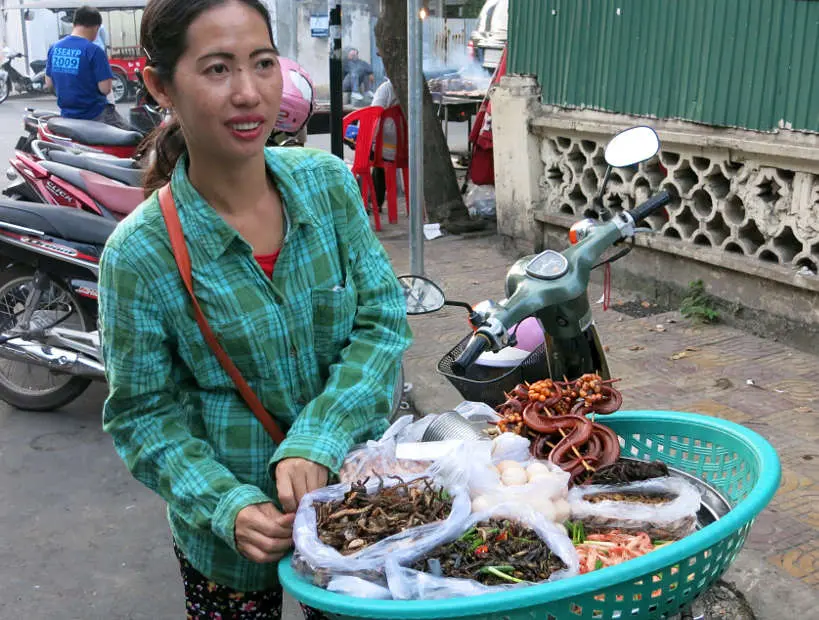 If you are not excited about the idea of swallowing grilled tarantula from a stick, many restaurants menu options that let you try insects in a more appealing way.
Check Marum restaurant for fine local Khmer cuisine and Bugs Cafe, an insects tapas bar, in Siem Reap. At the cafe, you'll have the pleasure of trying red ants tree beef as the main dish and tarantula donuts for dessert!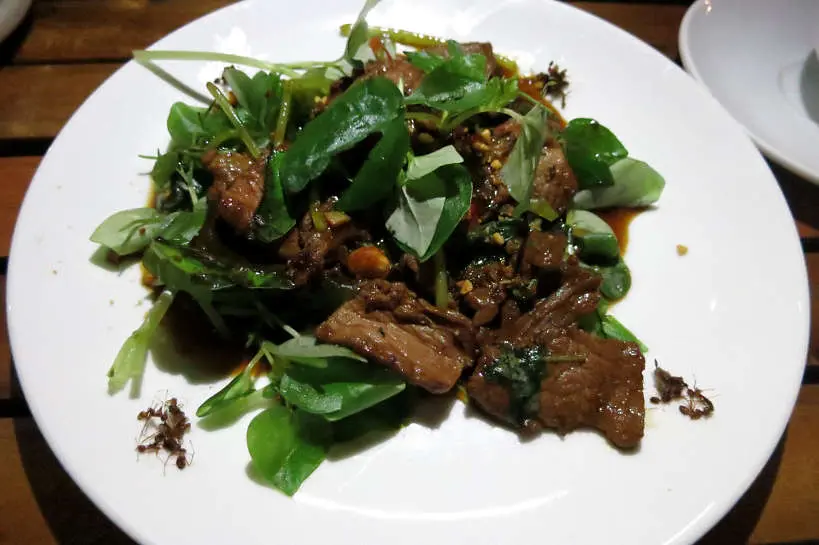 The most unbelievable and hard to imagine bizarre food we encountered in Cambodia on our quest, was a dog's head cooking in a pan near a local market in Phnom Penh. Needless to say, this was surprising extremely shocking!
We stumbled onto the dog's head cooking late at night and didn't have the chance to talk to locals and dig deep to understand the reason behind cooking dog as a dish.
In light of the dog's head, it's easy to see how eating bugs, snakes, and frog legs can be more palatable.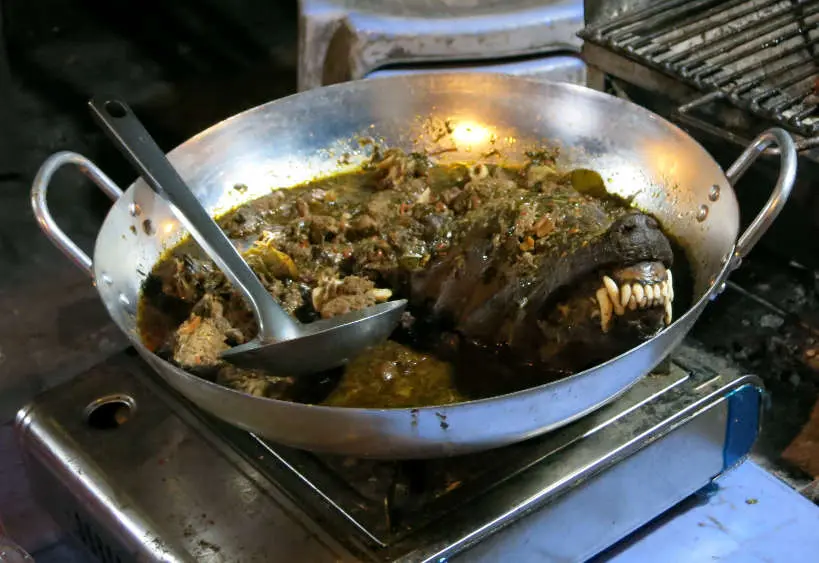 6 – Menus in English For Easier Communication
Coming from Thailand and Vietnam, it was a relief to be able to read and understand menus. While the official language of Cambodia is Khmer, English is also spoken.
We found English menus, even at local street side restaurants and at some markets. Where there were no menus, vendors speak a little English allowing you to communicate.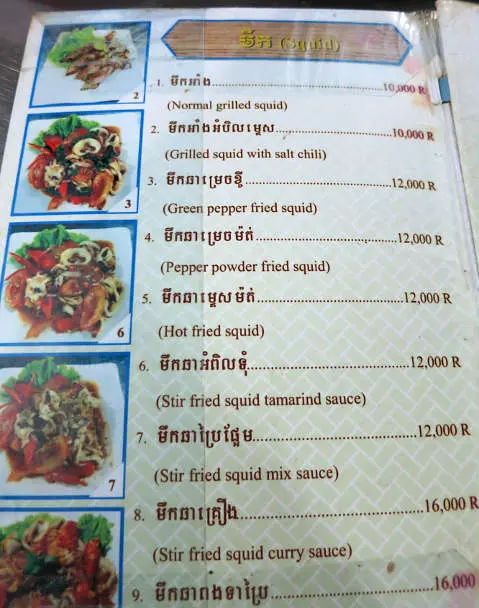 If you are visiting Cambodia from Thailand for example, where it can be difficult to read the menu when no pictures are provided, you will appreciate the English menus in Cambodia.
With the popularity of Angkor Wat and large expat community, you will find a variety of eating options to sample local Cambodia cuisine. From the local markets, NGO restaurants, street food joints all the way to world-class dining options.
7 – One Country, Two Currencies
In Cambodia, the Riel is the national currency. However, the US Dollar is also widely used especially in large cities like Phnom Penh and tourist areas like Siem Reap.
It is easy to get dollars in Cambodia as ATMs dispense USD. Though, keep in mind that ATMs give you large bills of $100 USD. Make sure you get smaller change at large grocery stores, hotels, tourist venues or directly at the bank. At the time of this writing, the exchange rate was about 4,000 Cambodian Riel (or KHR) to $1USD.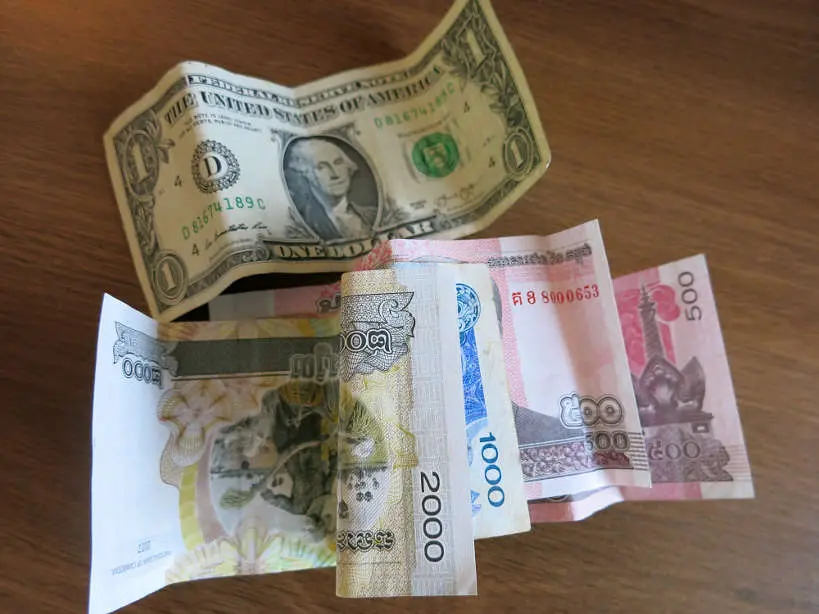 We recommend using the Riel as much as possible as it is the local currency. If you use dollars, the vendors will typically round up the change in their favor. Many vendors will also take advantage and price their items higher.
In restaurants geared towards tourists, the menu will typically be in dollars and more than likely with the prices marked up. On the other hand, local joints will have the meal prices only in Riel.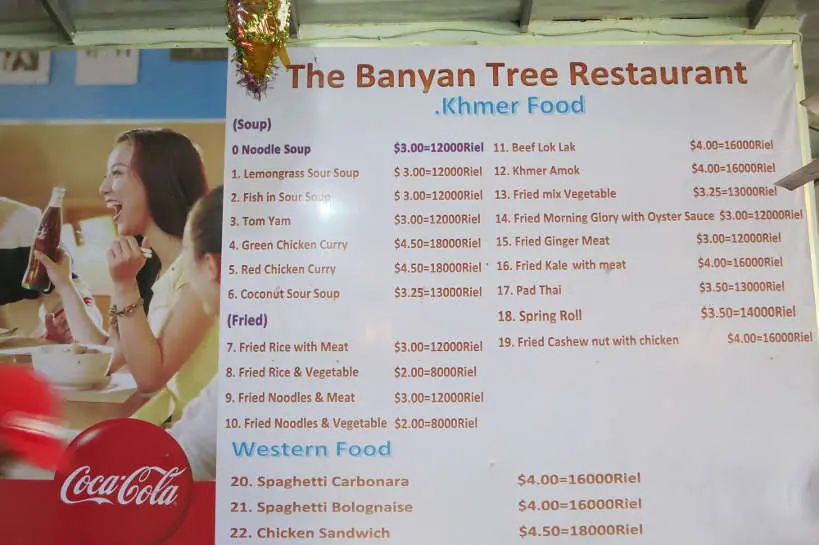 At the markets and small local restaurants, definitely, carry Riel and $1 dollars bills. At times, you need to pay with a combination of dollars and riel. While it might sound tricky at first, you'll get used to the  "math" and comfortable handling the Cambodian currency.
8 – Negotiate: Different Prices for Different People
In Cambodia, everything is negotiable. From food at the markets to tuk-tuk rides (local transportation), be prepared to sharpen your negotiation skills.
While visiting the country, we learned that there are three different levels of pricing: tourist prices, expat prices, and the local prices. Sometimes, the tourist price can be up to 3x to 5x times more than what the locals pay.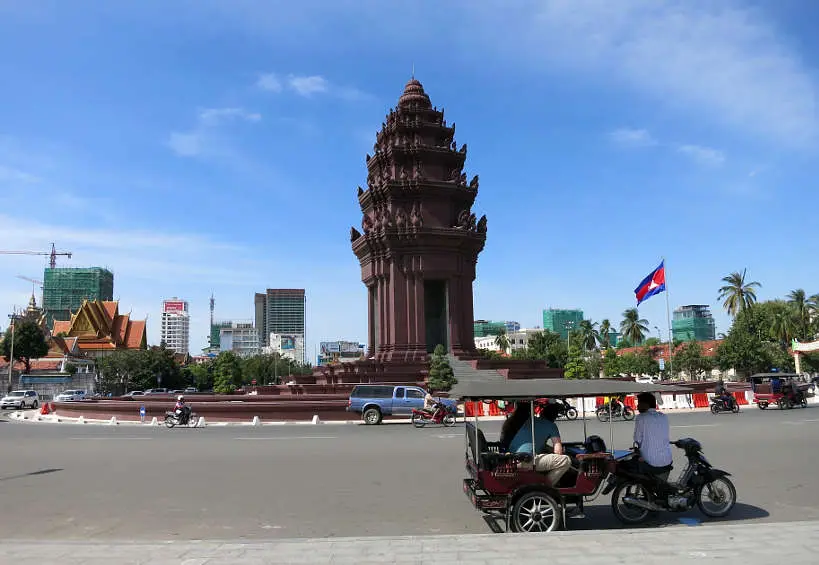 Some restaurants will have double standards where local pricing in Riel is clearly half of what is marked in English/USD. But unless you can read Khmer, it is difficult to point it out.
You will find the prices to be low compared to what you are used to home. Nonetheless, prices for meals can be up to two times what you would pay in neighboring countries like Thailand or Vietnam. One of the main reason is that these countries deal with only one currency. And generally speaking, there is no double standard where foreigners pay a different price than locals.
Look for places where the prices are clearly marked. It is best to have an idea of what you should be paying for. Don't hesitate to walk away if the prices are clearly inflated.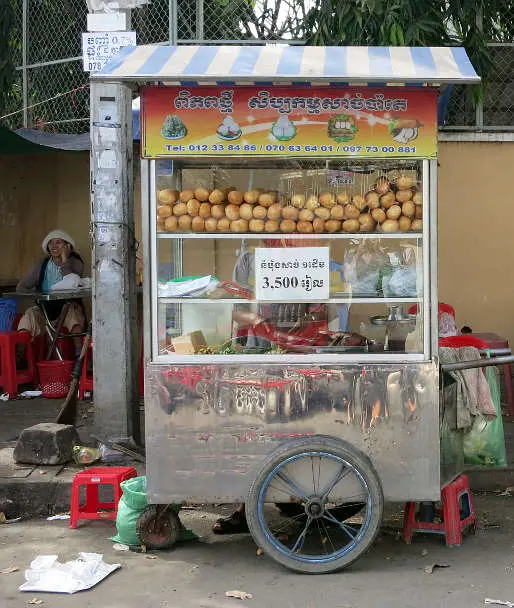 9 – Stretch Your Comfort Zone by Eating At The Local Markets
Unlike many local markets in Thailand or Vietnam, we found the local markets in Cambodia to be dirty, but the food and produce fresh and inexpensive.  
Dimly lit, low ceilings and not a lot of natural light is the typical setup of most markets. On the inside, the meats and fish areas are most certainly wet and can be muddy in some spots. Even though there are rickety wooden tables, plastic tubs, and worn baskets, the produce and food is fresh and delicious.
Don't be afraid of eating at the markets. Look beyond the environment and focus on the food. You will be rewarded with amazing tastes and flavors.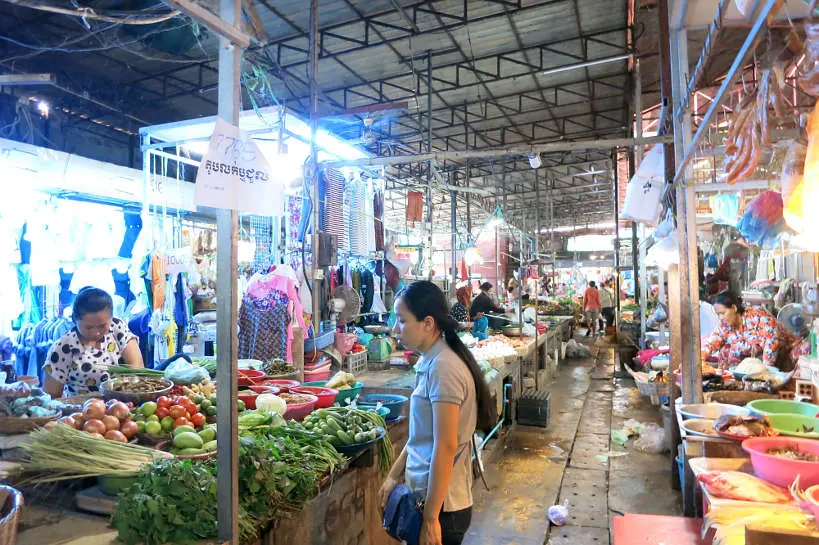 10 – Food in Cambodia For Good
In Cambodia, restaurants offer more than food.  As the country continues to rebuild itself, restaurants and cafes are teaching skills by supporting and employing vulnerable groups of people throughout the country.
The restaurant scene is active with support from NGOs (non-governmental organizations). We ate at a couple of NGO restaurants in Phnom Penh and Siem Reap. Overall, we were impressed by the quality of the food and level of service. We will highlight some of these restaurants in upcoming articles.
If your travels take you to the country, be sure to support NGO restaurants, that are empowering the local community.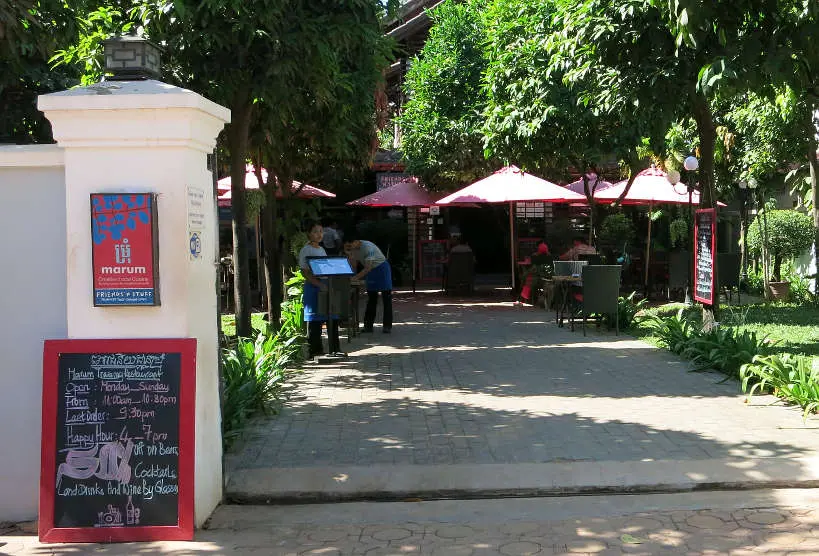 In Summary
Visiting the awe-inspiring temples of Angkor Wat should not be missed by travelers to Southeast Asia.
And, while you are in the country, we invite you to seek out the local food specialties. Even though Cambodia is anchored between two countries with strong food cultures, it does have its own unique food culture. The traditional and local Khmer food as well as the bizarre foods are experiences not to be missed.
Skip the Western restaurants and taste the local flavors. Eat at the markets, on the streets and support the NGO restaurants. Don't forget to negotiate and embrace the local culture. Traveling through food in Cambodia will be one of the most riveting ways to get a sense of the daily life in the country.
Have you had Cambodian food before? In the comments below, share with us what surprised you the most about Khmer cuisine!
Savor The Adventure!
Cambodia Local Tours
Explore the local food deeeper by taking a food tour with a local guide.
Click below to book either a Phnom Penh and Siem Reap evening food tour.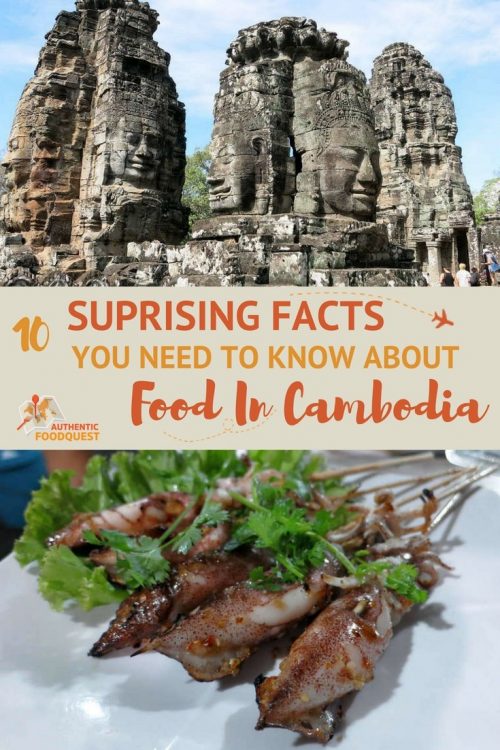 Disclosure: please note that some of the links might be affiliate links. If you click through and make a purchase, we may receive a small commission (at no additional cost to you). Thank you in advance for your support!
Rosemary is the editor-in-chief and strategist at Authentic Food Quest.
Traveling slow since 2015 with her partner, Claire, she has explored the cuisine in 45 countries and more than 240+ culinary cities.
Her writing about local food specialties has been featured in Lonely Planet, Business Insider, Honest Cooking, Food Insider, and Huffington Post.
As a food and travel writer, Rosemary has co-authored three books, including one in collaboration with Costa Brava Tourism.
Rosemary is an avid runner when she's not eating and exploring new destinations. She has run ten marathons and counting.
Before Authentic Food Quest, Rosemary held senior-level strategy positions in advertising. 
Find out more about Authentic Food Quest