The Bangkok food scene is renowned worldwide and it is easy to find street food at every corner. Why then would you want to take a food tour in Bangkok at night?
Well, the food scene can be overwhelming and a bit of guidance goes a long way. Also at night, the weather is cooler, your senses are heightened and Bangkok becomes fully alive with the smell and sounds of the street vendors.
One of the most iconic modes of transportation in Bangkok is the tuk-tuk.  So when the opportunity to explore the food scene on a tuk-tuk came along, we jumped on it.
Ready? Follow us to the streets of Bangkok on this night tour.
Watch Bangkok Tuk Tuk Food Tour at Night with Expique
A Taste of The Unique Flavors of Thailand
Our guide for the food tour in Bangkok at night was Expique, a Bangkok based company that focuses on local, off the beaten path experiences. The meeting point was Krung Thonburi BTS (train) Station at 6 pm.
Here, we met up with the rest of the group, a British couple, a young lady from Calgary and the two of us. A small and intimate group.
Simon, the founder of Expique and "Net", our food tour guide for the night, welcomed us with a tasting of four flavors unique to Thailand – tamarind, mango, banana, and ginger.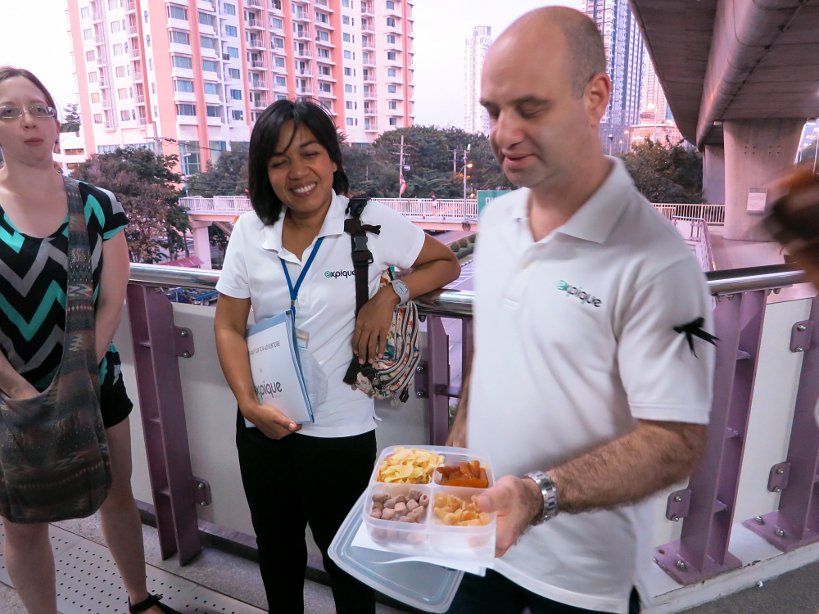 After a brief introduction to the area and agenda for the evening, we excitedly hopped into our tuk-tuks for a food adventure in Bangkok at night. Expique keeps the tuk-tuk experience fun and safe, with small groups and 2 people per vehicle.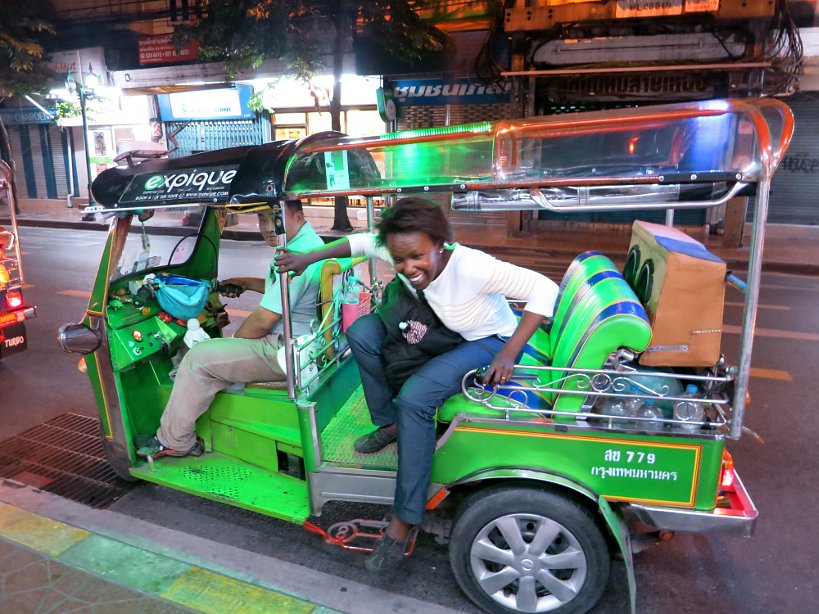 Authentic Food Quest Tip: Taking a food tour of Bangkok at night is an exceptional experience you'll never forget. From the tuk tuk rides, heritage stops and the amazing street food, you'll see Bangkok come to life at night in a very unique way. Book your Bangkok food tour at night for an amazing experience.
Appetizers The Thai Way
With our taste buds open, we made our way to Tha Din Daeng road for appetizers.
Tha Din Daeng road is one of the least known (among tourists) but one of the exciting spots to get a tasting of local Thai street food in the Bangkok.
As we walked down the streets of Bangkok by night, Net, our guide would point out different dishes and tell us about them as well as how they are prepared.
In addition to being a food tour guide, Net also runs her own food stall where she sells soy-based products for breakfast.  As a result, we got in-depth local information from a local street food vendor. You can't beat that level of authenticity!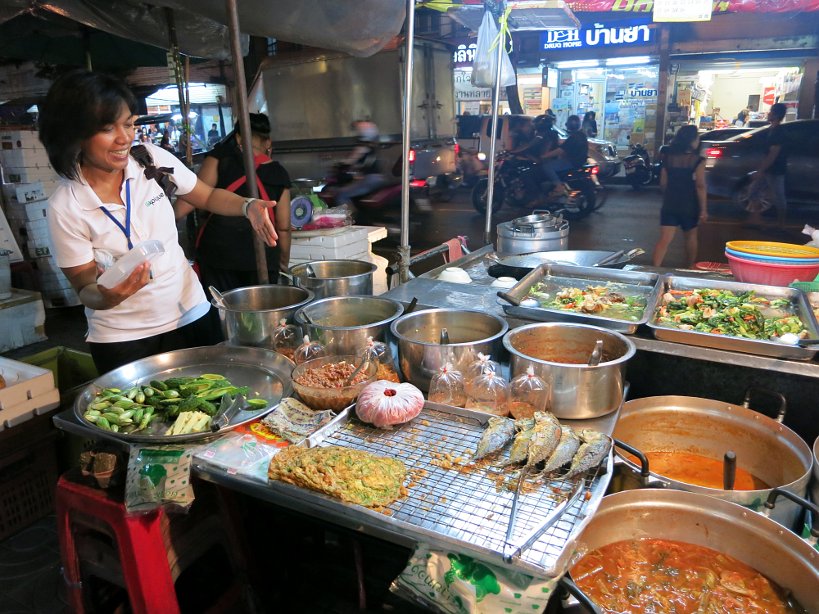 For appetizers, we had local Chinese drinks and satay. One of the drinks was bitter and made with Chinese herbs. The other one was a sweet tea made with the Lotus plant. Both these traditional drinks have wellness benefits.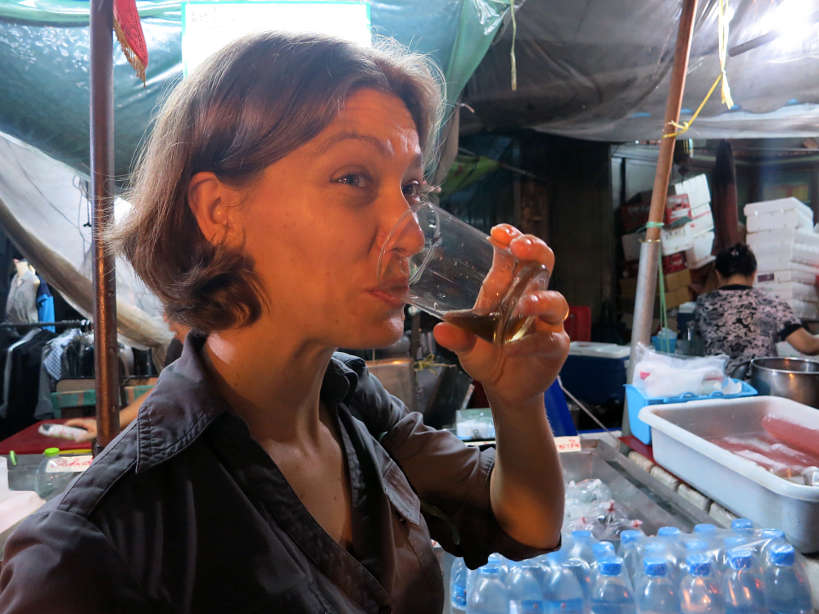 Next, we cozied up at the impossible to miss satay grills heaped high with pork satay. This famous stand is said to grill over 3,000 skewers at a time. We enjoyed delicious pork satay and chicken liver, dipped into various Thai chili sauces.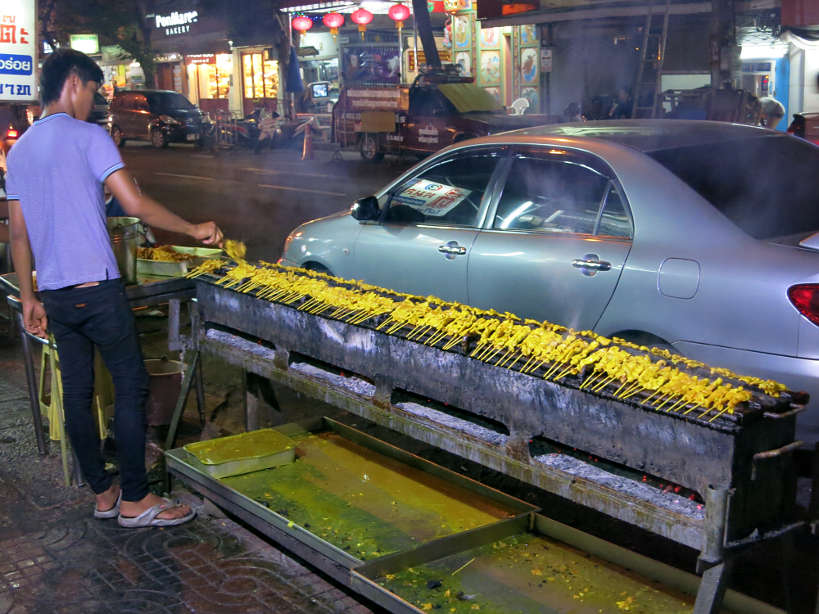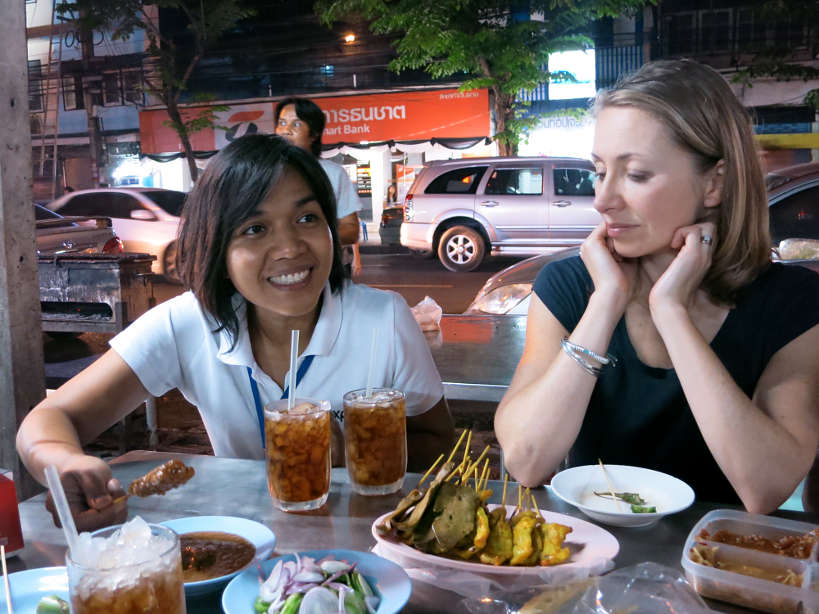 The Bangkok Night Tour Continues to the Flower Market
The thought of grilled chicken, didn't excite us at first when we learned it would be our next step. We didn't know what to expect, but we went along with it, enjoying the tuk-tuk ride in Bangkok at night. We made our way over to Bangkok's main flower market, Pak Klong Talad.  
Sitting across from the flower market, we were treated to delicious sweet chicken. The sweet chicken, lightly fried, was covered in spicy chili sauce that went perfectly with rice and a side of vegetables.
This was an unexpected and succulent introduction to the famous sweet chicken in Bangkok. This reminded us of the famous "Peruvian style chicken" though the flavors were quite different!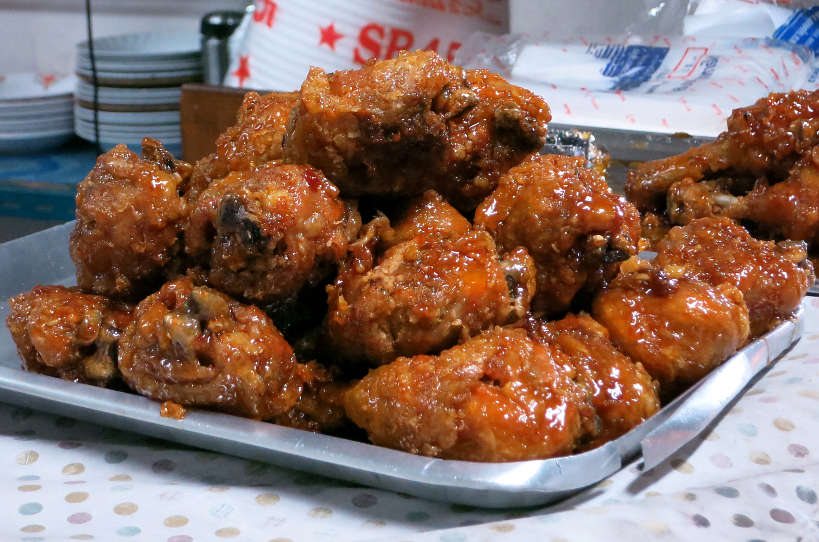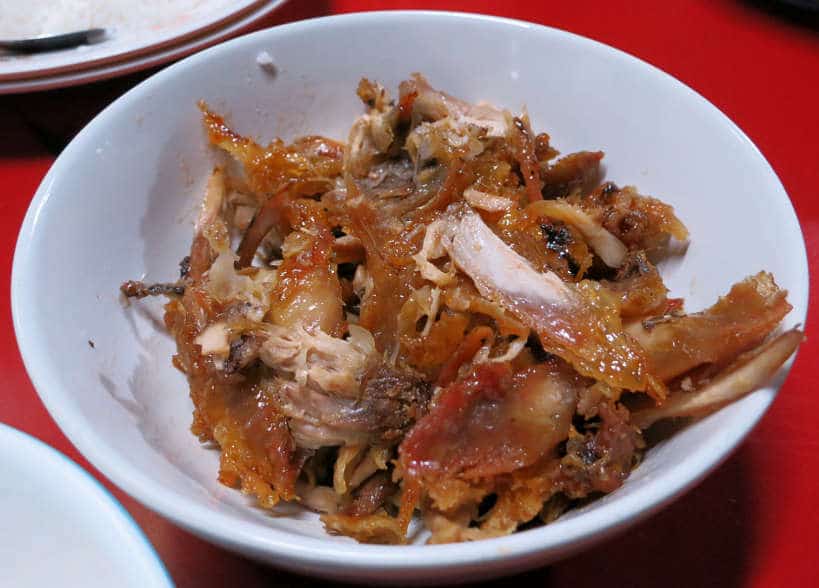 Royal Curries and Salads
When we walked into the unassuming Krua Apsorn, restaurant, we were immediately struck by all the accolades on the wall declaring it a top restaurant and one of the best restaurants in the world.
One of the reasons the restaurant is famous is because the owner of the restaurant used to cook for the Thai Royal family, different from Royal Laos cuisine. While the decor is nothing to get excited about, the food is outstanding, and the best food we had on the tour.
You cannot visit Thailand and not have the curries. As such, we had the green curry with chicken and the yellow curry with prawns and lotus shoots. Both these curries were served with rice and seasoned to perfection.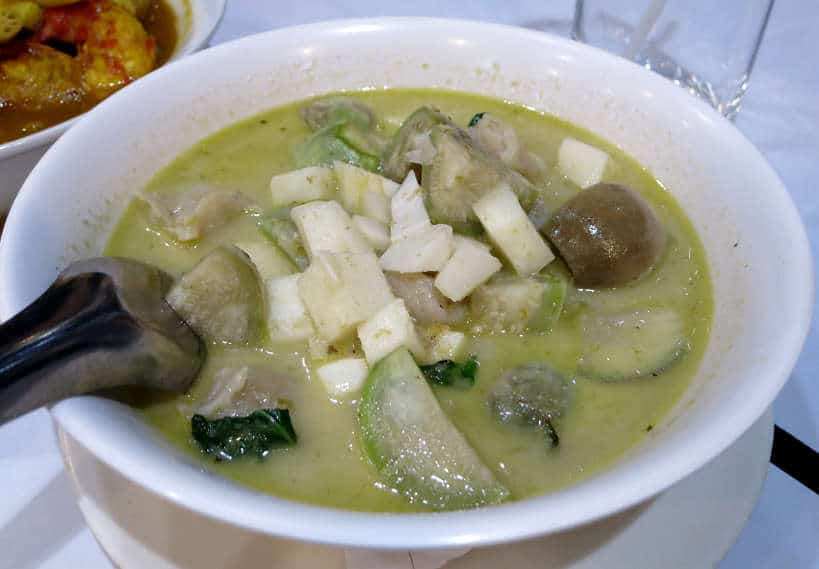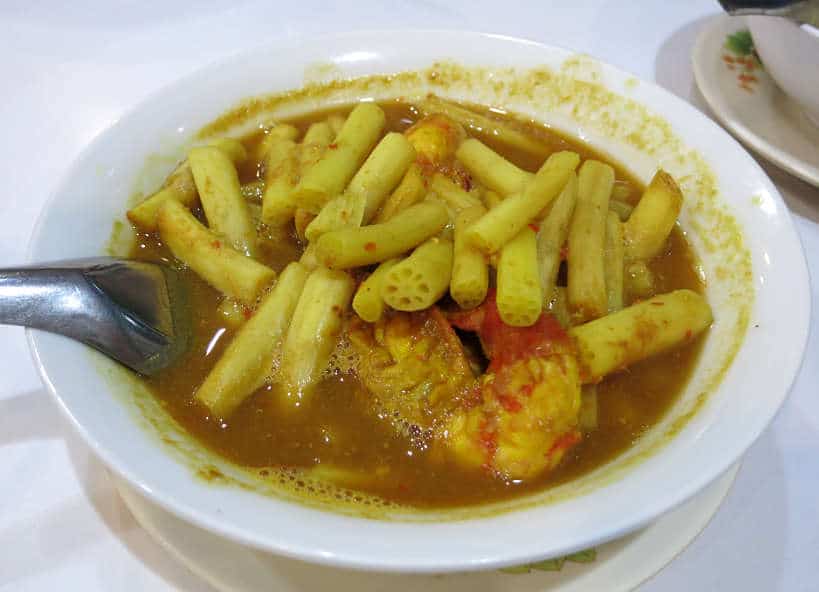 The two dishes that had us begging for more were the stir-fried dishes. The stir fried stink beans with shrimp and minced pork and the stir fried Thai flower with minced pork.
These mouthwatering dishes were exquisite. The crunchiness of the vegetables with the contrast of the spicy pork and shrimp sauces was perfectly balanced. This was our first time tasting Thai flower and we absolutely fell in love. This stop was well worth the visit and a great introduction to authentic Royal Thai dishes.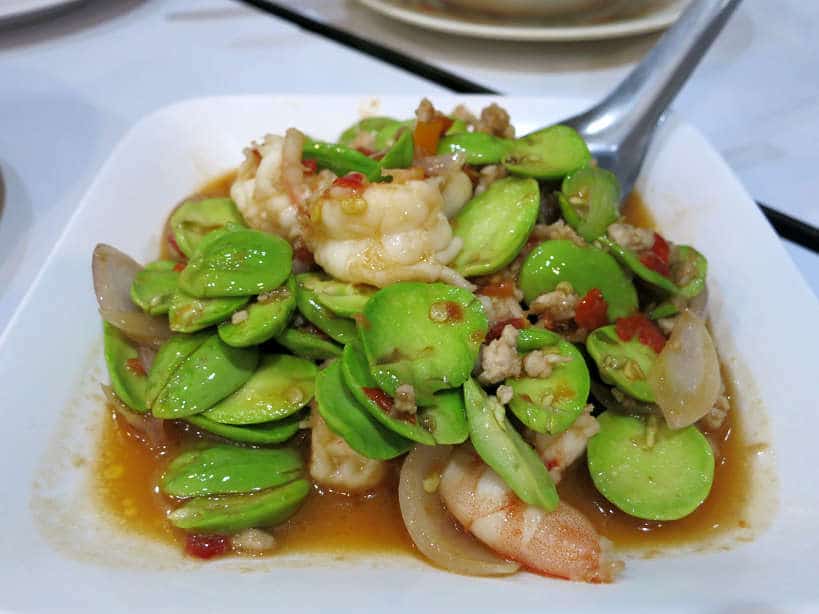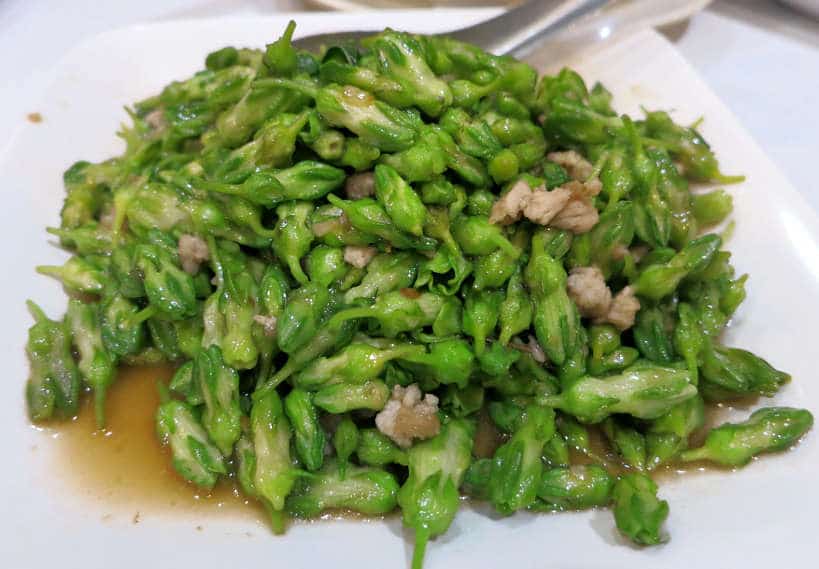 An alcoholic drink is included on the tour and the group had a chance to enjoy the Thai beer Singha at the restaurant.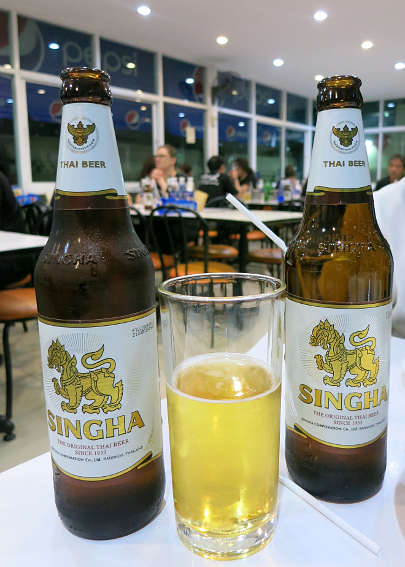 Temple of Bangkok At Night
After having indulged in so many delicious and iconic Thai dishes, a break from the food was welcomed!
That's when we stopped at Wat Pho just south of the Grand Palace. This temple has the largest collection of Buddha in Thailand, including the famous reclining Buddha.
We had visited Wat Pho during the day and to our surprise we discovered that we could come to Wat Pho at night as well and for free! Although we could not see the reclining Buddha, it was nice to walk around in a much quieter and peaceful environment.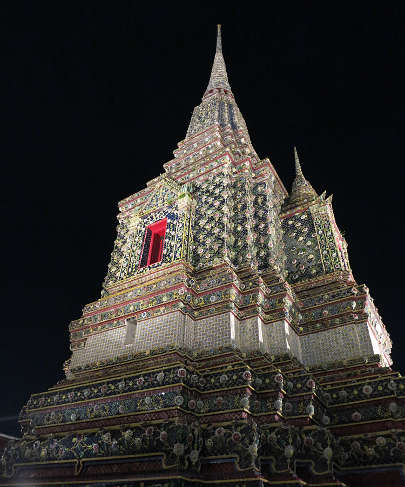 Fried Noodles in the Phlap Phla Chai area of Bangkok
After Wat Pho visit, it was time to head toward Chinatown and its famous street foods. Our guide led us through an obscure back alley just north of Chinatown where fresh noodles were sizzling in large pans. It was fun and quite a show watching the skillful cooks tossing the noodles and playing with fire.
We walked into the back an eatery called Ann Guay Tiew Kua Gai and ordered two versions of the main fried noodle dish we had just seen cooking outside.
I had the roast chicken with egg noodle dish also called Guay Tiew Kua Gai.  While Rosemary tried the roast chicken-ham squid noodle dish.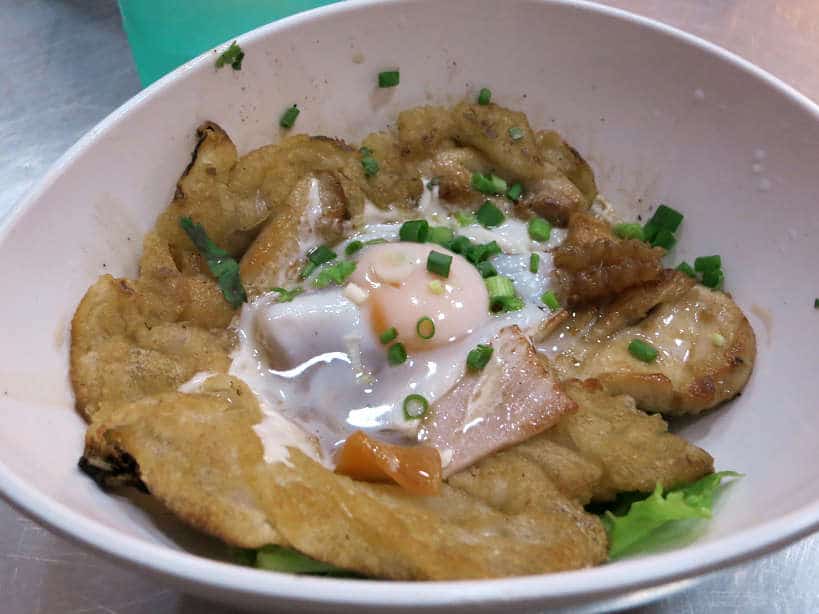 Wow, be prepared for heavenly tasting but greasy dishes. The noodles are sticky and crispy at the same time. The flavors are a mix of the charcoal from the fire, the greasy oil enhanced with soft chicken and a runny egg. I found the taste quite delightful though the noodle dishes are not geared towards the light eater.
Rosemary, on the other hand, liked her dish, but found it a bit too much after all the food we had already eaten.
It is definitely a unique experience you'll want to have in this hard to find eatery.
Sweet Treats in Chinatown to End The Bangkok Food Tour at Night
We got to Chinatown or Yaowarat, our last stop at about 10pm. We were all already stuffed from all the eating, but eager to try popular local desserts. The energy in Chinatown in Bangkok at night was pulsating. There were people everywhere fires burning cooking up a variety of delicious treats.
We made our way over to a dessert stall across from the Shanghai Mansion Hotel, where we were treated to one hot dessert and two cold treats. What we enjoyed about the dessert choices is that they were unusual and not the typical popular desserts you find in Thailand.
The Black Sesame Dumpling in Ginger was Rosemary's favorite. This hot dessert was served in ginger syrup. The dumplings were soft and chewy and filled with a sweet black sesame paste. This dessert is delicious and popular at festivals and events.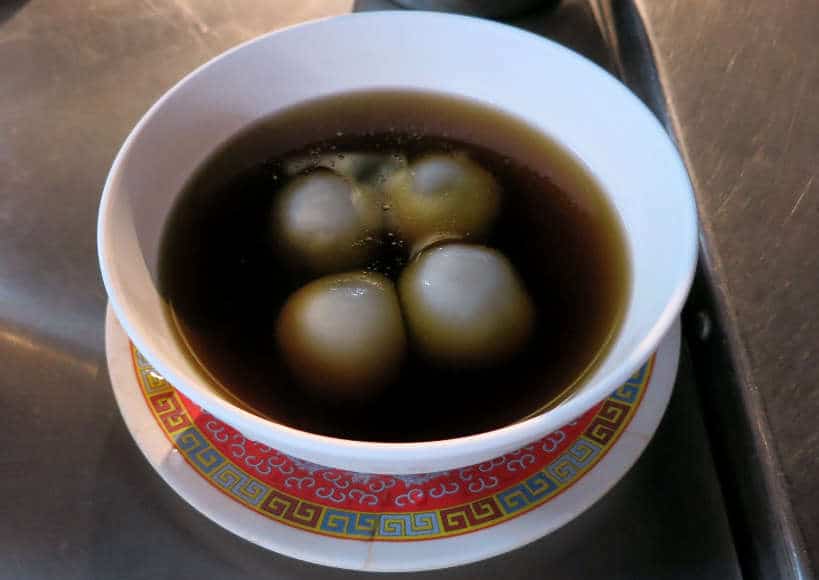 Rather than the popular mango sticky rice dessert, we had green mango with a sweet fish sauce with chili. This simple dessert is made up of slices of green mango and a spicy chili dipping sauce. As unexpected as that might sound, the flavors complement each other for a delicious sourness.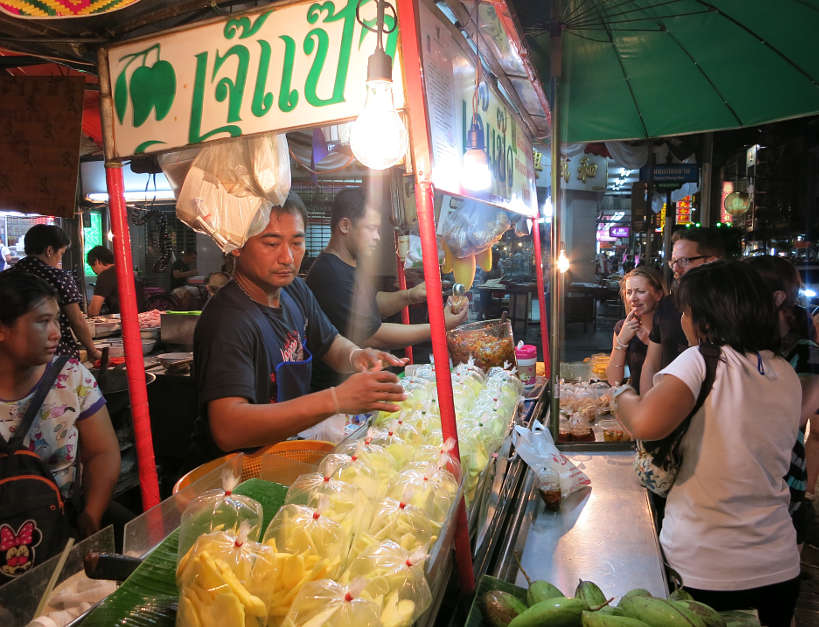 Birdsnest is a Chinese delicacy, believed to have a number of health benefits. We had seen it on a Chicago Chinatown food tour and were curious to try it. For the dessert, we chose the Gingko Birdnest version that came with ice.
While it was tasty, it lacked in flavor as compared to the sesame dumpling or the spicy chili sauce with the green mangos.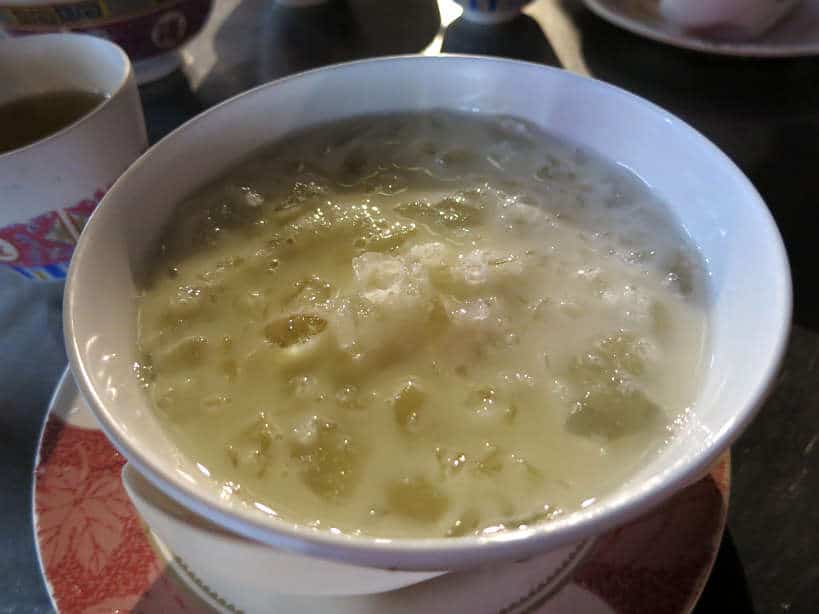 In Summary
Although we love exploring cities by ourselves, we found the Bangkok food tour and tuk tuk adventure at night to be a fun and insightful tour.
Getting leisurely and safely transported in Bangkok at night by tuk-tuk makes for a relaxed and entertaining experience.
Combining that with off the beaten path stops at delicious eateries and learning about the dishes that make Thai cuisine special, was a real treat. This Bangkok night tour is a great introduction to help you navigate the city's overwhelming food scene.
All in all, this Expique tour was a fun way to discover Bangkok at night. This tuk-tuk food tour Bangkok is perfect for first-time visitors or anyone looking to explore the city in a unique way.
Additional Information
Duration of the tour: Approximately 4 hours from 6:00 pm – 10:00 pm
Price: $82 USD per person
Tours: Small group tours, fun tuk tuk experience and amazing Bangkok street food
Special thanks to Expique for having us on this tour. All views and opinions expressed are our own. Full bellies and happy taste buds too.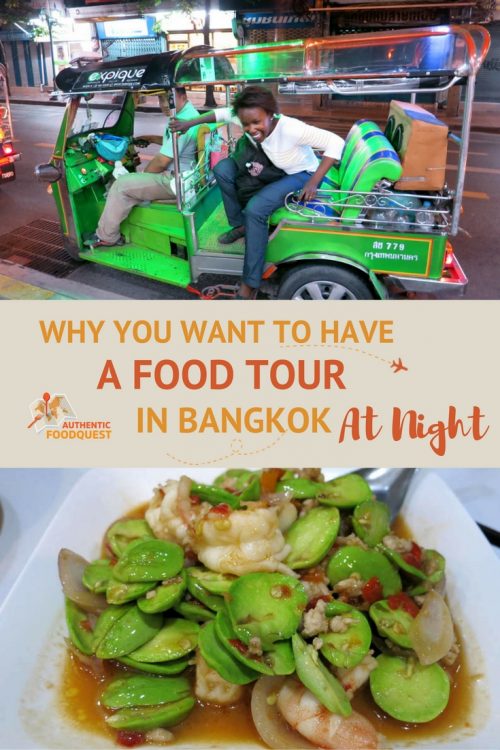 Disclaimer: This page contains affiliate links. That means at no extra charge to you, we earn a small commission when you purchase using these links. Thank you for your support.
Claire is a culinary explorer who travels the world in search of the best local foods. She is always looking for her next culinary adventure to bring you the best bites while exploring new places.