This article has links to products and services we recommend, which we may make a commission from.
What is a Francesinha Porto Sandwich
The francesinha is a typical dish from the north of Portugal, particularly from the Porto region.
A multi-tiered sandwich, it consists of three pieces of bread, filled with different meats, covered with cheese, and served on a bed of sauce.
The slices of bread are interspersed with ham, steak, and sausages. On the assembled sandwich are slices of melted cheddar cheese covering it completely.
Served on a deep plate filled with sauce, it's garnished with a fried egg and lots of fries around it.
The sauce is the most differentiating element of the francesinha sandwich. Each restaurant has its own secret sauce made from old and treasured recipes.
Though the sauce contains a mixture of tomatoes, broth, Portuguese piri piri spices, beer and the famous Port wine from Porto.
The francesinha sandwich is not something that can be eaten daily. However, it is a dish that you should eat at least once in your life.
And, if you are lucky enough to visit Porto, having francesinha should be a mandatory activity on your itinerary.
READ MORE: Top 10 Authentic Food You Want To Delight In Porto
How to Pronounce Francesinha
The peculiar name of this dish is closely linked to its origins. And, the correct translation would be "little French woman".
The word, an adjective of the diminutive "small" or "little" combines both French and "inha" for small to form "francesin-ha".
Therefore, the pronunciation of the word is franCess·seen·nyuh.
History of Francesinha Sandwich
The recipe for the francesinha was invented by Chef Daniel da Silva in the 1950s. At the time, many Portuguese had migrated to France and were influenced by French culture and the croque monsieur sandwich.
Daniel da Silva who had worked in Belgium and France was inspired by the croque monsieur. And, upon his return to Porto at the La Regaleira restaurant, he invented the succulent francesinha recipe.
As a tribute to French women who he thought were less uninhibited than Portuguese women, he added spicy flavors to the sauce.
The francesinha recipe quickly became popular all over Porto, with some restaurants solely dedicated to the preparation of this sandwich.
Over the years, there have been many imitations of this famous Portuguese sandwich and countless ways of serving it.
Variation Of The Francesinha Sandwich
There are several ways of making the francesinha recipe and each restaurant has their own technique.
At Cafe Santiago restaurant in Porto, they make the sandwich using five different types of meat.
Included is Portuguese ham or fiambre, linguiça or Portuguese cured pork sausages, beef, mortadella and fresh sausages.
Other variations include francesinha with seafood. Known as Francesinha à Barcarola, this version is topped with prawns instead of a fried egg.
There is also pork francesinha, which replaces the fillet of beef with a fillet of pork.
And, for non meat eaters, the Francesinha de Atum, which is stuffed with tuna, for a lighter alternative.
In this francesinha recipe, we make a version that is as close to the original recipe as possible.
We use three kinds of meat, beef fillet, mortadella ham and chorizo sausages.
Along with the sauce and the sauce and fried egg, you'll enjoy an authentic taste of francesinha Porto.
RELATED: If you love sandwiches you'll love our other Portuguese sandwich recipe. Discover the Bifana recipe and how to easily make it at home
Discovering Francesinha Sandwich in Porto
One of the first questions we got asked when we asked locals for the traditional Porto foods was "have you tried Francesinha yet?"
Cafe Santiago, considered one of the best local restaurants, is where we tasted the sandwich for the first time.
This unassuming restaurant is considered by many to make the best francesinha restaurant in Porto.
This francesinha Porto sandwich is massive and we were glad to have shared it. The eye-catching sandwich with a fried egg sitting on top was a sight to behold.
Wrapped with cheese and surrounded with french fries, we couldn't wait to dig in. Packed with meat, cheese and eaten with hot tomato beer sauce, we savored every bite.
The contrast of flavors and textures was quite delightful. The sauce with a hint of spice added much juiciness to the experience and the fried egg was a delicious touch.
Be warned, this sandwich is filling and best enjoyed in moderation or if eaten by itself if very hungry. Nevertheless, it is a Porto food speciality that is not to be missed.
Francesinha Recipe – How To Make Porto Sandwich at home
This signature dish of Porto is easy to make at home. However, it does require making the different elements separately.
The first step is to prepare the sauce followed by the beef fillet and sausages which will be the filling.
The sandwich is then assembled, covered with cheese and an egg and then broiled in the oven. The most traditional accompaniment is french fries.
For the Sauce
Crushed tomatoes
Beer, lager beer of your choice
Beef broth
Butter
Onion
Garlic
Corn starch
For The Sandwich
Francesinha Recipe Tips
To make a perfect francesinha sandwich, you want to make sure everything is well contained within the slices of bread.
If using thick-cut beef or sausages with a wide diameter, we recommend using toothpicks to hold the layers together.
This will ensure that the francesinha does not fall apart while cooking.
As well, when assembling the sandwich be sure to cut the sausages and steak pieces that extend beyond the slice of bread.
This will make it easier to wrap the cheese around the sandwich before broiling it in the oven.
Francesinha Sauce Secrets
The secret to a good francesinha is in the sauce. In Porto, this sauce cannot miss Port wine and beer, and freshly crushed tomatoes.
For the best flavors, use the best and freshest ingredients possible. Avoid canned tomatoes and instead crush them yourself.
Regarding the seasonings, bay leaves, mustard powder, peri peri sauce and salt are essential.
How to Eat Francesinha
Serving the francesinha with a fried egg on top is almost mandatory. Enjoy the francesinha sandwich like a local in Porto with a generous side of french fries.
The sauce is an important part of the experience. Make sure to have plenty of sauce on the side to dunk the sandwich in.
Regarding the drinks, without a doubt, the francesinha tastes better with a cold beer. In Portugal, Super Bock is the local beer of choice, but you can substitute with your favorite brew.
Alternatively, a glass of Portuguese Vinho Verde, a light white wine, is also a great choice.
Francesinha Recipe Step by Step Instructions
Sauce Preparation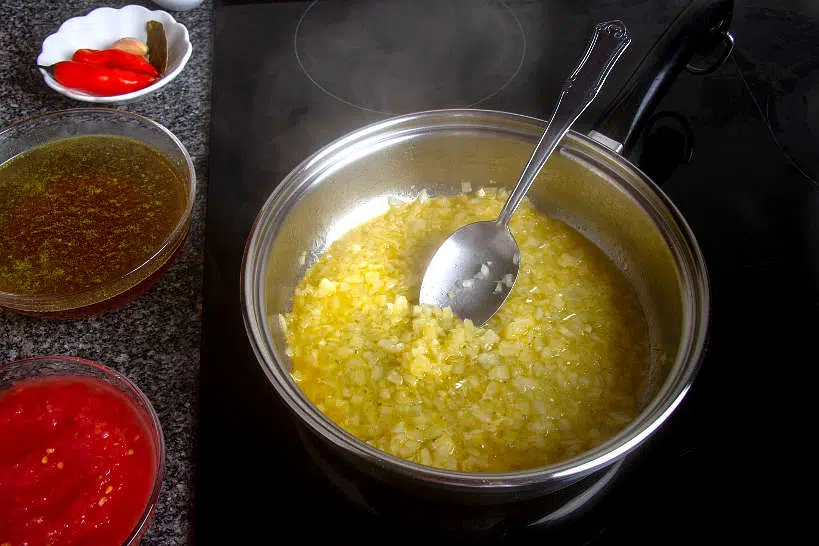 Over medium heat in a deep saucepan, melt the butter and then cook the onions until translucent.
Add the rest of the ingredients starting with the tomatoes, peri peri sauce, beer, bay leaf, Port wine and broth.
Cook uncovered for 10 minutes. Add cornstarch to thicken sauce. Leave in the hot pan and set aside.
Assembling Francesinha Sandwich
Start assembling your francesinha sandwich on a slice of bread. Add the ham and steak and then cover with another slice of bread. Add the sausage and cover with the last slice of bread.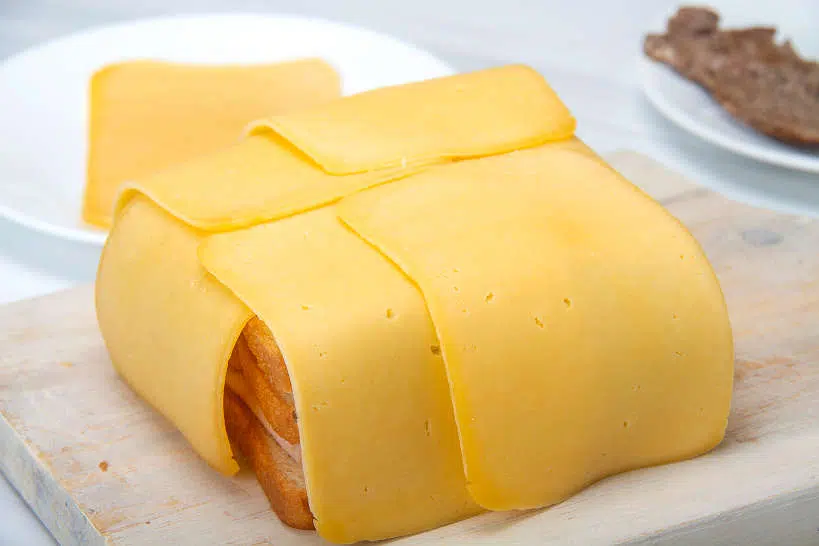 Once the sandwich is well assembled, cover with a slice of cheese on each side. On the top slice of cheese, cut out a small piece or use a cookie cutter to create a notch. Crack open a raw egg and make sure the egg yolk is placed within the slice of cheese.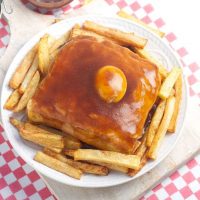 Francesinha Recipe
This francesinha recipe is for a delicious iconic sandwich from Porto. Full of flavors, this sandwich has layers of sausage, ham and steak wrapped in cheese. Topped with an egg and served with a secret sauce, get ready to dive into the rich and tasty flavors of Portugal's second city.
Print
Pin
Rate
Ingredients
For the sandwich
6

slices

white ​​bread

2

tablespoons

oil

½

pound

beef fillet

cut into two

½

pound

ham

½

pound

linguica sausages

or chorizo

1

pound

cheese

to melt
For the sauce
1

small onion

finely chopped, 70 g

2

tomatoes

ripe, grated, without skin or seeds, 100 g

1

garlic clove

crushed

1

bay leaf

1

tablespoon

Peri Peri sauce

12

oz

lager beer

3

tablespoons

butter

1

cup

beef broth

¾

cup

Port wine

1

tablespoon

fine cornflour or cornstarch

Salt and pepper to taste
Instructions
For the sauce
Place a small saucepan over medium heat on the stove top. Melt the butter and add the onion, garlic, and a little salt.

Cook until the onion is translucent and begins to brown. Immediately, add the crushed tomato, and the peri peri sauce.

When the tomato is well cooked, add the beer, bay leaf, Port wine, and broth. Continue cooking uncovered for about ten more minutes. Dissolve the cornstarch in a quarter cup of water. And add it to the sauce. Cook for about five more minutes, stirring, until the sauce thickens.

Strain or blend the sauce and then return it into the hot pot. Set aside.
For the filling
Season the steak with salt and pepper. Heat two tablespoons of olive oil in a frying pan and once hot, cook the steak for three minutes on each side. Make sure it browns a little.

Cut the sausages in half, lengthwise, as this prevents them from curling up during cooking.

Cook for three minutes on each side. Toast the slices of sliced ​​bread.
Assembling the francesinha
Place one slice of ​​bread on a plate and top with the sliced ham.

Place the steak on top of the ham. Trim the edges of any protruding pieces of meat.

Cover with another slice of ​​bread and top with sausages.

Finally, cover with another slice of ​​bread. Cover your sandwich with 6 to 8 slices of cheese. Repeat for the other sandwich.

If desired, with a cookie-cutter, make a notch in the cheese at the top of the sandwich. Crack open a small raw egg and place in the opening.

Preheat oven on broiler

Put the plate of sandwiches quite close to the top and bake for about 3 minutes. Check regularly to make sure the cheese has only melted and not turned brown.

Carefully remove the plate and transfer sandwiches to two plates.

Pour warm sauce over each sandwich covering it entirely.

Surround each sandwich with plenty of french fries and enjoy.

Serve some additional sauce to use while eating your sandwich.
Notes
If you have trouble keeping the cheese and meat in the place, hold together using toothpicks 
We use extra-virgin olive oil for this recipe. You can use any vegetable oil as well.
Nutrition
Serving:
1
|
Calories:
1979
kcal
|
Carbohydrates:
33
g
|
Protein:
110
g
|
Fat:
140
g
|
Saturated Fat:
67
g
|
Polyunsaturated Fat:
11
g
|
Monounsaturated Fat:
45
g
|
Trans Fat:
1
g
|
Cholesterol:
576
mg
|
Sodium:
3584
mg
|
Potassium:
1430
mg
|
Fiber:
2
g
|
Sugar:
11
g
|
Vitamin A:
4063
IU
|
Vitamin C:
17
mg
|
Calcium:
1683
mg
|
Iron:
5
mg
More Related Cooking Products
Curious by nature, Rosemary loves exploring new flavors and connecting with locals. She shares her insights and culinary finds from her travels to inspire people to connect local through food.