"How did Girona get it status as a food city?"
This is a question we asked our Girona food tour guide while exploring traditional Catalan food in Costa Brava.
While seemingly simple, the answer to the question is steeped in layers of history and tradition.
Taking a food tour is one of the best ways to explore the cuisine at a new destination.
With the insights from a local guide, you get to peel back the layers and understand the food of a region.
"Catalan food", Pat our guide with Girona food tour told us, "is born from a rich history of influences. From the Roman empire to geographical sea and mountain influences the culinary history runs deep".
Michelin restaurants and contemporary chefs have propelled Catalan food to rock star status.
And Catalan chefs like, Ferran Adrià of the famed elBulli and the Roca Brothers of El Celler de Can Roca have been recognized as some of the world's greatest chefs.
Join us on a Girona tour to discover the culinary delights of traditional Catalan food.

Xuixo Girona's Legendary Pastry
Starting the day like locals, our first stop on the Girona food tour was for the legendary pasty known as xuixo.
Like many other traditional Catalan foods, the xuixo has numerous legends surrounding its origins. "Let me tell you my favorite story" Pat told us, "it is about el Tarlà, the juggler".
As the story goes, in the 14th century during the Black Plague, el Tarlà, a juggler in Girona used to cheer people up and was much loved.
Apparently, el Tarlà, was in love with the local baker's daughter. While seeing her in the bakery basement one day, he covered himself in flour to avoid being discovered by the baker who was on his way to the basement.
Unfortunately, some flour got into his nose forcing him to sneeze "shoo shoo." Consequently, he was discovered by the baker who was very angry because he was disgracing his daughter before marriage.
To beg for forgiveness and to save his life, he made up a recipe for xuixo on the spot.
Going along with the fascinating story was the equally delectable pastry. The flaky crust is filled with Catalan crème, deep fried and sugar coated.
We were surprised by light it was and with a cup of coffee, the perfect start to this Girona food tour.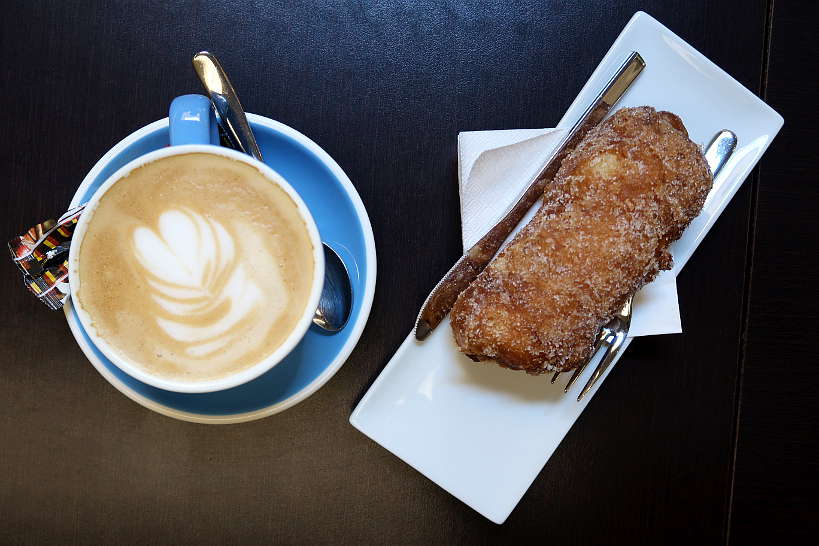 The Flavors at Mercat Del Lleo
Continuing on the Catalan food exploration, our next stop on the Girona food tour was to the city's main market.
Mercat del Lleo or Lion's Market has more than 60 stalls and an abundance of amazingly fresh produce.
Engulfed by the bright colors, scents, and tantalizing fruits, vegetables, seafood, and artisanal products in every direction, our senses came alive.
With so much experience, Pat led us to three local vendors for their unique specialties.
At the Le Petit Producteur stall, Xavi, the owner of a stall with 20 years of history, introduced us to local Catalan cheese and olive oils.
We also sampled a heavenly Catalan dessert cheese known as recuit, served with honey. Smooth and tasty, this was simply delightful.
The Pescala Salada food stall was a stop for bacalhau or codfish. Having immensely enjoyed bacalhau in Portugal, considered Portugal's national dish, we were surprised to find it in Girona.
Our favorite sample at this stand was for Esqueixada, commonly referred to as Catalan ceviche.
Discovering sweet sausage or botifarra dolça, a Catalan sausage at our final stall visit was a treat.
This traditional Catalan sausage is cured in sugar and was surprisingly tasty. It is eaten as a starter, snack or dessert and is said to have been a favorite of Salvador Dalí.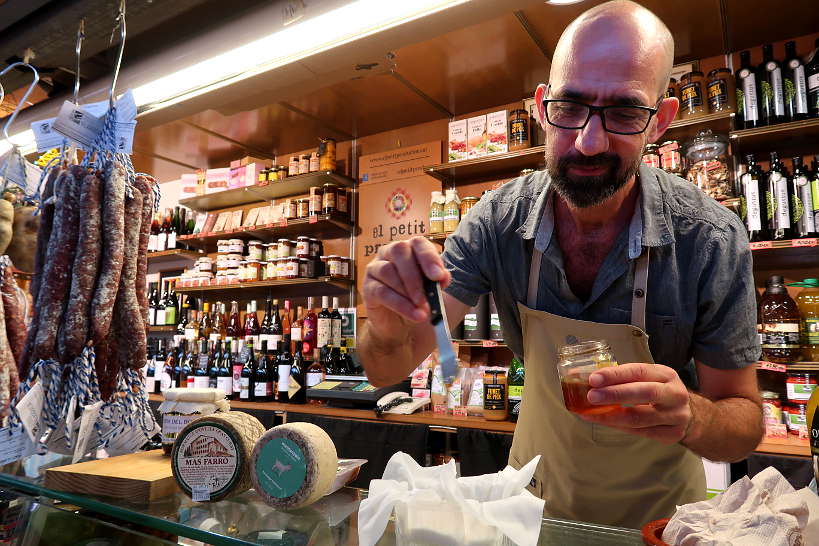 Girona Medieval City
What we enjoyed about this Girona tour is that it is more than a food tour. It is also a cultural tour.
We learned that Girona was founded by the Romans and it grew during the medieval times.
The medieval characteristics of Girona can be seen in the old town, which is the core of the city.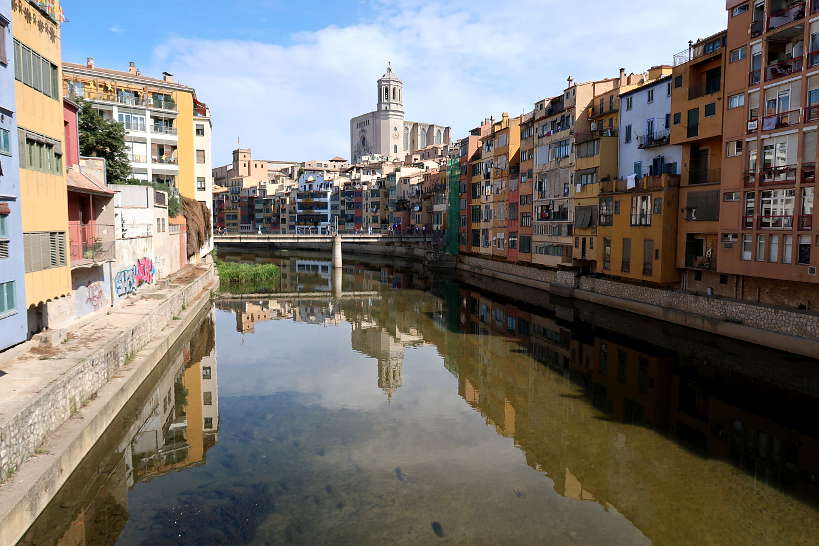 Wine Square
We stopped at the Wine Square where we learned about Girona's rich folklore and legends.
Streets with names like Grape street, Vegetable street, or the names of Squares like Oil Square, and Wine Square can still be found.
Places were named after the activities that took place in that area to make it easier to find. With this in mind, Wine Square was where the wine activities took place.
Further, a small statue of a man with two horns on a wall in Wine Square is said to have been a greedy moneylender.
As legend has it, he is said to be watching over the square from the corner he used to lend money from.
Pat invited us to take a step back in time and imagine what life was like then.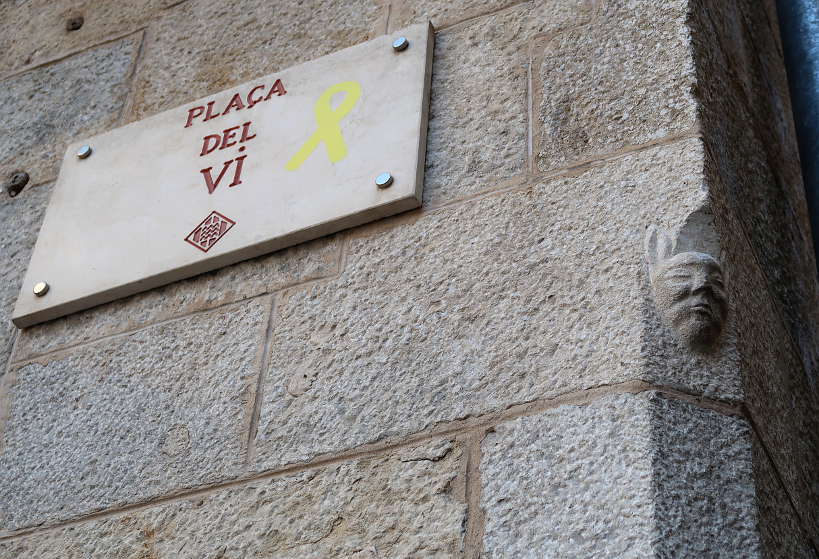 Girona Cathedral
As we walked through the narrow medieval streets of Girona, we took the time to make a stop at Girona Cathedral.
This impressive Cathedral has a unique combination of Baroque, Roman and Gothic styles.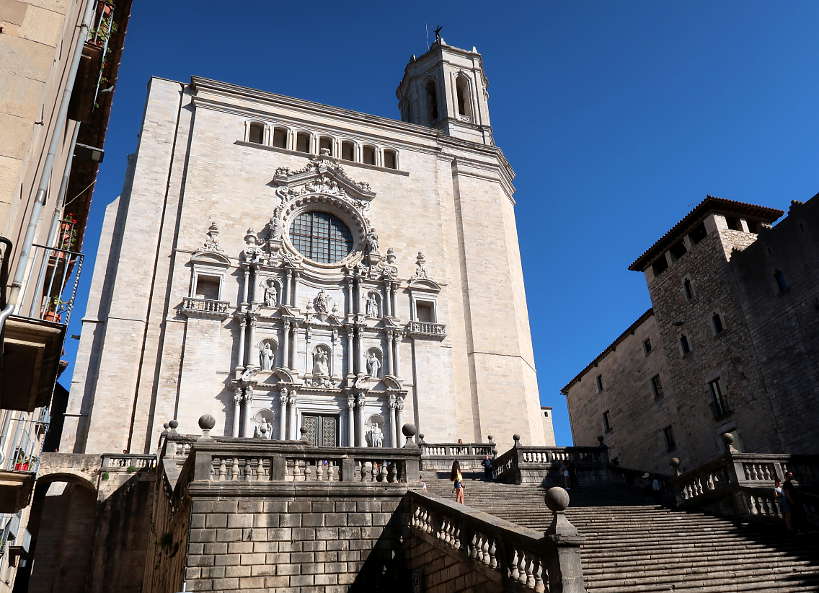 Girona City Walls
Surrounding the city are the Girona city walls. Pat recommended that we walk along the walls, which we did later.
The medieval walls were built in the 9th century to protect the wealthy city from outside attacks.
These are the most complete remaining walls in Spain and they are still all around Girona old town today.
The walk on the walls offers numerous towers with viewpoints over the city and the areas around.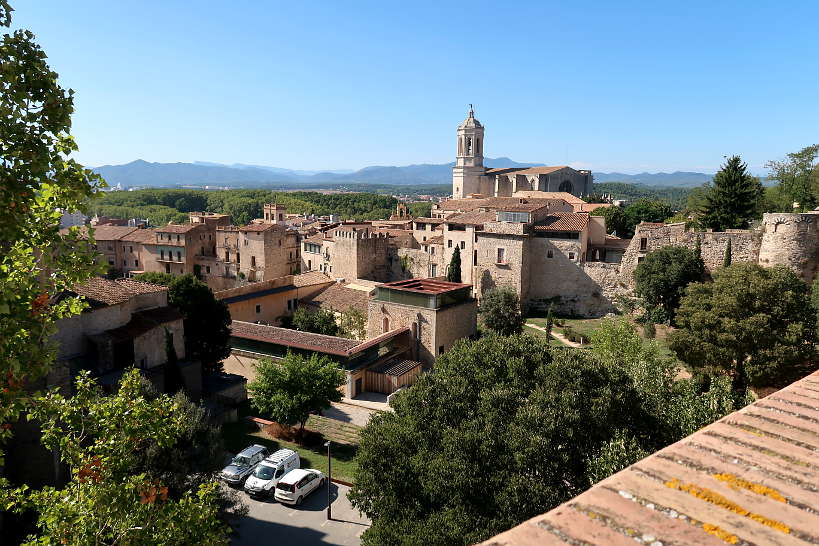 Catalan Tapas at Artusi Restaurant
Going out for tapas is one of the most popular activities in Spain. And for that reason, a stop for authentic Catalan tapas was part of the Girona tour.
Artusi restaurant, located close to Las Ramblas Girona was described by Pat, as the best place for Catalan tapas.
As we sampled a variety of small dishes along with the local Empordà wine, we learned about traditional Catalan food.
One of the characteristics of Catalan cuisine is a mix of sweet and savory such as strong meats cooked with fruit.
Our last tasting of ravioli with Girona veal in a bed of apple compote and a reduction of sweet red wine epitomized Catalan food.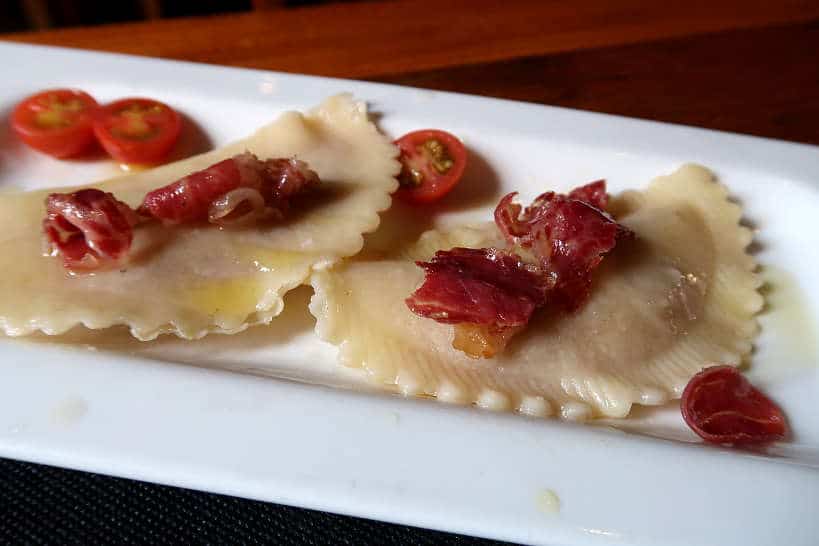 Spanish Ham Tasting
Diving into the world of Spanish ham was a fascinating stop on our Girona food tour. This was our first ham tasting experience, which is similar to a cheese tasting.
We sampled three different types of Spanish ham, starting with the everyday Serrano ham to the exclusive Iberico ham.
While tasting the different grades of ham, we learned about the long history and fascinating world of Spanish ham.
There are dozens of varieties of ham in Spain. And the differences are influenced by the breed of pigs, diet and whether the pigs are allowed to roam freely or not.
Where the ham is cured also impacts the textures and flavors and subsequent prices.
Over a glass of Cava or Spanish sparkling wine, we enjoyed discovering the nuances in the different types of ham.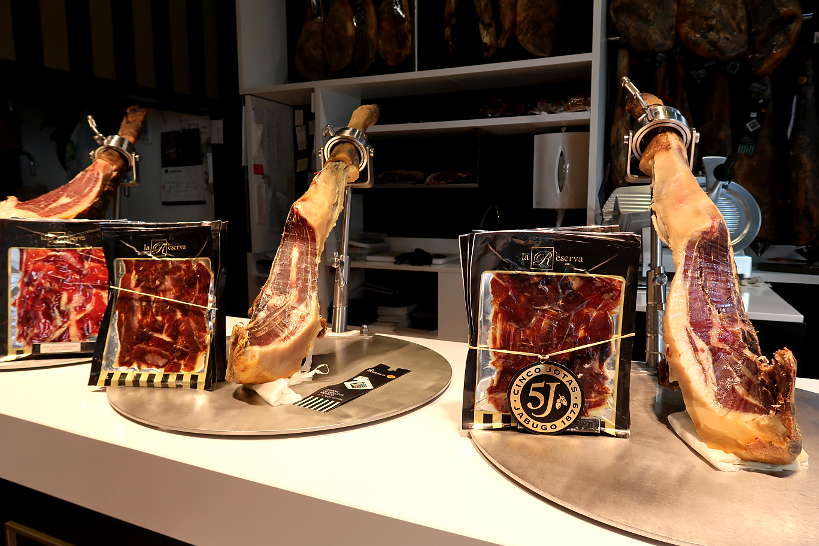 A Girona Walking Tour
As we ate our way through Girona, we appreciated the opportunity to walk and digest along the narrow medieval streets.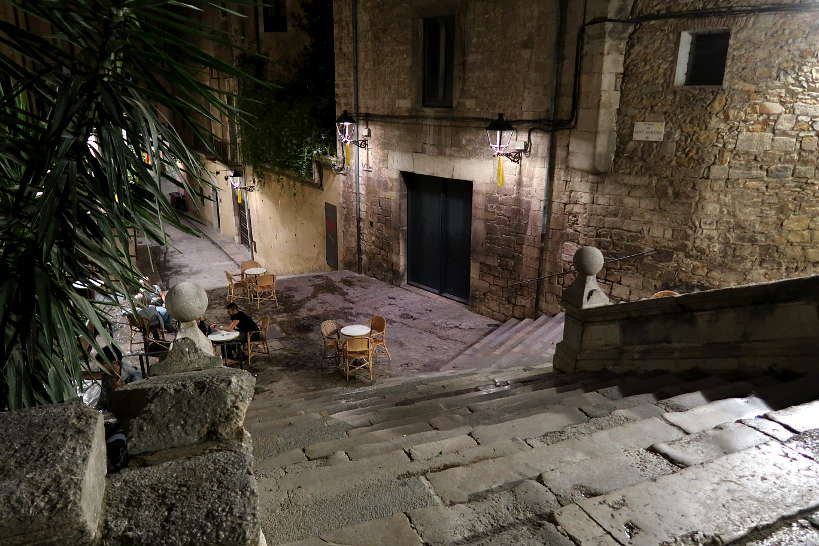 Las Ramblas Girona
Although not as famous as Las Ramblas de Barcelona, we strolled along Las Ramblas of Girona.
We learned that Ramblas were originally long streets built over rivers.
In Girona, an exception was made because the river is on the other side of the buildings. Nonetheless, Las Ramblas Girona is a wide pedestrian street with its own unique charm.
The street also serves as a marketplace on Saturdays, where vendors come to sell mostly food products.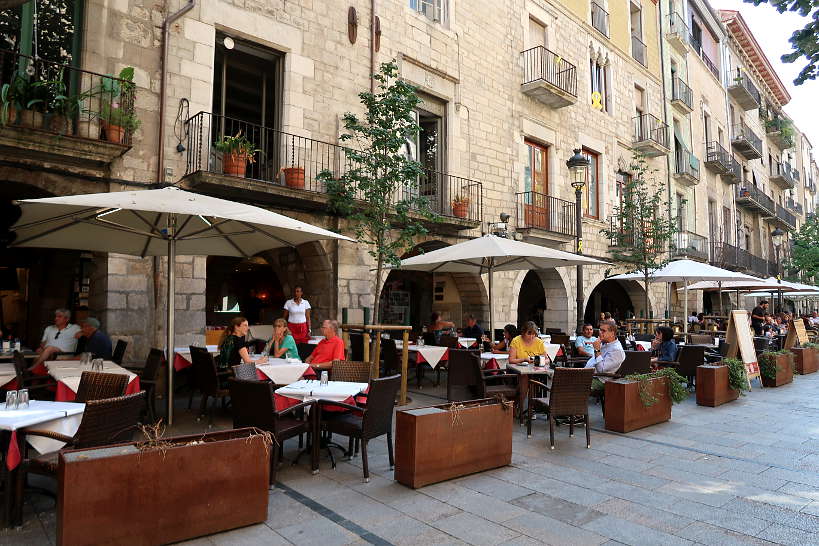 Iconic Eiffel Bridge Girona
One unmissable architectural stop was a walk on the most iconic bridge in Girona. Known as the Red Bridge or Iron Bridge, it was built by Gustave Eiffel Bridge 20 years before the Eiffel Tower.
Walking on Eiffel bridge reminded us of the famous Dom Luís I Bridge in Porto, Portugal built by Gustave Eiffel's student. Walking on it and admiring the views is one of the best things to do in Porto.
The Red Bridge in Girona is also known as one of the best spots to take most iconic photos of the city.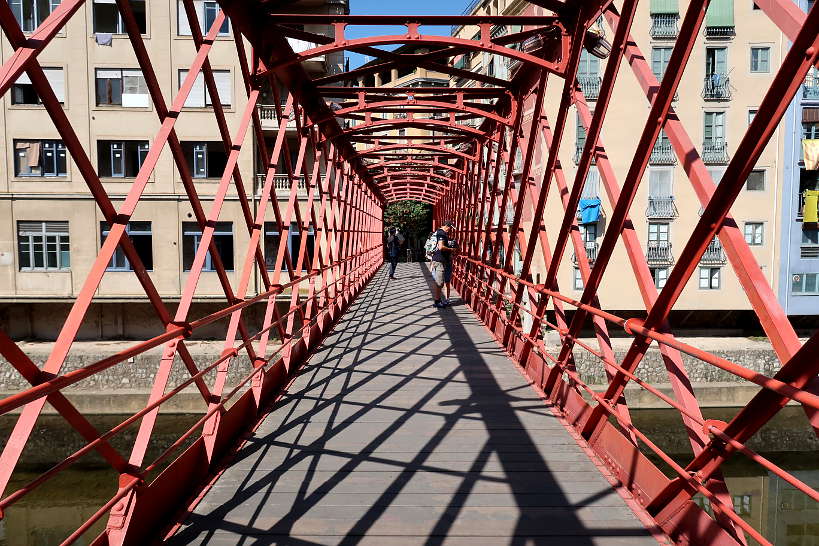 Girona Game of Thrones
Pat also shared with us that Girona was chosen as one of the filming locations for the Game of Thrones Season Six.
Numerous medieval streets and buildings from the old town served as shooting stages.
Although we are not Games of Thrones aficionados, we certainly could appreciate the beautiful grounds, ideal for a medieval themed series.
If you are GoT fan, you should not miss the opportunity to join the Girona Game of Thrones Tour.
This tour takes you on an intriguing journey inside the official filming location of Game of Thrones.
Linking architecture with one of the most famous medieval fiction stories, it is a unique experience for GoT fans.
Rocambolesc Gourmet Gelato
Our Girona food tour ended at Rocambolesc, an artisanal gelato store created by Jordi Roca. Jordi is the youngest brother of the world famous El Celler de Can Roca restaurant.
The store which looks like Willy Wonka walked through, is a delicious whimsical array of colors and temptations.
Using only natural ingredients, the small selection of about six flavors and 34 toppings, the choices are endless. With Pat's guidance, we each ordered the store specialty known as the panet. This is a hot brioche stuffed with refreshing ice cream.
Despite the long lines at Rocambolesc, this ice cream store in Girona is worth the wait.
The incredible flavors and cutting edge ice cream making techniques is nothing short of a gastronomic delight.
This was the perfect end to our Girona food tour.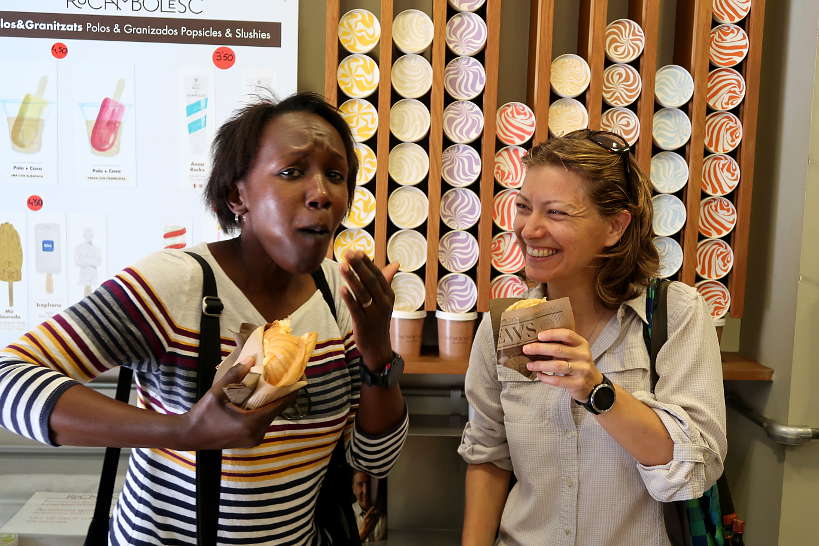 In Summary
Food is one of the best ways to truly understand a culture. We took the Girona food tour as novices and ended up falling in love with Catalan food.
With our expert guide, Pat, we not only covered the traditional Catalan foods but also the fascinating legends behind the dishes.
As a native of Girona and the daughter of a restaurant owner, Pat is intimately familiar with local Catalan culinary culture.
The Girona food tour covers more than food. It is also a walking tour of Girona covering important historic and cultural insights.
If your travels take you to Girona, discover Catalan food on a Girona food tour. Get insights and perspectives you otherwise wouldn't have.
And, taste for yourself why Girona is on top of the world's culinary map.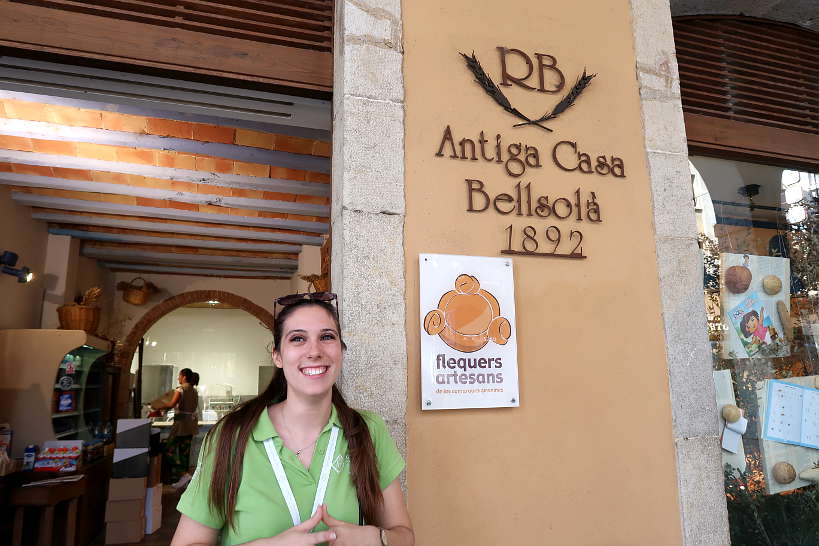 About Girona Food Tours
Girona Food Tours is the first official company to organize guided food tours in Girona. The tours offer immersive experiences into Catalan cuisine and culture. Different tours are offered including a Catalan cooking class.
On each tour, you'll taste traditional Catalan food, discover the local wines and get a better understanding of Catalan culture with a local.
Go with a curious mind and eat only a small or light breakfast. Be prepared for a fascinating discovery.
Click here to book your Girona Food Tour.
Love this Girona Food Tour? Pin it!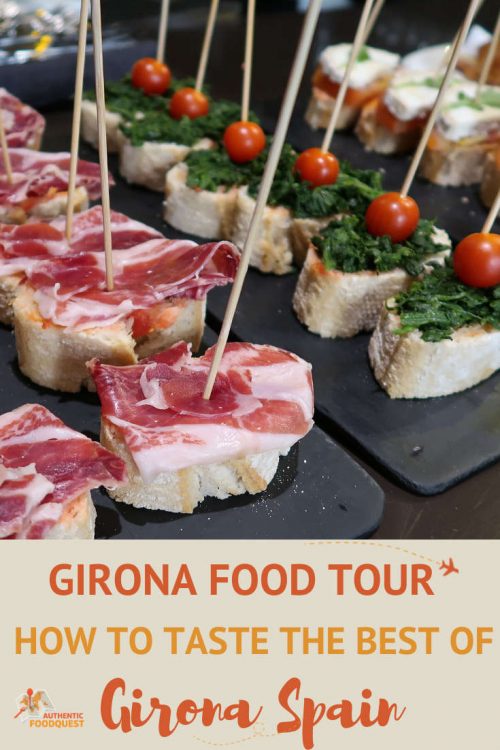 Disclosure: Special thanks to Costa Brava Tourism Board and Girona Food Tours for having us on this tour. All views and opinions expressed are our own. Full bellies and happy taste buds too!
Rosemary is the editor-in-chief and strategist at Authentic Food Quest.
Traveling slow since 2015 with her partner, Claire, she has explored the cuisine in 45 countries and more than 240+ culinary cities.
Her writing about local food specialties has been featured in Lonely Planet, Business Insider, Honest Cooking, Food Insider, and Huffington Post.
As a food and travel writer, Rosemary has co-authored three books, including one in collaboration with Costa Brava Tourism.
Rosemary is an avid runner when she's not eating and exploring new destinations. She has run ten marathons and counting.
Before Authentic Food Quest, Rosemary held senior-level strategy positions in advertising. 
Find out more about Authentic Food Quest