Have you heard of Hawker Centers?
If you are traveling to Singapore, you will hear about them, see them and smell them.
So, what is a Hawker Center? It is an open-air building that houses a variety of local food stalls. The food stalls sell local dishes and specialties from the city. You will find them typically near large housing complexes where people live.
You will not only find your next best meal but you might also find your next best friend! This is where locals eat and congregate. Moreover, they are easy venues to strike up conversations with food stall owners or locals eating on open tables.
The food at hawker centers is pretty affordable and similar in price to its neighboring countries. Meals typically cost under  $5USD and the quality is really good. There are many famous vendors hawker centers, some of which are Michelin rated.
Although you might think hawker centers are similar to food courts, in Singapore, they are more than that. They are an institution.
Why do they matter so much to Singapore?
They are the lifeblood of Singapore. In such a racially and religiously diverse country, Singapore's multiple cultures come together at hawker centers. 
A visit to any hawker center will help you understand how the diverse communities co-exist. They are the place to eat Singapore and all of its diversity
This quote by authors Peter Farb and George Armelagos summarizes what food and hawker centers are to Singapore:
"Food to a large extent is what holds a society together"

Hawker Centers in Singapore: How It All Began
To better understand this unique aspect of the Singaporean food culture, let's go back in time where it all started.
Street hawking in Singapore was common practice in the 1800s and it continued after World War II,  as a result of high unemployment and the need for cheap and affordable food. Hawking provided families jobs with low investment and skills.
However, Singapore as an island, with no natural resources, suffered from shortages of water, lack of proper food conservation and disposal. The conditions in which the food was prepared were not ideal, leading to spread of germs and consequently, diseases like cholera and typhoid.
At the same time, the operation of street hawkers was disorganized and would obstruct traffic. Bribing the police to avoid fines became common practice.
In the 1950's, Singapore's government decided to address this growing problem and by the 1960's hawker centers, were born!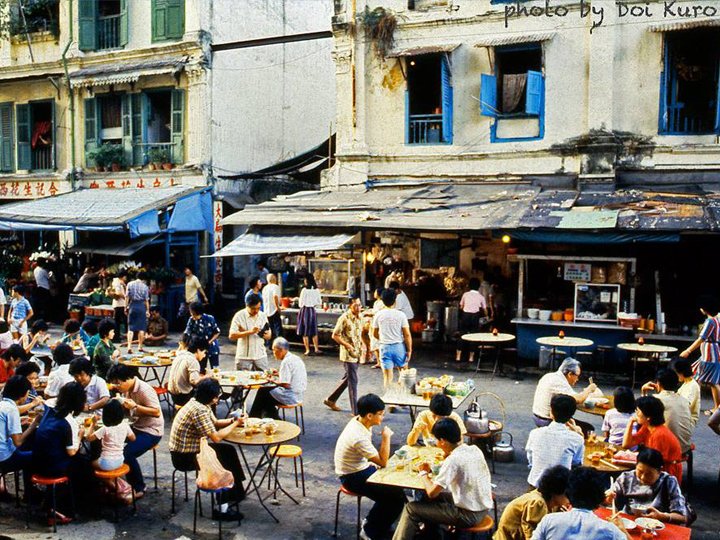 Today, you'll find hawker centers in all the different neighborhoods in the city. To taste Singapore's cultural mesh, here are 6 Best Hawker Centers to experience Singapore like a local.
1 – Maxwell Food Center & Hong Lim Food Center – Chinatown 
Maxwell Food Center
Located in the heart of Chinatown, Maxwell Hawker Center is a very popular center with both locals and tourists. Maxwell food center is always crowded, but despite the over 100 food stalls, there are only a couple of stalls that have the longest lines. These are stalls that have received glowing endorsements from Anthony Bourdain and the Michelin Guide.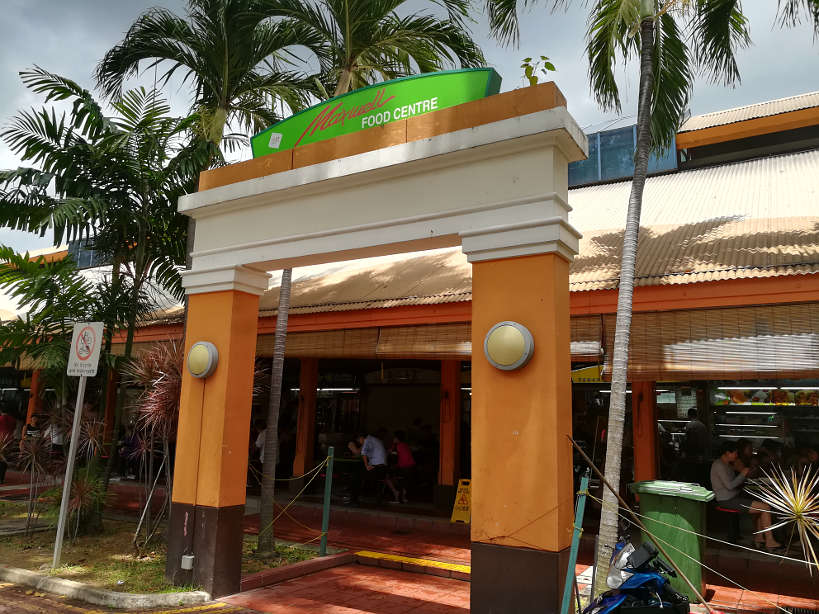 Cuisine To Try
There are many stalls and vendors with delicious dishes worth experiencing. From chicken rice, Singapore's favorite dish to Chinese porridge, fried noodles and more. Everything you can think of, you'll find.
In addition to the food, you'll also find traditional drinks like Teh Tarik which is tea with condensed milk or Yuenyeung, a blend of coffee and drinks. Fruit juices, desserts, and snacks are plentiful at the center.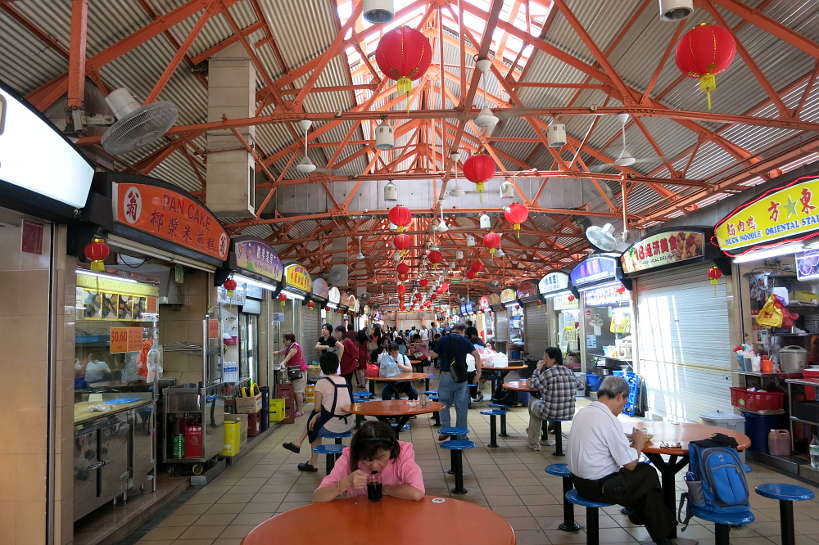 What's Around
Strategically located next to Chinatown and not far from the business district, the location is ideal for exploring. Further down from Maxwell Food Center is the Buddha Tooth Relic Temple and Museum.  
This ornate temple and colorful temple holds the repository of the sacred Buddha tooth in the Sacred Buddha Tooth Relic Chamber. This is a great place to start your exploration of the neighborhood.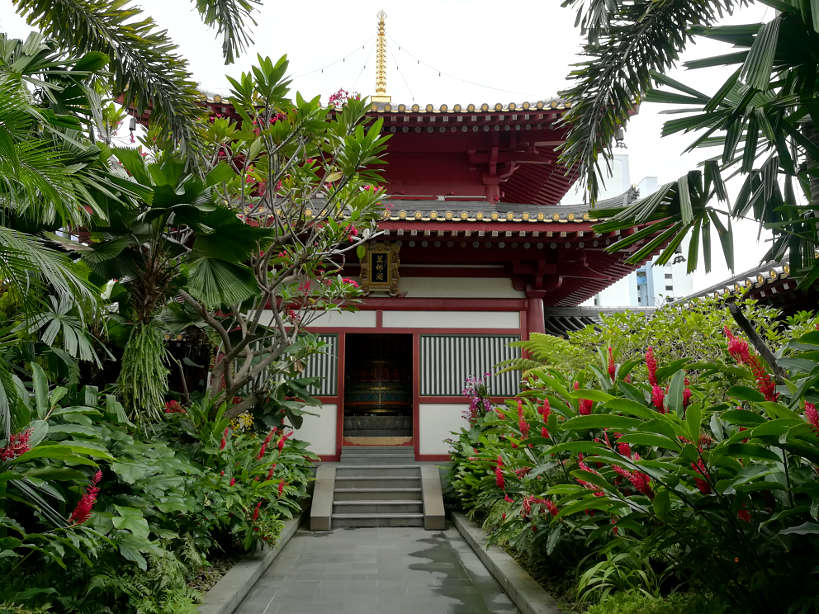 How To Get There
Take the MRT and exit Chinatown. Take the Pagoda Exit and walk
Address:1 Kadayanallur St S069184
Hours: Everyday, 8:00 am – 11:00 pm
Hong Lim Food Center
This Food Center is located a few blocks from the Chinatown Heritage Center. It is housed in a local Chinese neighborhood with a local vibe and not many tourists.
While it is not as famous as Maxwell Food Center, it is must stop for all the food lovers. You want to go at the busiest time which is during the week, at lunch time when office workers come eat. Hong Lim Food Center is said to be one of the best hawker centers in Singapore.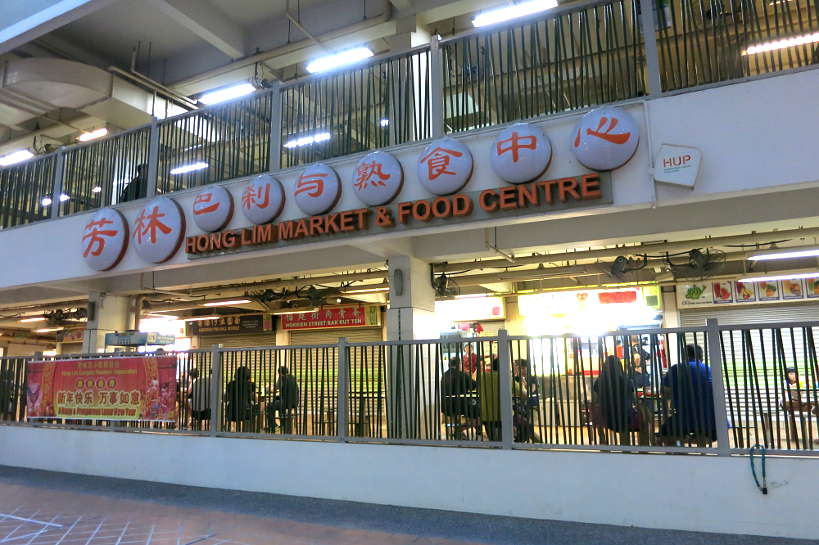 Cuisine To Try
Hong Lim Food Center has a fantastic array of local foods to choose from.
This is the place to try the Chinese heritage food as well as the Malay food. You will find curry chicken noodles, Braised duck or Kway Chap as well as Char Kway Teow and  Bak Chor Mee.
You cannot leave Singapore without trying the famous Char Kway Teow. This is a stir-fried dish made of flat rice noodles, with prawns, eggs, slices of Chinese sausages, bean sprouts, Chinese chives, shrimp-paste. It is stir-fried over very high heat with a light and dark chili soy sauce.
If you're adventurous and you like pork liver, go with Bak Chor Mee soup. This is a full-flavored broth with noodles, pork liver, pork meatballs, minced pork, pork dumplings, seaweed and sun-dried sole fish.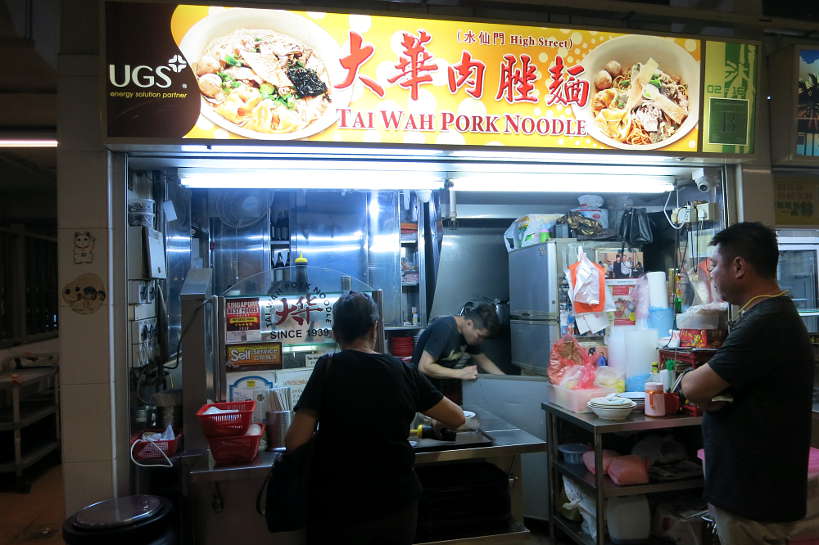 What's Around
The center is located a few blocks away from the Chinatown Heritage Center on Pagoda Street. Stop by the center and discover the early history of the Chinese immigrants and the early pioneers. The Center offers walking tours where you can visit the wet markets, sample local delights and explore the back alleys of Chinatown.
How To Get There
Located within walking distance of the Chinatown MRT stop
Address: 531A Upper Cross Street, Singapore
Hours: Everyday, 7:00am – 9:00 pm
2 – Tekka Center – Little India
This gem is one one of the most iconic centers and landmarks of Singapore. Housed in a colorful yellow and pink warehouse style building, this center is very local and culturally rich.
Walking through the market you hear English, Tamil, Hokkien, Mandarin and see all the different ethnicities congregating together. What's surprising is to hear Chinese vendors speak fluent Tamil or vice versa. At this center, you get a real local picture of the unique diversity that makes up Singapore.
Tekka Center is also the largest wet market in Singapore. Everyone comes here to buy their fresh meats, poultry, fish, seafood and produce. Within the center is a food court on the ground floor and shopping areas on the upper floors.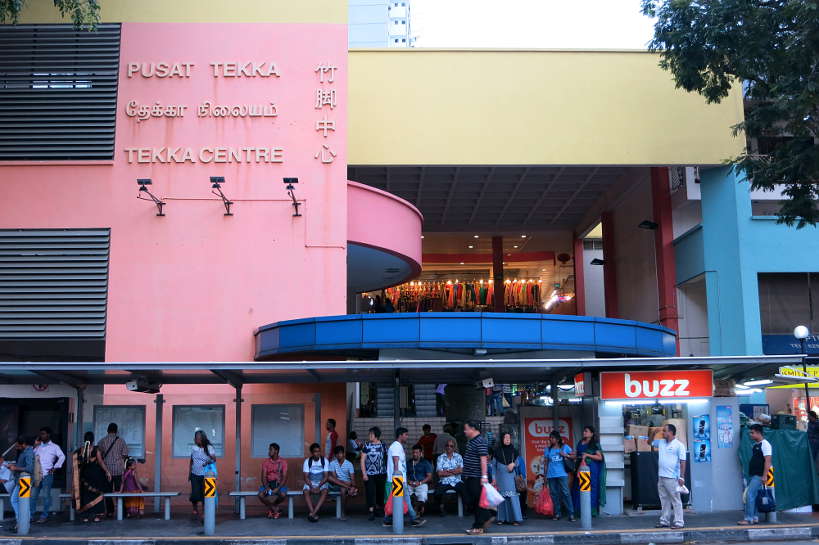 Cuisine To Try
Muslim and Indian stalls dominate the food choices in the food court. While you will find a variety of dishes, biryani is one of the most famous in the center.
Biryani dishes are mixed rice dishes (chicken, mutton, fish) popular among Muslims of South Indian descent. This is an aromatic one meal dish, with perfectly cooked chicken or mutton with fragrant rice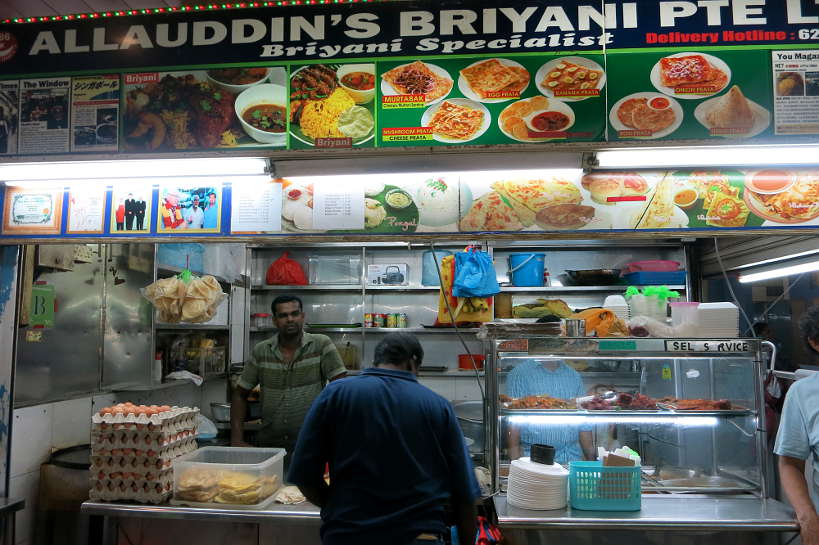 What's Around
Little India is one of the most colorful and vibrant parts of Singapore. There is plenty to see and do. One of the most notable temples to see is the Sri Veeramakaliamman Temple. This temple is visually stunning with intricate carvings of Hindu deities on the top of the gate tower.
It is the oldest Hindu temple in Singapore and dedicated to the  Goddess, Kali. See more here about this ferocious Goddess and Destroyer of Evil.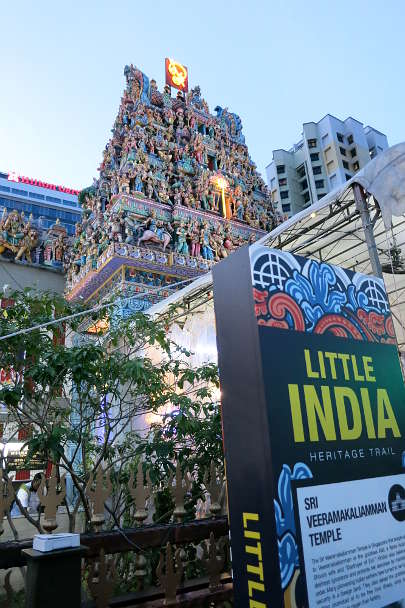 How To Get There
Take the MRT and exit at Little India
Address:665 Buffalo & Serangoon Roads, Little India, Singapore
Hours: Everyday, 6:30 am – 11:00 pm
3- Changi Village Hawker Center – Changi Airport
Located on the east coast of Singapore is the popular hawker center. The center was recently refurbished and it is now one of the most spacious hawker centers in Singapore. You'll find many famous food stalls and all the must try local dishes at really affordable prices (under $5 USD).
Cuisine To Try
While you'll find a number of food stalls and different dishes, though Malay cuisine dominates.
Changi Village is popular amongst locals for one particular dish: Nasi Lemak, a fragrant coconut rice topped with fried chicken or fish, anchovies and sambal chili.
One of the most famous stalls for nasi lemak is International Muslim Nasi Lemak. Look for the long lines take your place in the queue.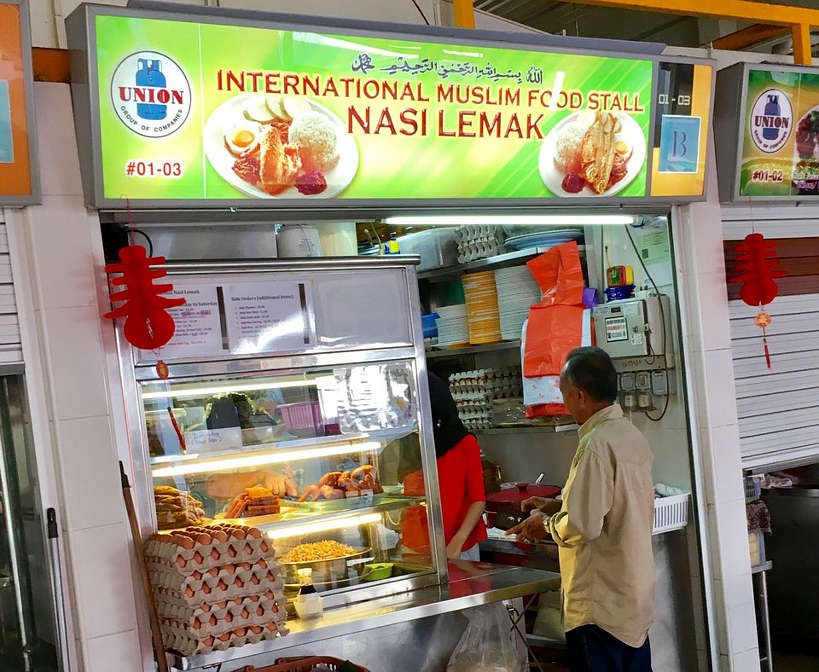 What's Around
Beyond the food, Changi Village is an important historical spot for Singapore. This is where you'll find the Changi Museum and Chapel. The museum explores Singapore's wartime history during the Japanese occupation between 1942 – 1945. The Chapel is where prisoners of war of different faiths found comfort in religious expression during this dark period.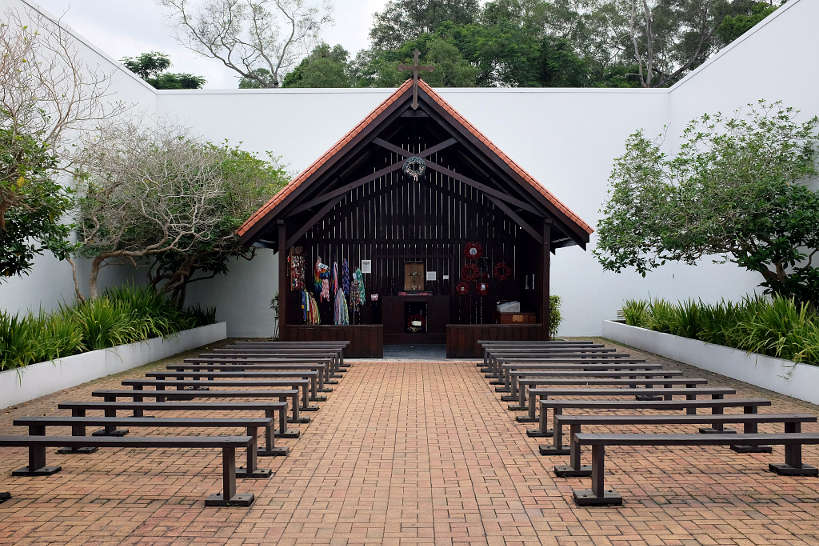 How To Get There
Take the MRT to the Tanah Merah Station
Address: 2 Changi Village Road, Singapore 500002
Hours: Everyday, 6:00 am – 2:00 am, 24 hours on Saturday and Sunday
4 – East Coast Lagoon Food Village – East Coast Park
The East Coast Lagoon food village is located by the beach in East Coast Park. Opened in 1977, it is one of best outdoor dining experiences by the water. You find a variety of regional dishes including rice, noodles, seafood, shellfish and more, each one prepared with a secret family recipe.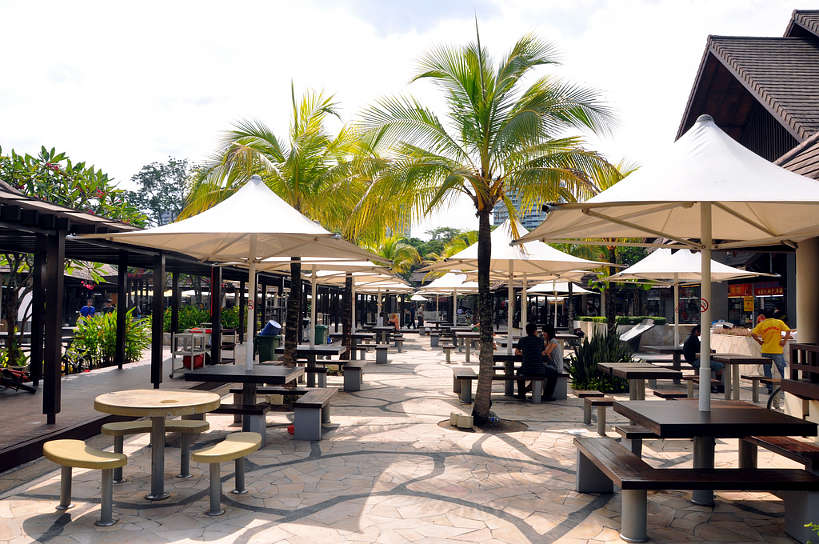 Cuisine To Try
With its location by the water, seafood and satay (grilled meats on skewers) are extremely popular. On the weekends, locals travel from all over Singapore to get their fill, while dining al fresco.
Haron Satay is one of the most popular for their marinated skewers. The chicken, beef, and mutton skewers are accompanied by sliced cucumbers and onions and served with a thick peanut sauce. They are grilled to perfection and you can also try the Ketupat (rice dumplings) to go along with your skewers.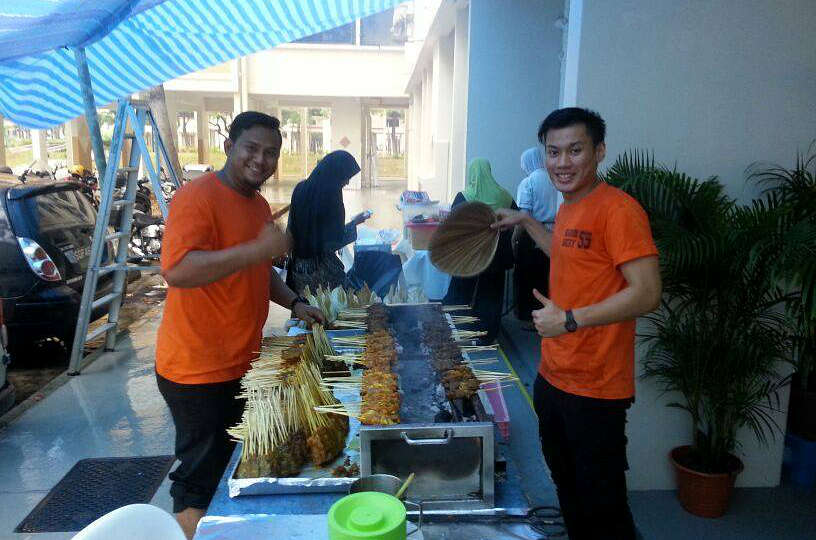 What's Around
East Coast Park is the largest park in Singapore and popular with couples and families or hanging out with groups of friends. There is a promenade with white sands and palm streets to walk and digest all the delicious food from the hawker center.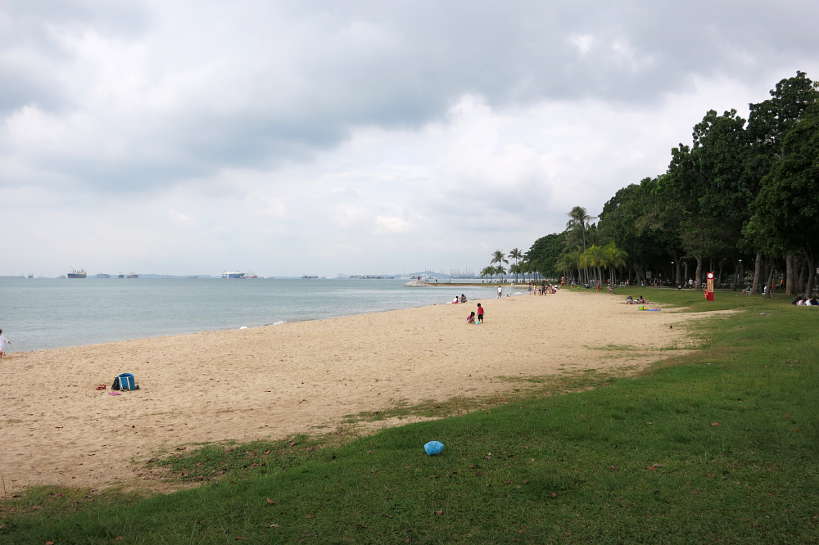 How To Get There
Take public transportation to Marine Parade Road, walk to the hawker center via the underpass
Address: 1220 East Coast Park Service Road.
Hours: Everyday, 10:30 am – 2:00 am
5 – Old Airport Road Center
–
Geylang
This is one of the largest hawker centers in Singapore with 168 hawker stalls. Here you will find the largest number of famous food stalls in comparison to any other food center in Singapore.
Old Airport Road is a great introduction to the Singapore hawker food scene with its variety of food. It has a local vibe and not frequented by tourists.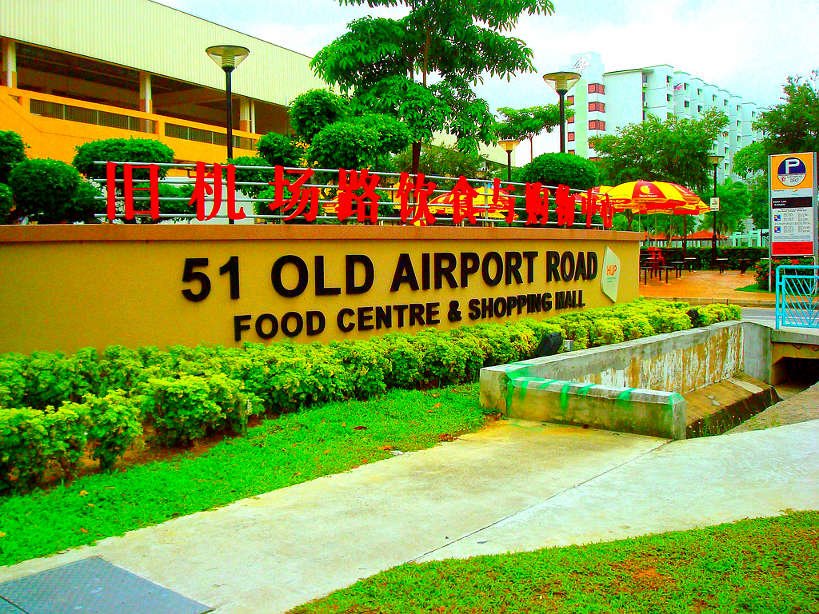 Cuisine To Try
There is no shortage of cuisine to try at Old Airport Road Center. You will find all different types of Chinese and Malay foods. The Hokkien Mee, a rice vermicelli and noodle dish with pork, prawns, and chili is great dish to have. And, you also find the famous Char Kway Teow as well as Nasi Lemak, Fried oysters and more.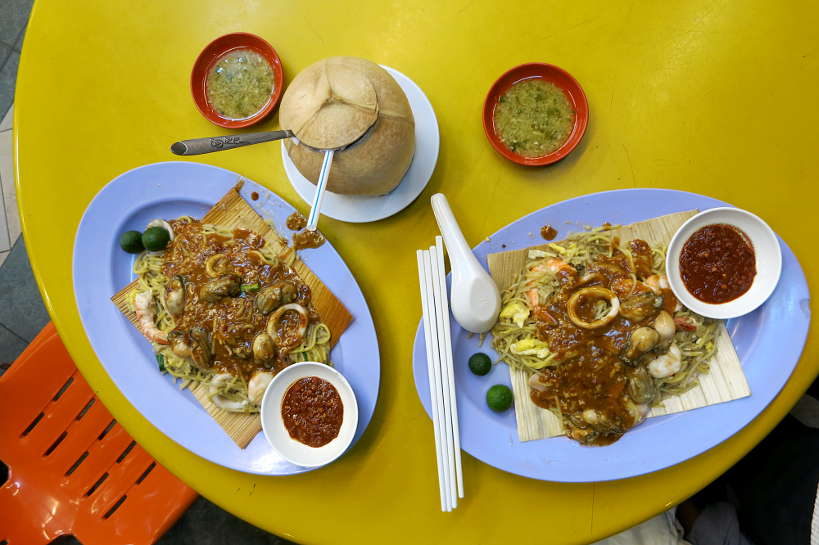 What's Around
Old Airport Road Center is located in the Geylang district, known as the red-light district of Singapore. However, the red-light district is only a small part of Geylang.
This district is quite vibrant at night and you will find numerous eateries along Geylang Road which divides the district North/South. Nearby the eateries, you also find many fruit shops selling durian.
How To Get There
The closest MRT station is Dakota at 5 min walking distance.
Address: 51 Old Airport Rd, Singapore
Hours: Everyday from 5:00 am – 8:00 am and 11:00 am – 3:00 am.
For more information about stalls to visit and foods to try, check out this great detailed blog about Old Airport Road Center JaymoyLovesFood.com
6 – Eunos Hawker Center
–
Joo Chiat & Katong
Right in the neighborhood where we stayed in Singapore is Eunos Hawker Center. This center is not as popular or widely known as some of the others listed above, but it is known for great quality food.
Conveniently located at the base of the MRT (subway) station, this was the perfect location for great food and easy access to transportation.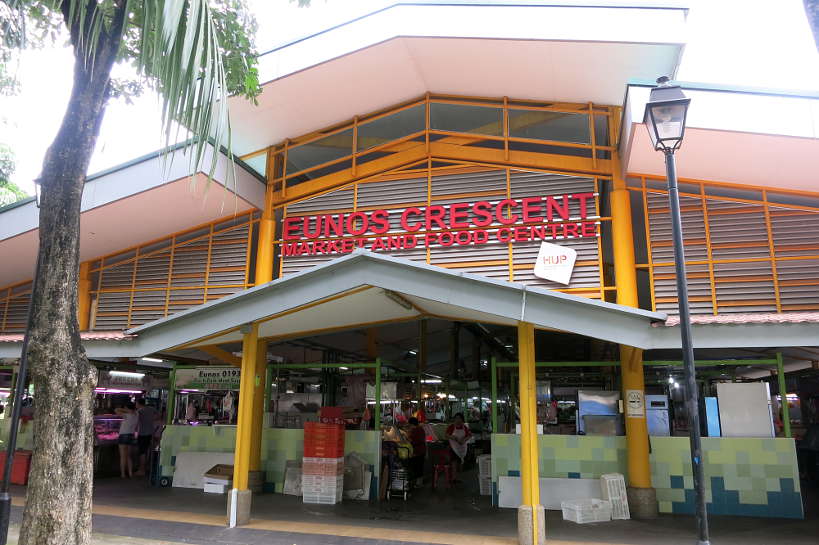 Cuisine To Try
The cuisine is varied, though there is a heavy Malay focus. There are several popular and well-known vendors that serve Halal food, Hainanese chicken rice, South Indian Roti dishes and more.
One of our favorite meals was a variation of the Hainanese chicken rice, that serves duck instead of chicken. Incredibly delicious with a unique twist on the famous Singapore chicken dish.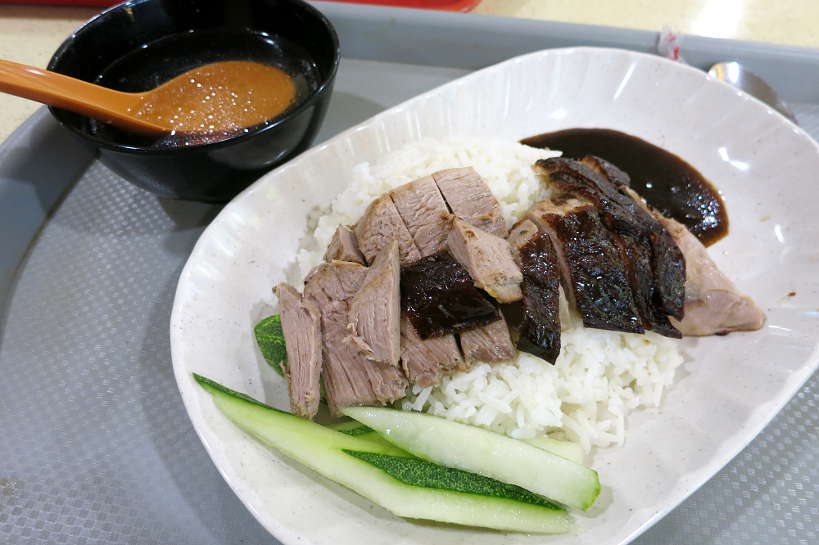 What's Around
We didn't know it at the time when we booked our Airbnb in the Eunos area that we would be in Singapore's best foodie destination.
Around Eunos is Joo Chiat/Katong is a well-loved neighborhood. Singaporeans come here for the hip and colorful atmosphere, culinary choices, cool cafes and old world coffee shops selling many local delicacies.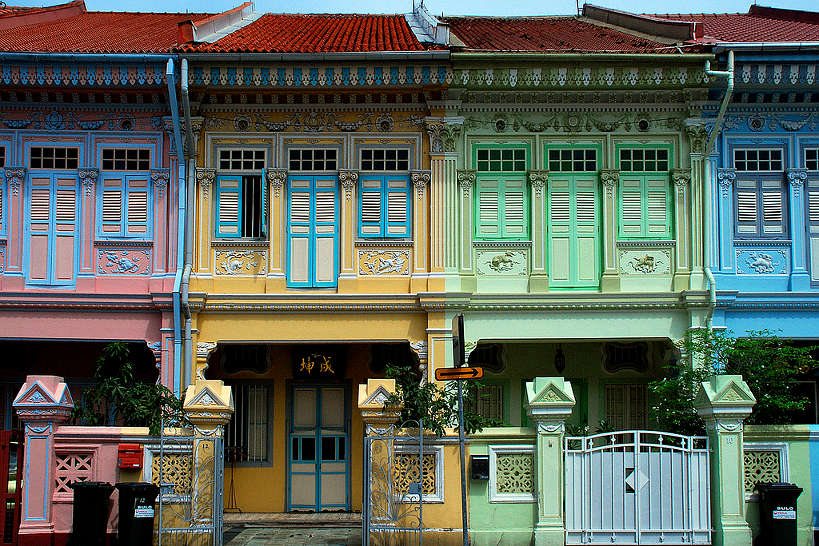 How To Get There
Take the MRT to Eunos Station
Address: Eunos Crescent Hawker Center, Singapore 402004
Hours: Everyday, 6:00am – 10:00 pm

In Summary
When you say you visited Singapore, it means that you ate at its hawker centers. Indeed a visit to Singapore no matter the length of stay is not complete without tasting the local flavors and connecting with locals at the neighborhood hawker centers.
They are many hawker food centers to choose from and you may not get the chance to visit every single one. With this list of six Singapore hawker centers, you have a diverse a range that will immerse you into the cultural diversity of the country.
Make the most of your visit to Singapore and eat the Singapore culture.  At the hawker centers, taste the local flavors that bind the country together!
Have you eaten at Singapore Hawker Centers? In the comments below, please tell us your favorite one?
Savor The Adventure!
Love it? Pin It!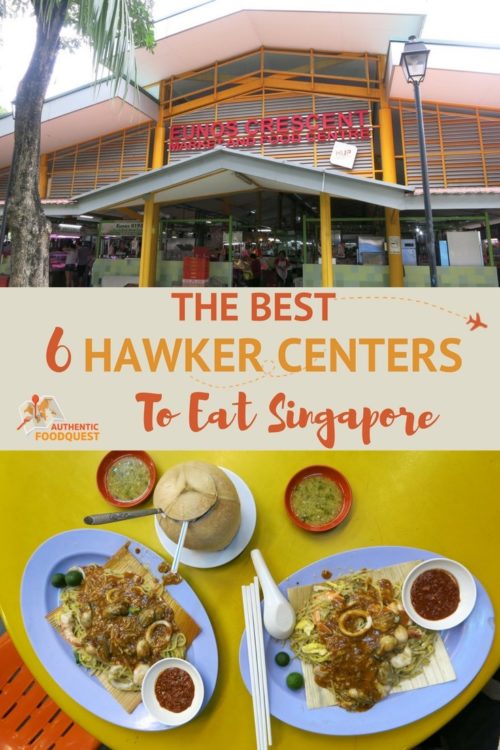 Claire is a culinary explorer who travels the world in search of the best local foods. She is always looking for her next culinary adventure to bring you the best bites while exploring new places.