HOW TO FIND AUTHENTIC FOOD
Traveling through local food gives you a deeper and richer experience. While traveling through food we've had the opportunity to get a "real taste" of the places we're visiting. Relationships with locals have been built and amazing stories and experiences have been shared.
NOW, we want to help you explore the local flavors on your travels. You TOO can find the local and authentic dishes, drinks and desserts and create amazing adventures and stories to share.
1 – Discover New Foods and Flavors Only the Locals Know
Surprised by the strange looking breakfast foods at a local market in Chiang Mai (Thailand), we wanted to know more but struggled with the language. Gailong, a lady waiting in line to buy her breakfast, helped us navigate the dishes. The vendor with the longest line was serving "xi dou fen", a popular Chinese breakfast dish.
We ended up eating the hot, thick and creamy breakfast dish together and talking about local Thai food specialties. Originally from Bangkok, Gailong moved to Chiang Mai, three years ago looking for a less hectic place to raise her triplets.
Later on, after we parted, Gailong came to look for us with an unexpected gift. She brought us "Baijo", a local rice based whiskey, typical in the Thai Chinese community. It was Chinese New Year and she wanted to us to taste the local beverage. What a great lady and a wonderful experience.
At the local markets, moments are shared and memories created!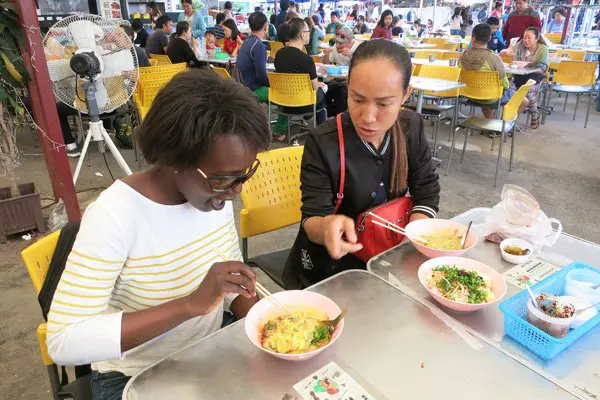 2 – Local Specialties Will Not Be a Secret Anymore
In Uruguay, it's hard to ignore the call for mate when so many Uruguayans live and breathe it. On the beaches in Montevideo, in the parks, markets, and even on the buses, you are surrounded by mate. Fascinated, we asked local Uruguayans about their love for mate.
"It's tradition. It's our custom. It's what we do and drink" is what they told us. This drink made with Yerba mate is steeped in hot water. It is a communal drink that is shared among friends and family. They love it so much and will share it with you. This is the perfect way to taste the local culture. As they say, "Uruguay is a small country, but the people have a big hearts"!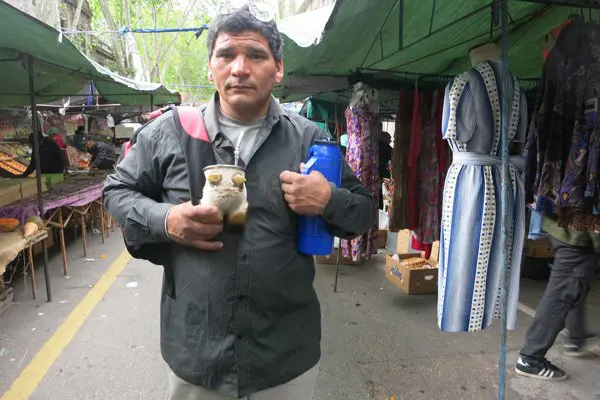 3 -You Learn to Eat the Best Food from the Streets
The best food is often found on the streets. You get a unique perspective on the local culture and eating habits.
On a busy street in Hoi An, Vietnam, there was one particular vendor who was always busy with locals eating pork skewers. We were curious and fascinated. Applying the tips in the free e-book, we decided to join the locals one evening.
With the aromas of delicious spices including lemongrass and the crackling sounds of the pork skewers on the grill, we took our seats on low Vietnamese stools eager to discover what locals consistently enjoyed. Although the language was a barrier, it was easy to order as there was only one meal cooking.
We enjoyed delicious thit noung (pork) skewers as we connected with the locals sitting around us. By applying the tips in the free e-book, you too can eat safely on the streets while mingling with locals.
Create your best street food memories!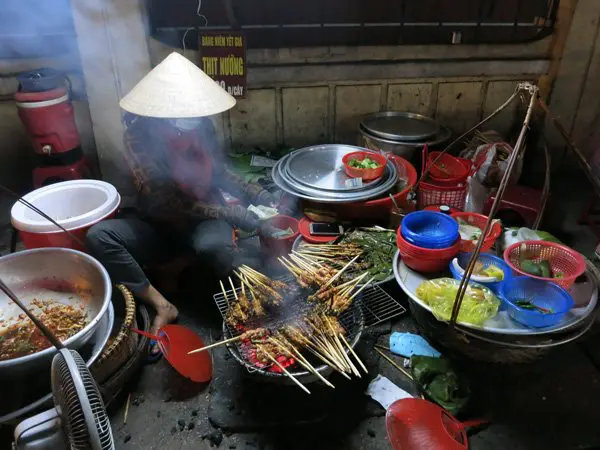 4 -You Eat like a Local
Once you show curiosity, locals open up. That's how Rosemary got questioned at a popular local hawker center in Malaysia.
Surprised to find us eating there, a local Chinese Malay seating next to us struck up a conversation. After observing how we were holding our chopsticks and eating our local noodle soup, he could not resist, but offer to teach Rosemary how to correctly hold chopsticks – the Malaysian way!
It was a great moment and a unique lesson! Although Rosemary' doesn't have problems using chopsticks, holding them the "Malaysian" way, needs further practice.
This created a perfect opportunity to break the ice. From that exchange, he gave us a great tip to find the best vendor for the famous local dessert called Cendol. Luckily, it was within the same hawker center! This was a perfect evening of discovery!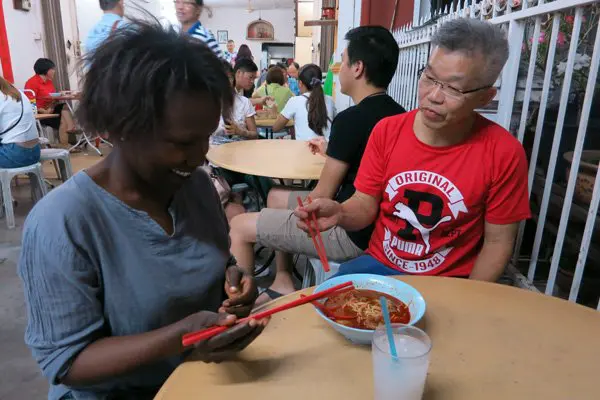 5 -You Share Amazing Dinners with Locals
Eat where the locals eat and stay where the local stay. Even better, share a home with locals.
On our first trip to Argentina, using Airbnb, we stayed with San and Fer, a charming Argentinian couple.
Food was the vehicle for our conversations. But it extended way beyond that. We connected about traveling, food, and philosophies about life.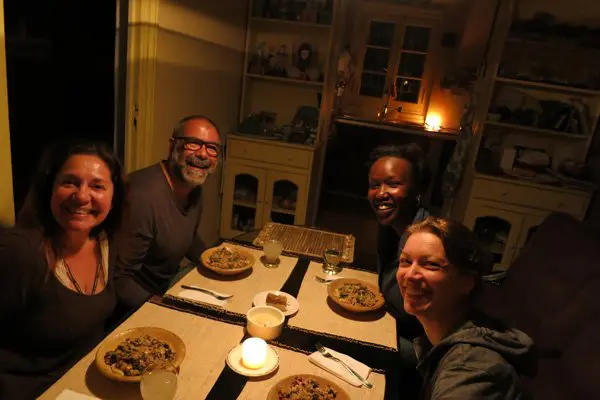 We shared many meals together where we developed a deep bond and friendship.
To this day, we are still in touch with San and Fer. By staying with locals, you too can develop great friendships as well.
For any questions about traveling through food and diving deep into the local food culture, please do not hesitate to Contact Us.