Ilocos sits in the northwestern part of the Philippines and is said to have one of the country's strong culinary traditions.
While in the Philippines attending the TBEX 2016, travel bloggers conference, we had a chance to travel to Pampanga, the Culinary Capital of the Philippines, as well as explore the unique regional cuisine of the north.
Ilocos, located at the northern tip of the Philippines is bordered by the China Sea. It is home to many World Heritage Unesco Sites as well as several National Historical Landmarks.
Years of trade between Asia and the Americas, combined with the local biodiversity make Ilocos renowned for its amazing Ilocano cuisine.
Ilocos food is surprising, delicious and exotic all at the same time. Some of the regional specialities, like pinakbet and dinuguan (savory pig's blood) are now part of the national cuisine.
While the list of Ilocano regional specialities is extensive, here are 9 unique llocos food not to miss on your travels to the north of the Philippines.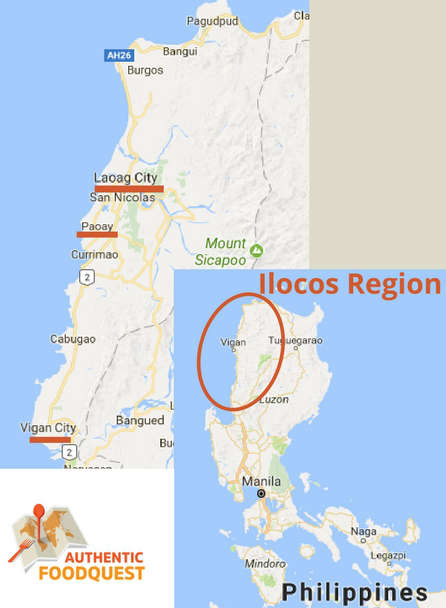 #1- Longganisa – A Vigan Food Speciality
Longganisa is an emblematic Ilocos food. These pork sausages are the star at any Ilocano table. The sausages from Vigan are the most famous and they are distinctly small and plump.
We tried these delicious sausages while visiting Vigan, a well preserved Spanish town, dating back to the 16th century. These sausages are made from ground pork, mixed with garlic, vinegar and a mix of other local seasonings.They are delicious and have a spicy bite. These traditional sausages are not to be missed on a trip to the Ilocos region.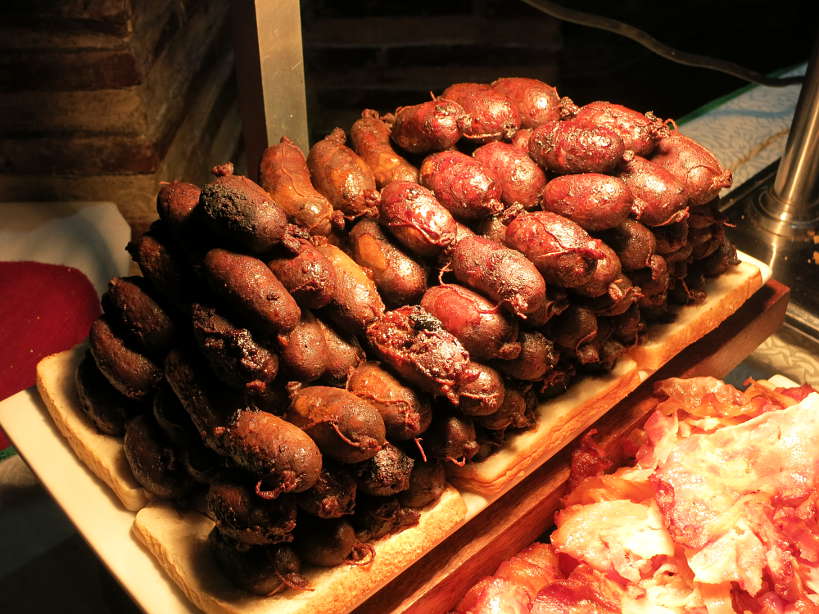 #2- Batac Empanadas – Striking Orange Empanadas
After falling in love with empanadas in Argentina, we could not wait to discover the traditional empanadas of Batac City. Batac is the oldest town in the Province of Ilocos Norte and was founded in 1587 by the Augustinians.
The city is famous for the Batac Empanadas which are considered some of the best in the country. There is even an Empanada festival that takes place every year on the 23rd of June.
One of the most striking characteristics of the Batac empanada is its bright orange color. The empanadas are deep fried and stuffed with green papaya, chopped up longganisa sausages and hard boiled eggs. The orange colored dough is made of rice flour and the color comes from the use of annatto seeds.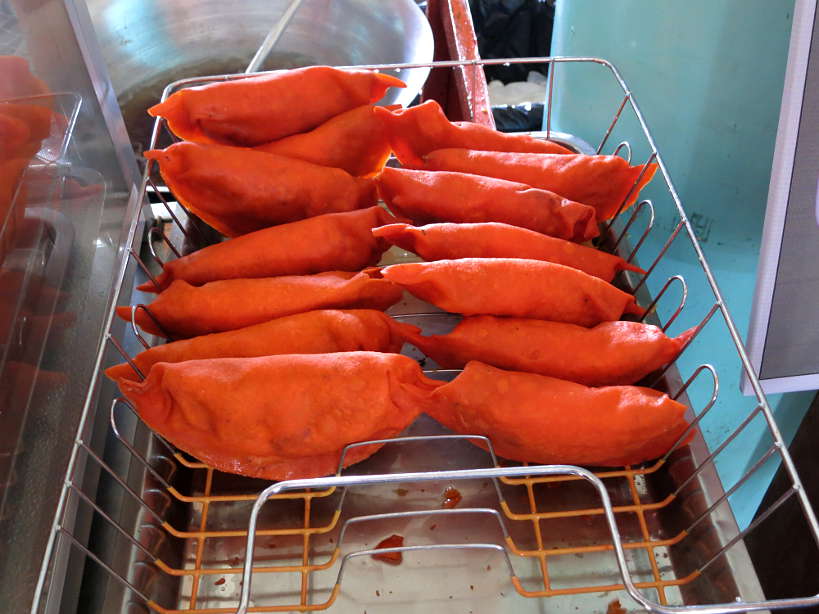 Annatto is popular in South America and is used a dye, medicine, and as an ingredient in many foods. It is a natural food coloring and makes for a fun eating experience.
These empanadas are quite tasty and very different from the ones in Argentina. They are in their own right an experience not to be missed.
In the short video below, see how the locals make these Batac empanadas at Lanie's Batac Special Empanada Restaurant, located in Batac, Ilocos Norte.
#3- Bagnet – Deep Fried Crispy Pork Cracklings
The Ilocano Bagnet is also known as Chicharon Baboy or deep-fried pork meat. It is pork belly deep-fried in its own fat. Once fried, it is air dried up to drain the fat. The process is repeated over and over until the pork reached is maximum crispiness.
This dis was far from being our favorite. Because pork and fat are so predominant in Filipino food, it is hard to skip this dish. Bagnet is a top favorite among Filipinos and if you love eating fried pork, you will be delighted!
Best is to wash Bagnet down with a San Miguel, the popular Filipino beer.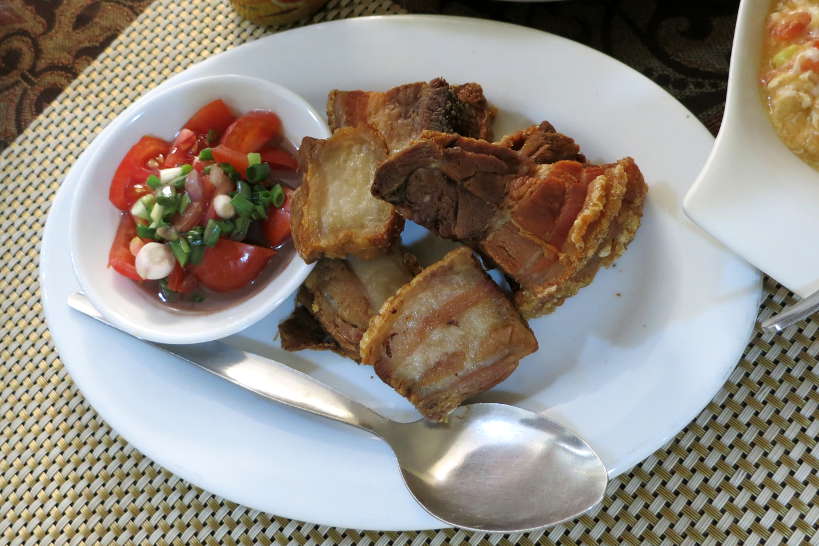 #4- Pinakbet – Popular Mixed Vegetable Ilocos Food
Pinakbet is a popular Ilocano vegetable dish that can be found gained all over the country. It is a vegetable stew made with tomatoes, eggplant, string beans, okra, and bitter gourd.
The preparation of this dish varies by region and the authentic Ilocano version uses small round eggplants and baby bitter gourd (ampalaya). Ilocano pinakbet uses a much loved fermented fish sauce called bagoong isda to season the dish.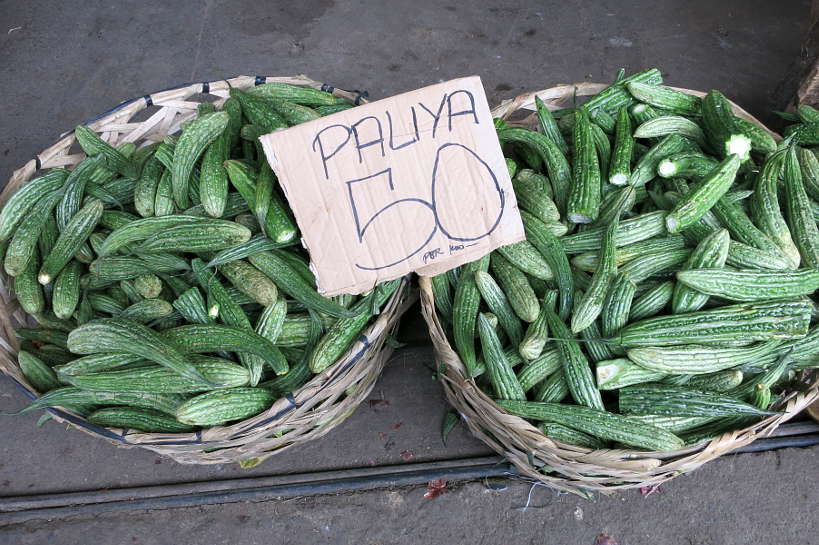 For a vegetable dish, one of the most interesting things about this dish is that it is not vegetarian. The mixed vegetables are usually steamed in fish or shrimp sauce.
Other versions of Pinakbet include pork. For instance, we were quite surprised to find chunks of pork in a Pinakbet dish we had in Manila. If you are looking for a purely vegetable dish, be sure to ask for no pork or seafood with your vegetables.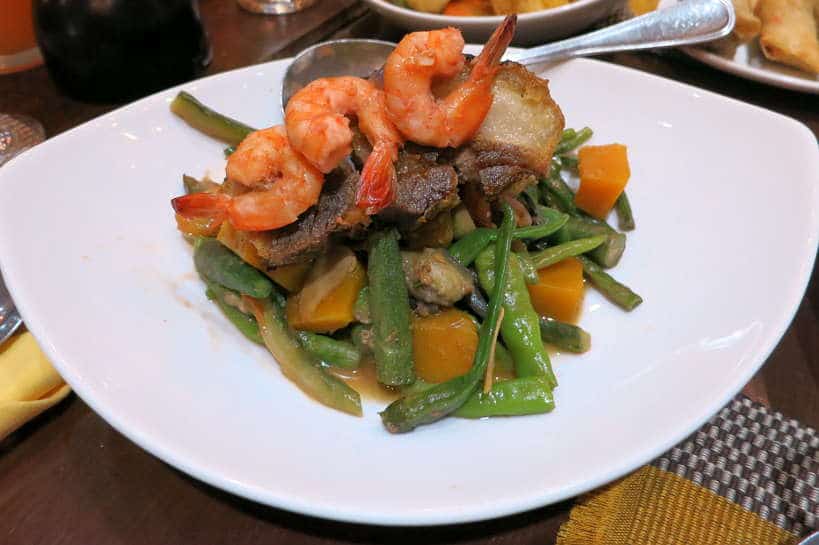 #5- Okoy – Best Shrimp Fritters from Vigan
These delicious treats are crispy shrimp fritters cooked in their shell in a glutinous rice batter and shaped into a round form. These fritters are garnished with  fresh shallots and a mix of garlic and chili peppers.
The delicious flavors come to life when dipped in an Ilocos style vinegar called sukang iloko.
We enjoyed these delicious fritters as snacks and they are an easy bite while waiting for dinner.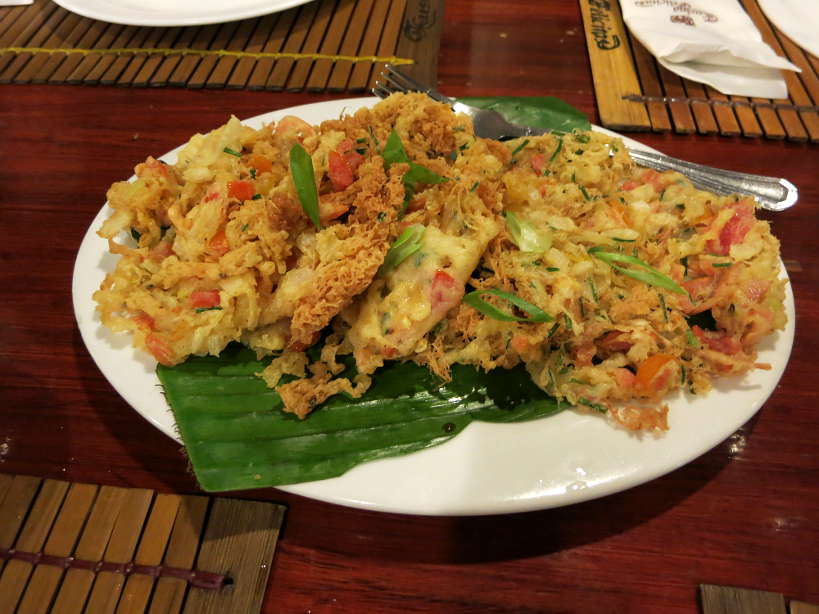 #6- Attend the Sinait Garlic Festival in the Garlic Capital of the North
Garlic also known as locally as "bawang" is a root crop that is native to the Ilocos region of the Philippines.
This essential food condiment is found in every Filipino kitchen and is used to add flavor to almost every dish. What makes this particular garlic unique is that it is more pungent and aromatic compared to garlic from other countries.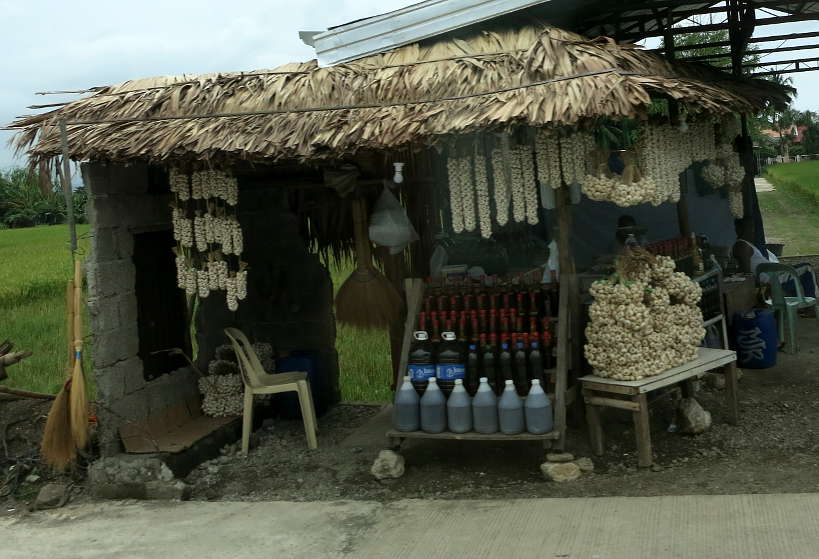 Every year, from May 1st – May 3rd, thousands of locals and foreign tourist flock to Sinait town in Ilocos Sur which is also referred to as the Garlic Capital of the North.
Because we were in the Philippines in October, we did not make it to the Garlic Festival. This local festival not be missed. Festivities includes local dancing competitions in garlic-inspired costume, the selection of Miss Garlic Festival as well as the biggest garlic contest and the longest and most creative twined garlic.
#7- Ilocos Norte – The Dragon Fruit Capital of the Philippines
Along the roads in Ilocos, we were struck by multiple stands selling dragon fruits, all over the place. The dragon fruit known as "saniata" to locals, is produced by Ilocanos all year round.
We learned that Dragon Fruit was started by a local entrepreneur named Edita Dacuycuy, who started growing dragon fruits in her backyard several years ago. She spread her passion to other farmers and has been instrumental to promoting dragon fruits in the area.
Today, she manages Refmad Farms, with her daughter in Burgos town, where tourists and locals can learn about dragon fruits and pick it off fresh off the trees.
Dragon Fruits are a beautiful fruit and packed with several health benefits. The fiber in dragon fruit helps with digestion. The fruit also helps regulate blood sugar spikes and lowers bad cholesterol. Dragon fruits are also full of antioxidants which help clear the body of cancer causing free radicals. And, the fruits are rich in Vitamin B1, B2 and C, which help repair tissues and keeping the skin healthy.
Ilocos Norte, hosts a Dragon Fruit Festival every July. If you are in the area at this time, don't miss exploring the fresh fruits as well as other dragon fruit products like ice cream, jam, wine, vinegar, tea, cookies, pastries, soaps and more.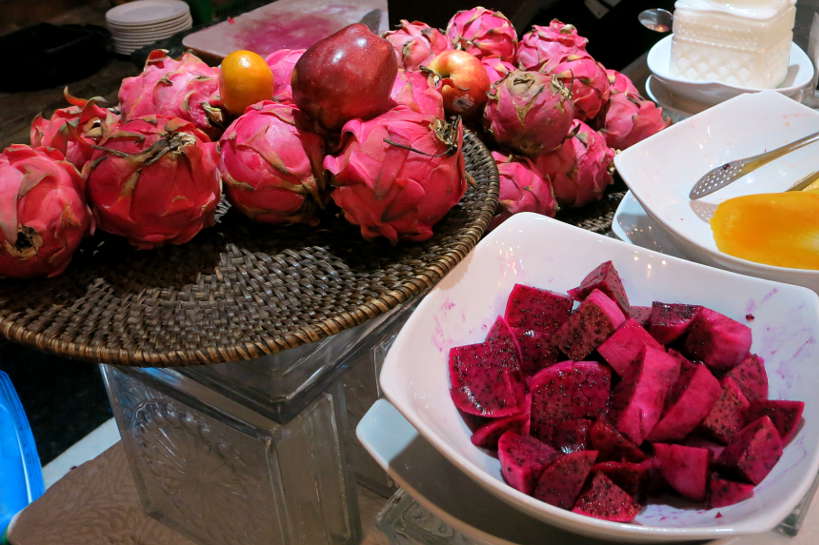 #8- Ilocos Chicacorn:  Popular Local Filipino Snack
Chichacorn are a favorite snack from Ilocos Norte. They are basically corn kernels that are cooked until crunchy. The corn variety used are white ones from plants that are common in the Philippines and not the sweet yellow corn that may be more familiar.
What makes the Ilocos Chichacorn different from the other types of crunchy corn kernels is that the kernels are puffed, making them a little easier to chew.
We enjoyed these snacks while traveling around Ilocos region. We discovered several flavors including; garlic, cheese, sweet and spicy, adobo, and barbecue.Our favorite was the garlic flavor. If you'd like to try this popular Ilocos snack, click here to get Chichacorn on Amazon.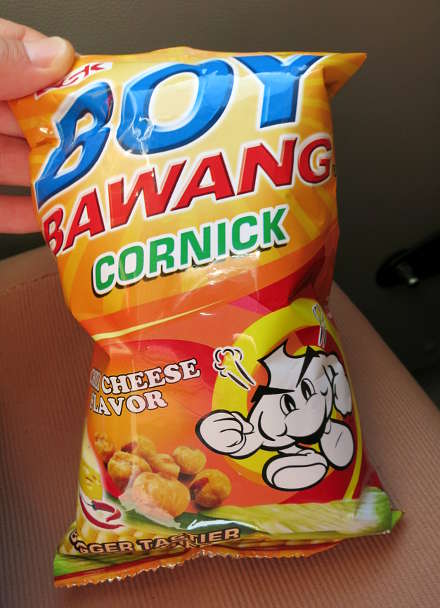 #9- Dudol the Asian Roots
Dudol is a traditional dessert you will find in Ilocos, although it is also popular in Malaysia, Indonesia and Southern India. It is said to have come through the Malay and Indian settlements on the coastal towns of the Ilocos region before the arrival of the Spaniards.
Dudol is made of rice flour, coconut milk, sugarcane juice and anise. The secret to making a good dudol is to patiently and continuously stir the ingredients under a slow fire.
Sticky, thick and sweet, it is the perfect snack to calm your hunger or re-energize yourself after some activity.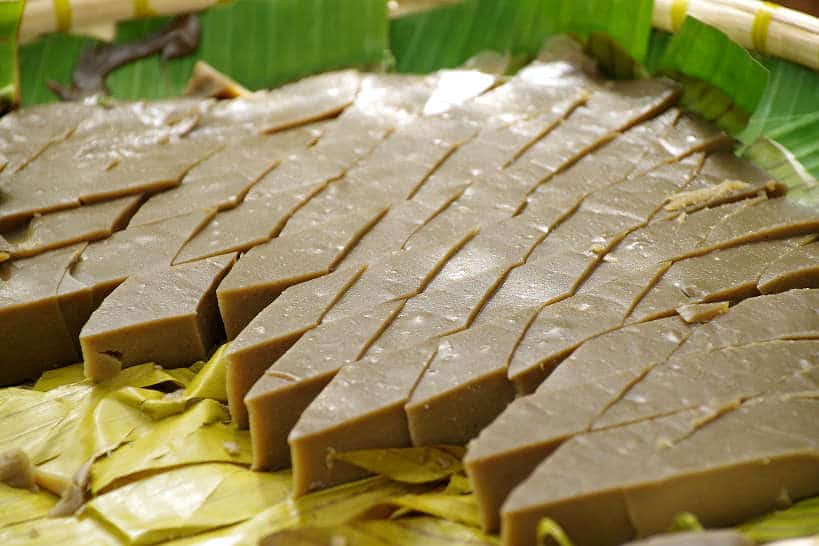 Dudol is the featured local treat during Guling-Guling festival in Paoay.
Paoay is a coastal town home to one of the famous famous Unesco World Heritage in Ilocos Norte. During the Guling-Guling festival, the city celebrates its heritage and Asian roots and Dudol makes for the perfect symbol of the Ilocos food heritage.

In Summary
The Ilocos region, famous for its cultural and historical sites, is worth exploring and most notably for its famous Ilocos food.
From Laoag, the capital of Ilocos Norte to the Historic City of Vigan, in Ilocos Sur, you travel through unique heritage Ilocos food.
Discover the unique produce of the region from garlic to dragon fruits. Surprising empanadas, pork belly meat, and sweet glutinous rice, everything to conquer your palate.
Have you had Ilocos food before? Let us know in the comments below, your most tempting Ilocos food.
Find out What kind of food traveler are you? Take our quiz and get your food traveler profile in minutes!
Savor The Adventure!
* We were delighted to be part of the Ilocos World Heritage Tour organized by the Tourism Promotions Board of Philippines. Opinions expressed in this article are always our own.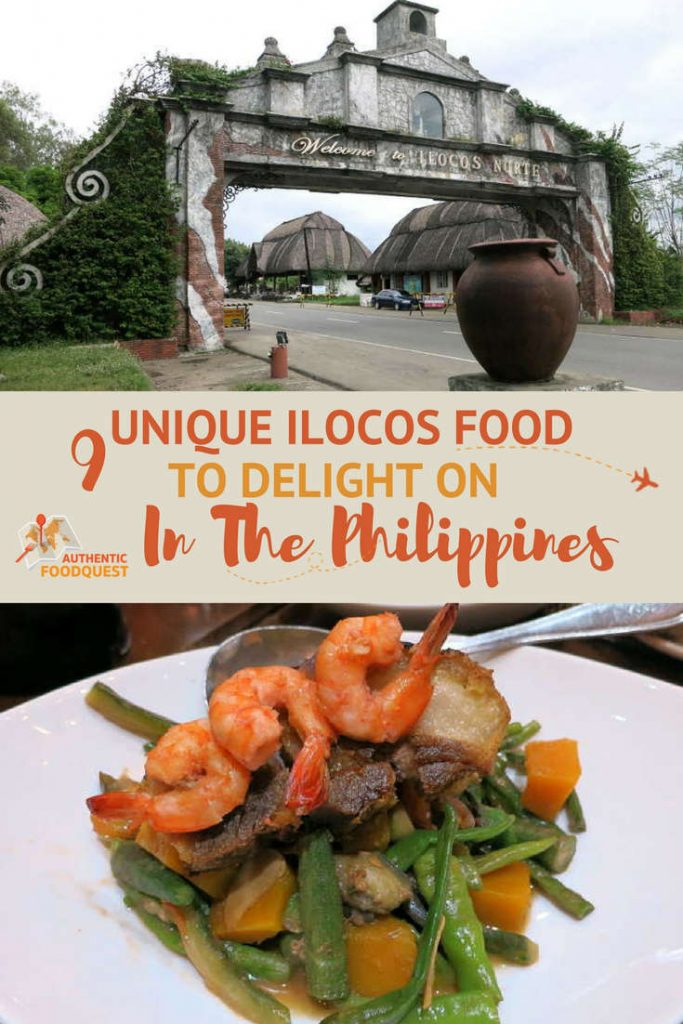 Claire is a culinary explorer and the engineer brain behind Authentic Food Quest. Together with her partner, Rosemary, they created Authentic Food Quest to inspire people to travel deeper through authentic food. Through food, they believe, people can have more meaningful connections on their travels. Take the quiz and find out your Food Traveler Profile.