This article has links to products and services we recommend, which we may make a commission from.
This jericalla recipe is for an easy to make tasty Mexican dessert from Guadalajara. Made with milk, eggs, vanilla, cinnamon and sugar, it is a delicious cross between flan and creme brulee.
[mv_video doNotAutoplayNorOptimizePlacement="false" doNotOptimizePlacement="true" jsonLd="true" key="f6ithfl9gzftmh7wstw3″ sticky="false" thumbnail="https://mediavine-res.cloudinary.com/v1586199563/hl5dqnzxxoqumrjoihdn.jpg" title="Jericalla Recipe" volume="70″]

What is Jericalla?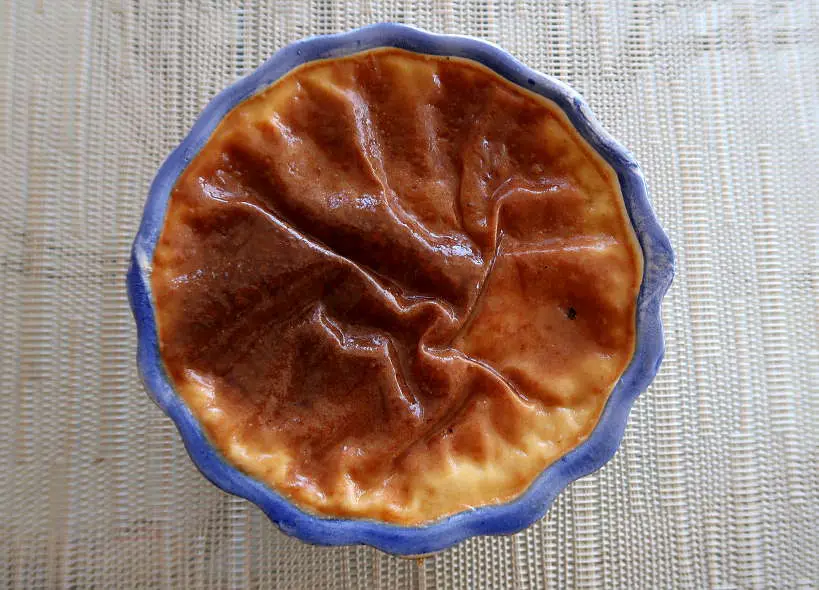 Jericalla is a traditional dessert from Guadalajara, Mexico. It is a cross between flan and crème brûlée. A relative of flan, it has a similar custard-like texture. While the top is burned to a golden color like creme brulee, it doesn't have sugar on it.
This dessert is a cross between the New and Old Worlds. It mixes European and Mexican ingredients like milk, sugar, cinnamon, eggs and vanilla.
Difference Between Jericalla and Flan
Jericalla is similar to flan with a Jalisco twist. Unlike flan, jericalla does not have caramel on the top or bottom. Flan, also known as crème caramel, are traditionally baked in ramekins lined with caramel sauce.
Jericalla on the other hand are baked in ramekins which are placed in a bain marie or water bath. They are simply cooked until they set, with no caramel sauce.
Difference Between Jericalla and Creme Brulee
While similar, crème brûlée and jericalla differ on the finish. Creme brulee are typically caramelized or have a burnt top whereas jericallas do not.
Depending on where you have crème brûlée, you'll often find it topped with fruits or mint sprigs. Traditionally, jericalla does not have any toppings and are served as is.
Discovering Jericalla in Guadalajara, Mexico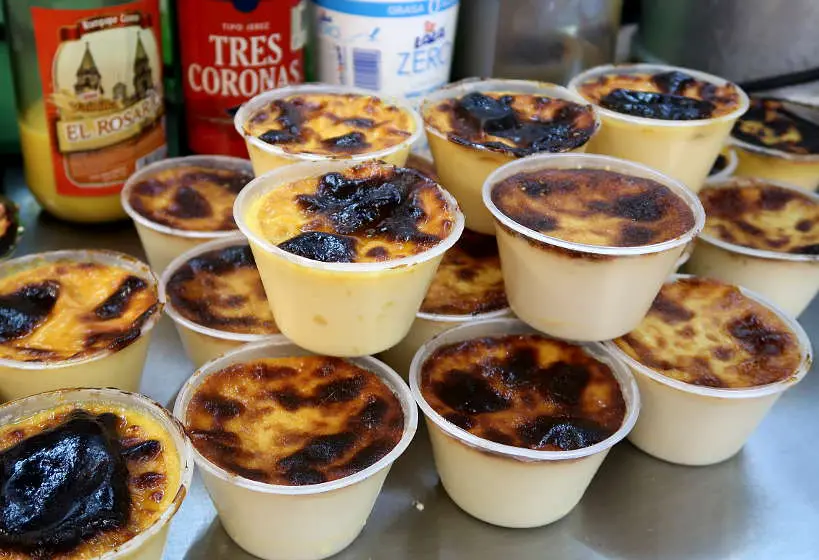 We spent 2.5 months discovering the local specialties in Guadalajara, and quickly fell in love with jericalla. This traditional dessert is the most famous dessert of the city and the state of Jalisco.
We ate jericalla everywhere and couldn't get enough of it. From markets, bakeries and restaurants, we savored the flavors of this Jalisco food. Once we learned how easy it was to make, we excitedly made jericalla one Saturday afternoon.
With only 5 ingredients, take your taste buds on a Mexican adventure with this simple jericalla recipe.
Jericalla History – From Humble Beginnings to International Fame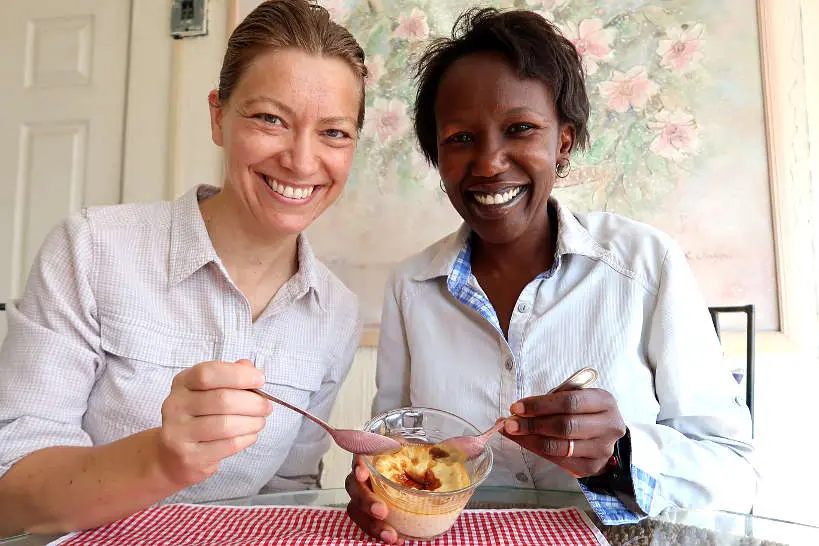 There are many stories about the origins of this legendary dessert. The most popular is about Spanish nun who worked in an orphanage in Guadalajara. As the story goes, the children she looked after suffered from malnutrition.
To increase the children's protein and calcium intake, the nun blended milk eggs and sugar to form a custard.
Unfortunately, she forgot the custard in the oven and burned the top. Nonetheless, she went ahead and served it to the children who really liked it. And, it went on to become popular throughout.
Jericalla is said to be named after Jérica, the region in Spain where the nun came from.
How To Make Jericalla At Home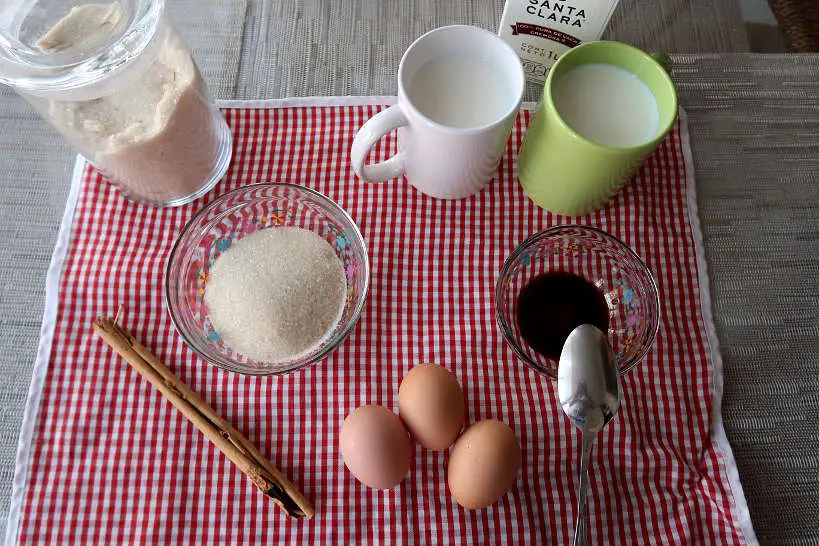 This Guadalajara favorite dessert is easy to make at home. The simple preparation and delicious flavors have made it one of Mexico's most recognized desserts.
You need only a few ingredients for this jericalla recipe, though the better the quality, the better the flavors.
Jericalla Recipe Shopping List
Must Have Jericalla Cooking Tools
Ramekins – You'll need durable dishes like ramekins to cook the jericalla in the oven. The biggest advantages of ramekins are that they are affordable, can be baked, microwaved, frozen and put in the dishwasher without worry. And, they also make an elegant serving dish.
Bain Marie Technique – To cook the jericalla in the oven, you'll use the bain marie technique. This simply involves cooking the ramekins inside of a baking dish filled halfway with hot water.
Tasty Tips To Make Jericalla at Home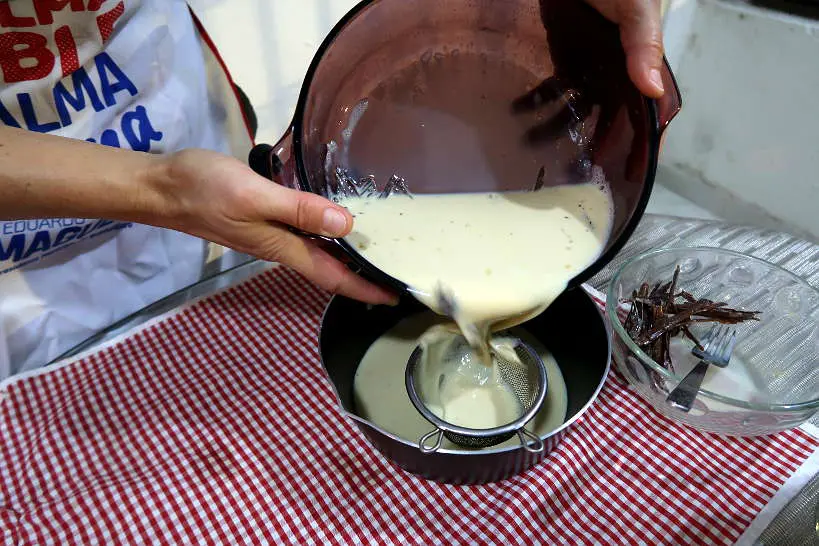 Use High Quality Ingredients
Above all, for the best flavors, we recommend using high quality base products. Use real vanilla, Mexican preferred, over vanilla substitute.
As opposed to cinnamon powder, cinnamon sticks are preferred for their subtle, sweet and spicy flavors.
Adjust Jericalla Recipe To Your Liking
After eating jericalla at several bakeries, markets and restaurants in Guadalajara, we noticed differences in flavors. Some had more vanilla while others more cinnamon. Depending on your tastes, feel free to adjust the jericalla recipe.
Skim or Low Fat Milk?
If you don't have whole milk, you can substitute using 2% milk or half-and-half. Skim milk is not generally recommended. For the best results use whole milk.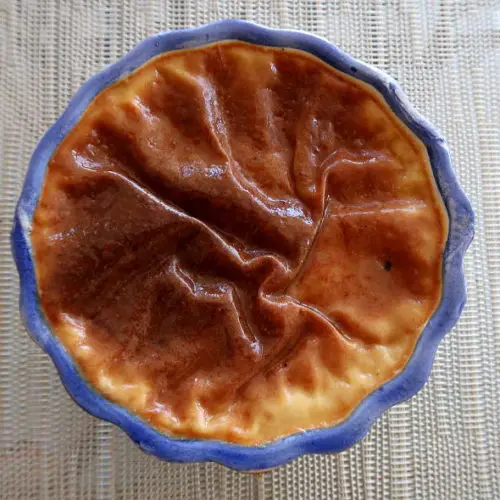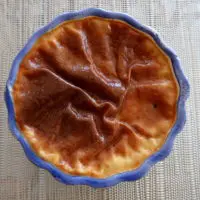 Jericalla Recipe
Creamy and delicious, this simple jericalla recipe will have you tasting Mexico in no time. Similar to flan or creme brulee, discover jericalla, Guadalajara's traditional dessert with this easy, step by step recipe.
Print
Pin
Rate
Ingredients
2

cups

whole milk

⅓

cup

sugar

3

eggs

1

tablespoon

vanilla
Instructions
Place milk, sugar and cinnamon, vanilla in a saucepan over medium heat

Stir constantly for about 20 minutes. After everything has mixed well, turn off the heat and let it cool slightly for about 10 minutes. The liquid should be smooth.

In a separate bowl, beat the eggs until blended. 

Then add eggs to the milk mixture mixture, stirring constantly

Using a sieve or fork and remove the cinnamon pieces

Preheat the oven to 350 degrees Fahrenheit (180C)

Pour mixture equally among 6 ramekin pots or heat-resistant dessert dishes

Place ramekin pots in a deep pyrex dish and add boiling water into the pyrex dish, taking care not to add water to ramekin pots.

Fill the pyrex dish about halfway of the pots or about 1 inch (bain marie)

Bake in oven for 35 minutes

To check if it is ready, place a toothpick in the center of one of the ramekin pots. If it comes out clean, the jericalla is ready.

Optional. To give the jericalla a burned effect, brown the ramekin pots under broiler for an extra 4 to 6 minutes or until tops are golden 
Notes
Enjoy your jericalla at room temperature or refrigerate and enjoy the next day.
Nutrition
Serving:
1
|
Calories:
139
kcal
|
Carbohydrates:
18
g
|
Protein:
5
g
|
Fat:
5
g
|
Saturated Fat:
2
g
|
Polyunsaturated Fat:
1
g
|
Monounsaturated Fat:
1
g
|
Trans Fat:
0.01
g
|
Cholesterol:
92
mg
|
Sodium:
63
mg
|
Potassium:
158
mg
|
Fiber:
0.3
g
|
Sugar:
17
g
|
Vitamin A:
252
IU
|
Vitamin C:
0.02
mg
|
Calcium:
119
mg
|
Iron:
0.4
mg
Claire is co-founder of Authentic Food Quest and a lover of simple and exquisite cuisine. Since 2015, with her partner, Rosemary, she has been traveling the world as a digital nomad, creating content about local food experiences.
Her advice from visiting 45 countries and more than 240 food cities has been featured in Lonely Planet, Business Insider, Honest Cooking, Food Insider, and Huffington Post. She has also co-authored three books, including one in collaboration with Costa Brava Tourism.
An ex-mechanical engineer, Claire is responsible for SEO, keeping the website running, and the fun food & travel videos on YouTube.
When Claire is not eating, she can be found running or cycling. Find out more about Authentic Food Quest