One of the wonderful things about traveling is discovering new dishes, ingredients and cooking methods. The ultimate way to get to know a country's local and culinary specialities is to take a cooking class.
In Cambodia's capital Phnom Penh, we took a half-day Cambodia cooking class with the goal of learning how to make Fish Amok, the National Dish.
Read on and discover more about Cambodian Cuisine.

La Table Khmère Cambodia Cooking Class and Restaurant
La Table Khmère is a restaurant and cooking school that focuses on traditional Khmer specialties. We discovered this cooking class while searching online for an intimate and authentic cooking environment.
One thing that sold us on La Table Khmère is their dedicated focus to the flavors of Cambodian cuisine. Whether you eat at the restaurant or take a cooking class, the emphasis is on Khmer dishes.
The restaurant has a modern feel, with wide open seating and lots of natural light. It is a great place to sample some of Cambodia's traditional cuisine.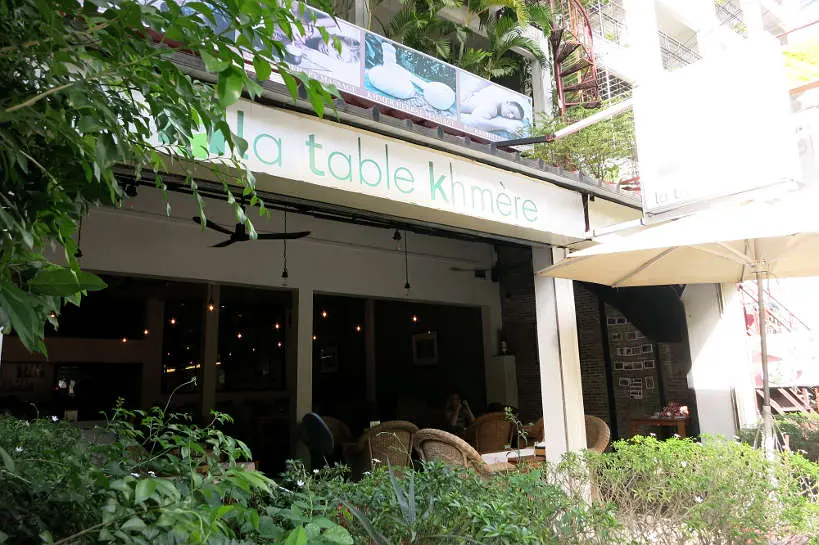 The cooking class takes place at the back of the restaurant in a laboratory-like area behind a glass wall. Modern with stainless steel countertops, fully equipped individual workspaces and air conditioning makes it a comfortable place to spend half a day.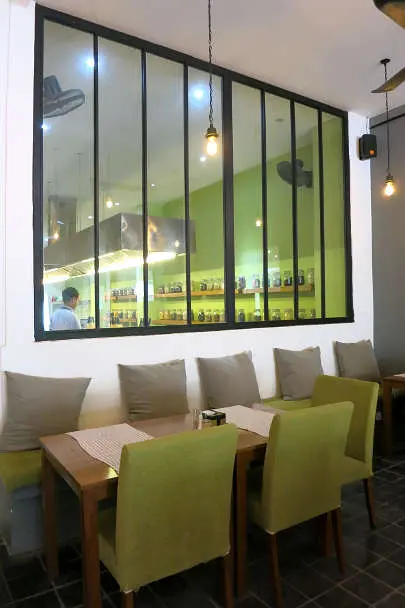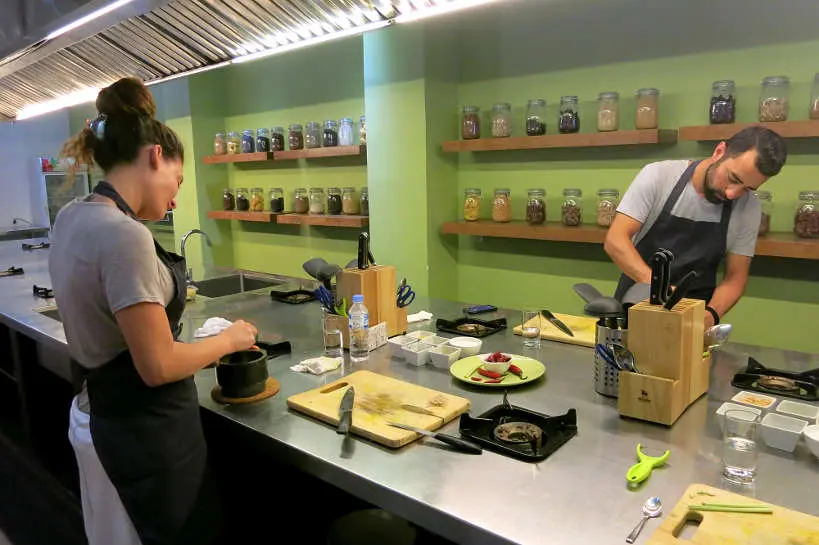 Two cooking classes are offered daily. The morning class starts at 9:00 am with a visit to the local market. And the afternoon class is at 3:00 pm, with no market visit.
Having already visited a couple of local markets in Phnom Penh, we opted for the afternoon class. Our main focus was understanding Cambodian cuisine, which had eluded us at that point.
La Table Khmère Cooking Experience
In an intimate class of four, a Swiss couple and the two of us, we enjoyed the personalized attention of our English speaking Khmer cooking instructor.
Assisting him, was another cooking instructor, who kept a watchful eye on us as we cut, chopped and sliced the ingredients for the different dishes.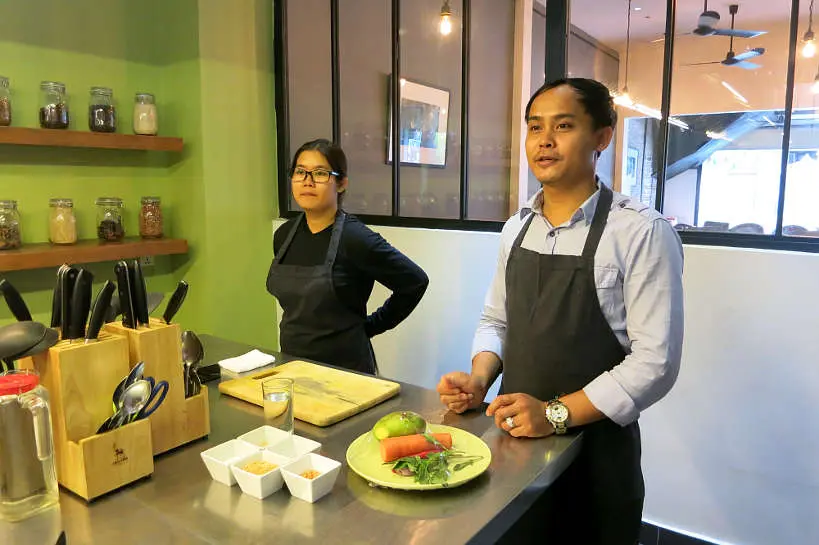 We prepared and cooked all the dishes, non-stop for about 3 hours and then ate our meals in the main restaurant section.
The three traditional Khmer dishes we learned to make were:
Fish Amok

Green Mango Salad

Chek Ktis for dessert
Making Fish Amok – The Traditional Way
Eating Amok, is one delicious experience. However, cooking it is something else. Learning how to make this dish was a reminder of how much we have been spoiled by modern conveniences.
The traditional preparation of Amok is by mortar and pestle. That means, you grind most of the ingredients by hand. This is hard work and much more difficult than it looks.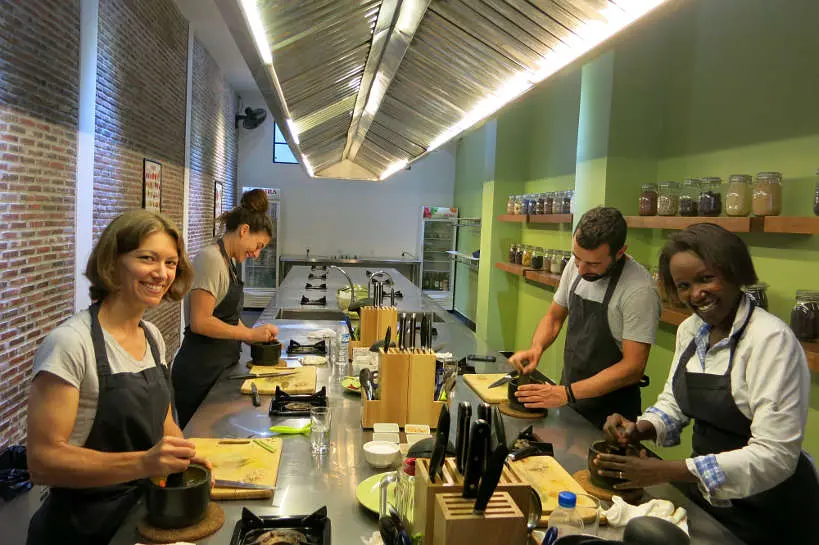 After everything was prepared, we learned how to make banana leaf bowls for steaming the amok. The banana leaves impart their subtle fragrant aroma to the sauce. Adding the perfect depth of sweet, salty and tangy coconut flavor. Cooking in banana leaves also makes the dish juicy, by keeping all the moisture during the steaming process.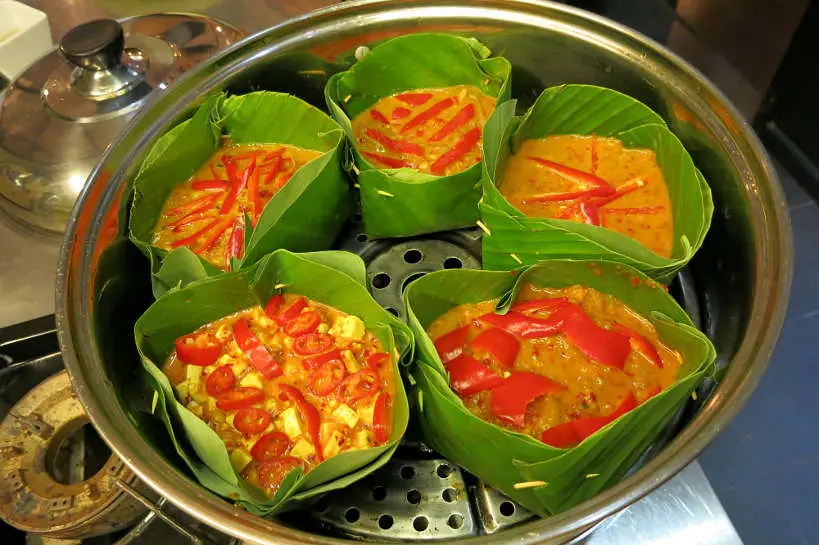 Green Mango Salad – Mango a Common Thread to Our Southeast Asian Quest
If you love Mangoes, then Southeast Asia is your playground. On our quest for authentic food in Southeast Asia, we've had some of the sweetest most delicious mangoes ever.
Mangoes are native to Southeast Asia and you'll find all kinds of varieties. Green Mangoes were new to us and we discovered they are widely used in Southeast Asian salads and some desserts.
Green mangoes generally have a tart taste with a crispy texture. They are firm and green on the outside. Sliced or shredded, they make mouth-watering snacks, relishes and dipping sauces for fish, and wonderful salads.
To make this salad, we had to peel and shred two mangoes as well as peel and grate one carrot. We laid them onto a plate while we prepared and sliced other ingredients to prepare the seasoning.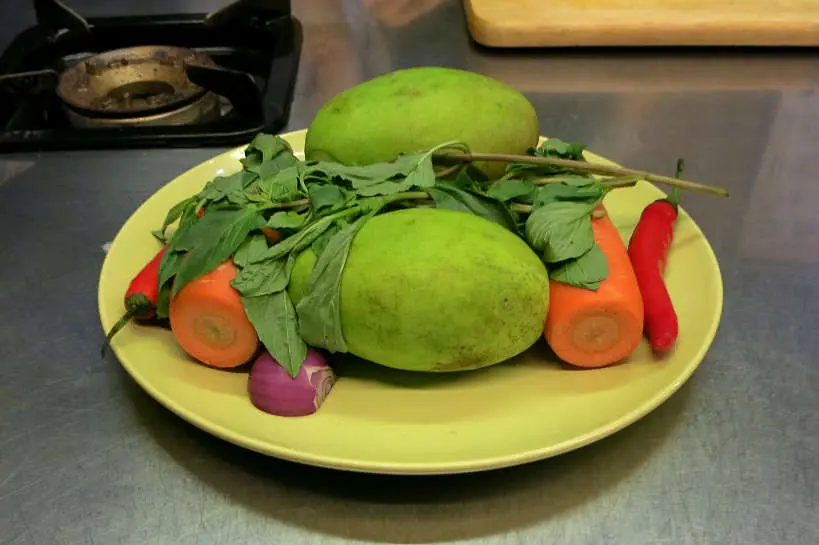 In a mortar, we added the sliced chilies, shallots, peanuts, sugar and salt and some additional seasoning.
After we had spent some time peeling and shredding, it was time to mix it all and pound it together. Contrary to the preparation of the Papaya Salad at our cooking class in Thailand, this time we really had to squeeze the mix until we got some juice out of it.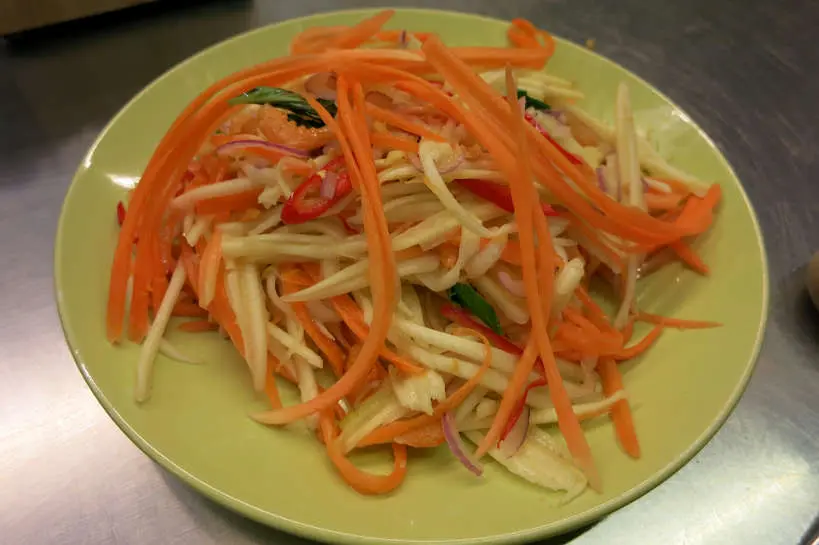 This ended up being a delicious fresh salad. The green mangoes gave an interesting hint of spice and citrus to the dish softened by the flavor of the basil leaves. A really pleasant contrast of flavors!
Download the recipe for the Green Mango Salad from La Table Khmère.
Chek Ktis: Banana with Tapioca and Gelatin
Cambodian desserts are delicate and mouthwatering. This dessert is no exception!
Chek Ktis is a delicious banana dessert made warm with tapioca, gelatin and coconut milk. We sliced the bananas and cooked them in a deep pan with water, tapioca, coconut milk, sugar and salt.
To make this dessert, we used Palm Sugar, a natural sugar popular in Southeast Asia cooking.
We discovered palm sugar for the first time and learned that it comes from sap is harvested from palm trees. The sap is boiled and left to harden to reveal a light golden to rich dark brown colored sugar.
Palm sugar does not taste as sweet as refined white sugar. It has a caramel and smoky taste which works really well with the dessert. Palm sugar has many benefits including a low glycemic index, which doesn't have the blood-sugar spike effect (sugar high) that is common in regular refined sugar. For where to buy palm sugar, check out Amazon.com.
This dessert was relatively easy to make and it resembled some popular Chè, Vietnamese desserts. It was a great finish to our meal. A sweet touch, not too heavy, to close the meal.
Download the recipe for the Chek Ktis from La Table Khmère.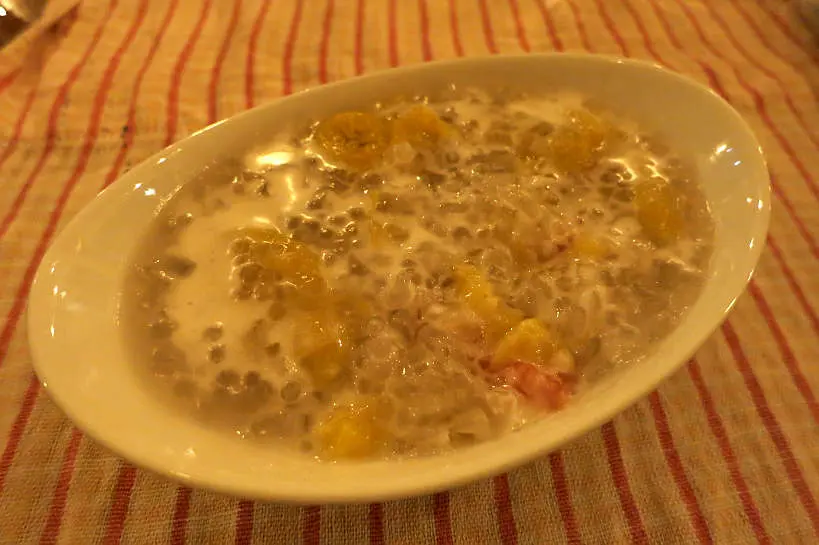 In Summary
Taking a Cambodia cooking class at La Table Khmère was a really enjoyable experience. The instructor was knowledgeable and the environment fun and relaxed.
After our 3-hour long cooking class in Phnom Penh, we sat in the main restaurant and leisurely enjoyed our food. Together with the Swiss couple, we enjoyed the delicious Cambodian cuisine we had just prepared. We left La Table Khmère satisfied and with a new appreciation of the Cambodian food.
On your travels, take a cooking class and learn how to make the traditional dishes. You will find that your experience will deepen considerably. By way of example, Fish Amok was one of our favorite Cambodian dishes. When we learned how to make it the traditional way, pounding and grinding we developed a new appreciation for the dish and the people who prepare the meal.
With La Table Khmère Cambodia cooking class, explore the local flavors and develop a richer understanding of the people and place.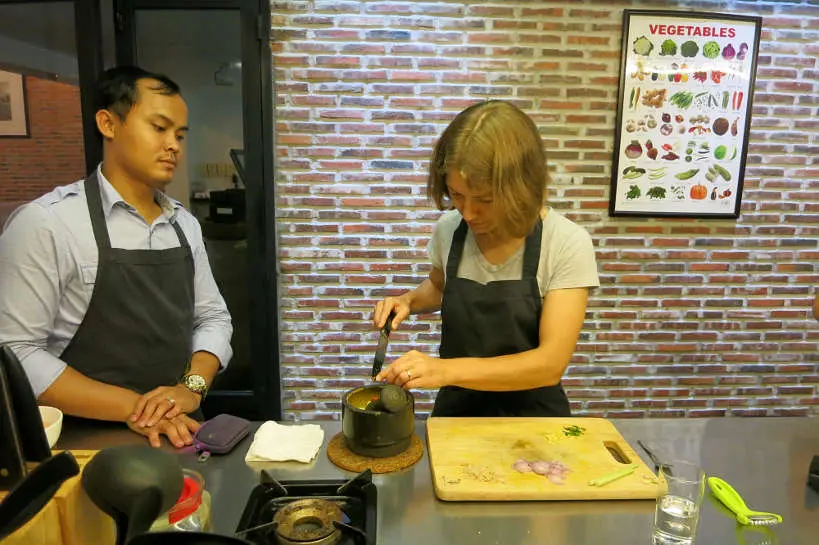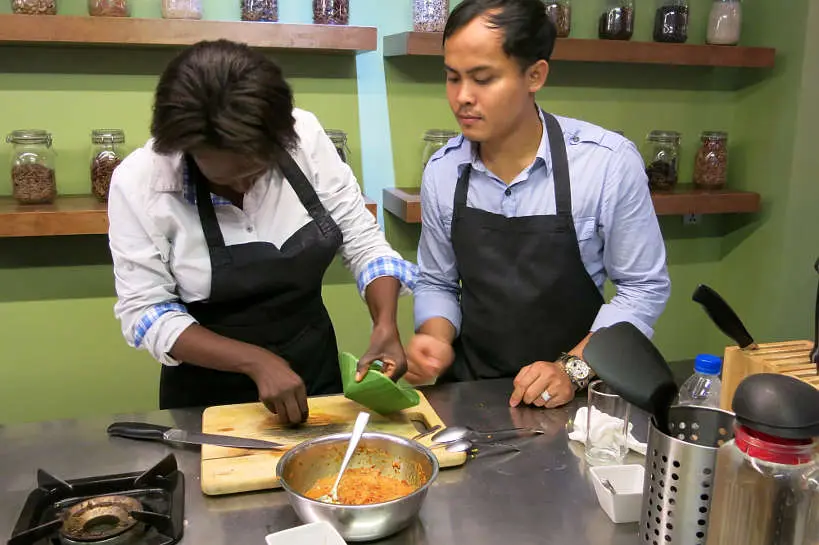 La Table Khmère Practical Information
Book your Cambodia cooking class directly at: La Table Khmère Cambodia cooking class
Address: 11E street 278, Phnom Penh; [email protected]
Classes are offered every day.
Morning Classes: 8:30 am to 12:30 pm (with a market visit)
Afternoon Classes: 3:00 pm to 6:00 pm (no market visits in the afternoon)
Cost: $25.00 per person or $21 USD without a market visit.
UPDATE! When you book your class online, in the drop-down menu tell La Table Khmère that you "discovered the cooking class by: Authentic Food". You will get a complimentary soft drink, coffee or tea on us!
Savor The Adventure!
Disclosure: please note that some of the links might be affiliate links. If you click through and make a purchase, we may receive a small commission (at no additional cost to you). Thank you in advance for your support!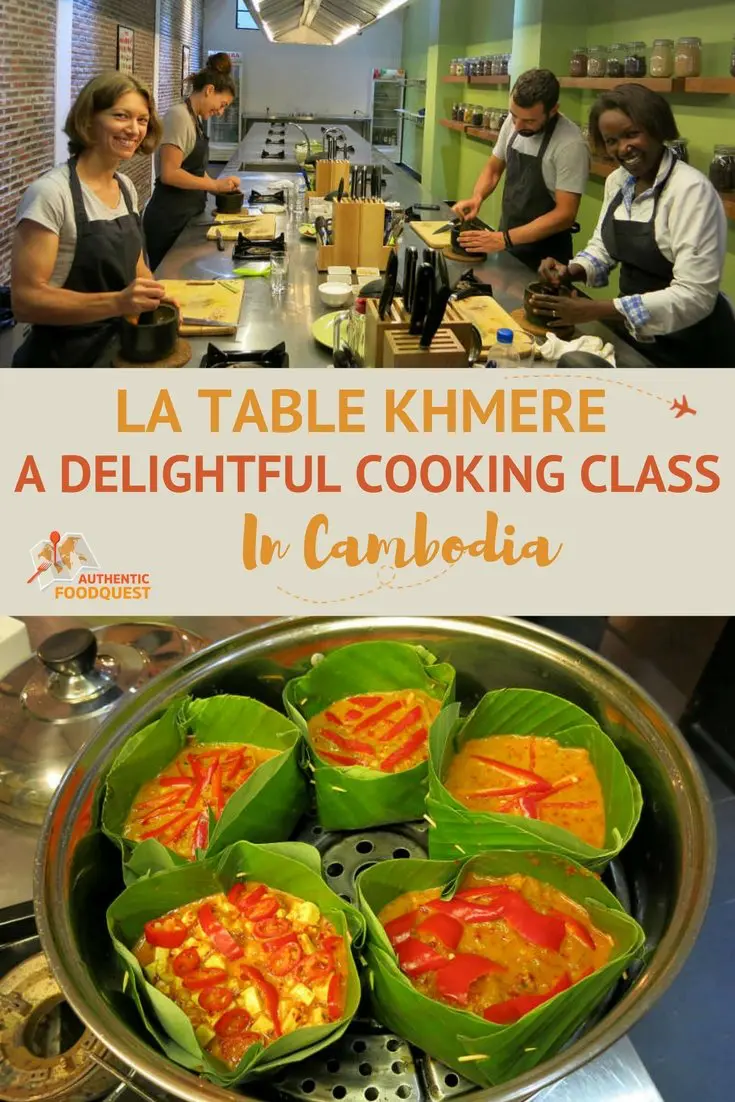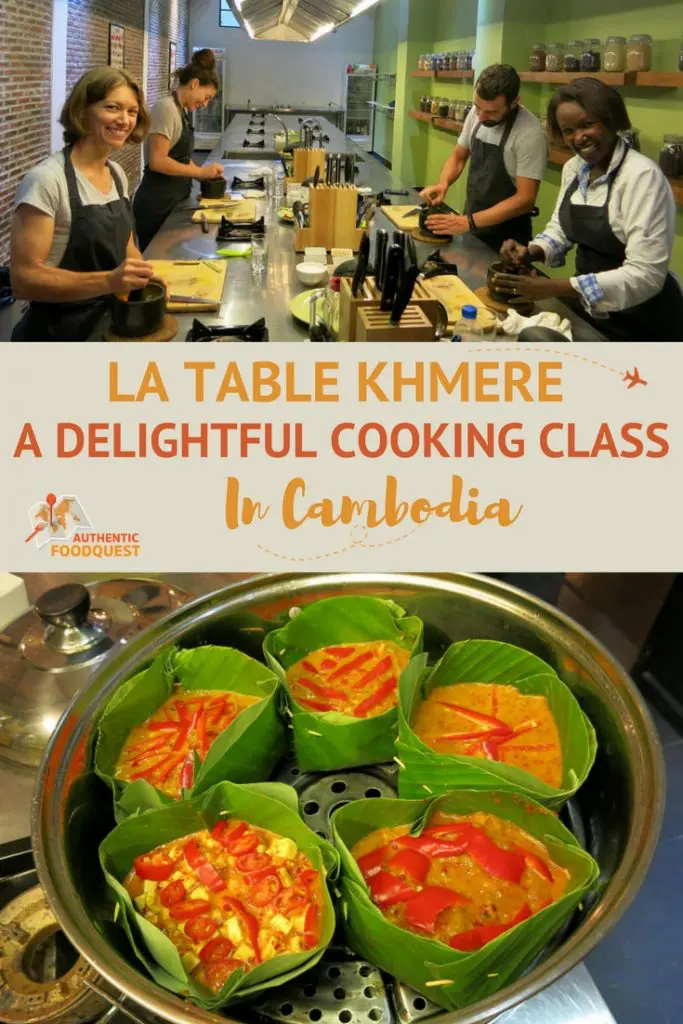 Rosemary is the editor-in-chief and strategist at Authentic Food Quest.
Traveling slow since 2015 with her partner, Claire, she has explored the cuisine in 45 countries and more than 240+ culinary cities.
Her writing about local food specialties has been featured in Lonely Planet, Business Insider, Honest Cooking, Food Insider, and Huffington Post.
As a food and travel writer, Rosemary has co-authored three books, including one in collaboration with Costa Brava Tourism.
Rosemary is an avid runner when she's not eating and exploring new destinations. She has run ten marathons and counting.
Before Authentic Food Quest, Rosemary held senior-level strategy positions in advertising. 
Find out more about Authentic Food Quest