Jaew Bong: A Popular Luang Prabang Food
You will find primarily Jaew Bong in Luang Prabang restaurants. This is a traditional food in Luang Prabang and it is also called Luang Prabang chili sauce.
It combines slices of buffalo fat mixed into a red chili sauce. The sauce is made of shallots, garlic, chilies, lime, fermented fish sauce, tamarind, palm sugar and more.
Jaew Bong is served with Laotian dishes such as steamed fish, grilled meat, vegetables, and sticky rice.
This sauce is spicy with a combination of sweet and strong savory flavors. Although we tasted jaew bong several times, we never acquired a taste for it.
What we found the most off-putting were the pieces of buffalo fat in the sauce. They not only lacked taste, but the rubber-like texture was impossible to chew.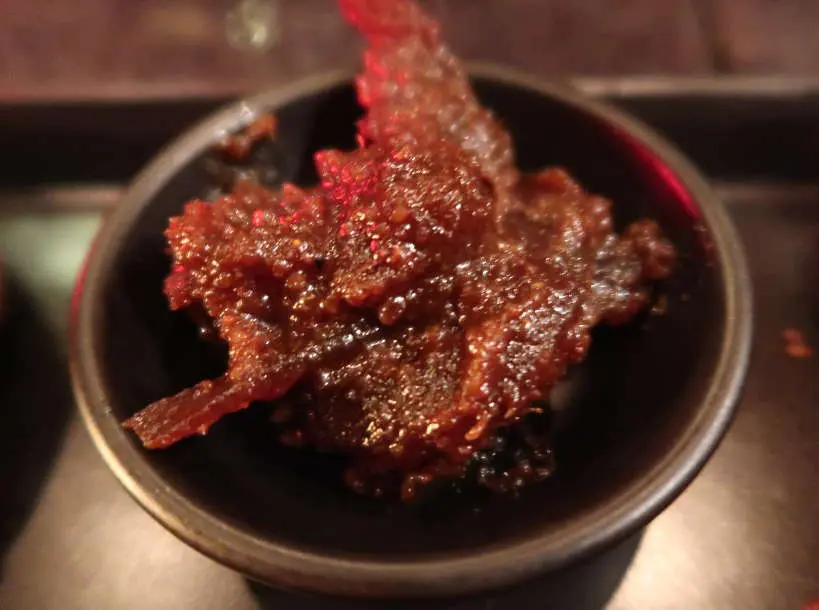 Jaew Mak Khua: Laos Food To Fall in Love with
Fortunately, this is not the only kind of jaew you will find in Luang Prabang. One of the most common Laos food you will also find in Luang Prabang restaurant is Jaew Mak Khua.
We discovered Jaew Mak Khua during a Luang Prabang cooking class where we learned how to make it from scratch using a mortar and pestle.
We loved it. What a contrast from Jaew Bong. Although it starts with the same common ingredients, shallots, and garlic, these two sauces are worlds apart.
Jaew Mak Khua is made by pounding in a mortar and pestle mild grilled eggplant, green chili, red chilies, tomatoes and some herbs such as coriander. This jaew is very tasty, with smooth textures and fragrant smells. It will certainly please any vegetable fan as a wonderful vegetarian Lao dish option.
Jaew is traditionally eaten with the main staple of Lao cuisine, sticky rice, as well as other local Lao foods.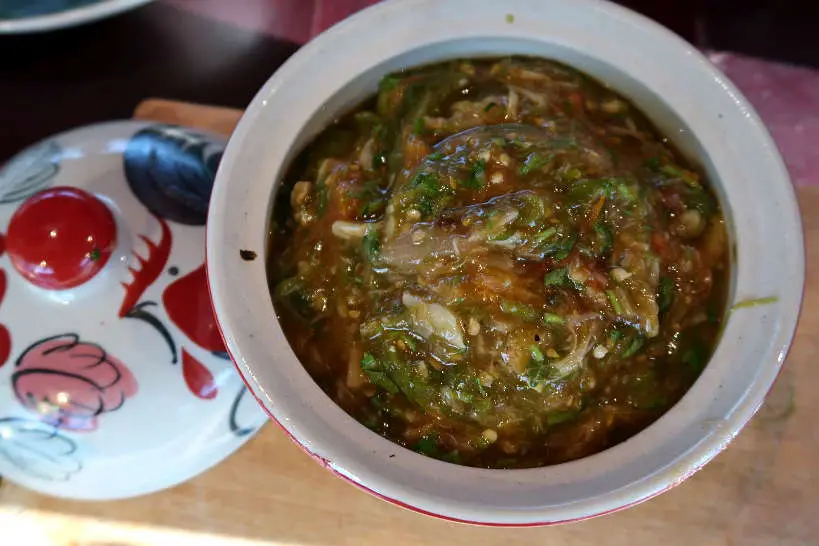 Best Restaurant in Luang Prabang To Savor Jaew
A wonderful restaurant to taste the two different kinds of jaew is Dyen Sabai, located across the Nam Khan river.
You will need to cross the river using one of the few pedestrian bamboo bridges to access this charming Luang Prabang restaurant. Note that each pedestrian will have to pay a small fee of ₭5,000 Lao Kip ($0.58 USD) per person for a round trip crossing. The money collected goes to the maintenance of the bridge. During the wet season when the bridge is washed away, Dyen Sabai restaurants offers boat service for customers free of charge.
This restaurant that sits above the Nam Khan river offers beautiful views of the river and the city. The restaurant offers two types of seating. Cross-legged on the floor, the traditional Laos way or on tables and chairs of regular heights.
This is a romantic and relaxing venue to enjoy a traditional Laos dish. In particular, Dyen Sabai offers a platter of appetizers where you can sample many of the local specialties including Jaew Bong and Jaew Mak Khua.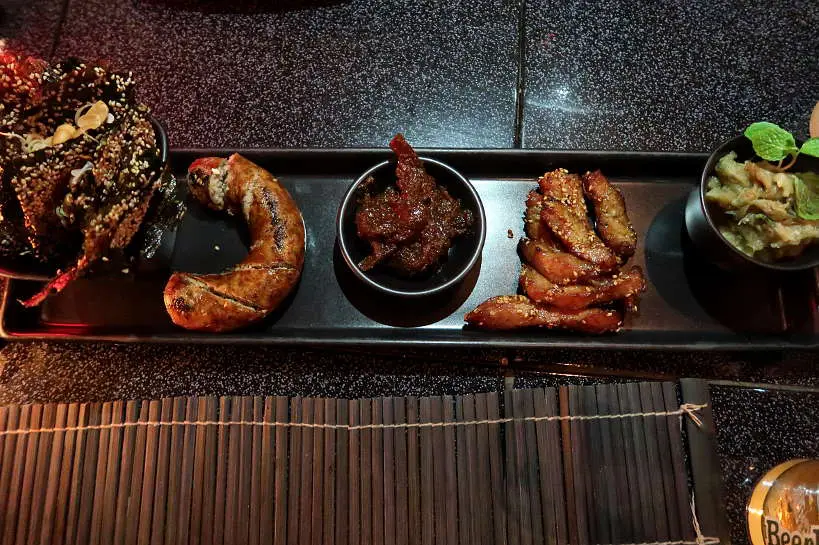 Address: Ban Phan Louang, Luang Prabang
Hours: Open every day, 8:00 am – 11:30 pm
Price: ₭70,000 Lao Kip per platter for two people (approx $8.20 USD). The platter includes; Jaew Bong, Jaew Mak Khua, Mekong Seaweed, Sai Oua, and dry pork with sesame.
Best Place To Eat Sticky Rice in Luang Prabang
Sticky rice is on every Luang Prabang restaurant menu. It costs about ₭5000 Lao Kip per serving (approx $0.60 USD) and it is enough for two adults.
For the sticky rice on skewers, you will find them mostly barbecued in the mornings at the street corners not far from the Morning Market. Look for the popular stalls with freshest looking ones.
We like the sticky rice skewers from the young lady at the corner of KitSalat and Sisavangvong Road, across the tourist office.
Young Lady Stall and Morning Market
Address Morning Market: Sisavangvong Road and road near Wat Mai Monastery
Address for Lady with Sticky Rice Skewers: Across the tourist office on KitSalat and Sisavangvong Road
Hours: Every day, 7:00 am to 9:00 am
Price: Between ₭2,000 to ₭4,000 Lao Kip per skewer depending on how well you negotiate.
Learn to make Sticky Rice and Jaew at a Luang Prabang Cooking Class
The best barbecue sticky rice and jaew mak khua we had were the ones we made during our cooking class in Luang Prabang.
The warm sticky rice prepared with fresh herbs and the savory jaew were absolutely addictive. We stuffed ourselves with these delicious cakes dipped into the jaew sauce during the whole afternoon of our class.
Bonus: Laos Drinks To Go With Your Laos Food
Exploring the local drinks on your travels is a part of the experience. In Laos, you'll find a number of local alcoholic and non-alcoholic beverages. Highlighted below are just a few local Laos drinks to enjoy with your Laos food.
Beer Lao: Laos National Beer
Beer Lao is the national beer of Laos and the most common beer you'll find in Luang Prabang. A lager made with jasmine rice and malt with 5% of alcohol content has a unique refreshing and light taste.
Beer Lao is most commonly available in 640 ml at restaurants and street stalls for ₭10,000 Lao Kip (approx. $1.17USD). You can also find it in smaller 330ml bottles at some restaurants for the same price.
Additional types of Beer Lao includes White, Gold, Amber and dark versions. These are typically sold in 330ml bottles for a slight marked up price of ₭15,000 Lao Kip (approx. $1.75 USD)
Read more about beers in the region in our extensive article Southeast Asian beer.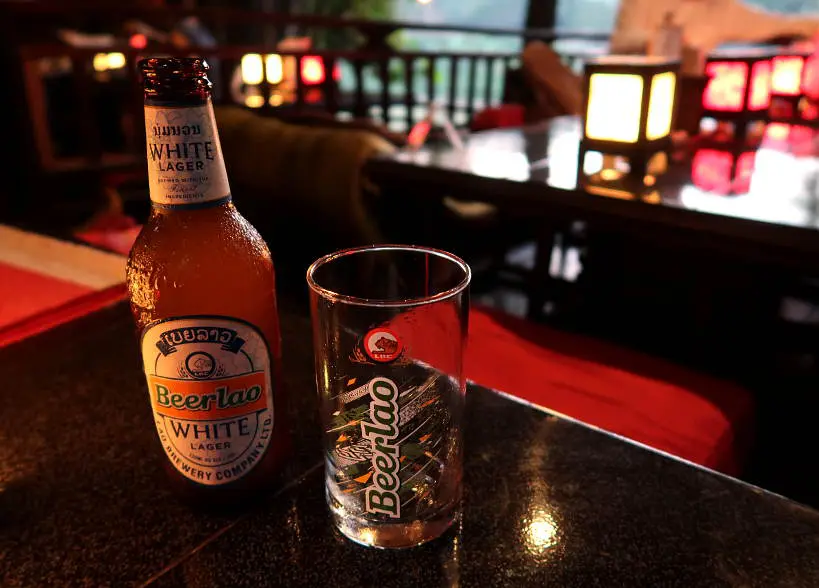 What to do In Luang Prabang – Make Laos Food in a Cooking Class
If you've never had Laos food before, consider taking a cooking class to learn and explore the local flavors.
While in Luang Prabang, we were drawn to an immersive cooking class at the Heuan Chan Heritage House.
This class met our criteria for offering an authentic cooking experience, the opportunity to explore the Luang Prabang traditional way of life, and a small and intimate setting.
Classes are offered daily starting at 3:00 pm. This includes a tour of the Heuan Chan Heritage House and learning how to cook 4 – 6 dishes
Cost: $39.00 per person
Book your Luang Prabang Cooking Class today
Where to Stay in Luang Prabang
Guest Houses
Guest houses are popular accommodation options in Luang Prabang. They range from hostels, B&B's all the way up to cozy-boutique like hotels.
All the guest houses come with varying facilities depending on which actual room you choose. However, most will include air-conditioning, fans and hot water in the bathrooms.
Keep in mind prices fluctuate throughout the year depending on demand. You can snag great bargains in the off-months.
Tom Tam Guest House
We stayed at the Tom Tam Guest House which was an affordable option within walking distance to the old city. We loved how clean it was and the convenient location.
The service was very friendly and accommodating with pick up from the airport and back.
Book Your Stay on Booking | Check the reviews on Trip Advisor