This article has links to products and services we recommend, which we may make a commission from.
Las Cabras Restaurant is one of the most popular parrillas or Argentinian steakhouses in Palermo, Buenos Aires.
After spending a fun-filled afternoon exploring the Palermo neighborhood, we decided to end the evening with what Argentina is known for…meat!
Seeking a local experience, we solicited the advice of portenos, the local residents from Buenos Aires, for a great parrilla.
The one place that came up consistently in Palermo was Las Cabras.
We didn't have a reservation and knowing that portenos usually eat late, we decided to take a chance and see if we could get seated when the restaurant opened at 8:00pm.
Much to our surprise, the restaurant was already bustling when we got there and we were quickly ushered to a table.
If you're planning on visiting the restaurant, make a reservation or plan on getting there when the doors open. About a half hour later, the line was crazy out the door with tourists and locals alike.

What is Las Cabras Parrilla
Located on Fitz Roy 1795, in Palermo Hollywood, Las Cabras restaurante is a traditional Parrilla with a modern twist.
They serve a simple Argentinian cuisine cooked on the grill or in the oven without the pretentiousness of gourmet parrilla restaurants.
Las Cabras has a homey interior, spacious dining areas, and a warm vibe though some might find it too dark. From the restaurant, we can observe the meat grilling in the open kitchen.
They also have a great outdoor patio area perfect for dining al fresco when the weather permits. 
Its affordable pricing makes it a favorite restaurant for budget-conscious travelers. It is also a favorite of locals for its casual vibe and approachable prices.
AUTHENTIC FOOD QUEST TIP: To taste several cuts of meat and experience different parrillas, we recommend taking a Parrilla Food Tour. In this tour, you get to immerse yourself in the local culture while sampling traditional Argentine cuisine.
Las Cabras Menu
Although a parrilla specialized in grilled and baked foods, Las Cabras restaurant does not limit its offerings to meat.
For starters, find traditional empanadas, Argentinian baked cheese, as well as Northern specialties like corn preparation humitas and tamales.
For less than $1, the baked empanadas are offered with various fillings. You can order pork loin, chicken, ham, lamb, sausage, pork kidneys, chicken gizzard, and beef and pork offal.
On Las Cabras menú, there is a nice selection of wood-fired oven-baked goods, fresh salad, casseroles, and traditional street food like choripan.
If fish is more your thing, you will also find a few fish-based dishes including some made on the grill.
Sweet lovers will also be satisfied with the generous dessert offer. The beverage menu includes wines, cocktails, beers and more.
Parrilla Menu
The star of the Parrilla menu is certainly the Gran Bife Las Cabras. This is a juicy and tender slab of sirloin served with rice, pumpkin puree, French fries, fried egg, provolone, and grilled onions and peppers. For only 1,953 pesos (about $17.7), this is a great platter to share.
Another popular choice is the El Macho Argentino. It's a massive 28.2-ounce bife de chorizo con lomo or T-bone with three sides as well as fried egg, provolone, grilled peppers and onions. For only 3,047 pesos (about $27.7), it makes for a feast without leaving your wallet on the table.
For pork lovers, get the Costillitas de Cerdo or barbecued pork ribs with a smoky flavor and fall-off-the-bone meat served with special sauce.
There are other Argentinian beef cuts and meat that can make your mouth water. Find ojo de bife or ribeye steak, bife de chorizo or sirloin steak, skirt steak, strip roast, pork steak, and pork ribs.
There is a grilled menu for vegans, too. They can sample grilled peppers, zucchinis, onions, tomatoes, pumpkins, eggplants, sweet potatoes, and mushrooms.
Las Cabras Wine List And Drinks
Las Cabras wine list offers a wide selection of vinos tintos or red wines where Malbec takes the center stage starting at only 563 pesos or $5. These make for the perfect complement to a great piece of steak.
There is also a sizable choice of vino blanco or white wines where Chardonnay dominates.
You will also find flavored water infused with grapefruit, apple, citrus, lemon, or orange for those who want a lighter drink.
Soda, coffee, café Cortado, latte, milk tea, and flavored tea are also available. For beer drinkers, find Stella Artois and Andes Origen IPA cervezas.
And cocktail lovers can choose from Mojito, Campari, Cuba Libre, and Aperol.
RELATED: Argentina Drinks Guide: 9 of The Most Popular Beverages You Should Try
Our Experience at Las Cabras
We found the menu impressive, including various cuts of beef, choice fish, and delicious salads with vegetarian options, too.
After seeing the generous portions of food on the tables around us, we decided to share a meal.
Empanadas as Starters
We started off with indulging in the addictive empanadas. Two hot steamy and delicious lomo (steak) and jamon y queso (ham & cheese) empanadas were more than sufficient.
That got us into the groove of a steak-filled gastronomic adventure.
Tasty Meat
For our main meal, we decided to order the Gran bife las Cabras. The sirloin was very flavorful and the meat tender. Not only was the meat enough for two but it also came with various sides enough to share. We particularly enjoyed the spicy cheese and the grilled peppers.
Las Cabras Ambiance
We enjoyed the casual ambiance and easy-going vibe at Las Cabras.
Tables are lined with paper and crayons and we took advantage of this canvas to write and draw our disappointment about our wine-free dinner.
Due to the election the following day, no alcohol was served that night like in any restaurant in Buenos Aires. You will most likely not have that experience. 
If you prefer to dine al fresco, we strongly recommend choosing a table on the outdoor patio.
READ MORE: Buenos Aires Food Guide: 10 of the Best Foods To Eat in Buenos Aires
Is Las Cabras Worth It?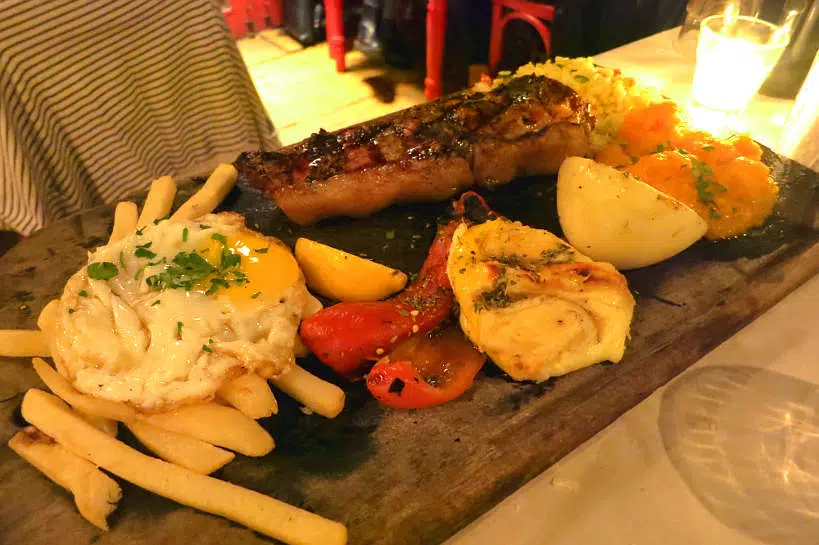 Portions are large, the quality is quite good and the prices are pretty affordable to meet most budgets.
If you find yourself in the Palermo neighborhood, look no further than Las Cabras, to satisfy your parilla craving.
One downside is the unusually long wait, especially if you decide to dine on the weekends after 8:30 pm in the evening and onwards. Expect the average wait time to be half an hour. 
Regardless, you can always take the time to enjoy each other's company and everyone else at the place.
The doneness of the meat can also be a hit or miss, especially at peak hours. It would be best to order rare if you desire medium-rare unless you do not mind eating a well-done slab.
Be prepared to come with enough cash to pay your bill, as credit cards are not accepted.
The service can also be average at times, perhaps because of the stress of serving hungry diners from table to table.
That said, every peso you spend in this steak house is worth it if you are looking for a casual and affordable experience.
However, if the price is not an issue and you are looking for a more classy experience, Don Julio, a famous parrilla in Palermo, might be your choice.
Getting to Las Cabras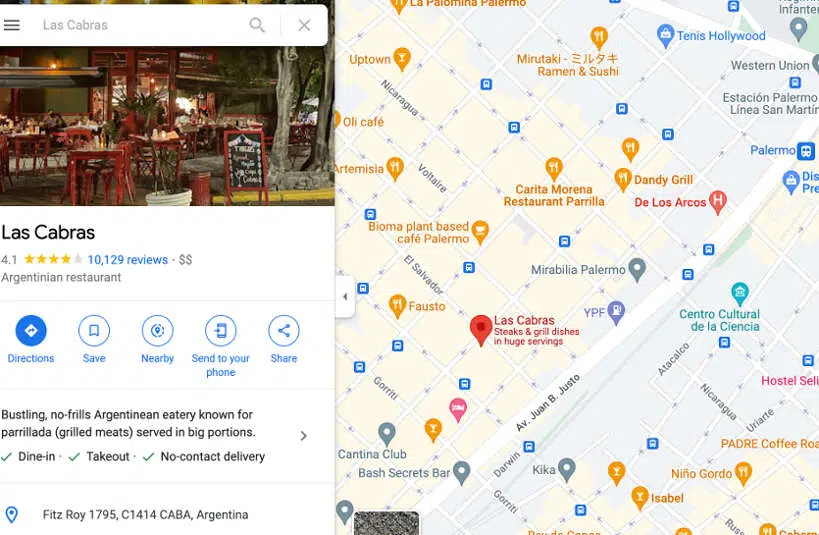 The most convenient way to get to Las Cabras Palermo is by taxi. You can get the driver to take you to the corner of Fitz Roy and El Salvador.
If you decide to take the bus or train instead, it is best to wear comfortable walking shoes.
The closest metro station is the Palermo station stop on the D Line. Look for Santa Fe and head two blocks northwest. Turn left at Fitz Roy and flex those leg muscles for seven blocks. You should see Las Cabras restaurant at the corner.
If you want an even shorter walk, take the 108 bus line. The bus stop is only a block away from Las Cabras.
Once you've eaten the generous portions, you'll be grateful to have your walking shoes on as you will need to walk to digest your meal.
Rosemary is the editor-in-chief and strategist at Authentic Food Quest.
Traveling slow since 2015 with her partner, Claire, she has explored the cuisine in 45 countries and more than 240+ culinary cities.
Her writing about local food specialties has been featured in Lonely Planet, Business Insider, Honest Cooking, Food Insider, and Huffington Post.
As a food and travel writer, Rosemary has co-authored three books, including one in collaboration with Costa Brava Tourism.
Rosemary is an avid runner when she's not eating and exploring new destinations. She has run ten marathons and counting.
Before Authentic Food Quest, Rosemary held senior-level strategy positions in advertising. 
Find out more about Authentic Food Quest