A focus away from the pretentiousness of gourmet restaurants and a return to simplicity, heritage and traditional roots has taken a hold of Argentina, as it has in other countries. To give a few examples France has it's Bistros, England it's pubs and Italy it's trattorias, where one can enjoy simple food from the casa, usually prepared by mom or grandma. The search for simple and authentic foods in Buenos Aires brings us to the concept of bodegones, which focuses on traditional meals made with simplicity and depth. Pietro Sorba, journalist and acclaimed food critic has written much about the topic in the 2014 Edition Bodegones de Buenos Aires. Be sure to check it out for bodegones in different barrios around Buenos Aires.

Las Cabras – Fitz Roy 1795, Palermo
After spending a fun filled afternoon discovering and exploring Palermo, we decided to end the evening with what Argentina is known for..meat! Seeking a local and authentic experience, we solicited the advice of local portenos (local residents from Buenos Aires) for a great parilla (or grill/steakhouse). The one place that came up consistently in Palermo was Las Cabras, with some portenos referring to it as a bodegones. We didn't have a reservation and knowing that portenos usually eat late, we decided to take a chance and see if we could get seated when the restaurant opened at 8:00pm. Much to our surprise, the restaurant was already bustling when we got there and we were quickly ushered to a table. If you're planning on visiting the restaurant, make a reservation or plan on getting there when the doors open. About a half hour later, the line was crazy out the door with tourists and locals alike.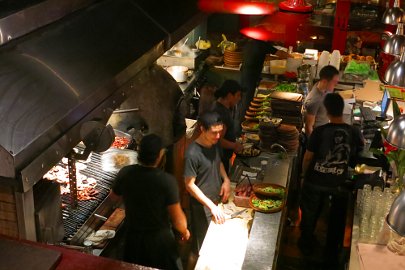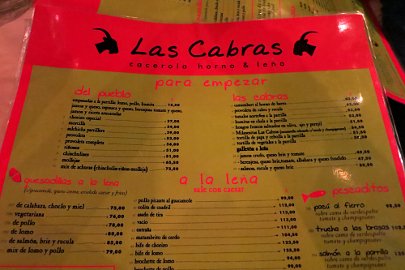 The Las Cabras Experience
After reviewing a pretty impressive menu that includes everything from different cuts of beef, fish, salads and vegetarian options and seeing the large portions of food on the tables around us, we decided to share a meal and start off with indulging once again in the addictive empanadas. Two hot steamy and delicious lomo (steak) and jamon y queso (ham & cheese) empanadas.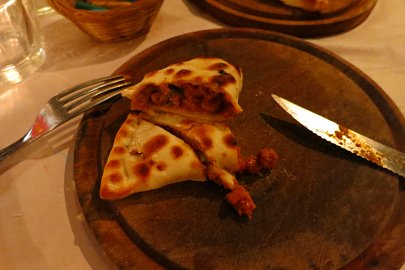 Lomo Empanada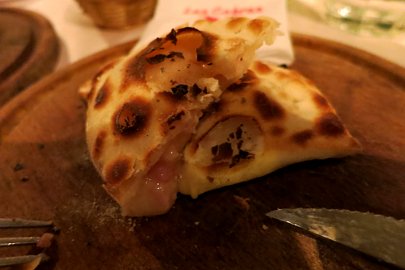 Jamon Y Queso Empanada
The portions are pretty huge, so don't be afraid you'll not have enough by sharing a meal. We went with the gran bife las Cabras. This came with a huge piece of beef and a ridiculous amount of sides including; papas fritas, pure de calabazza, cebolla grillada, arroz con vegetales, pimento asado y proveleta – thick cut french fries topped with a fried egg, pumpkin puree, grilled onion, vegetables with rice and a delicious spicy cheese, available for just 138.50 pesos (US$15.00). A delicious bargain!!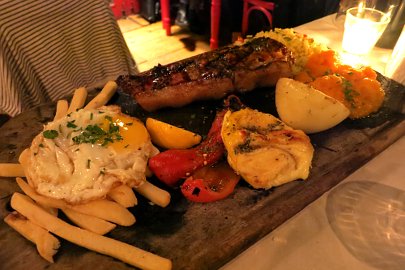 Gran Bife Las Cabras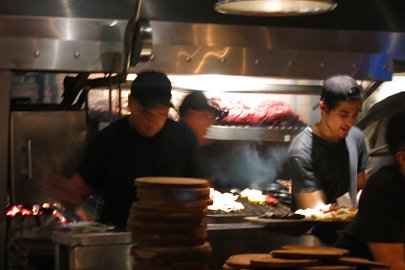 The Kitchen in Action

All Meat But No Wine. . .
For those who may not be aware, Argentina held its primary presidential elections on Sunday, August 9th 2015. So, what does this have to do with Las Cabras and food. Apparently everything. Voting in Argentina is obligatory for adults 18 years and older, which means that everyone must vote. If not, there are penalties. Local portenos tell us that they are not sure exactly what the penalties are, it is rumored to be anything from a sort of tax to perhaps being stopped at the airport when traveling. Regardless of the consequences, portenos tell us they are not willing to take a chance and they dutifully vote at the local schools in their barrios (neighborhoods).
So, back to the restaurant. Because voting is obligatory and the expectation is that everyone should be at the polls on Sunday, restaurants stop serving wine or alcohol to ensure everyone is in "tip-top" condition when making their candidate choices. As we were getting to ready to order our wine, the waiter graciously informed us that they would not be serving alcohol at the restaurant even though we placed our order before 9pm (the reported alcohol cut off time). Even after joking that the rules should not apply to foreigners as we would not be voting, the waiter gently cracked a smile, but made no exceptions.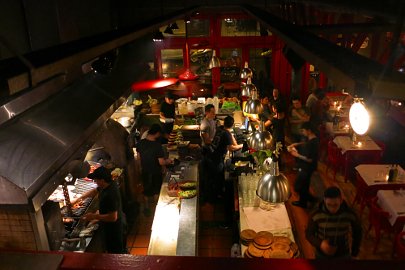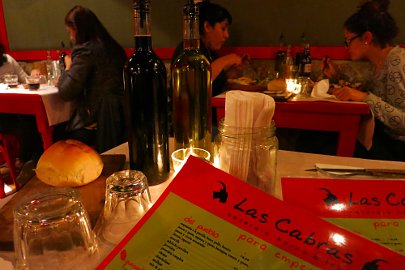 The ambiance is great at Las Cabras. Even though the tables are close to each other, you will appreciate the fact that you don't have to scream or strain to hear your dining companions. Tables are lined with paper and crayons and we took advantage of this canvas to write and draw our disappointment about our wine-free dinner. Portions are large, the quality is quite good and the prices are pretty affordable to meet most budgets. If you find yourself in the Palermo barrio, look no further than Las Cabras, to satisfy your parilla craving.

Getting to Las Cabras
Put on a pair of good walking shoes and explore the Palermo barrio as you make your way to the restaurant. The nearest subte stop on the D line is the Palermo station. From there walk two blocks up Santa Fe, go left on Fitz Roy and walk seven blocks to the corner of Fitz Roy and El Salvador.
Once you've eaten the generous portions, you'll be grateful you have them on as you will need to continue walking to digest your meal 🙂
Other options include getting to know the bus system or taking a taxi.
Curious by nature, Rosemary loves exploring new flavors and connecting with locals. She shares her insights and culinary finds from her travels to inspire people to connect local through food.