Exploring a destination through food is our mission at Authentic Food Quest. Our goal is to highlight the local and authentic dishes you should not miss on your travels. Lisbon is a city neither one of us had ever visited, and taking a Lisbon food tour to uncover the local gems and dive into the rich culinary history was an obvious must-do.
Before going to Portugal, we actually didn't know much about the local cuisine. We were familiar Port wines, bacalhau (codfish) and had only heard about the famous Pastéis de nata.
To delve into the food culture in Lisbon we partnered with Context Travel for a Lisbon Food Tour on their aptly titled Bica to Ginja Food Tour, covering Portugal's iconic foods.

Exploring Portuguese Culinary Culture with Context Travel
Context Travel is known for offering small group tours for the intellectually curious travelers. When we learned they had recently started offering tours in Lisbon, we jumped at the opportunity to partner with them again.
This was our third food tour with Context Travel. We had exceptional experiences in Paris on a chocolate food tour and in Bangkok, discovering the street food in Chinatown.
What we really enjoy about food tours with Context Travel is getting a real in-depth perspective about the food, from locals. On the Lisbon food tour, our guide Patricia is not only local but also a professional chef.
For over three hours, on a private tour, we took our taste buds on an adventure, in the Chiado and Baixa neighborhoods, sampling and learning about the iconic foods in Lisbon.
1 – The best Pastéis de Nata in Lisbon
Going to Lisbon without tasting the iconic Pastéis de Nata is like going to Paris and missing the Eiffel Tower, or New York and 5th Avenue.
To taste this iconic Portuguese pastry, there is no better place than Manteigaria deemed to make the best Pastéis de Nata in Lisbon. This recently opened bakery only makes Pastéis de Nata. The store, Manteigaria, is actually an ex-butter shop, and they kept the name and the old storefront.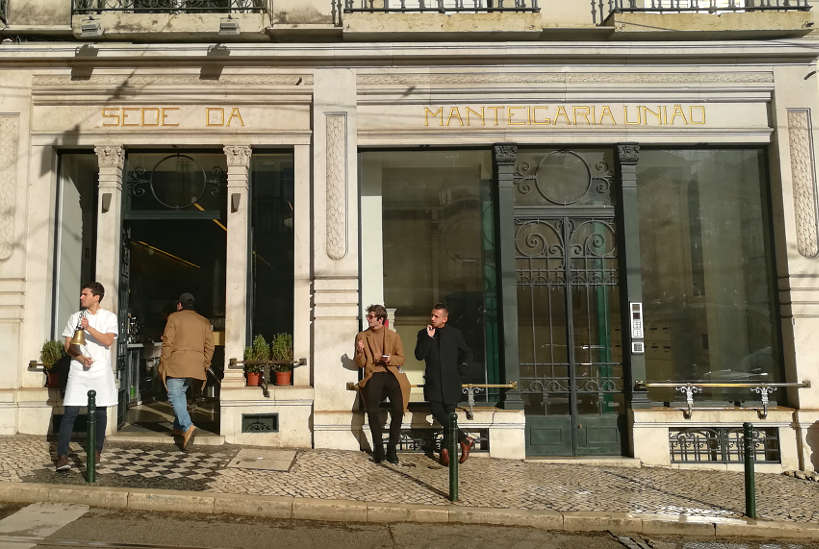 Best is to wait until the bell rings, signaling that a new tray of freshly baked Pastéis de Nata is ready to be served. Eaten warm, these little pastries are divine. The crust is fine, crispy and delicious. The custard is rich with the perfect texture. An outstanding combination!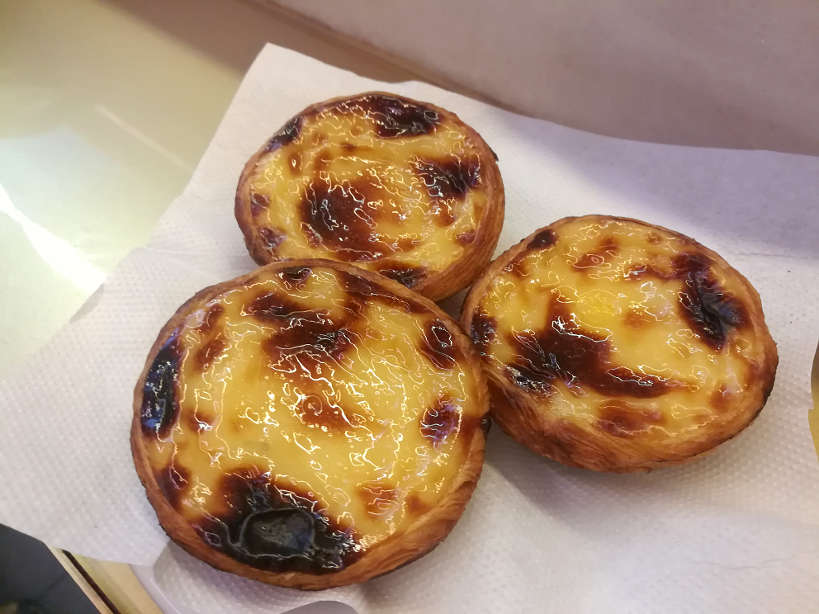 Their secret formula lies in the artisanal production with the best quality ingredients following the original recipe. Made right in front of you, you can watch the preparation process while enjoying your pastry.
To accompany this delightful pastry, we had a Portuguese coffee called Bica which is similar to an espresso. If you want it with milk, then order a Pingo.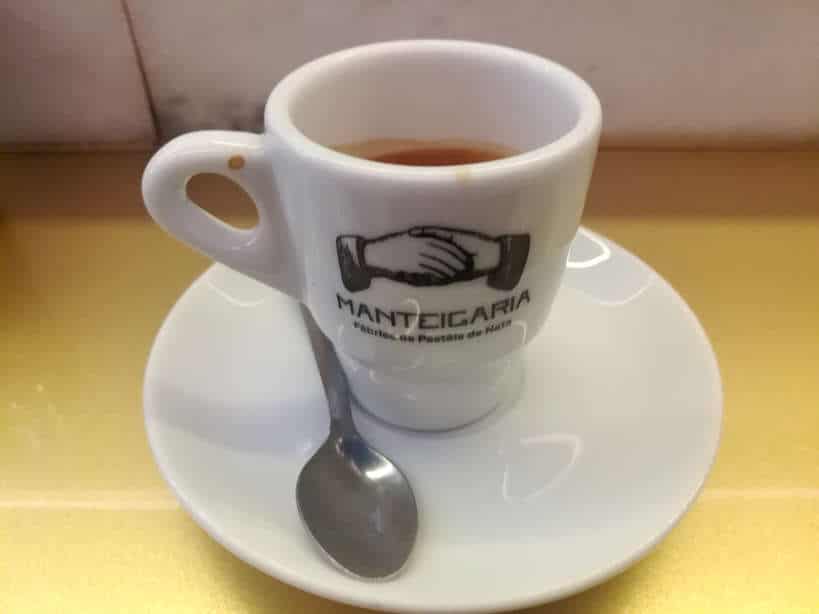 2 – Market Visit at Mercado da Ribeira
To understand the food and ingredients, we visited Ribeira market, the main Lisbon market since 1892. The market is divided into two parts. The traditional market, filled with stands selling fresh produce. And the food court section, which has been managed by Time Out Lisboa Magazine since 2014. Our tour focused on the traditional market.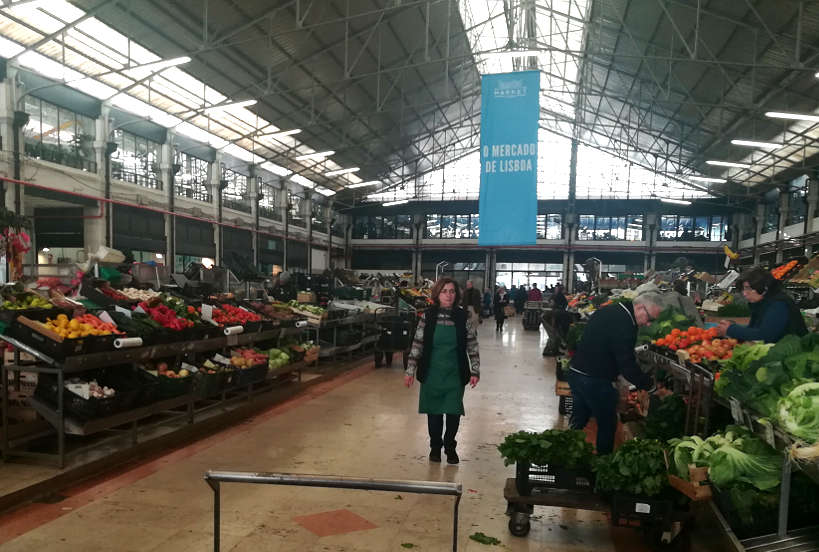 Popular with chefs and locals alike, this market features primarily Portuguese fruits and vegetables from all over the country.
As we leisurely made our way through the market, we admired the colorful fruits and vegetables and tasted unique vegetables, including some of the sweetest oranges from the Azores region. We learned that the Portuguese cook with what is available in season and we did not see much imported produce at the market.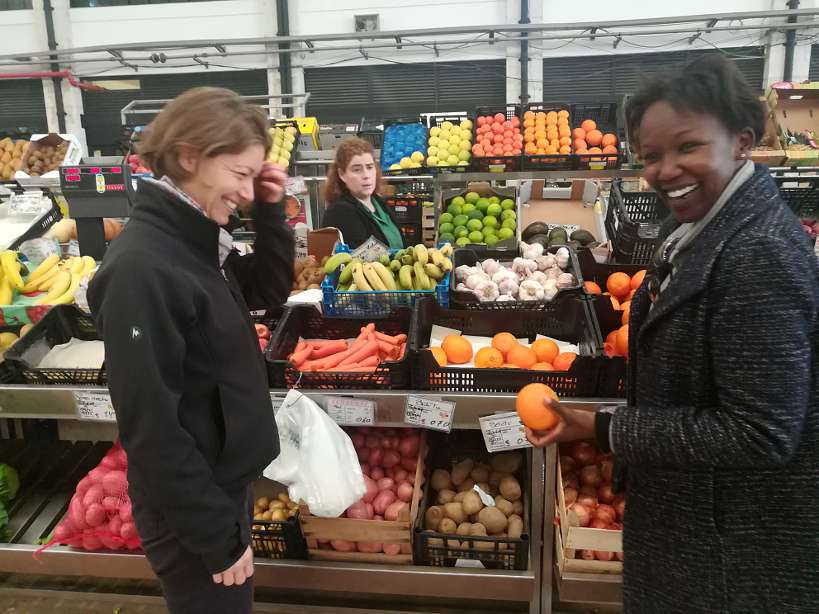 An impressive fish section awaited us as we turned the corner from the fresh produce area. We saw a great variety of popular fish and seafood, including swordfish and the famous sardines and mackerel.
Also on display was fresh codfish or bacalhau. Prior to that, we had typically seen codfish, salted and dried. We learned from Patricia, that many Portuguese don't even know that fresh codfish exists because they are so accustomed to eating it dried and salted.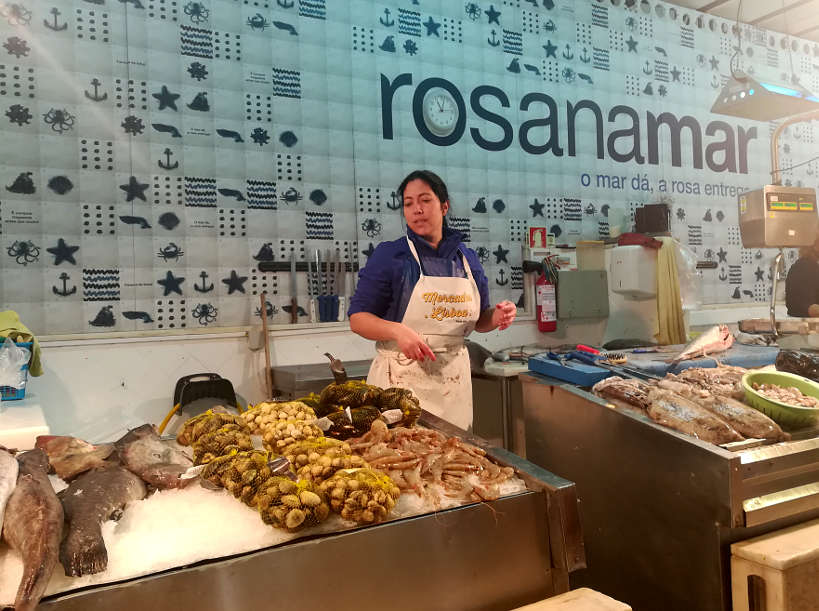 With Patricia, being a professional chef, she told us about the dishes she makes with the local products. She personally shops at the Ribeira market and knows some of the vendors, making the visit very personalized.
While the visit focused on the traditional part of the market, it is worth visiting the Time Out market, which is a gastronomic destination.
With a mix of renowned chefs' stalls and a range of local specialties, the popular Time Out market is a great place to start for people visiting Lisbon for the first time. You will find some of the best Portuguese hams and cured meats, traditional canned fish, a variety of breads, desserts, Portuguese wines and port and much more.
As we walked to our next stop, Patricia pointed out a number of hidden local spots behind the market, which sell delicious local treats.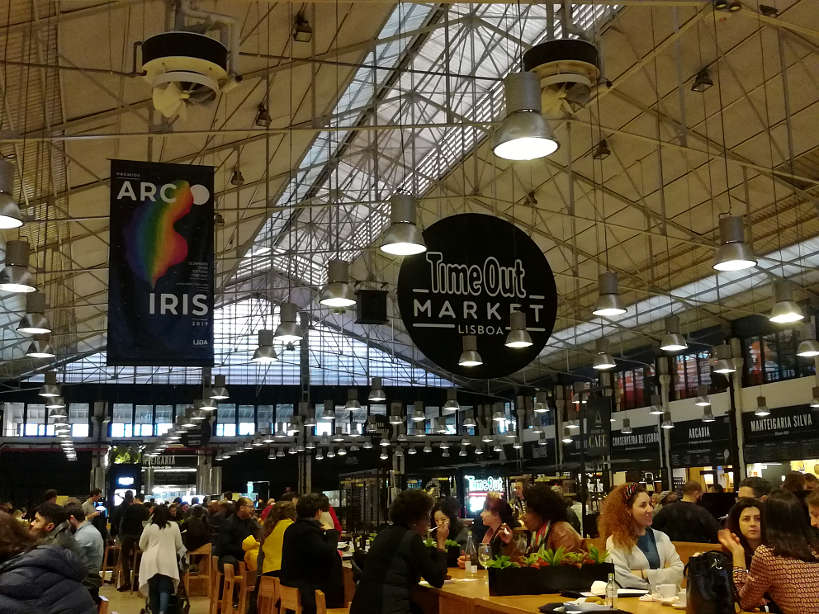 3 – Canned Fish as Gourmet Food at Loja Das Conservas
Sampling canned fish might sound odd but it is actually making a culinary renaissance in Lisbon. While canned fish used to be eaten when food was scarce, it is now served as a delicacy in many restaurants of the Portuguese capital.
At Loja Das Conservas, you will find many Portuguese brands represented in the store owned by the National Association of the Fish Canning Industry. This is the ideal place not only to sample several cans of fish but also to buy gifts as these stylish cans make for the perfect souvenir.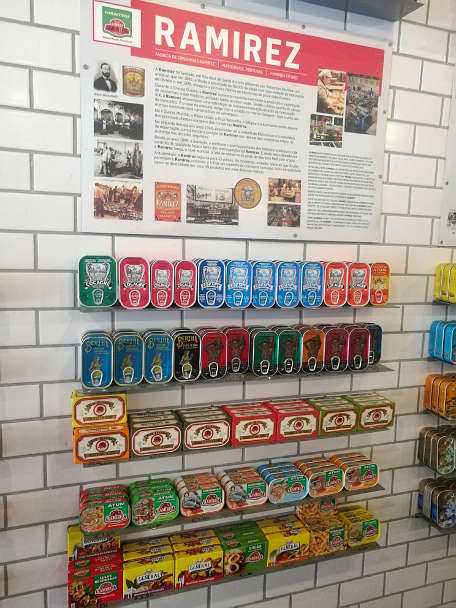 We sampled canned mackerel with curry, tuna with red chili and sardines in olive oil with lemon. Served with white wine from the Alentejo region and small toasts, this was the perfect introduction to Petiscos. Petiscos are small bites to eat with a glass of wine or beer and share with friends. Although often compared to tapas, Petiscos are unique to Portugal.
While all the cans were delicious, our preference was the mackerel in the curry sauce and the spicy tuna. This made for a fun experience!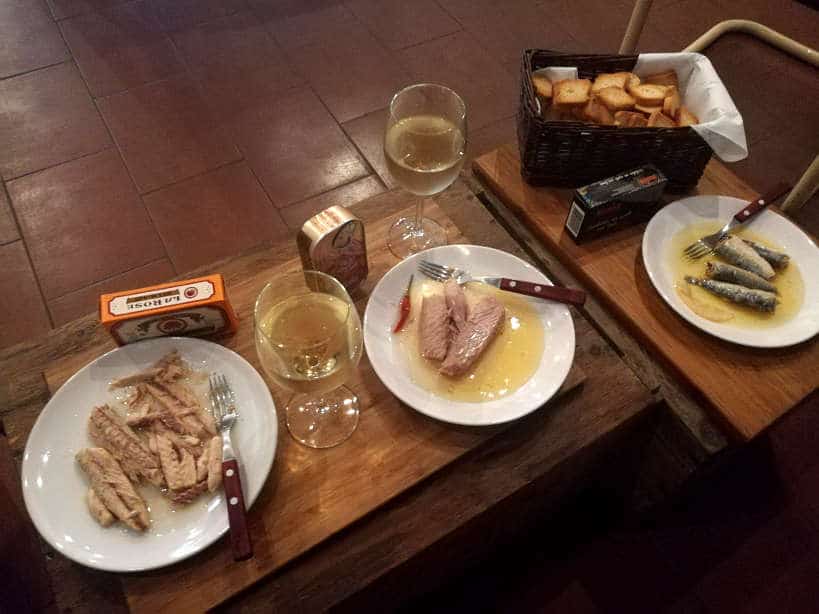 4 – Emblematic Portuguese Food Stores
Mercearia Pérola Do Arsenal is a local food store in Cais do Sodre. This neighborhood located near the river used to cater to the marines and the people working in the fishing industry.
This food store is known for its Bacalhau or codfish, the emblematic fish of Portugal. Here you can find different cuts of the codfish, from the cheeks to the tail.
The store also has a nice section of Portuguese wines and Porto, the famous sweet wine from Porto. At the back of the store, you'll find a rich variety of beans used in Portuguese cuisine. This is a great store to find all the traditional food products of Portugal.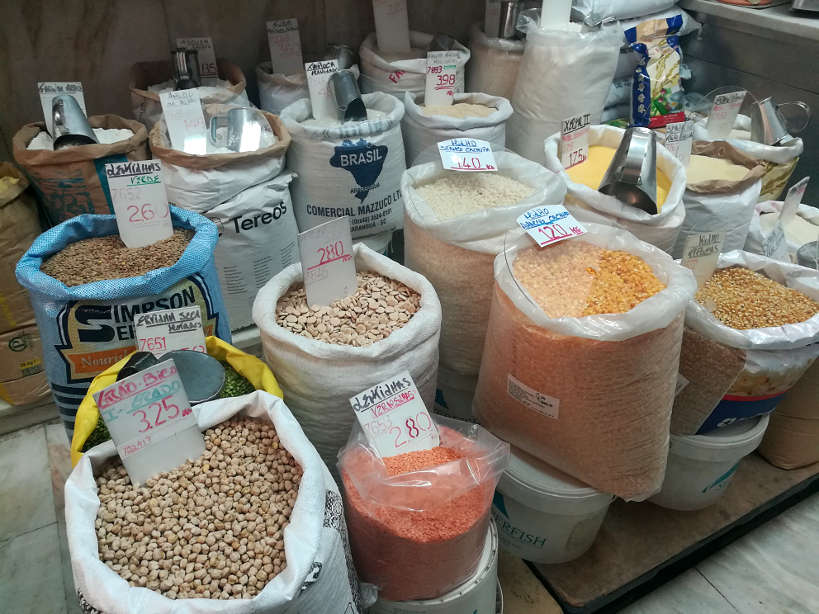 On our way to our next stop, we walked on the main street of Lisbon called Rua Augusta. This is Lisbon's main pedestrian street. It starts from Praco do Commercio and leads to Rossio Square, two of the most beautiful squares in Lisbon.
Rua Augusta is a lively street with mosaic pavement, artisanal food stores, flower shops and clothing, as well as cafe and pastry shops.
On our way to Rossio Square, we stopped at Casa Pereira da Conceição, a traditional food store founded in 1933, specialized in tea, coffee, and chocolate. One interesting tidbit is that they keep a file of the preferred coffee for all of their customers. We tasted some of their gourmet chocolates and joined in the Portuguese love for chocolate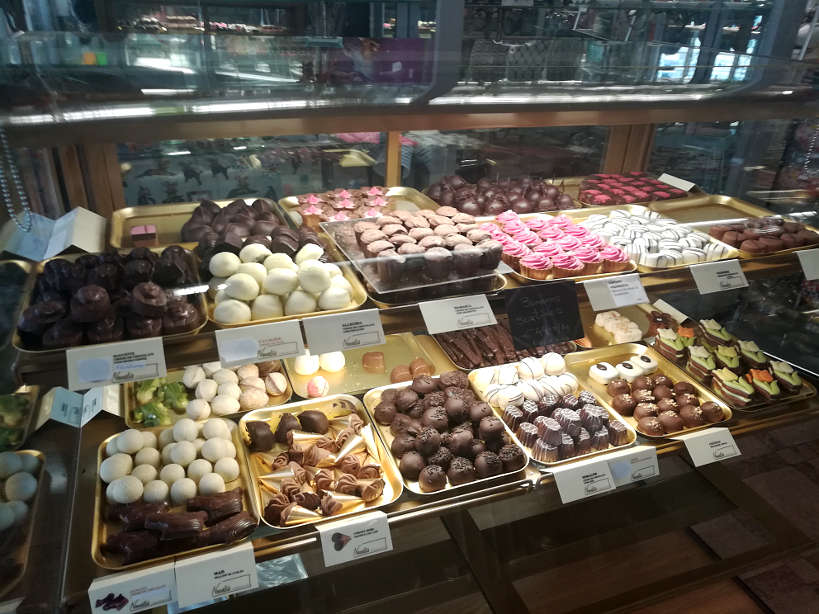 5 – Ginjinha Stop – Lisbon's Sweet Cherry Liquor
As we made our way around the city, Patricia took us to have our very first taste of Ginjinha. Prior to the Lisbon food tour, while walking around the city, we had seen several small signs selling "ginjinha." Not knowing what it was, we never dared to try it.
So, when Patricia told us our next stop was to taste the Portuguese favorite liquor, we could not wait. Ginjinha or ginja, is a sour cherry liquor native to Portugal, and a typical drink in central Portugal around Lisbon and the town of Óbidos. It is 100% Portuguese and not found anywhere else in the world.
Our stop was at the very first store in Lisbon to commercialize or sell Ginjinha. This liquor is made by letting cherries ferment in brandy, and then adding sugar, water and cinnamon.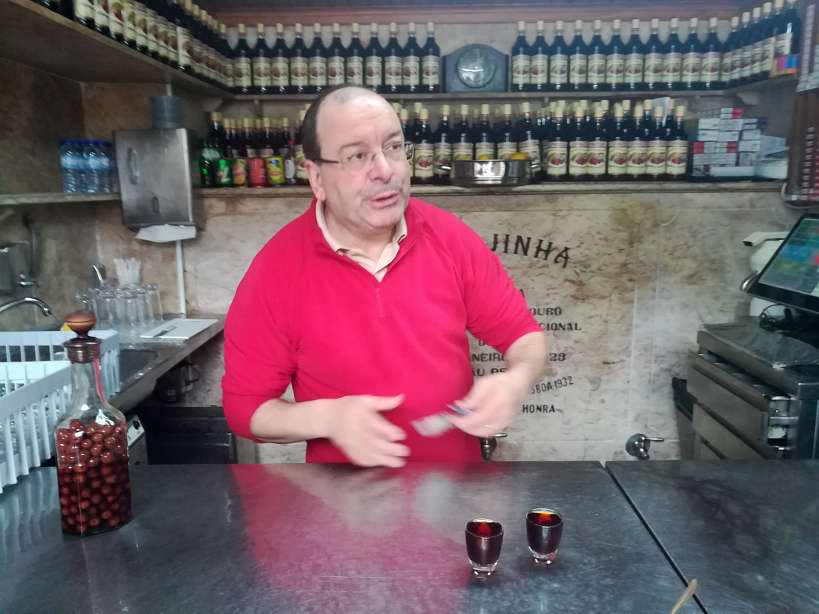 The drink is served in a shot glass and costs €1.0 euro. You can have it with a cherry or without. We had it with a cherry and found it quite sweet.
The alcohol percentage is quite strong at 23%, though we were quite surprised that it didn't taste too alcoholic. Perhaps, due to all the sugar.
In Lisbon, ginjinha is consumed as an aperitif or as an after dinner drink.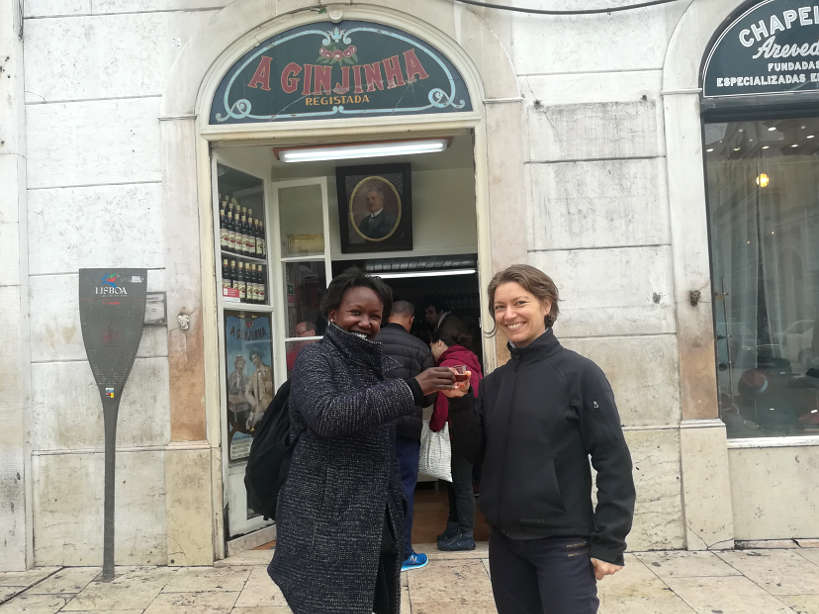 6 – Café Garrett at the National Theater of Portugal
Our last stop for the tour was at the impressive national theater of Portugal, the Teatro Nacional Dona Maria II.
Café Garrett, the restaurant at the theater, is a hidden gem and often by passed by tourists. Here, we had pastéis de bacalhau, one of the 365+ way of preparing codfish. This particular preparation was deep fried cod with chives. While it may not sound appetizing it is in fact quite delicious.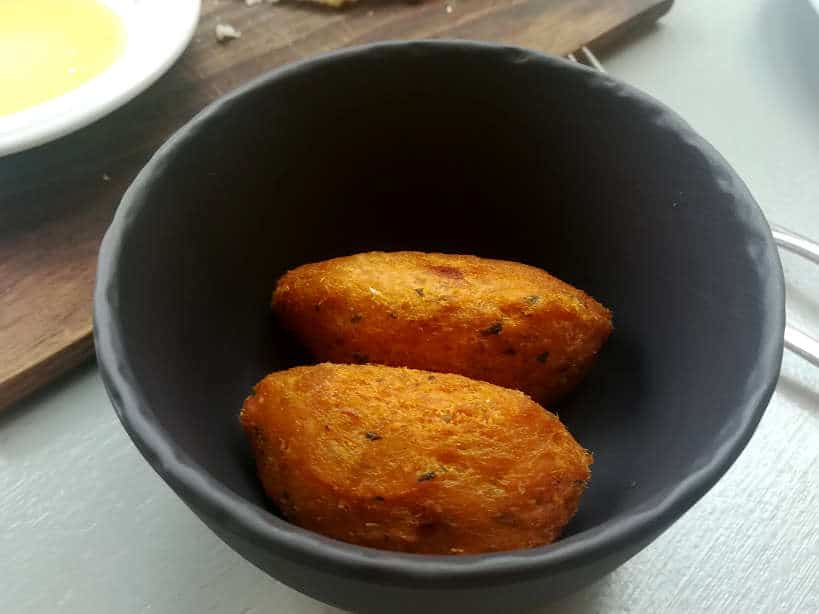 These traditional fish cakes are prepared on order and served hot. They are best eaten in small bites. We accompanied the codfish with glasses of Vinho Verde wine.
While we did not visit national theater, guided tours are offered which take you through the strange history of the Teatro Nacional de Dona Maria II.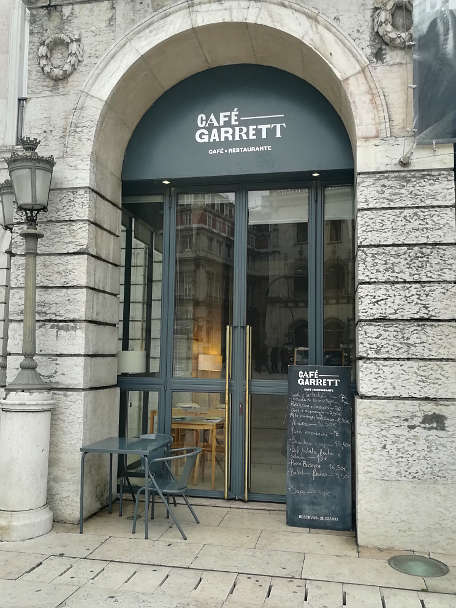 In Summary
After a few hours with Patricia, we really felt that we had gained a much greater appreciation for the local Portuguese cuisine.
The opportunity to take a food tour with a professional chef was a wonderful way to get immersed into the heart of the food culture. Visiting the market, seeing the local seasonal products and sampling the delectable cuisine was the perfect introduction to Portugal's iconic foods.
If Lisbon is on your travel plans, don't hesitate to sign up for a Lisbon food tour with Context Travel. Our tour was a private tour and having a chef's perspective added much more than we could have imagined.
Go deeper on your travels, through food, with Context Travel, a unique tour company for the intellectually curious traveler.
Additional Information
Tour: Book your Bica to Ginja: Lisbon Food Tour directly with Context on their website Lisbon food tours.
Duration of the tour: Approximately 3 hours. Bring comfortable walking shoes.
Customized food tour led by a knowledgeable local chef.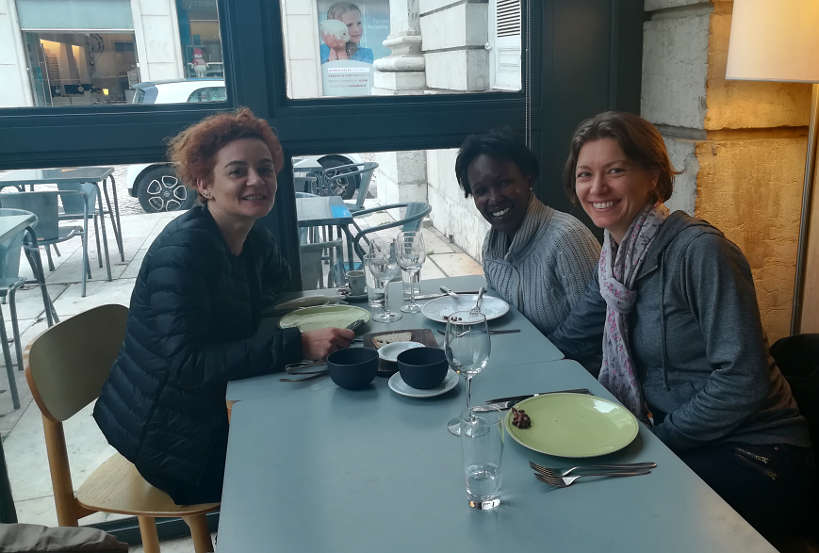 Special thanks to Context Travel for having us on this tour. All views and opinions expressed are our own. Full bellies and happy taste buds too.
Disclosure: please note that some of the links might be affiliate links. If you purchase tours through our website link, we will get a small commission at no cost to you. We only recommend products and services that we use and that we believe will be useful to you. Thank you in advance for your support!
Savor the Adventure!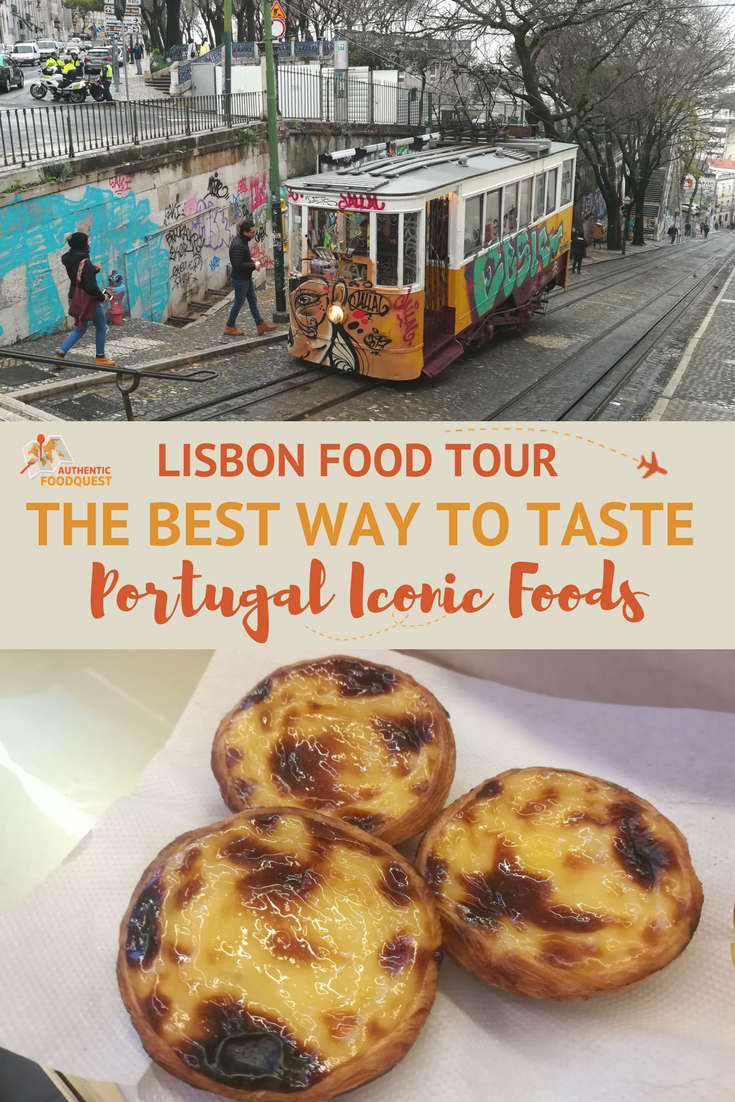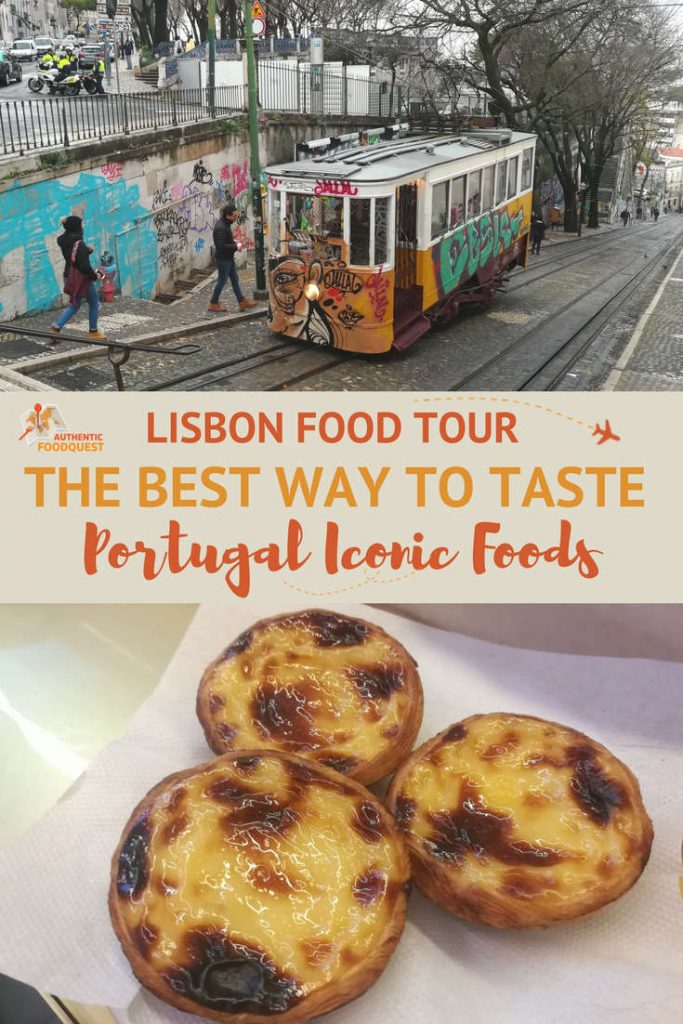 Curious by nature, Rosemary loves exploring new flavors and connecting with locals. She shares her insights and culinary finds from her travels to inspire people to connect local through food.