Where to Eat at  Lisbon Food Market Campo de Ourique
Address: Rua Coelho da Rocha 104,  Campo de Ourique, Lisbon
Hours: Open everyday: 10:00 am – 11:00 pm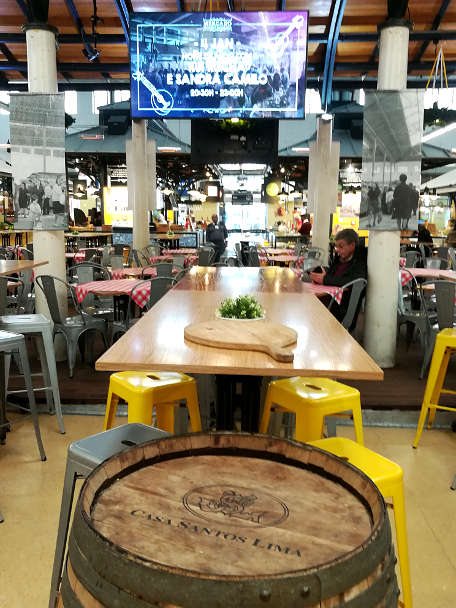 Authentic Food Quest Tip: One of the best ways to explore the local Lisbon food is to take a food tour. Depending on how much time you have available, you may consider taking a food tour of Lisbon restaurants where locals eat. We recommend taking an off the beaten path tour of Lisbon with Taste of Lisboa. A Taste of Lisboa food tour will take you through the Campo de Ourique foodie neighborhood, where you will visit a number of Lisbon local restaurants while getting immersed in the local gastronomy, history, and culture
See the video below of the Lisbon restaurants where locals eat

In Summary
Lisbon has established itself as one of Europe's hippest destinations. With a thriving tourist scene, comes tourist trap restaurants and trendy food concepts.
Portuguese and Lisbon food is simple, flavorful and impeccably prepared. If you are unsure of where to eat, go to the Lisbon restaurants where locals eat.
Explore the city and use this Lisbon food guide to find the best Lisbon restaurants where locals eat.
If you prefer to take a food tour with a local, click below and book your off the beaten path tour of Lisbon with Taste of Lisboa.
Do you have a favorite place to eat authentic Portuguese food in Lisbon?  In the comments below, please tell us your favorite place to eat Lisbon food.
Savor The Adventure!
Where to Stay in Lisbon And Eat Where Locals Eat
Our preferred neighborhoods for a local food experience in Lisbon are Penha de França and Campo de Ourique. Very local, both these neighborhoods are easily accessible to and from the main venues and tourist attractions in Lisbon.
Staying with locals via Airbnb is a great way to learn about the local food culture. We had a great experience at Cristina's Airbnb and recommend her place highly in the Penha de França neighborhood.
In Campo de Ourique, we visited Hotel da Estrela and enjoyed the charming and serene atmosphere, away from the bustling capital city. The decor is contemporary decor with the basic amenities including free wi-fi, private bathrooms with walk-in showers and more.
The hotel restaurant serves traditional Portuguese cuisine including Portuguese conventual desserts. There is also a private garden where you can relax with a glass of wine. You're in close proximity to restaurants and shopping and getting around is easy.