We are still in the northwest part of Argentina and our quest to find authentic food has taken us even further north from Salta to a little city (pueblo) called Tilcara. We are in the part of the country that is closest to Bolivia and the actual border is only about 200 km away. We decided to make Tilcara our base for a week to explore the region and its authentic food.
San Francisco de Tilcara (its full name) is in the province of Jujuy, Argentina with a population of almost 6 thousand inhabitants. The city is at 2461m altitude and seats in the middle of the Quebrada de Humahuaca. This UNESCO Heritage gorge is known for its beautiful landscape made of rock formations that reveals waves of colors. The Quebrada is also unique for its indigenous communities that are perpetuating the Andean tradition and culture in the region.
So let's explore the main specialties from this unique region.

Llama Meat
Llama is an animal that has been domesticated to transport goods for more than three thousand years by the people of the Andes. Actually it is a type of camelid from South America. Its wool is used for clothing and you will find many stand offering socks, gloves and scarves made of the surprisingly soft wool from the llama.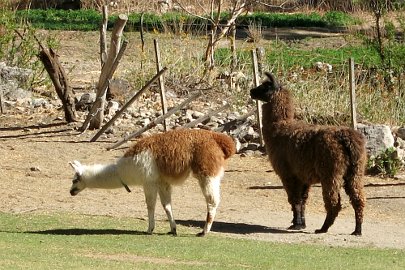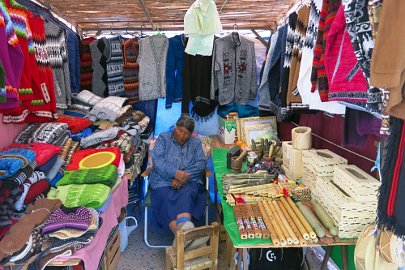 Although llama is mostly known for its fur, the meat of the llama is also used for regional meals. The interesting fact about llama is that the meat is high in protein as well as it is low in fat making it a much leaner meat than other animals. It is definitively considered a healthy meat option to avoid cholesterol. The region has many specialties made of llama meat and are available at most of the local restaurants. The most common dishes are cazuela de llama and lomo de llama. It is also sold as a dry meat as salame de llama. We tried all of those specialties and we both enjoyed them.
First, we had cazuela de llama at several restaurants and we wanted to highlight two that we enjoyed the most. The cazuelas were prepared quite differently actually. The first restaurant called Khuska in Tilcara had the llama meat was thinly sliced mixed with papas andinas cut in half with a creamy sauce. Really yummy! This restaurant offers other specialties at a very reasonable price with a good selection of local wines and beer. We highly recommend it!
The second restaurant called La Pena de Carlitos in Tilcara also had the cazuela de llama prepared similarly to a "boeuf bourguignon" with pieces of the llama cooked in a stew with rice, carrots and papas andinas. Delicious! The meat was very tender and quite tasty having been slowly cooked in the stew. This restaurants serves great empanadas and the main meals are very good but don't expect fine cuisine. It is more like food made at home. It is a great place to get a nice meal while experiencing live folkloric music.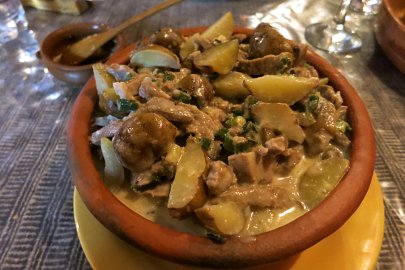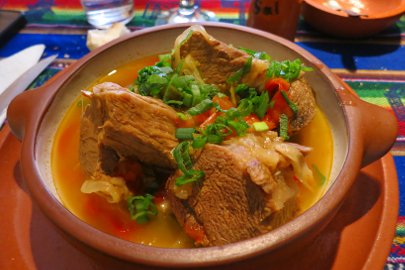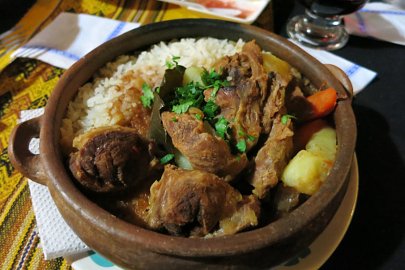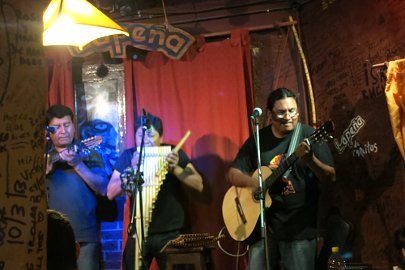 Second, we tried the lomo de llama which is a steak of llama. It is thin and tender. The taste is similar to a thin cut of beef but with slightly more intense flavor. The texture reminded me of a "steak bavette" that we can find in France. Definitively worth a try!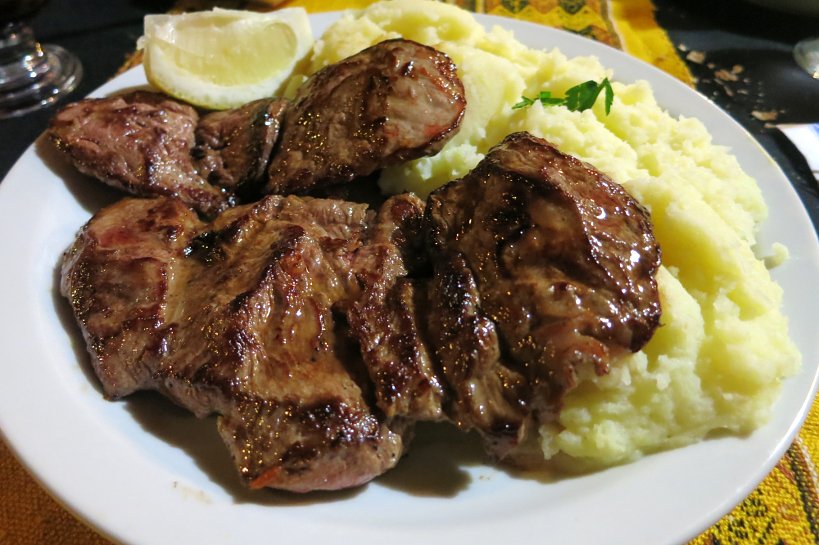 Most of the time, llama meat is served with papas andinas another specialty from the Jujuy region. We will talk more about the papas andinas in a second post which focuses more on what grows in the Jujuy region. For now let's go back to what is made from the animals in the region.

Queso de Cabra
The cabra (goat) is another animal that is found in the high altitude of the Quebrada de Humahuaca.
Goats are used for their milk and when it comes to food, Queso de Cabra (goat cheese) is the most popular product derived from the production of milk.
If you find yourself in January in the Quebrada de Humahuaca, don't miss out on the opportunity to go visit the Festival del Queso y La Cabra where you can taste various types of Queso de Cabra.
We bought some Queso de Cabra on the market to taste it with Pan Casero a local flat bread. It is a fresh cheese that tastes a bit salty.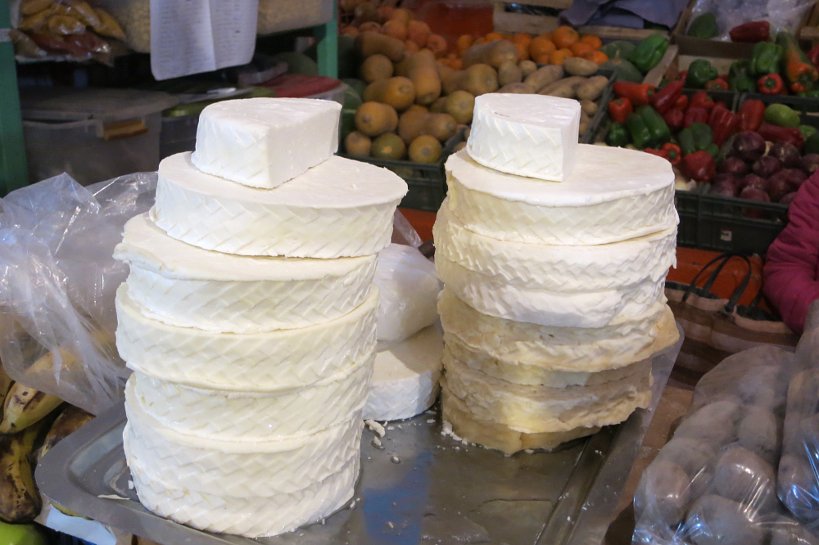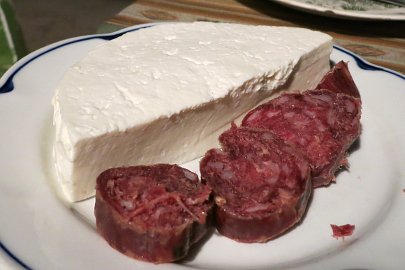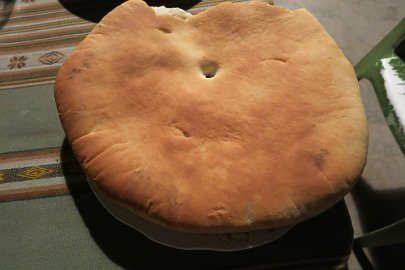 Tortillas Rellenas
Although tortillas do not come from an animal of the Andes region, we found those only in the Northern side of Argentina and we didn't want to miss talking about this particularity. The tortillas are great for an afternoon snack (media tarde) waiting for a late dinner. They are cooked on a parilla and handed over like a hot sandwich. The tortillas itself is made of a dough similar to the dough used for empanadas. It is really looking like a large and flat empanada made with different filling. The most common is jamon y queso (ham and cheese), and we found some filled with tomatoes, onions, and eggplant. The tortillas melt in the mouth and it are quickly eaten. If you want to make it a lunch meal, opt to get at least two of those. You will find people selling tortillas in the street, generally at a strategic street corner either close to the bus terminal, market or any touristy place.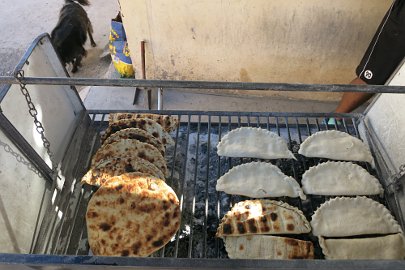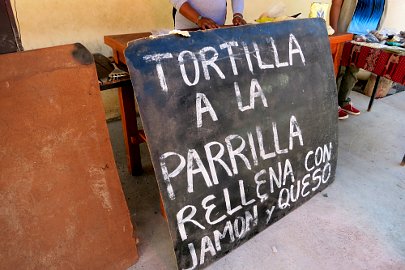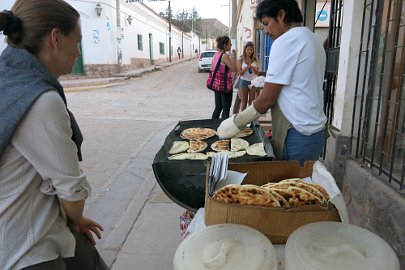 The widespread impact of indigenous Andean communities is evident in the meals and regional cooking. The food here is very different from normal Argentinian cuisine.There are many other specialties offered and we would not be complete if we didn't talk about the unique grains, tubers and roots that accompany the meats. So stay tuned as we prepare and cook for Part 2 of this post where you will see us in action!
Location of the restaurants mentioned:
La Pena de Carlitos, Rivadavia, 4624 Tilcara, Jujuy
Khuska, Padilla s/n Tilcara, Jujuy
Savor The Adventure!
Claire, ex-engineer, is a digital nomad and content creator at Authentic Food Quest. Since 2015, with her partner, Rosemary, they travel the world in search of the best local food experiences. Their mission is to help you enjoy the best local specialties on your travels or via recipes in your home kitchen. Favorite country for food: Vietnam. Favorite local dish: Hainanese Chicken Rice.  Favorite way to keep fit: Cycling. Claire is responsible for the website and the fun food & travel videos on Youtube. She is also co-author of Authentic Food Quest Argentina and Authentic Food Quest Peru, available on Amazon.