Did you know, all-you-can-eat-buffets are a huge deal in Las Vegas?
In 1941, when Las Vegas was still a sleepy town in the desert, El Rancho Vegas pioneered the concept of "chuck wagon" which evolved into the "all-you-can-eat" buffets.
At the time, buffets were quite basic with salads, coleslaw, sandwiches and cheap steaks offered. They were also low-cost at $1 and conveniently available 24/7.
The buffets were used as a loss leader, where cheap food and drinks was used to entice patrons to stay and gamble. Quantity was more important than quality.
Nowadays, the buffet tradition remains and with the foodie trend, buffets are now gourmet attractions by themselves. Casinos compete against each other to offer some of the best buffets in town. You will find fresh sushi, King Crab, Wagyu steak as well as homemade gelato and fresh pastries everyday.
With better quality food, comes higher prices. Lunch buffets at $25 to $30 are common on the Strip, and dinner buffets can reach $50 or more.
With an overwhelming choice of buffets to choose from at a substantial prices, how do you know which buffet to go to for quality at a reasonable price?
Our answer: seek off-the- strip buffets and go where the locals go for quality and value buffet in Las Vegas.
From local recommendations here are three best affordable off strip buffets in Las Vegas.

#1 – Feast at Red Rock Casino & Resort: Best Local off the Strip Buffet in Las Vegas
Located in the affluent Summerlin neighborhood of Las Vegas, the Red Rock Casino & Resort is an oasis in the desert, about a 30 minute drive from the Las Vegas Strip.
This imposing casino & resort is located near the entrance of the Red Rock Canyon National Recreation area. With its convenient location to nearby hiking, rock climbing and biking as well as daily complimentary shuttles to the Las Vegas Strip. This is an ideal location.
Saturday Brunch at the Feast Buffet
Popular with locals and highly recommended, we were eager to try the casino's Feast Buffet, our first buffet experience in Las Vegas.
On a Saturday afternoon for brunch, we were surprised to find ourselves in a long line waiting to get into Feast for the buffet. The line moved pretty quickly and we chose to go for the weekend brunch special which included unlimited champagne or mimosas.
Our discounted price (see tip below for how) for the Feast buffet for two was $38.95 + taxes including the unlimited drinks.
The host walked us to our table in a modern and open setting and we were immediately impressed by the space and the offering. Before us were several cooking stations with all types of cuisines and international specialties.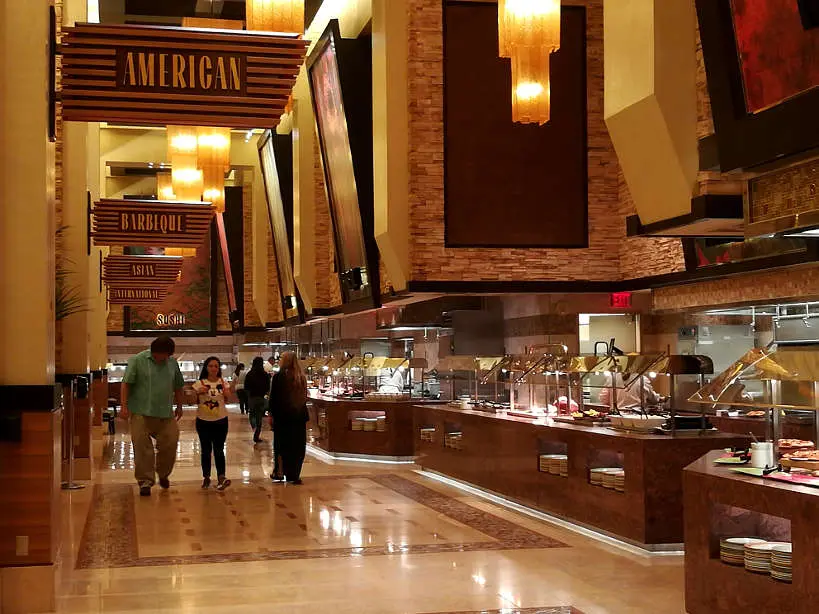 A Wide Variety of Food Stations at the Feast Buffet
The main main food stations were: Italian, American, Sushi, Barbeque, Asian, Farmers Market, Wellbeing and Pastries & Desserts. Needless to say we were impressed by the diversity of foods and the special touches at each station.
For instance the Farmers Market station had fresh and flavorful thinly cut slices of smoked salmon, of which we had several helpings.
The carving area within the American Station had tender cuts of meat and you could ask for your meat grilled to your preference.
While the sushi in the Asian station was rather basic, the Chinese gyoza and other dumplings were refine and delightful.
The Pastries & Desserts station was one of the most popular stations for the wide selection, including sugar-free options, and homemade gelato.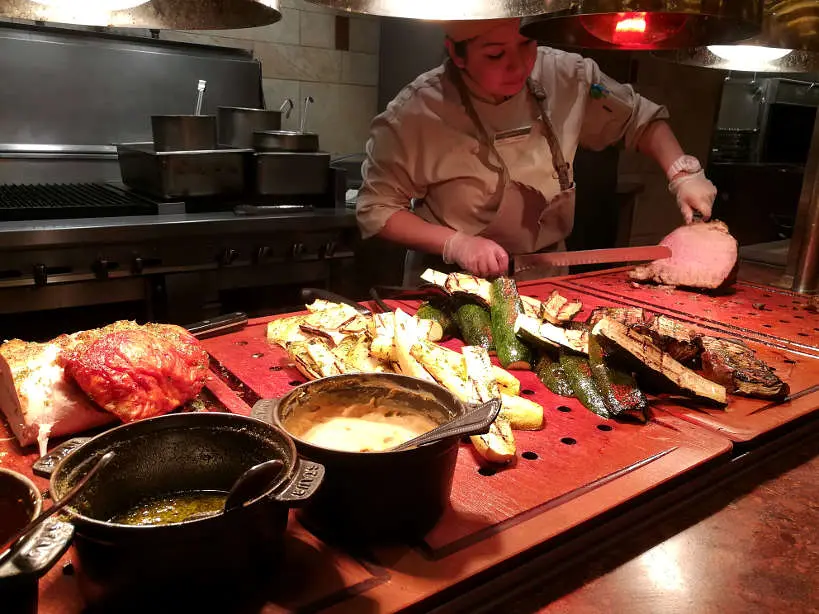 Favorite Food At Feast Buffet at Red Rock
For our first buffet experience, we fell victim to the excess of never-ending plates. With free flowing champagne and indulgent bites from all over the world, we sampled, perhaps a little too much in an attempt to fully appreciate the experience.
The first plate was a medley of little bites from the Asian station accompanied with beet hummus, fresh shrimp and a mushroom quesadilla from the Wellbeing station. Simple and tasty, this was a great start to the buffet experience.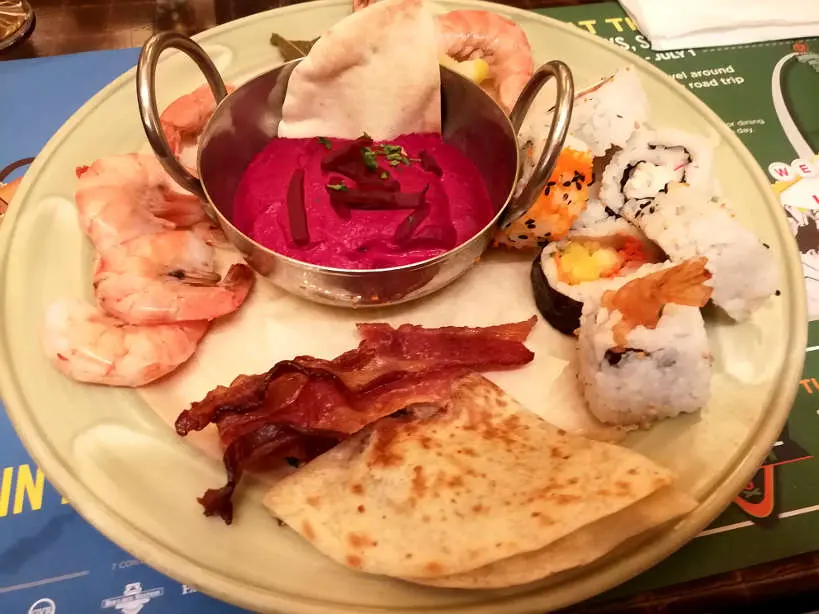 Freshly cut slices of meat from the carving table along with Chinese potstickers, gyoza and dumplings made for a rather filling progressive plate. Full of flavor and very tender, everything was surprisingly tasty. It was no surprise that the carving table was a popular stop for dinners
Dessert and particularly the homemade gelato was a hit. Even though already stuffed, we each found a way to make room for a taste of the sweet treats. Rows of cakes, pies, muffins, cookies, crème brûlée and colorful gelato flavors called for our attention.
After choosing a small selection from the sweet course, we savored the flavors and in particular the cheesecake and gelato.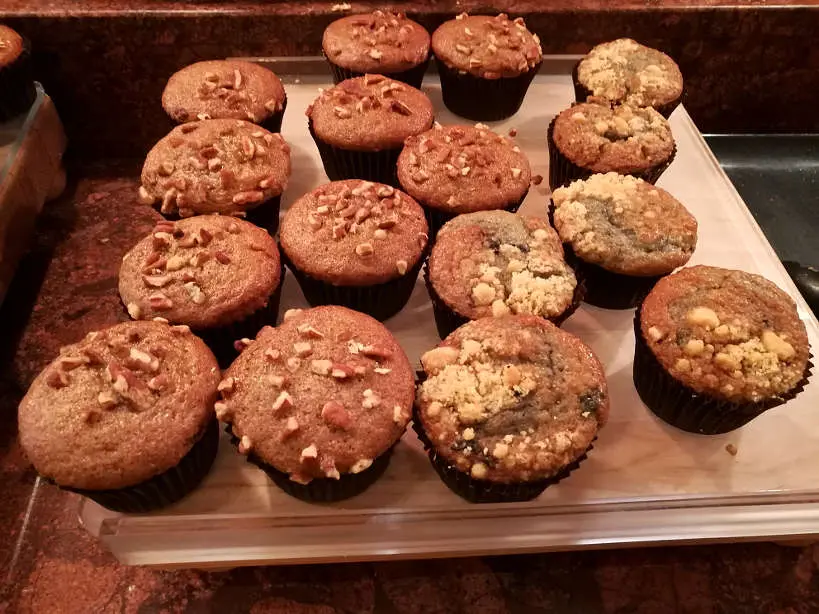 Check our Video About the Feast Buffet Experience at Red Rock Casino
Where to Eat an Affordable off Strip Buffet in Las Vegas
Overall, Feast Buffet was a wonderful experience. The service was friendly and attentive and the quality of food was better than we expected. The stations were clean and replenished often and you never worried about running out of a particular dish.
We really enjoyed the local atmosphere and the affordable pricing. Even though the Feast buffet is located next to the Casino gaming area, the space is not smokey and the environment is comfortable.
Feast Buffet, Red Rock Casino & Resort
Address: 11011 W. Charleston Blvd, Summerlin, Las Vegas
Hours: Champagne brunch Sat & Sun from 8:00 am – 3:00 pm
Price: $16.99 per person for weekend brunch with unlimited champagne or mimosas
Pro Tip: To save on your buffet, sign up for a "boarding pass card" , which is a casino players card to receive your discount. You can sign up as soon as you get to Red Rock Casino & Resort. Look for the staff walking around the gaming area.
Where to Stay Near Red Rock Canyon
Book your stay at Red Rock Casino Resort and enjoy exploring the nearby Red Rock Canyon.
#2 – Mint Bistro: Best Indian Buffet in Las Vegas
Mint Indian Bistro started with the idea of bringing authentic Indian flavors to Las Vegas. The first restaurant was opened in 2008 on Flamingo Road, near the Las Vegas Strip.
With the popularity of the first restaurant came requests for another location. Mint Bistro opened their second location at the end of 2016 in the Spring Valley neighborhood of Las Vegas.
In keeping with the Las Vegas theme, Mint Indian Bistro offers daily lunch buffets at both locations. Because Mint Indian Bistro is not part of a hotel or casino, it is popular with locals and not widely known amongst visitors.
Catering to carnivores, vegetarians and vegans, this is the perfect place to sample simple, colorful, and flavorful Indian food that appeals to all senses.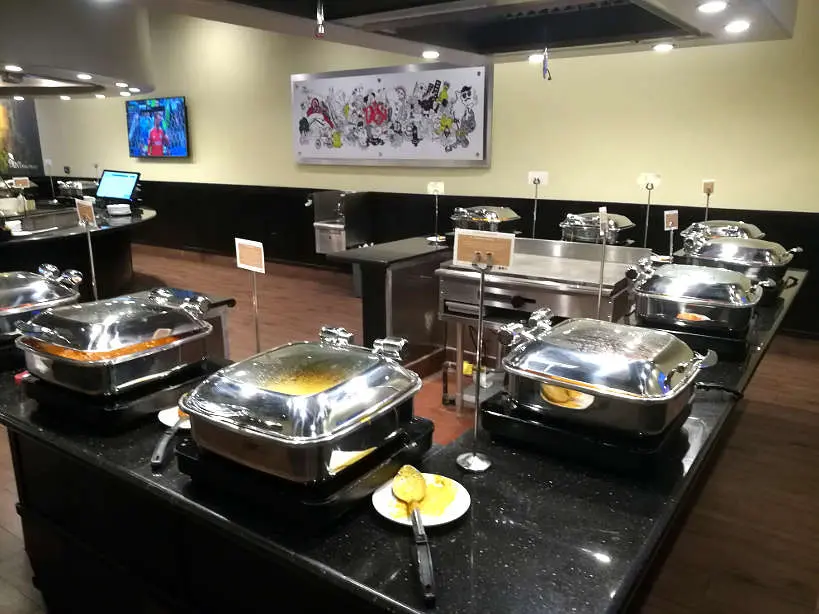 Mint Spring Valley Location: Where Locals Go
To explore a different part of Las Vegas, we chose to go to the Mint Indian Bistro located on Spring Valley. From the chef, whom we met, we learned that this particular newer location attracts locals and regulars.
On a Saturday afternoon for brunch, the place was busy, but not crowded. The atmosphere was very family-oriented with locals enjoying leisurely brunch.
After a brief introduction by the waitress about the set up at the Indian buffet, it was time to dig in.
Live Cooking Stations at Mint Spring Valley
The Mint Indian Bistro located in Spring Valley is unique, in that it has a tandoor and a dosa station on site.
The tandoor and the dosa stations are situated right in the middle of the buffet. From wherever you are sitting, you can observe the chef preparing, cooking and flipping the dosa while preparing your plate.
What is a tandoor? It is a large round oven that can reach really high temperatures up to 900℉ (480℃). At Mint, they use it to bake fresh naan. It is also used for tandoori chicken and other meat and vegetables entrees.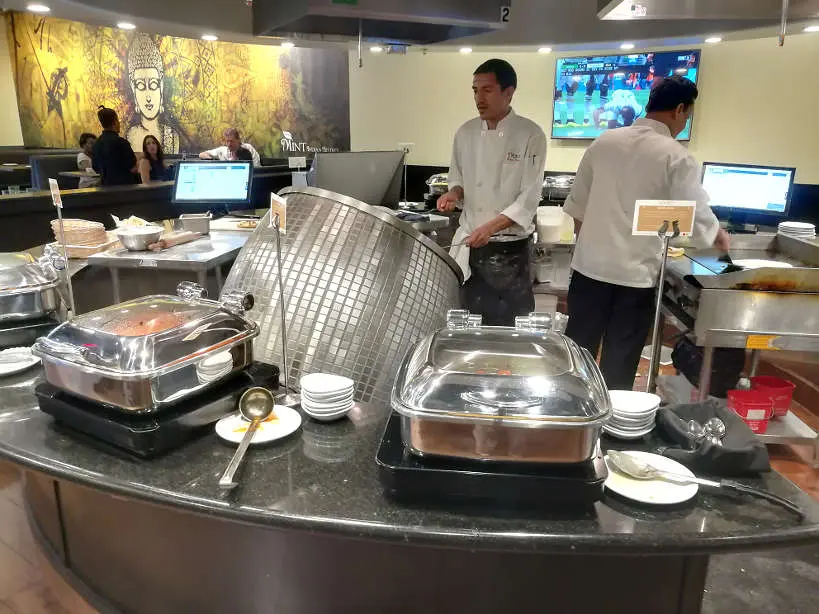 The dosa station looks like a flat griddle where the dosa dough was spread out to be fried on both sides.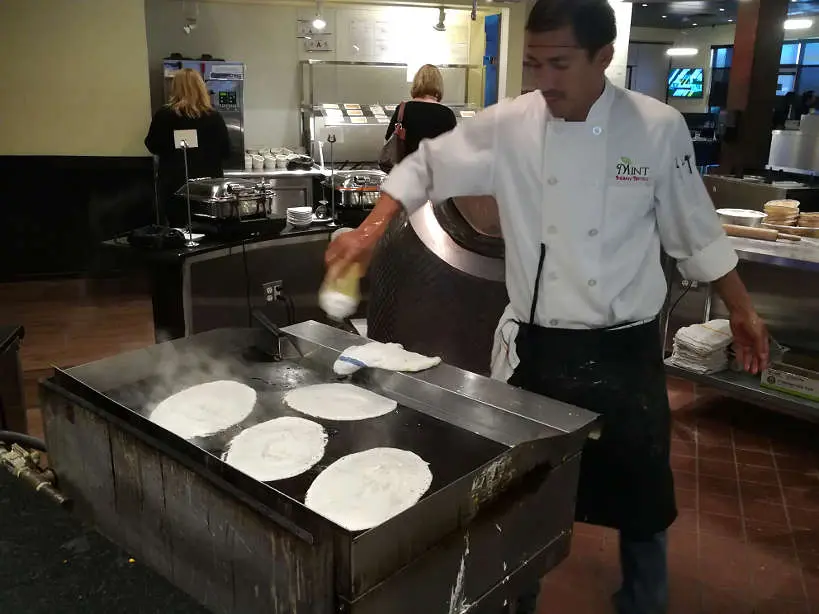 The buffet experience includes naan or indian flatbread baked fresh from the oven. You can choose between having it plain or with garlic and butter. We tried them both and they were delightful. Hot and flavorful, they just melted in the mouth.
The flavors reminded us of roti canai, one of our best Penang foods in Malaysia. It is no surprise because Roti canai is the Malaysian adaptation of the Indian paratha roti or Indian flatbread. This dish made its way to Malaysia, under colonialism, when the British brought South Indians to work in British Malaya.
Included in the buffet price is a dosa. This delicious Indian crepe-style was served fresh from the cooking station with plenty of butter ghee on it, and filled with potatoes.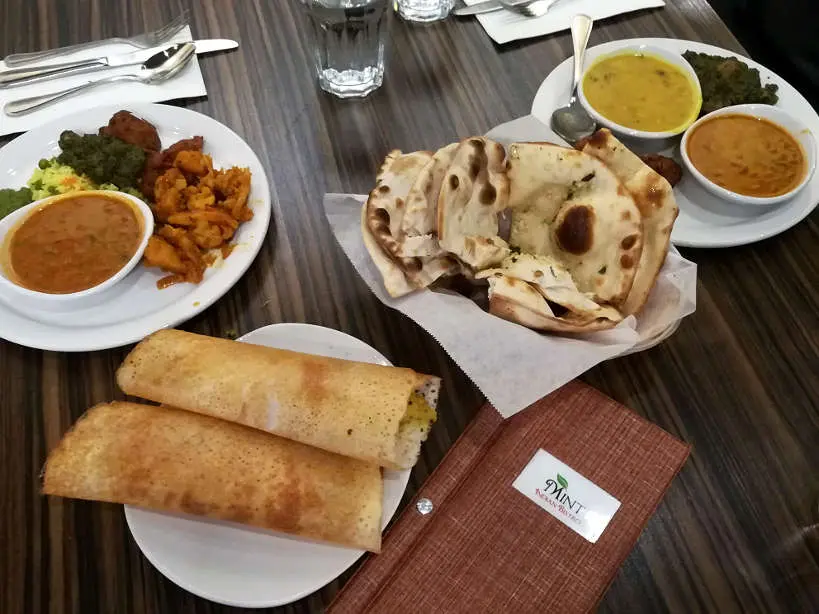 Fresh Indian Food with Popular Dishes and Vegetarian Options
Around the cooking station are the rice dishes. You'll find the different kinds of rice to choose from. The yellow rice was flavorful and aromatic and definitely our favorite.
The main dishes are found in the back of the restaurant. There, you find a great selection of vegetarian and meat friendly dishes.
Some of our favorites were the paneer tikka masala, a fresh goat cheese cooked in the creamy tikka masala sauce. The creamy and buttery sauce mixed with the spices was absolutely divine.
The spinach-mushroom dish was soft and creamy, a real delight.
The tandoori chicken was moist, well seasoned and cooked with a lot of onions and peppers.
We enjoyed the possibility of trying different dishes, many of which we would not have chosen had it been on a menu. This opened up our tastes to new flavors from India.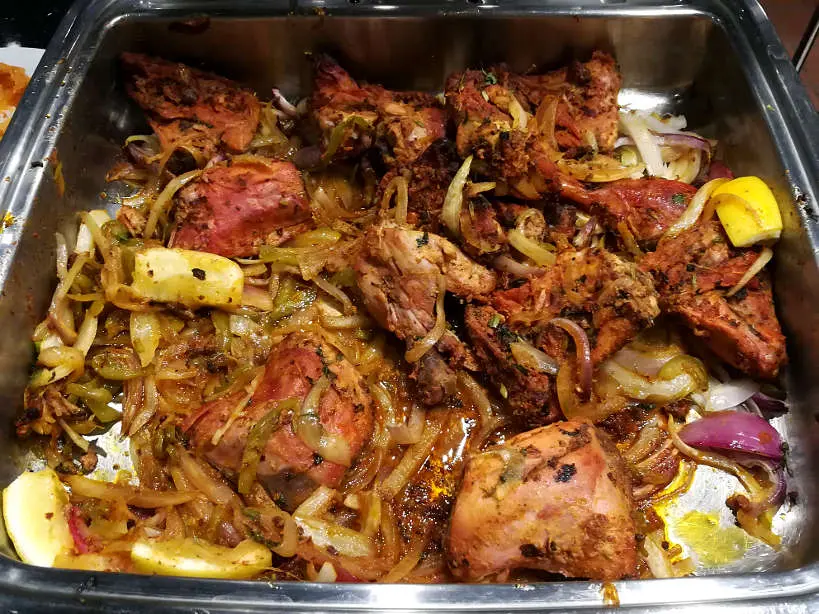 A Unique Selection of Beer, Wine and Desserts
To accompany the meals, there is a nice selection of beers and wines. Claire chose a beer from Nepal made in the UK, which was surprisingly tasty.
While Rosemary had a fresh Mango Lassi, a drink made of milk, yogurt and mango pulp. It was tasty, not overly sweet but quite filling.
In addition, you can help yourself at the beer and wine self-serving bar. There, you pour yourself the drink of your choice and pay by the ounce. We were disappointed to not get any help to decipher how to use the self-serve bar and maybe too lazy and intimidated to give it a try. So we stick to the exotic drink menu.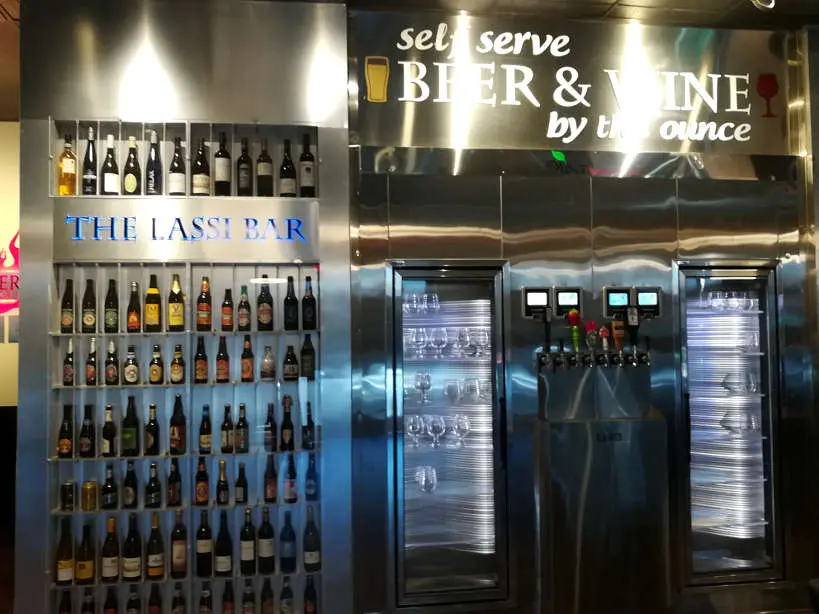 For dessert, help yourself at the self-serve ice-cream station. Although tempting, we preferred the fresh yogurt with the Gulab Jamun. This traditional Indian dessert is a fried spongy ball made of milk and soaked in a sweet rose scented syrup.
RELATED: Where to Find the Best Asian Restaurants in Las Vegas
Where to Eat Indian Off Strip Buffet in Las Vegas
We definitely recommend Mint Indian Bistro as an alternative to the traditional buffet experience in Las Vegas. The food was surprisingly fresh and very flavorful. The live cooking experience added to the overall buffet, with dishes served fresh and cooked on the spot.
With locations outside of the Strip, you'll also discover new local neighborhoods. Eating at Mint Bistro is a great way to sample traditional Indian food that may not be your typical go-to Indian dishes. Paired with outstanding beer and wine for an Indian restaurant, and you can count on a delicious time.
Address: 4246 S Durango Drive, Las Vegas, Nevada
Hours: Open every day for lunch from 11:00 am to 3:00 pm
Price: $14.99 per person without taxes and drinks for brunch on the weekends.
Pro Tip: Overall the food isn't spicy. If you like it spicier, just ask for more spice.
#3 – A.Y.C.E: Best Buffet A Short Walk from the Strip
When we learned A.Y.C.E. buffet at the Palms Casino Resort offers unique flavors from around the world, we were immediately captivated. As culinary explorers interested in exploring the local flavors, we were curious to find out what worldly flavors exist at a Vegas buffet.
Palms Casino, located on the west side of the Las Vegas Strip had recently undergone a pricey $620 million renovation. Part of that renovation included a brand new reimagined buffet concept known as A.Y.C.E. This celebration of all-you-can-eat, is served in a modern setting, across seven different food stations.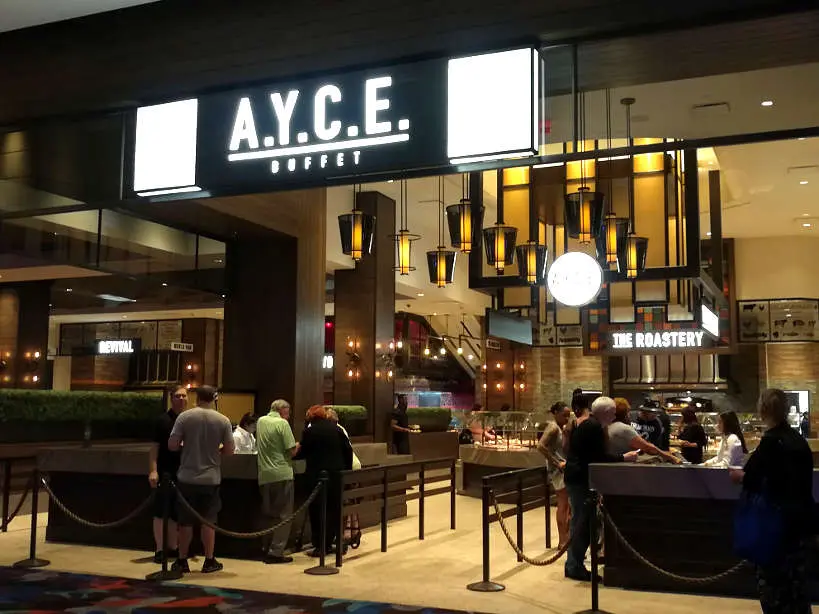 The A.Y.C.E Setting
After a short wait in line on a Saturday afternoon, we were led into a bright and open modern food hall. Unlike Feast buffet at Red Rock, we had to pay an extra $10 per person for unlimited champagne.
The buffet has something for everyone. The seven stations include a Greenery for your salads and antipasti.The Roastery station offers pork, roast beef and turkey cooked in a large rotisserie or wood burning grill.
Smoke & Fire serves barbecue ribs and smoked brisket. Pizza is freshly prepared in the Hearth and the Revival has hummus, baba ghanoush and a variety of health focused dishes.
Find exotic dishes cooking at the World Pan and sweet indulgences at the Sweet & Light dessert stations.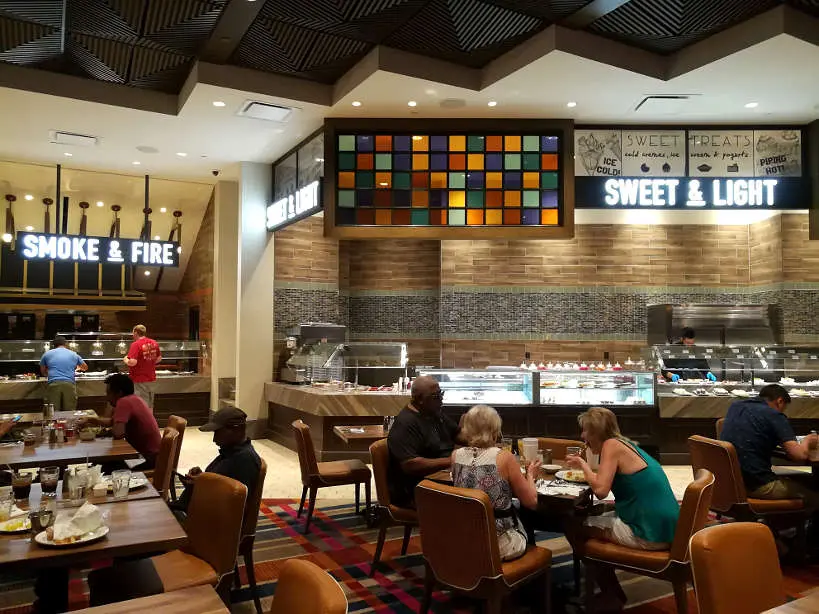 The Stations & Flavors at A.Y.C.E
We sampled bites from all the stations over a course of about 4 hours. The Greenery was rather basic and there was nothing particularly exciting about chopped up lettuce and toppings.
The flavors of beef and barbecue from the Roastery and Smoke & Fire stations will give you plenty of possibilities for your buffet experience. The pork, chicken and turkey are full flavored, generous and prepared to perfection. The roast beef is grilled on site and can be tailored to your liking.
We were impressed by the quality of the crust used in the different dishes. The dough used in the pizza was perfectly crusty with a nice bite. Little bites of stromboli next to the pizzas were just as flavorful as the dough wrapped around different fillings.
One of the nice surprise was the chicken pot pie served in individual-sized ramekins. The crust was light and crispy while the filling was tasty though a bit too salty.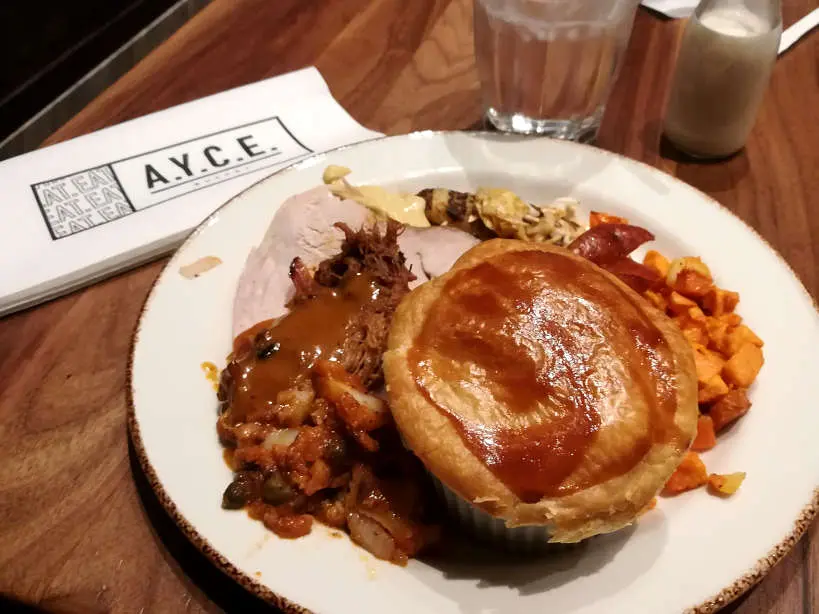 The Worldly Flavors at A.Y.C.E Buffet
Our favorite section was the World Pan, where we discovered Mongolian beef and Mongolian broccoli. From Thailand, the Thai curry mussels in a thick, but not spicy sauce was delectable.
Poke from Hawaii was fresh and plentiful. And we were surprised to find a traditional French winter dish, cassoulet, available.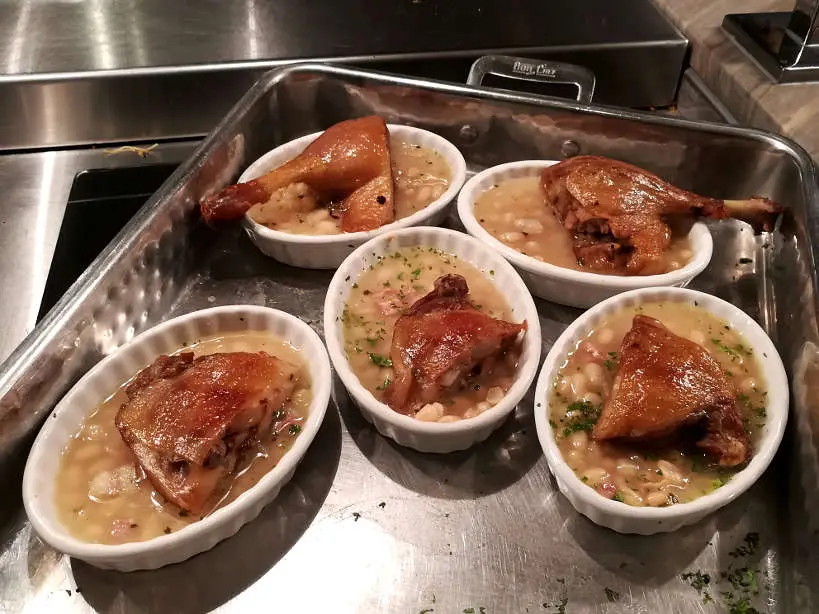 Value Off Strip Buffet in Las Vegas
For a value buffet experience on the strip, A.Y.C.E buffet is worth considering. The World Pan delivers on exotic worldly flavors that are very well prepared.
If you are looking for healthier options the Revival offers wellness food like flavor-packed cauliflower, quinoa as well as little bites from the Mediterranean and all across Asia.
Meat lovers will particularly enjoy the pork, brisket, ribs, pork and chicken options available.
Our two most disappointing stations were the Greenery and the dessert station. While the Sweet & Light station had plenty to choose from, we found the desserts too sweet and not as good as they were beautiful.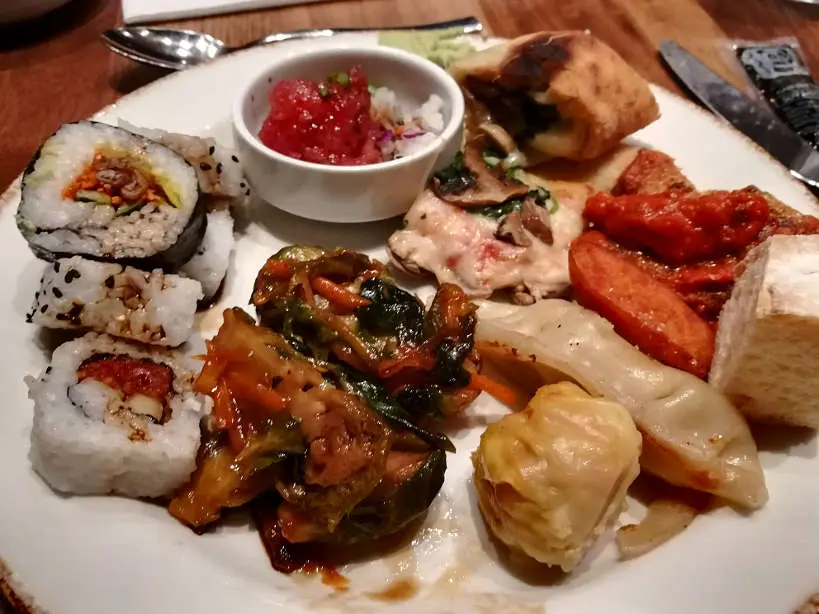 Address: 4321 W. Flamingo Road
Hours: Weekend brunch, Sat & Sun 8:00 am to 4:00 pm
Price: $13.99 per person without taxes and drinks
Pro Tip: If you're in the mood for a lunch buffet with red meats and other interesting dishes, plan to go to A.Y.C.E. on the late side. At 3:00 pm, they start serving the carne asada and the moist and tender beef brisket, worth waiting for.
Map of The Best Las Vegas Buffets

In Summary
The "all you can eat" buffet tradition remains very strong in Las Vegas. The concept has has evolved from a simple buffet with basic food options to gourmet like experiences with small plates and unique food selection.
Every casino in Las Vegas offers their own version of their buffet. The buffet is no longer an attraction for gambling but rather an attraction in and of itself.
With Feast buffet in Summerlin you get a quality experience with a local vibe. Mint Bistro has redefined the buffet experience with Indian fare. And finally, A.Y.C.E buffet offers world fare a step away from the strip.
As casino continues to evolve and redefine the buffet experience, make sure to enjoy these best off the strip buffets in Las Vegas recommended by locals.
Have you experienced a buffet off the strip in Las Vegas before? In the comments below, tell us your favorite value buffet in Las Vegas?
Savor The Adventure!
Looking For More Food Experiences in Las Vegas?
For a unique food experience on the strip to taste what Las Vegas has best to offer, we highly recommend Secret Food Tours Las Vegas.
We took a Secret Food Tour in Mexico City and loved it! The tours are guided by locals and the groups are intimate.
In Las Vegas, you get to sample some of the city's most delicious dishes and gain a better understanding of the culture and history.
Love it? Pin it!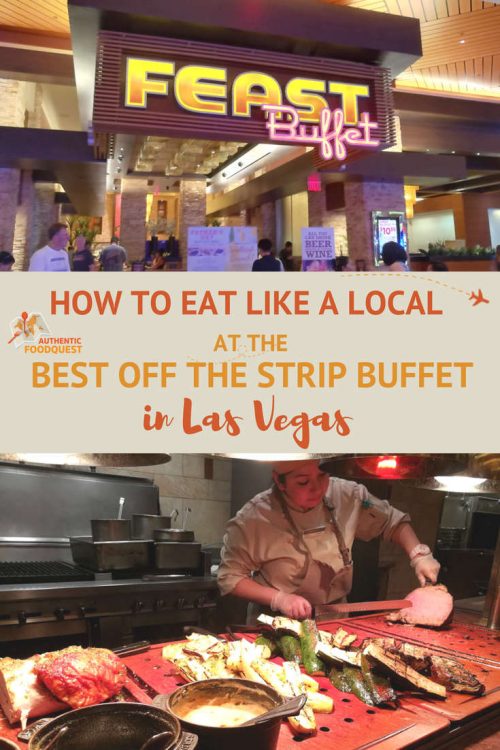 Disclaimer: This page contains affiliate links. That means at no extra charge to you, we earn a small commission when you purchase using these links. Please note we only link to products and services that we personally use or trust. Thank you for your support.
Claire is co-founder of Authentic Food Quest and a lover of simple and exquisite cuisine. Since 2015, with her partner, Rosemary, she has been traveling the world as a digital nomad, creating content about local food experiences.
Her advice from visiting 45 countries and more than 240 food cities has been featured in Lonely Planet, Business Insider, Honest Cooking, Food Insider, and Huffington Post. She has also co-authored three books, including one in collaboration with Costa Brava Tourism.
An ex-mechanical engineer, Claire is responsible for SEO, keeping the website running, and the fun food & travel videos on YouTube.
When Claire is not eating, she can be found running or cycling. Find out more about Authentic Food Quest