Peruvian Pisco Sour is an elegant and delicious cocktail that combines 5 simple ingredients. Known as the national drink of Peru, this iconic and beloved drink even has its own national holiday; the first Saturday in February.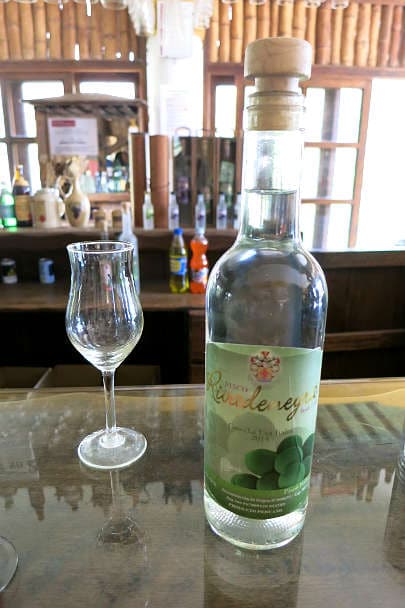 As the name suggests, Pisco, a clear grape brandy is the main ingredient in the Pisco Sour cocktail.
A Peruvian Pisco Sour uses Peruvian Pisco as the base liquor and the addition of lime juice, syrup, ice, egg white, and Angostura bitters.
Pisco Sours are delicious and easy to drink. The sweet and tart flavors are complementary making the cocktail quite refreshing.
Be warned though, the alcohol level in a Pisco Sour can be quite strong, starting at about 40%. You want to watch how many you drink as they can knock you off your feet.
Discovering Peruvian Pisco Sour the National Drink of Peru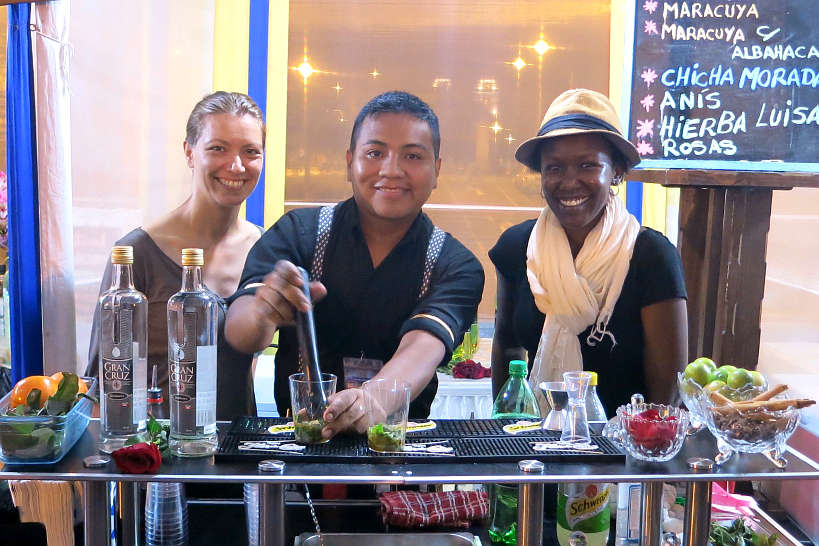 Pisco sour cocktails are ubiquitous in Peru. This cocktail is a popular option at Happy Hour.
As you walk down the streets, you'll be tempted by happy hour menus. Discounted prices for Peruvian pisco sour or cocktails with pisco abound.
Our first experience with Peruvian pisco sours was in Cusco, our port of entry. Not surprisingly, we had our first cocktails while exploring the historic capital of the Inca Empire.
Just before arriving in Cusco, we had spent time in Chile exploring the local flavors. The Pisco Sour is also considered Chile's national spirit and we were curious to taste the differences.
As Pisco sour novices the differences were not immediately noticeable. Smooth, and tasty, we enjoyed the zesty and refreshing flavors.
Both Peru and Chile claim the Pisco Sour as their national drink. While similar, there are notable differences.
In Chile, Pisco Sour is made with Chilean Pisco, sugar instead of syrup, and excludes Angostura Bitters and egg whites. Peruvian Pisco is used in Peru, as well as lime juice, syrup, ice, egg white, and Angostura bitters.
Regardless of where it was invented or by whom, this cocktail remains a classic that should be experienced.
Origins and History of Peruvian Pisco Sour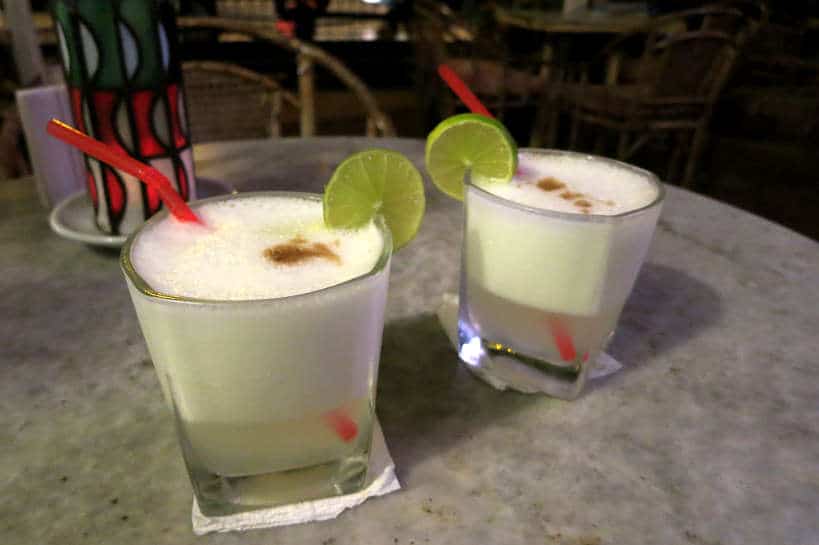 Peruvian Pisco Sour originated in Lima, Peru. It was invented in the early 1920s by American, Victor Vaughen Morris.
A bartender working in Cerro de Pasco, a city in central Peru, he opened Morris Bar in Lima in 1916.
It quickly became a popular spot for Peruvian upper class and English speaking foreigners.
The Peruvian Pisco Sour cocktail underwent several changes over the years. Mario Bruiget, a Peruvian bartender working at Morris Bar is credited for creating the modern Peruvian Pisco Sour recipe.
In the latter 1920s, Bruiget altered the recipe by adding Angostura bitters and egg whites, creating the famous cocktail.
How To Make A Peruvian Pisco Sour At Home
In Lima, Peru, we shared an Airbnb with Patricia, a local, in the foodie neighborhood of Lince.
Her boyfriend, Enrique, a self-proclaimed Pisco Sour connoisseur taught us how to make Peruvian Pisco Sour one Friday evening.
Before dinner, Enrique laid out the five simple ingredients of this Peruvian Pisco Sour recipe and we got to work.
Peruvian Pisco Sour Ingredients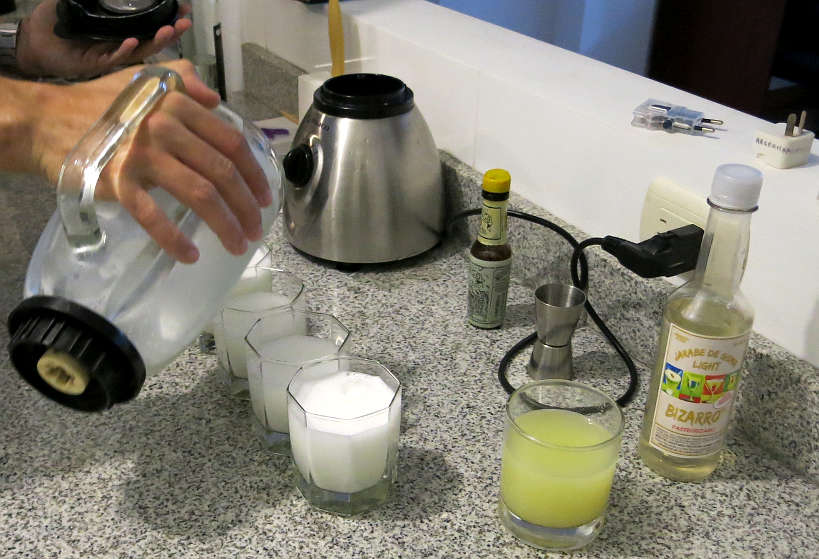 Lime juice, freshly squeezed preferred

Ice to blend

1 egg white

Angostura Bitters

for garnish
Best Pisco For Pisco Sour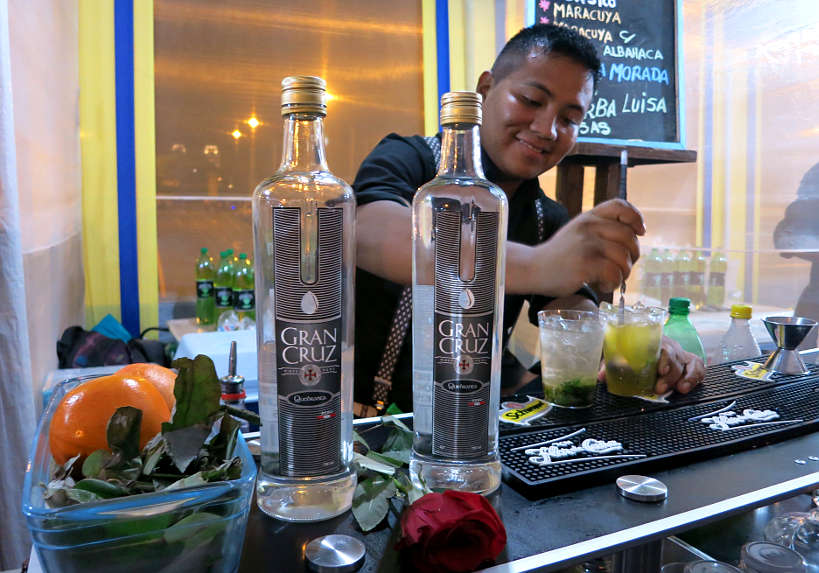 While in Lima, we visited one of the oldest Pisco wineries distilleries in the town of Lunahuana.
On a tour with the owner, we learned about the four main types of Peruvian Pisco.
To make the Pisco Sour, Pisco, exclusively from one type of grape varietal is preferred. The most popular is the Quebranta grape varietal. This grape is considered a non-aromatic variety making it perfect for the Pisco cocktail.
Pisco made purely from Quebranta grapes is Puro or Pisco Puro, meaning from one grape variety. This Pervian pisco is intense and complex, and one of the strongest Pisco varietals.
When you make this Peruvian Pisco Sour recipe, take a pic and tag @authenticfoodquest on Instagram (Or hashtag #authenticfoodquest ).
We'd love to see what you create. Don't forget to give a Star Rating on the recipe and let us know your comments.
Where to Buy Pisco in The US
Walk into any supermarket in Peru and you'll find an impressively large range of pisco varieties.
Unfortunately, this is not the case in the United States. Despite the growing popularity of Pisco and Pisco Sours, the brands available are limited.
Some of the most popular Pisco brands you'll find in the US are Peruvian Macchu Pisco, BarSol, and Caravedo. From Chile, Capel and Alto del Carmen are widely available.
Depending on where you live in the country, you can visit Total Wine & More, Binny's Beverage Depot or BevMo. Alternatively, you can order Pisco online and have it delivered to your home.
More Peruvian Cooking Products
Looking for More Peruvian Local Food Experiences?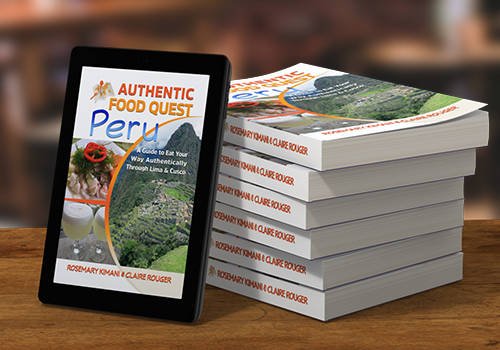 Our book, Authentic Food Quest Peru takes you on a journey through the regional food specialties in Peru. Get an introduction into Peruvian food and the history of how this unique gastronomy came to be.
Discover the authentic foods in Lima and Cusco as well as the top Peruvian foods and drinks that should not be missed. Take this guide with you as you explore Peru's magnificent cuisine.
Available on Amazon and Barnes & Noble.
Love this Peruvian Pisco Sour Recipe? Pin It!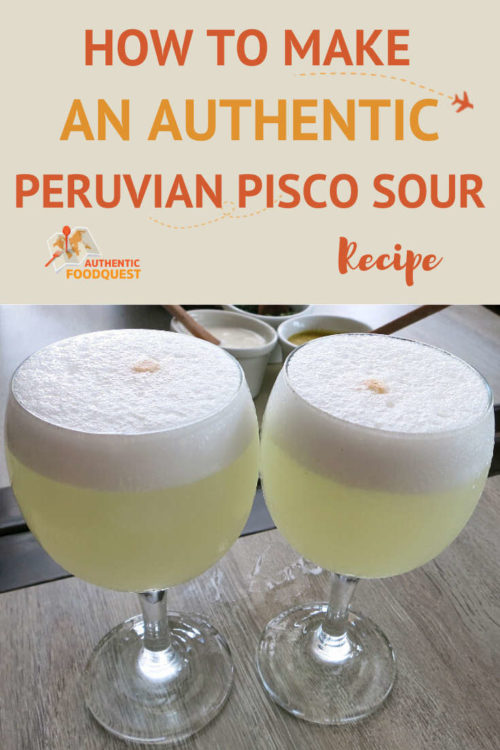 Disclaimer: This page contains affiliate links. That means at no extra charge to you, we earn a small commission when you purchase using these links. Please note we only link to products and services that we personally use or trust. Thank you for your support.
Rosemary, ex-marketing and advertising strategist, is a digital nomad and content creator at Authentic Food Quest. Since 2015, with her partner, Claire, they travel the world in search of the best local food experiences. Their mission is to help you enjoy the best local specialties on your travels or via recipes in your home kitchen. Favorite country for food: Peru. Favorite local dish: Bacalhau. Favorite way to keep fit: Running. Rosemary is the chief content writer and strategist on Authentic Food Quest. She is also co-author of Authentic Food Quest Argentina and Authentic Food Quest Peru, available on Amazon.