When you combine the culinary traditions of Malay, Chinese and Indians, you get a wonderful collision of flavors that make up Malaysian cuisine. Malay food reflects the multi-ethnic makeup of its population.
In addition to the three major ethnic groups, you'll also find Baba-Nyonya, or Peranakan food, a unique hybrid of Chinese and Malay culinary cultures.
Because Malaysia shares a common history with Singapore, you'll find versions of dishes on both sides of the border. Malaysia also shares culinary ties with Indonesia including certain dishes.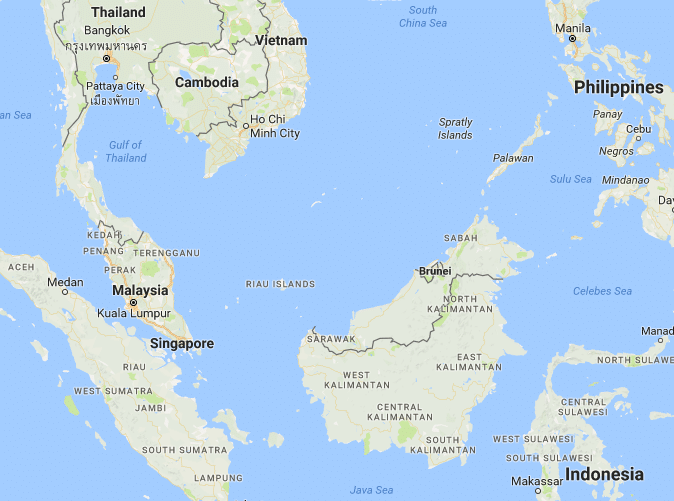 The food capital of Malaysia is Penang, in the historic city of Georgetown, a UNESCO World Heritage Site. The blend of cuisines and atmosphere in Penang is unique. On the streets of Penang, you watch your food being cooked right in front of you, while the smells, sounds and buzz add a level of authenticity.
To help you prepare for your trip to Malaysia, here are 10 surprising facts you need to know about Malay food.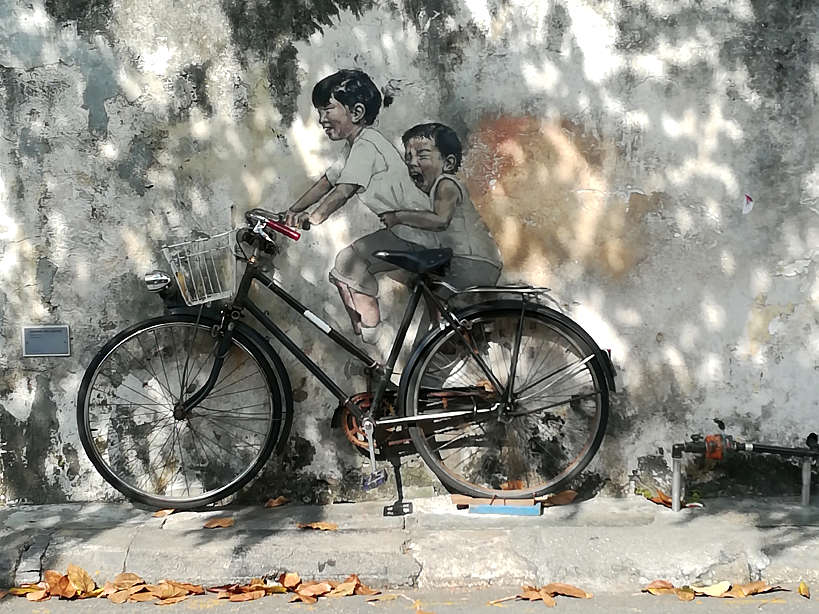 #1 – Malaysian Food: A Blend of Three Cuisines
One of the best reasons to travel to Malaysia is for the food. While two of the cuisines, Chinese and Indian are well known worldwide, there are provincial differences you find in Malaysia that you do not find in U.S.
Indian cuisine in Malaysia is predominantly from southern India, and the flavors are lighter and spicier. Malaysian Chinese, with the Hokkien subgroup being the largest, have their own cooking style that is milder than Indian or Malay. Malay food tends to be spicy and aromatic and based around meat and seafood.
In essence, Malaysian food embraces several cultures. It is an interesting and varied adventure, full of spices, flavors, and aromas. The cuisine in Malaysia is to be discovered and savored.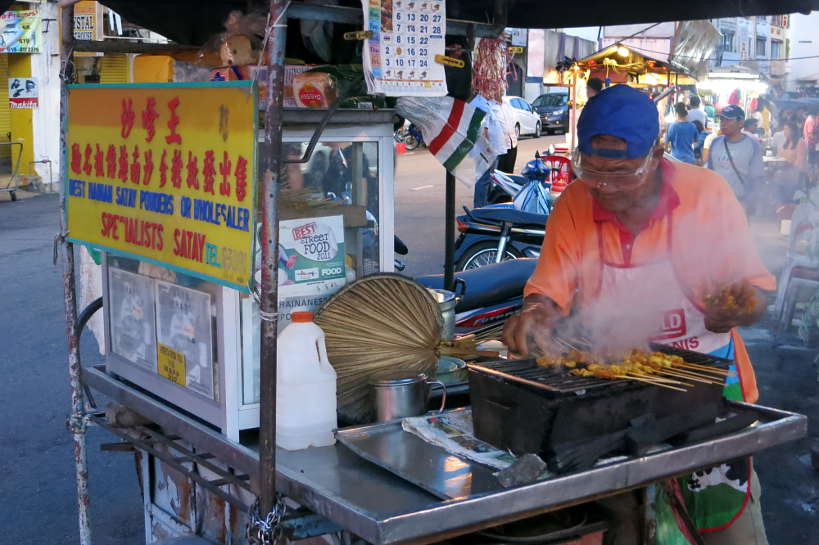 #2 – Malay Food: Hawker Centers and Kopi Tiam
Malaysia Hawker Centers
Malaysia is the first country where we discovered Hawker Centers. These Hawker Centers are open-air food complex where many individual food stalls prepare dishes to eat on site.
In Malaysia, it doesn't take long to familiarize yourself with these food centers, they are everywhere!
After visiting a few, we got to understand some of the unspoken rules of the Malaysian Hawker Centers.
First, you want to browse the different stalls and explore the different flavors from the place.
Once you know what you want, pick a table close by and situate yourself.
Then, you'll want to go back to order your food directly from the food cart owner. They will ask you where you are seated and bring you the food, once its ready.
Most likely once you are seated waiting for your food, another vendor will come by and ask you what you want to drink. In a way, your drink buys your seat at the table so ordering a drink is highly recommended. Don't bring your own drink. If you don't order a beverage, you may be charged a small fee. Fortunately, Malaysia has incredible choices of local drinks worth trying.
Once you get your drink and food, the vendor will ask you to pay your meal before eating. Depending on how busy the stall is, the vendor may around later on for payment. After that, you can take all the time in the world to savor the local flavors and enjoy the experience.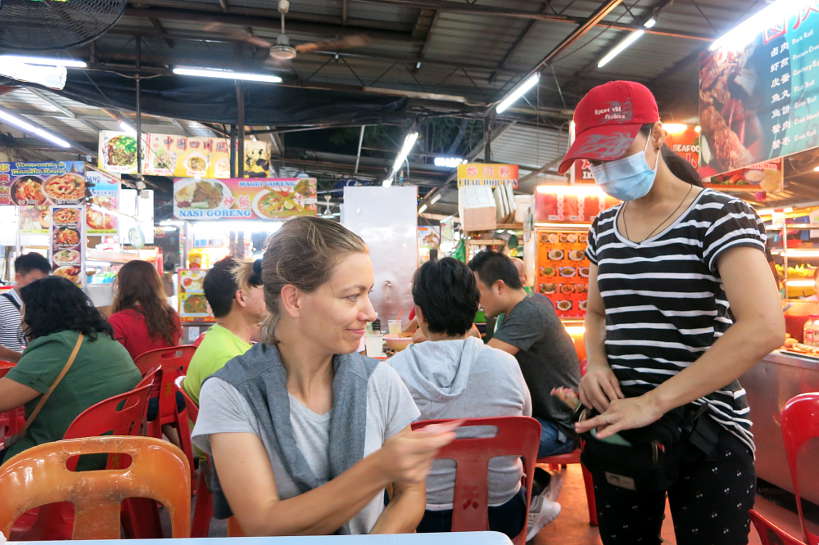 Compared to Singapore, Malaysia hawker centers still have a rustic and artisanal feel where things are not quite as neat and organized. Unlike Singapore, there is no grading system to identify the sanitary and hygiene levels.
Nonetheless, the level of hygiene is really good and some of the best meals are served from these small food stalls.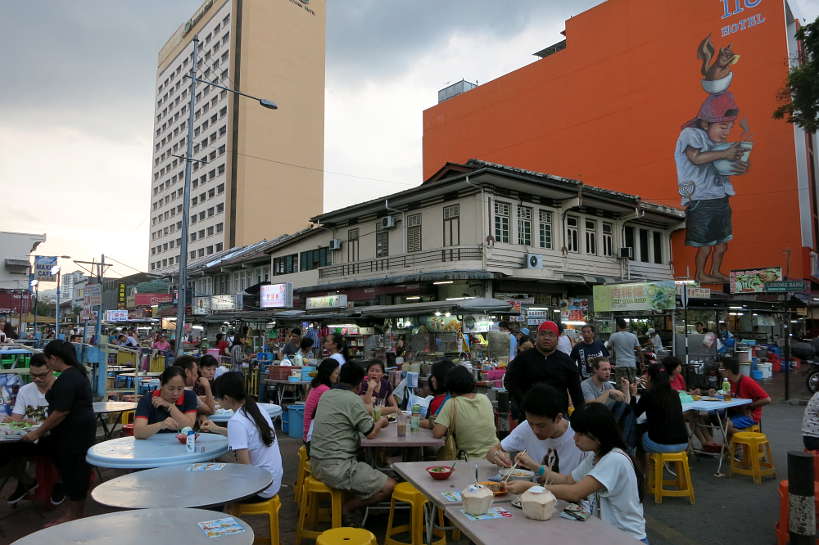 Kopi Tiam a Unique Home Dining Experience
Kopi Tiam also known as Kedai Kopis, are a smaller version of Hawker Centers. They are cafes or dining restaurant with a buffet style cuisine with typically a few stalls on site. The kitchen is right in front of your eyes and it is easy to verify the level of hygiene of the place.
Most Kopi Tiam's are Chinese owned and you will be able to find alcohol drinks. This is unlike Malaysian or Indian restaurants which are Muslim owned and where alcohol is prohibited.
These places are the best way to sample different types of local cuisines at very affordable prices. The food is very inexpensive and still very savory!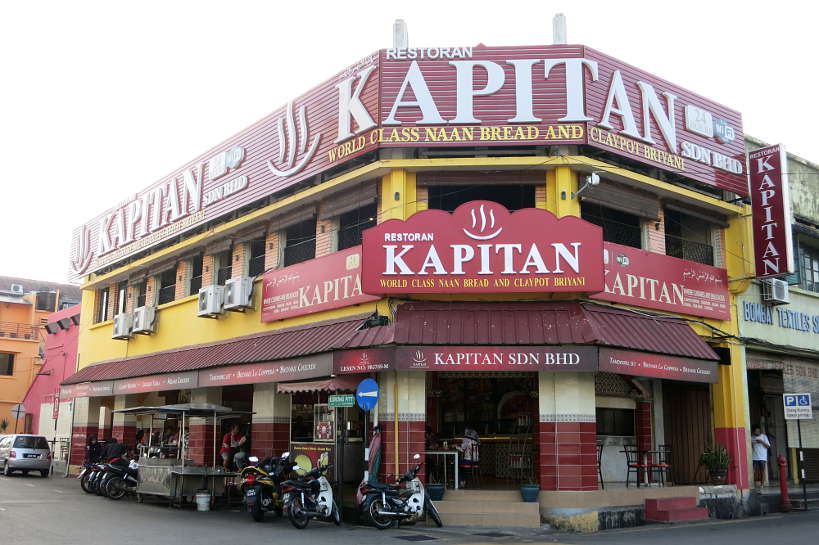 #3 – Go Beyond Popular Hawker Centers for a Local Experience
Not surprisingly, you will find a few hawker centers that are very popular with tourist and locals alike. However, the best food is not necessarily at the centers highlighted in the press or visited by the tourist.
The locals have their favorites and they will be your best guides through the many hawker centers. We did our fair share of trials, always asking our Uber driver or Airbnb owner where to find the best local dishes we were looking for.
In short, don't miss the opportunity to talk to the locals. They will tell you where the best places are. One night we had a recommendation from a local for the best Hokkien Mee in town. Seated next to a local Peranakan, he was surprised to see us at this "not so touristy" Kopi Tiam. That's when he shared with us his best places for the local dessert which was the food stall next to our dining area.
We decided to give it a try and it was the most delicious dessert we had during our stay in Malaysia!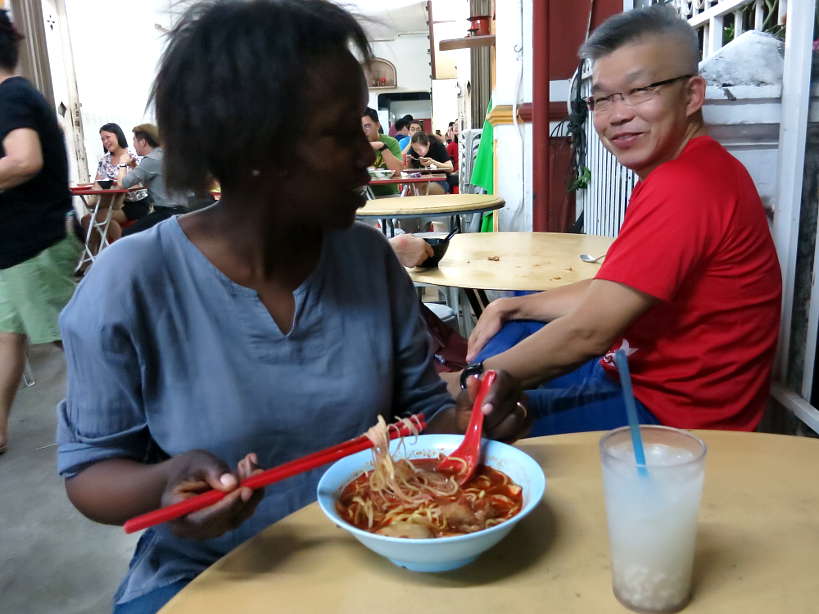 #4 – The Food Rhythm at Hawker Centers
One thing we observed was a certain rhythm to the Hawker Centers. Some hawker centers are a blend of different stalls with a wide range of cuisines. While other hawker centers focus on just a few types of cuisine.
Also, some hawker centers have only certain types of dishes available at lunch time while at dinner time they offer a different experience. You will see certain stalls closed while others are open and vice-versa depending on the hours of the day.
We learned that many popular dishes for breakfast are not available after 11 am, while other types of dishes are only available after 4 pm.
Be aware, if you are craving a certain type of dish, note the hours to have it. We will go into more details in the next few articles about the local dishes and when & where to have them.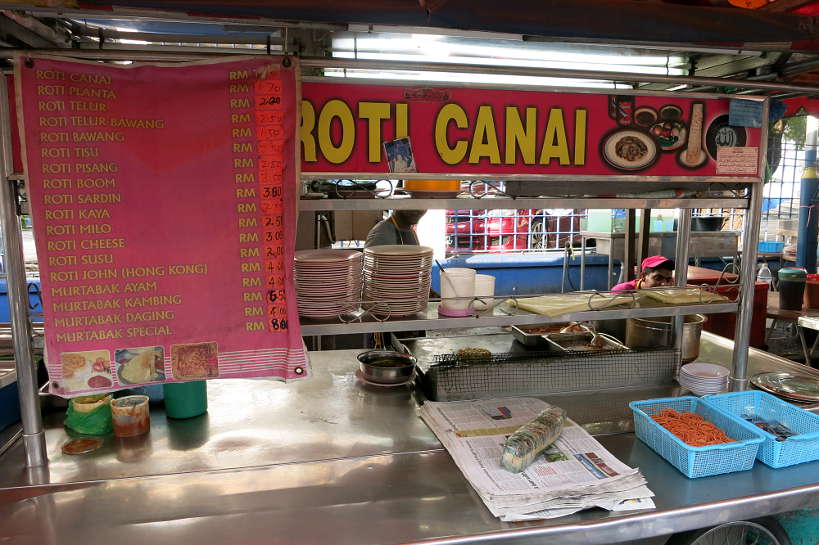 #5 – Unique Fresh Juices
One of our biggest surprises and delicious discoveries was the availability of unique fresh juices at hawker centers or Kopi Tiams.
We found unusual combinations like dragon fruit & lemon juice, lime prune juice or barley juice. One of the delightful pleasures of visiting the local food centers was looking at the juices offered and choosing what to try. Barley juice was popular and widely available as well as lychee juice and water chestnut.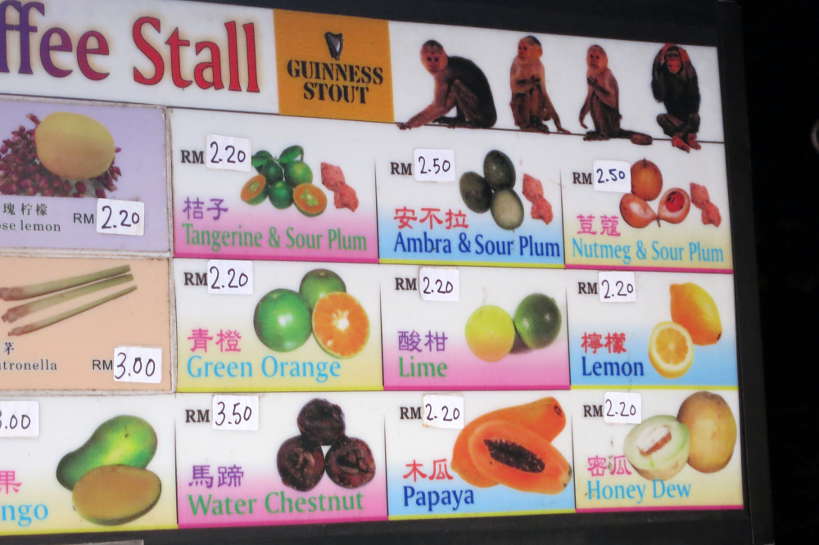 One of our favorite discoveries was ambar (local fruit) and sour plum juice. Overall, the juices are refreshing and unique. On your travels to Malaysia, skip the familiar soft drinks and have fun discovering your local fruit juice.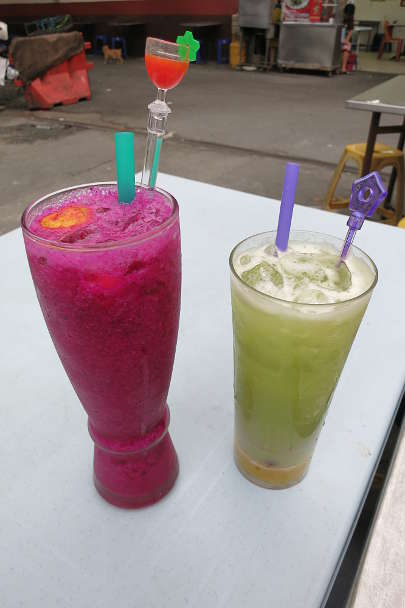 #6 – Durian Malaysia King of Fruits
We really learned to appreciate Durian while in Malaysia. Although durian is widely available across Southeast Asia, Malaysia takes the lead when it comes to their love for the "King of Fruits."
Durian fruits have a strong and pungent odor. It is worth trying and you have to go beyond the strong odor, to appreciate the smooth and slightly sweet taste. Some people have a strong appreciation for it while others dislike it. We both have different opinions about Durian. This short video highlights our initial impressions when we first discovered Durian at Or Tor Kor market in Bangkok.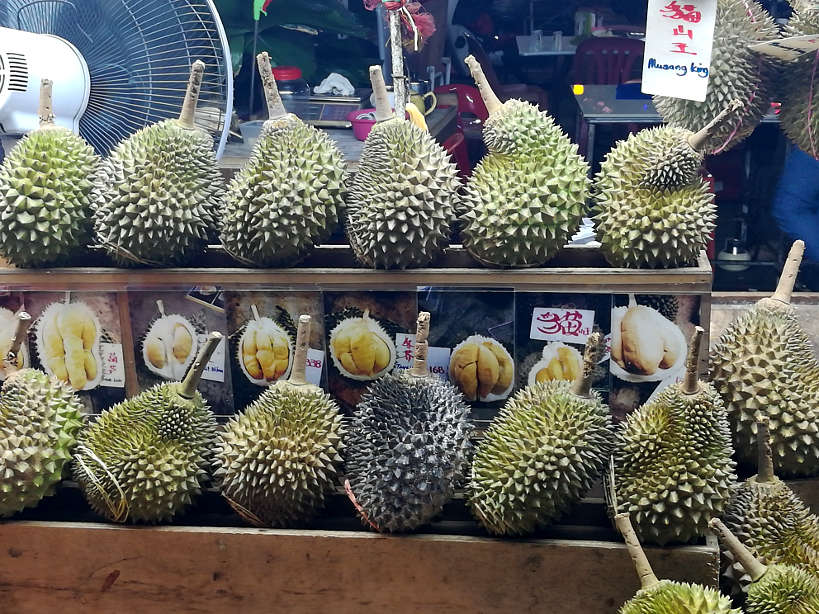 In Malaysia, you will find Durian stalls open late at night where you can buy the fruit by the weight. There are different varieties of Durian and the taste varies from one type to another. Keep in mind that the Durian season is from June to August in Malaysia and prices tend to spike outside of the main season.
If you are not so keen on the taste, you can try Durian in several other forms.
The Durian fruit is used in a wide variety of sweets including traditional Malay candy, the famous ice Kacang dessert, delicious dry biscuits and ice creams.
You'll find enough choices to tempt your taste buds!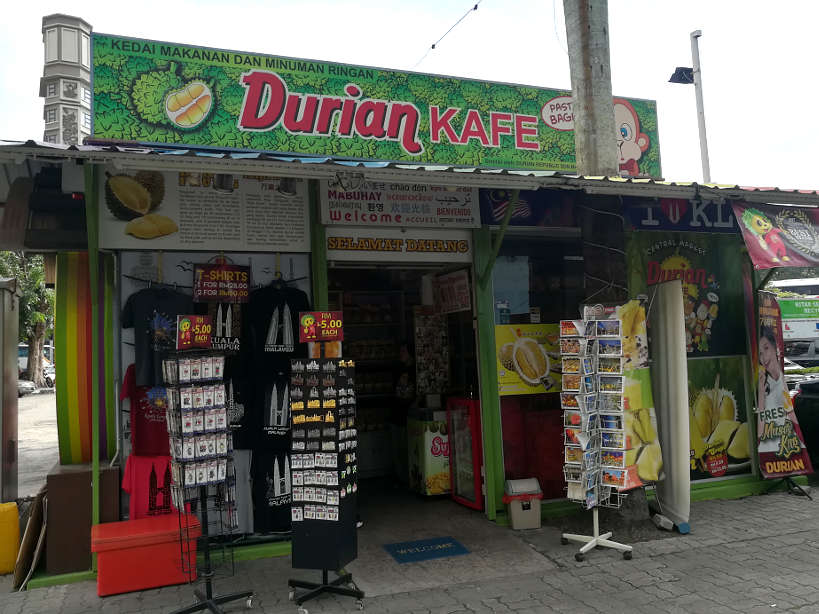 #7 – Malaysia is Vegetarian-Friendly
While we are not vegetarians, we do enjoy vegetarian cuisine. Unlike many of the other countries we visited in Southeast Asia, we were struck by the widespread availability of vegetarian cuisine and options.
Of the three main cuisines in Malaysia, the Indian and Chinese cuisines offer the most vegetarian options. One of our favorite vegetarian experiences was at Annalakshmi Temple of Fine Arts, recommended to us by a local vegetarian expat living in Penang.
The concept behind this temple is unity through food. It's about providing a free full meal to anyone that wants to eat. The food is a nourishing vegetarian cuisine, with rice as the basis. Spread out on the buffet are vegetable curries, chapati, dessert and tea, and coffee.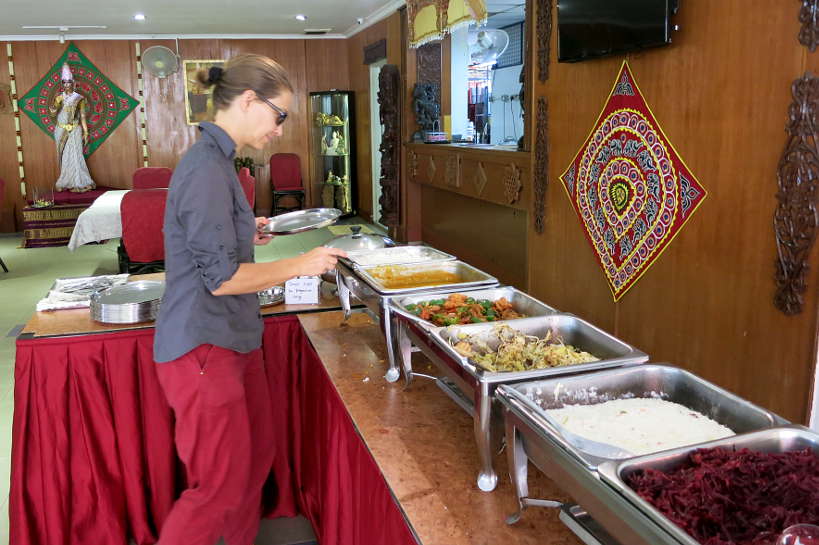 The food is delicious and prepared by volunteers. Payment is based on donations, where you are free to pay as much as you can afford or according to your hearts desires. You will find Annalakshmi Temples around the world in cities like Perth, Sri Lanka, San Francisco, Chennai and more.
For more about vegetarian and vegan cuisine in Malaysia, check out this in-depth guide by Happy Cow.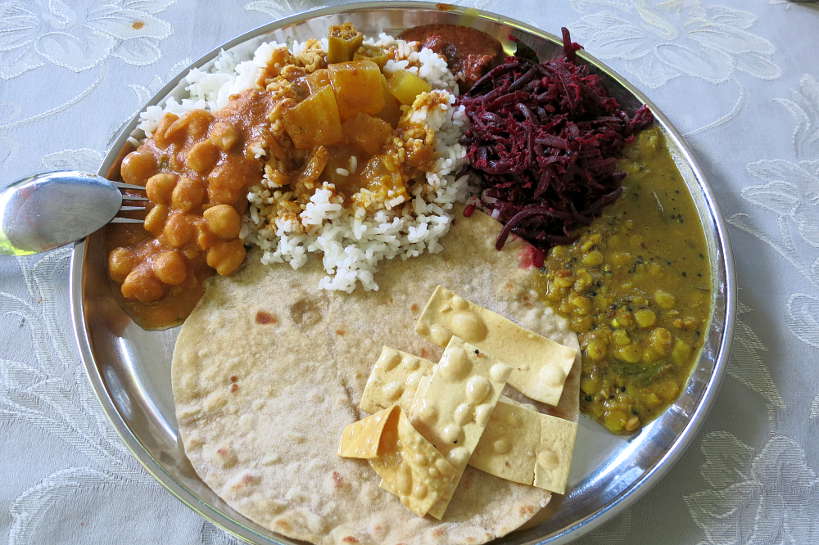 #8: Affordable Country for Food
The local currency In Malaysia is the Ringgit. At the time of writing this article (August 2017), the Ringgit is pretty weak against the U.S. dollar. One U.S. dollar will buy you about 4.28 Malaysian Ringgit.
In addition to local delicacies and food available everywhere, the food in Malaysia is cheap compared to Western standards. A meal in a Hawker Center or a Kopi Tiam will cost you no more than 6 to 10 Ringgit or about $1.40 to $2.40 USD with drinks included.
If you are looking to dine in more fancy restaurants, you will benefit from a nice seating with table clothes and air-conditioning. The cuisine might be more refined as well. And the prices will most likely be four to five times the prices at a Hawker Center. At a fancy restaurant, plan to spend about 40 to 80 Ringgit (about $10 to 20 USD) for a meal per person.
During our one month long stay in Malaysia, we only ate at a restaurant once.
Honestly, you will find the best food at the Hawker Centers and the Kopi Tiams. Not only is the food unique and made right in front of you, you will also have a local and authentic experience.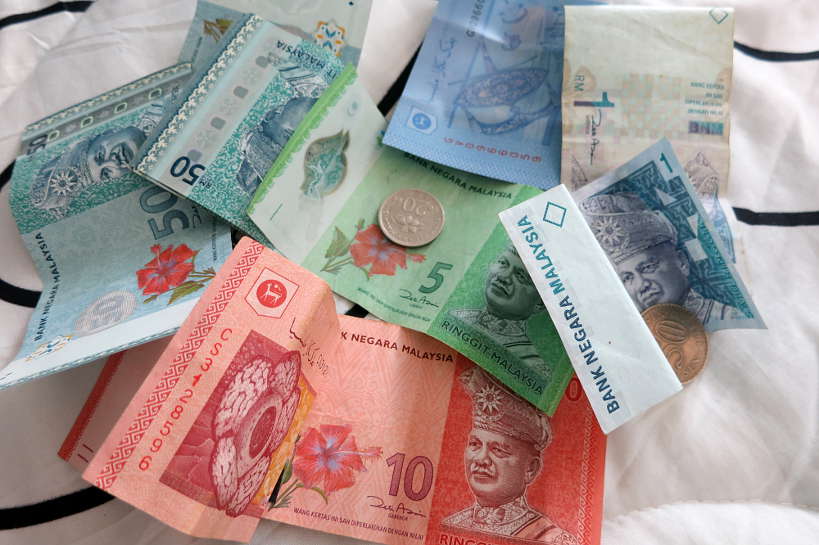 #9 – English Is Widely Spoken
Malaysia is a diverse country where many languages are spoken. While walking down a busy street or eating at a popular restaurant, it can be overwhelming to hear all the different languages and dialects around.
Although English is widely spoken, Malay or Bahasa Malaysia is the official language of the country. Other popular dialects are Tamil, Telegu, Punjabi and other common Indian languages. And Hokkien, Cantonese, Teochew and Hainanese being the main Chinese dialects.
With English taught in schools, getting around Malaysia is fairly easy. In local food stores and restaurants, regardless of ethnicity, you will always find instructions in English or someone who speaks English to help you. Even more so, the people of Malaysia are very friendly and always willing to help.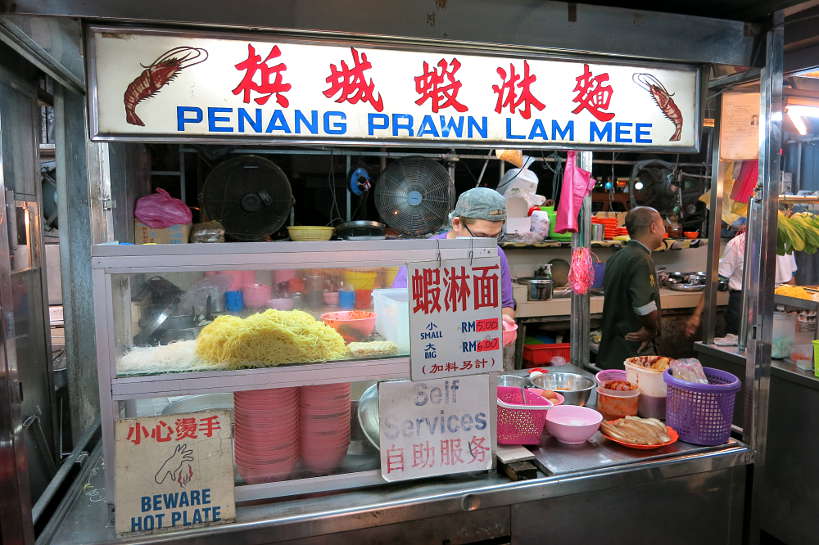 #10 – Get Around in a Proton or Perodua
Making your way around Malaysia is very easy. In Kuala Lumpur the modern fast train takes you into the city from the suburbs, avoiding the inconvenience of traffic jams.
Walking was our favorite way of getting around. Regardless of the time of day, we felt comfortable walking to hawker centers and local Kopi Tiam. To get to locations further out, we would rely on ride-sharing with Uber.
If you are going to take an Uber in Malaysia, you will enjoy reading this story about our experience.
The brands of cars in Malaysia are unlike any had heard of before – Proton and Perodua.
When we first arrived at the airport in Penang, per typical fashion we ordered an Uber. When the first description of the car came up, we looked at each other "what the hell is a Perodua?" Unlike in the U.S., Uber does not provide the color of the car, just the license plate, and the brand. We didn't know what kind of car to look for and we were unable to connect with the driver.
So, we called Uber again. And this time hoping for a make of car that would be more familiar. When the description of the car came up…it was a Proton. This time we were even more flabbergasted…."what are these brands of cars in Malaysia?" This time we looked diligently for the license plate number and were finally able to connect with the driver of the Proton.
If you take an Uber in Malaysia, become familiar with their national brands of cars, Proton and Perodua.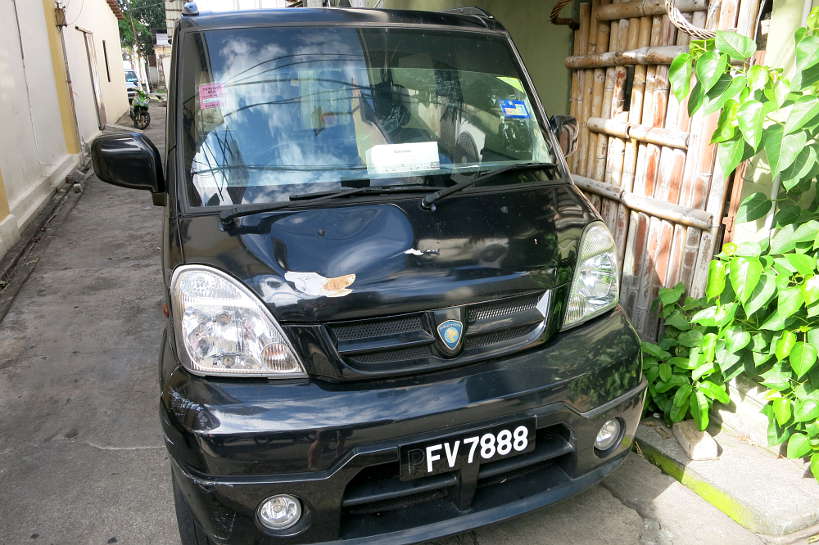 In Summary
Malaysia was a surprising country to discover in many ways. Coming from the U.S. and Europe and visiting from our last destination in Thailand, we were immediately struck by the Muslim influence in the country. Sixty percent of the population is Muslim and Islam is official religion.
When it came to the food in Malaysia, we were delighted to discover so many new and unusual tastes. Tasting different kinds of familiar cuisines like Indian or Chinese gave us a richer understanding of the diversity of the country and food.
The street food in Penang and unusual fresh juices will introduce you to mouthwatering dishes and drinks for just a few ringgits. Exploring this wonderful country through Malaysian cuisine will leave you stunned by the simplicity of the dishes and the depth found in the combination of the cultural flavors.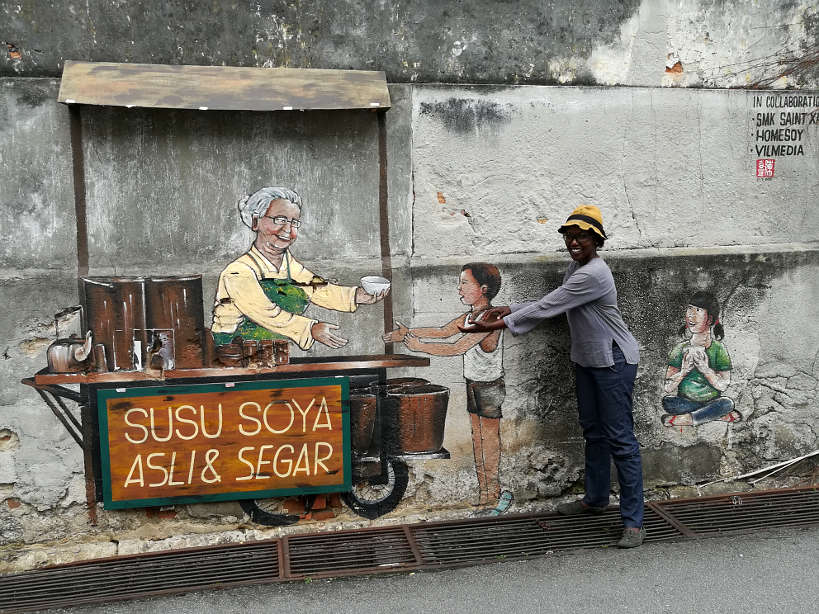 Have you had Malay food before? In the comments below, share with us what has surprised you the most about Malaysian food!
Savor The Adventure!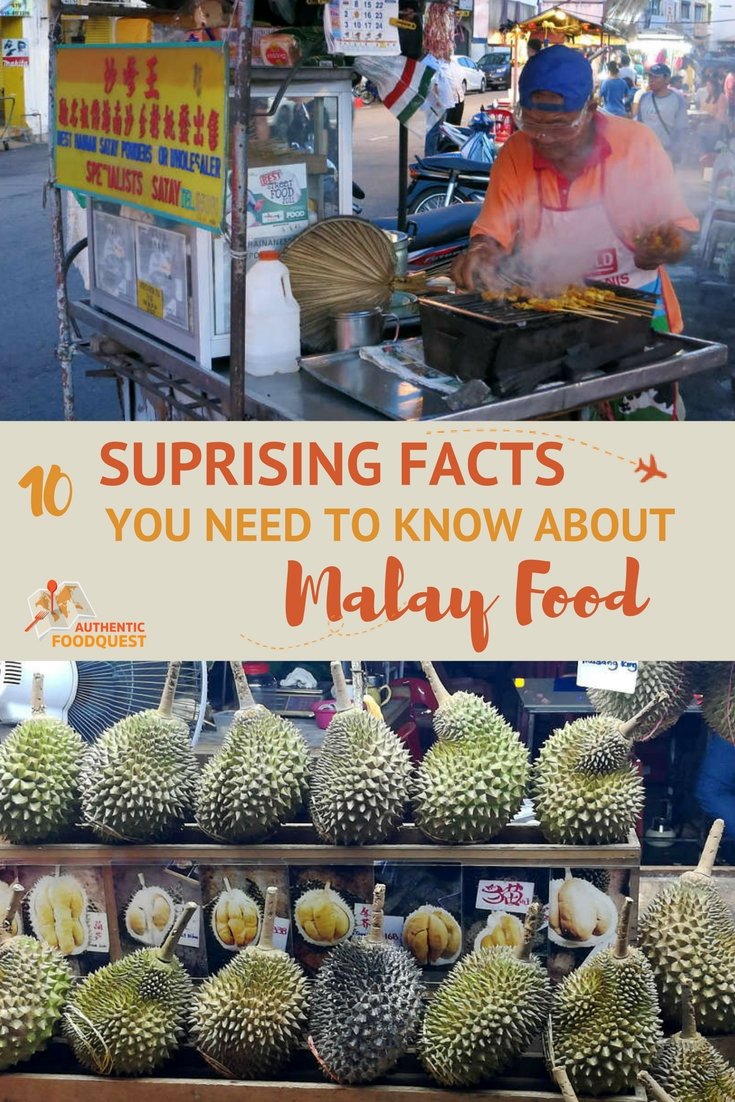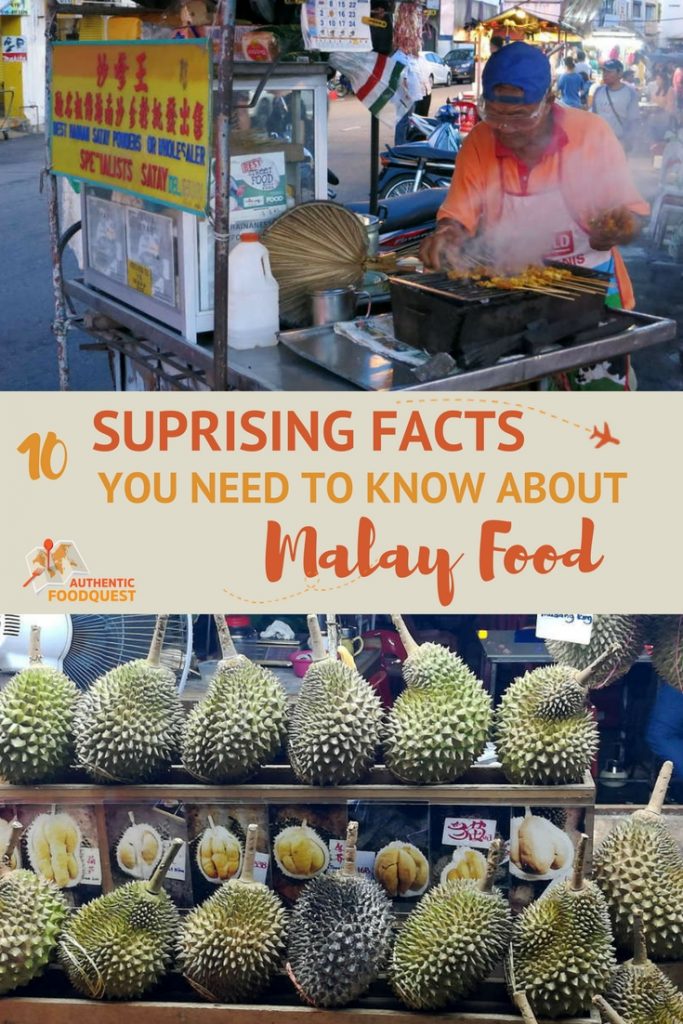 Curious by nature, Rosemary loves exploring new flavors and connecting with locals. She shares her insights and culinary finds from her travels to inspire people to connect local through food.