When we visited Malaysia, we were pleasantly surprised by the variety of delicious dishes influenced by Malay, Indian and Chinese cuisines. Little did we know, Malaysia also has an amazing culture of unique Malaysian drinks and juices.
Hawker centers in Malaysia are at the core of the food culture and you will quickly learn that taking a seat to eat means you have to buy a drink. These food courts are organized in such a way that you first choose from multiple local stalls within a central location, and then you get to sit down and eat there if you consume a drink.
The best part about Malaysian drinks is that they are really inexpensive. Most local juices cost between 2.0 MYR and 3.50 Malaysian Ringgit, which is equivalent to $0.50 and $0.80 cents USD. The choices are unusual, interesting, and bountiful! In a word, you will look forward to your next meal just to have a drink!
With Malaysia being a Muslim country, alcohol is not available at most of the hawker centers. However, you will not be disappointed by the eye-catching names and colors of the unique local Malaysian drinks.
Prepare to quench your thirst with these 10 unusual Malaysian drinks to experience like a local.

Famous Malaysian Drinks Not to Miss
1- Teh Tarik: Malaysian Pulled Tea
Malaysia is a multicultural country with wonderful culinary traditions of Malay, Chinese and Indians. Malay food reflects the multi-ethnic makeup of its population.
Teh Tarik or Malaysian Pulled Tea is a drink that is significant because it is consumed universally and also unites all three cultures. It is said to be the national drink of Malaysia.
At coffee shops (Kopitiam) or mamak food stalls across Malaysia, black tea, sugar, and condensed milk are combined and poured through the air between two cups until a rich frothy top is created.
The tea brings together Chinese tea leaves with the Indian style of making chai. What makes this drink so unique is the way it's prepared. There is showmanship and tradition that accompanies the preparation process.
As the tea is poured from one jug to another, the distance between the jugs becomes wider and wider, creating an illusion that the long stream of tea is being "pulled" in mid-air. This creates a unique frothy top which unites the flavors and makes the tea smooth. It is foamy, creamy, sweet with a little kick.
Teh tarik is more than just a cup of tea mixed with condensed milk; it is one of the most revered Malaysian drinks in the culture, so much so, that it has birthed an entirely new sport devoted to tea pulling.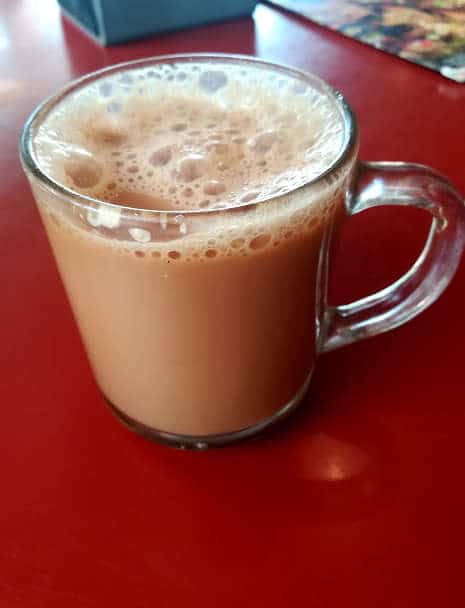 2- Barley Juice
The first time we saw "Barley" on a juice menu at a local coffee shop, we were both surprised and intrigued. We would never have thought of having barley as a juice and that made us immediately curious to try it.
Served with lots of ice, barley juice is a clear liquid, which is slightly thick with added sugar and lime for taste. The juice comes with whole barley pearls mixed in, which are soft, thick and sweetened from the sugar. The juice is delicious, a little syrupy and quite light and refreshing.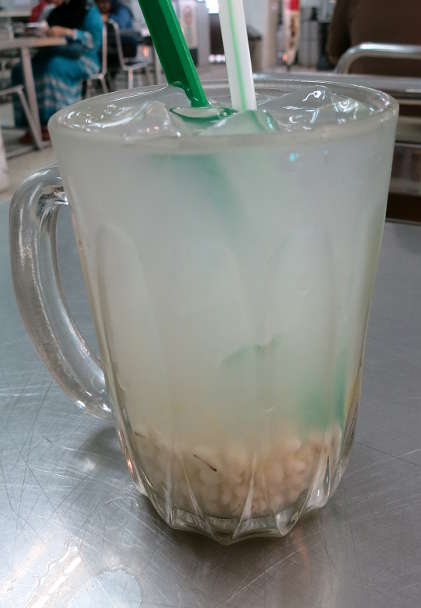 Barley juice quickly became one of our favorite Malaysian drinks. It is widely available at hawker stalls, food courts, coffee shops, and more. Barley can also be served hot, though we preferred it cold with lots of ice. You can also find barley tea as well as barley and lime juice combinations.
Barley is an ancient grain with many health benefits. Drinking barley water on a regular basis can help promote weight loss, lower cholesterol and blood sugar levels, and more.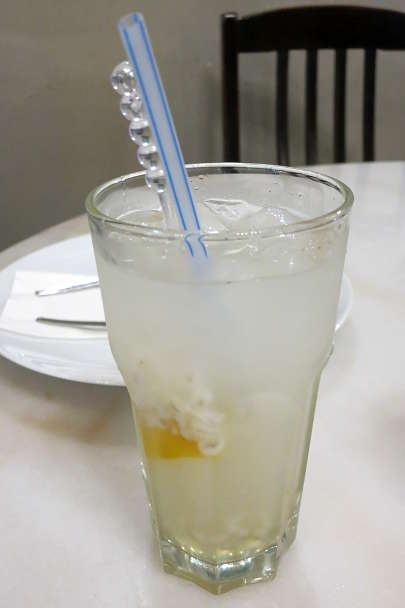 3- Air Bandung Juice
Air Bandung is a famous and popular drink in Malaysia. It is made of evaporated milk or condensed milk with rose-flavored syrup giving it a very distinctive bright pink color.
The juice actually tastes much better than it looks. The color reminds me of a bad pink lemonade filled with chemicals. However, Air Bandung doesn't taste as chemically and the rose flavor is very agreeable with the sweetness of the condensed milk.
You will find Air Bandung at many Malay Hawker Center and is hard to miss. It is also available in Singapore and Brunei as well.
Even if the sight of this drink doesn't entice you, it is worth a try.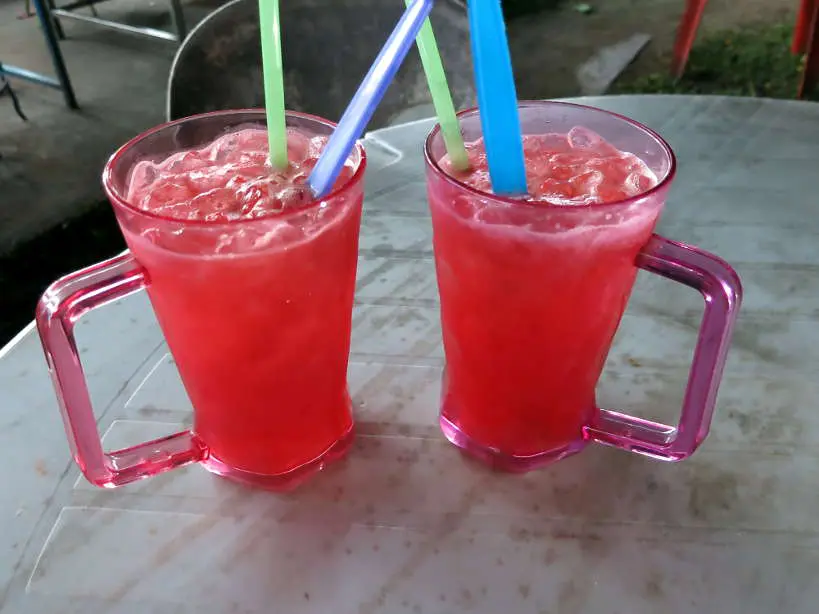 4- Nutmeg Juice
When we think of nutmeg, we usually think of the spice and the festive holiday season. Nutmeg juice is another intriguing Malaysian drinks we discovered.
The juice is light and fruity and tastes nothing like the spice. It is served with ice and very refreshing. Nutmeg trees were cultivated in Penang in the late 18th century by the British, as a way of expanding the spice trade business.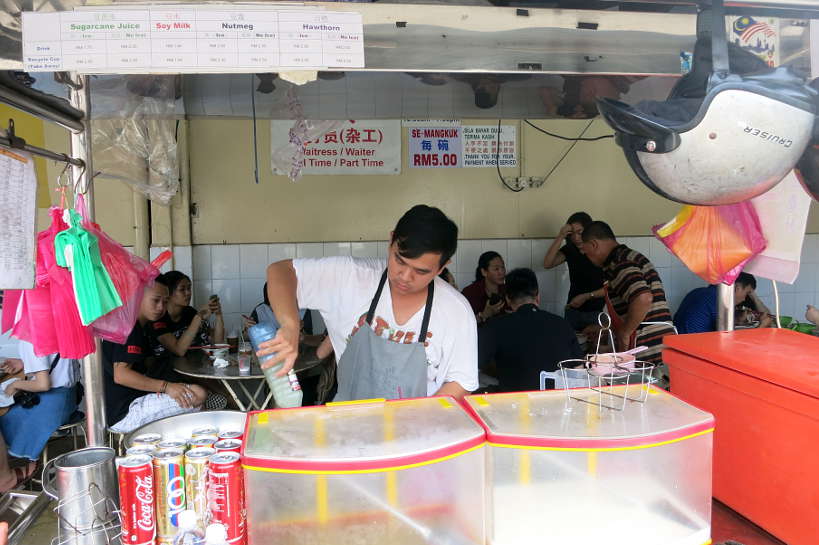 In Penang, nutmeg juice is available everywhere. From coffee shops to hawker center and food stalls, you are never far from a refreshing glass of nutmeg juice. It is a strange and delightful juice, that you should certainly not miss on your travels to Penang.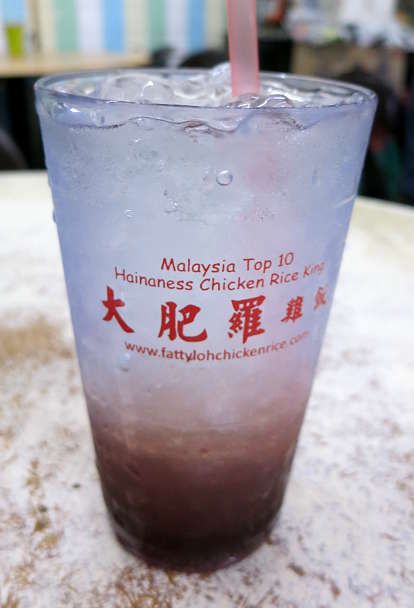 5- Water Chestnut Juice
Water chestnut drink is one of the most refreshing Malaysian drinks we came across. It is made from raw Chinese water chestnut, which is considered a vegetable. This vegetable has a brown skin on the outside and a white watery crunchy filling on the inside.
Water Chestnut is a very popular ingredient in Chinese cuisine. It is known to be very healthy with its low fat, high potassium content, and gluten-free properties.
The drink has a light brown color, slightly sweet and very refreshing. In Malaysia, you will easily find it at predominantly Chinese hawker centers. It is a perfect light and refreshing drink for the hot Malaysian weather. This one of the most surprising and delightful Malaysian drinks on the list.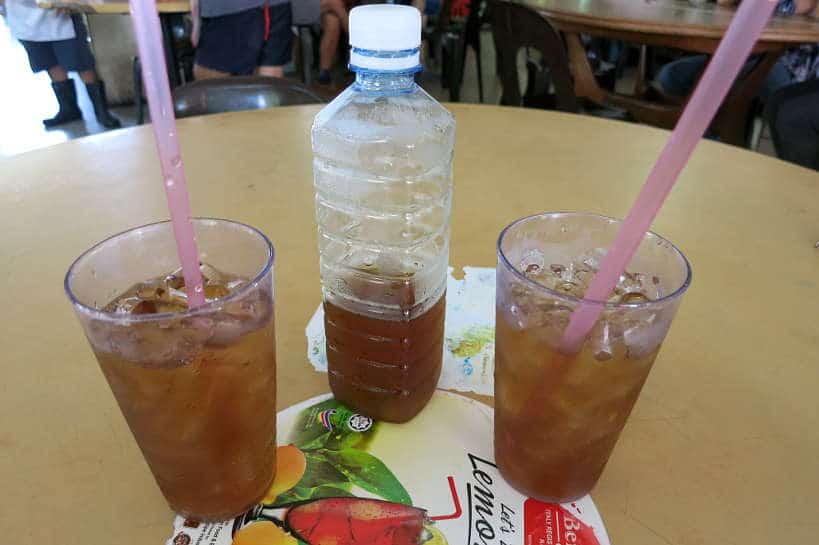 Unusual Juices of Malaysia
6- Longan Juice
After our first stop in South East Asia in the Philippines, Longan quickly became one of our favorite fruits and one of the highlights of our trip.
We loved how easily accessible this fruit was with vendors on the streets selling it everywhere. The fruit is inexpensive and easy to peel and eat on the go or snack before a meal. Most importantly, longan fruits are refreshing, sweet, and tasty.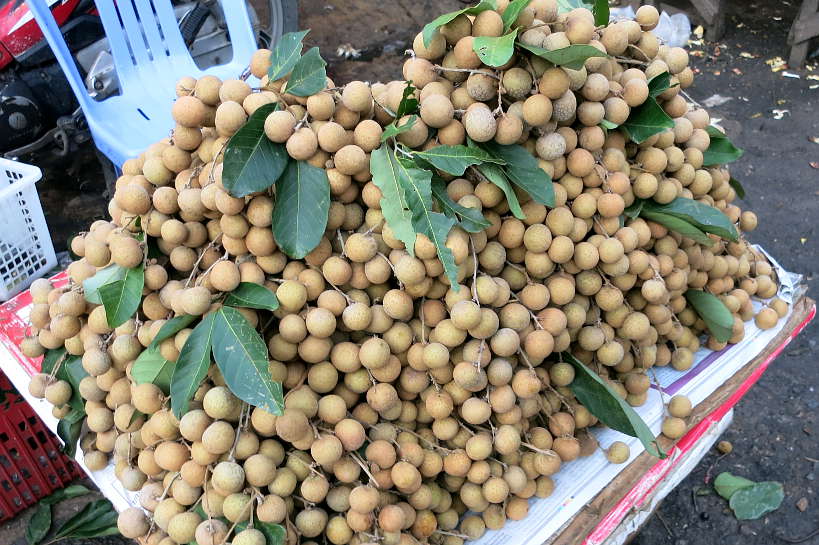 Before we got to Malaysia, we had no idea that Longan could be drunk as a juice! That's when we discovered it at one of the many hawker centers in Penang. We also discovered that Longan juice is available either as black longan juice or white longan juice.
Black longan juice is made from the dried longan fruit which are dark brown to almost black in color. On the other hand, the white longan juice comes from the white and juicy flesh of the fruit.
We tasted them both and found the black longan juice to have more intense in flavors and a less refreshing than the white longan juice.
We both preferred the white longan juice, but you should try them both side by side and make up your own opinion.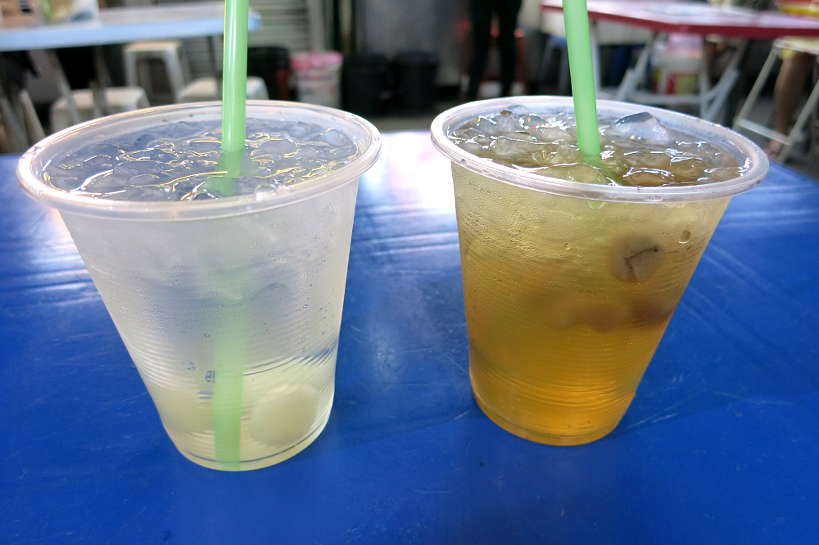 7 – Lychee
Lychee is a tropical fruit that reminds me of Christmas. As a young child growing up in Paris, my mom would buy lychee for Christmas. It would be our treat holiday fruit to have around the Christmas season.
Lychee is originally from China and can be found across Southeast Asia. Lychee and longan are from the same family and have a similar shape. We found longan fruit to be much more commonly available than lychee.
While we are familiar with Lychee, when we first saw it on a Malaysian drinks menu, we jumped on the opportunity to try it. When our drinks arrived, we were surprised to see how clear the drink was, almost like water.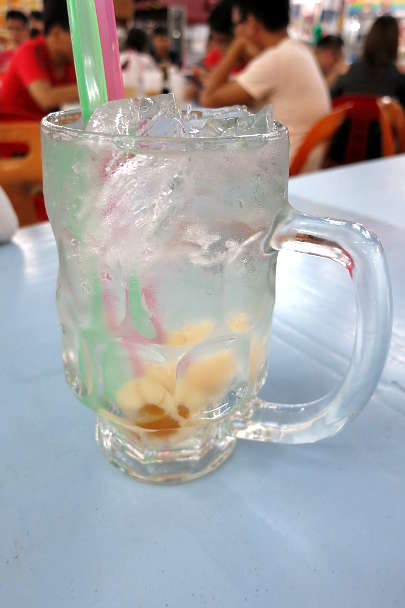 Lychee juice is very refreshing and light. It is an easy drink to quench your thirst on a hot Malaysian day. One nice addition to this juice is having the fruits added to the drink. The fruits float to the bottom and you can end your meal by tasting the fruit itself.
If there is a juice you haven't tried yet while in Malaysia go for the Lychee juice for a refreshing break.
8 – Ambra & Sour Plum Juice
Ambra is a tropical food is commonly found in Southeast Asia. It goes by many names in the region. In Penang, it is known as Ambra or Buah Kedondong among Malays.
The fruit is oval shape about the size of a lemon. It is green in color and hard to the touch.
In Malaysia, the fruit is cut up into pieces and used as an ingredient in rojak, a distinctive mixed fruit salad, which is very famous in Penang.
The juice that is extracted from the Ambra fruit is used by locals for treating throat and cough infections. We tried the Ambra juice mixed with sour plum juice at a local food stall and found it very tasty.
With a citrus flavor, the juice is very easy to drink. It is not too sweet, and when mixed it with ice, it is very refreshing.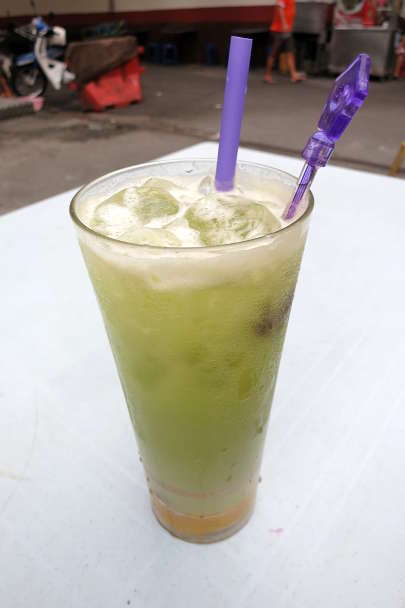 9 – Air Mata Kucing Juice
Every meal in Malaysia is an opportunity to try a new local fruit juice. With every sip, you find yourself opening up to new flavors and tastes.
Air mata kucing was another delightful discovery we made. While having dinner at Chulia Hawker Center in Penang, Rosemary was intrigued by juice at a local stand called Air Mata Kucing. Not knowing what it was, though judging from the crowds, she took the opportunity to try this unique juice.
Air mata kucing is an iced fruit juice made from winter melon (tong kua), monk fruit (lo han kor), dried longan (long ngang), and sugar. The juice is not sweet, but very refreshing and thirst quenching.
Later on, when researching about this drink, we learned that Mata Kucing is a close relative of the longan fruit. The fruit is said to have many health benefits. From providing vitamins minerals such as iron, magnesium, phosphorus, potassium and more, it is also used traditionally to treat diabetes, cancer, insomnia and more.
The best part about the juice is that it is very tasty. When you come across this drink in Penang, be sure to try it and enjoy all the health benefits.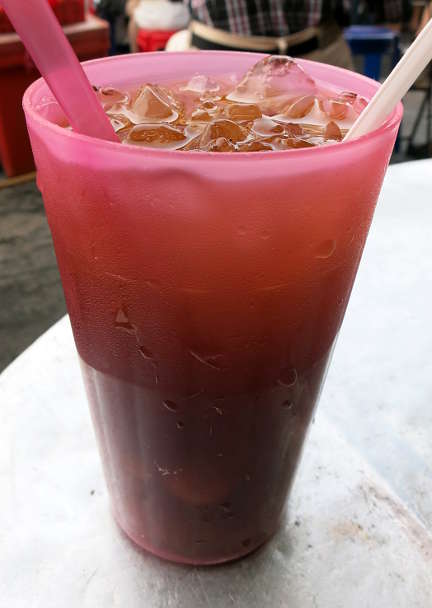 10 – Dragon Fruit & Lemon Juice
We love dragon fruits and were surprised the first time we saw it on a drinks menu at a local food stand. Without hesitation, we ordered it and were eager to compare the flavors of the juice versus the fruits.
When the drink arrived, we were startled by its bright pink color and dense texture. When combined with the lemon juice the taste is divine. Like many other Malaysian drinks, it is not sweet and you can taste the natural fruits not masked behind any artificial flavoring.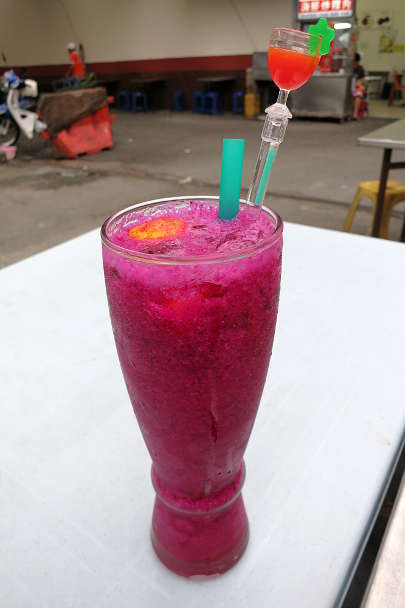 Dragon fruits are nutritionally dense and the lemon juice is good is vision health. Don't miss this delicious juice and don't forget to try dragon fruit as a fruit.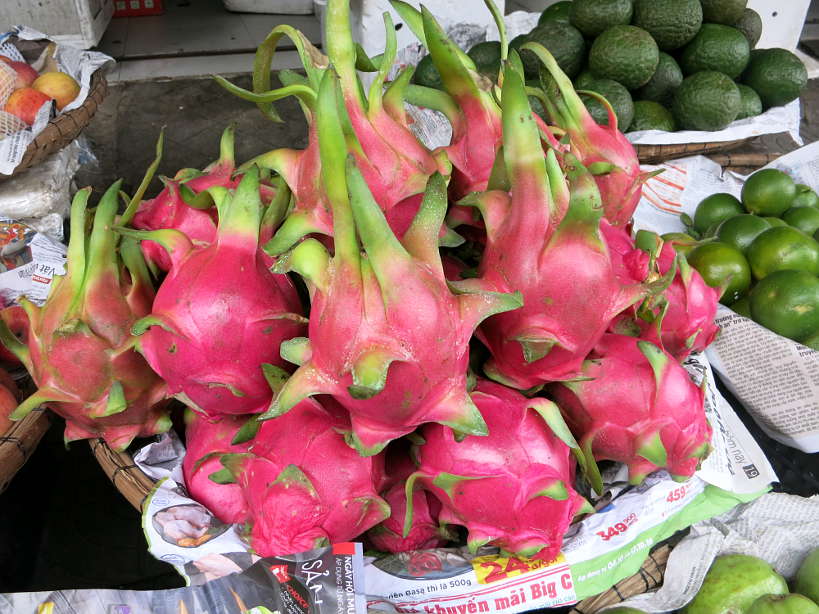 In Summary
In Malaysia, the drinks culture is part of everyday culture.
At first, you may be surprised that you have to buy a drink to sit down and eat at a local hawker. Once you warm up to the idea, you will find that each drink is a sip into the fascinating Malay culture.
The Malaysian drinks like Malaysian meals are uniquely creative. The drinks are made using the abundance of Southeast Asian exotic fruits, ingredients, and vegetables.
The drinks are not artificially sweetened and they have many health benefits.
Allow yourselves tempted by the unusual names and juices. Malaysian drinks will have you drinking Malaysia
Have you had any of these unique Malaysian drinks before? In the comments below, tell us which unusual juice you would be most tempted to try the most.
Savor the Adventure!
Love it? Pin it!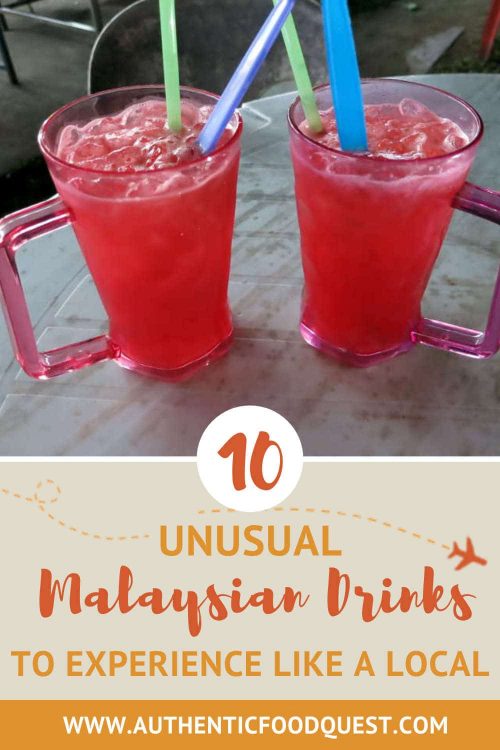 Claire, ex-engineer, is a digital nomad and content creator at Authentic Food Quest. Since 2015, with her partner, Rosemary, they travel the world in search of the best local food experiences. Their mission is to help you enjoy the best local specialties on your travels or via recipes in your home kitchen. Favorite country for food: Vietnam. Favorite local dish: Hainanese Chicken Rice.  Favorite way to keep fit: Cycling. Claire is responsible for the website and the fun food & travel videos on Youtube. She is also co-author of Authentic Food Quest Argentina and Authentic Food Quest Peru, available on Amazon.