This article has links to products and services we recommend, which we may make a commission from.
What is Mazamorra Morada or Peruvian Purple Corn Pudding?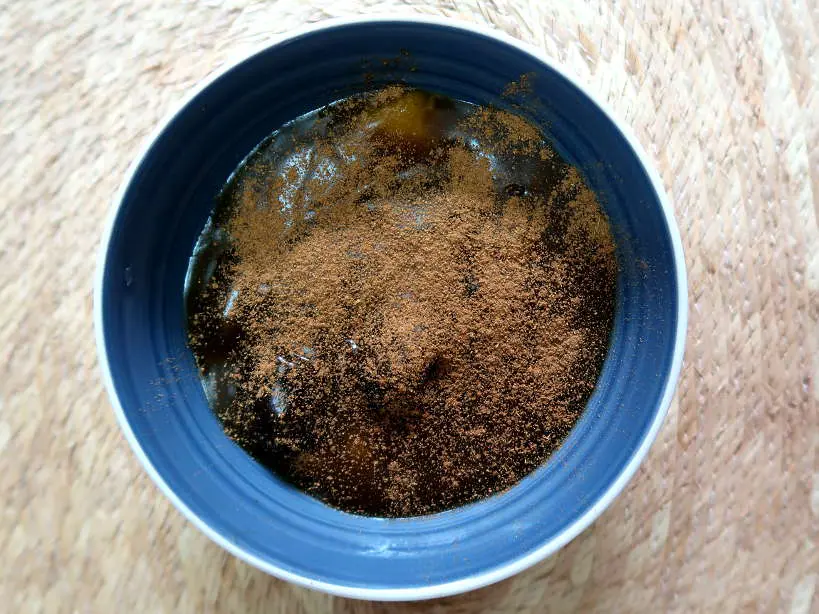 Mazamorra morada, which translates to purple corn pudding, is a popular Peruvian dessert.
The main ingredient is a unique variety of purple corn that grows only in the Andes.
This corn used for thousands of years by the indigenous people, has many health benefits.
The purple corn is boiled in water with dried fruits and thickened into a pudding with sweet potato starch or harina de camote.
Cornstarch or potato starch may be used as substitutes. This delicious dessert gets its flavors from cooking with cinnamon and cloves.
In Peru, mazamorra morada is typically eaten warm, though it can also be enjoyed chilled.
You will always find it served on birthday celebrations.
The Taste of Mazamorra Morada
What we enjoy the most about mazamorra morada is that it is not too sweet.
The texture is like loose jello or thick gelatin.
It is light and fruity and perfect for a cool evening. The deep purple color and cinnamon with clove, give it spiced tropical flavors.
What is Dried Peruvian Purple Corn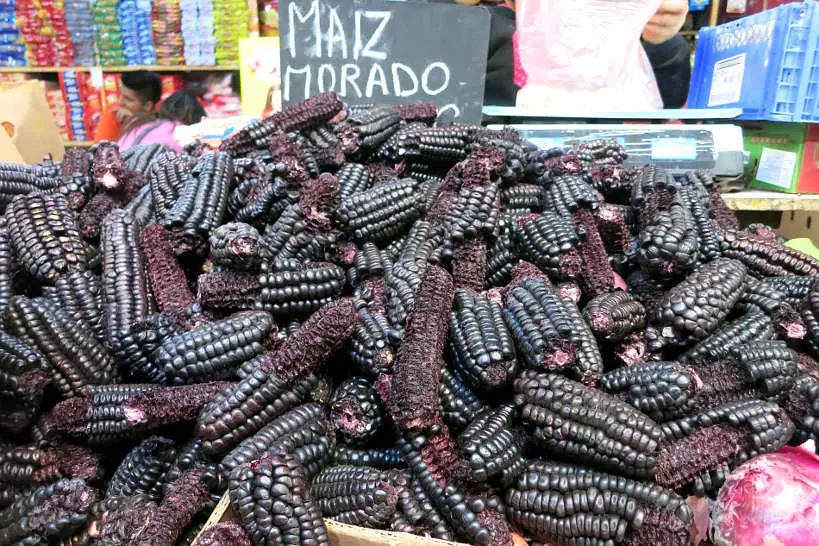 Maiz morado or purple corn from the Andes mountains has been cultivated in Peru for thousands of years. It dates back to pre Inca times.
Purple corn was used by the indigeneous people of the region for a variety of purposes.
All purple corn strains originate from an ancient purple corn which is known as kulli sara or moro sara.
Interestingly and mysteriously, purple corn will lose its color when planted outside of Peru.
Long been revered by the indigenous peoples, it is known as "the plant of remembrance".
Purple corn is considered a superfood or nutrient powerhouse due to its rich antioxidants, vitamins and minerals.
One of the most popular uses for purple corn is in chicha morada, a traditional Peruvian drink, thought to pre-date the Inca empire.
The purple corn is also used in desserts like puddings, cakes, popsicles, sorbets and more. The flour is used to make bread and tortillas.
READ MORE: 10 Authentic Peruvian Drinks You Will Absolutely Love
Discovering Mazamorra Morada in Peru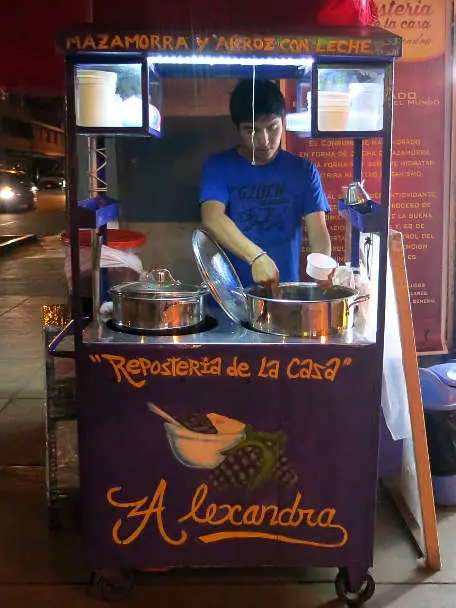 Mazamorra morada dessert is well liked in Peru and can be found at restaurants, markets, and street vendors.
While wandering through the streets of Lima, we were always intrigued by street carts selling an unusual looking purple pudding.
One evening, we decided to stop at a friendly looking vendor and ask him about mazamorra morada. Difficult for him to explain what it was, we ended up buying some to taste.
In Lima, eating mazamorra morada by itself is very common. The vendor was also selling rice pudding or arroz con leche, and we tried both.
The two desserts are served side by side and the combination is called "classical" or "clasico." It is also referred to as sol y sombra or "sun and shade".
We enjoyed the fusion of flavors and textures. This tasty dessert with deep purple hues, is sure to please.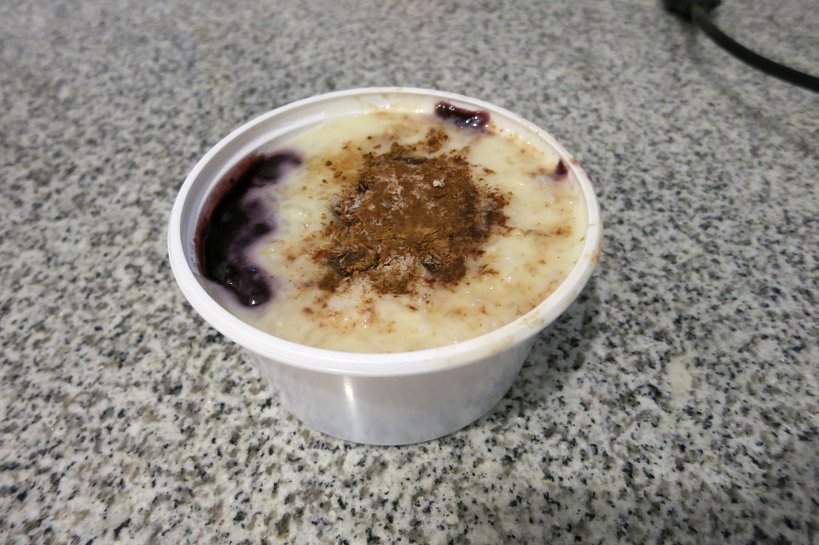 READ MORE: 7 Authentic Peruvian Street Food You Want To Have
The History of Mazamorra Morada Dessert or Peruvian Purple Corn Pudding
Mazamorra morada, an ancient dessert, is one of the most representative in Peru.
While it is eaten all year around, it is especially popular in the month of October, during the celebrations of the Lord of Miracles.
This sweet dessert evolved through a cultural exchange between the Incas and European cultures.
Originally, this dessert did not include the use of sugar. It was with the arrival of the Spanish in Peru, that it took on new form.
The mix of native purple corn, sweet potato flour with Spanish products like sugar and dried fruits gave it new life.
Over time, mazamorra became one of the most consumed desserts, especially in Lima. This gave rise to the popular saying "'Limeño mazamorrero," by Peruvian writer, Ricardo Palma.
Today, mazamorra morada, with deep Peruvian roots is found on all tables across the country.
Mazamorra Morada Recipe – How To Make it at Home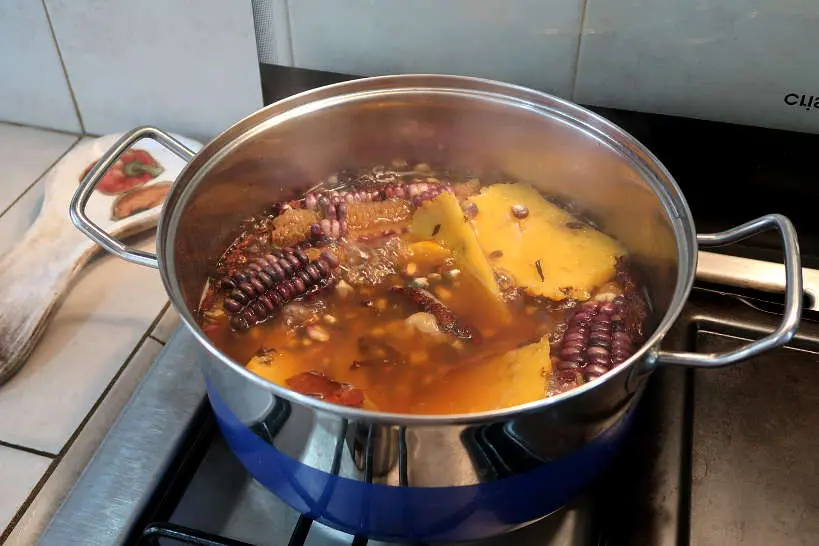 This mazamorra morada recipe is a 2-in-1, allowing you to make two Peruvian dishes from one pot of purple corn.
From the first boiling of the dried purple corn, use the water and follow the mazamorra morada recipe below.
With the second boiling of the purple corn, you can make a chicha morada, a traditional Peruvian purple corn drink.
Chicha morada, a refreshing, non-alcoholic drink will add to your tastes of Peru.
Mazamorra Morada Ingredients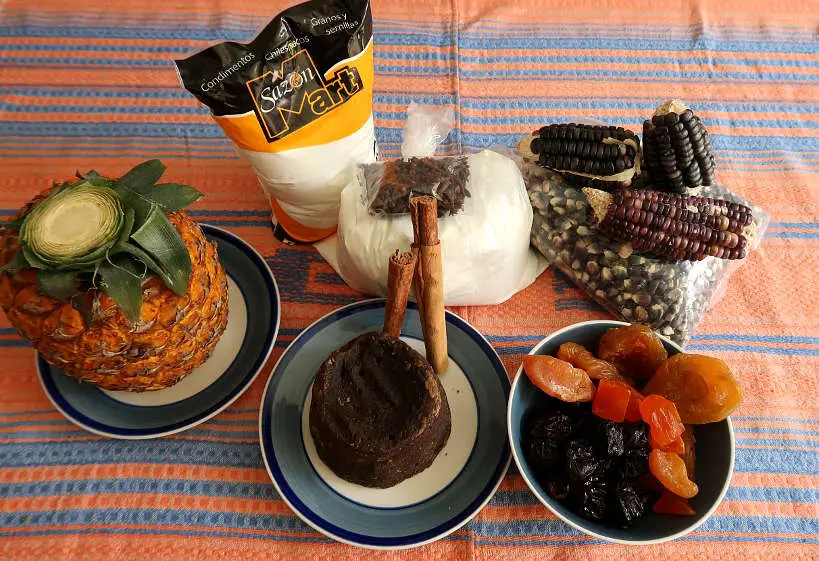 Cinnamon sticks
One ripe pineapple
Dried fruits such as peaches, apricots, papaya, pineapples
Raw sugar (unrefined whole cane sugar or panela)
Dried prunes
Freshly sliced pineapple
Sweet potato starch which can be substituted for potato or corn starch
Lime juice
Ground cinnamon
Mazamorra Morada Recipe Tips
This simple mazamorra morada recipe is easy to make at home and can be adapted to your tastes.
Besides Peruvian purple corn, you only need a few ingredients to make this tasty Peruvian purple corn pudding.
Feel free to adjust the amount of sugar used and dried fruits to your liking.
Where to Buy Peruvian Purple Corn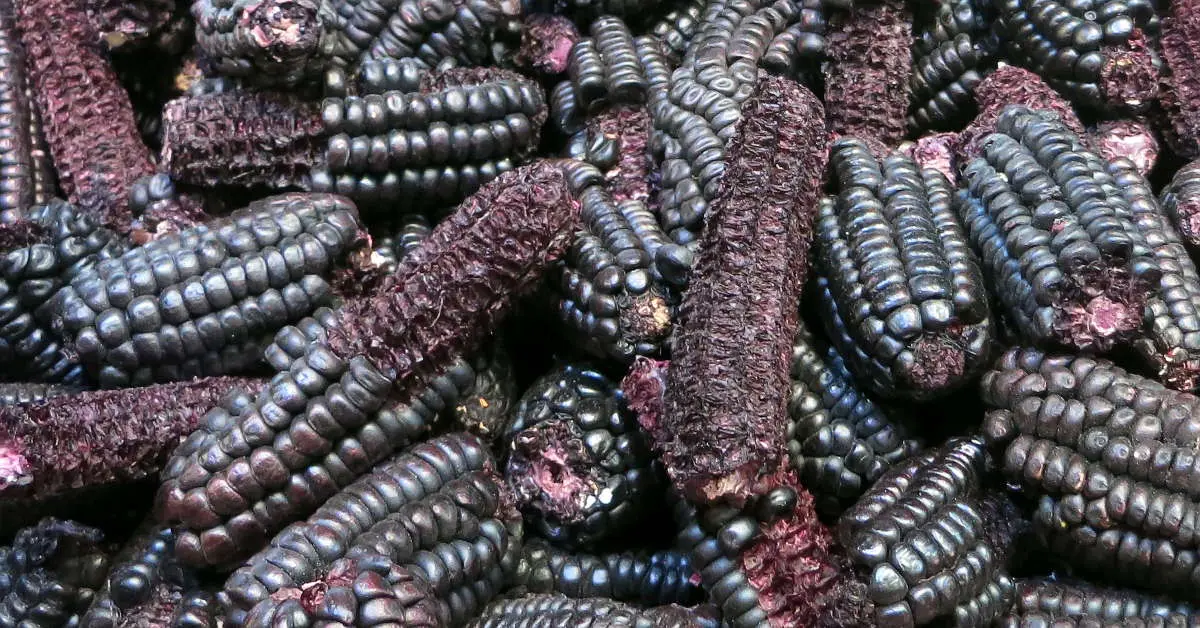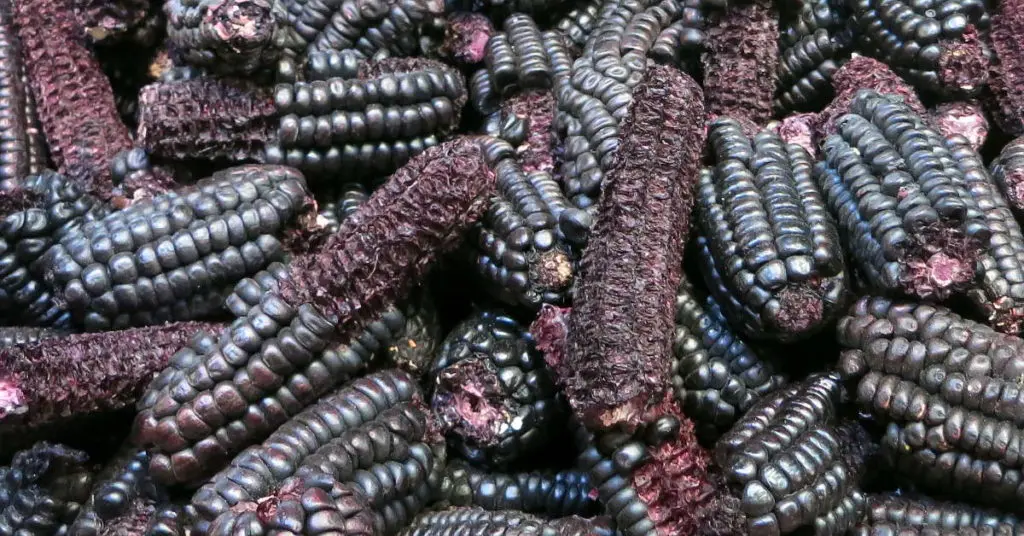 Purple corn, sometimes referred to as blue corn is the star ingredient in this mazamorra morada recipe.
To enjoy the benefits of this delightful Peruvian purple corn pudding, make sure to use Peruvian purple corn from the Andes.
We made this mazamorra morada recipe while in Oaxaca, Mexico and could only find maiz negro or black corn. This endemic corn has grains with both purple and white pigments.
As a result, our dessert did not have the deep purple hues we enjoyed in Peru, although the taste was similar.
Peruvian purple corn from the Andes is available on Amazon.
Dried Fruits in The Peruvian Purple Corn Pudding
When you make your mazamorra morada recipe, make sure to choose dried fruits that do not have seeds.
This will make it easier to enjoy the dessert.
While prunes, apricots and peaches are popular dried fruit options, feel free to experiment with cranberries, cherries, blueberries or other fruits of your choice.
Sweet Potato Starch
Sweet potato starch or harina de camote is most commonly used in Peru.
You can find sweet potato flour at Latin stores in your area, or Amazon. If you cannot find it, you can substitute with potato starch or cornstarch.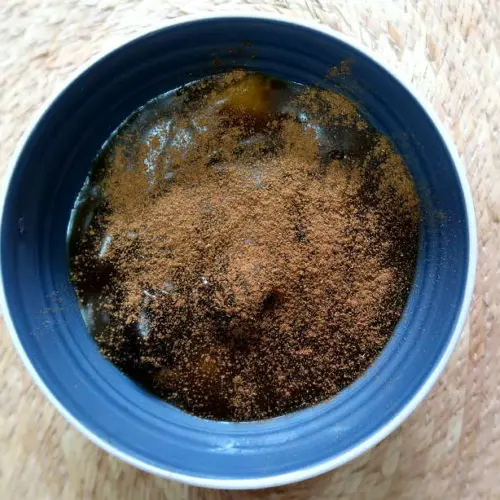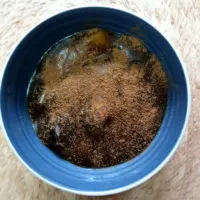 Mazamorra Morada Recipe
This mazamorra morada recipe is for a delicious and easy to make Peruvian purple corn pudding. A traditional dessert, the star ingredients are purple corn and dried fruits, thickened with cornstarch. Cinnamon and cloves add spicy and tropical flavors to this easy one pot dessert.
Print
Pin
Rate
Ingredients
1

pound

Peruvian Purple corn

2

cinnamon sticks

1

pineapple

small to medium size, fresh, ripe

1

cup

dried fruits

apricots, papaya, pineapples

⅓

cup

raw sugar

unrefined whole cane sugar or panela

½

cup

dried prunes

½

cup

pineapple

freshly sliced

¼

cup

corn starch

¼

cup

sweet potato starch

can be substituted for potato or corn starch

lime juice

freshly squeezed from 1 lime

ground cinnamon

for garnish
Instructions
Wash the purple corn and cook in 2 liters or 67 oz of water.

When the water starts to boil, add cinnamon sticks and cloves

As the mixture is boiling, wash pineapple and peel the skin

Add the pineapple skin to the boiling water

Add dried fruits (peaches, apricots, pineapple) to taste

Cover the pot, reduce heat to low and let it cook for 1 hour, or until corn opens up

Cut up about ½ cup of fresh pineapple into small cubes and set aside

After one hour, strain the liquid and discard corn, pineapple rind, cinnamon sticks and cloves

Put the liquid back in the pot and  boil again on low heat

Add sugar, dried prunes and fresh pineapple cubes while stirring continuously

Cover and let it cook on low heat until the fruits soften

In a separate bowl, add 2 cups or ½  liter of water

Add 50 grams of cornstarch and 50 grams of potato or sweet potato flour

Slowly add starch mixture to cooking pot while stirring continuously

Keep stirring about 5 minutes until the mixture thickens

Add freshly squeezed lime juice while stirring

Remove from heat and serve

Serve at room temperature or chilled

Sprinkle cinnamon to taste
Notes
 If you lose a lot of water in the boiling process, feel free to make a second batch by adding water to the corn, pineapple and fruits mixture. In addition to sliced pineapple, you can also add quince or apple. Feel free to add your favorite dried fruits as well.
Nutrition
Serving:
1
|
Calories:
202
kcal
|
Carbohydrates:
50
g
|
Protein:
2
g
|
Fat:
1
g
|
Saturated Fat:
0.2
g
|
Polyunsaturated Fat:
0.4
g
|
Monounsaturated Fat:
0.2
g
|
Sodium:
119
mg
|
Potassium:
297
mg
|
Fiber:
4
g
|
Sugar:
27
g
|
Vitamin A:
185
IU
|
Vitamin C:
60
mg
|
Calcium:
35
mg
|
Iron:
1
mg
More Peruvian Cooking Products
Rosemary is the editor-in-chief and strategist at Authentic Food Quest.
Traveling slow since 2015 with her partner, Claire, she has explored the cuisine in 45 countries and more than 240+ culinary cities.
Her writing about local food specialties has been featured in Lonely Planet, Business Insider, Honest Cooking, Food Insider, and Huffington Post.
As a food and travel writer, Rosemary has co-authored three books, including one in collaboration with Costa Brava Tourism.
Rosemary is an avid runner when she's not eating and exploring new destinations. She has run ten marathons and counting.
Before Authentic Food Quest, Rosemary held senior-level strategy positions in advertising. 
Find out more about Authentic Food Quest