Polanco, in Mexico City, is often referred to as the Beverly Hills of Mexico. The main avenue, Avenida Presidente Masaryk, is the most expensive avenue in Latin America.
This posh neighborhood boasts many Michelin star restaurants next to luxurious stores and stylish hotels.
In Mexico's capital, fine cuisine and gourmet restaurants take center stage in Polanco. The prospect of exploring the thriving gastronomy scene of Mexico City on a Polanco food tour had us excited.
When we saw that Mexican Food Tours was offering a Polanco food tour, we jumped on the opportunity. 
More than a food tour, it is also a unique cultural experience. You will explore the history and culture in Polanco, one of the most charming neighborhoods in the city.

Polanco Food Tour Start at Guzina Oaxaca
We kicked off this Polanco food tour at Guzina Oaxaca. Considered one of the best restaurants for Oaxacan food in Mexico City, we were off to a great start.
Luis told us that Guzina means kitchen in the Oaxacan language. With more than 3,000 years of existence, Oaxacan food is one of the country's most prominent cuisines.
We were presented with a  beautiful plate of mole. We learned about mole negro or black mole from Oaxaca made with sesame seeds. And, mole rojo or red mole comes from the state of Puebla.
Typically made with more than 68 ingredients and a common chile base, moles are a unique art in Mexican cuisine.
In addition to the mole, we shared a Tlayuda, a delicious large corn tortilla topped with Oaxacan and beans puree. 
Tlayuda are part of Oaxaca gastronomic tradition and typical of the Central Valley of Oaxaca. 
To accompany the food, we had a typical aguas frescas, or refreshing tamarind flavored water. Every dish and drink was incredibly fresh.
The moles had a refined and subtle taste while the tlayuda had a wonderful aroma from the chijote, a Mexican green herb.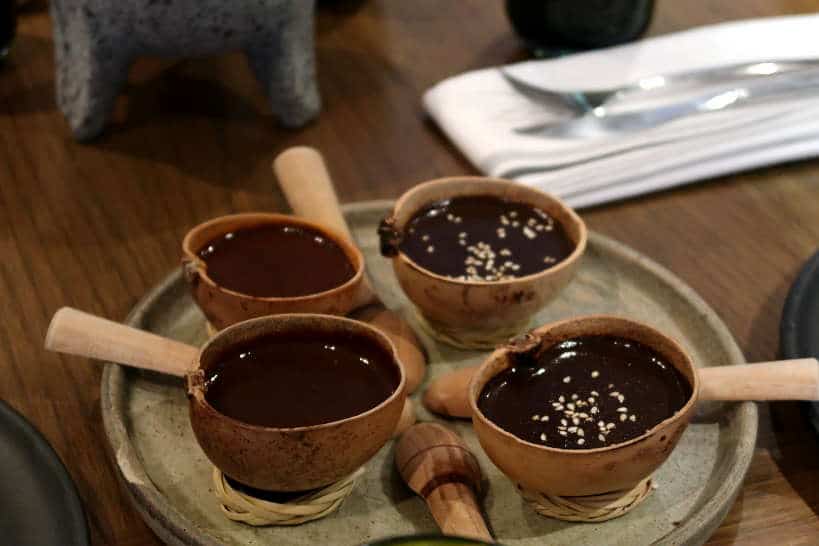 Sampling Traditional Mexican Tamales
A few blocks from Guzina Oaxaca, we stopped at a shop dedicated to reviving the fine art of making tamales.
Tamales are a popular Mexican breakfast and a pre-hispanic food. You will find street vendors selling tamales at street corners in the city.
Made with corn dough finely ground, tamales are typically cooked and served in their corn husk. Filled with sweet or savory ingredients, you most commonly find tamales of chicken, cheese and pepper or chocolate.
At this particular Polanco food tour stop, the store makes a variety of tamales from sweet to savory. Their unique difference is they use less fat and very finely ground corn making the tamales delicate and refined. 
Cilantro is added to the preparation, accentuating the flavors.
To go with the tamales, we had a typical drink called Atole. Atole is a traditional Mexican hot drink made from corn and sometimes flavored with chocolate or fruits.
We enjoyed both the tamales and the atole. The tamales were very refined, we didn't hesitate finishing the full serving on the tour.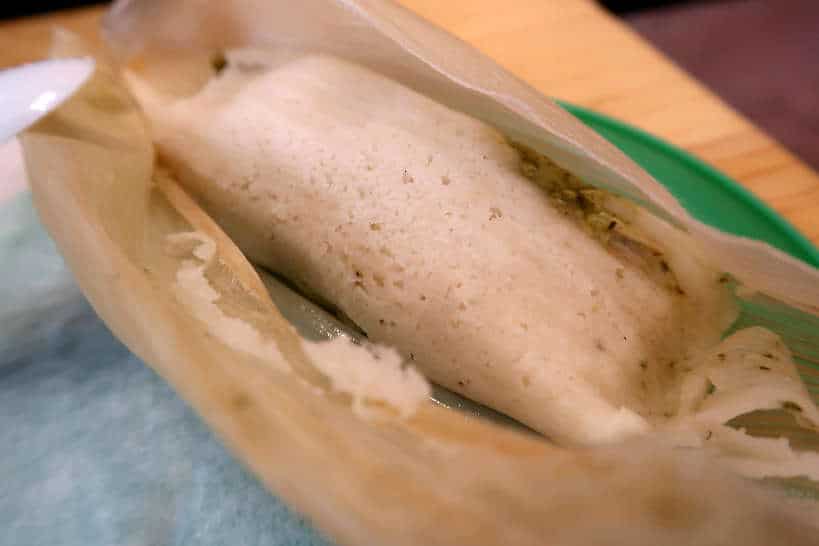 Cochinita Pibil Tacos at A Hole in the Wall Taqueria
On our way to our next stop, Luis made a detour to what he described as a "hole in a wall taqueria".
This unpretentious taqueria is known to serve some of the best tacos de Cochinita Pibil in Mexico City.
Cochinita Pibil is a traditional pork dish slowly roasted in an oven from the Yucatan Peninsula. 
The name Pibil comes from the Maya language and describes the way the meat is cooked and prepared. 
The meat is wrapped and cooked in banana leaves to keep the juice and savors of the preparation. 
Typical preparation involves achiote (annatto seeds) that gives the orange color with citric juices to marinate the meat.
It is then served with red onion and habanero, a spicy chile pepper.
Typically, Luis told us, you'll find many people waiting in a long line that goes around the corner. At the time of the day when we passed by, there were only a few people in line.
Luis could not pass on the opportunity to have us taste some of the best Mexico city tacos.
And we're glad we did. The cochinita pibil tacos were delicious, the meat perfectly stewed and full of flavor.
We had to be careful with one of the sauces with habanero pepper so as not to burn our mouths.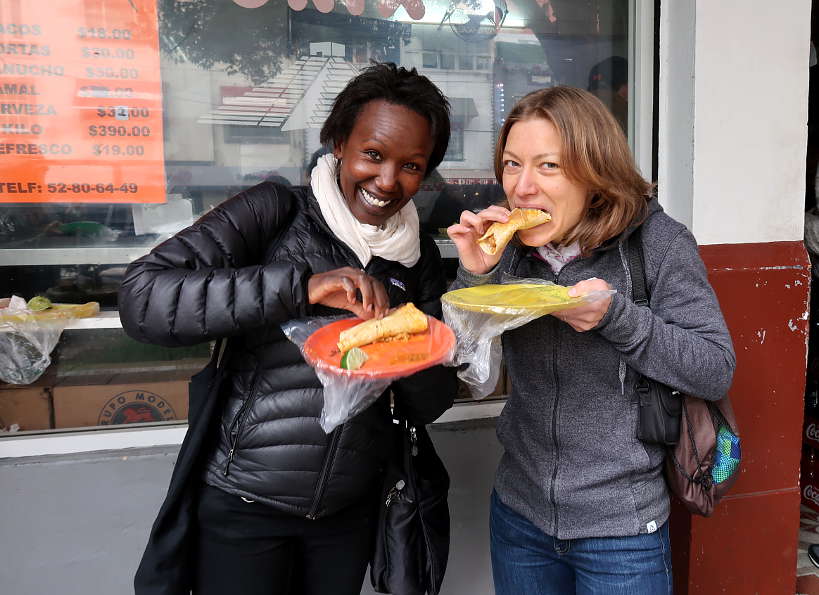 Mexico City Walking Tour and Cultural Tour of Polanco
From Avenida Presidente Masaryk, where Guzina Oaxaca is located, we strolled by Cartier, Hermes and other chic boutiques.
Walking through Polanco while digesting our food, we admired the beautiful buildings in the neighborhood.
Gorgeous mansions with Hispanic style are now turned into boutique hotels, restaurants or design centers.
Polanco, we learned, was created in 1937 and is today ranked as one of the most walkable neighborhoods in the world. 
Colonia Polanco is also a very green neighborhood with parks and trees bordering the avenues. Its walkability, safety and charm makes it a well sought out place for expats  and well-heeled Mexicans. 
An Ice Cream Break at Neveria Roxy 
An unexpected twist on this Polanco food tour with Mexican Food Tours was a sweet bite in between savory stops. 
Neveria Roxy is a traditional ice cream store in Mexico City, founded in 1946 in La Condesa. 
The artisanal ice cream is made in a traditional manner with fruits and ice. 
No cream is used and the emphasis is on fresh fruits carefully selected at the local markets.
What started as a family store has now expanded by popularity to nine locations around Mexico City.
We tasted an interesting ice cream made with the traditional Mamey fruit. The Mamey Sapote fruit is native to Mexico and Central America.
We first tasted Mamey in Lima, Peru. We enjoyed the mild and firm texture of the fruit, and as an ice cream, it was also quite tasty.
The mamey sapote ice cream was soft and creamy with an avocado-like texture. It was not too sweet and an enjoyable treat on the Polanco food tour.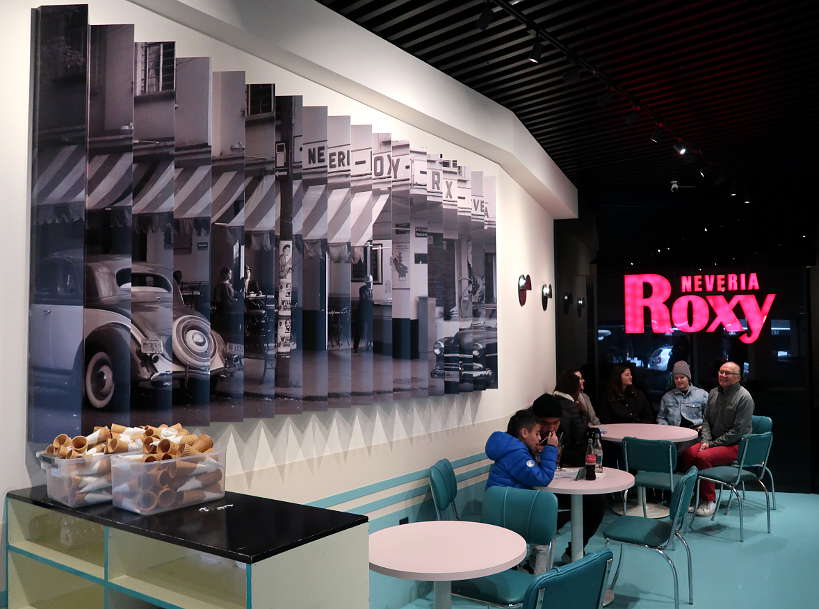 Marlin Fish Tacos
Seafood plays an important role in Mexican cuisine. With native seafood from the Gulf and the Pacific coast, Mexican cuisine has a lot to offer to seafood lovers. 
In Polanco, you will find some of the best seafood restaurants in Mexico City.
Luis took us to a Polanco restaurant dedicated to seafood. We were served fresh Marlin fish tacos made to order. Marlin is a popular fish from the Baja peninsula.
These fish tacos were prepared with Oaxaca cheese and yellow chili. We added red and green salsa to our liking to complete our tacos. 
Served with the tacos was guayaba (guava) aguas frescas, one of our favorite drinks on the tour. Fresh and not overly sweet, this refreshing drink paired well with the tacos.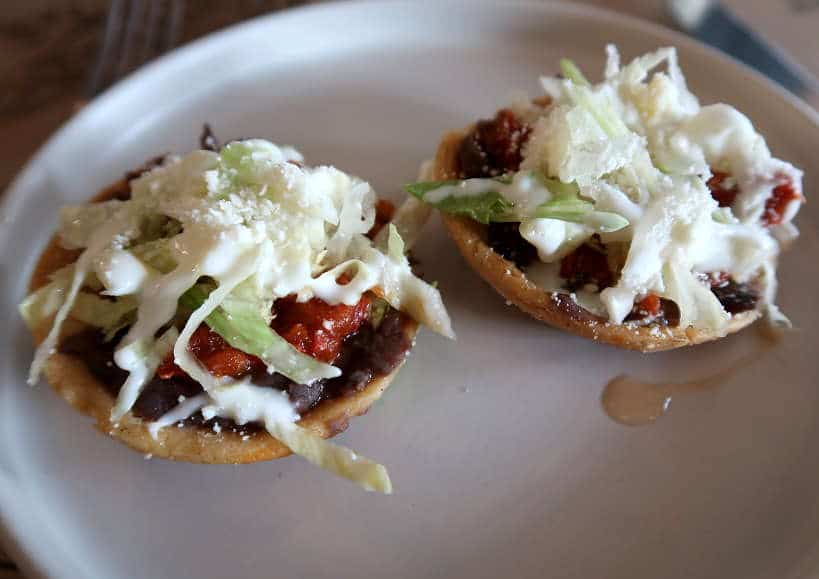 Tacos and Pulque At A Typical Cantina
Cantina's in Mexico were traditionally bars frequented by men for drinking alcohol where women and children were prohibited.
Today, Cantina's have evolved and as Luis told us, are now popular for traditional Mexican food at affordable prices.
We stopped at a popular cantina in Polanco for one of the best traditional Mexican tacos and pulque.
Pulque is an alcoholic beverage made from fermented sap of the agave plant. It is traditionally from Central Mexico, where it has been produced for millennia. 
The Aztecs called pulque "the drink of the gods".
With our tacos, we had pulque curado which is natural pulque mixed with agave honey and blended with fruit or nuts. Ours was flavored with pine nuts and strawberries.
The milky white colored drink with a viscous consistency had a sour yeast-like taste. Because it was a curado, it was mixed with the pine nuts and strawberries making it surprisingly tasty. 
There was a slight sour taste from the fermentation process and the drink was slightly sparkly.
The tacos were also surprising as they had both pork meat and chicharron or fried pork rind, with strips of cactus.  
With the addition of onions, cilantro and a mix of green and red salsas, we relished the delicious flavors.
The unusual pulque and tasty tacos with cactus, made for a wonderful and satiating last stop on this Polanco food tour.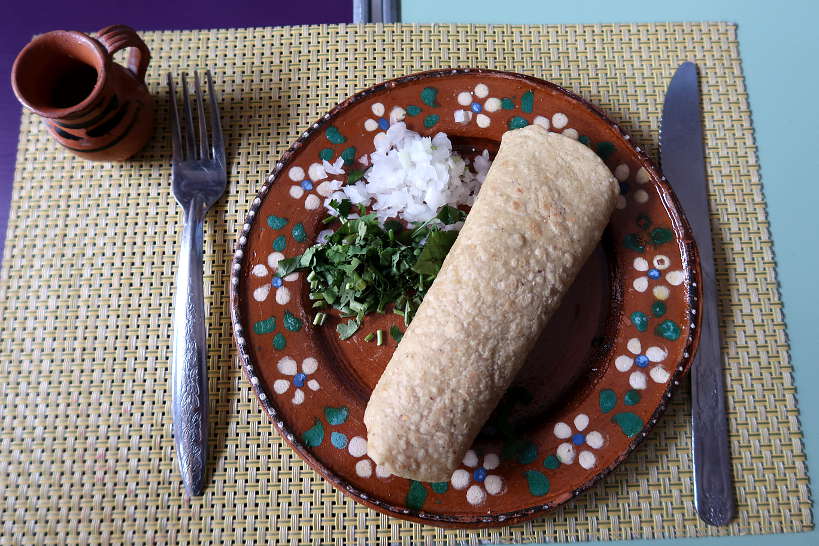 In Summary
If you are looking to taste what Mexico City has the best to offer, this Polanco food tour will definitely hit the spot.
From Oaxacan food to Yucatan cuisine, savor bites served by some of the best restaurants and tacos joints in Mexico city.
Cultural insights from Mexican Food Tours will make you want to revisit Polanco and appreciate it even deeper as you stroll along  the tree-lined streets.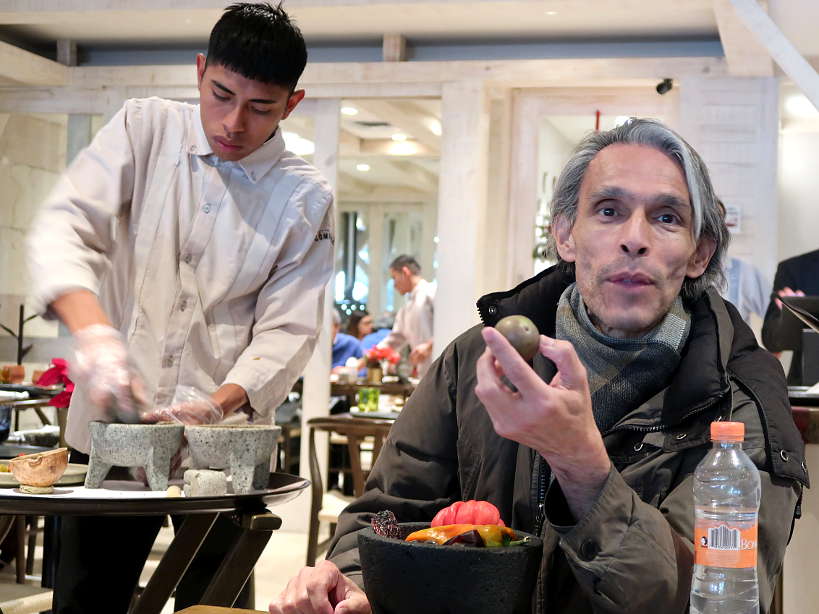 Best Hotels in Polanco Mexico City For Food Lovers
Finding a hotel in Mexico City, with its sprawling urban landscape, can be quite overwhelming.
Polanco, with its walkability, safety, and accessibility to the main sites, is a great area to base yourself in Mexico City. 
To help you get the most out of your trip, we recommend the following hotels in Polanco Mexico City.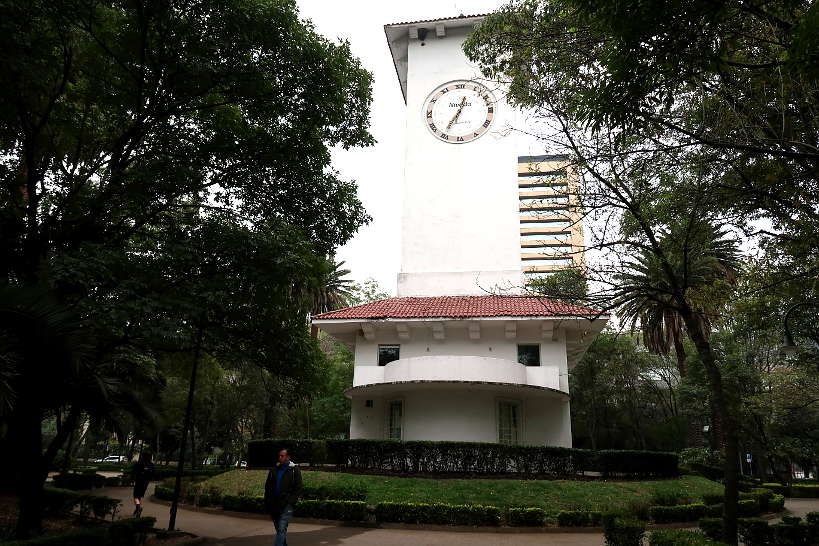 Love it? Pin it!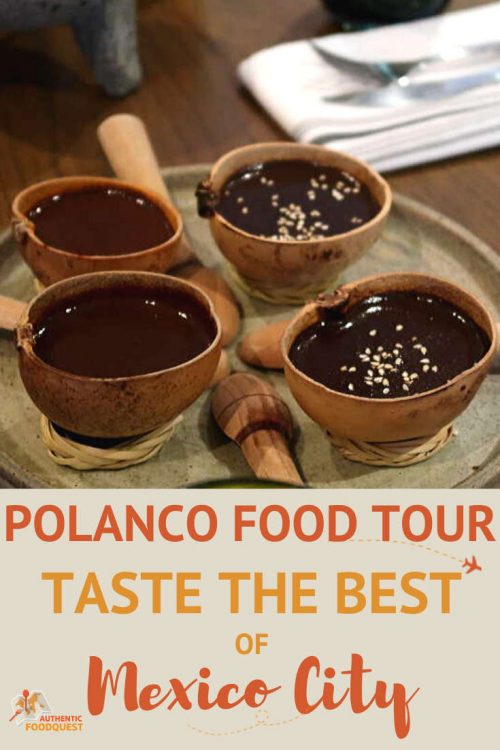 Disclosure: Special thanks to Mexican Food Tours for having us on this Polanco Food tour. All views and opinions expressed are our own. Full bellies and happy taste buds too.
Disclaimer: This page contains affiliate links. That means at no extra charge to you, we earn a small commission when you purchase using these links. Thank you for your support.
Claire is a culinary explorer who travels the world in search of the best local foods. She is always looking for her next culinary adventure to bring you the best bites while exploring new places.