This article has links to products and services we recommend, which we may make a commission from.
Mezcal is one of Mexico's traditional agave-based spirits. Native to Oaxaca and rooted in history, mezcal is gaining popularity, particularly in the U.S.
Being in Oaxaca and as mezcal novices meant that we had to learn about the magical mystery of mezcal from locals.
El Cortijo Mezcaleria, one of the oldest Mezcaleria in Oaxaca was our starting point.
With Gustavo, Mezcal El Cortijo's co-owner, we delved into the history, production, and tasting of this artisanal beverage.
Join us on a mezcal tasting experience at El Cortijo Mezcaleria in Oaxaca.

What is Mezcal?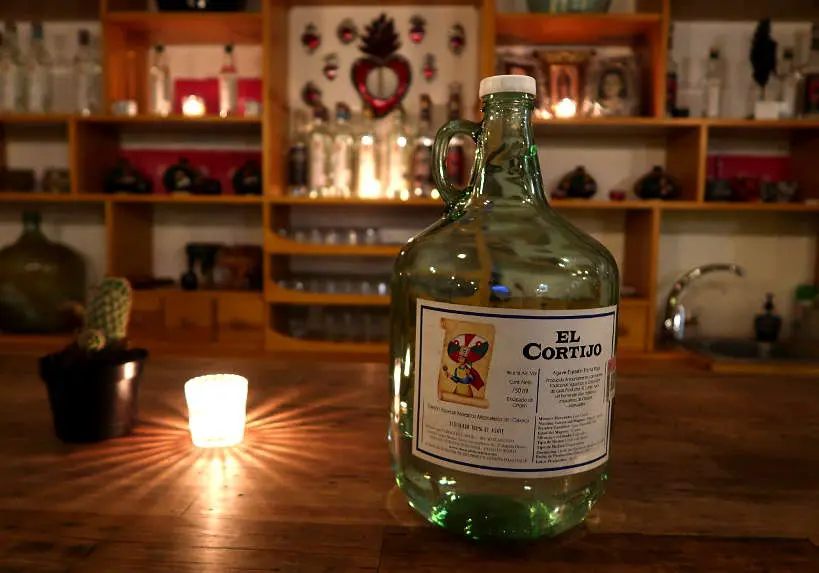 Although Mezcal is becoming increasingly popular, it is still largely unknown. Essentially, Mezcal is a strong distilled alcoholic drink made from the agave plant also known as maguey.
Mezcal is also known as the National Spirit of Mexico. And, judging by its popularity in Mexican restaurants, it wears that designation with pride.
AUTHENTIC FOOD QUEST TIP: Spend the day-in-the-life of a master mezcaleria maker on this tour to traditional palenques or distilleries. About one hour from the center of Oaxaca, you'll visit the region where Mezcal is produced and see the different steps of production at several distilleries. This is an authentic experience and a wonderful way to learn about this important and historic beverage.
Mezcal versus Tequila
Both mezcal and tequila share some similarities and also key differences. These two spirits are made from the agave plant.
While mezcal can be made from 40 – 50 different types of agave, tequila can only be made from one type of agave, the blue agave.
Tequila and mezcal come from different regions of Mexico. Tequila originated in the town of Tequila, north of Guadalajara.
And mezcal, though made in nine regions of Mexico, is typically produced in the Oaxaca region.
One of the most striking differences is in the production process which tends to be industrial for tequila.
Due to demand, quantity is favored over quality. There is an emphasis on producing Tequila with the same consistency in taste and flavor.
For mezcal, the opposite reigns. You're more likely to find family-run businesses making mezcal using artisanal processes.
Mezcal production tends to be a craft and each mezcal produced has different flavors and nuanced taste.
RELATED: Read more about Tequila in our article Food in Guadalajara
Mezcal in Oaxaca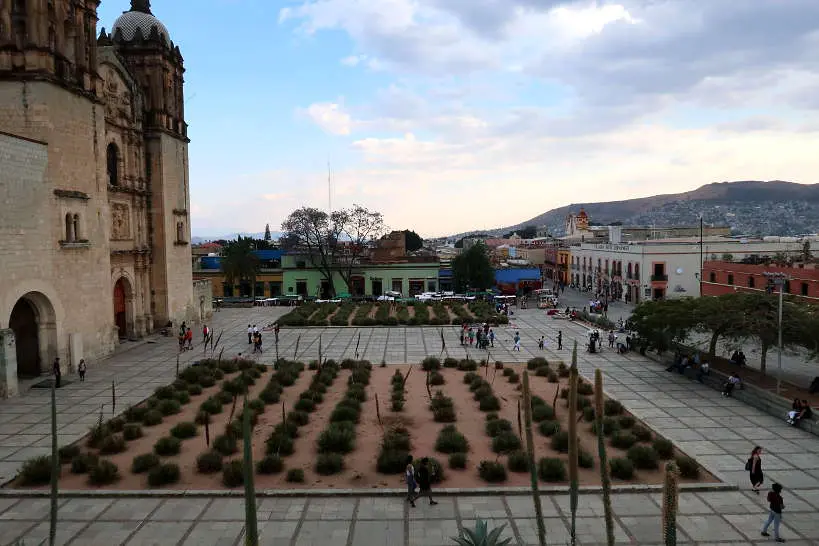 Oaxaca has over 120 varieties of maguey or agave plants and is a privileged region for the production of mezcal.
Santiago de Matatlán, located one hour east of Oaxaca city, is known as the "World Capital of Mezcal".
This small town has the largest concentration of mezcal producers. It is also the departure point for mezcal distillery tours or palenque tours.
RELATED: Read about our fascinating Oaxaca mezcal tour at Geu Beez palenque in Oaxaca
El Cortijo Mezcaleria Oaxaca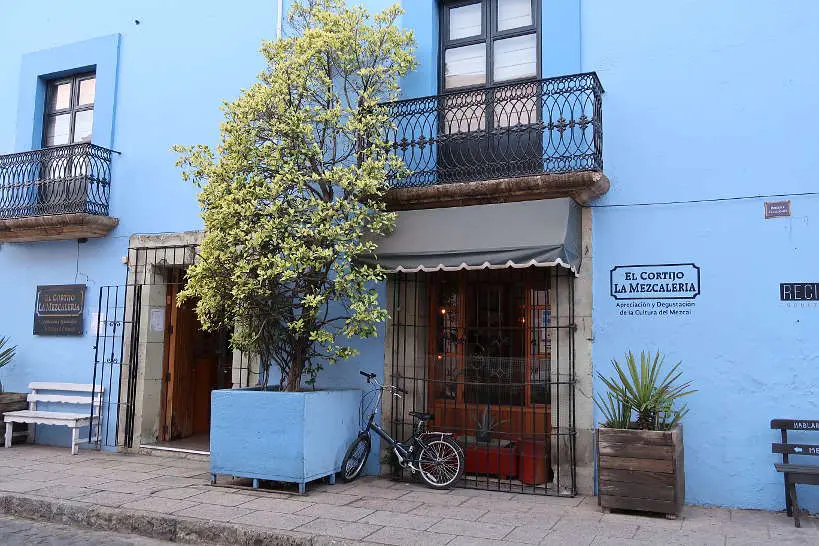 To learn about this famous beverage, we had the opportunity to meet Gustavo, the co-owner of El Cortijo Mezcaleria.
Located a short distance from Santo Domingo Church, we made our way to the quaint bar with blue pastel tones.
El Cortijo is the first mezcal brand established in Oaxaca back in 1951. In 2012, the Mezcaleria or mezcal bar was opened in Oaxaca's historic center.
Mezcaleria El Cortijo is a space dedicated to the promotion of the culture and knowledge of mezcal.
At the bar, you can taste a variety of Oaxaca mezcals, as well as others from different parts of Mexico.
The selection of mezcal offerings is diverse and you can also enjoy cocktails and mezcal margaritas.
Gustavo, we learned, is in charge of running the operations of the Oaxaca Mezcaleria. He is one of the 6th generations of sons to continue the mezcal tradition.
The family has been making mezcal since 1795, at a time when the mezcal was sold in large, simple carafes.
His grandparents were the first in Oaxaca to create the mezcal brand, Mezcal El Cortijo. This was at a time when the Mexican government was pushing for regulations around mezcal.
El Cortijo is known for their high-quality refined mezcal. You will find their bottles sold at some of the most prestigious Mexican restaurants like Pujol or Chapulin.
Each mezcal bottle comes from small production batches, with unique flavors and aromas. This is one of the reasons that makes El Cortijo Mezcal, an exclusive drink, for mezcal connoisseurs.
El Cortijo Mezcal Tasting Experience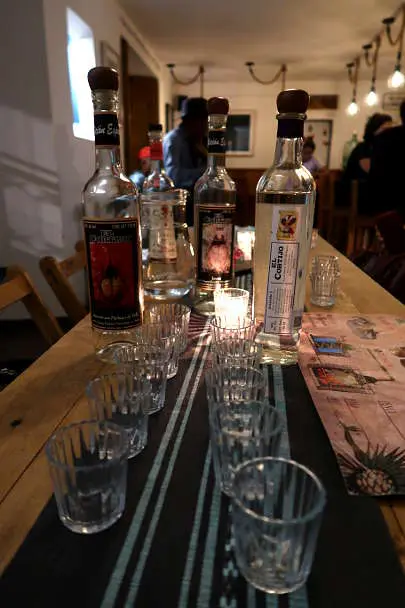 As mezcal beginners, we enjoyed Gustavo's personalized attention as we learned the nuances of this artisanal beverage.
The focus at El Cortijo is on providing the best mezcal, regardless of the small quantities or batches. The mezcal tasting is focused on helping you appreciate the flavors of each mezcal variety.
After understanding how to drink mezcal, we then tasted several from Oaxaca's mezcal regions.
AUTHENTIC FOOD QUEST TIP: Have you ever tried mezcal? Are you curious about Mexico's national spirit? You can have mezcal from Oaxaca shipped directly to your home. Enjoy this Mexican traditional spirit when you order your mezcal here.
How to Drink Mezcal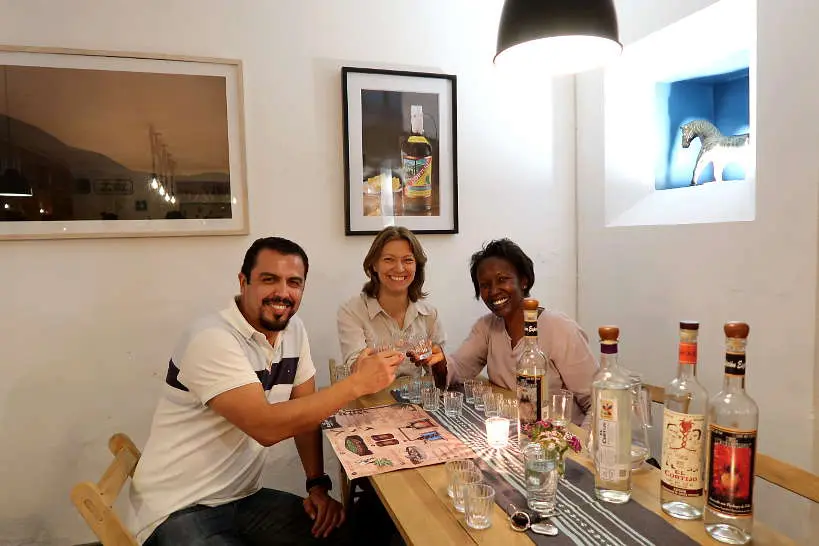 Drinking mezcal is an art. Like any fine beverage, there is a specific technique to release and identify the flavors.
Mezcal is served in small traditional glasses or sipping cups known as copitas, with wide mouths to enable the aromas to unfold.
To begin, one has to resist the urge to toss down this spirit. The idea is to first get acquainted with the flavors.
Gustavo's technique is to progressively smell the alcohol with one nostril and then the second nostrils, before using both together.
Next, slowly taste the mezcal by taking a small sip and let the liquid roll around the tongue for the taste. Do this deliberately so the tongue doesn't have a burning sensation allowing you to sense the full mezcal flavors.
If you take a large gulp right away, you'll find it is too strong and will not be able to appreciate it. The alcohol content in mezcal is typically between 43% to 46%, whereas tequila is only about 35%.
However, as Gustavo emphasized, mezcal has much more capacity for flavor and taste than tequila.
Tasting of Mezcal Espadin and other Mezcal El Cortijo Varieties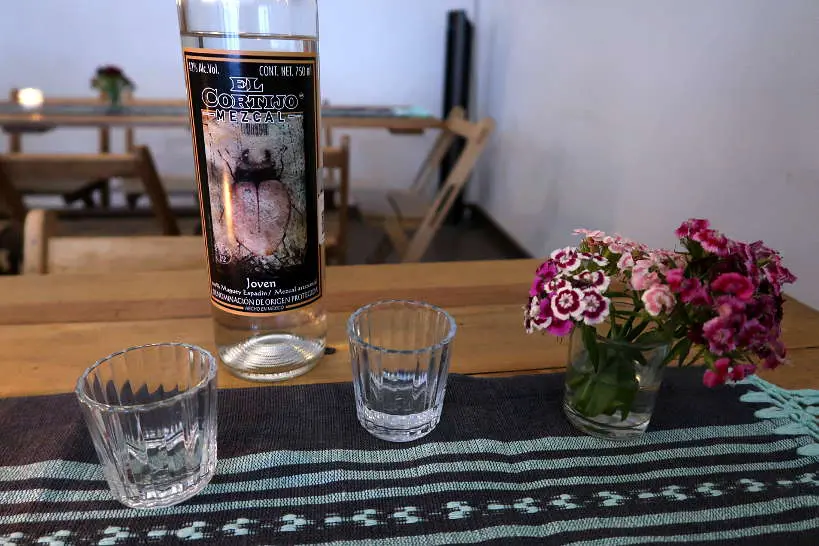 The mezcal tasting was our favorite part of the experience. Similar to wine, we started with the soft and smooth varieties and moved progressively to the stronger flavors.
In total, we tried seven different mezcal varieties. Mezcal tastings at El Cortijo range from Mex$190 – 330 pesos (approx $7.95 – $13.80 USD), for three tastings from basic to premium varieties.
Mezcal Espadin, the most commonly used agave in mezcal is where our tasting journey began. Espadin grows easily and accounts for almost 90% of all mezcal production. This is a classic mezcal with herbal flavors, mildly sweet with citrus notes.
While learning about the different mezcal varieties, we were really surprised by the range. Mezcal Tobala, for instance, is produced in small quantities and is delightfully aromatic.
One of the most difficult agave plants to find and grow is Silvestre. The name, which translates to "wild" in English, grows in Oaxaca's central valley.
The mezcal El Cortijo from agave silvestre or wild agave was intense. At 44% alcohol content, this was a strong, but smooth mezcal with aromas of the forest after rainfall.
The most surprising was Mezcal de Pechuga or mezcal made with raw chicken. This style of mezcal involves hanging a piece of raw chicken breast inside the still during distillation.
Alongside the chicken, El Cortijo adds seven different types of fruits. The resulting mezcal de pechuga was quite fruity with no chicken flavors.
The rest of the mezcals we tasted were hand-crafted without the use of mechanical aids. We sipped on them with a deep appreciation of the labor that goes into making them.
Our Best Mezcal in Oaxaca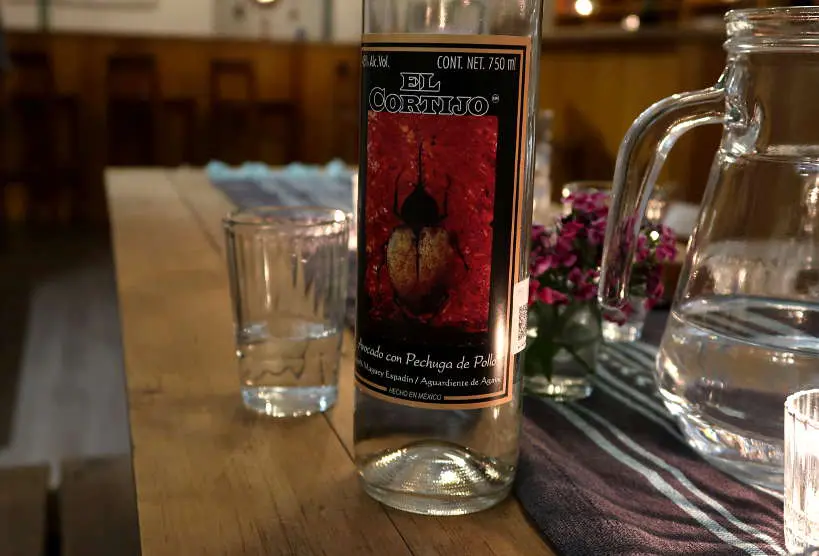 As novices, El Cortijo mezcal tasting experience intimately exposed us to the variety of Mexico's national spirit.
Made from agave plants that take decades to mature, the liquid in bottles represent craftsmanship and rich history.
During the mezcal tasting experience, we each had our preferred varieties. Rosemary enjoyed the fruity flavors of Mezcal de Pechuga and the unusual production story.
The wild mezcal or Silvestre Mezcal was my favorite. Each sip of the intense yet smooth flavored mezcal was delightful.
On the whole, all the mezcal varieties were unique and you can't go wrong with any of the El Cortijo mezcals.
AUTHENTIC FOOD QUEST RECIPE: Pisco Sour is another tasty local cocktail. Use these recipes to make either a Chilean Pisco Sour or Peruvian Pisco Sour at home.
Should You Have Mezcal with Food?
With many restaurants offering mezcal on their menus, we were curious about the best way to appreciate mezcal with food.
Gustavo's response surprised us. Although mezcal can be paired with food, he believes that it is best to have it by itself.
The food in Oaxaca has a lot of condiments and chiles which accentuate mezcal's strong taste. For that reason Gustavo doesn't recommend it with food.
Drinking mezcal makes for a flavorful appetizer before a meal. The sweetest mezcals are also excellent as a digestif after a meal.
AUTHENTIC FOOD QUEST TIP: To go with Mezcal, you can add sal de gusano to the rim of your glass. Made from the worms of agave plants, the salt complements the flavors of mezcal. This tradition comes from the pre-Hispanic times, where agave worms were eaten for their health properties.
El Cortijo Mezcal Distillery or Mezcal Palenque
The production of Mezcal El Cortijo takes place in Santiago de Matatlán, the world capital of Mezcal.
Both the farm and mezcal distillery or palenque are located in Matatlan, about 46 km away from Oaxaca.
El Cortijo Mezcal Tours and Tastings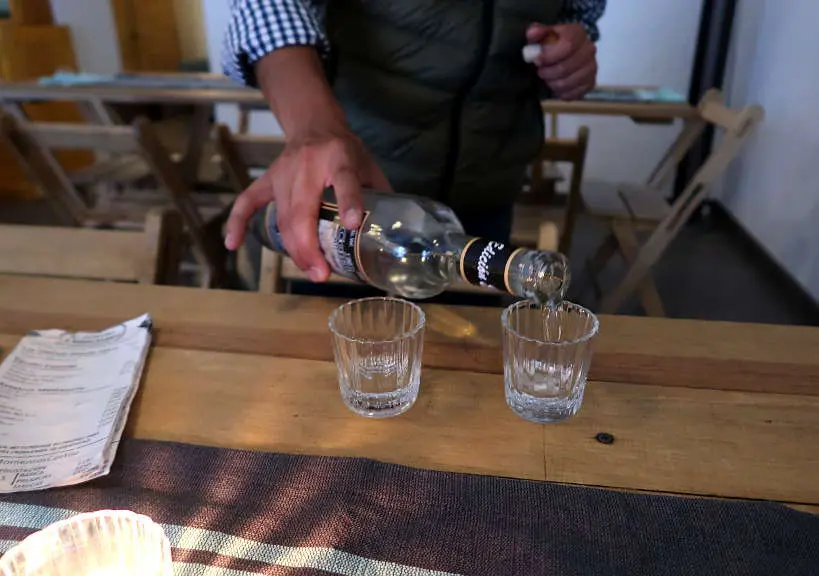 El Cortijo offers mezcal tours in Matatlan. You can visit the farm, distillery and enjoy artisanal mezcal tasting.
The mezcal tours start at the Casa El Cortijo which is at the distillery. This interactive space is the latest addition to the El Cortijo experience showcasing the mezcal experience.
There are a number of tours available. From simple distillery visits all the way to an immersive mezcal experience.
In this case, visitors harvest the maguey, participate in the production process, and finish off with a mezcal tasting.
Tours are offered in both English and Spanish. And, for large groups, a traditional Oaxaca meal around mezcal is also available.
Bookings for Mezcal El Cortijo tours can be made by phone or by visiting the Mezcaleria in Oaxaca.
Artisanal Mezcal Production Process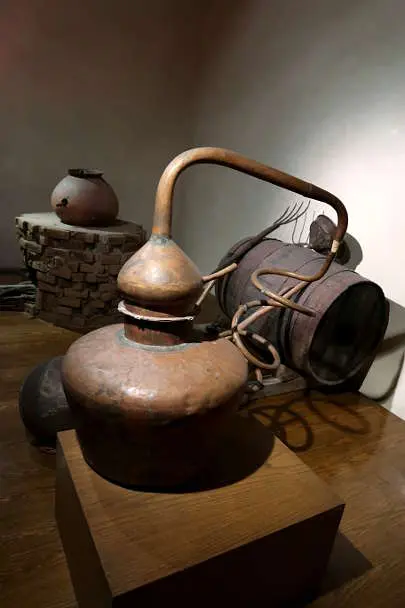 Listening to Gustavo detail the mezcal making process, got us excited about visiting the palenque.
While we were scheduled to visit the farm and distillery that morning, our visit was postponed due to Covid-19 contingency measures.
We hope to visit the farm once businesses reopen. In the meantime, here's how Gustavo talked about the El Cortijo production process.
The mezcal comes from the core of the maguey also called piña which can weigh up to 250 kilos. And, it takes about 6,000 kilos of pina to make a production of 600 liters of mezcal bottles.
While maguey Espadin needs about 8 years before harvest, some maguey like the Tepeztate can take up to 25 years.
The process consists of burning the core of the maguey underground with specific types of wood. Then, the cooked maguey goes to maceration, fermentation, and the final step, distillation.
The distillation is traditionally done with wood, twice, and results in a transparent mezcal, ready for bottling.
The entire process takes about 25 days to complete. Very little machinery is used and a lot of physical labor and patience is required.
Visiting the palenque and participating in the production process is part of understanding mezcal. While waiting for our future visit, we savor the flavors with an appreciation of the artisans.

In Summary
A mezcal tasting at El Cortijo Mezcaleria is a journey into the tradition and significance of mezcal in Oaxaca.
More than a tasting, it is an enlightening experience into the world of mezcal.
From learning about agave plants to savoring mezcal flavors, we left fascinated by its rich history and distinctive taste.
If you've never tried mezcal before, we invite you to discover this spirit. Go beyond tequila, an industrial drink that is increasingly being mass-produced.
Instead, discover mezcal and open up to the world of Mexican artisans, unique flavors, and refined drinks.
Have you had Mezcal before? Let us know in the comments below?
Savor the Adventure!
Love Mezcal El Cortijo? Pin it!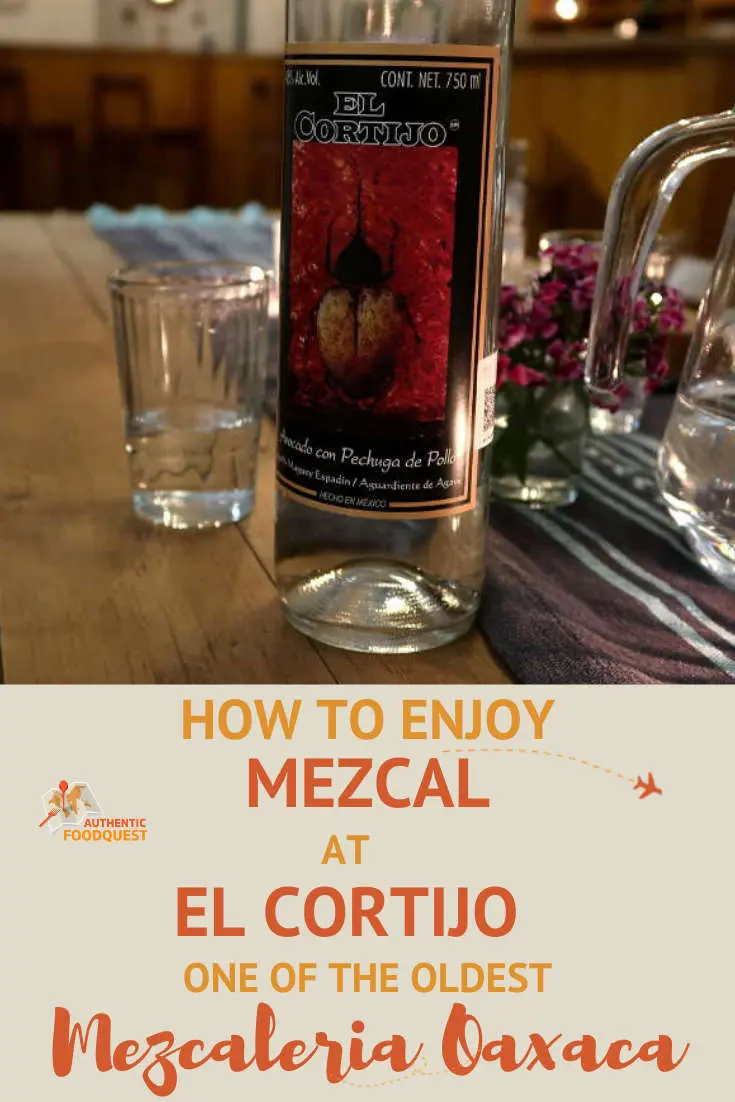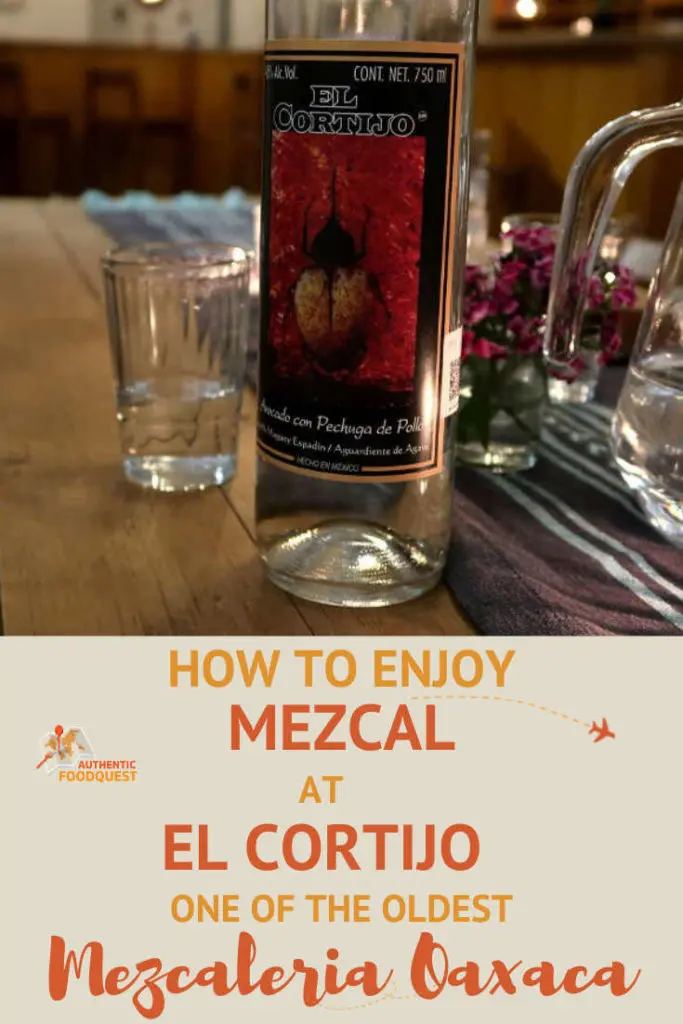 Disclaimer: Thanks to El Cortijo Mezcaleria and the Oaxaca Tourism Board for this enlightening mezcal tasting experience. All views and opinions expressed are our own. Full bellies and happy taste buds too!
Claire is co-founder of Authentic Food Quest and a lover of simple and exquisite cuisine. Since 2015, with her partner, Rosemary, she has been traveling the world as a digital nomad, creating content about local food experiences.
Her advice from visiting 45 countries and more than 240 food cities has been featured in Lonely Planet, Business Insider, Honest Cooking, Food Insider, and Huffington Post. She has also co-authored three books, including one in collaboration with Costa Brava Tourism.
An ex-mechanical engineer, Claire is responsible for SEO, keeping the website running, and the fun food & travel videos on YouTube.
When Claire is not eating, she can be found running or cycling. Find out more about Authentic Food Quest