Going behind the scenes and talking to experts about the local food culture is an important aspect of identifying the authentic food of a place.
On a recent visit to the Palmetto State, where we were exploring the food in South Carolina for the first time, we found ourselves asking;
What is Southern food?
What food is local to South Carolina?
What brings everyone around a dinner table and what excites the senses?
To help answer these questions, we had the privilege of spending time with Nathalie Dupree, the Queen of Southern cuisine in Charleston. In addition, we also spoke with other South Carolina chefs who are defining and celebrating the local food culture.
The conversations started in Columbia, the capital, and ended in Charleston, the historic food city.
From the experts, let's go behind the scenes and discover what makes South Carolina food so special.

Chef Wesley Fulmer at Motor Supply Co. Bistro, Columbia
In Columbia, the State Capital, we had the opportunity to meet chef Wesley Fulmer, of Motor Supply Co. Bistro
The restaurant, in the vibrant Congaree Vista district, is a renovated engine supply building from the late 1800s. Since 2014, chef Wesley Fulmer has been the guiding force behind the restaurant's success.
Fulmer and his culinary team have led Motor Supply to garner a variety of major awards. They have been featured in The Local Palate magazine mentioned by Food & Wine Magazine online, Travel + Leisure, Fodor's Travel and the UK's Telegraph.
In addition, they have received the local readers' choice awards for "Best Restaurant" in 2015-2018 (The State, Free Times and Columbia Metropolitan Magazine).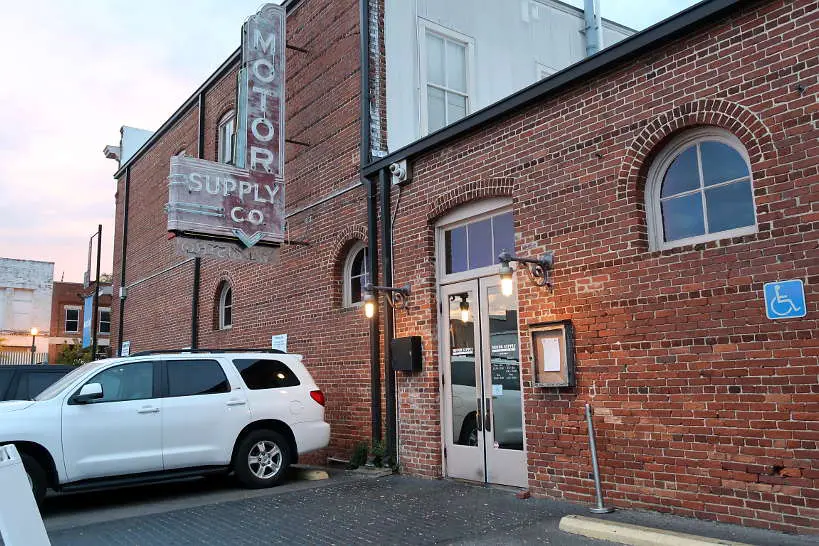 The Food at Motor Supply Co.Bistro: Sustainable and Local Cuisine
While looking over the menu, we were struck by the emphasis on local ingredients. On the menu and on boards around the restaurant, were names of local farms and producers.
On a busy Thursday evening, chef Fulmer stopped by and talked about his cooking philosophy and cuisine. The restaurant puts a strong emphasis on sustainable, organic and near-organic ingredients.
Chef Fulmer told us, my main goal is to be sustainable. Just because it's local doesn't make it good." He went on to talk about his commitment to working with sustainable farmers and using heirloom produce, which is being saved from extinction by South Carolina farmers.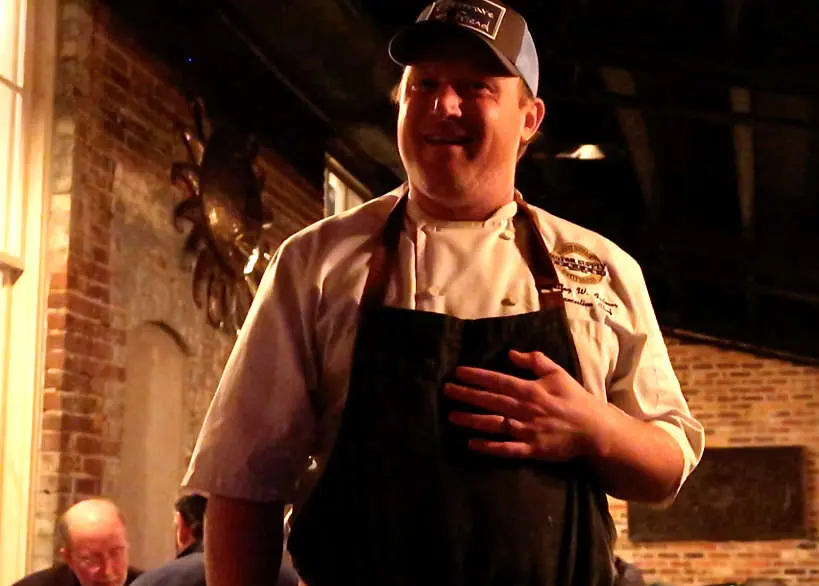 Defining South Carolina Cuisine
What is South Carolina food is one of the questions we wanted to be answered. And when we posed the question to chef Fulmer, we were surprised.
"I don't think you can actually define Southern food," Fulmer said. "I've cooked in different kitchens around the country – three times in Charleston and in Avignon France. I want to cook food that is relatable. I want to cook the food that people eat at their grandmothers or friends homes."
"And when you can have it in a restaurant in a refined way, that's what symbolizes Southern food or home-cooking for me."
The bone-in pork chop on the menu is an example of a dish that typifies his cooking philosophy as well as Southern food.
"That's Southern cooking is defined in the pork", he said as he pointed to Claire's plate. "In that dish", you have the pork chop, collard greens, jus, cooking on slow heat for over 12 hours."
The pork is sourced from heritage pigs and the local ingredients come from nearby organic farms. The combination of flavors made for a delectable experience and a wonderful expression of Southern cuisine.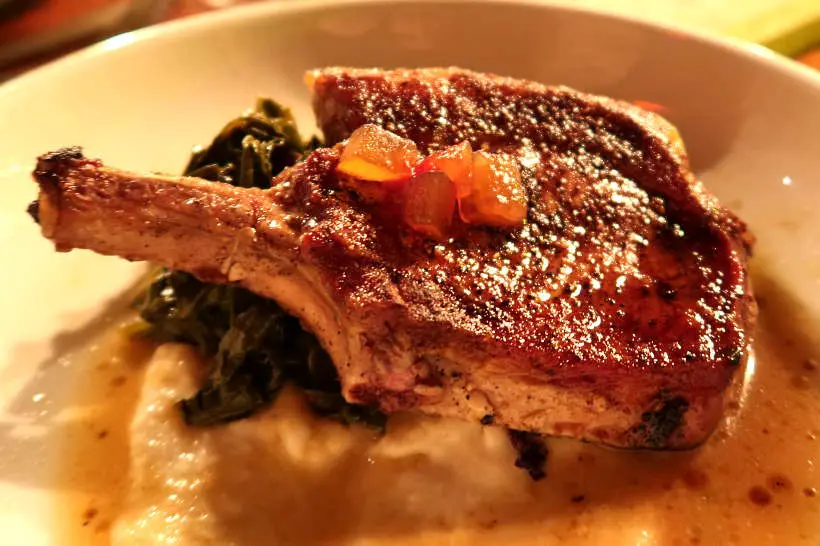 Chef Forrest Parker at Revival, Charleston
In Charleston, our first stop was at Revival Restaurant. We could not wait to meet chef Forrest Parker, who focuses on recipes and ingredients from South Carolina's past.
The concept of the restaurant is based on working with local farmers to "revive" certain ingredients and utilize them in dishes. Chef Parker's innovative dishes, deep knowledge of South Carolina's culinary roots and championing the work of heritage food producers led to his being named a South Carolina Chef Ambassador in 2016.
The restaurant Revival, is part of The Vendue, Charleston's Art Hotel. Featuring over 300 pieces of original art, you'll find this boutique hotel in the French Quarter.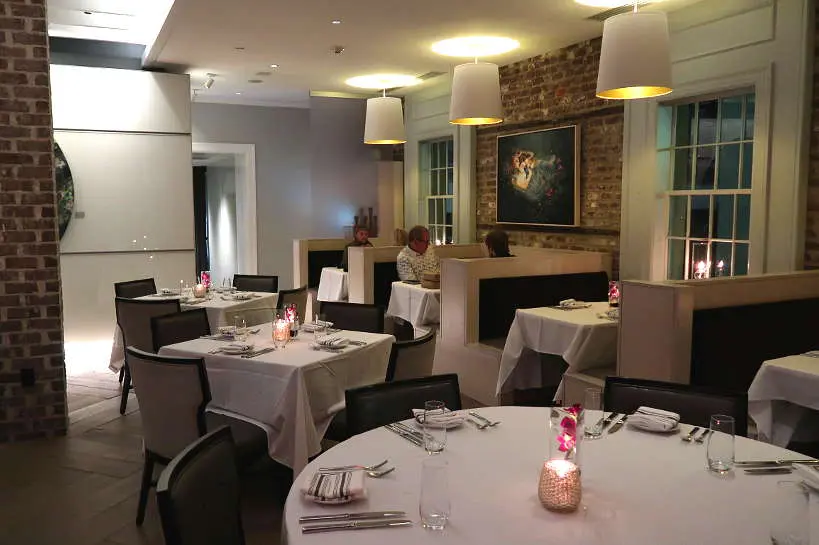 The Food At Revival: South Carolina Heritage Cuisine
As we were looking over the menu, chef Parker came by and introduced himself. Open and very friendly, we seized the opportunity to ask him about the restaurant and the menu.
Depending on what poll or ranking you are reading, "Charleston", he said "is ranked as one of the most desirable travel destinations. "Doesn't it follow", he added, " that the people coming to visit want to taste something evocative of place and time."
At Revival, he said, "we want to shed a light on the shared agricultural history of South Carolina. We are going through a renaissance in South Carolina with many lost grains and vegetables that went away with the advent of industrialized culture at the end of the 19th century, beginning of the 20th century."
"And today", he added, "there are academics are going through rice fields with tree jackets and snake boots, observing leaf morphology and stuff like that to really identify the lost strains".
Chef Parker continued and said, "and while we don't have the full picture, increasingly, we have little pixelations of what some of those flavors might have been. Now, we get to eat something that reflects where we are, and things we could have eaten 100 or 200 years ago."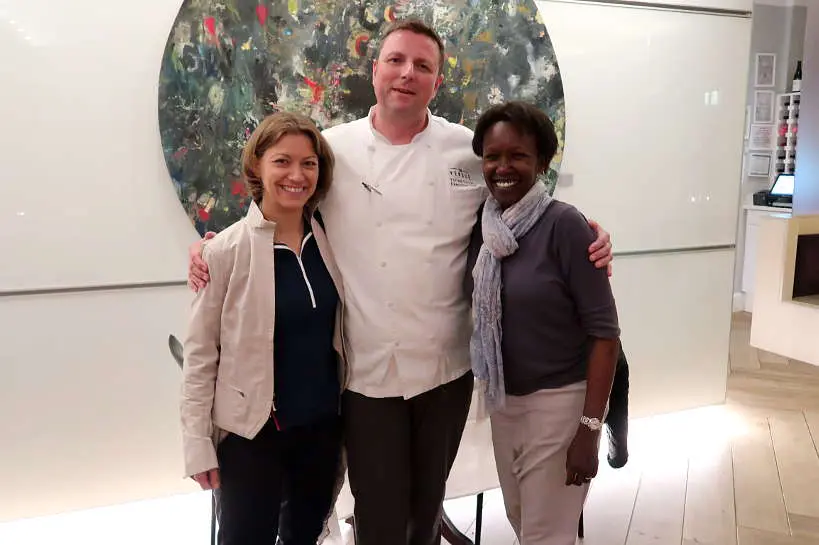 Lowcountry Cuisine and South Carolina Gold Rice
The menu at Revival is peppered with that philosophy. To illustrate the point about lost grains, chef Parker talked about South Carolina's rice heritage.
He said, "South Carolina is basically a rice culture and Carolina Gold Rice was basically the rice that was favored." On the menu was a Lowcountry Pirlou that featured Carolina Gold Rice.
This dish, chef Parker added, "is a nod to the Spanish influence, as the first Europeans who settled about 100 years before Charles Town was settled in 1670. That's frequently forgotten, so we wanted to shed a light to that."
Carolina Gold Rice, we learned is "soft rice which would break up during the winnowing process. Typically, the whole rice was exported and the broken rice was eaten commonly and referred to as Midlands Rice Grits."
The reference to broken rice took us back to a Vietnamese cooking class we had in Ho Chi Minh City. At the cooking class, we learned how to make Cơm Tấm, a popular Vietnamese dish made with broken rice.
Just like in South Carolina, the whole and unbroken rice was exported, and the broken rice was eaten by the locals, as it was less expensive. Today, Vietnamese chefs favor broken rice and use in many recipes. An interesting parallel to what is happening in South Carolina.
Other items chef Parker features with a direct link to an ancestral storyline are the hearts of palmetto salad, African Runner peanuts, Bradford Watermelons and more.
For a fascinating journey through time and to taste South Carolina flavors centuries ago, stop by Revival on your next trip to Charleston. Enjoy chef Parker's fantastic stories as you savor the multi-layered flavors of the past.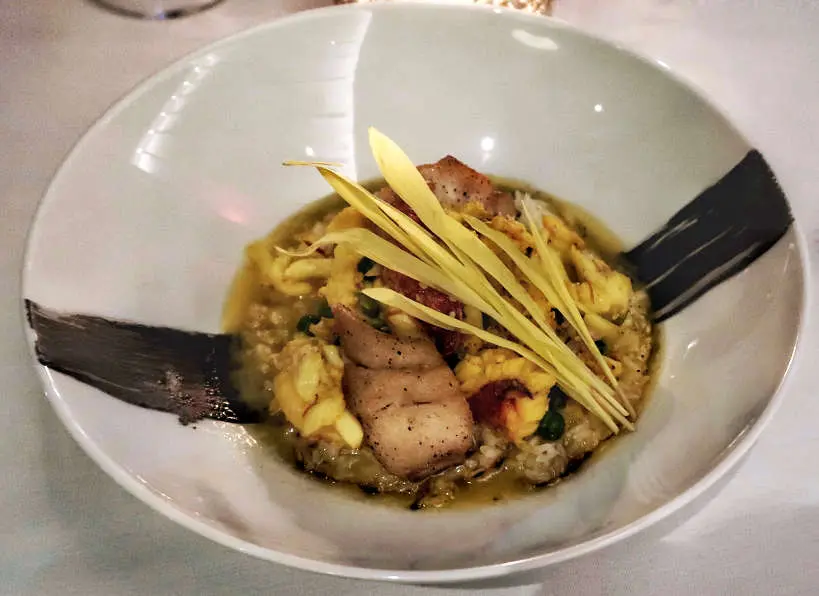 A Conversation with Nathalie Dupree: The Queen of Southern Cuisine
To learn about Southern food and Charleston specialties, we could not have been more excited to meet the "Queen of Southern Cuisine", Nathalie Dupree.
At Hominy Grill, one of Charleston's beloved local restaurants, Nathalie generously shared her thoughts about Southern food.
Nathalie Dupree, for those who may not know, is one of the biggest culinary stars in South Carolina. A doyenne of Southern cuisine, she was a dominant food television personality in the late 1980s and early 1990s. Nathalie Dupree has written more than 14 cookbooks about entertaining, basic cooking and American Southern food.
Her work has won wide recognition including four James Beard Awards and numerous others. She was awarded the honor of "Grande Dame" for Les Dames d'Escoffier, for women who have excelled in the food industry. And she has hosted more than 300 TV shows for stations like the Food Network, the Learning Channel, and PBS, all the while teaching cooking classes and writing columns for several publications. You can read more about her impressive background on her website.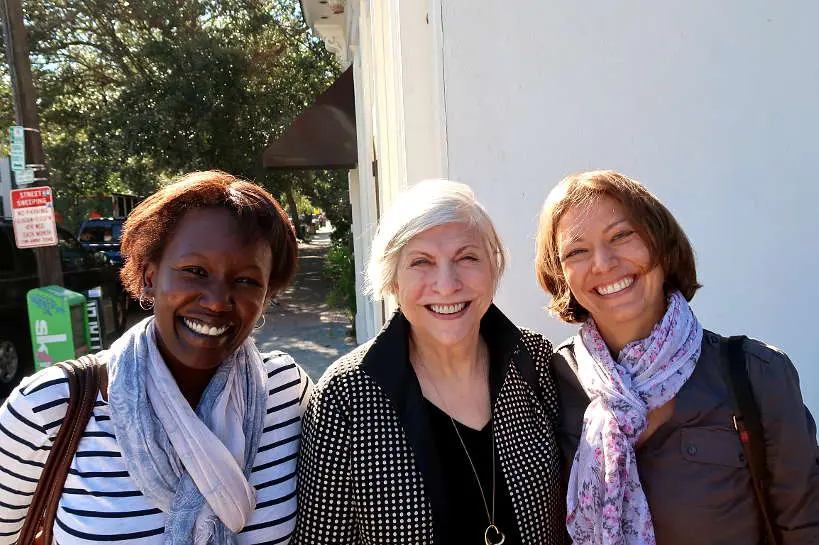 Introducing New Southern Cuisine
"I've been very interested for years in really getting Southern cooking on the map as it is more than just what people thought it was… going to buffets," Nathalie told us.
New Southern cuisine is a cooking technique Nathalie introduced to further Southern cooking's reach. As she told us, "I had been living in Spain and London in the 1970s and then moved to the country and opened a restaurant in the state of Georgia. I found that Southern cooking needed new techniques."
She gave the example of cooking zucchini which she said, "at the time, there were things like zucchini that weren't well known and were cooked in the old way. I would stir fry zucchini, rather than cooking them soaked for about 1/2 an hour or so. I called them new so that people wouldn't be expecting the old. Since that time it's become pretty normal, I was just ahead of the trend."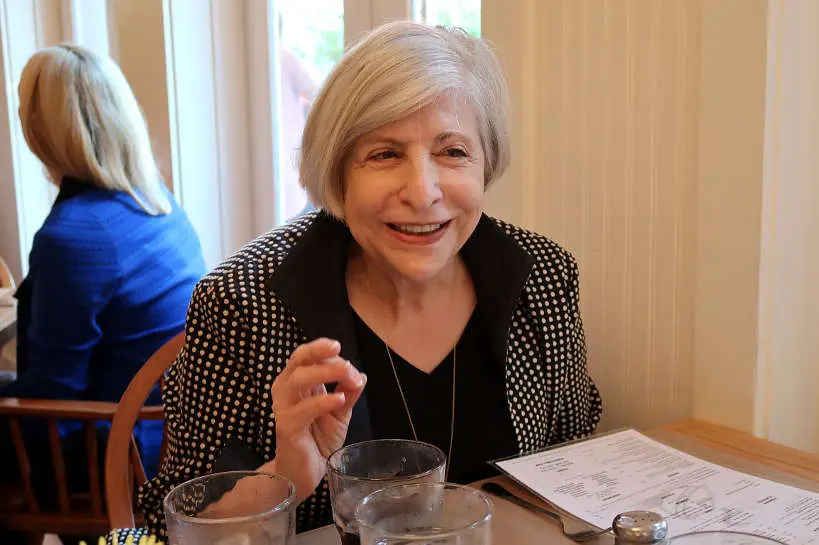 Curious, we asked Nathalie her thoughts about the food that defines Charleston. And like we heard from chef Parker at Revival, rice is the State's iconic ingredient. Nathalie told us, "I think seafood and rice are very Charleston. We get fresh seafood off the boats and people come from all over because of our rice culture."
In terms of local dishes, Nathalie added, "shrimp and grits is one of the classic dishes" that best defines the region. Talking about the food in Charleston in general, she said: "I think the food in Charleston will stay pretty Southern and South Carolinian by and large."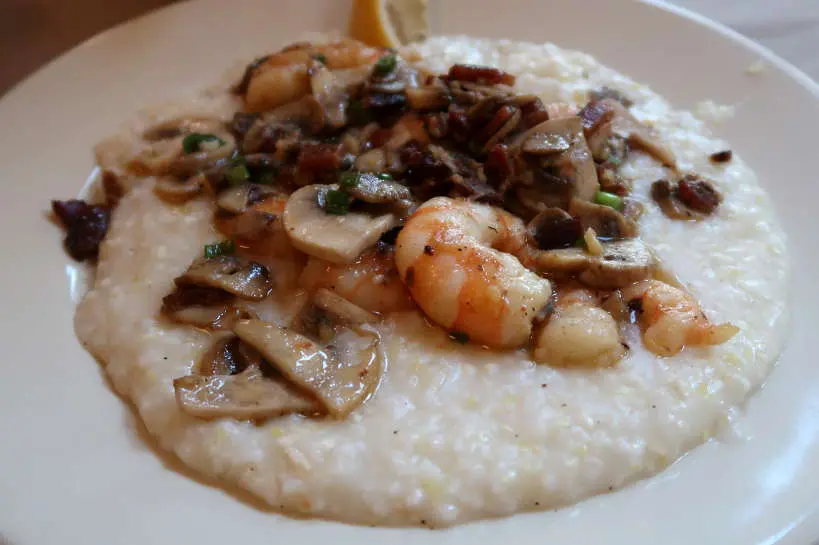 In Summary
A journey through food in South Carolina is more than a culinary experience. It is taking a bite into history. Each dish has a story to tell. Home cooking brings everyone to the table and the experience is elevated with the use of sustainable and local ingredients.
Discovering the importance of the State's rice heritage and seeing it expressed in different dishes was quite remarkable.
Nathalie Dupree, as well as chefs Fulmer and Parker, spoke with a deep respect for the land, history, and culture. They each strive to use the highest quality local products while celebrating ingredients and techniques of the past. Even though some cooking styles are evolving to reflect changing tastes, there is time-honored respect for South Carolina's culinary heritage.
As chef Forrest Parker said, "to shed light on the background and history of the food, it's important to acknowledge we are standing on the shoulders of giants. We wouldn't be where we are today without them."
Disclosure: Our time in South Carolina was in partnership with Discover South Carolina Tourism
Watch below video with Nathalie Dupree and Southern Cuisine
Love it? Pin it!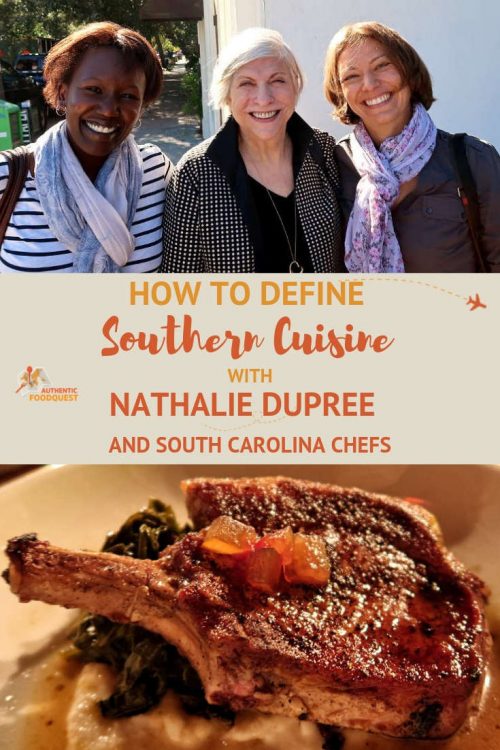 Rosemary is the editor-in-chief and strategist at Authentic Food Quest.
Traveling slow since 2015 with her partner, Claire, she has explored the cuisine in 45 countries and more than 240+ culinary cities.
Her writing about local food specialties has been featured in Lonely Planet, Business Insider, Honest Cooking, Food Insider, and Huffington Post.
As a food and travel writer, Rosemary has co-authored three books, including one in collaboration with Costa Brava Tourism.
Rosemary is an avid runner when she's not eating and exploring new destinations. She has run ten marathons and counting.
Before Authentic Food Quest, Rosemary held senior-level strategy positions in advertising. 
Find out more about Authentic Food Quest