You might wonder what is Nikkei cuisine or Japanese Peruvian cuisine? And why we say it will make you salivate. To start, we need to first understand what Nikkei means. Nikkei refers to Japanese people living outside of Japan. This term has been expanded to include the innovative cuisine that results when you merge traditional Peruvian ingredients and Japanese cuisine. The Japanese Peruvian cuisine that resulted is the most intriguing cuisine of Peru.
You may not be aware, but Peru actually has the second largest Japanese population in South America after Brazil. As a matter of fact, Peru was the first country in South America to set up diplomatic relations with Japan and accept immigrants. At the end of the 19th century, when Japan was pushing farmers to immigrate, 790 Japanese pioneers migrated to Peru with the promise of farm jobs. The Japanese immigrants worked in the fields, mainly in sugarcane plantations, and later on settled in the cities opening their own small businesses.The Japanese started integrating with Peruvians, bringing their culinary heritage and their own techniques.
Nikkei cuisine was born as a result of the fusion of Japanese recipes and traditions with Peruvian ingredients.
The Japanese introduced new ingredients to Peruvian cuisine like miso, ginger, soy, wasabi and rice vinegar. They also integrated Peruvian ingredients such as aji or yellow pepper, Andes potatoes and corn. This fusion of the two cuisine cultures didn't happen overnight but took place progressively. Today, Nikkei cuisine is constantly evolving. The best way to understand it is by experiencing it in the many Nikkei restaurants of Lima.
We would like to introduce you to five of the most traditional Japanese Peruvian dishes we sampled at different restaurants in Lima, Peru on our quest for authentic food.

5 Dishes Inspired By Japanese Peruvian Cuisine
#1: Ceviche Nikkei
Ceviche is often considered as Peru's favorite dish. To the extent that the Peruvian government created National Ceviche Day in 2008 to honor Ceviche as part of Peru's national heritage. We wrote more on this in a previous post. The recipe for traditional Peruvian Ceviche calls for long hours of marinating fresh fish in lime juice until it is "cooked."
When it comes to the Nikkei approach to ceviche, lime is added only for few minutes on the fish before serving, keeping it from "overcooking." Additionally, ginger is added to provide additional flavor as well as soy sauce.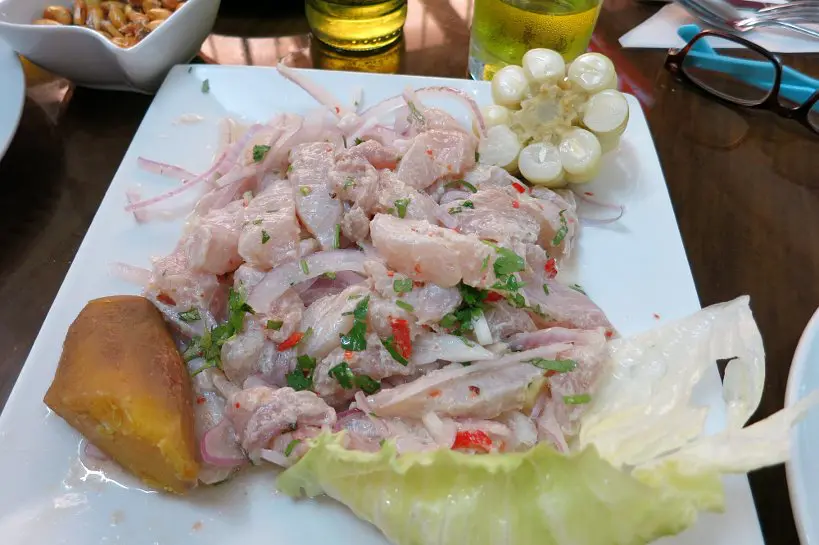 We enjoyed Ceviche Nikkei at Cevicheria Lobo de Mar Otani located in Miraflores in Lima. The fish was deliciously and fresh with a nice lime flavor and a zingy taste.
#2: Tiradito – Sake No Niwa – Salmon/Quinoa Sashimi
Tiradito is one of the Nikkei dishes that most reflects the Japanese influence on Peruvian cuisine. It is a dish of raw fish which is thinly cut giving it the appearance of carpaccio or sashimi.
Where Tiradito differs from Ceviche is that with the Tiradito, the fish is thinly sliced, while the fish in ceviche is cubed. Tiradito, like sashimi is served raw and usually prepared immediately after ordering. Tiradito is also not served with raw onions, removing the onion mordant flavor.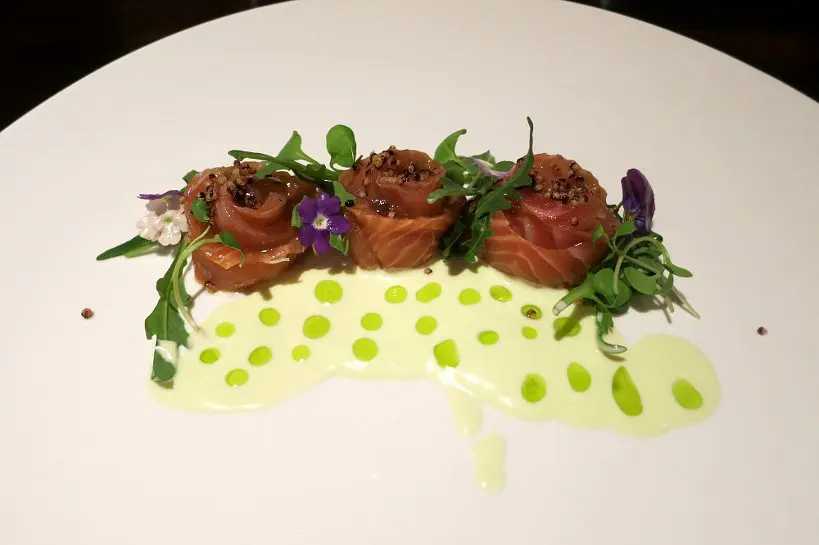 We had Tiradito at a fairly new Japanese Peruvian restaurant in Lima called Tzuru located in the San Isidro district.
This Tiradito was named: Sake No Niwa. It consisted of three thinly sliced rolled salmon pieces, served with arugula, quinoa, dill and a creamy chili sauce. The freshness of the salmon with the combination of the bitter and mild flavor was exceptional. The pieces of salmon literally melted in the mouth. An exquisite delight!
#3: Amazon Nikkei – De La Selva Lo Nikkei
Japanese Peruvian or Nikkei cuisine extends to the Amazon Jungle. This particular Nikkei dish incorporates slices of a fish from the Amazon called Paiche (pronounced pie-chay).
The other ingredients are a creative mix of Japanese and Peruvian blends: anticucho dressing, white miso causa, chonta salad and cocona and mirin vinaigrette.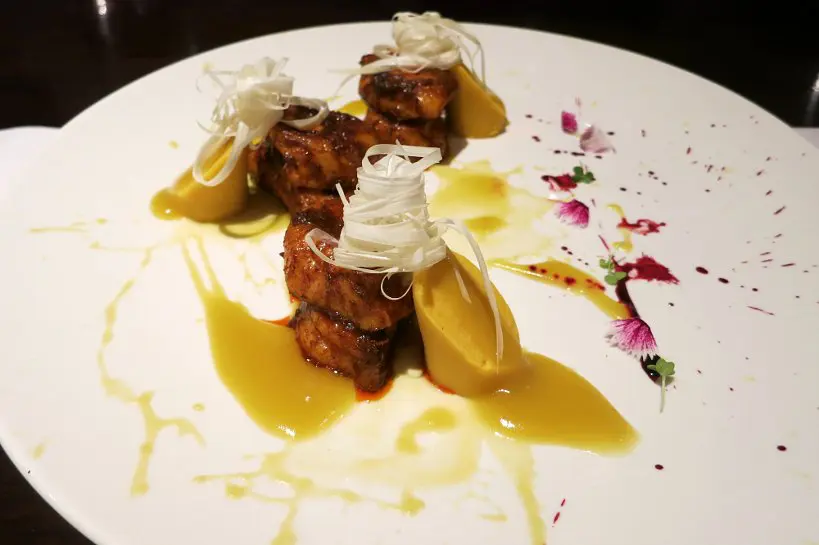 We tried this unique Nikkei dish at Tzuru. The first thing that captivated our attention was the fresh smell of the fish. Tasting the first bite of the paiche from the amazon was utterly delicious. Wonderfully tender and with a bit of spicy flavor from the sauces. The ensalada de chonta, which looks like spaghetti, had a smooth taste and was the perfect complement to cut the spicy taste of the paiche.
What a delightful way to experience this unique Amazonian fish.
#4: Pancayaki – Maki with Octopus
One of the classic or traditional Japanese Peruvian food is the re-interpreted Maki roll. This particular maki roll from Tzuru had: avocado, onion tempura, octopus, anticuchera sauce, mushrooms and native Andean potatoes sprinkled on top. This was a magnificent dish. The onion combined with the octopus and everything else was truly a magnificent explosion in the mouth.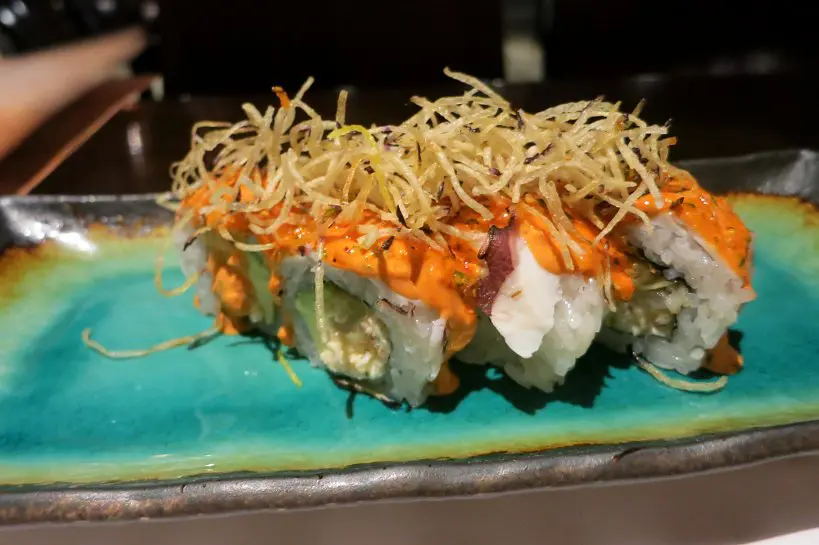 #5: El Barranquino – Salmon and Sweet Potato Puree
As we were discovering Lima, we visited the Barranco district and stumbled upon a Nikkei restaurant called Hosso Sushi and Cebiche Bar. Here we ordered one of their classic Nikkei specialities called "El Barranquino".
On a black platter, we were served 5 slices of salmon balancing delicately on a bed of sweet potato (camote) puree, with a touch of wasabi. Alongside was a salsa made with cocona, a fruit from the Amazon jungle.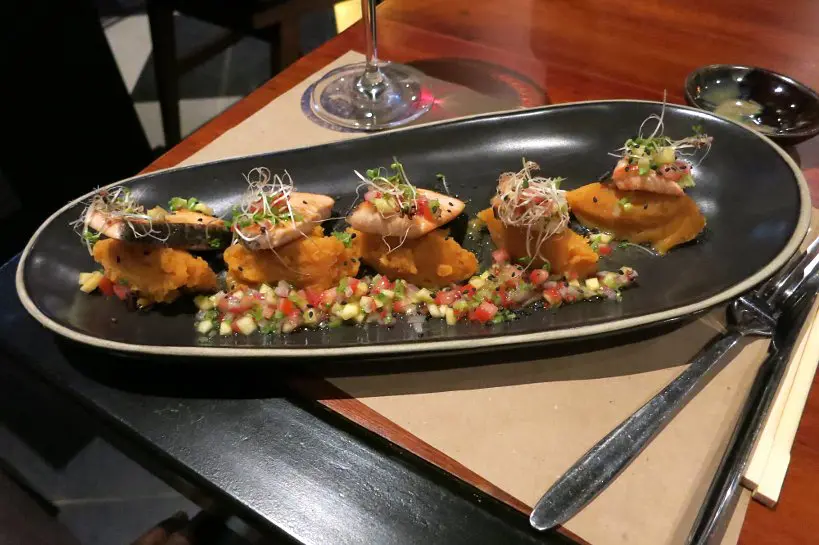 The dish was quite filling and heavier than expected. At first, 5 pieces of salmon did not seem like it would be enough. However when combined with the sweet potato puree, this dish ended up being much more filling than expected. The sweet and spicy salsa was refreshing and helped balance the taste of the sweet potatoes. In short, this was a delicious example of the fusion of Japanese Peruvian cultures.
Summary
The immigrant culture and the influence on the cuisine in Peru is very strong. We wrote previously about the influence of the Chinese and Africans on Peruvian cuisine.
The Japanese Peruvian cuisine has been one of the most fascinating discoveries. The subtle transformation of fish and seafood by the Japanese to create Nikkei cuisine is nothing short of remarkable. For your next trip to Peru, do yourself a favor and and try this unique Nikkei cuisine. Experience for yourself this ever evolving fusion of flavors.
Have you tried Japanese Peruvian food before? Tell us what you think about it in the comments below?

Locations Mentioned
Cevicheria Lobo de Mar Otani, Colon 587, Miraflores, Lima, Peru.
Hosso, Malecón Castilla 111, Baranco, Lima, Peru.
Tzuru, Calle 21 707, San Isidro, Peru.
Savor The Adventure!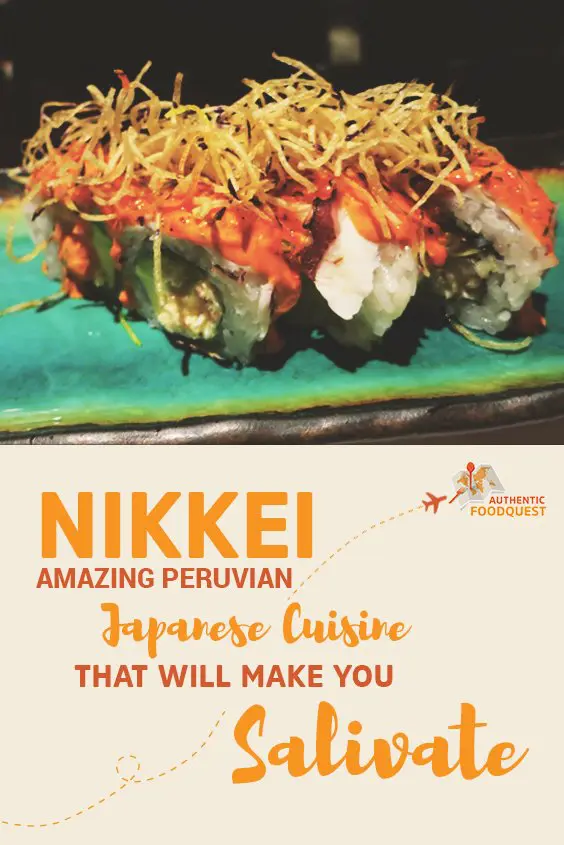 Claire is co-founder of Authentic Food Quest and a lover of simple and exquisite cuisine. Since 2015, with her partner, Rosemary, she has been traveling the world as a digital nomad, creating content about local food experiences.
Her advice from visiting 45 countries and more than 240 food cities has been featured in Lonely Planet, Business Insider, Honest Cooking, Food Insider, and Huffington Post. She has also co-authored three books, including one in collaboration with Costa Brava Tourism.
An ex-mechanical engineer, Claire is responsible for SEO, keeping the website running, and the fun food & travel videos on YouTube.
When Claire is not eating, she can be found running or cycling. Find out more about Authentic Food Quest