This article has links to products and services we recommend, which we may make a commission from.
Going on a mezcal tour in Oaxaca was one of the most fascinating experiences we had during our stay.
Considered the "national spirit of Mexico", mezcal has deep roots in Oaxaca, where it plays a vital role in daily life.
Mezcal is traditionally made in small batches by families who have been making mezcal for generations.
In Oaxaca, you can sample the smoky spirit at several mezcalerias around town.
While you can savor this beverage anywhere, going on a mezcal tour in Oaxaca is not to be missed.
A drink with deep cultural significance, locals appreciate "mezcal for the bad times, mezcal for the good times ("para todo mal, mezcal, y para todo bien también.").
Join us on a fascinating Oaxaca mezcal tour at award-winning Geü Beez artisanal mezcal distillery.

What is Mezcal?
Mezcal, a beverage with distinct smoky flavors is a distilled spirit made from the agave plant, also known as maguey.
While agave or maguey plants can be found in many parts of Mexico, 80% of mezcal comes from Oaxaca. This is in part due to the favorable climatic conditions for growing agave.
The word mezcal comes from the indigenous Nahuatl language, which means "cooked agave."
Mezcal in Oaxaca is typically made by small producers in distilleries known as palenques.
Mezcal Varieties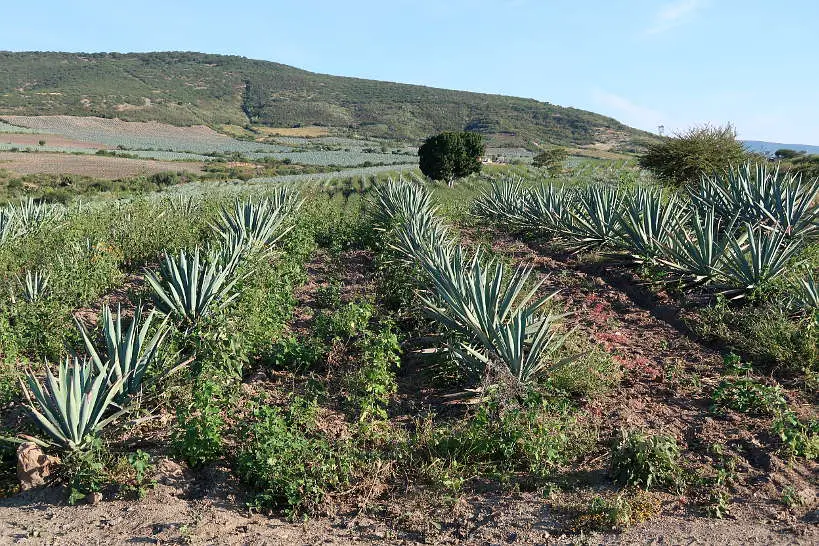 Before visiting Mexico, we were not very familiar with mezcal. And, what surprised us the most was the variety of flavors based on the many agave species available.
Mezcal, we learned, can be made from more than 40 agave varieties. While its cousin, Tequila, can only be made from one type of agave, the blue agave.
Of the many varieties, mezcal espadín is the most popular. Espadín grows easily and is the most commonly used agave for mezcal production.
Mezcal is also made from wild agave plants like Silvestre that require a lot of effort to harvest.
Other prized wild agave varieties like Tobalá, Jabali, or Tepeztate, bring out their singular complex flavors.
One variety we discovered on our Oaxaca mezcal tour at Geü Beez was Barril. This bushy, tall, and wild agave produces a mezcal with delightful citrus and floral notes.
AUTHENTIC FOOD QUEST TIP: To go behind the scenes and see how Mezcal is distilled, we recommend this Mezcal culture and gastronomy experience. This is a private tour that takes you to an artisanal producer followed by a 6-course chef-prepared lunch. You'll learn about Mezcal food pairings as savor traditional Oaxacan food. This full day tour ends with a cultural textile experience.
The Different Types of Mezcal Distillery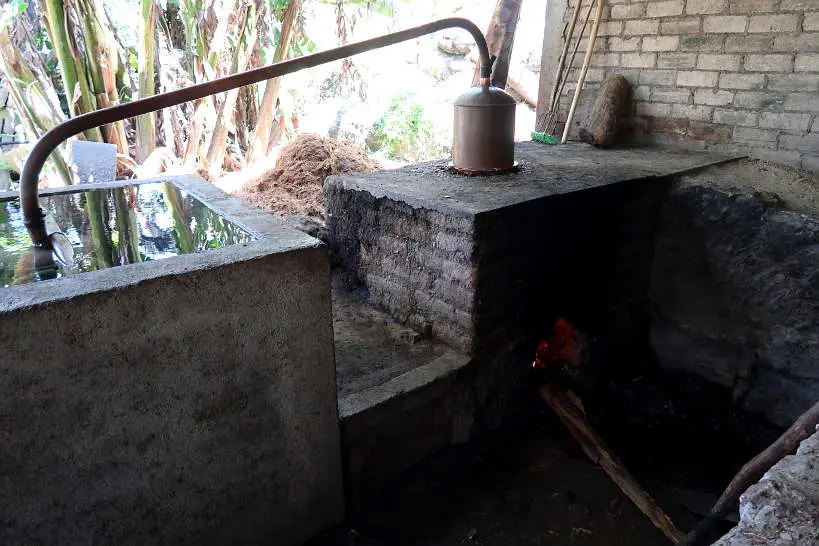 As we explored mezcal in Oaxaca, we learned about the three main types of mezcal distillation processes.
Traditionally, the production of mezcal is a family affair and a laborious hands on process.
Of the three mezcal distillery processes, the traditional operations are the most celebrated.
The first is the artisanal process which is the process used by Mezcal Geü Beez. In this case, the mezcal is distilled in copper alembics and a horse used to crush the maguey before fermentation.
The ancestral mezcal distillery method follows a similar process, without the use of horse and the agave is distilled in clay alembics.
The third mezcal distillery process is looked down upon by purists. This is the industrial process where mezcal is made using mechanized technology in large production volumes.
How to Take a Mezcal Tour in Oaxaca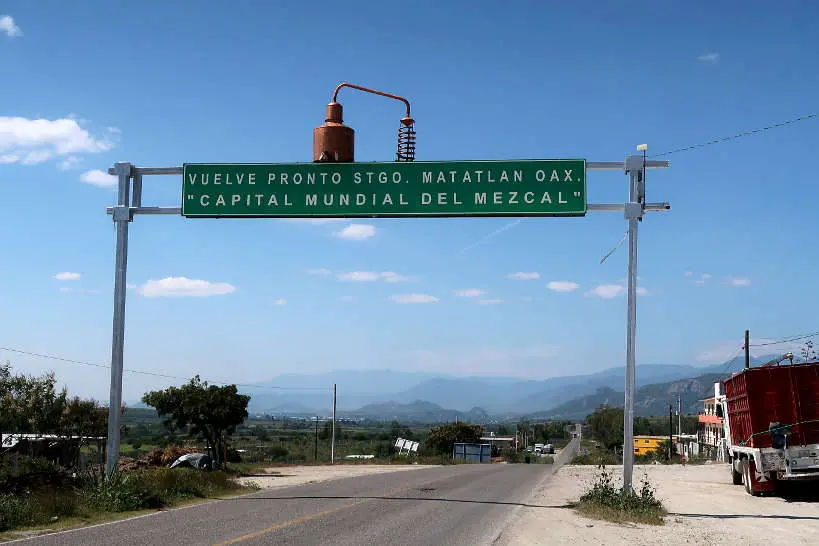 Oaxaca, with over 120 varieties of agave plants, is a privileged region for the production of mezcal.
Located an hour east of Oaxaca city, Santiago de Matatlán is known as the "World Capital of Mezcal."
This small town has the largest concentration of mezcal producers. And, it is often the departure point for mezcal distillery or palenque tours.
Important Considerations When Choosing an Oaxaca Mezcal Tour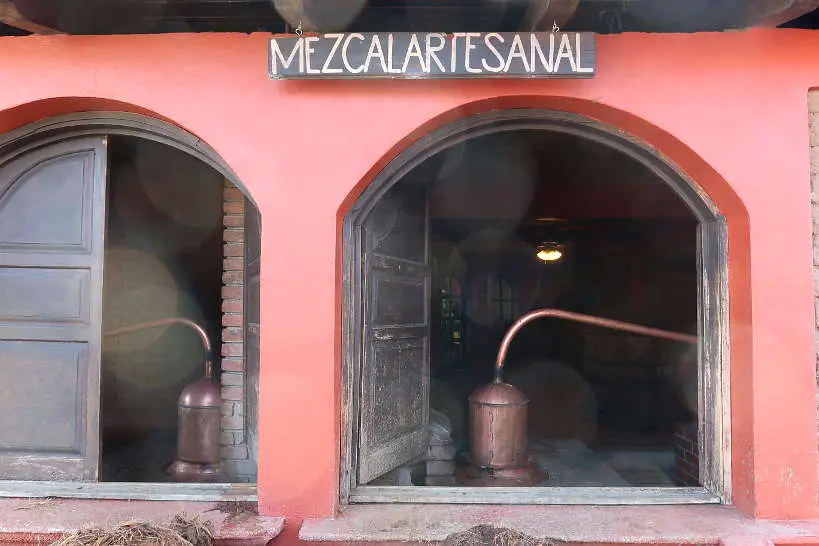 To make the most of your Oaxaca mezcal tour and distillery visits, here are a few recommendations.
Agave plants take a long time to grow. It can take a minimum of seven years to grow the maguey plant for mezcal production. Some varieties can even take up to 25 years to mature.
With mezcal's popularity and growing consumption, its sustainability is a growing concern.
With that, we recommend visits to small mezcal palenques. Choose a tour that prioritizes small producers over the industrial mezcal makers.
You'll easily find advertised tours to small producers in Santiago de Matatlan. To get to Santiago de Matatlan, you can also take local buses (collectivo), hire a private taxi or rent a car from Oaxaca.
Watch out for the Oaxaca mezcal tours offered in Zocalo, the heart of Oaxaca's historic center. Most of those tours take you to popular industrial mezcal producers.
READ MORE: How to Enjoy Mezcal at El Cortijo one of the Oldest Mezcaleria in Oaxaca
Oaxaca Mezcal Tour With A Certified Master Mezcalier
For an organized tour departing from Oaxaca, we recommend this Mezcal culture and gastronomy experience.
This private tour takes you on a 6 to 8-hour culinary tour starting at an agave field to learn about this prized beverage.
More than a tour, you will get a deeper understanding of the agave spirits, the culture and the people behind it.
Lunch prepared just for you and your group will follow with a local chef. There is no menu and the 6 courses is be based on seasonal availability.
You'll learn about Mezcal food pairing while enjoying a fascinating journey outside of Oaxaca City.
Artisanal Mezcal Distillery Visit at Geü Beez
Given the integral role mezcal plays in Oaxacan culture, we wanted to dive even deeper.
While exploring Oaxaca food specialties, mezcal came up often as the perfect accompaniment to certain dishes.
When we told our local friend, Maggie, we wanted to visit a palenque, she immediately told us about her friend, Daniela.
Daniela, we learned, is a sustainability consultant, who helps small mezcal producers recycle their waste in a sustainable manner.
"I'll talk to Daniela" Maggie told us and "let you know what we can organize."
A few days later, Maggie, sent us a message and told us to be ready the following Sunday for a palenque visit.
READ MORE: Oaxaca Foods – Your Best Guide To The Most Authentic Food
Geü Beez Artisanal Mezcal Oaxaca Tour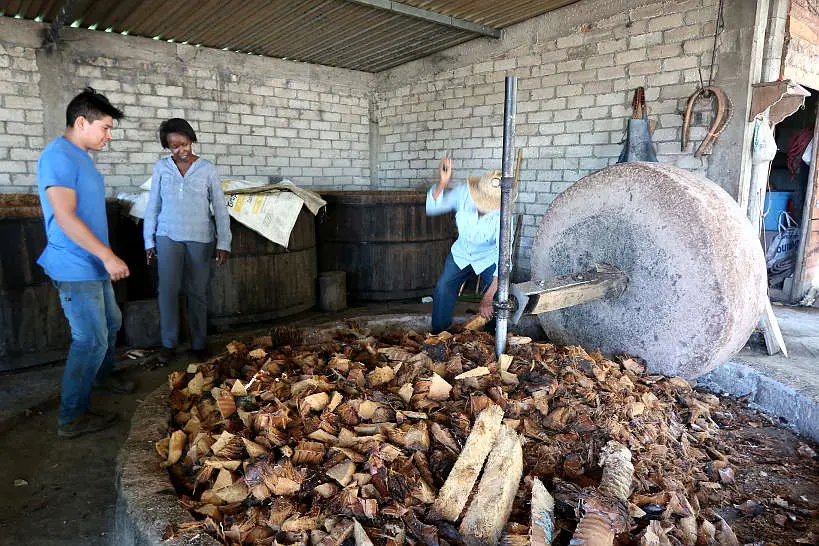 On the agreed upon day, together with Maggie and Daniela, we took the 1.5 hour to San Dionisio Ocotepec.
Mezcal Geü Beez, was our destination. And, we were going to meet, Crispín García Méndez, and learn about the art of mezcal making.
Mezcal Geü Beez, in one of the small distilleries that is highly involved in sustainability. To counter the potential shortages of agave, they implement sustainable harvesting where they plant more agave than they take out.
The mezcal waste is recycled into adobe bricks and even turned into paper and clothing.
The palenque or mezcal distillery is located in the small town of San Dionisio Ocotepec, a half hour past Santiago de Matatlán.
The community is ethnically Zapotec, and the area is known for making sandals and mezcal.
A Mezcal Master On The Oaxaca Mezcal Tour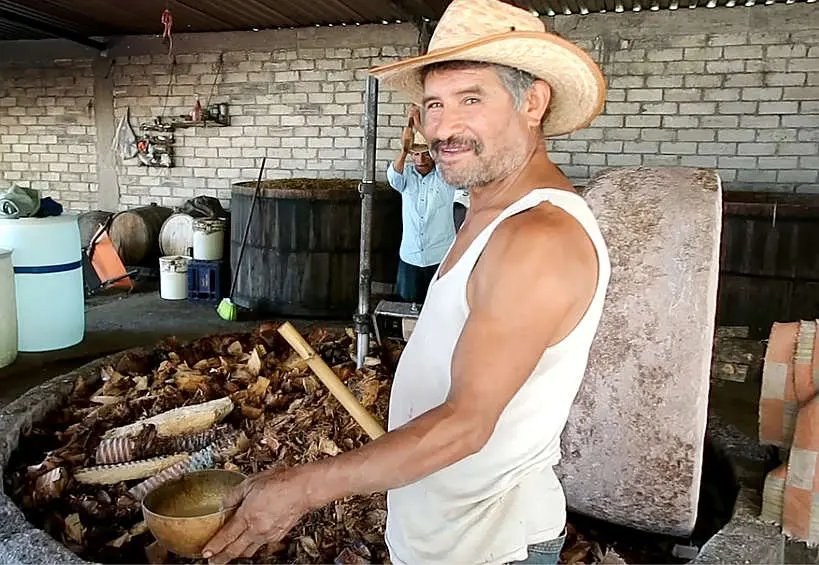 When we arrived, we found Crispín and his son Daniel, and one of their employees hard at work.
Crispín, we learned, is known as a "maestro mezcalero." This is a term given to those who have learned from generation to generation the mezcal craft manifested into incredible mezcals.
Mostly men, maestro mezcaleros, inherit the long-standing tradition of mezcal production from their fathers and grandfathers.
They usually start learning about the mezcal processes during childhood, accumulating and conserving knowledge for future generations.
Daniel, Crispín's son, who works alongside him, would be a 4th generation future mezcal producer.
Elaborating further, Daniel told us more about the role of the maestro mezcalero or mezcal master. My dad, as a maestro mezcalero, "is in charge of every part of the mezcal making process."
As we learned, that means involvement in every step of the process, including the selection of agave used, the cooking time, and the fermentation and distillation processes.
Ultimately, they are responsible for producing mezcal with "historic taste".
The name Geü Beez, Crispín told us "is in honor of his Zapotec ancestors. In Spanish, it is the name of the point where the first palenque existed in San Dionisio Ocotepec.
Fascinating Centuries-Old Artisanal Mezcal Distillery Process
Looking around the palenque we were surprised by how rustic the operations were. The tools were antiquated and the work laborious.
However, this was an award-winning distillery and these were the tools for making mezcal in an artisanal manner.
Watch Our Video About Oaxaca Mezcal Tour At Geu Beez
Make sure to subscribe on Youtube for our latest videos
Cooking the Agave
The mezcal production starts with cooking the agave. The hearts of the agave plants known as piñas are cooked in a hole dug into the earth.
The piñas at Geu Beez had been prepared and would be roasted the next day.
Out of curiosity, we each lifted an agave heart to get a sense of the weight. Each was heavier than expected. That's about 10 kg or 20 lbs each Crispín, remarked.
Crushing the Agave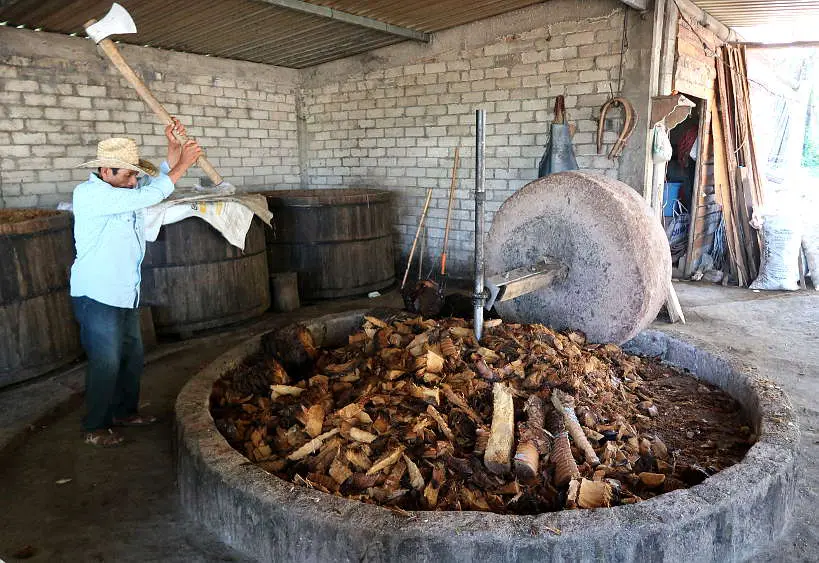 Once the agave hearts cook, they are cut into pieces and the unusable parts are discarded. One of Crispin's workers was manually cutting up the agave heads, a process that releases the sugar.
And later, a horse is used to crush the roasted agave further using a huge stone wheel.
The agaves are crushed until there is enough quantity to start the fermentation process.
Mezcal Fermentation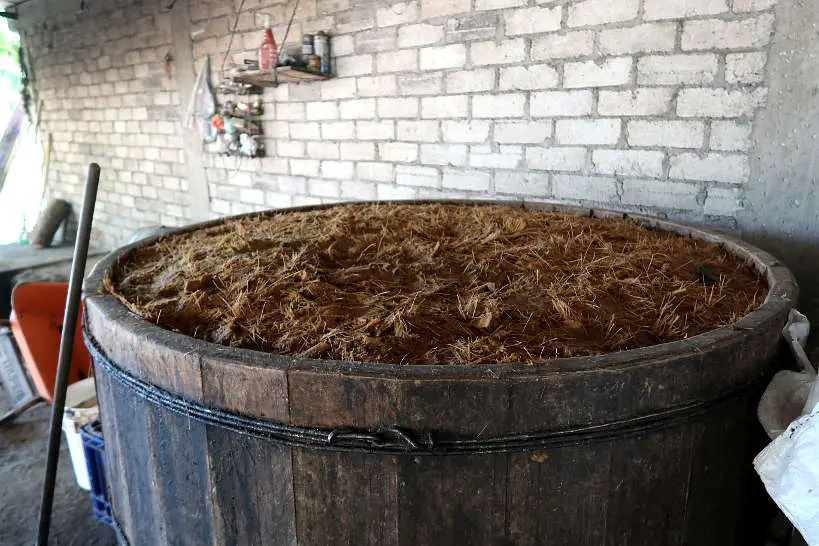 Patiently, Daniel continued to explain the fermentation process on our Oaxaca mezcal tour.
The fermentation process happens in the large wooden barrels.
The crushed agave fibers are put into the barrels and water is added to facilitate the fermentation process.
This process can take anywhere from three days up to a week, depending on the weather.
During this period, the mixture is moved around with a large wooden stick from top to bottom to convert the sugars into alcohol.
Mezcal Distillation Process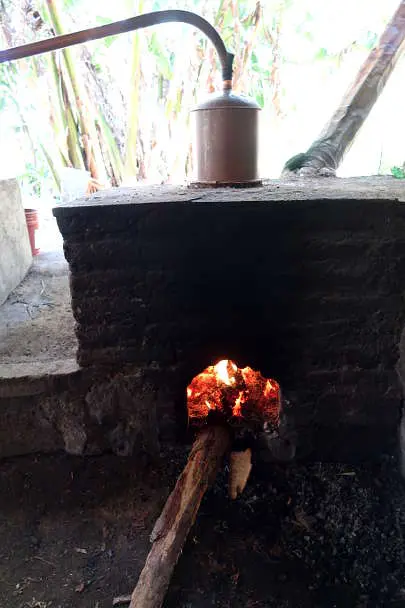 Following the artisanal mezcal making processes, the distillation process takes place in copper alembics. This reminded us of the fermentation process for Peruvian Pisco, when we visited a Pisco winery in Peru.
Mezcal distillation goes through two processes. The first distillation takes place when the resulting mash from the fermentation is moved into the copper alembics.
A second distillation takes place to obtain the right alcohol content and the best flavors and aromas for mezcals.
The Art of Achieving the Right Mezcal Alcohol Content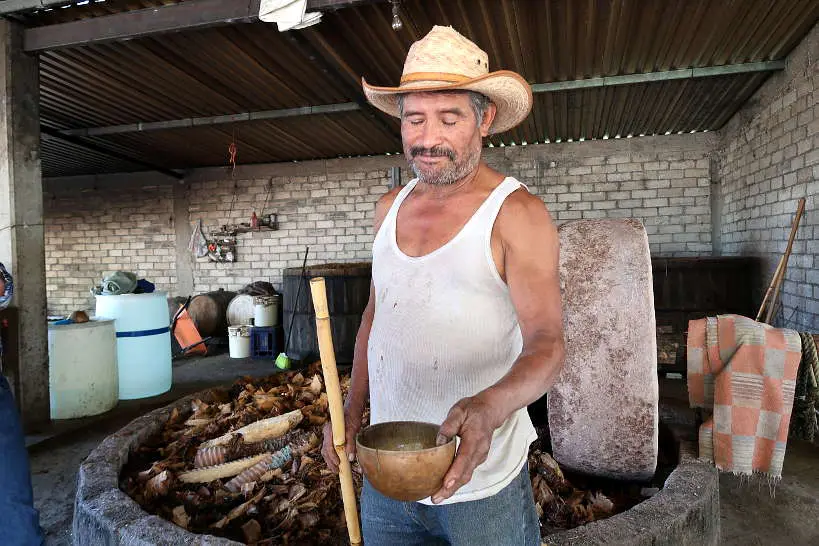 One of the most fascinating parts of the distillation process was watching Crispín and Daniel determine the mezcal alcohol amount.
The process is very rudimentary and it involves a long bamboo straw and gourd.
A little mezcal is released from the fermentation tank. And to demonstrate, Crispín sucked it up using a long bamboo straw and released it slowly into a gourd.
Looking at the size of the bubbles, Crispín talked about how their size and concentration indicate the alcohol and acidity levels.
This artisanal method of determining the alcohol content is actually quite precise. And, it is a technique acquired through the experience of maestro mezcaleros.
Tasting Mezcal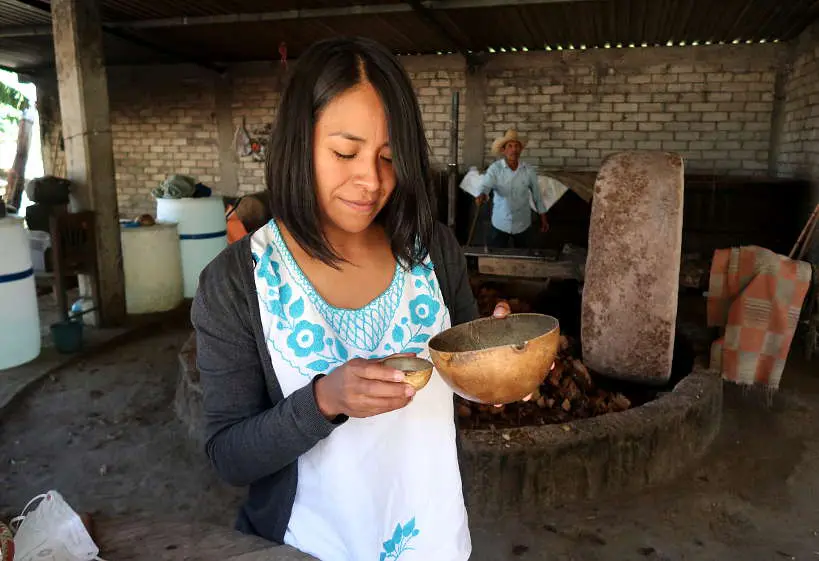 While at the palenque we tasted mezcal made using maguey Barril. Even though the mezcal was not yet ready, it was surprisingly good.
The mezcal was smooth, rounded and on it's way to being excellent.
Part of a maestro mezcalero's job is to produce outstanding mezcal. Shortly after our visit, we learned Geü Beez mezcal won "Best of Show" in the 2020 Tequila Mezcal Challenge.
Buy Geü Beez Mezcal – Mercado de Mezcal in Oaxaca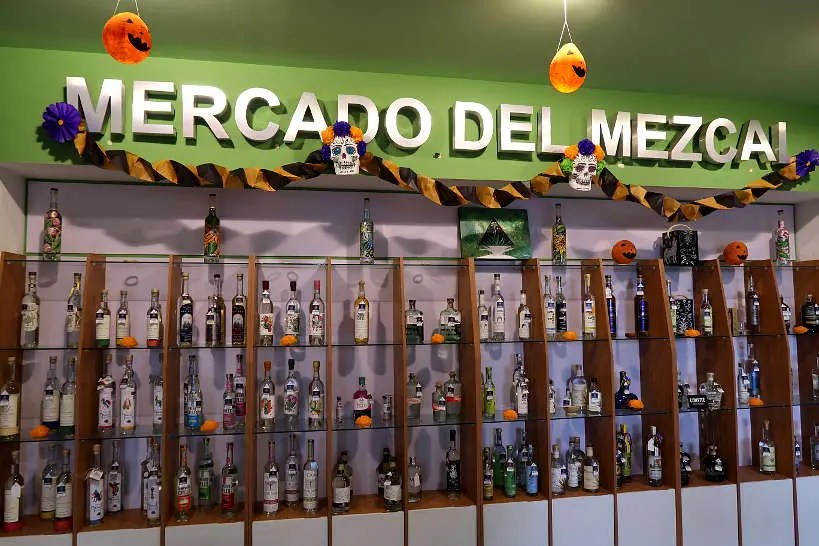 Currently, Geü Beez does not sell their mezcal at the palenque. They talked about building a demonstration and tasting room in the future.
If you are in Oaxaca, you can purchase Geü Beez mezcal at the mezcal market in the center.
Known as Mercado de Mezcal, this store, not far from la Merced market, carries a range of mezcals from small producers.
You can ask to taste the mezcals before you purchase. And the knowledgeable staff can tell you about the different mezcal brands and producers.
In addition, you can find salts like sal de gusano and copitas or sipping cups.
Book Your Oaxaca Mezcal Tour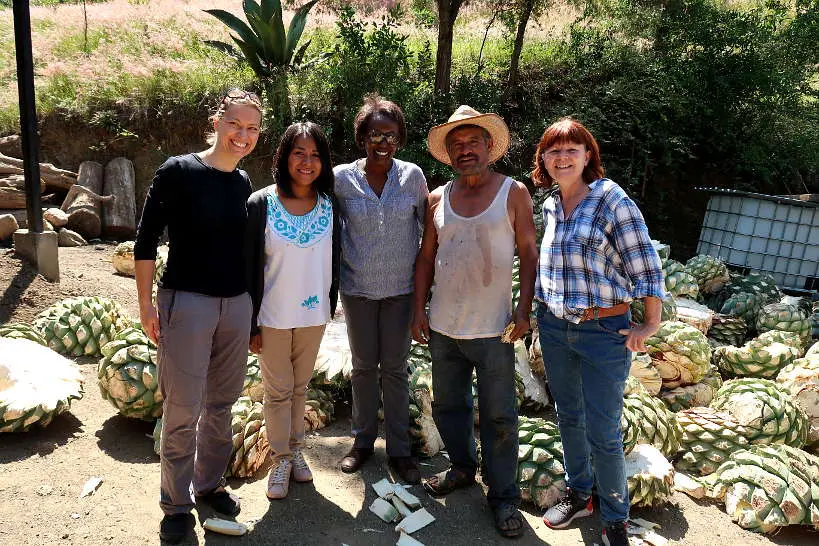 To visit several palenque or mezcal distilleries with an in-depth understanding of mezcal, choose Mezcal Educational Tours.
In partnership with Alvin, a certified Master Mezcalier, this tour takes you to artisanal and ancestral producers with many mezcal tastings along the way.
Love Oaxaca Mezcal? Pin It!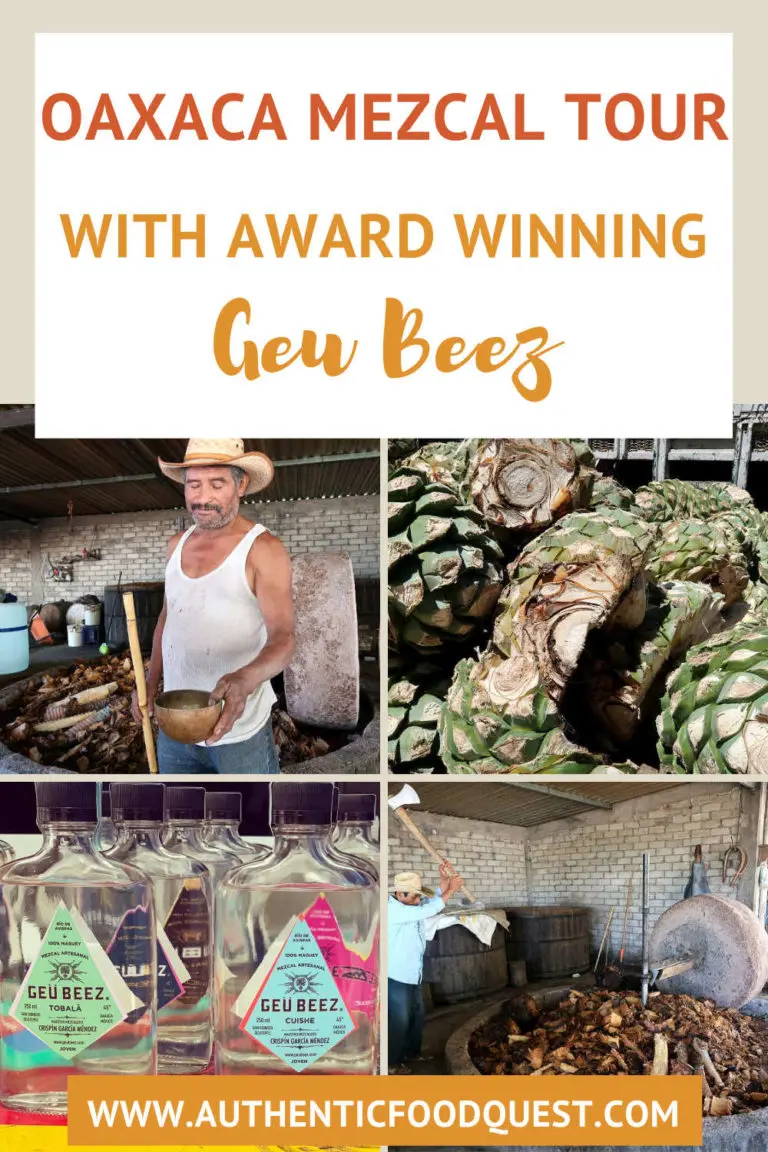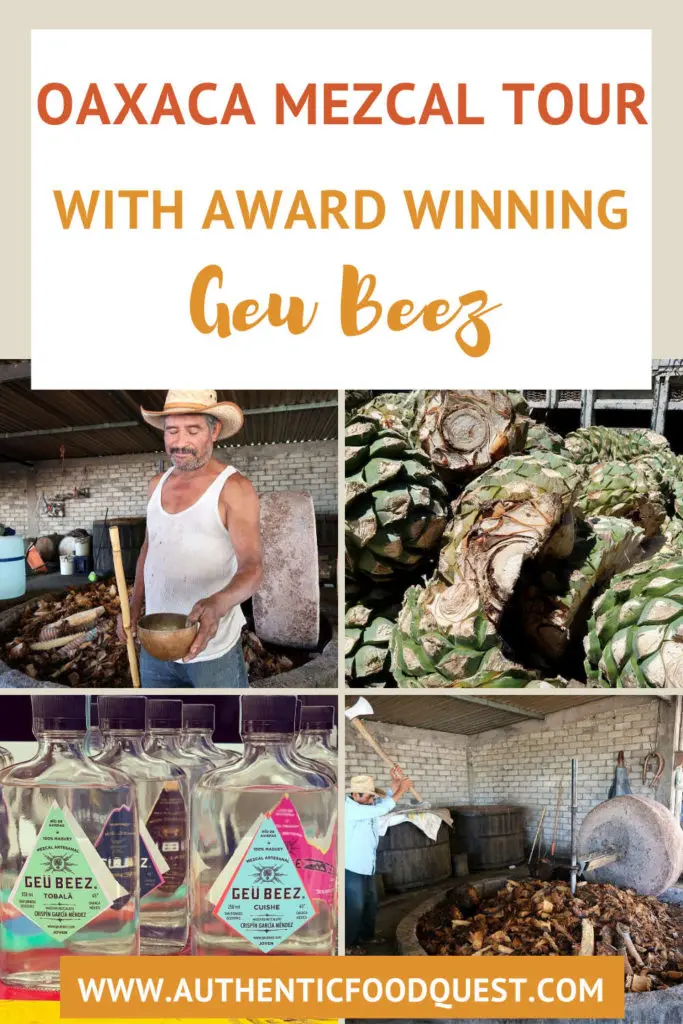 Special thanks to Crispín and Daniel of Mezcal Geü Beez for the fascinating mezcal tour Oaxaca. This would not have been possible without your help, Maggie Roberts and Daniela. And for that, we sincerely thank you both.
Claire is co-founder of Authentic Food Quest and a lover of simple and exquisite cuisine. Since 2015, with her partner, Rosemary, she has been traveling the world as a digital nomad, creating content about local food experiences.
Her advice from visiting 45 countries and more than 240 food cities has been featured in Lonely Planet, Business Insider, Honest Cooking, Food Insider, and Huffington Post. She has also co-authored three books, including one in collaboration with Costa Brava Tourism.
An ex-mechanical engineer, Claire is responsible for SEO, keeping the website running, and the fun food & travel videos on YouTube.
When Claire is not eating, she can be found running or cycling. Find out more about Authentic Food Quest