This article has links to products and services we recommend, which we may make a commission from.
This tlayudas recipe is for an iconic Oaxaca street food that is easy to make at home. It is sometimes called Mexican pizza or Oaxaca style pizza and generally consists of four ingredients. Start with a crispy corn tortilla, cover it with refried black beans, add quesillo or Oaxaca cheese and top it off with strips of meat. Try this delightful tlayudas Oaxaca recipe today.

What is Tlayudas Oaxaca or Tlayudas Oaxaqueñas?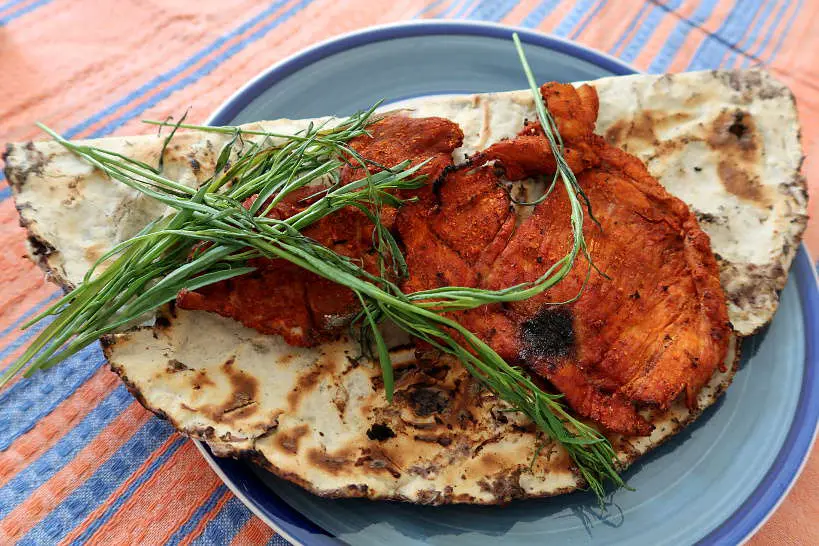 Tlayudas are one of the most iconic foods from the state of Oaxaca in Mexico.
Tlayudas Oaxaqueñas are a simple street food that you'll find at markets, restaurants and local eateries.
You'll sometimes find tlayudas referred to as Mexican style pizza or Oaxaca Style Pizza. This is because they are served on a large crispy corn tortilla and sometimes served open-faced, resembling a pizza.
What Are Tlayudas Made Of?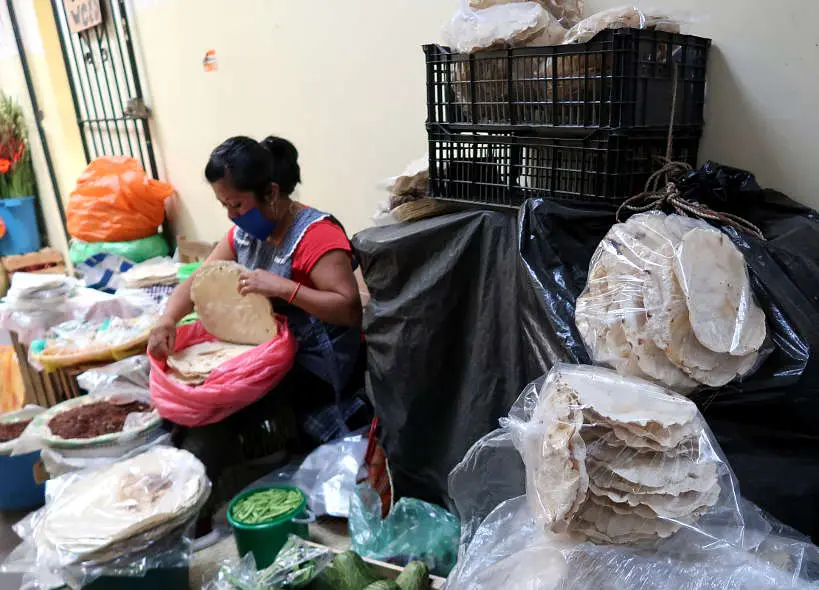 Authentic tlayudas Oaxaqueñas consist of a large flat crispy tortilla smeared with refried black beans cooked with asiento or pork lard.
On top of the black beans is a layer of Oaxaca cheese or quesillo, which is white string cheese similar to mozzarella. The tlayuda is then topped with meat.
You can make your tlayudas more interesting with the addition of shredded cabbage, tomatoes, avocados, and your choice of meat.
Typical meat options are usually beef (tasajo or arrachera), pork (cecina), pork rib (costilla), Mexican sausages (chorizo); or chicken (tinga).
For a local treat, you can choose chapulines, or grasshoppers which are an Oaxaca specialty.
Tlayudas Oaxaca are typically eaten in the evening with street stands and restaurants selling them from 7:00 pm into the wee hours of the morning.
How To Pronounce Tlayudas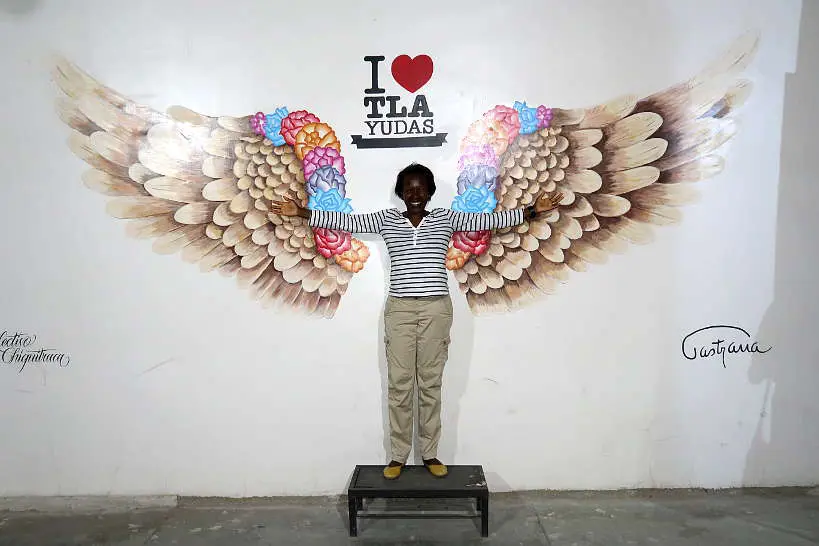 In the English language, there are no words that begin with the two letters "t" and "l." Therefore, it's not surprising many have a difficult time pronouncing tlayudas.
The tlayudas name has origins from the languages spoken in the Central Valleys of Oaxaca, and later, Spanish.
As a result, you'll find two popular spellings, "Tlayuda" and "Clayuda."
To pronounce tlayuda, think of it as – tla-u-da, and put the emphasis on the "u."
Discovering Tlayudas Oaxaca
Tlayudas, this traditional Oaxaca street food are renowned throughout Mexico. When we first arrived in Oaxaca, we made it a point to eat tlayudas for dinner on our second night.
At Tlayudas El Negro, a popular local restaurant, we each had tlayudas with different toppings.
Generally, tlayudas consist of a large, flat corn tortilla, about 12-14 inches (32 – 35 cm) in diameter.
Smeared on it is asiento or unrefined lard, beans, quesillo or Oaxaca cheese and meat.
Most restaurants and street vendors offer toppings such as cabbage, avocado, and your choice of meat.
At El Negro we had one with tasajo, which is thinly sliced beef. And the other, with costilla or pork ribs.
How To Eat Tlayudas Oaxaqueñas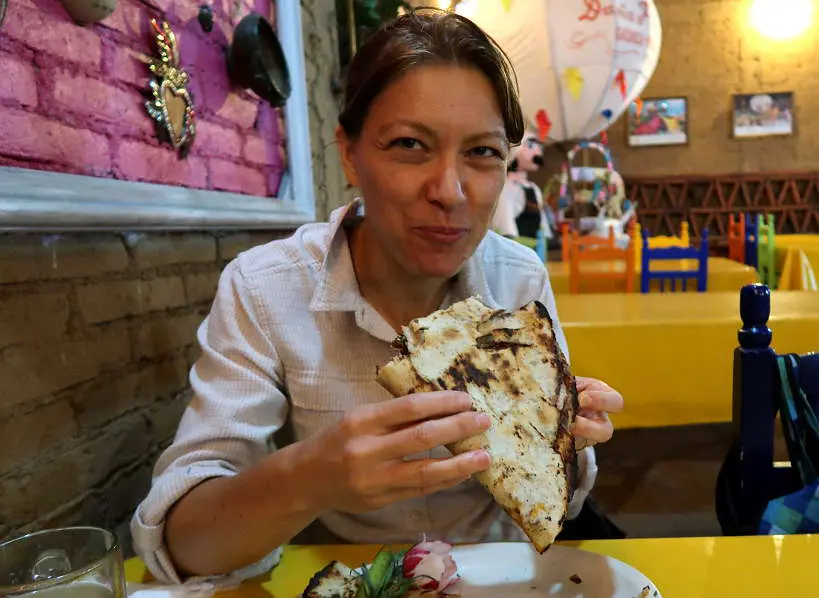 When we first got the tlayudas, we were shocked by their size. These were stuffed gigantic slices of tortillas with the meat sitting on top.
Tlayudas can be served open face, like pizza or folded in half.
Ours were folded in half and topped with chepiche, a local aromatic herb. With the tlayudas were the traditional condiments of a red and green salsa, sliced radishes and lime, and pickled onions.
Not knowing how to eat them, as we didn't have silverware on the table, we looked around for clues.
Noticing our puzzled faces, the table in front of us pointed to a nearby sink and told us to wash and eat with our hands.
While we did eventually ask for forks and knives to cut our meat, we later learned to eat tlayudas like locals.
Diving into our first experience with tlayuda was a tasty treat. Despite their gigantic size, the flavors were incredible.
The combination of the beans, Oaxaca cheese and the crispy tortilla textures was simple and sumptuous.
The aromatic chepiche herbs and different condiments elevated the tlayuda to new heights
While we could have easily shared one tlayuda, we each savored our delectable tlayudas until the very end.
READ MORE: The food in Oaxaca is diverse, rich in history and recognized internationally. Our article about our Cooking Class in Oaxaca takes you on a culinary journey from the local market to making emblematic Oaxaca dishes.
History of Tlayudas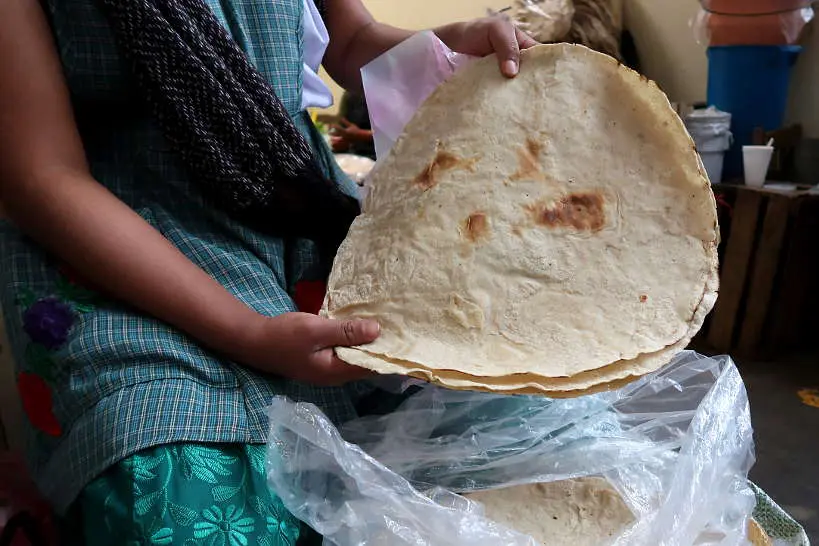 In the state of Oaxaca, there are several communities in the Central Valley dedicated to the preparation of tlayudas.
Some of the communities are San Antonio de la Cal, Magdalena Teytipac, San Pedro Ixtlahuaca, San Mateo Macuilxochitl, among others.
The making of tlayudas is done by women who dedicate themselves to preparing them in an artisanal manner.
The origins are hard to track down, though references of women making tortillas and folding them go back to the 16th century as noted by Spanish Franciscan Monks.
Making Tlayudas begins with the preparation of masa dough which comes from treating corn with lime or nixtamalization.
Once she has enough masa, she will make the large tortillas, pressed by hand, and then cook them over a comal.
These tlayuda tortillas are then sold the next day at markets all over the state.
Tlayudas refers to both the large tortillas as well as the dish. At the markets when the ladies call out "tlayudas", "tlayudas" for sale, this is for the large flat, crispy tortillas.
Whereas at restaurants or markets, when you order a tlayuda, you'll get the dish with all the toppings.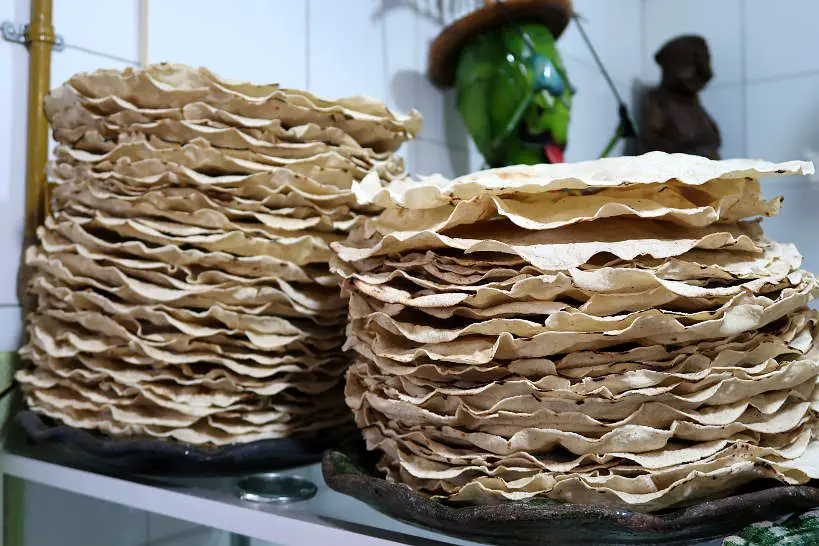 How To Make Tlayudas Oaxaca at Home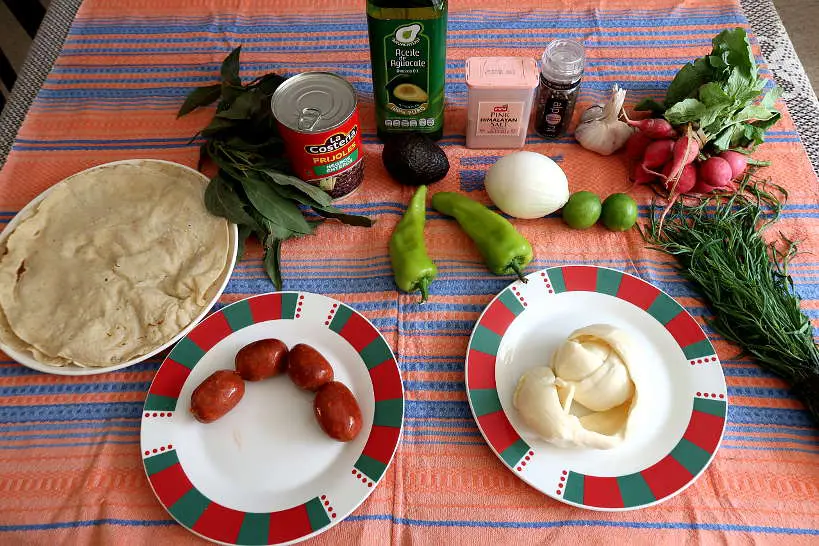 Tlayudas are easy to make at home and a fun alternative to traditional pizza.
With this tlayuda recipe, you can customize it with any toppings you like.
To taste the flavors of Oaxaca in your tlayudas recipe, consider using ingredients from the area.
Quesillo or Oaxaca Cheese for Tlayudas Recipe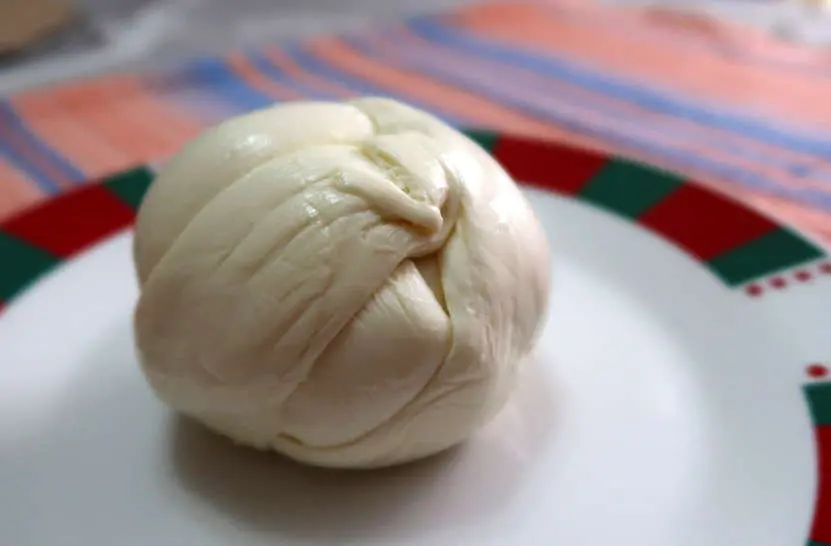 One of the most important ingredients in a tlayuda is the quesillo or Oaxaca cheese. The cheese comes from the town of Etla, which is about 30 minutes away from Oaxaca city.
The cheese, sold in small balls, is stringy and made of cow milk. Quesillo is a little salty with a mild flavor. It melts easily and is used in quesadillas, tlayudas and many more dishes.
The origins of quesillo cheese are fascinating. Apparently, in 1885, legend has it that 14-year-old Leobarda Castellanos García from Etla invented the cheese.
As the story goes, she was in charge of taking care of curdled milk to make cheese. Distracted, she forgot and the "curd" passed the point to make cheese.
To hide her mistake from her parents, she poured hot water on it, resulting in a chewy mixture that tasted great.
Her parents tried the mixture and loved its exquisite flavors. They called it "quesillo" and it gained acceptance amongst the locals.
Where to Buy Quesillo
We were surprised to see Oaxaca cheese sold in grocery stores in the U.S.
It's also available on Amazon from Real de Oaxaca. Real de Oaxaca offers authentic Oaxaca products without traveling to Oaxaca.
All the products are made in the finest Oaxaca tradition and can be shipped to you at home.
Use Oaxaca Tortillas or Tlayudas
As noted previously, tlayuda refers to both the Oaxaca tortilla and the dish. For your tlayudas recipe, make sure to use tlayudas, made with corn.
The tlayuda or Oaxaca tortilla is large and thin and baked on a comal or grill. You can find organic, hand-crafted tlayudas on Amazon, also from Real de Oaxaca.
Make Homemade or Use Canned Refried Black Beans
Refried beans is the other core ingredient in the tlayudas recipe. You can either use canned refried black beans or use the recipe below to make them at home.
In Oaxaca, the beans are typically cooked in asiento or unrefined pork lard.
In the recipe below, we added the drippings from Mexican chorizo sausages for extra flavor.
In your tlayuda recipe, feel free to flavor your beans with spices of your choice. Be sure to warm them up when you assemble your tlayuda Oaxaca.
Try Avocado Leaves or Hora de Aguacate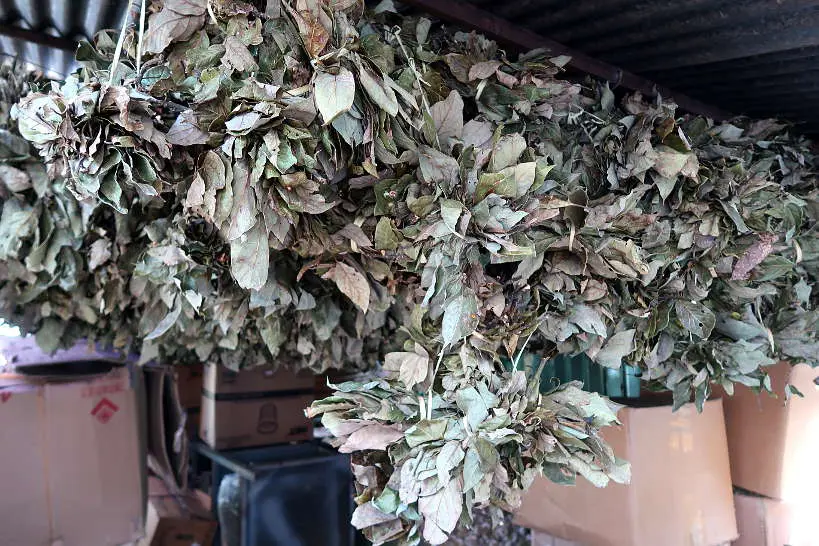 Avocado leaves or "hojas de aguacate" in Spanish are used in a variety of dishes in the states of Oaxaca and Puebla.
The avocado leaves which look like large bay leaves are used either dried or fresh. They are toasted and added to black beans, moles, soups, tamales, and more.
The leaves are also used for grilling chicken, fish, and meat.
In this tlayudas recipe, we toast the avocado leaves and crumble them into the back beans sauce.
Toasting the avocado leaves brings out the licorice and with hints of anise flavors.
Avocado leaves can be found in Mexican grocery stores and are also available on Amazon.
Award-winning chef, Rick Bayless, who specializes in Mexican cuisine, suggests combining bay leaves and cracked anise seeds as avocado leaves substitute.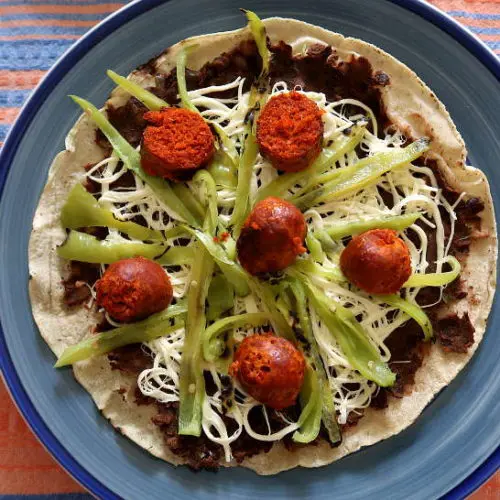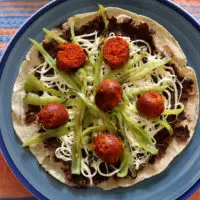 Tlayudas Recipe
Authentic tlayudas recipe for an iconic Oaxaca street food. Easy to make with step by step instructions and four main ingredients. Add whatever toppings your family enjoys and try this delightful tlayudas Oaxaca recipe today.
Print
Pin
Rate
Ingredients
Tlayuda Recipe Ingredients
3.5

ounces

quesillo or Oaxaca cheese

Half cup for each tlayuda. You can substitute Oaxaca cheese with a "low moisture" mozzarella cheese.
Meats
2

Mexican chorizo sausages

Large, you can substitute with any meat of your choice.
Refried Beans
16

ounces

Refried Black Beans

2

tablespoons

Avocado oil, Ghee or Lard (chorizo drippings)

1

white onion

diced

1

garlic clove
Garnishes
2

Radishes

sliced

1

Lime

Mexican green or red salsa

Chepiche

An aromatic herb with peppery tarragon-like flavors. You may substitute with cilantro
Instructions
Refried Beans 
Toast the avocado leaves for a couple of minutes on the griddle

Heat the oil in a frying pan over medium-low heat.

Start frying the onions until they become transparent and start to brown.

Add the garlic to lightly fry

Add the beans and mash down until they become a paste or use a blender

 Add the chorizo drizzling. 

Add the avocado leaves crumbled 

Taste to check if they need salt

Lay the tortilla on the griddle

Spread the refried beans on the tortilla 

Top the tlayuda with the quesillo or Oaxaca cheese

Optional: Add strips of chile de agua or bell peppers

Optional: Add avocado slices
Meat
Cook your meat per your instructions

If cooking Mexican chorizo sausages, cook on medium heat for about 5 – 7 minutes until brown
Assembling the Tlayudas Oaxaca
Warm the tortilla on a griddle

Spread the refried bean paste on the tortillas

Spread the Oaxaca quesillo cheese on the tortillas

Optional: Add slices of chile de agua pepper or bell peppers strips as a substitute

You can also add slices of avocado, shredded cabbage, or tomatoes

Optional. You can keep your tlayuda as an open face "pizza" or eat it folded in half. 

Warm-up your tlayuda on a griddle or a pan for a few minutes

Place chorizo on top or inside your tlayudas

Serve immediately and enjoy while hot
Notes
Have fun with this tlayuda recipe and make it your own. Feel free to substitute with your preferred meat options. If you are vegetarian, simply skip the meat and top with vegetables of your choice. Garnish your tlayudas with radish, a squeeze of fresh lime, and salsa sauce.
Nutrition
Serving:
1
|
Calories:
744
kcal
|
Carbohydrates:
58
g
|
Protein:
35
g
|
Fat:
42
g
|
Saturated Fat:
20
g
|
Polyunsaturated Fat:
3
g
|
Monounsaturated Fat:
10
g
|
Cholesterol:
84
mg
|
Sodium:
2713
mg
|
Potassium:
860
mg
|
Fiber:
18
g
|
Sugar:
3
g
|
Vitamin A:
503
IU
|
Vitamin C:
33
mg
|
Calcium:
165
mg
|
Iron:
6
mg
More Mexican Cooking Products
Rosemary is the editor-in-chief and strategist at Authentic Food Quest.
Traveling slow since 2015 with her partner, Claire, she has explored the cuisine in 45 countries and more than 240+ culinary cities.
Her writing about local food specialties has been featured in Lonely Planet, Business Insider, Honest Cooking, Food Insider, and Huffington Post.
As a food and travel writer, Rosemary has co-authored three books, including one in collaboration with Costa Brava Tourism.
Rosemary is an avid runner when she's not eating and exploring new destinations. She has run ten marathons and counting.
Before Authentic Food Quest, Rosemary held senior-level strategy positions in advertising. 
Find out more about Authentic Food Quest