This article has links to products and services we recommend, which we may make a commission from.
Mendoza, the land that has made Malbec famous, is also responsible for the production of high quality Argentina olive oil.
While in Argentina exploring the authentic food specialties, we visited Mendoza to explore the regional food specialties and wines.
At the time, we didn't realize the Mendoza province was one of the largest olive oil producers in the country.
We then set out to take some olive oil tours in Mendoza to learn about the country's green gold.
As South America's largest producer of extra virgin olive oil, you don't want to miss olive oil tastings in Mendoza.
Here are some of the top Mendoza olive oil producers offering tours, tastings and more.

Top Olive Producers in Mendoza Argentina and Tours
In Argentina, the provinces Mendoza, San Juan and La Rioja are among the producers of olive oil.
If you are traveling to Mendoza, one of the best things to do is to combine winery visits with olive oil tastings.
Based on our experience visiting olive farms and olive oil factories, we have selected the top olive producers in Mendoza to visit.
While their focus is on olive oil made from local olive varieties, most of them also produce wines.
Depending on your time available, take a tasty break from the wineries and explore the world of Argentina olive oils.
AUTHENTIC FOOD QUEST TIP: Get to know Mendoza and the province on a winery and olive oil tour. This half-day tour takes you to some fo the famous wineries in Luján de Cuyo, Maipú and the Uco Valley. Visit old vineyards, enjoy sampling a variety of Mendoza wines. Along the way, you'll visit olive plantations and sample different olive oils. Discover the culinary treasures in the Mendoza region on this fun and luxurious tour.
1. Olivicola Laur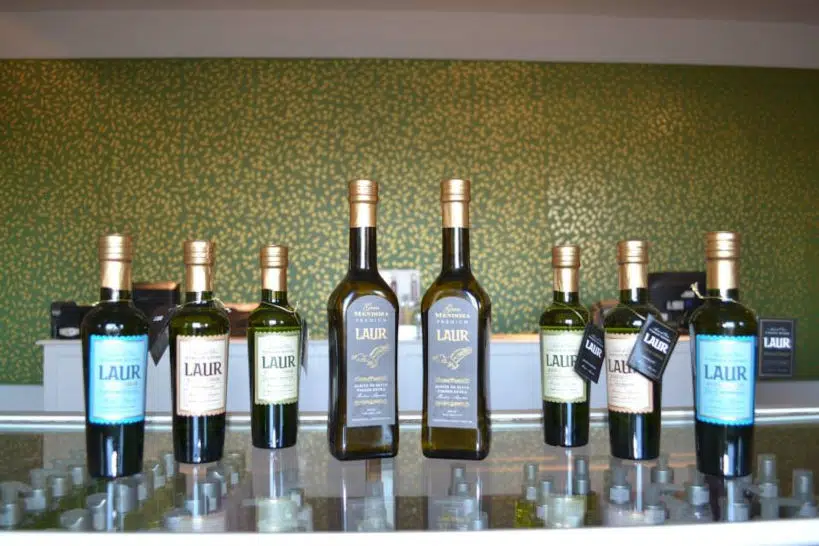 Founded in 1906, Olivicola Laur, is one of the oldest producers of olive oil in Mendoza. Laur, a French immigrant and founder is considered a pioneer who started olive oil production in Argentina.
A century later this olive oil factory is now owned by the Millan family. It continues to be regarded as one of the best not just in Argentina but the world.
Innovation and sustainable technology are at the heart of olive oil production at Laur. So, much so that in 2021, their oils topped the list of EVOO World Rankings.
Taking an olive tour in Mendoza at Olivicola Laur will introduce to this exquisite and award winning olive oil.
Olive Oil Tour at Olivicola Laur
This Argentina olive oil tours starts out with a visit to the olive trees, of which some are more than a century old.
You'll learn about olive oil production from past to present and end up in the tasting room to taste different oils and balsamic vinegar.
And, learn to unearth the nuances in flavor from virgin oils, to classic and ultra premium olive oil.
This tasting is also accompanied by samplings of fresh olives, sun-dried tomatoes, three balsamic vinegars, and olive based pastes.
As you start to learn about Argentina olive oil, there is not better place to begin than at the creators, Olivicola Laur.
Olivicola Laur olive oils are available on Amazon and you can taste the legendary olive oil from the comfort of your home.
You can try either the EVOO harvested from 100 year old trees. Or, an award winning extra virgin oil made from the flagship Arauco olives.
Hours: Monday to Saturday from 10 am to 5:30 pm, reservations recommended
Address: Olivicola Laur; Videla Aranda 2850 – Cruz de Piedra, Maipú – Mendoza
AUTHENTIC FOOD QUEST TIP: If you are in Mendoza consider taking an olive oil tour to Olivicola Laur. This all-day tour and tasting of olive oil, products and Mendoza wines starts out at Olivicola Laur. Learn about and taste olive oil from a variety of olive trees. This tasting continues to Zuccardi, a famous Argentina winery for wine tours and tastings of their own signature olive oil. This is one of the best olive oil tours Mendoza offers for a comprehensive experience.
2. Olivicola Pasrai
Pasrai olive oil factory was established in 1920 making it another one of the older producers in Mendoza.
It is located near the Bodega Cecchin, a wonderful organic winery in Maipu Valley.
We were lucky to enjoy a semi private tour when we visited Olivicola Pasrai in Mendoza.
Olive Oil Factory Tour at Olivicola Pasrai
As we began our olive oil tour and tasting, we were surprised to learn that most olive oil Argentina producers don't grow their own olive trees.
Instead, they buy their olives from growers, which is also the case for Olivicola Pasrai. The olive growing season, we learned, in Argentina is short and lasts only four months.
Olivicola Pasrai produces olive oils from three different varieties. The local Chamomile, Arbequina and Frantoio different olive varieties.
The olive oil is extracted using the stone mill method which grinds the olives along with seeds. The paste is further compressed and the oil filtered to get their extra virgin olive oil.
Olive Oil Tasting at Olivicola Pasrai
An olive oil tasting is a welcomed tasty break after learning about the manufacturing process.
We sampled different olive oils including unfiltered ones with strong flavors. We also tried samples of flavored olive oils with basil, chili peppers, garlic, oregano, and rosemary extract.
This delicious tasting was complimented with condiments and bread.
On you are exploring the Mendoza province, we highly recommend a stop at Olivicola Pasrai. Discover olive oil Argentina and enjoy a tasty break between winery visits.
Hours: 10 am to 12:30 pm and 3:00 pm t0 6:00 pm, reservations recommended
Address: Olivicola Pasrai; 1957 Ozami Sur street Maipú – Mendoza
Accessible by local bus G10 #182 (AR$5.1) about 1 hour from Mendoza city microcentro
AUTHENTIC FOOD QUEST TIP: From Mendoza, enjoy a full day wine tasting lunch or dinner including a visit to a traditional olive oil factory. You'll visit two different Mendoza wineries, taste different varieties of olive oils at Olivicola Pasrai and enjoy a 5-course lunch or dinner. This 8-hour tour allows you to immerse yourself into the regional delicacies without the responsibility of driving.
3. Olivicola Simone
Olivicola Simone is one of the smaller olive oil producers in the region. You can enjoy an intimate olive oil tasting Mendoza experience.
During our visit to Mendoza, we were welcomed personally by the owner's son who coordinated the tour with his staff.
Unlike Laur and Maguay, this Mendoza olive oil tasting tour does not include a visit to the olive farm. The olives are procured from reputed olive farms and growers all around Mendoza.
While Argentina grows over 30 varieties of olives, only the popular ones are used in the making of extra virgin olive oil.
At Olivicola Simone, we learned about the three different varieties of oils coming from the different types of olives. They make Argentina olive oil using the olive varieties of Arauco, Manzila and Frantic.
The Arauco variety is the most emblematic of the Mendoza region.
Olive Oil Tour at Olivicola Simone
This olive oil Mendoza tour is different from others. The whole process from olives to oil is shown via video, with additional commentary from the guide.
A tasting session of four olive oils follows and does not disappoint. During our tastings we learned to distinguish between the spicy nature of the olive oil which indicates levels of antioxidant.
The bitter notes speak to the maturity of the olive oil while the fruity flavors indicate the levels of fruit flavors in the olives.
We also sampled some fresh green and black olives. And, learned about the health benefits of extra virgin olive oil.
There is a boutique where you can purchase Olivicola Simone olive oils and olive fruit. The olive oil tasting tours are conducted in Spanish, so some level of fluency will makes it a much more enriching experience.
Hours: 9:00 am – 1:00 pm and 4:00 pm – 7:00 pm, reservations recommended
Address: Olivicola Simone; 1553 Ozami Sur street Maipú – Mendoza
Accessible by local bus G10 #182 (AR$5.1), about 1 hour from Mendoza city center.
RELATED: Mendoza Food Guide: What and Where to Eat in Mendoza Argentina
4. Olivicola Maguay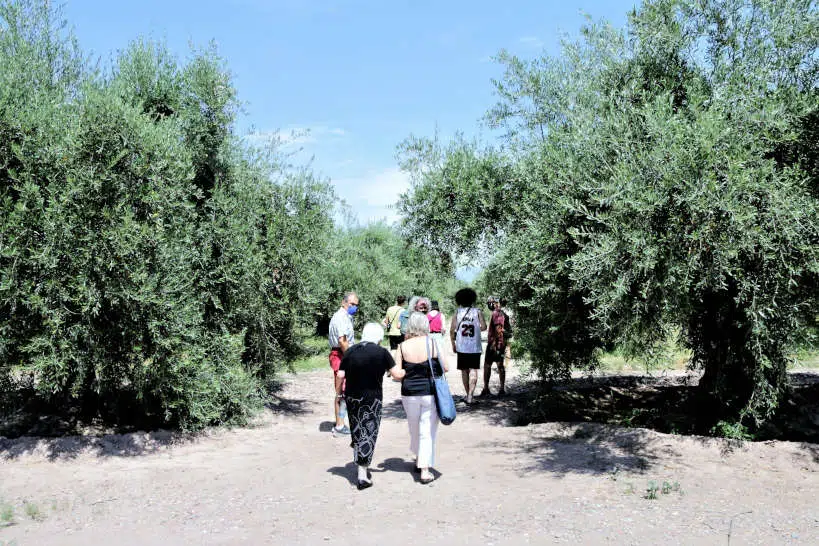 Olivicola Maguay is another well-respected olive oil producer in Mendoza. A family-run business, they have been dedicated to the production of olive oil since 1920. 
In addition to olives, they also produce their own exclusive wines from the region. Although the family has positioned itself as an olive exporter and olivicola.
At "La Bodega", their farm, you can take an olive oil tour and visit 100-year-old olive trees of different varieties.
You'll also visit their canned olive production plant where you'll learn about the manufacturing process. Tastings of different olives by quality and size is also part of the experience.
READ MORE: Guide To Mendoza Wine Regions: 12 of The Best Wineries To Visit
Olive Oil Tasting at Olivicola Maguay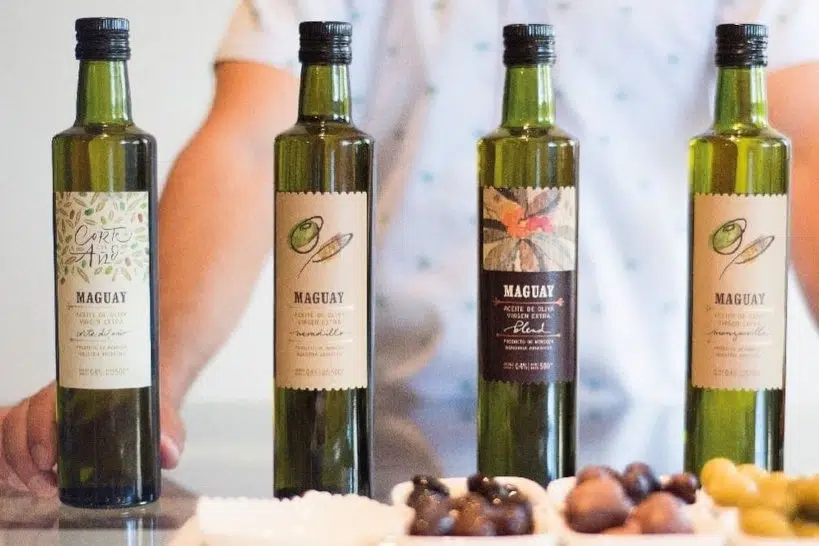 A dedicated olive oil tasting follows the 40-minute tour. This tasting includes at least five of their olive oils.
Some of the famous oils you'll taste include Nevadillo with chocolate and tomato notes and Manzanilla with chamomile and herby notes.
This is accompanied by a sampling of six of their green and black olives and different olive oils.
You'll learn about the health benefits and how to pair olive oil with foods and for cooking.
There is a store located on the farm, where you can buy some extra virgin olive oil or olives to take home with you.
Hours: 10:00 am to 6:00 pm, reservations recommended
Address: Maguay Olive Oil Farm; J.A. Ozamis Sur 1491. Russell, Maipú – Mendoza
AUTHENTIC FOOD QUEST TIP: If your travels take you to Buenos Aires, consider exploring the local food scene on a food tour. We took this Buenos Aires food tour that we absolutely loved. Read more about the experience Buenos Aires Food Tour Review: How To Learn About Argentinian Food Culture
Frequently Asked Questions
What is Argentina Olive Oil
Argentinian olive oil accounts for around 1% of the world's consumption. And, the EVOO or extra virgin varieties are growing in global recognition.
What makes them appealing is that these premium oils are made from olives growing in heritage olive plantations that are century old.
There are several varieties of green and black olives used in the production of oils and table olives.
The most famous and emblematic olive variety of Mendoza is the Arauco olive. It is an expressive variety that is used for both for making high quality olive oil and table consumption.
This local Arauco olive variety recently received the Protected Geographical Indication (PGI) as a seal of its quality.
Many in Argentina believe that the Arauco olives can have the same effect as Malbec wines in popularizing olive oil Argentina.
History of Olive Oil Argentina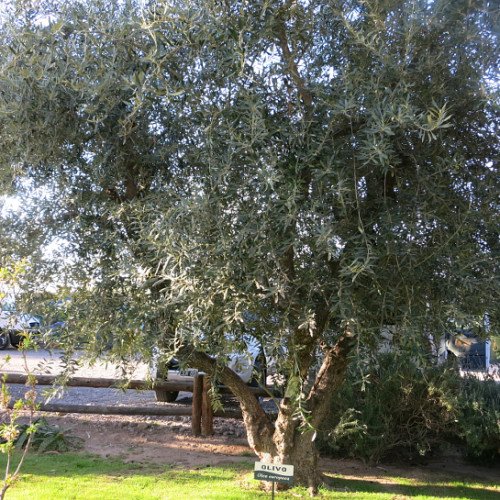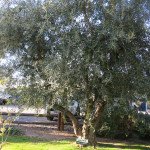 Argentina is the largest producer of olive oil in South America with over 90 000 hectares planted with olives.
Olives are grown in different provinces including La Rioja, Mendoza, Catamarca, San Juan and others.
The history of Argentina olive oil can be traced back to the Spanish colonists in the 16th century. 
They were the first bring offer olive saplings to create olive plantations in La Rioja. You can still find 400-year old olive trees in this region testimony to the first planting of olives.
There is an interesting anecdote that the King of Spain feared that Argentinian olives would ruin demand for their Spanish variants. 
He ordered the trees to be destroyed, but some farmers were able to keep a few olive trees for personal use.
Olive cultivation developed in the 1800s to 1900s when Spanish, French and Italian immigrants began to develop olive groves alongside their vineyards.  
From the 1930s to the 1980s, olive oil production in Argentina was at the whim of government incentives. It was promoted in some years, and shunned in others in favor of Malbec wine production.
Today, Argentina olive oil is growing both in quality and production from the diverse olive varieties. If your travels take you to the country, consider going on an olive oil tour in Mendoza.
Or, if you prefer to can also try Laur olive oil and have it shipped to your home. This is the oldest producer of olive oil in Mendoza and one of the best EVOO in the world.

Have you been on any olive oil tours Argentina or had Argentina olive oil before? Please let us know in the comments below.
Claire is co-founder of Authentic Food Quest and a lover of simple and exquisite cuisine. Since 2015, with her partner, Rosemary, she has been traveling the world as a digital nomad, creating content about local food experiences.
Her advice from visiting 45 countries and more than 240 food cities has been featured in Lonely Planet, Business Insider, Honest Cooking, Food Insider, and Huffington Post. She has also co-authored three books, including one in collaboration with Costa Brava Tourism.
An ex-mechanical engineer, Claire is responsible for SEO, keeping the website running, and the fun food & travel videos on YouTube.
When Claire is not eating, she can be found running or cycling. Find out more about Authentic Food Quest