This article has links to products and services we recommend, which we may make a commission from.
What is Paila Marina?
Paila marina is the most famous seafood casserole in Chile. It is a traditional seafood stew made with a mix of local fish and shellfish like clams, mussels, and prawns.
The flavorful and aromatic broth is made with Chilean white wine, fish broth, and seasonings
Paila Marina comes from Chile's long Pacific coast which stretches more than 4,000 miles or 6,435 km.
The easy availability of fresh fish and seafood makes paila marina a popular dish that is enjoyed for holidays or family gatherings.
Paila marina Chilena is traditionally served in clay dishes. These specific dishes keep the broth hot much longer making the eating experience much more pleasurable.
Paila Marina Breaking Bad – Guess What Dish Did Gus Fring Make?
Breaking Bad, the American crime drama TV show which run from 2008 to 2013, made this paila marina recipe popular.
In one of the episodes, Gus Fring, makes Paila Marina seafood soup for Walter White for dinner.
Gus does a great job describing this Chilean seafood soup and his associated memories of the flavors and his childhood.
This seafood stew recipe made a mix of fish, seafood and shellfish is tasty and easy to prepare.
History of Paila Marina Chilena
Paila marina is a very traditional seafood stew found along Chile's Pacific coastline. When it comes to the history or origins of Paila Marina Chilena, there are very few references to rely on.
However, everything indicates that this seafood dish was created by the families of fishermen.
They combined everything left in the fishing nets or any unsold fish into a single pot to make a flavorful stew.
While you'll find seafood stews or soups in other countries, the Paila Marina is unique to Chile. This dish does not use any water, and the only liquids are Chilean white wine and fish broth.
Currently, this dish is considered a gastronomic ambassador of Chile.
In Chilean culture, paila marina is more than just any Chilean seafood soup. It is believed to have aphrodisiac properties.
And, even more so, within the culture, it is used as a remedy for hangovers.
Chileans say that after a long night of partying, there is nothing like a good paila marina Chilena to recover.
RELATED: 15 Popular Chilean Dishes Worth Trying: Favorite Food In Chile
Discovering Chilean Fish Stew in Chile
While exploring the local food specialties in Chile, we visited the town of Valparaiso, along the Pacific coast.
One of the things that surprised us the most was the bounty of fresh fish and seafood present everywhere.
In the early morning you see fishermen and locals with the freshest catch of the morning. And, at the lunch time, the local markets and restaurants have various seafood dishes on their menus.
We tried Chilean seafood soup at a local market in Valparaiso. It was not easy choosing what to have as they were so many different fresh fish and seafood dishes available.
Served hot, we were at first sight impressed by the copious amounts of fresh fish and seafood swimming in the earthenware bowl.
The succulent and rich seafood flavors were incredibly deliciously. Combined with the tender and perfectly cooked fish, it was packed with flavor.
This Paila marina recipe is one that easily brings Chilean seafood flavors to your kitchen. And, it is a guaranteed crowd-pleaser for everyone eating around your dinner table.
RELATED: 12 Most Authentic Chilean Seafood Dishes You'll Want To Try
Paila Marina Recipe – How To Make Chilean Fish Soup at home
Making the paila marina recipe at home is extremely simple. Everything cooks in only about fifteen minutes.
The secret to the recipe is to add the ingredients one by one while respecting their cooking times
The first step is to sauté chopped onions with garlic and oil until they turn transparent. Then add the ingredients that take longer to cook, such as octopus or calamari.
The last step is to add broth and wine to the pot and then gradually add the ingredients that cook quickly like the firm white fish.
One thing to keep in mind is to a dry white wine, preferably Chilean. Sweet wines do not go well with this Chilean seafood soup.
Ingredients
AUTHENTIC FOOD QUEST TIP: For another delicious Chilean seafood recipe, see our simple recipe How to Make Pan Seared Sea Bass With the Best Chilean Sauce
Paila Marina Recipe Tips
Seafood and Fish Substitutes
This Paila Marina Chilean recipe calls for a mix of fish and shelfish. The more variety you have, the better.
For the Fish: In Chile, the fish used to make the paila marina is conger eel. This fish is firm with slightly fatty meat. You can use any other firm white fish, similar to mahi-mahi. This does not apply to tuna, sardines, or any fish with intense flavors.
Octopus: For this seafood stew you can use whole octopus, tentacles, or squid. We recommend buying it frozen as it will be already cleaned, without the eyes and internal organs making it easier to cook.
Shellfish: For additional taste and texture you can use any shellfish like shrimp, prawns, or langoustine.
Shelled mollusk: It is ideal to use mussels in this paila marina recipe. However, clams and scallops can be used as substitutes. Please note that oysters do not work for this recipe.
How Much Water do You Use?
Generally, there is no water used in the authentic preparation of the Paila Marina recipe.
The two main liquid ingredients are white wine and fish broth.
Depending on how involved you want to get in making this seafood stew, you could make fish fumet. Fish fumet is a robust broth made from simmering fish bones with vegetables like onions, celery and carrots.
A good fish stock can save you time, though the flavors are heartier with homemade fumet.
Cook Fish and Shellfish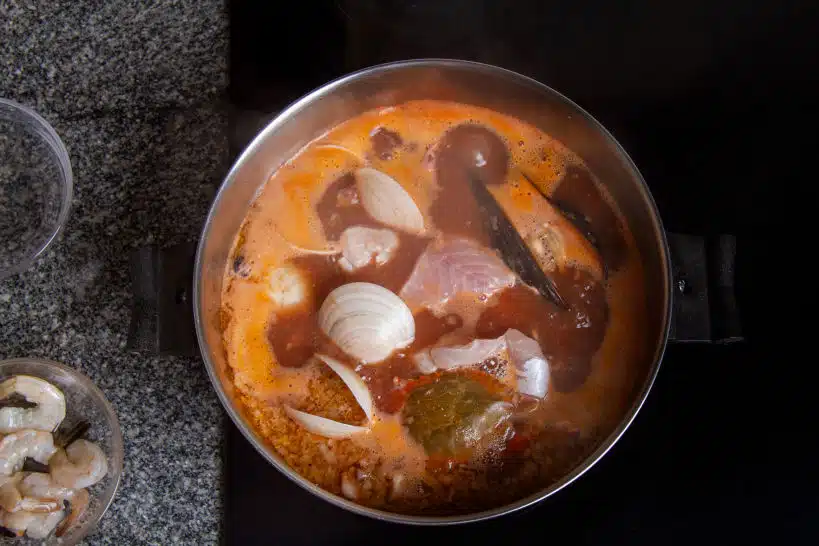 After the octopus has cooked and the liquids are added to the soup, add the crab, fish, clams, and mussels.
Once they cook for about five minutes, turn off the stove and then add the shrimp or prawns. Let the mixture sit for a few minutes allowing the shrimp to cook with the existing heat.
Taste the seafood stew and then add salt and pepper to your preference. Serve hot.
AUTHENTIC FOOD QUEST RECIPE: If you love seafood and would like to make another traditional dish using shrimp, try our simple recipe from Portugal Acorda Recipe: How To Make Alentejana Portuguese Bread Soup with Shrimp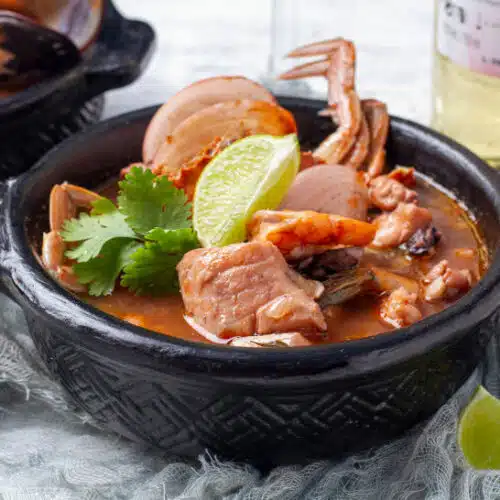 Paila Marina Recipe
This paila marina recipe is for a traditional Chilean seafood stew that cooks under 15 minutes. Rich and flavorful, simply toss in a mix of fish, shellfish, white wine, fish broth and serve it hot.
Savor Chile with this impressive soup that is quick and easy to pull together.
Print
Pin
Rate
Ingredients
1

white onion

large

2

garlic cloves

2

tbsp

oil

olive oil preferred

½

lbs

octopus

4

cup

fish stock
1 ½

cup

Chilean white wine
½

tsp

oregano

2

tbsp

 tomato paste

1

crab

6

clams

1

mussel

large

8

shrimp

medium sized,peeled

1

cup

parsley or cilantro

chopped

Salt and pepper to taste
Instructions
Peel the onion and garlic, and chop finely.

Clean all the fish seafood by rinsing under running water. If necessary, peel the shrimp. Brush all the shells and rinse under water.

Next, cut the octopus into one-inch pieces. Then, slice up the firm white fish, but not too thin so that it does not fall apart into pieces while cooking.

Turn on the stove to medium-high heat. Pour in the olive oil, onions and garlic. Sauté for three to five minutes until they become transparent.

Add the octopus and lightly fry it.

Immediately after add fish stock, white wine, oregano and tomato paste. Cover and bring to a boil.

After about five minutes, add the crab, fish, clams and mussels.

Cook for about five more minutes. Turn off the stove, and add the shrimp or prawns. Allow them to cook with the existing heat in the pot.

Taste and adjust with salt and pepper to your liking.

Serve immediately in earthenware bowls with a side of lime wedges and parsley or cilantro.
Notes
If you prefer, you can make fumet instead of using fish broth. You can make it by boiling
fish bones and heads together with shellfish shells. Add one onion, one carrot and two garlic cloves of garlic and boil in plenty of water for about twenty minutes. Strain and continue cooking the liquid until it reduces for another 20 minutes.
Nutrition
Serving:
1
|
Calories:
794
kcal
|
Carbohydrates:
21
g
|
Protein:
62
g
|
Fat:
36
g
|
Saturated Fat:
6
g
|
Polyunsaturated Fat:
7
g
|
Monounsaturated Fat:
21
g
|
Trans Fat:
0.1
g
|
Cholesterol:
294
mg
|
Sodium:
2205
mg
|
Potassium:
1800
mg
|
Fiber:
3
g
|
Sugar:
7
g
|
Vitamin A:
8253
IU
|
Vitamin C:
57
mg
|
Calcium:
346
mg
|
Iron:
12
mg
Claire is co-founder of Authentic Food Quest and a lover of simple and exquisite cuisine. Since 2015, with her partner, Rosemary, she has been traveling the world as a digital nomad, creating content about local food experiences.
Her advice from visiting 45 countries and more than 240 food cities has been featured in Lonely Planet, Business Insider, Honest Cooking, Food Insider, and Huffington Post. She has also co-authored three books, including one in collaboration with Costa Brava Tourism.
An ex-mechanical engineer, Claire is responsible for SEO, keeping the website running, and the fun food & travel videos on YouTube.
When Claire is not eating, she can be found running or cycling. Find out more about Authentic Food Quest